8.1

/

10

Alchetron

8.6

Rate This





Director

Rajkumar Hirani




Release date

December 25, 2009 (India)




Country

India







Genre

Comedy, Drama




Duration




Language

Hindi







Release date

25 December 2009 (2009-12-25)




Based on

Five Point Someone – What not to do at IIT! by Chetan Bhagat




Writer

Rajkumar Hirani, Abhijat Joshi, Vidhu Vinod Chopra (screenplay)




Screenplay

Rajkumar Hirani, Vidhu Vinod Chopra, Abhijat Joshi, Ayan Mukerji




Songs

All Izz Well




Cast

Aamir Khan

(Rancho),

Kareena Kapoor

(Pia),

Madhavan

(Farhan),

Sharman Joshi

(Raju),

Boman Irani

(Viru Sahastrabudhhe),

Mona Singh

(Mona)

3 idiots official trailer
3 Idiots is a 2009 Indian coming of age comedy-drama film co-written, edited, and directed by Rajkumar Hirani and produced by Vidhu Vinod Chopra. Abhijat Joshi wrote the screenplay. It was inspired by the novel Five Point Someone by Chetan Bhagat. The film stars Aamir Khan, Kareena Kapoor, R. Madhavan, Sharman Joshi, Omi Vaidya, Parikshit Sahni, and Boman Irani.
Contents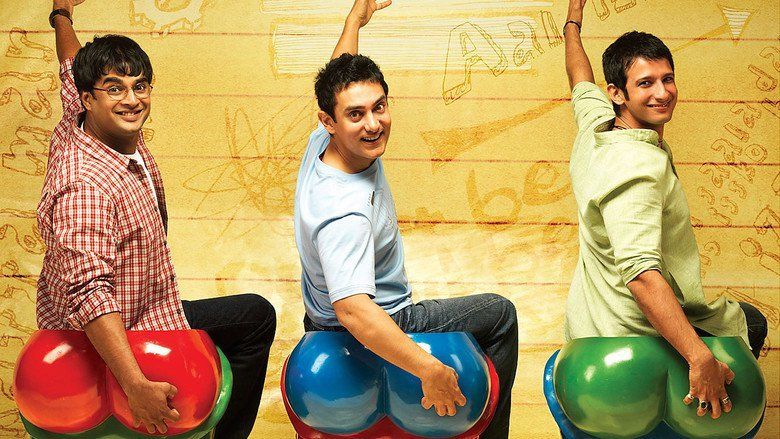 Upon release, the film was the highest-grossing film in its opening weekend in India and had the highest opening day collections for an Indian film up until that point. It also held the record for the highest net collections in the first week for a Bollywood film. It also became one of the few Indian films to become successful at the time in East Asian markets such as China, eventually bringing its overseas total to more than US$65 million at the time—the highest-grossing Bollywood film of all time in overseas markets, before being overtaken by Chennai Express in 2013.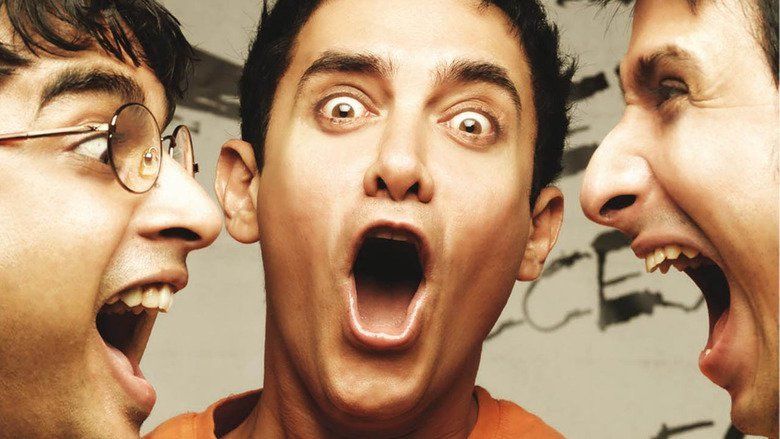 The film is distinctive for featuring real inventions by little-known people in India's backyards. The brains behind the innovations were Remya Jose, a student from Kerala, who created the pedal operated washing-machine; Mohammad Idris, a barber from Hasanpur Kalan in Meerut district in Uttar Pradesh, who invented a bicycle-powered horse clipper; and Jahangir Painter, a painter from Maharashtra, who made the scooter-powered flour mill. The subtitled version of the film grew popular in South Asia, China, Malaysia, Singapore, Philippines, South Korea, and the United States.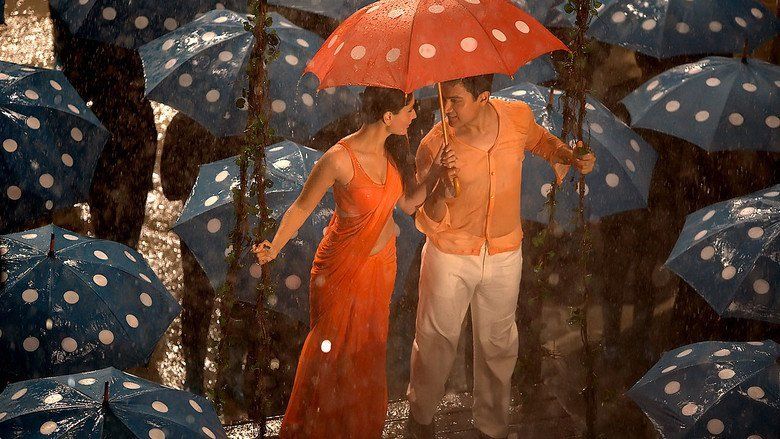 This film was remade in Tamil as Nanban (2012) which also received critical praise and commercial success. A Telugu remake was planned despite Nanban having a Telugu dubbed version titled Snehitudu. 3 Idiotas, a Mexican remake, also was released in 2017.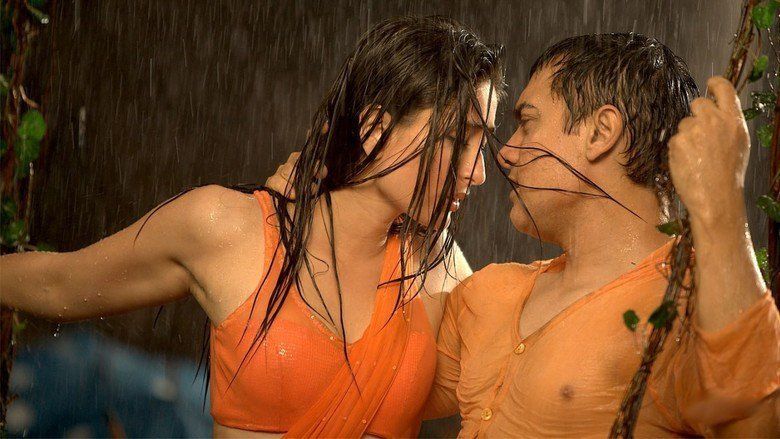 Facts
The Imperial College of Engineering that is being shown in the film is actually the Indian Institute Of Management, Bangalore (IIMB).
Actor Shah Rukh Khan was first offered the role of Rancho. But he declined the offer, citing date issues and the role went to Aamir.
The character Phunsukh Wangdu is inspired from Sonam Wangchuk, an engineer from Leh.
It became the first Bollywood movie to earn Rs 200 crores net at the box office.
3 idiots official trailer 1 us indian 2009
Plot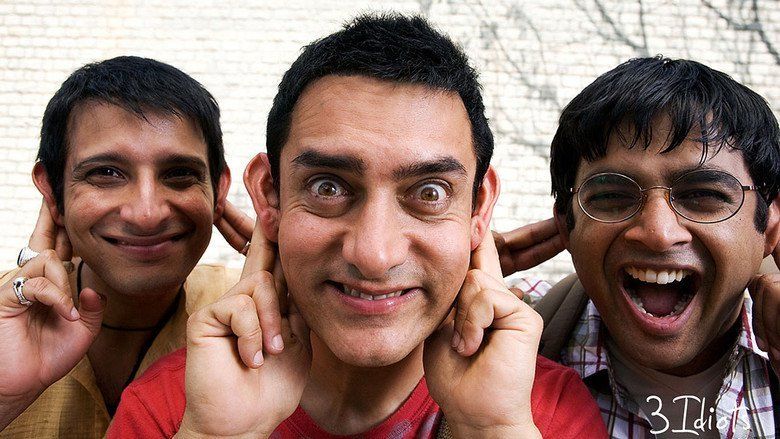 Farhan Qureshi (R.Madhavan) and Raju Rastogi are students and roommates at the prestigious Imperial College of Engineering (ICE). Farhan has a secret passion to be a photographer, but studies engineering in fear of his father, whereas Raju chooses engineering to support his family, but has poor grades because he fears the consequences on his family of failing. Their third roommate and friend, Ranchoddas "Rancho" Chanchad (Aamir Khan) is a highly talented and eccentric inventor. After giving unorthodox answers in class, Rancho comes into conflict with the college's director, Viru Sahastrabuddhe, known as "Virus", whose traditional and strict philosophies on education contrast sharply with Rancho's carefree love of learning.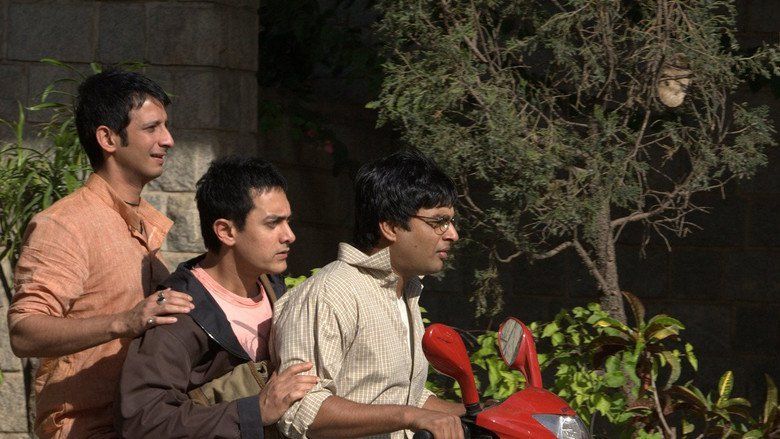 Rancho quickly falls in love with Pia, Virus' younger daughter, a medical student, and always scores the highest marks out of his class, much to the dismay of Virus. He also attracts the attention of Chatur Ramalingam, an arrogant Ugandan-born Tamil student known as "Silencer" due to his abilities in rote learning and procrastination. One night, the three friends drunkenly break into the Sahastrabuddhe household to allow Rancho to profess his love to Pia. After discovering their antics, Virus threatens to expel Raju unless he writes a letter implicating Rancho in the break-in. Unwilling to betray Rancho or disappoint his family, Raju unsuccessfully attempts suicide by jumping. With intensive care and support from his friends, Raju recovers in time for a corporate job interview. Meanwhile, Rancho and Pia post Farhan's letter to his favorite photographer, who offers him a position as assistant. Farhan still fears his father's rejection, but after urging from Rancho, he communicates his dream to his father, who gives his reluctant acceptance.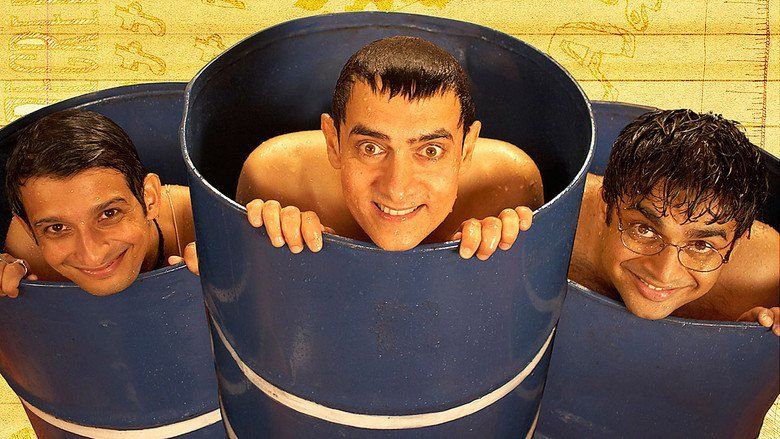 Frustrated by Rancho's influence on Raju and Farhan, Virus makes the final exams so difficult that none of them can pass. Pia gives Virus' spare office keys to Rancho to enable him to get the exam papers, but Virus discovers the trio and expels them. However, when Virus' pregnant elder daughter Mona goes into labour during a heavy storm that cuts off all power and traffic, Rancho uses his engineering knowledge to deliver the baby in the college common room with Pia's guidance. A grateful Virus finally acknowledges Rancho as an extraordinary student, allowing the three to graduate. Unexpectedly, Rancho disappears shortly after the convocation.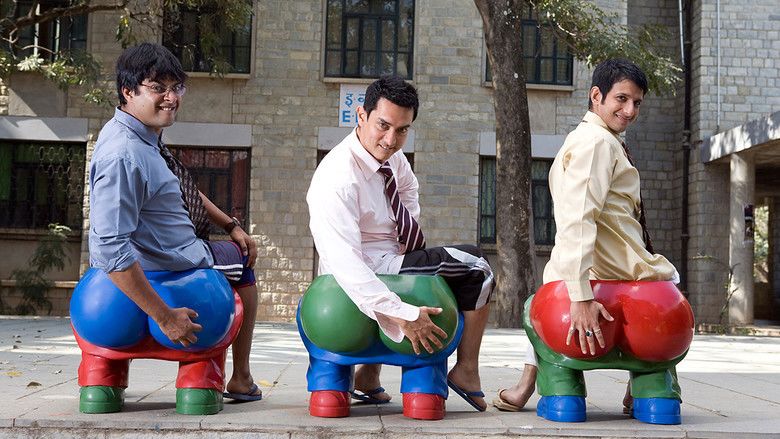 Ten years later, Farhan is a successful wildlife photographer, Raju is settled in a comfortable lifestyle with a corporate job and wife, and Chatur is vice president of a reputed corporation in the United States. None of them have heard from Rancho since graduation. Farhan is boarding a flight, when he suddenly receives a call from Chatur claiming that he has found Rancho. In order to exit the plane, Farhan causes an emergency landing by faking a heart attack. On the way to the campus, he picks up Raju and meets Chatur at the ICE campus only to find that Rancho is not there. Chatur shows off pictures of his property in America, and reveals that Rancho is in Shimla.
Arriving at Shimla, they meet a man who turns out to be the real Ranchoddas Chanchad. From him, they learn that the Rancho they knew was actually "Chhote", an orphaned servant to the Chanchad family. Ranchodas' father arranged for Chhote to attend ICE in his son's name, so that his son could take credit for the degree. Ranchodas provides Chhote's address in Ladakh, where he is a school teacher. On the way, in Manali, they also rescue Pia from her arranged wedding so that she can marry Rancho.
Upon arrival in Ladakh, the four find the village school, witnessing young students' inventions that resemble Rancho's own college projects. Raju, Farhan, and Pia then happily reunite with Rancho on a sandbar, where Rancho and Pia kiss. Assuming Rancho to be a mere school teacher, Chatur insults Rancho, and asks him to sign a statement that he is the less successful one. Without comment, Rancho does so, and surrenders the space pen that Virus had given him before graduation.
As Chatur walks away in triumph, "Rancho" reveals himself to be Phunsukh Wangdu, an inventor with 400 patents, with whom Chatur's employer seeks a contract. A horrified Chatur accepts his defeat and begs him to sign the contract while Pia and the three friends run laughing.
Cast
Aamir Khan as Ranchoddas "Rancho" Shamaldas Chanchad / Chhote / Phunsukh Wangdu, one of the title group of three friends in the engineering college. He went missing after graduation and after 10 years his two friends traveled across India looking for him, while telling stories of their time in engineering college together. Rancho, as a student, was conspicuously ingenious and angry at the inhumanity of the school system. At the end of the film, he is shown to be a famous scientist, entrepreneur and business magnate who also teaches young children when he takes a break from researching.
Shoaib Ahmed as young Chhote
R. Madhavan as Farhan Qureshi, the film's narrator and a friend of Rancho and Raju. His father wanted him to be an engineer, but his dream career is wildlife photography; in the end he is shown to have published several books of photographs.
Sharman Joshi as Raju Rastogi. He comes from an impoverished family with a mother who is a retired school teacher and a paralyzed father who had been a postman. In the flashback story, his family is poor so they can't afford the car that would be demanded as a dowry for his sister. In the present story, he is a settled married man in Delhi who has freed his family from poverty by becoming a wealthy executive.
Kareena Kapoor as Pia Sahastrabuddhe, Virus' younger daughter, an intelligent and capable doctor. Despite her father's disapproval, she and Rancho fall in love.
Boman Irani as Dr. Viru Sahastrabuddhe (nicknamed Virus), college's strict director. He is also Pia's father, and the film's antagonist. He stubbornly sticks to a doctrinal method of teaching, putting him at odds with Rancho.
Omi Vaidya as Chatur Ramalingam, a Ugandan-Indian educated in Tamil-speaking Pondicherry who has little knowledge of Hindi. He is nicknamed Silencer because the pills he takes, to enhance his ability to memorise passages from textbooks, make him gassy. In the present story, he is vice-president of an American company who only discovers his success being overshadowed by Rancho in the end of the film.
Baradwaj Rangan of the New Indian Express wrote that Chatur being a Tamil from Uganda makes him "twice removed from the North Indians around him — a stranger to the nation as well as the national language."
Rahul Kumar as young Manmohan (nicknamed Millimetre), and Dushyant Wagh as adult Manmohan. As an adolescent, he earns a small living by doing errands for students, such as ironing their clothes, finishing assignments, and getting groceries. Rancho persuades him to buy a school uniform and sneak into school to gain an education. Later he becomes an assistant to Rancho/Phunsukh Wangdu in Ladakh.
Mona Singh as Mona Sahastrabuddhe, Pia's elder sister and Virus's first daughter.
Parikshit Sahni as Mr Qureshi, Farhan's father, a strict but loving parent who just wants his son to be happy.
Farida Dadi as Mrs Qureshi, Farhan's mother, a loving and caring parent.
Amardeep Jha as Mrs Rastogi, Raju's mother, a retired schoolteacher and dedicated mother.
Javed Jaffrey as the real Ranchoddas Shamaldas Chanchad. Raju and Farhan go to his home and learn the truth: that Chanchad's father sponsored an orphaned servant boy called 'Chhote', who had demonstrated his intelligence and love of learning, to earn a degree in his name, while the real Ranchoddas was in London. He does appreciate what Chhote did for him, and tells Raju and Farhan where to find him.
Arun Bali as Shamaldas Chanchad, father of Ranchoddas Shamaldas Chanchad.
Ali Fazal as Joy Lobo, a student with a passion for machines. After Virus tells him that he will not graduate, he commits suicide.
Akhil Mishra as Librarian Dubey
Rohitash Gaud as Ranchoddas' servant
Achyut Potdar as Machine Class Professor
Madhav Vaze as Joy Lobo's father.
Olivier Sanjay Lafont as Suhas Tandon, Pia's ex-fiance, who cares only about money and ostentation.
Jayant Kripalani as a company head who conducts Raju's job interview.
Shameer Ab as a student
Pooja Goswami as Air Hostess
Malvika Singh as Mona's Baby
Atul Tiwari as Minister in Auditorium
Meghna Bhalla as Suri Raju's Wife
Production
Principal photography began on 28 July 2008. Hirani and his team left in late August for the shoot with the principal cast. The film was shot in Delhi, Bangalore, Mumbai, Ladakh, Chail and Shimla. Aamir and rest of the cast began shooting in early September. Hirani planned to wrap up the film by December. The first scene was shot in an aircraft with Madhavan. From Mumbai, the crew and cast comprising Aamir and Kareena went to Ladakh for a 20-day schedule. Filming of the ICE college scenes took place at the Indian Institute of Management – Bangalore campus for 33 days as a part of the second schedule of production.
Soundtrack
The film's soundtrack is composed by Shantanu Moitra with lyrics penned by Swanand Kirkire.
Release
The film initially opened up on 2000 prints worldwide. 3 Idiots was released in 1800 theaters in India, which was at that time a big domestic release. 3 Idiots was released in 415 screens overseas. 3 idiots was released in 2,215 theaters worldwide.
Critical reception
Subhash K. Jha stated: "It's not that 3 Idiots is a flawless work of art. But it is a vital, inspiring and life-revising work of contemporary art with some heart imbued into every part. In a country where students are driven to suicide by their impossible curriculum, 3 Idiots provides hope. Maybe cinema can't save lives. But cinema, sure as hell, can make you feel life is worth living. 3 Idiots does just that, and much more. The director takes the definition of entertainment into directions of social comment without assuming that he knows best." Nikhat Kazmi of the Times of India gave it four and a half stars and suggests that, "The film is a laugh riot, despite being high on fundas […] Hirani carries forward his simplistic 'humanism alone works' philosophy of the Lage Raho Munna Bhai series in 3 Idiots too, making it a warm and vivacious signature tune to 2009. The second half of the film does falter in parts, specially the child birth sequence, but it doesn't take long for the film to jump back on track." Mayank Shekhar of the Hindustan Times gave the film three and a half out of five stars and comments that "this is the sort of movie you'll take home with a smile and a song on your lips." Taran Adarsh of Bollywood Hungama gave 3 Idiots four and a half out of five stars and states: "On the whole, 3 Idiots easily ranks amongst Aamir, Rajkumar Hirani and Vidhu Vinod Chopra's finest films. Do yourself and your family a favour: Watch 3 Idiots. It's emotional, it's entertaining, it's enlightening. The film has tremendous youth appeal and feel-good factor to work in a big way." Kaveree Bamzai of India Today gave 3 Idiots five stars and argues that "it's a lovely story, of a man from nowhere who wanted to learn, told like a fairy tale, with the secret heart carrying its coded message of setting all of us free."
Sonia Chopra of Sify gave the film 3 stars and said "Though a bit too calculated and designed, 3 Idiots is still an ok option for the significant message, interesting cast and scattered breezy moments." Rajeev Masand of CNN-IBN gave the film three out of five stars and states: "Going home after watching 3 Idiots I felt like I'd just been to my favorite restaurant only to be a tad under-whelmed by their signature dish. It was a satisfying meal, don't get me wrong, but not the best meal I'd been expecting." Shubhra Gupta from The Indian Express also gave it 3 stars, stating "'3 Idiots' does not do as much for me. The emotional truth that shone through both the 'Munnabhai' movies doesn't come through strongly enough." Raja Sen of Rediff gave the film two out of five stars and states: "Rajkumar Hirani's one of the directors of the decade, a man with immense talent and a knack for storytelling. On his debut, he hit a hundred. With his second, he hit a triple century. This time, he fishes outside the offstump, tries to play shots borrowed from other batters, and hits and misses to provide a patchy, 32*-type innings. It's okay, boss, *chalta hai*. Even Sachin has an off day, and we still have great hope."
The film has received praise overseas. On Rotten Tomatoes, the film holds a 100% "fresh" critics' rating based on six reviews. Derek Elley of Variety wrote that "3 Idiots takes a while to lay out its game plan but pays off emotionally in its second half." Robert Abele of Los Angeles Times wrote that there's an "unavoidable joie de vivre (symbolized by Rancho's meditative mantra 'All is well') and a performance charm that make this one of the more naturally gregarious Bollywood imports." Louis Proyect described it as a "fabulous achievement across the board. A typical Bollywood confection but also social commentary on a dysfunctional engineering school system that pressures huge numbers of students into suicide." The Korean site Naver gave the film a review rating of 9.4 out of 10.
It was expected to be the first Indian film to be officially released on YouTube on 25 March 2010, only 12 weeks after its initial theatrical release. Officially, it was released on YouTube in May 2012, but its access has since been restricted. The film also went on to win many awards, winning six Filmfare Awards including best film and best director, ten Star Screen Awards and sixteen IIFA awards.
Pre-release business
The figures don't include the Print and Advertising (P&A) costs.
Box office
After its initial run, the film's adjusted worldwide lifetime gross was ₹339 crore (equivalent to ₹597 crore or US$93 million in 2016).
According to Box Office, 3 Idiots grossed ₹1,192 crore (equivalent to ₹21 billion or US$330 million in 2016) worldwide at the end of its theatrical run. The film was listed in Guinness World Records for the record of highest box office film gross for a Bollywood film.
India
The film broke all box office records upon release. It created the highest collection record for paid previews with Rs 27.5 million that time, which was broken by Chennai Express (2013). In its four-day first weekend, the film netted ₹38 crore (equivalent to ₹67 crore or US$10 million in 2016), and broke the record held by Ghajini for the first weekend collections. By the first week, the film netted ₹79 crore (equivalent to ₹139 crore or US$22 million in 2016), again breaking the box office record held by Ghajini. 3 Idiots had nett grossed ₹56 crore (equivalent to ₹99 crore or US$15 million in 2016) in its 2nd week, ₹302.5 million (US$4.7 million) during the third week, ₹16 crore (equivalent to ₹28 crore or US$4.4 million in 2016) in its fourth week and ₹9.75 crore (equivalent to ₹17 crore or US$2.7 million in 2016) in fifth to make a total of ₹202 crore (equivalent to ₹356 crore or US$55 million in 2016) in five weeks, first Indian film ever to collect this huge amount, hence established the ₹200 crore (US$31 million) Club.
Overseas
3 Idiots became the then highest-grossing Bollywood film in overseas markets and now it ranks 4th with overseas gross of US$25 million. 3 Idiots first weekend opening collection in overseas was $4 million. It set record collections for Indian-produced films in territories such as United States, Australia, Fiji, and some African territories. In the United States, the film earned $6.5 million since its opening, in addition to over $2.5 million in the United Kingdom, over $2 million in Canada, nearly $1 million in Australia, and over $3 million in South Korea. 3 Idiots has the biggest first week total in US with around $3 million over its first four days.
Unusual for an Indian film, 3 Idiots has become a major success in East Asian markets. The film had the longest showing period at cinemas in Taiwan, for more than two months from December 2010, breaking the record of Avatar, with over TWD $10 million grossed. The film was the first aired Indian film in Hong Kong, where it grossed HKD $22 million since its showing from 1 September 2011, as of January 2012, and the equivalent of over US$3 million as of 4 March 2012. In China, where it is known as San Geshagua ("Three Idiots"), the film grossed ₹11 crore in 2 weeks in December 2011, eventually crossing the $2 million mark within 18 days, and nearly $3 million within a month, as of 5 January 2012. Alongside the original Hindi version, a Chinese-dubbed version was also released, with the popular actress Tang Wei (best known for Lust, Caution) voicing Kareena Kapoor's role. One reason for its success in East Asian markets such as China and Hong Kong is because of their similar education systems, thus many students were able to identify with the characters, with some Chinese universities "even prescribing the film in their coursework as a kind of stress-relief in their classrooms." 3 Idiots added US$7 million from a wide release in Far Eastern markets like South Korea, China, Hong Kong, etc. Following its success in other Asian markets, Japanese distributor Nikkatsu announced plans to release the film in Japan. Upon its release in Japanese markets in June 2013, it went on to collect around ¥100 million (₹61 million) in its first two weeks of run – that makes the film the highest grossing Hindi film ever in Japan.
When 3 Idiots released in China, the country was only the 15th largest film market, partly due to China's widespread pirate DVD distribution at the time. However, it was the pirate market that introduced 3 Idiots to most Chinese audiences, becoming a cult hit in the country. It became China's 12th favourite film of all time, according to ratings on Chinese film review site Douban, with only one domestic Chinese film (Farewell My Concubine) ranked higher. Aamir Khan gained a large growing Chinese fanbase as a result. By 2013, China grew to become the world's second largest film market (after the United States), paving the way for Aamir Khan's Chinese box office success, with Dhoom 3 (2013), PK (2014) and especially Dangal (2016).
Awards
The film won 52 accolades; among these are five Filmfare Awards including best film and best director, ten Star Screen Awards, sixteen IIFA Awards, three National Film Awards, five GIMA Awards, two Apsara Awards and seven Bollywood Hungama Surfers Choice Movie Awards. In January 2014, it was nominated in the Best Outstanding Foreign Language Film category for 37th Japanese Academy Awards.
Controversy
Latika Gupta in an article published in the weekly journal Economic and Political Weekly mentions that the film has serious problems when seen from the gender perspective, in particular that it follows the trend set by the 2007 film Jab We Met in their use of women's sexual vulnerability to create sensation and humor. In a scene of the movie, students, professors and the chief guest are seen bursting with laughter hearing a speech where the word balatkar (rape) figures 21 times and the word stan (breast) four times.
Prior to the release of the film director Rajkumar Hirani commented on the relationship between Five Point Someone by Chetan Bhagat and 3 Idiots stating:
Chetan gave me this book to read and I wanted to make a film on it. But I knew right from the start that I could not make a film completely on the book, as it was very anecdotal and a film needs a plot. So I had decided to rewrite it in a screenplay format. You'll see that the film is very different from the book. After I wrote the script, I called Chetan and narrated it to him. I told him that if he did not like the script, I would stop the project. But he was okay with it.
The day after the film opened, Chetan also noted:
Initially I did sit down with Raju and Abhijat while they were deciding to make a film based on '5 Point Someone'. I even went to IIT with Abhijat a couple of times. But it was just not possible for me to be involved at every stage of the screenplay writing process since I was in Hong Kong at that time, working full-time and busy writing other books. Moreover, Abhijat is based in USA, Raju was in the US for quite a while working on the screenplay but it was not practical for me to do that […] The film retains the soul of the book.
3 Idiots
is different from the book but at the same time it does borrow many things from the book. The core theme and message of the film is coming from the book itself. And that's why the makers have officially credited the film as 'Based on a novel by Chetan Bhagat.'
A controversy developed a few days after the release, however, over the fact that Chetan's credit, "Based on the novel Five Point Someone by Chetan Bhagat" appeared in the closing credits rather than in the opening ones. At that time, Bhagat stated that he "was expecting an opening credit and I was quite surprised on not seeing it. They had bought the rights, made the payment and committed to a credit in the contract. It's there, but it's not about it being there, it's about the placement and the prominence." In a 31 December 2009 blog post on his personal website, Bhagat stated that he was told the movie was only 2–5% based on the book, but when he saw it, he felt that it was 70% of the book. He also argued that he was misled by the makers of the film, though he noted, that "this has nothing to do with Mr Aamir Khan […] I am a big fan of Aamir and he has made my story reach people. However, he was told by the makers not to read the book, and he hasn't. Thus, he cannot comment on the issue in a meaningful manner."
A few people responded to Chetan's statements. According to the Indo-Asian News Service (IANS), during a press conference with reporters producer Vidhu Vinod Chopra "clarified that in the agreement between the producer and Bhagat, it was clearly mentioned that the author's name would be put in the closing credits." IANS also reported that Chopra "lost his cool" and "asked a reporter to shut up after being questioned whether his hit 3 Idiots was lifted from author Chetan Bhagat's book Five Point Someone." Chopra later apologised, stating: "I really think I'm silly. I was provoked, but I shouldn't have done this. I saw myself on TV and saw how I was shouting 'shut up, shut up' like an animal. I told myself — 'what nonsensical behaviour'." Aamir Khan also responded to these claims. Rajkumar Hirani stated that "We have officially bought the rights for the film. We drew a contract with him and it clearly mentions about the position of his credit. With open eyes he had seen the contract, consulted his lawyer and signed the agreement […] In the contract, we have said that the title would be given in the rolling credits. We haven't changed the font size. We haven't increased the speed of the title. It's exactly there where it was agreed to be." Chetan Bhagat later apologised stating, "I definitely do not have anything against team 3 Idiots. I may have some issues on the mistake they may have made but nothing about their personality or the kind of people they are. I apologise to their families if there was any distress caused to them. I also want to thank all my fans, who stood by me but I don't want them to turn against anyone especially Aamir."
Tamil/Telugu remake
This film was remade into Tamil entitled Nanban, in January 2012.
Its dubbed version in Telugu, Snehithudu, released on 26 January 2012 in Andhra Pradesh to positive reviews.
Mexican remake
A Mexican remake named 3 Idiotas was released in 2017.
Possible sequel
When asked about plans of a 3 Idiots sequel in an interview with Hindustan Times, screenwriter Abhijat Joshi replied, saying, "Honestly, I don't know. We have an idea for the 3 Idiots sequel, a Munna Bhai part three, and also for a PK sequel; but the PK and Munna Bhai sequels interest me the most. So, I think the 3 Idiots sequel may happen in the future, but these two I really want to work on."
In January 2016, director Rajkumar Hirani and actor Aamir Khan confirmed that they were considering a 3 Idiots sequel. Khan told reporters, ""Raju Hirani has given me a hint about '3 Idiots' sequel and I am giving you all a hint. The film will happen if and whenever he will write the script." Hirani agreed, saying " this is one film that I really want to do."
Hindi full movie 3 idiots 2009 part 4 ft amir khan kareena kapoor
References
3 Idiots Wikipedia
(Text) CC BY-SA
3 Idiots IMDb
3 Idiots Rotten Tomatoes
3 Idiots AlloCine
3 Idiots themoviedb.org