The film was released in 2,000 prints worldwide making it the largest Indian cinematic release at the time. Om Shanti Om was released on 9 November 2007 to universal acclaim from critics and record-breaking box office collections. It grossed ₹1.50 billion worldwide and thus became the highest-grossing Hindi film at the time of its release.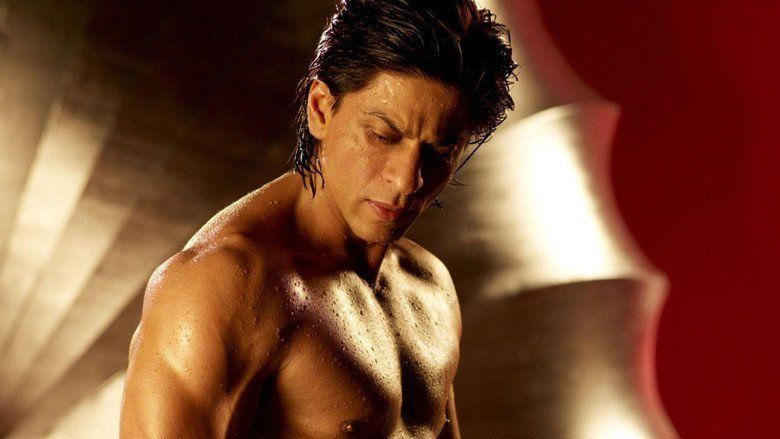 Om Prakash Makhija (Shah Rukh Khan) is a junior artist in 1970s Hindi cinema, in love with film superstar Shanti Priya (Deepika Padukone). One evening, Om attends the premiere of Shanti's film, and envisions himself as the lead actor, Manoj Kumar. Om and his friend Pappu (Shreyas Talpade) take on numerous small acting roles as extras, and one night, a drunk Om describes his fantasy of one day winning a Filmfare Award for Best Actor. At the shooting of a film, Om rescues Shanti after a fire grows out of control, and they become friends.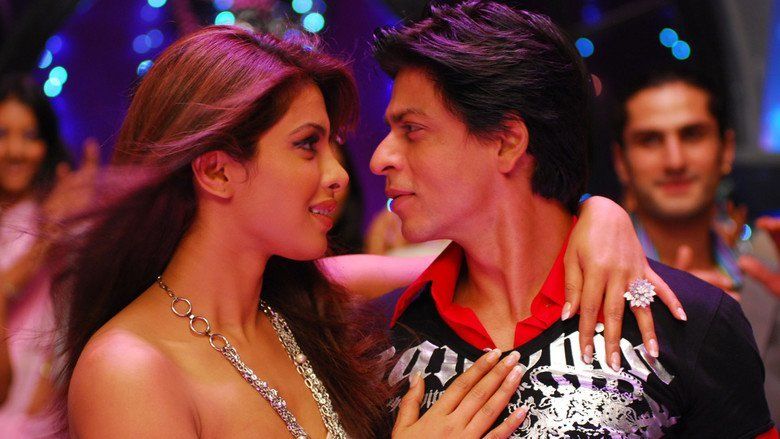 Om overhears a conversation between Shanti and film producer Mukesh Mehra (Arjun Rampal). The pair have recently married in secret, and Shanti reveals that she is pregnant. Mukesh seems overjoyed and asks Shanti to meet him that night, at the set of their upcoming film 'Om Shanti Om'. Mukesh promises to cancel the film, reveal their marriage to the public, and have a grand wedding on the set. However, revealing his true colors, he tells Shanti that the relationship and child will cause ruin his career. Mukesh traps Shanti on the set and sets it on fire. Om attempts to rescue Shanti, but is attacked by Mukesh's guards. After the guards leave, he again attempts to rescue Shanti, but he is thrown from the building by an explosion. A disorientated Om is hit by a car owned by Rajesh Kapoor (Javed Sheikh), an actor taking his pregnant wife, Lovely, to the hospital. At the hospital, Om remembers his moments with Shanti as he dies, while Lovely gives birth to a son, also named Om. The soul of Om Prakash reincarnates into the newborn Om Kapoor.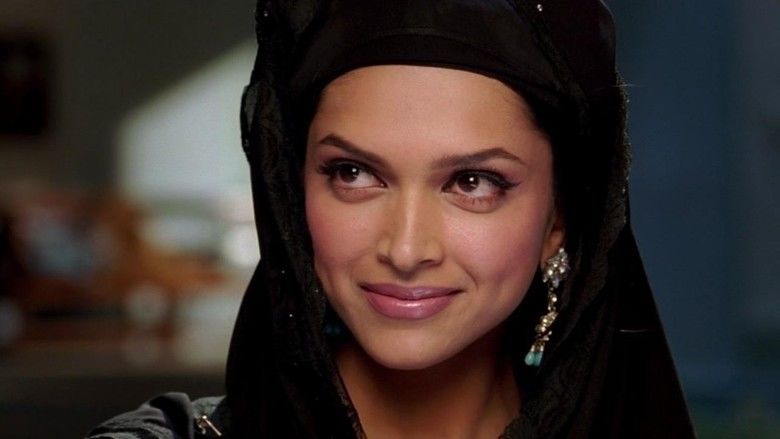 Years later, Om Kapoor, nicknamed O.K, becomes a famous actor and lives the luxurious life imagined by Om Prakash, but experiences pyrophobia and subconsciously inherits Om Prakash's memories. At an awards ceremony, O.K. unknowingly delivers Om Prakash's drunken speech, which is heard by Pappu on television. At the event, O.K's father introduces him to Mukesh, and this causes him to completely remember the events of Om Prakash's life. O.K later reunites with Om's mother Bela (Kirron Kher) and Pappu, and conspires to avenge Shanti's death by making Mukesh confess his crime. O.K convinces Mukesh to restart shooting for 'Om Shanti Om', and he plans to convince Mukesh that Shanti's spirit is haunting him. To impersonate Shanti, O.K finds Sandhya (Sandy), a doppelgänger of Shanti. Throughout the film's shooting, O.K and his friends arrange incidents to remind Mukesh of the past. During the music launch of the film, O.K taunts Mukesh by revealing the extent to which he knows the story of Shanti's death. But when Mukesh runs after Sandy thinking she is the ghost of Shanti, Sandy accidentally cuts her arm and bleeds. Seeing this, Mukesh realises that she is not Shanti's ghost. Mukesh tries to confront O.K, but he is suddenly hit by the set's swinging chandelier.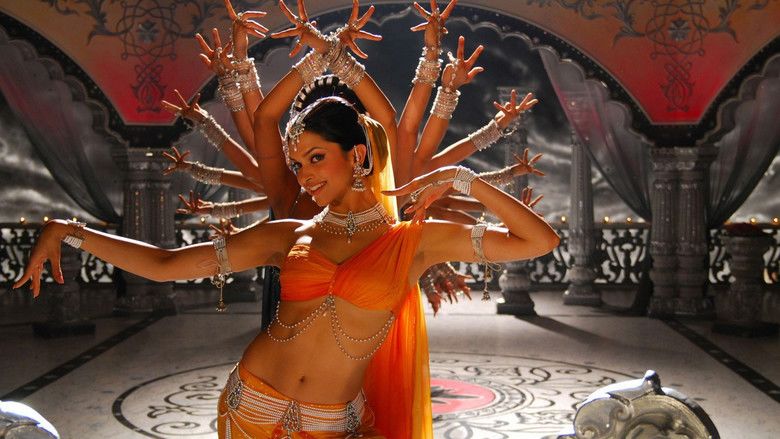 After Mukesh awakens, O.K confronts him but Mukesh reveals that he knows Sandy is not a ghost after all. During the quarrel, Sandy reappears and taunts Mukesh. She reveals that after the fire ceased to burn, Mukesh found that Shanti had survived, but he buried her alive below the chandelier. O.K is confused about how Sandy knows this. Mukesh attempts to shoot Sandy, shocked by the extent to which she knows about the murder, but Mukesh and O.K fight, which results in yet another fire. Just when O.K is about to kill Mukesh, Sandy stops him, saying that Mukesh will not die by his hand. The chandelier falls on Mukesh, killing him instantly. Pappu and Sandy rush to join O.K, and he is shocked when he sees the real Sandy. O.K realises that the person he assumed to be Sandy was actually Shanti's ghost. She smiles warmly towards O.K and tearfully bids him goodbye, disappearing as she moves into the light.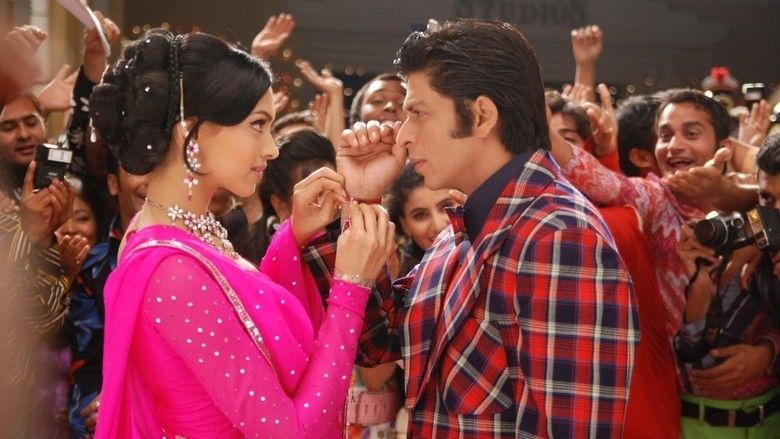 Shah Rukh Khan as Om 'Omi' Prakash Makhija (Junior Artist) & Om Kapoor 'O.K.' (Superstar)
Deepika Padukone as Dreamy Girl Shanti Priya (Heroine) & Sandhya 'Sandy'
Arjun Rampal as Mukesh Mehra 'Mike', Shanti Priya's husband (film producer)
Kirron Kher as Bela Makhija, Omi's mother
Shreyas Talpade as Pappu Master, Omi's best friend
Javed Sheikh as Rajesh Kapoor, Om Kapoor's father
Asawari Joshi as Lovely Kapoor, Om Kapoor's mother
Yuvika Chaudhary as Dolly
Bindu Desai as Kamini
Satish Shah as Film Director
Shawar Ali as Shawar Ali Khan
Nitesh Pandey as Anwar
Lin Laishram as Om Kapoor's friend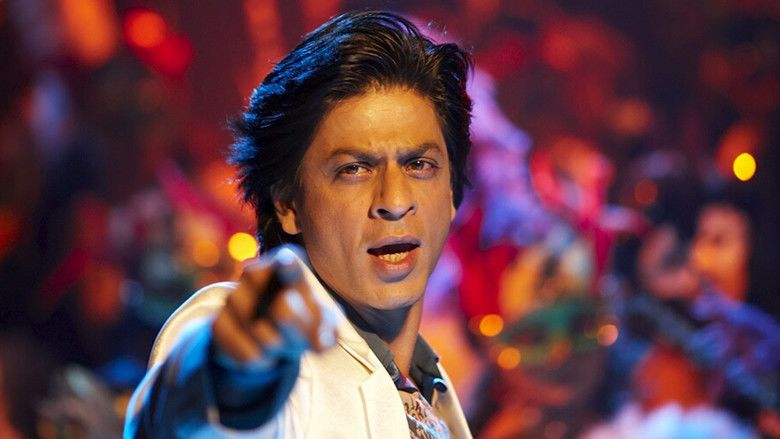 Special appearances during the song "Deewangi Deewangi" (in order of appearance)
Other Cameo appearances throughout the film (in alphabetical order)
The film is based on reincarnation. It is inspired by Rishi Kapoor's 1980 Hindi film Karz and borrows many elements from it, including the title which is named after one of that film's songs. In the beginning of Om Shanti Om, Rishi Kapoor can be seen dancing to the song of the same name. The second half of the film is inspired also by Bimal Roy's Madhumati, which was the first Hindi film that revolved around the concept of reincarnation. Shooting of the film began in January 2007 at various locations in India. The film was released on 9 November 2007.
Om Shanti Om created a record of sorts by going in for an unheard of 2000 prints (worldwide) release. This was the highest number of prints (including digital) for any Indian movie at the time of its release. Om Shanti Om set another record for registered pre-advance booking of 18,000 tickets in a chain of theatres in Delhi a few days before the advance booking was to start.
Red Chillies Entertainment had reportedly sold the world rights for the film to Eros International for an amount between Rs. 720–750 million. Baba Films, production and distribution company, had offered a record Rs. 110 million for the rights to the Mumbai Circuit, easily surpassing the highest amount ever paid for the territory.
A book, titled The Making of Om Shanti Om written by Mushtaq Sheikh, was released after the release of the film. The book gives an insight into the production and happenings behind the camera of the film.
The film's songs were composed by the musical duo Vishal-Shekhar with lyrics by Javed Akhtar, whilst the background score was composed by Sandeep Chowta. Initially, A. R. Rahman was signed in to compose original songs and background score for the film, but he opted out of this movie, as T-Series did not agree to share the copyrights of music with him and the lyricist. The soundtrack for the film released on 18 September 2007. According to the Indian trade website Box Office India, with around 20,00,000 units sold, this film's soundtrack album was the year's highest-selling.
Om Shanti Om opened across 878 cinemas in 2000 prints worldwide. The film nett grossed (after deducting entertainment tax) ₹994 million (US$15 million) in India.
The film collected US$2.78 million in the United Kingdom, US$3.6 million in North America and US$3.7 million collectively from the rest of the world, which resulted in total overseas collections of $10,080,000, the 4th largest of all time as of 2010.
As a result of these collections, a worldwide gross of ₹1.50 billion (US$23 million) was accumulated.
Taran Adarsh from Bollywood Hungama gave the film a 4 out 5 star rating, saying "This Diwali, have a blast! (...) At the box-office, the film will set new records in days to come and has the power to emerge one of the biggest hits of SRK's career." Khalid Mohamed of Hindustan Times gave the film 4/5 saying that the film is "A must for masala movie lovers.." Tajpal Rathore of BBC gave it 4 out of 5 stars as well and stated, "Both a homage to and parody of Hindi Films, this cinematic feast delivered straight from the heart of the film industry will have you glued to your seats till the end." Nikhat Kazmi of The Times of India gave 3.5 of 5 stars stating the film is a total paisa vasool and a true tribute to Karz (1980). Raja Sen of Rediff.com also gave 3.5 stars and stated, "Om Shanti Om is an exultant, heady, joyous film reveling in Hindi Films, and as at most parties where the bubbly flows free, there is much silly giggling and tremendous immaturity. You'd do well to breathe in the filmi fumes, lift your own collar-tips upwards, and leave sense out of the equation. More cameos are written in than dialogues, so sit back and play spot-the-celeb. Or watch the Khan have a blast on screen."
Mark Medley of National Post gave 3 stars and stated, "The film is a mess for all the right reasons; elements of comedy, drama, romance, action and the supernatural are packed in. But really, the plot is just a vehicle to get from one song-and-dance number to the next." AOL India gave the film 3 out of 5 stars stating, "The movie consists of all the elements that are essentially called the 'navratnas' of Indian cinema – from joy to grief to romance to revenge. And she mixes these well to cook up a potboiler, which is sure to be a run away hit." Rajeev Masand of CNN-IBN gave Om Shanti Om 3 out of 5 stars, stated "A special mention must be made for the film's excellent dialogue which so cleverly incorporates Hindi Moves's oldest clichés into these characters' everyday parlance." Sudish Kamnath of The Hindu stated, "Om Shanti Om is a light-hearted tribute to Hindi cinema the way we know it and love it, in spite of its flaws, improvisation and implausibility. [...]That apart, the movie is a hell of a party, a bits-and-pieces blockbuster strung together with a series of laughs, songs and dances. SRK shows us why he's the rock star of our times."
Review aggregator Rotten Tomatoes gave Om Shanti Om a rating of 83%, based upon 6 reviews (5 fresh and 1 rotten).
Nina Davuluri's talent for Miss America 2014 was a Hindi Film fusion dance choreographed by Nakul Dev Mahajan and performed to Dhoom Taana. It was the first time Hindi Film ever appeared on the Miss America stage and Davuluri is the first Indian American to win the competition.
Manoj Kumar planned to sue the makers of Om Shanti Om for showing his body double in bad taste. Kumar added, "Are the Mumbai police so stupid that they can't recognise Manoj Kumar and lathicharge him in the '70s when he was a star?". Kumar also alleged that Shahrukh Khan is communal. Later, in a press conference, Shahrukh Khan and director Farah Khan accepted their mistake and apologised for the matter. Farah Khan even offered to cut the scene which Manoj Kumar felt was hurtful, but Kumar refused on grounds that, as Farah had stated, "I [Farah Khan] am like his daughter. He said, 'Betiyaan maafi nahi maangti' (Daughters don't ask for forgiveness). I told him that he could've called me and scolded me." Later, Kumar said that though this incident was hurtful to him, he wishes to forgive, ignore, and move on, saying that he prefers to "see Ram in everyone and ignore the Ravana."
In 2008, before the film's television premiere on Sony TV, Manoj Kumar filed for a stay on the television release, at civil court in Mumbai. On 8 August 2008, he won permanent injunction on the scenes in Om Shanti Om that lampooned him. The court ordered the producers and Sony Entertainment Television, to edit the Manoj Kumar look-alike scenes before showing the film on the channel on 10 August 2008. It also ordered that the film could not be shown in any media—TV, DVD or Internet—without the scene being deleted.
On 7 August 2008, before its television release, scriptwriter Ajay Monga, moved the Bombay High Court alleging that the basic storyline of the film was lifted from a film script he had emailed to Shah Rukh Khan in 2006. According to the petition, "Monga, along with one more writer Hemant Hegde, had registered the script with the Cine Writers Association (CWA) in September 2005. In January 2008, Cine Writers Association (CWA) rejected Monga's appeal at a special Executive Committee meeting. Thereafter, he approached the court to stay the film's screening on television. Though, on 6 August the court rejected Monga's plea for seeking a stay on the television telecast, it directed all the respondents including Shahrukh Khan, Farah Khan, Red Chillies Entertainment, Gauri Khan (director Red Chillies) and film's co-writer Mushtaq Sheikh, to file their say by the next hearing on 29 September 2008.
In November 2008, the Film Writers' association sent a communication to Red Chillies and Ajay Monga that it had found similarities in Om Shanti Om and Monga's script. The similarities were more than mere coincidences according to Sooni Taraporewala who chaired a special committee that has investigated the case on behalf of the Film Writers' association.
Another allegation of plagiarism came from Rinki Bhattacharya, daughter of late Bimal Roy, who directed Madhumati. She threatened legal action against Red Chillies Entertainment and the producer-director of Om Shanti Om, as she felt that the film's second half was similar to Madhumati, also a rebirth saga.
National Film Awards
Won
2008 – National Film Award for Best Art Direction – Sabu Cyril
Filmfare Awards
Won
Best Female Debut – Deepika Padukone
Best Special Effects – Red Chillies VFX
Screen Awards
Nominated
Best Film
Best Actor in a Negative Role – Arjun Rampal
Best Director – Farah Khan
Best Playback Singer Male – K.K. for Aankhon Mein Teri
Best Background Music – Vishal-Shekhar
Best Art Direction – Sabu Cyril
Zee Cine Awards
Nominated
Best Film
Best Actor Male – Shah Rukh Khan
Best Actor Female – Deepika Padukone
Best Director – Farah Khan
Best Actor in a Supporting Role Male – Shreyas Talpade
Most Popular Track of the Year – Dard-E-Disco
Best Playback Singer Male – KK for Aankhon Mein Teri
Best Playback Singer Male – Sonu Nigam for Main Agar Kahoon
Best Lyrics – Main Agar Kahoon
Best Music – Vishal-Shekhar
IIFA Awards
Nominated
Best Picture
Performance in a Leading Role Female – Deepika Padukone
Performance in a Negative Role – Arjun Rampal
Playback Singer Male – K.K. for Aankhon Mein Teri
Om Shanti Om was remade into a Japanese musical titled Oomu Shanti Oumu.