A gay village (also known as a gay neighborhood, gay enclave, gayvenue, gay ghetto, gaytto, gay district, gay mecca or gayborhood) is a geographical area with generally recognized boundaries, inhabited or frequented by a large number of lesbian, gay, bisexual, and transgender (LGBT) people. Gay villages often contain a number of gay-oriented establishments, such as gay bars and pubs, nightclubs, bathhouses, restaurants, boutiques and bookstores. Among the most famous gay villages are New York City's Greenwich Village, Chelsea, and Hell's Kitchen neighborhoods; Boston's South End and Provincetown, Massachusetts; Philadelphia's Washington Square West; Washington D.C.'s Dupont Circle; London's Soho, Birmingham's Gay Village, and Manchester's Canal Street, all in England; Los Angeles County's West Hollywood; as well as Barcelona Province's Sitges, Toronto's Church and Wellesley neighborhood, San Francisco's Castro, Madrid's Chueca, Berlin's Schöneberg, Le Marais in Paris, Green Point in Cape Town and Melville in Johannesburg, South Africa.
Contents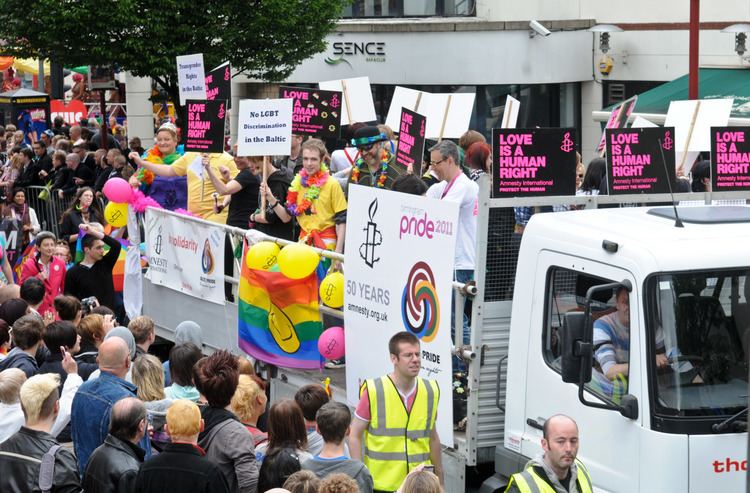 In North America, the following gayborhoods are also noted: Asbury Park, Maplewood, Montclair, and Lambertville in New Jersey; Wilton Manors, Florida; Chicago's Boystown, Atlanta's Midtown, Montreal's Le Village, Houston's Montrose, San Diego's Hillcrest, San Jose's St Leo neighborhood, Dallas' Oak Lawn, and Seattle's Capitol Hill.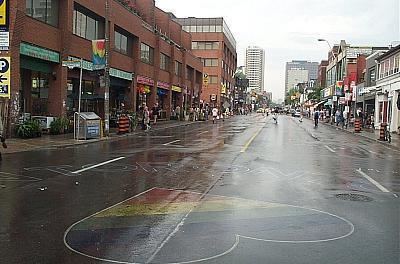 Such areas may represent a LGBTQ-friendly oasis in an otherwise hostile city, or may simply have a high concentration of gay residents and businesses. Much as other urbanized groups, some LGBT people have managed to utilize their spaces as a way to reflect their cultural value and serve the special needs of individuals in relation to society at large.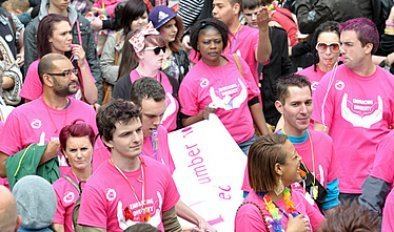 Today, these neighborhoods can typically be found in the upscale or trendy parts of town like in Manhattan, chosen for aesthetic or historic value, no longer resulting from the sociopolitical ostracization and the constant threat of physical violence from homophobic individuals that originally motivated these communities to live together for their mutual safety.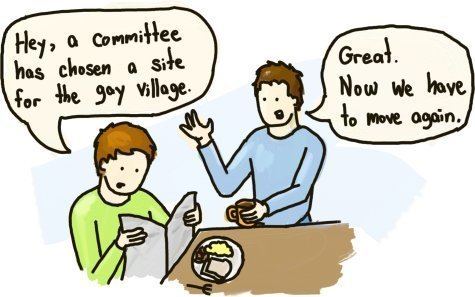 These neighborhoods are also often found in working-class parts of the city, or in the neglected fringe of a downtown area – communities which may have been upscale historically but became economically depressed and socially disorganized. In these cases, the establishment of a LGBT community has turned some of these areas into more expensive neighborhoods, a process known as gentrification – a phenomenon in which LGBT people often play a pioneer role. This process does not always work out to the benefit of these communities, as they often see property values rise so high that they can no longer afford them as high-rise condominiums are built and bars move out, or the only LGBT establishments that remain are those catering to a more upscale clientele. However, today's manifestations of "queer ghettos" bear little resemblance to those of the 1970s.
The ghetto
The term ghetto originally referred to those places in European cities where Jews were required to live according to local law. During the 20th century, ghetto came to be used to describe the areas inhabited by a variety of groups that mainstream society deemed outside the norm, including not only Jews but poor people, LGBT people, ethnic minorities, hobos, prostitutes, and bohemians.
These neighborhoods, which often arise from crowded, highly dense, and often deteriorated inner city districts, are critical sites where members of gender and sexual minorities have traditionally congregated. From one perspective, these spaces are places of marginality created by an often homophobic, biphobic, and transphobic heterosexual community; from another perspective, they are places of refuge where members of gender and sexual minorities can benefit from the concentration of safe, nondiscriminatory resources and services (just as other minorities do).
In some cities, LGBT people congregate in visibly identified neighborhoods, while in others they are dispersed in neighborhoods which have less visibility because a liberal, affirming counterculture is present. For example, LGBT people in San Francisco congregate in the Castro neighborhood, while LGBT people in Seattle concentrate in the city's older bohemian stomping grounds of Capitol Hill, and those of Montreal have concentrated in a working-class neighbourhood referred to administratively as "Centre-Sud" but largely known as "Le Village". These areas, however, have higher concentrations of LGBT residents and businesses that cater to them than do surrounding neighborhoods. Some cities like Austin, Texas did not develop a defined gay village despite the city of Austin being home to many LGBT people with developed LGBT-friendly businesses and a counterculture present.
History of the gay village
The neighbourhood of Schöneberg in Berlin, close to Nollendorfplatz, is the first gay village in the world, from the 1920s.
Prior to the 1960s and '70s, specialized LGBT communities did not exist as gay villages in the United States; bars were usually where LGBT social networks developed, and they were located in certain urban areas where police zoning would implicitly allow so-called "deviant entertainment" under close surveillance. In New York, for example, the congregation of gay men had not been illegal since 1965; however, no openly gay bar had been granted a license to serve alcohol. The police raid of a private gay club called the Stonewall Inn on June 27, 1969, led to a series of minor disturbances in the neighborhood of the bar over the course of the subsequent three days involving more than 1,000 people. The Stonewall Rebellion managed to change not only the profile of the gay community but the dynamic within the community itself. This, along with several other similar incidents, precipitated the appearance of gay ghettos throughout North America, as spatial organization shifted from bars and street-cruising to specific neighbourhoods. This transition "from the bars to the streets, from nightlife to daytime, from 'sexual deviance' to an alternative lifestyle" was the critical moment in the development of the gay community. On June 23, 2015, the Stonewall Inn was the first landmark in New York City to be recognized by the New York City Landmarks Preservation Commission on the basis of its status in LGBT history, and on June 24, 2016, the Stonewall National Monument was named the first U.S. National Monument dedicated to the LGBTQ-rights movement.
Online communities had developed globally by the early 2000s as resource connecting gay villagers worldwide to provide information for arts, travel, business, gay counseling, and legal services, aiming to provide safe and gay-friendly environments for members of LGBTQ communities in general.
Characteristics
Gay villages can vary widely from city to city and country to country. Furthermore, some large cities also develop "satellite" gay villages that are essentially "overflow" areas. In such cases, gay men and lesbians have become priced-out of the main gay village and move to other, more affordable areas, thereby creating an entirely new gay village, also thereby furthering the process of gentrification by pricing-out long held tenants of these areas. In New York City, many gays in the 1990s moved to the Chelsea neighborhood from the Greenwich Village neighborhood as a less expensive alternative; subsequent to this movement, house prices in Chelsea have increased dramatically to rival the West Village within Greenwich Village itself. Other examples include, in Boston gay men moving to the South End and lesbians migrating to Jamaica Plain; while in Chicago, gays have moved to the Andersonville area as an offshoot of the Boystown/Lakeview neighborhood. Some gay villages are not neighborhoods at all, but instead are entirely separate municipalities from the city for which they serve as the primary gay enclave, such as West Hollywood in the Los Angeles area, and Wilton Manors in the Miami/Fort Lauderdale area.
Mickey Lauria and Lawrence Knopp, professors at the University of New Orleans and University of Minnesota respectively, tie these processes to the spatial nature of the urban renaissance which was occurring at the time. They argue that the "first wave" of low-wage gay residences in these urban centers paved the way for other, more affluent gay professionals to move into the neighborhoods; this wealthier group played a significant role in the gentrification of many inner city neighborhoods. The professors also noted that the presence of gay men in the real estate industry of San Francisco was a major factor facilitating the urban renaissance of the city in the 1970s.
However, the gentrification of gay villages may also serve to reinforce stereotypes of gays, by pushing out gay people who do not conform to the prevailing "gay, white, affluent, professional" image. Such people (including gay people of color, low-income/working-class gays, and "undesirable" groups such as gay prostitutes and leathermen) are usually forced out of the "village" due to rising rents or constant harassment at the hands of an increased policing presence. Especially in San Francisco's Polk Gulch neighborhood (the first "gay village" in that city), gentrification seems to have had this result.
Gay men and women have a reputation for driving the revitalization of previously run-down enclaves. Making these neighborhoods more desirable places to live, businesses and other classes of people move to the area and, accordingly, property values tend to go up. Richard Florida, an influential American academic, claims that their mere presence lures investors and jobs, particularly of the high-technology kind. They are, he says, "the canaries of the creative economy". Cities that have gay villages and are more tolerant towards gays, generally tend to have stronger, more robust, and creative economies, as compared to cities that are less tolerant towards gays. Florida says that cities as such have a stronger creative class, which is integral in bringing in new ideas that stimulate economies.
Consumerization
The gentrification of once rundown inner-city areas, coupled with the staging of pride parades in these areas, has resulted in the increased visibility of gay communities. Parades such as Sydney's Gay and Lesbian Mardi Gras and Manchester's Pride events attract significant investment and create tourist revenue, and cities are beginning to realize, firstly, that the acceptance of lesbian and gay culture is fast becoming a sign of urban "sophistication", and secondly, that gay-oriented events, such as pride parades, the World Outgames and the Gay Games, are potentially lucrative events, attracting thousands of gay tourists and their dollars. The growing recognition of the economic value of the gay community is not only associated with their wealth but also with the role that lesbians and gay men have played (and continue to play) in urban revitalization.
List of gay villages
Provincetown, MA was ranked by the US Census Bureau as "the gayest city in America." Also Provincetown, or Ptown, was voted "Best Resort Town in 2011" by Gaycities.com. The town had far more gay marriages than straight marriages performed since 2003 when Massachusetts legalized same-sex marriage. The town's various businesses sponsor Gay Men's Week, Women's Week, Bear Week, Family Week (same-sex families), and their version of a gay pride parade, Carnival. Famous gay residents currently include journalist Andrew Sullivan, filmmaker John Waters, and comedian Kate Clinton.
Some cities have a very well-defined gay village in the heart of a larger area that also has a significant gay population. For example, Boystown in Chicago is a very well-defined gay village situated within the larger Lakeview neighborhood. Lakeview is an affluent neighborhood with a reputation for being a stronghold of liberal and progressive political views. Outside of Boystown, Lakeview is a mixture of both gay and straight citizens and families, but Boystown is the main gay village. Other examples of this phenomenon include Davie Village in the heart of Vancouver's gay community. It sits within the greater West End area, which, though decently populated by gay people, is not necessarily considered a gay village.
Despite its predominantly gay population and higher concentration of gay venues, the South Beach area in Miami Beach, Florida, was never exclusively gay, because of its popularity among straight people alike. Philadelphia's traditional gay village comprises several downtown blocks and is called "the Gayborhood". The LGBT culture in Philadelphia has an established presence that includes clubs, bars, and restaurants as well as health facilities for the LGBT community. Philadelphia's "Gayborhood" contains 68 rainbow street sign signs throughout the community. Washington DC's Dupont Circle and Logan Circle area are known for its many gay oriented bars, restaurants, and shops. The Short North in downtown Columbus, Ohio is primarily known as an art district, but has a strong gay community and a high concentration of gay-oriented clubs and bars. In Boston, the trendy and upscale South End neighborhood has a large population of gay men, and the Jamaica Plain and Roslindale neighborhoods are home to scores of lesbians, also with vibrant but less trendy downtown areas.
Montreal's Gay Village (Le Village, in French) is considered one of North America's largest in population, concentration and scope.
Some areas are often associated with being "gay" cities or resorts, due to their image and acceptance of the gay community. Examples include San Francisco, Manchester and Brighton in the UK, Sydney, Cape Town and the Greek island of Mykonos.
Liverpool, England is home to a large LGBT population and as well as having an officially recognised gay quarter, the city hosts the annual Homotopia (festival), the only lesbian, gay, bisexual and trans combined arts organisation in the North of England. It was the first city in the UK to install street signs bearing the rainbow coloured Pride flag to identify its gay quarter on Stanley Street, Cumberland Street, Temple Lane, Eberle Street and Temple Street, and was also the scene of many significant moments in the history of the gay rights movement (see LGBT culture in Liverpool).
Both Birmingham Pride and Liverpool Pride are huge annual festivals which attract tens of thousands of people to their respective cities in August each year. Birmingham Pride is centred on the city's gay village located around Hurst Street, whilst Liverpool's Pride is spread across the Liverpool gay quarter and the Pier Head.
Manchester's gay village is within Greater Manchester's main central business district and is the centre for the city's pride events. The village is based on Canal Street, so The Gay Village and Canal Street are terms used interchangeably when describing the area. The Queer as Folk storyline was set in Manchester and much of the series was filmed in the city's gay village. Gay scenes from Britain's ITV serial drama Coronation Street (also based in the city) were filmed around Canal Street.
Hebden Bridge has been called 'the lesbian capital of the U.K.' since the 1990s.
The neighbourhood of Le Marais in Paris has experienced a growing gay presence since the 1980s, as evidenced by the existence of a large gay community and of many gay cafés, nightclubs, cabarets and shops, such as one of the largest Gay Club in Europe called Le Depot. These establishments are mainly concentrated in the southwestern portion of the Marais, many on or near the streets Sainte-Croix de la Bretonnerie and Vieille du Temple.
A well-known gay village of Sitges is one of the richest residential areas within the area of greater Barcelona. The town hosts several gay events throughout the year, such as Gay Pride and Bears Week. The first monument for the gay community, an inverse triangle, was built in Passeig Maritim street in 2006. Many gay tourists use the gay-friendly accommodation in Sitges during Circuit Festival of Barcelona. Barcelona has a gay village, is Gaixample. Chueca(Madrid) is one gay village of Spain. It's very famous in the country and Europe. Has gay pub, monuments, history, gay book shops...
San Diego has its own gay village called Hillcrest, which sits around Balboa Park. Hillcrest is very close to the downtown area but is able to maintain a small town eclectic feel. While it is considered by most as the gay area of San Diego with its gay bars and dance clubs, the overall population of the area has only gotten more and more diverse with the rise in condominium projects.
In Minneapolis, Minnesota areas surrounding Loring Park, site of the local LGBT pride festival, are regarded as a "gay" neighborhood, though many gay and lesbian people have migrated to more residential neighborhoods such as Bryn Mawr and Whittier.
In Tampa, Florida, the gay community was traditionally spread out among several neighborhoods. In the early 21st century, the Ybor City National Historic Landmark District has seen the creation of the GaYbor District, which is now the center of gay and lesbian life in the Tampa Bay area and home to the majority of gay bars and dance clubs, restaurants, and service organizations. Orlando, Florida, the gay community is centered around the neighborhoods of Thornton Park and Eola Heights.
Church and Wellesley is an LGBT-oriented community located in Toronto, Ontario, Canada. It is roughly bounded by Gould Street to the south, Yonge Street to the west, Charles Street to the north, and Jarvis Street to the east, with the intersection of Church and Wellesley Streets at the centre of this area. Though some gay and lesbian oriented establishments can be found outside of this area, the general boundaries of this village have been defined by the Gay Toronto Tourism Guild. Many LGBT people also live in the nearby residential neighbourhoods of The Annex, Cabbagetown, St. James Town and Riverdale, and in smaller numbers throughout the city and its suburbs.
Ottawa, Ontario, Canada, established a GLBT-friendly Village along Bank Street in Centretown on November 4, 2011 when the City of Ottawa installed 6 street signs at the intersections of Bank/Nepean, Bank/Somerset and Bank/James. This is the cap to an historic year and six years of lobbying, where the Village installed two public art projects in addition to tripling the number of rainbow flags in the Village area. The Village in Ottawa features a diverse mix of businesses and organizations, many of which cater to or of specific interest to the GLBT community, and has a high concentration of GLBT persons living and working in the area.
Asbury Park, New Jersey and the adjacent town of Ocean Grove, New Jersey house a large gay community. Many vacationers who visit Asbury Park are gay, and the city houses New Jersey's only gay hotel, The Empress Hotel. Collingswood, New Jersey, a suburb of Philadelphia, also houses a very large year 'round gay community. Ogunquit, Maine has a gay population of year round residents and second homeowners. Many vacationers stay at the numerous gay B&B's in Ogunquit] village.
In Sydney, Australia, Potts Point (aka "Poofs Point") and nearby Elizabeth Bay (aka "Betty Bay") are renowned for having the largest gay population in the city, with many gay run business. The area is known for having the highest density of population in Australia with many Art Deco apartment blocks. Newtown also has a sizable gay population but it has a more gritty bohemian feel.
In some cities, such as Stockholm, Helsinki, Tel Aviv, Austin, Texas, and Copenhagen, there are no established gay villages, partly due to the differing social dynamics of these cities (less social segregation within the city), but also due to earlier and greater social acceptance of the gay community within mainstream society. However, there are areas which were historically known as meeting places for gays, such as Södermalm in Stockholm, Punavuori and Kallio in Helsinki, which remain as somewhat trendy areas for gay people to live in, though they do not have a predominantly gay population.
Top LGBT populations in Brazilian cities
In 2009, a survey conducted by the University of São Paulo in 10 Brazilian state capitals, estimated that 7.8% of Brazil's male population was gay and 2.6% was bisexual (a total of 10.4%), while 4.9% of the female population was estimated to be lesbian and 1.4% bisexual (a total of 6.3%).
In the city of Rio de Janeiro 19.3% of the male population was estimated to be gay or bisexual. Among the female population in the city of Manaus, 10.2% were estimated to be lesbian or bisexual.
Top LGBT populations in U.S.A.
The U.S. city with the highest gay population is New York with an estimated 272,493 gay residents. Los Angeles is second with 154,270, followed by Chicago with 114,449 and San Francisco with 94,234. The highest percentage of LGBT residents is Washington, D.C, the nation's capital, reportedly at 10 percent.
The U.S. metropolitan areas with the most gay residents are New York–Northern New Jersey–Long Island, with an estimated 568,903 gay residents, followed by Los Angeles–Long Beach–Santa Ana with 442,211, and Chicago-Naperville-Joliet, Illinois-Indiana-Wisconsin with 288,748.
The following charts show a list of the top U.S. cities, states, and metro areas with:
the highest population of gay residents, and
the highest percentage of gay residents within city limits. (LGBT population as a percentage of total residents). The numbers given are estimates based on American Community Survey.
References
Gay village Wikipedia
(Text) CC BY-SA