Sitges is a town about 35 kilometres southwest of Barcelona, renowned worldwide for its Film Festival and Carnival. Located between the Garraf Massif and the sea, it is known for its beaches, nightspots, and historical sites.
While the roots of Sitges artsy reputation date back to the late 19th century, when Catalan painter Santiago Rusinol took up residence there during the summer, the town became a centre for the 1960s counterculture in mainland Spain, then still under the dictatorship of Francisco Franco, and became known as "Ibiza in miniature".
Nowadays it is a popular destination for gay and lesbian travellers, as it has become one of the most gay-friendly places in the world.
Today, Sitges economy is based on tourism and culture offering more than 4,500 hotel beds, half of them in four-star hotels.
Almost 35% of the approximately 26,000 permanent inhabitants are from the Netherlands, the UK, France and Scandinavia, whose children attend international schools in the area. There are 17 beaches. Sitges was also the site of the annual Bilderberg conference held in June 2010.
Sitges has been referred to as the Saint-Tropez of Spain, with property prices approaching those of the most expensive European cities, the main reason for this being the setting by the sea and the surrounding Parc Natural del Garraf. Proximity to Barcelona-El Prat Airport is also a major advantage.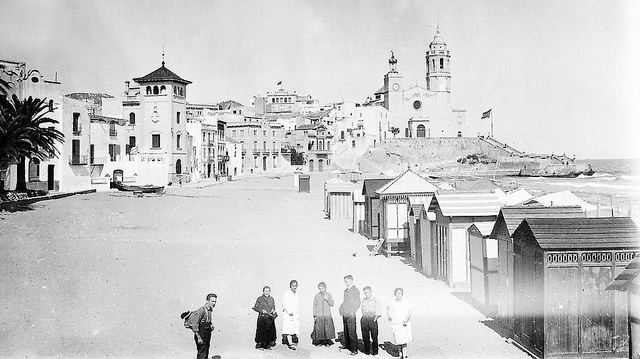 Human presence in the area dates to at least the Neolithic area, and an Iberian settlement from the 4th century. In the 1st century BC it included two separated villages, later absorbed by the Romans.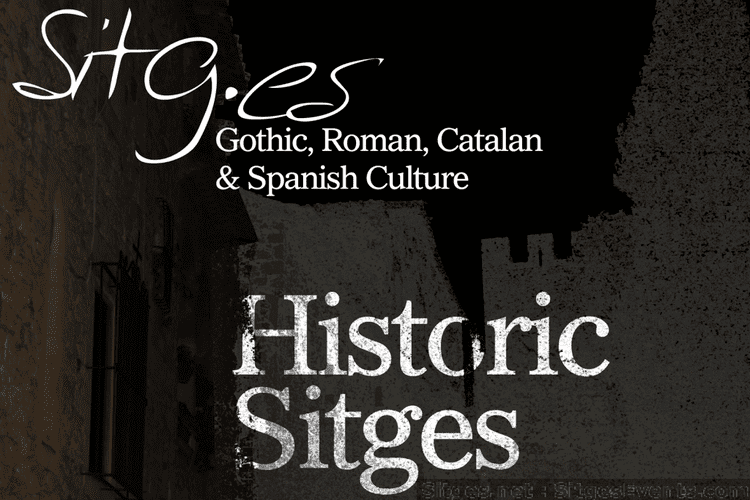 During the Middle Ages, a castle was built in Sitges, owned by the bishopric of Barcelona, which later ceded it to count Mir Geribert (1041). In the 12th century the town fell under the rule of the Sitges family. The latter held it until 1308, when Agnes of Sitges sold the town to Bernat de Fonollar, after whose death it went to the Pia Almoina, a charitable institution, to which it belonged until 1814.
Sitges economy was mostly based on the production of wine until the economic boom of the 1960s, after which it became a tourist resort.
Miquel Forns i Fuste is the current, 5th Mayor, of Sitges (Lalcalde de Sitges)
(,)http://www.sitgeshillsvillas.com/upload/Old%2520Picture%2520of%2520Sitges.jpg(,)http://www.sitges.net/wp-content/uploads/2013/11/sitges-history-gothic-roman-1024x682.png(,)http://www.sitgesevents.com/wp-content/uploads/2014/07/rainy-day-Sitges-events.png(,)http://www.sitges.net/wp-content/uploads/2013/11/IMG_7704-Large-1024x682.jpg(,)http://www.sitges.net/wp-content/uploads/2013/11/IMG_7696-Large-682x1024.jpg(,)http://www.ancient-origins.net/sites/default/files/field/image/Catalonia-Cave.jpg(,)http://www.sitgeshillsvillas.com/upload/Sitges%2520Beach%2520Scene%2520From%25201960s.jpg
(,)http://media-cdn.tripadvisor.com/media/photo-s/02/62/f5/ec/restaurant-pic-nic-sitges.jpg(,)http://www.gaysitgesguide.com/wp-content/uploads/maricel-sitges-2.jpg(,)http://www.gaysitgesguide.com/wp-content/uploads/maricel-sitges-4.jpg(,)http://sitgesnight.com/wp-content/uploads/bulk/Maricel-restaurant-sitges-1.jpg(,)http://media-cdn.tripadvisor.com/media/photo-s/02/79/f6/b7/fragata.jpg(,)http://media-cdn.tripadvisor.com/media/photo-s/02/b2/ee/85/l-ambassade.jpg(,)http://media-cdn.tripadvisor.com/media/photo-s/01/84/0d/91/soca-restaurant-bar-great.jpg(,)http://media-cdn.tripadvisor.com/media/photo-s/05/fb/62/86/ricarroz-sitges.jpg(,)http://www.gaysitgesguide.com/wp-content/uploads/parrots-restaurant-4.jpg(,)http://www.calpinxositges.com/media/66_cal_pinxo_2.jpg(,)http://media-cdn.tripadvisor.com/media/photo-s/03/82/9c/5b/sweet-pacha-sitges.jpg(,)http://www.lucasfoxstyle.com/wp-content/uploads/2014/05/SITG-Fragata-2.jpg