Spouse

Ayesha Shroff (m. 1987)




Years active

1978–present




Full Name

Jaikishen Kakubhai Shroff

Born

1 February 1957 (age 62) (

1957-02-01

)

Parents

Rita Shroff, Kakubhai Shroff

Movies




Similar People
All FUNNY Interviews Of Jackie Shroff At Events
Jackie Shroff's FUNNY Polio Ad | BEHIND THE SCENES.
Jaikishen Kakubhai "Jackie" Shroff (born 1 February 1957) is an Indian actor. He has been in the Hindi cinema (Bollywood) industry for almost four decades and as of 2017 has appeared in more than 220 films in ten languages. (Hindi, Konkani, Kannada, Marathi, Oriya, Punjabi, Bengali, Malayalam, Tamil, Telugu and Bhojpuri)
Contents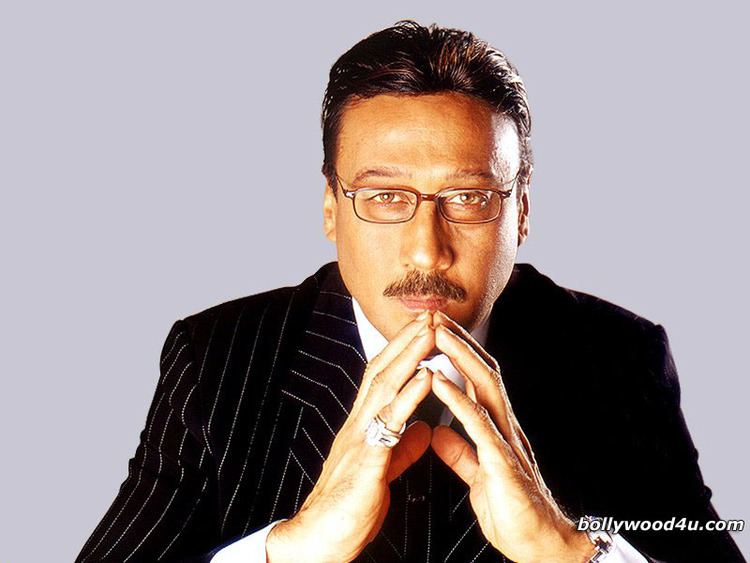 Early life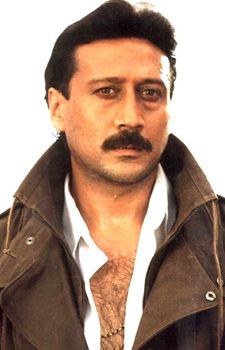 Shroff was born Jai Kishan Kakubhai Shroff in Mumbai. His father, Kakubhai Haribhai Shroff, was a Gujarati and his mother, Rita Hurinnisa, was an Uyghur from Kazakhstan. They lived in the Teen Batti area of Malabar Hill, Mumbai. Before entering the film industry, he was a local toughie. He modelled in a few advertisements. It was one of his classmates in school who gave Shroff his name "Jackie" and then film maker Subhash Ghai stuck to this name when he launched him in the film Hero.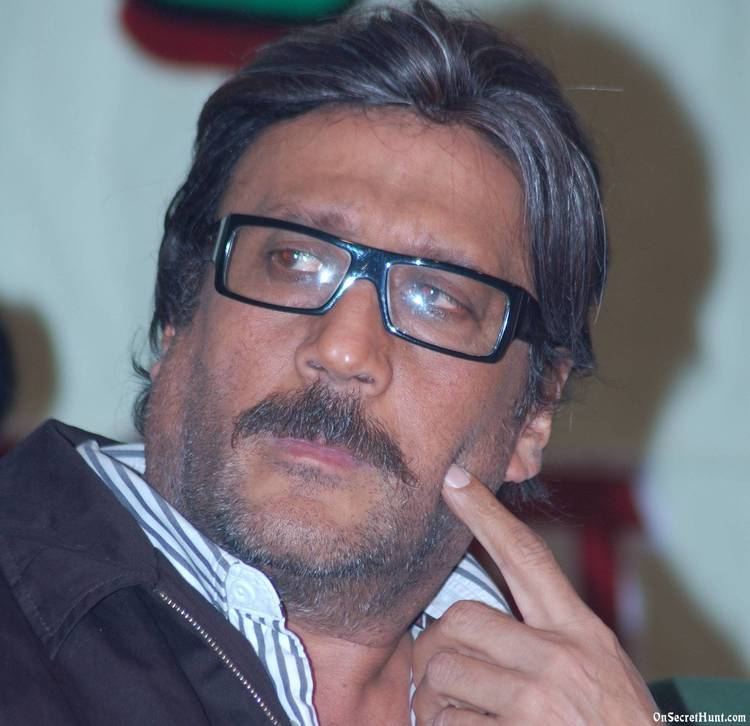 Shroff was a judge on the magic show India's Magic Star, broadcast on Indian channel Star One. The show began on 3 July 2010 and ended on 5 September 2010.
Career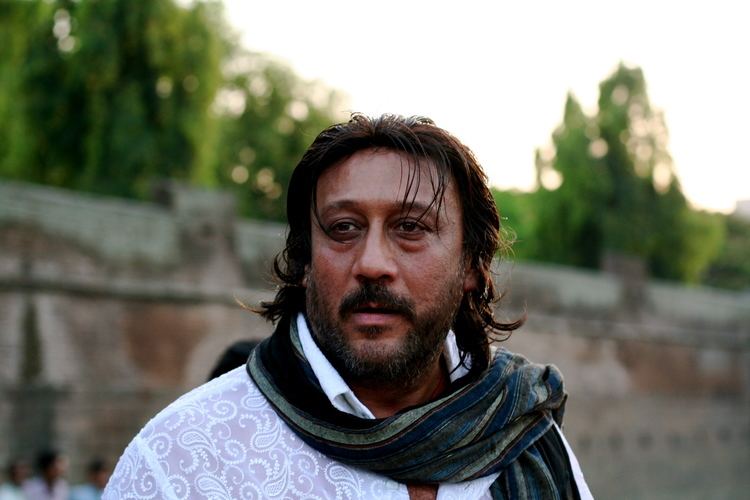 In 1982, Shroff made his acting debut in Dev Anand's movie Swami Dada. In 1983, Subhash Ghai cast him in lead role for the movie Hero, paired against Meenakshi Seshadri. The film was a success. He continued to work in Subhash Ghai movies, irrespective of any role that was offered. After Hero, he did several other films, amongst which Andar Baahar. Jaanoo and Yudh were successful. In 1986 he did Karma which became the highest-grossing film of 1986. His next film to be released was Kaash. Later films, such as Dahleez and Sachché Ká Bol-Bálá were critically acclaimed, but failed at the box office. But he came back to success through films such as Ram Lakhan, Tridev and Parinda, which won him filmfare award for best actor. In the 90s he was part of successful films such as Saudagar, Angaar, Gardish, Khalnayak, 1942 a love story, Rangeela, Agnisakshi and Border.
Personal life
He married his longtime girlfriend Ayesha Dutt, who later became a film producer, on her birthday, 5 June 1987. The couple run a media company Jackie Shroff Entertainment Limited. They jointly owned 10% shares in Sony TV from its launch until 2012, when they sold their stake and ended their 15-year-long association with Sony TV. They have two children, a son, Bollywood actor Tiger Shroff and daughter, Krishna.
He is life member of the International Film And Television Club of Asian Academy of Film & Television
Other ventures
He has received Doctor of Arts for his valuable contribution in the field of Cinema from the Invertis University.
Social activism
He has an organic farm, where he grows organic plants, trees and herbs. Jackie attended the opening of the environment Jaldhaara Foundation.
Award ceremony participation
Jackie participated in the Hiru Golden Film Awards 2016 in Sri Lanka as a special guest along with Bollywood actors such as Sunil Shetty, Neil Nitin Mukesh, and actresses Sridevi, Madhuri Dixit and Karishma Kapoor.
Awards
1990: Won: Filmfare Award for Best Actor – Parinda
1994: Nominated: Filmfare Award for Best Actor – Gardish
1994: Nominated: Filmfare Award for Best Supporting Actor – Khalnayak
1995: Won: Filmfare Best Supporting Actor Award – 1942: A Love Story
1996: Won: Filmfare Best Supporting Actor Award – Rangeela
1997: Nominated: Filmfare Best Supporting Actor Award – Agni Sakshi
2002: Nominated: Filmfare Best Supporting Actor Award – Yaadein
2001: Nominated: Filmfare Award for Best Performance in a Negative Role – Mission Kashmir
2003: Nominated: Filmfare Best Supporting Actor Award – Devdas
2007: Special Honour Jury Award for outstanding contribution to Indian cinema
2014: Won: The Original Rockstar GQ
2016: Won: HT Most Stylish Living Legend Award.
2017: Won: Raj Kapoor Award - Received by yesteryear actress Rakhee Gulzar: 30 April 2017.
2017: Won: Received the 20th anniversary of JP Dutta's Border movie Award: 12th June 2017.
Filmography
Actor
-
Quotation Gang (announced)
-
Pehlu (pre-production)
as
Victor
-
Baap (filming)
as
Jai Kishan
-
Rocky the Slave (post-production)
as
John
2023
Firrkie (post-production)
-
Ek Second... Jo Zindagi Badal De...
as
Yuvraaj
2022
Mili
as
Adam Latchman (Guest Appearance)
2022
Phone Bhoot
as
Aatmaram Shastrashakti
2022
Om - The Battle Within
2021
Koochie Koochie Hota Hai
2021
Paath - The Lesson (Short)
as
Widower
2021
Sooryavanshi
as
Omar Hafeez
2021
Call My Agent Bollywood (TV Series)
as
Jackie Shroff
- In the Dog House (2021) - Jackie Shroff
2021
The Interview: Night of 26/11
2021
Hello Charlie
as
M. D. 'Mac' Makwana / Gorilla Toto
2021
OK Computer (TV Series)
as
Pushpak Shakur
- Hello World (2021) - Pushpak Shakur
- Ctrl + Ajeeb + Delete (2021) - Pushpak Shakur
- Making of a Messiah (2021) - Pushpak Shakur
2021
Om Shri Satya Sai Baba
2020
Kaash... What If (Short)
as
JK
2020
Baaghi 3
as
Inspector Charan Chaturvedi
2019
Prassthanam
as
Badshah Khan
2019
Devil's Daughter
as
The Devil
2019
Criminal Justice (TV Series)
as
Mustafa
- The Mystery (2019) - Mustafa
- A New Kingpin (2019) - Mustafa
- The Going Gets Tough (2019) - Mustafa
- A New Bond (2019) - Mustafa
- Judgement Day (2019) - Mustafa
- Beginning Of The End (2019) - Mustafa
- Under Arrest (2019) - Mustafa
- The Trial (2019) - Mustafa
- The Price Of Life (2019) - Mustafa
2019
Romeo Akbar Walter
as
Srikant Rai - RAW Chief
2019
Raat Baaki Baat Baaki (Short)
as
Prakash Malhotra
2019
Total Dhamaal
as
GPS Navigation (voice)
2018
The Playboy Mr. Sawhney (Short)
as
Yashpal Sawhney
2018
Paltan
as
Maj. Gen. Sagat Singh
2018
Jagga Jiunda E
as
Dharam Raaj
2017
Sainath - Sab ka malik ek (TV Series)
as
Sai Baba (voice)
2017
Maayavan
as
Major Sathyan
2017
Shunyata (Short)
as
Madhur
2017
Sarkar 3
as
Michael Vallya
2017
Khujli (Short)
as
Girdharilal
2017
Mupparimanam
as
Special appearances
2017
Soul Curry
as
Philip Branco
2017
Sardar Saab
as
Sardar saab
2016
Spices & Secrets with Zarine Khan (TV Series)
2016
Housefull 3
as
Urja Nagre
2016
Chalk N Duster
as
Naresh Patel
2015
Jazbaa
as
Home Minister Mahesh Maklai
2015
Chehere: A Modern Day Classic
as
Rai Saab
2015
Shegavicha Yogi Gajanan
2015
Brothers
as
Garson Fernandes (Gary)
2015
Dilliwaali Zaalim Girlfriend
as
Minocha
2015
Dirty Politics
as
Mukhtiar Singh
2014
Happy New Year
as
Charan Grover
2014
Most Welcome 2
as
The Villain
2014
Kochadaiiyaan
as
Raja Mahendra
2014
Kahin Hai Mera Pyar
as
Ajay Sahni
2014
Gang of Ghosts
as
Babu Bhai
2013
Mahabharat
as
Duryodhan (voice)
2013
Bull BulBul Bandook
as
Shambhu Singh
2013
Daha Balunga
as
Arun Singh Deo
2013
Aurangzeb
as
Yashwardhan Singh
2013
Shootout at Wadala
as
Police Commisioner (uncredited)
2013
Lucky DI Unlucky Story
as
Fateh
2012
Cover Story: The Ultimate Interview
2012
Maalik Ek Sur Anek (TV Movie)
as
Actor
2012
Daal Mein Kuch Kaala Hai
as
Inspector Fatke Maar
2012
Life Ki Toh Lag Gayi
as
Ashtaq Firdausi
2011
Hum Do Anjaane
as
Iqbal Khan
2011
Chargesheet
as
Director Mahesh
2011
Mummy Punjabi: Superman Ki Bhi Maa!!
as
Kanwal Sandhu
2011
Bhindi Baazaar Inc.
as
Narcotics Officer
2011
Sakthi
as
Janaki Verma 'Jackie'
2011
Satrangee Parachute
as
Jai Singh
2011
Shraddha: In the Name of God
2010
Bhoot and Friends
as
Bhanu Pratap Singh / Bhoot
2010
Aaranya Kaandam
as
Singa Perumal
2010
Malik Ek
as
Shirdi Sai Baba
2010
Musaa: The Most Wanted
as
Jaikishan Shroff
2010
Teen Patti
as
Tarun Mazumdar / Tony Milano
2010
Veer
as
Raja Gyanendra Singh
2010
Bejanma
as
Special Appearance
2009
Anubhav: An Actor's Tale
as
Ibrahim Vakil / Guru
2009
Care of Footpath
as
Special Appearance
2009
Ek: The Power of One
as
Savte
2009
Raaz: The Mystery Continues
as
Veer Pratap Singh
2008
Hari Puttar: A Comedy of Terrors
as
DK
2008
Mukhbiir
as
Home Minister
2008
Thodi Life Thoda Magic
2008
Dhoom Dadakka
as
Godfather
2007
Fool N Final
as
Gunmaster G9
2007
Aur Pappu Pass Ho Gaya
as
Sudhakar 'Sudhabhai' Chauhan
2007
Eklavya: The Royal Guard
as
Jyotiwardhan
2006
Bhagam Bhag
as
Commissioner J.D. Mehra
2006
Care of Footpath (Guest Appearance)
2006
Apna Sapna Money Money
as
Carlos
2006
Bhoot Unkle
as
Bhoot Unkle
2006
Vidhyaarthi: The Power of Students
as
Inspector Ranveer
2005
Divorce: Not Between Husband and Wife
as
Jackie
2005
Tum... Ho Na!
as
Jai Walia
2005
Views of the Inner Chamber
as
Zamindar Bhubaneshwar Chaudhary
2005
Ssukh
as
Gaurishankar Yadav
2004
Hulchul
as
Balram 'Balli' A. Chand
2004
Aan: Men at Work
as
Gautam Walia
2003
Samay: When Time Strikes
as
Amod Parekh
2003
People Cover Story: Bachelorette Baby Boom
as
Abdul Wahab Barkatali Al Sabunchi 50-50 / Chotte Mia
2003
3 Deewarein
as
Jaggu (Jagdish Prasad)
2003
Ek Aur Ek Gyarah: By Hook or by Crook
as
Maj. Ram Singh (BSF officer)
2003
Baaz: A Bird in Danger
as
Jai Singh Dabral, the Mayor
2003
Arey Diwano... Don (Short)
2002
Agnivarsha: The Fire and the Rain
as
Paravasu
2002
Kya Yehi Pyaar Hai
as
Dr. Kamlakar Tiwari
2002
Pitaah
as
Ramnarayan Bharadwaj, police officer (daroga)
2001
Hadh: Life on the Edge of Death
as
Vishwa
2001
Bas Itna Sa Khwaab Hai...
as
Naved Ali
2001
Yaadein...
as
Raj Singh Puri
2001
One 2 Ka 4
as
Javed Abbas
2001
Grahan
as
Advocate Jaggan 'Jaggu' Sinha
2001
Censor
as
Naseeruddin Shaukh (Censor Board Member)
2000
Missing (TV Series)
as
Jackie Shroff
2000
Kahin Pyaar Na Ho Jaaye
as
Tiger
2000
Mission Kashmir
as
Hilal Kohistani
2000
Refugee
as
BSF Officer Raghuvir Singh
2000
Jung
as
Inspector Veer Chauhan
1999
Only You
as
Pritam, Auto-rickshaw driver
1999
Hote Hote Pyar Hogaya
as
Police Officer Arjun
1999
Kartoos
as
ACP Jay Suryavanshi
1999
Laawaris
as
Advocate Anand Saxena
1998
Bandhan
as
Thakur Suraj Pratap
1998
Yugpurush: A Man Who Comes Just Once in a Way
as
Ranjan
1998
2001: Do Hazaar Ek
as
Insp. Anil Sharma
1998
Ganga Ki Kasam
as
Dacoit Jay Singh
1998
Hafta Vasuli
as
Yeshwant Pandey
1998
Badmaash
as
Gautam Hiraskar
1997
Shapath
as
Inspector Kishan
1997
Share Bazaar
as
Special appearance
1997
Vishwavidhaata
as
Ajay Khanna
1997
Border
as
Wing Commander Andy Bajwa
1997
Aar Ya Paar
as
Shekhar Khosla
1996
Return of Jewel Thief
as
Jatin Kumar 'Johnny'
1996
Agni Sakshi
as
Suraj Kapoor
1996
Bandish
as
Ram Ghulam & Kishen
1995
Ram Shastra
as
Inspector Ram Sinha
1995
God and Gun
as
Vijay Prakash
1995
Dushmani: A Violent Love Story
as
Jai Singh
1994
Stunttman
as
Bajranj Tiwari
1994
1942: A Love Story
as
Shubhankar
1993
Shatranj
as
Dino D. Verma
1993
Gardish
as
Shiva P. Sathe
1993
Antim Nyay
as
ACP Jay R. Singh
1993
Khalnayak
as
Inspector Ram Kumar Sinha
1993
Roop Ki Rani Choron Ka Raja
as
Ravi Verma
1993
King Uncle
as
Ashok Bansal
1992
Laat Saab
as
Vijay A. Rai
1992
Angaar
as
Jaikishan 'Jaggu'
1992
Police Officer
as
Inspector Jai Kishen / Jai Ram
1992
Dil Hi To Hai
as
Govardhan / Harshvardhan
1991
Hafta Bandh
as
Bajrang Tiwari
1991
Lakshmanrekha
as
Vikram Sharma 'Vicky'
1991
Izzat
as
Inspector Siddhant
1990
Pathar Ke Insan
as
Police Inspector Karan
1990
Azaad Desh Ke Gulam
as
Inspector Jai Kishen / Jamliya Jamshed Purwala
1990
Baap Numbri Beta Dus Numbri
as
Ravi P. Singh
1989
Hum Bhi Insaan Hain
as
Kishanlal
1989
Main Tera Dushman
as
Kishan Srivastav
1989
Kala Bazaar
as
Inspector Kamal Kimtilal
1989
Sikka
as
Jai Kishan 'Jackie'
1989
Ram Lakhan
as
Inspector Ram Pratap Singh
1989
Sachche Ka Bol-Bala
as
Nandi
1989
Vardi
as
Jai / Anil Verma
1988
Aakhri Adaalat
as
Nitin Sinha
1988
Falak (The Sky)
as
Vijay Verma
1987
Jawab Hum Denge
as
Police Inspector Jaikishan Verma
1987
Mard Ki Zabaan
as
Rajesh Bannerjee / Vijay Chauhan
1987
Uttar Dakshin
as
Raja KK Verma
1987
Kudrat Ka Kanoon
as
Dr. Vijay Verma
1987
Diljalaa
as
Munna / Inspector Panchmarg Koda / Azad Modi
1987
Pyaar (Video)
as
Special Appearance
1986
Haathon Ki Lakeeren
as
Lalit Mohan Singh
1986
Mera Dharam
as
Jai Singh Sengar
1986
Dahleez
as
Chandrashekhar
1986
Allah-Rakha
as
Allah Rakha
1985
Shiva Ka Insaaf
as
Shiva / Bhola
1985
Yudh
as
Police Inspector Vikram 'Vicky'
1985
Mera Jawab
as
Suresh / Solanki Patwardhan Lal
1984
Andar Baahar
as
Police Inspector Ravi Khanna
1983
Hero
as
Jackie Dada / Jaikishan
1982
Swami Dada
as
Jaggu's Sidecick
Producer
2000
Jis Desh Mein Ganga Rehta Hain (producer)
Soundtrack
2010
Valentine's Day (performer: "Banno Ki Aayegi (Happy)")
1992
Dil Hi To Hai (performer: "Chhat Ke Upar Do Kabutar" (Part I))
1990
I'm British But... (TV Movie documentary) (performer: "Gur Nalon Husn Mithha")
Thanks
2022
Ardh (special thanks)
2016
Badman (special thanks)
2010
Teen Patti (special thanks)
2008
Mukhbiir (special thanks)
2008
Halla Bol (special thanks)
2000
Raja Ko Rani Se Pyar Ho Gaya (thanks - as Jackie Sheroff)
Self
-
Showtime - A Mocumentry (pre-production)
as
Self
2022
India's Got Talent (TV Series)
as
Self - Guest
- Jackie Shroff On IGT (2022) - Self - Guest
- Jackie Shroff Special (2022) - Self - Guest
2021
Kaun Banega Crorepati? (TV Series)
as
Self
- A Bond Of Friendship (2021) - Self
2021
Shiva - Narrated by Jackie Shroff (Podcast Series)
as
Self - Host
2016
The Kapil Sharma Show (TV Series)
as
Self
- A Night With Jackie Dada (2020) - Self
- Housefull of Masti Continues (2016) - Self
2019
Back Benchers (TV Series)
as
Self - Guest
- Anna and Bhidu starring Suniel Shetty & Jackie Shroff (2019) - Self - Guest
2018
BFF's with Vogue (TV Series)
as
Self - Guest
- Episode #2.7 (2018) - Self - Guest
2018
63rd Filmfare Awards (TV Special)
as
Self
2017
Koffee with Karan (TV Series)
as
Self - Guest
- Jackie Shroff and Tiger Shroff (2017) - Self - Guest
2014
Comedy Nights with Kapil (TV Series)
as
Self
- Tiger, Jackie & Kriti - Heropanti (2014) - Self
2002
Kya Masti Kya Dhum (TV Series)
as
Self
- Episode dated 7 July 2002 (2002) - Self
2000
Raja Ko Rani Se Pyar Ho Gaya
as
Self (uncredited)
2000
1st IIFA Awards (2000) (TV Special)
as
Self
1993
Pyara Bharat Yeh Kahe (TV Movie)
as
Self
1987
Raj Kapoor
as
Self (during funeral)
1985
Star Ten 1985 (Video short)
as
Self
References
Jackie Shroff Wikipedia
(Text) CC BY-SA