Ethnicity

Telugu and Tamil

Awards

Padma Shri in 2013

Occupation

Actress, producer







Full Name

Shree Amma Yanger Ayyapan

Born

13 August 1963 (

1963-08-13

)

Residence

Mumbai, Maharashtra, India

Years active

1967–1997, 2012–present

Relatives

Arjun Kapoor (step-son)Anil Kapoor (brother-in-law)Sanjay Kapoor (brother-in-law)Surinder Kapoor (father-in-law)Sonam Kapoor (niece)

Children

Khushi Kapoor, Jahnavi Kapoor

Siblings

Srilatha Yanger, Satish Yanger

Movies

Puli, English Vinglish, Mr India, Chandni, Sadma




Similar People

Mithun Chakraborty, Boney Kapoor,

Madhuri Dixit

, Anil Kapoor, Khushi Kapoor
Legendary Actress Sridevi Funeral
Sridevi Kapoor (Hindi: श्रीदेवी) (born Shree Amma Yanger Ayyapan; 13 August 1963 – 24 February 2018) was an Indian film actress who has worked in Tamil, Telugu, Hindi, Malayalam and Kannada films. She has been called the first female superstar of Hindi cinema.
Contents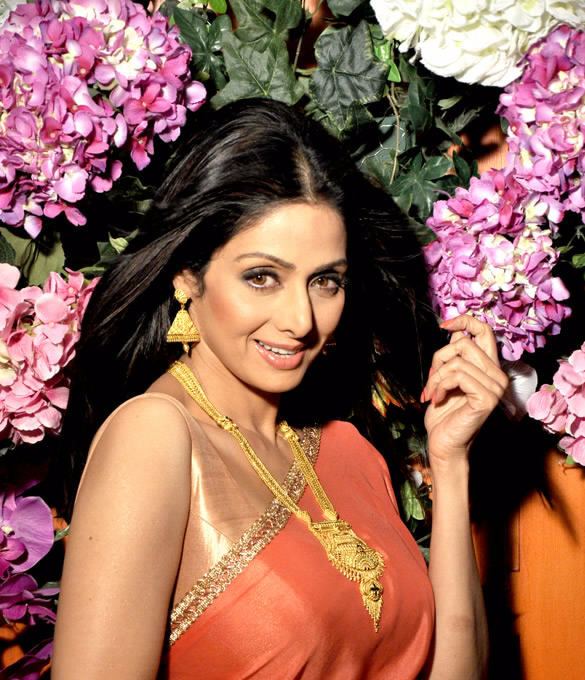 Sridevi started her career as a child artist in M.A. Thirumugham's devotional Thunaivan at the age of four, and continued to act as a child artist in Tamil, Telugu, Malayalam and Kannada films. She made her Bollywood debut as a child artist in the hit Julie (1975) and played her first adult role at age 13 with the Tamil film Moondru Mudichu (1976). Subsequently, Sridevi established herself as one of the leading actresses of Tamil and Telugu cinema, with roles such as 16 Vayathinile (1977), Sigappu Rojakkal (1978), Varumayin Niram Sivappu (1980), Meendum Kokila (1981), Premabhishekam (1981), Moondram Pirai (1982), Aakhari Poratam (1988), Jagadeka Veerudu Atiloka Sundari (1990), and Kshana Kshanam (1991).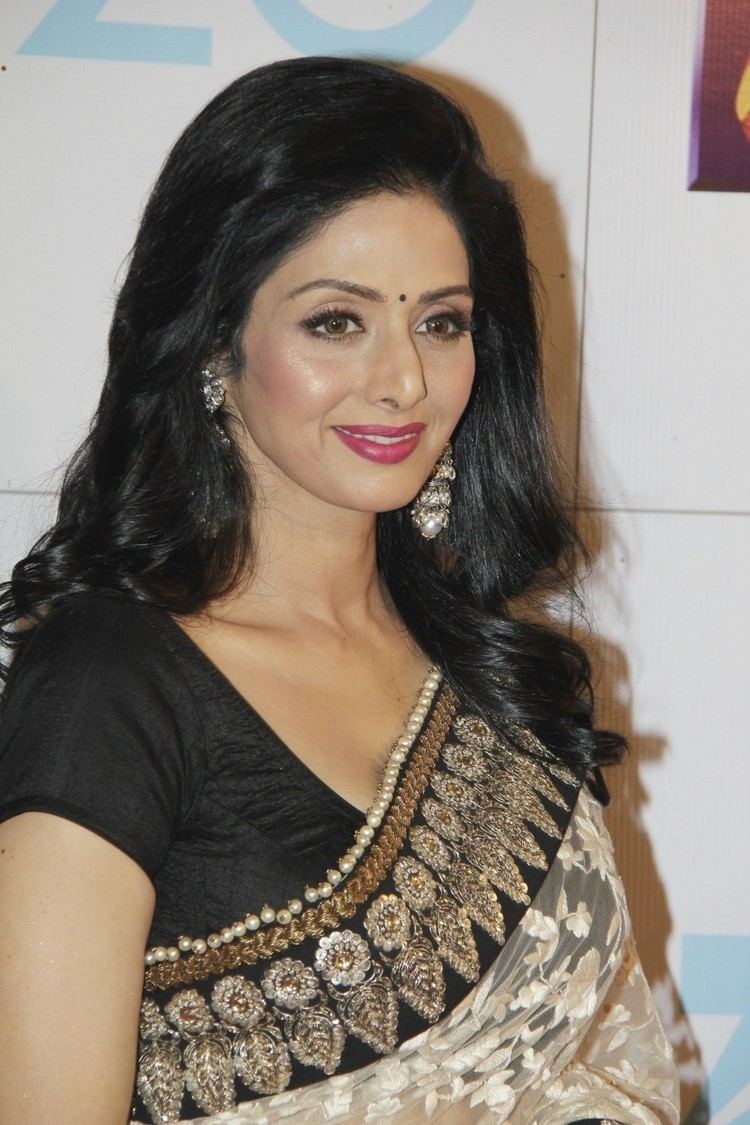 In Bollywood, she made her debut as a lead actress in Solva Sawan (1978) and gained wide public attention with the movie Himmatwala (1983). She appeared in a string of commercially successful movies like Mawaali (1983), Tohfa (1984), Naya Kadam (1984), Masterji (1985), Maqsad (1985), Nazrana (1987), Mr. India (1987), Waqt Ki Awaz (1988), Chandni (1989). She also received critical acclaim for commercially successful movies like Sadma (1983), Nagina (1986), ChaalBaaz (1989), Lamhe (1991), Khuda Gawah (1992), Gumrah (1993), Laadla (1994), Judaai (1997).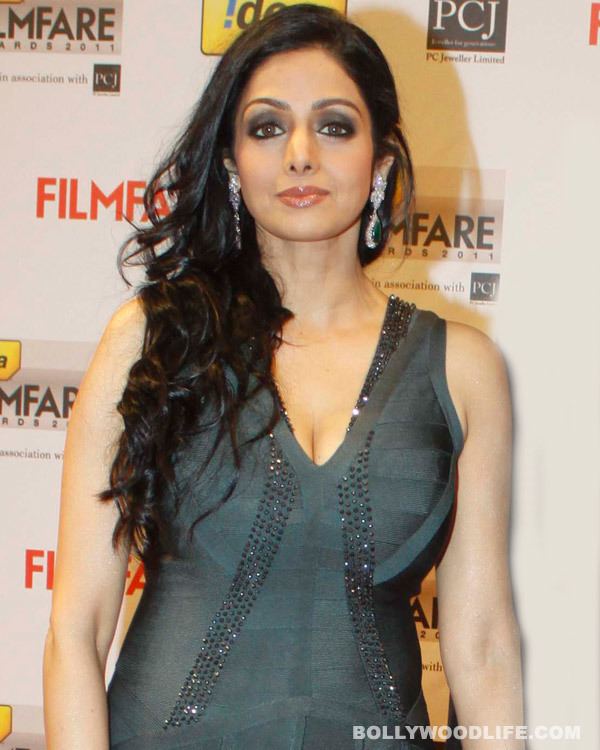 In 2012, Sridevi returned to films after a 15-year-long hiatus with English Vinglish and became the only actress in the history of Hindi and Tamil cinema to make a highly successful comeback. In 2013, the Government of India awarded her Padma Shri, the fourth highest civilian honor. She was also voted 'India's Greatest Actress in 100 Years' in a CNN-IBN national poll conducted in 2013 on the occasion of the Centenary of Indian Cinema.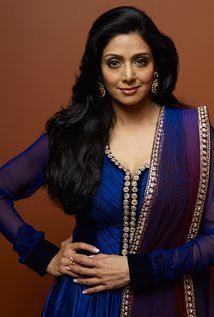 In her career, Sridevi has won five Filmfare Awards.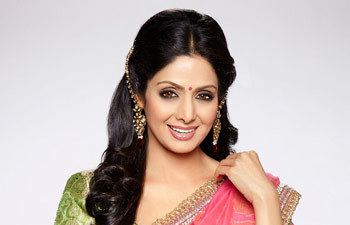 Sridevi's Last Journey : Celebs give her a Final Farewell | Rajini, Kamal | Actress Death 2018
Family and personal life
Sridevi was born in Sivakasi, Tamil Nadu on 13 August 1963 to Tamil father Ayyapan and Telugu mother Rajeswari. Her father was a lawyer. She has a sister and two step brothers. During the 1980s, Mithun Chakraborty had a love affair with Sridevi. Sridevi had fallen in love with Mithun Chakraborty on the sets of Rakesh Roshan's Jaag Utha Insan (1984). Sridevi and Mithun Chakraborty are rumored to have got married secretly and later Mithun Chakraborty admitted it to the press but only when a fan magazine published their marriage certificate. Sridevi married Boney Kapoor, a film producer and the elder brother of actors Anil Kapoor and Sanjay Kapoor, in 1996. They have two daughters, Janhavi and Khushi.
Early years as child artist (1967–1975)
Sridevi started her career as a child actor at the age of four in Tamil movie Thunaivan playing the role of young Lord Muruga and acted in many Tamil and Telugu movies from then on. Baby Sridevi's performance in Poompatta (1971) in Malayalam won her the Kerala State Film Award for Best Child Artist. Kandan Karunai (1967); Nam Naadu (1969); Prarthanai (1970) Babu (1971); Badi Panthulu (1972); Bala Bharatam (1972); Vasantha Maaligai (1972); Bhakta Kumbara (1974) are the most notable films of her career as a child artist. In 1975, Sridevi debuted in Bollywood with Julie, where she played younger sister to the protagonist Lakshmi.
Debut and success in the South industries (1976–1982)
In 1976, Sridevi started her first leading role in the Tamil film Moondru Mudichu directed by K. Balachander. She followed it with a number of films with Kamal Haasan and Rajnikanth.
Sridevi's first release of 1977 was Gayathri followed by Kavikkuyil and 16 Vayathinile where she played the role of a young girl who is caught between her two lovers. She also starred in the movie's Telugu remake Padaharella Vayasu in 1978. Her subsequent notable films included Bharathi Raja's Sigappu Rojakkal, SP. Muthuraman's Priya, Karthika Deepam, Johnny, Varumayin Niram Sivappu and Aakali Rajyam.
In 1981, she starred in the Tamil film Meendum Kokila which won her the Filmfare Award for Best Actress – Tamil. In 1982, Sridevi starred in Moondram Pirai playing a woman suffering from amnesia and went on to win the Tamil Nadu State Film Award for Best Actress.
Sridevi's notable Telugu films include Konda Veeti Simham, Kshana Kshanam, Vetagadu, Sardar Paparayudu and Bobbili Puli. With A. Nageswara Rao, she appeared in movies such as Mudulla Koduku, Premabhishekham, Bangaru Kanuka and Premakanuka as well as Kanchu Kagada, Kalavari Samsaram, Krishnavatharam, Burripalem Bolludu, Khaidi Rudrayya, Jagadeka Veerudu Atiloka Sundari, S. P. Parasuram and Govinda Govinda.
Her performance in the 1992 Ram Gopal Varma directed Kshana Kshanam won her the Filmfare Award for Best Actress – Telugu and Andhra's Nandi Award for Best Actress.
Bollywood Debut and further success (1983–1997)
Sridevi made her debut as a heroine in Hindi films in Solva Sawan in 1979. Four years later she was signed to star opposite Jeetendra in Himmatwala. The film released in 1983 and became one of the biggest blockbusters of the year. It established Sridevi in Bollywood and earned her the famous sobriquet 'Thunder Thighs'.
Her dance number 'Nainon Mein Sapna' became a rage with Rediff stating that "the water pots may have dominated most frames in Nainon mein sapna but it was Sridevi's bejewelled outfits and headgears that stole the show". The following year Tohfa released and turned out to be the biggest hit of 1984.
The film established Sridevi as one of the leading actress of Bollywood. with Filmfare magazine declaring her "Unquestionably No.1" on their cover. Sridevi went on to star in several films like Mawaali, Maqsad and Justice Chaudhry forming a popular onscreen pair with Jeetendra. Sadma released in 1983 brought Sridevi critical acclaim. A remake of her Tamil film Moondram Pirai, Sadma is included in iDiva's list of '10 Must Watch Movies That Weren't Blockbusters'.
Sridevi's performance as a child-woman suffering from amnesia was called by Indian Express "a milestone in her illustrious career". Sridevi also featured in the Mid Day list of 'Challenging Roles played by Bollywood Actors' describing her act in the film as "her best performance ever". In 2012, Adil Hussain, Sridevi's co-star in English Vinglish revealed that he became a fan of the actress after watching her in Sadma. The Sridevi-Kamal Hasan pair also appeared on the CNN-IBN 2012 list of 'Greatest Romantic Couples on Celluloid'. The film won Sridevi her first Filmfare nomination for Best Actress.
In 1986, came the snake fantasy Nagina which saw Sridevi play an 'ichhadhaari naagin' or a shape-shifting woman. The film turned out to be the second biggest blockbuster of the year with Box Office India stating that Sridevi remained "the undisputed No.1". Named one of the best snake fantasy films by Yahoo.
Times of India ranked Nagina as one of the 'Top 10 Snake Films of Hindi Cinema'. Sridevi's climax dance number 'Main Teri Dushman' also remains one of the best snake dances in Bollywood with Desi Hits calling it "one of Sridevi's most iconic dance numbers...that still gives fans goose bumps" and iDiva describing it as "the stuff of movie legends". Besides Nagina, 1986 also saw Sridevi giving box-office hits in Subhash Ghai's multi-starrer Karma and Feroze Khan's Janbaaz. According to CNN-IBN Bollywood Blockbusters, "Sridevi's popularity grew so much that despite having a guest appearance in Janbaaz, she completely overshadowed the film's lead heroine Dimple Kapadia".
Sridevi followed the success of Nagina by playing a goofy crime journalist in the 1987 film Mr. India described by Rediff as "one of the most iconic films of its time". Directed by Shekhar Kapur, it became one of the highest grossing hits of the year and also found a place in Hindustan Times list of 'Top 10 Patriotic Films of Hindi Cinema'. While the trade famously joked that the film should have been named Miss. India, Rediff also stated that "Sri was a complete show-stealer in the film". Sridevi's imitation of Charlie Chaplin in the film was described by Times of India as "the most hilarious act she has ever done". Rediff also featured Sridevi in its list of 'Super Six Comic Heroines' stating that "her mobile face expressions could give Jim Carrey sleepless nights" and that "her biggest plus point is her ability to be completely inhibited in front of the camera".
The dance number 'Hawa Hawai' dance, cited by Times of India as "one of the unforgettable numbers of Sridevi", also became a popular nickname for the actress. Besides comedy, Sridevi gave Hindi Cinema one of its sexiest rain songs in the film's chart-buster 'Kaate nahin kat te' where Filmfare described Sridevi as "truly a goddess in a blue sari". while iDiva described the song as "unparalleled in Hindi Cinema". Rediff also featured the song in its list of 'Top 25 Sari Moments' praising Sridevi's "ability to look erotic even when she's covered from head to toe". Kaate Nahi Kat Te song was chosen by NDTV as the most famous rain song in Bollywood Box Office India states that with the success of Mr. India, Sridevi "continued her domination" over her contemporaries Jaya Prada and Meenakshi Sheshadri.
In 1989 came Chaalbaaz which had Sridevi in a double-role playing twin sisters separated at birth. Filmfare ranked her performance 4th in its list of '80 Iconic Performances of Hindi Cinema' stating that "Sridevi´s penchant for giggles and her ability to look distinctly tearful when required polishes these performances to perfection. Hell, she made Sunny Deol and Rajnikant look like sidekicks in the film". while the Times of India article 'Bollywood's Hit Double Roles' gushed "Sridevi's performance rocked the box office". Rediff featured the film in its countdown of '25 Best Double Roles in Bollywood' saying "What you don't realise until you have seen Chaalbaaz is just how incredible Sridevi is at depicting both ends of the spectrum" and that the film "cemented her position as an actress with a killer comic timing".
Speaking to Indian Express about Sridevi's act in Chaalbaaz, the director Pankaj Parashar said "She proved her range with the movie and after that she got lots of offers which saw her in a double role". Her slapstick rain dance 'Na jaane kahan se aayi hai' became a big hit with Times of India describing it as a "Sridevi classic where she simply looked wow with her chirpy expressions and rain drops kissing her cheeks". This twin-sister act won Sridevi her first Filmfare Award for Best Actress in Hindi films while the song received the Filmfare Award for Best Choreography.
The same year also saw the release of the Yash Chopra romantic saga Chandni with Sridevi playing the title role. According to iDiva, the film was "more an event and less a movie". Chandni emerged as one of the biggest blockbusters of 1989 with The Hindu stating that "the film opened to full houses and distributors had to drastically increase the number of theatres". Cited by Times of India as "one of the most watched films of Indian Cinema", the film also reaffirmed Sridevi's position as the top female star of the 1980s.
While Sridevi topped the Hindustan Times list of Yash Chopra's 'Top 5 Heroines', CNN-IBN also ranked her no.1 on its list of 'Yash Chopra's 10 Most Sensuous Heroines' saying "Yash Chopra immortalised Sridevi as the perfect Chandni". The title role became one of the most famous characters of Hindi Cinema with India Today including it in its list of 'Yash Chopra's Iconic Characters' while NDTV featured it in its list of 'Yash Chopra's Greatest Creations' stating that the film established Sridevi "as the nation's sweetheart". The Tribune wrote "Leena Daru scored a winner again when she created the 'Chandni Look' for Sridevi. Every street corner sold the salwar-kameez and dupatta that gave the heroine a refreshingly understated look, rarely seen on the Indian screen". while Mid Day reported that the "simple white churidar and kurta with the leheriya dupatta gave Sridevi an angelic image and caused Chandni Chowk stores to hit the jackpot with thousands of copies".
The music of Chandni became a Platinum Success with Sridevi's famous dance number 'Mere Hathon Mein Nau Nau Choodiyan' finding a place in the Rediff chart of 'Bollywood's Top 25 Wedding Songs.' The actress also lent her voice to the film's popular title-track 'Chandni O Meri Chandni'. which featured among the 'Top 5 Songs' of Yash Chopra by Hindustan Times. Chandni won the National Film Award for Best Popular Film Providing Wholesome Entertainment while Sridevi garnered Filmfare Best Actress nominations for both Chandni and Chaalbaaz in 1989 winning for the latter.
Yash Chopra again cast Sridevi in his 1991 film Lamhe. Times of India included it in its list of 'Top 10 Films of Yash Chopra' describing it as a tale of "love transcending the boundaries of time and space" while Rediff called it "Quite easily one of his most definitive films, Chopra surpassed his own findings of romance with the insightful, lovely Lamhe". Sridevi played both mother and daughter cast in what iDiva described as "another double role but it was unlike any played before". Hailed by Rediff as "one of the most remarkable films of her career...often considered a film way ahead of its time", Her performance brought her much acclaim with BizAsia stating that "Her rendition of both Pallavi and Pooja serves well in highlighting how versatile she is as an actress, playing contrasting characters in the same movie". Sridevi's folk dance number 'Morni Baga ma' also became a rage and was placed among the 'Top 5 Songs' of Yash Chopra by Hindustan Times. Lamhe failed commercially but received high critical praise and has over the years become a cult classic. Talking about the film, critic Rachel Dwyer wrote in her biography of the film-maker "Yash Chopra's own favourite film, Lamhe ('Moments', 1991), divided the audience on a class basis: it was hugely popular with metropolitan elites and the overseas market, which allowed it to break even, but it had a poor box-office response (largely lower class, especially the repeat audience) because of its supposed incest theme". The Hindu reported that "With shades of incest, Lamhe caused more than a flutter and remained the talk of the town"
while Sridevi herself admitted in an interview with Rajeev Masand that she found the subject "too bold". Though the film flopped with Rediff describing its failure as "one of those bizarre, unexplained moments of cinema", Lamhe picked up five Filmfare trophies including Filmfare Award for Best Film and Sridevi's second Filmfare Award for Best Actress. Her popular Rajasthani costumes in the film also won designer Neeta Lulla her first National Film Award for Best Costume Design.
In 1992, Sridevi starred in the epic Khuda Gawah opposite Amitabh Bachchan. The actress played a double role again as an Afghani warrior Benazir and her daughter Mehendi. Shot extensively in Nepal,although it's depicted as Afghanistan in the film,it did good business with BBC reporting that "it ran to packed houses for 10 weeks in Kabul". Khuda Gawah still remains popular in the Afghan country and Rediff reported that the film is "in great demand after the opening of cinema halls in the country". The film picked up the Filmfare Award for Best Director while Sridevi earned a Filmfare nomination for Best Actress.
The actress's big budget 1993 release Roop Ki Rani Choron Ka Raja was one of India's most expensive films ever made. Though the film failed at the box-office, Sridevi was appreciated with Times of India calling her disguise in a comedy scene "the best ever South Indian role played by any actress".
Sridevi continued to get central roles with big banners like the Dharma Productions venture Gumrah opposite Sanjay Dutt. Directed by Mahesh Bhatt, the actress played a singer falsely accused of drugs smuggling in Hong Kong. Bollyspice stated in its 'Sridevi Retrospective' that "Despite very good performances from the rest of the cast, Gumrah was really Sridevi's film. She managed to exemplify female emotion and robustness to a great degree that you remember the film largely for her significant contribution towards it". Her performance received another nomination for Filmfare Best Actress Award. In 1994, Sridevi teamed up with Anil Kapoor again in Laadla playing business tycoon Sheetal Jaitley. The character, described by Times of India as "rude, dominant and very competitive" brought her yet another Filmfare nomination.
The last major film Sridevi starred in before she took a break from the industry was Judaai released in 1997. Along with Anil Kapoor and Urmila Matondkar, the actress played a greedy housewife going to extreme lengths for money. Talking about her swan song, critic Subhash K. Jha wrote that Sridevi "left us with the most stunning hurrah in Judaai. A terrible film that I've watched countless times to see her play the money-minded harridan who 'sells' her husband to Urmila Matondkar. Who but Sridevi could carry of such an outrageous role with such enthusiastic élan?!" while Bollyspice stated that "She used her polished acting skills to illustrate her character's greed and individualism at such a grotesque level." Judaai won Sridevi her eighth Filmfare nomination for Best Actress.
Post-marriage and television debut (1998–2011)
After a six-year hiatus, Sridevi briefly returned to the small screen in the Sahara sitcom Malini Iyer (2004–2005). She also appeared on Jeena Isi Ka Naam Hai (2004) and as a judge in the TV show Kaboom (2005). She performed a medley of some of her musical numbers at the 52nd Filmfare Awards 2007. She is also a member of the Board of Directors at the Asian Academy of Film & Television.
On 19 September 2009, Sridevi appeared on the Sony TV show 10 Ka Dum hosted by Salman Khan. On the episode, she and her husband, Boney Kapoor, were guests, along with actor-director Prabhu Deva, actress Ayesha Takia and the musical duo Sajid-Wajid, all of whom had come to promote their film Wanted.
Sridevi has also appeared on ramps in Lakme Fashion Weeks 2008 and 2010 and the HDIL Couture Week 2009 as Showstopper for designers like Neeta Lulla, Queenie Dhody and Priya-Chintan.
Sridevi also developed passion for painting. In March 2010, her paintings were sold by an international art auction house with the money raised being donated.
In 2011, Kareena Kapoor paid a tribute to Sridevi by performing to a selection of Sridevi's numbers at the Global Indian Film and Television Awards. Kapoor called Sridevi her hero and the reason why most girls of her generation became actresses.
In May 2012, Sridevi appeared in Aamir Khan's TV show Satyamev Jayte as a surprise to an interviewee who had been sexually abused as a child. She also signed a letter to the government in support of passing a law criminalizing sexual abuse of children initiated by Aamir Khan.
Comeback with English Vinglish (2012 - 2017)
Sridevi announced her comeback in early 2011, while working in a new film English Vinglish. directed by Gauri Shinde. Her return was officially announced at the IIFA Awards 2011 held in Toronto with a montage of Bollywood stars welcoming her back. After the Toronto premiere,some international media outlets hailed Sridevi as the "Meryl Streep of India." Two weeks later America's entertainment weekly Variety wrote in its review of English Vinglish that it found Sridevi "Disarmingly charming in a manner that recalls Audrey Hepburn."
On release, the film and Sridevi's performance received positive response. The Times of India gave it 4/5 calling it "Easily one of the best films of 2012...Sri's performance is a masterclass for actors...Request you to make a little place next to you, Rajkumar Hirani; Gauri Shinde has taken a bow in mainstream Bollywood." Another 4/5 came from Raja Sen of Rediff who found the film is "a winner all the way...Sri excels in fleshing out her character." Critic Subhash K Jha gave a 4.5 saying Sridevi "makes the contemporary actresses, even the coolest ones, look like jokes...If you watch only two films every year make sure you see "English Vinglish" twice!"
Rajeev Masand of CNN-IBN gave it 3.5 stars saying Sridevi delivers "a performance that is nothing short of perfect...It's warm and fuzzy, and leaves you with a big smile on your face." Anupama Chopra also gave it 3.5 calling it "that rare thing...Sridevi doesn't miss a beat. Her performance is a triumph." Firstpost's Rubina Khan gave the film a full 5/5 saying "Sridevi brings acting back in English Vinglish." Komal Nahta said it was 'beyond stars' applauded Sridevi saying she "makes the best comeback in Bollywood history and delivers a landmark performance." Social movie rating site MOZVO gave it 4.1 out of 5 putting it in 'Must Watch' category. Amer Shoib of The Cinema Journal gave it 4/5 and called the film "a hilarious, touching, sensitive, and sweet film that marks the triumphant come back of India's biggest female star...Sridevi."
With the worldwide triumph of English Vinglish, Sridevi, most probably, became the only actress in Bollywood to make a successful comeback as a leading lady after marriage and a long hiatus. Box Office Capsule hailed the film and Sridevi's return as "Golden Comeback of the Queen." Director Gauri Shinde featured in the Financial Times 2012 list of '25 Indians To Watch'. Film critic Raja Sen from Rediff explained why she is ranked as No. 1 "This is a simple film where things are credible, never melodramatic, and Sridevi – in a range of well-picked cotton sarees – always judges the tone right. It's the sort of performance younger actresses, including the ones on this list, should learn from."
Sridevi was declared the most-admired Bollywood actress of 2012 in a mobile survey conducted by Vuclip, world's largest mobile research company. Furthermore, she was nominated for Best Actress in most of the award ceremonies, including the Filmfare awards, where she received her ninth nomination for Best Actress.
In 2015, Sridevi has a starring role in the Tamil movie Puli. The movie was released on Oct 1, 2015. She is starring in an upcoming movie, titled "Mom" that costars Akshay Khanna and Sajal Ali, and is directed by Ravi Udyawar.
Mom (2017 - present)
Sridevi was next seen in her home production titled Mom. The poster was unveiled by Salman Khan at the 2017 edition of the Zee Cine Awards. The actor paid a glowing tribute to Sridevi calling her a bigger star than all the Khans. Salman said "Aamir Khan, Shah Rukh Khan, Akshay (Kumar)... we have all done many films. Aamir may have done about 50 films — he has a lot of time, as he does only one film per year; Shah Rukh may have done more than 100 films... Put together, we may have all done about 250-275 films. But there is one legend who is very talented, dedicated, hard working and professional. She completed 300 films, after starting her career as a child artiste. Our work cannot even be compared to this legend - she is none other than Sridevi!". The First Look of Mom was made public by Sridevi on 14 March in her tweet that said "When a woman is challenged...Presenting the First Look of Mom". It met with an ecstatic response as Times of India called it "stunning beyond words" while NDTV announced that "The Queen is Back". Hindustan Times called it "a gritty Sridevi ready to take on the world" while India Today found it "damn mysterious". The First Look began trending on Twitter with Mid-Day reporting that "Twitter goes gaga over Sridevi's intriguing look". India.com also described it as "intense and mysterious" and that the "Twitterati can't stop praising her look".
Mom released in July 2017 to positive reviews, with critics praising Sridevi's performance.
Image and artistry
Sridevi is widely regarded by media as one of the most iconic leading ladies of Bollywood and one of the most popular heroines of Hindi Cinema. The actress is also considered one of the most beautiful faces to have graced the Indian screen. Sridevi is famous for being the only actress who at the peak of her career, refused films opposite Amitabh Bachchan since she was more keen to do heroine oriented roles like Chandni and Chaalbaaz. With her sharp comic timing, Sridevi constantly tops lists of Bollywood actresses who are brilliant in comedy with Rediff stating that she evokes laughs with "her (deliberated) clumsy body language, dancing eyes and wobbly, thick-accented voice." Sridevi is celebrated as one of the best dancers in Bollywood with Filmfare saying that "Her songs and dance were so popular that people knew about the films because of her songs." Sridevi also remains one of the highest earning actresses of Bollywood with Hindustan Times stating that she was "the only actress who nearly touched the one crore mark in the Nineties."
Fashion icon
Sridevi made her debut into the world of fashion in 2008. The actress walked as show-stopper for designers Priya and Chintan at the Lakme Fashion Week with the daily Hindustan Times stating "Sridevi oozes oomph." The next year, the actress again walked the ramp for jewelry designer Queenie Dhodhy at the HDIL India Couture Week. Rediff described her second turn as show-stopper saying "Sridevi dazzles at Queenie's show." In 2010, Sridevi again played show-stopper for designer Neeta Lulla at Lakme Fashion Week. While the dress garnered criticism, the media again lauded the actress reporting "Thank God Sridevi salvaged the look with her pretty face." Two years later Sridevi was back on the ramp for fashion designer Sabyasachi Mukherjee at Delhi Couture Week 2012. While NDTV described Sridevi's look on the ramp as "nothing less than an eternal beauty in a white embroidered sari", Sabyasachi said "I am honoured to have designed clothes for her."
Sridevi has also appeared on the cover of several fashion magazines. In 2007, the actress graced the cover of Hi Blitz with the tagline, "The Goddess Returns". In 2011, Sridevi featured on the cover of Asia Spa with NDTV writing "we wonder just how does she manages to get more stunning every day?" The same year she also appeared on the cover of Marie Claire with the media reporting "Marie Claire kept it simple, alas! Sridevi looked anything but plain." In 2012, Sridevi became the cover girl for L'Officiel and the media described her Burberry look as "amazingly hot."
In 2013, the actress made headlines again when she appeared on the cover of Vogue in a cougar styled photo-shoot. Hindustan Times reported that "Sridevi sizzles for Vogue India" while NDTV wrote "Sridevi left us speechless. The cascading hair, sexy dress and subtle make-up make her look absolutely riveting and much younger than her years." Times of India reported "Sridevi turns it on at 50" while India Today asked "Is she really 49? Sridevi looks drop dead gorgeous."
In 2015, Sridevi was honoured with the 'Ultimate Diva' award at the Ciroc Filmfare Glamour & Style Awards.
Death
Sridevi died on 24 February 2018 in Dubai after suffering a massive cardiac arrest.She was with her husband Boney Kapoor and daughter Khushi at her nephew Mohit Marwah's wedding function in Dubai at the time of her death. After rumors that news of her death was an Internet hoax, it was confirmed as true by her brother-in-law Sanjay Kapoor. Her fans, co-stars and Bollywood stars took it to Twitter to mourn the death, which came as a shock to all, as she had no history of a heart illness.According to reports, the body of the late actress will be brought to Mumbai, where her funeral rites will take place.
Filmography
Actress
2017
Mom
as
Devki Sabarwal (as Sridevi Kapoor)
2015
Mr And Mrs Rangegowda (TV Series)
2015
Puli
as
Queen Yavanaraani
2013
Vicente Ferrer (TV Movie)
as
Mujer 1
2012
English Vinglish
as
Shashi Godbole
2004
Malini Iyer (TV Series)
as
Malini Iyer
2004
Meri Biwi Ka Jawab Nahin
as
Durga
1997
Kaun Sachcha Kaun Jhootha
as
Sapna Mathur
1997
Judaai
as
Kaajal Verma (as Sreedevi)
1996
Mr. Bechara
as
Asha / Anita
1994
Chaand Kaa Tukdaa
as
Radha (as Sri Devi)
1993
Chandra Mukhi
as
Chandra Mukhi
1993
Gurudev
as
Sunita / Priya
1993
Govindha Govindha
as
Naveena
1993
Roop Ki Rani Choron Ka Raja
as
Seema Soni / Shanta
1992
Aasmaan Se Gira
as
Forest Goddess
1992
Khuda Gawah
as
Benazir / Mehndi
1991
Lamhe
as
Pallavi and Pooja Bhatnagar
1991
Banjaran
as
Reshma / Devi
1990
Pathar Ke Insan
as
Lata Rai
1990
Jagadeka Veerudu Athiloka Sundari
as
Indraja
1990
Naaka Bandi
as
Geeta / Seeta
1989
Main Tera Dushman
as
Jugni
1989
Chaalbaaz
as
Anju Das / Manju Das
1989
Chandni
as
Chandni Mathur
1989
Nigahen: Nagina Part II
as
Neelam
1988
Aakhari Poratam
as
Pravallika
1988
Halla Gulla
as
Special Appearance
1988
Kanoon Ki Hathkadee
as
Kavita
1988
Ram-Avtar
as
Sangeeta 'Shano'
1988
Waqt Ki Awaz
as
Lata I. Prasad
1987
Ek Chor Ek Hasina
as
Devi (as Sri Devi)
1987
Waqt Ka Shahenshah
as
Kanchan Mahalaxmi (as Sri Devi)
1987
Watan Ke Rakhwale
as
Radha R. Pratap
1987
Himmat Aur Mehanat
as
Jyoti
1987
Maavuri Magaadu
as
Rajini
1987
Nazrana
as
Tulsi (as Sreedevi)
1986
Oka Radha Iddaru Krishnulu
as
Radha
1986
Janbaaz
as
Seema (Guest Appearance)
1986
Aakhree Raasta
as
Vinita Bhatnagar (as Sri Devi)
1986
Bhagwaan Dada
as
Bijli / Geeta
1986
Dharm Adhikari
as
Priya (as Sri Devi)
1986
Sultanat
as
Shehzadi Yasmeen
1984
Jaag Utha Insan
as
Sandhya
1984
Inquilaab
as
Asha A. Nath
1983
Rama Rajyamlo Bheermaraju
1983
Ramudu Kadu Krishnudu
1983
Kalaakaar
as
Radha Khanna
1983
Justice Chaudhury
as
Rekha
1983
Sadma
as
Nehalata Malhotra 'Reshmi'
1983
Himmatwala
as
Rekha S. Bandookwala
1982
Daiviyin Thiruvilaiyadal
1982
Vayyari Bhamulu Vagalamari Bhartulu
1982
Moondram Pirai
as
Bhagyalakshmi / Viji
1982
Vazhve Mayam
as
Devi (as Sri Devi)
1981
Satyam Shivam
as
Parvati ('Pilika Jadda')
1981
Ranuva Veeran
as
Raghu's Girl
1981
Gadasari Attaha Sosagara Kodalu
1980
Chuttalunnaru Jagratha
1980
Rowdy Ramudu Kinte Krishnudu
1980
Varumayin Niram Sigappu
as
Devi
1980
Sardar Papa Rayudu
as
Vijaya
1979
Naan Oru Kayi Parkiren
1979
Kalyanaraman
as
Shenbagam
1979
Thayillamal Nannilai
as
Bhuvana
1978
Elaya Rani Rajalakshmi
1978
Kannan Oru Kai Kuzhandhai
1978
Padaharella Vayasu
as
Malli
1978
Love in Singapore
as
Priya
1978
Manitharil Ithanai Nirangala
1978
Sigappu Rojakkal
as
Sarada
1978
Vanakathukuria Kathaliye
as
Shanti / Jenny
1977
Sainthadamma Sainthadu
1977
Sathyavan Savithri
as
Savithri
1977
Pathinaru Vayathinile
as
Mayil
1977
Unnai Sutrum Ulagam
as
Young Seetha
1976
Padavoyi Bharatheeyuda
1975
Yashoda Krishna
as
Krishna (child)
1975
Yashoda Krishna
as
Krishna (child)
1974
Devi Shri Kaumariamman
1974
Thirumangalyam
as
Baby Shanti
1973
Baal Mahabharat
as
Dushala (as Baby Sridevi)
1973
Bharatha Vilas
as
Child Artiste (uncredited)
1973
Bhakta Tukaram (as Baby Sridevi)
1973
Bheema Mera Haathi
as
Child actress
1972
Badi Panthulu (as Baby Sridevi)
1972
Rani Mera Naam
as
Young Rani
1972
Sangey Muzhangu
as
Sivagami
1971
Bharya Biddalu (as Baby Sridevi)
1971
Adi Parasakthi
as
Lord Murugan
1971
Srimanthudu (as Baby Sridevi)
1970
Sabarimala Shri Dharmasastha
as
child artist
1970
En Annan
as
Thangam (child)
1969
Kumara Sambhavam
as
Subramaniam
1967
Kandan Karunai
as
Muruga as a child
Music Department
1991
Garajna (playback singer)
1991
Kshana Kshanam (playback singer)
1989
Chandni (playback singer)
1983
Sadma (playback singer)
Producer
2004
Run (producer - as Sridevi Kapoor)
2002
Shakthi: The Power (producer)
Soundtrack
1989
Chandni (performer: "Chandni O Meri")
1983
Sadma (performer: "Ek dafa ek jungle tha")
Miscellaneous
2003
Matrubhoomi: A Nation Without Women (presenter)
Thanks
2020
Black Lake (special thanks)
2019
Nerkonda Paarvai (in memory of)
2018
Dhadak (in memory of)
2018
The Oscars (TV Special) (in memoriam)
2008
Halla Bol (special thanks - as Sridevi Kapoor)
2003
Out of Control (thanks)
Self
2017
62nd Filmfare Awards (TV Special)
as
Self - award presenter
2013
58th Filmfare Awards (TV Special)
as
Self - award presenter
2013
14th IIFA Awards (TV Special)
as
Self - Performer and Presenter: Best Actress In A Supporting Role
2013
The Hour (TV Series)
as
Self
- Episode #9.161 (2013) - Self
2012
13th International Indian Film Academy Awards (TV Special)
as
Self - award presenter
2012
Satyamev Jayate (TV Series documentary)
as
Self
- Break the Silence: Child Sexual Abuse (2012) - Self
2011
12th International Indian Film Academy Awards (TV Special)
as
Self - award presenter
2010
55th Idea Filmfare Awards (TV Special)
as
Self - award presenter
2007
52nd Filmfare Awards (TV Special)
as
Self - Performer
2006
51st Filmfare Awards (TV Special)
as
Self - Presenter
1991
Jhomma Chumma in London (TV Special)
as
Self
1985
Mahaguru
as
Self (in the song 'Pyar Ka Khel' from a movie)
Archive Footage
2019
64th Filmfare Awards (TV Special)
as
Self
2018
The Oscars (TV Special)
as
Self - Actress (In Memoriam)
References
Sridevi Wikipedia
(Text) CC BY-SA