Country

India




Area

119.80 km2


Region

Marathwada




Founded

1610 A.D




Population

430,733 (2001)




Language spoken

Marathi




State

Maharashtra




District

Nanded










University

Swami Ramanand Teerth Marathwada University



Map of Nanded
Nanded is a city in Maharashtra state (western central India), the 8th largest urban agglomeration of the state and the 81st most populous city in India. It is also seat of Nanded district. The city is located on the banks of Godavari river.
Contents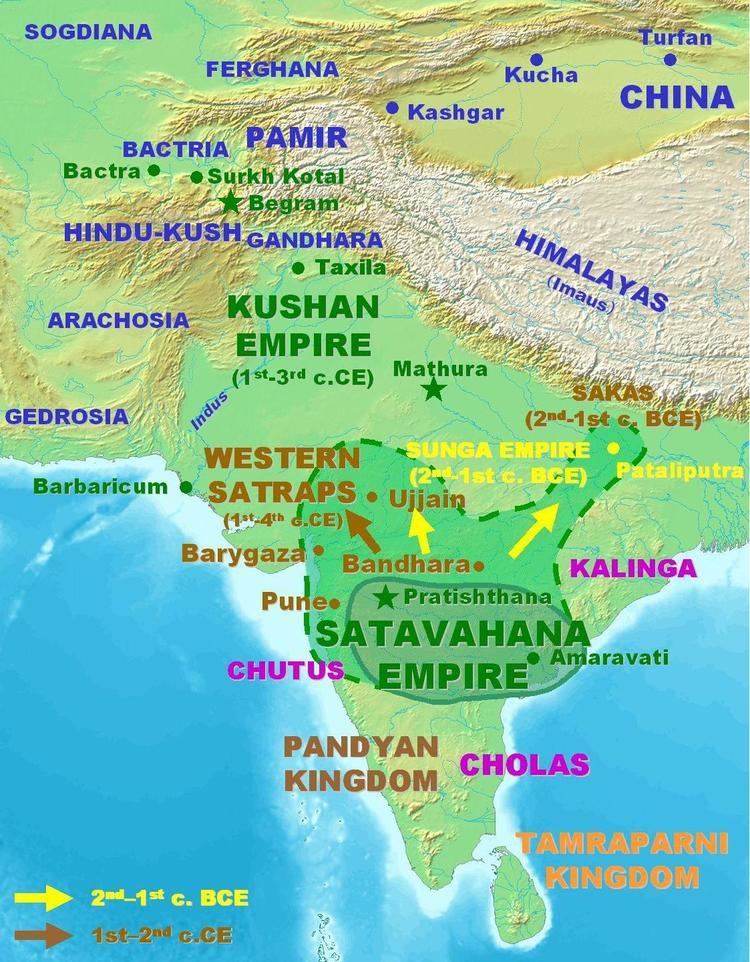 Swami Ramanand Teerth Marathwada University is located in the city, that supervises educational activities of senior colleges in four out of eight districts of Marathwada division. Nanded is a major destination Sikh pilgrims, because the 10th Sikh Guru (Guru Gobind Singh) made Nanded his permanent abode and passed Guruship to Guru Granth Sahib before his death in 1708.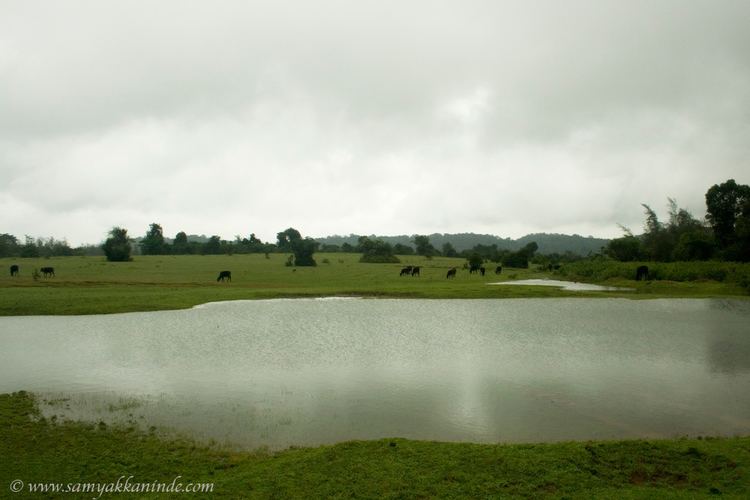 Etymology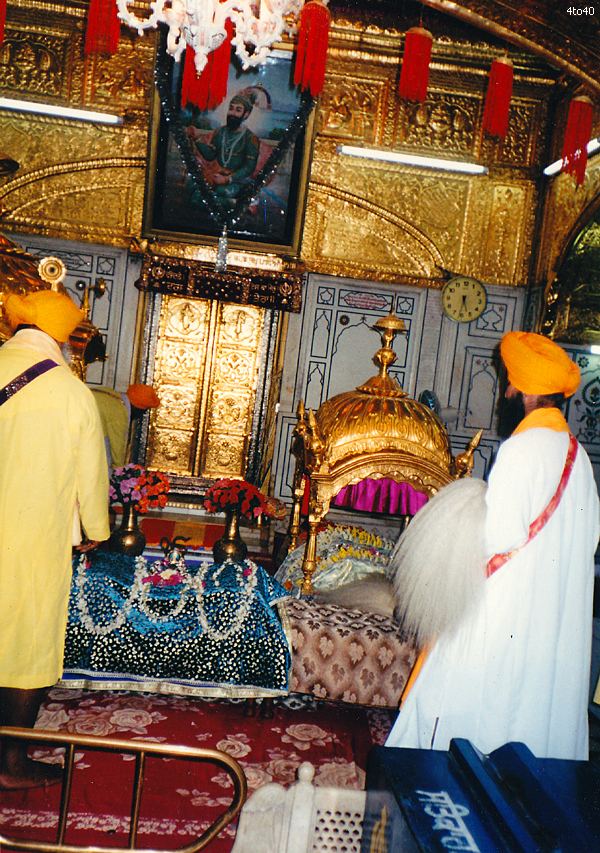 The city was formerly known as Nanditaṭa (Marathi: नंदितट) according to a copper plate inscription found at Washim. It was also known as Nandigrāma. The name Nanded is widely believed to have originated from Nandi the Vahana of Lord Shiva, who is said to have performed penance on the banks (Taṭa) of River Godavari. This Nandi-taṭa later became Nanded.
History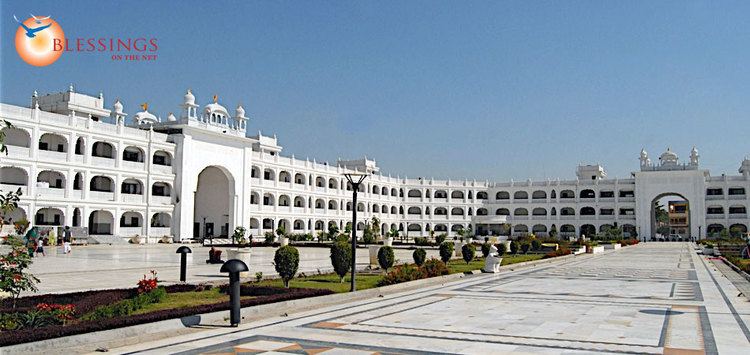 One of the oldest and historic cities in the Marathwada region of Maharashtra, Nanded is situated on the north bank of the Godavari River, in the southeastern part of Maharashtra, bordering Telangana. Early mentions of Nanded and irrigation practices are found in the Leela Charitra, a treatise written about 700 years ago by Mhaimbhatta.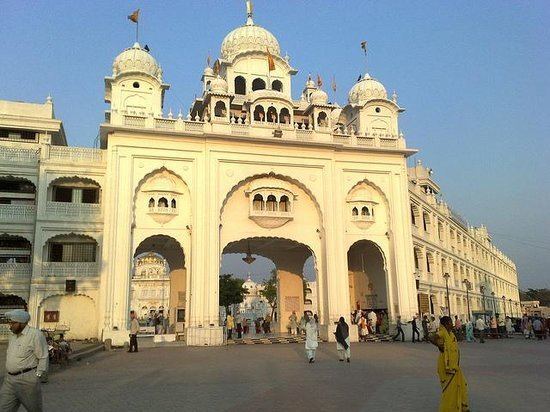 The Nanda dynasty ruled over Nanded in the fifth and fourth centuries BCE. Nanded was also part of the Maurya Empire under Ashoka (c. 272 to 231 BCE). Later on, Nanded District and the adjoining areas were ruled over by the Andhrabhrtyas and Satvahanas during the first century AD. Under Mughal padshah (emperor) Shah Jahan, Nanded was the seat of Mughal Telangana Subah (an imperial top-level province) from its 1636 establishment until its 1657 merger into Bidar Subah.
Nanded became part of the Hyderabad State in 1725 and continued to be part of the Nizam's dominions until 1948. After India gained independence in 1947, the Indian Armed Forces annexed Hyderabad and ended the rule of the Nizam in Operation Polo, making Nanded part of the new Hyderabad State. Nanded remained in annexed Hyderabad state until 1956 when it was included in Bombay Presidency. On 1 May 1960 Maharashtra state was created on linguistic basis and Marathi dominant Nanded district became part of Maharashtra.
Roots of Sikhism in Nanded
Nanded is associated with the first as well as the last Sikh Gurus. While Shri Guru Nanak Dev travelled through Nanded City towards south and Sri Lanka, Shri Guru Gobind Singh Ji spent his last few days of earthly life here. He arrived here with emperor Bahadur Shah-I towards the end of August in 1707 AD. The Mughal emperor went to Golconda, and Guru Gobind Singh Ji decided to stay in Nanded.
In 1708, the year following Aurangzeb's death, Guru Gobind Singh, the tenth spiritual leader of the Sikhs, came to Nanded. He proclaimed himself the last living Guru and established the Guru Granth Sahib as the eternal Guru of Sikhism, elevating the reverence of the text to that of a living leader.
Around 1835, Maharaja Ranjit Singh oversaw the construction of a gurdwara at Nanded. Located at the site of Guru Gobind Singh's cremation, the gurdwara is part of the Hazur Sahib. Today, Nanded gains prominence from the Sikh Gurdwara which is erected at the place where Guru Gobind Singh, the last Sikh Guru, died in 1708.
It appears that Shri Guru Gobind Singh Ji had followed the emperor through Rajasthan and Central Province to Deccan (South) in the hope that justice would be meted out and punishment would be given to his persecutors, murderers of his young sons and to those who executed numerous innocent Sikhs. But finding that the emperor was not interested in punishing the culprits, the Guru was disappointed and decided to part with the emperor. He died without lineal descendant after the martyrdom of his four sons during his lifetime.
According to reports, on the first week of October 1708, having understood that the time had come to leave the mortal attire and to depart, the Guru took five coins and a coconut and placed them before the Sikh holy scriptures Granth Sahib thereby installing the Granth Sahib as Guru. The five coins are symbolically known as Sangat (the congregation). Shri Guru Gobind Singh Ji and formally passed on the spiritual light of Guruship to Guru Granth Sahib. The Shabad-Guru of the Sikhs was thus immortalised.
Civic Administration
The city of Nanded is managed by Nanded-Waghala Municipal Corporation (NWCMC). The corporation consists of 81 democratically elected members. Shailaja Swami and Shafi Khureshi (both from the Indian national congress) are mayor and deputy mayor, respectively. The Municipal Commissioner is the Chief Executive of the Corporation .
Geography
Nanded is the second largest city in Marathawada after Aurangabad with an area of 63.22 km2. Also it is 8th largest city/urban agglomeration in Maharshatra after Mumbai, Pune, Nagpur, Nasik, Aurangabad, Solapur and Amravati. Nanded district borders Latur district and Parbhani district to the west and Yavatmal district to the north, the district is bounded by Nizamabad, Medak and Adilabad districts of Telangana on the east. Nanded City is divided in two parts: Old Nanded (20.62 km2) on the north bank of Godavari River, and New Nanded (31.14 km2), comprising Waghala and six other newly merged villages which are situated on south of the Godavari river.22. The entire area is covered by the Deccan Traps lava flows of Upper Cretaceous to Lower Eocene age. The lava flows are overlain by thin alluvial deposits along the Kham and Sukhana river. The basaltic lava flows belonging to the Deccan Trap is the only major geological formation occurring in Aurangabad. The lava flows are horizontal and each flow has two distinct units. The highly weathered vesicular trap and underlying weathered jointed and fractured massive trap constitutes the main water-yielding zones. The soil is mostly formed from igneous rocks and are black, medium black, shallow and calcareous types having different depths and profiles
Demographics
As of the 2011 census, Nanded had a population of 550,564. The municipality had a sex ratio of 924 females per 1,000 males, and 12.4% of the population were under six years old. Effective literacy was 87.40%; male literacy was 92.68% and female literacy was 81.74%.
Industries
The city had three textile manufacturing units which are now closed. Nanded is gradually becoming industrial city as few new industries are starting operations. Tourism is another source of revenue with about ten million visitors or devotee visits the city per year.
Nanded and Aurangabad are two regional big cities located at two extreme sides of Marathwada, there has been constant demand for creation of new industrial zone named Nanded Aurangabad Industrial Corridor to connect to Delhi Mumbai Industrial Corridor. Out of 196 Special Economic Zones of Maharashtra only 10 are in Marathwada.
Agriculture
Agriculture is the main occupation of the people in rural parts of the region. Cotton, Bananas, Sugarcane, Mangos, soybeans, Sweetlimes and Jawar (sorghum) are the essential crops grown in the city's nearby agricultural areas. Nanded is the second largest banana-producing district in the state after Jalgoan. Nanded has a Regional Cotton Research Center to support the cotton-growing industry. An agricultural school is operational under the aegis of Krishi Vidyapeeth, Parbhani.
Education
University
The Swami Ramanand Teerth Marathwada University was established at Nanded by bi-furcating the Marathwada University, Aurangabad on 17 September 1994, the day on which in 1948 Hyderabad State was annexed by India. Nanded is a district headquarters as well as a holy city, situated on the banks of Godavari River in southeastern part of Maharashtra state.
Medical College
Dr. Shankarrao Chavan Government Medical College & Hospital
Tourism and sites
Nanded is one of the ancient and historical places in the Marathwada region of Maharashtra State.
Nanded is famous for its Vedic rituals on the sacred banks of Godavari River, such as Urvashi Ghat, Ram Ghat, and Govardhan Ghat.
Temples
Nanded and it's surroundings contain numerous historic temples, includking:
Hindu Temples:
Kaleshwar temple
Shani Temple, in Mondha on Ram Ghat.
Yagyavalkya Vedpathshala Saraswati Temple in Shree Nagar
Rajput Sangh Renuka Mata Temple
Marwadi Dharma Shala Hanuman Temple
Other Temples near the Holi Historic Area and Mondha Tower are exceptional.
Temple buildings in Trikut Village form the Nabhishthan (centre point) of the River Godavari, which is believed to be very sacred for Hindus.
The Siddheshwar Temple at Hottal built during the Chalukya era is a marvelous example of Hemadpanti Temple Architecture.
Lord Shiva Temple in Tadkhel Village (Degloor Taluka) is a made up of big stones, with old scriptures on a big stone, constructed by Hindu King Senapati hundreds of years ago.
Jagdamba Mata Mandir, also in Tadkhel Village, which is 2nd major temple after Chandrapur Temple.
In 2008, the tercentenary of the passing of the Guruship to Guru Granth Sahib, Guru-ta-Gaddi celebrations were held in Nanded.
Hazur Sahib was built by Maharaja Ranjit Singh, and is one of the five High seats of Authority of the Sikhs. Guru Gobind Singh died here and his remains are preserved along with various weapons.
Nanded Fort: Situated 4 km away from the Nanded Railway Station, the Nanded Fort has a beautiful location. The Godavari River encloses the fort on three sides. There is a garden and water works enhancing its natural beauty. The fort is currently under renovation.Mahur is home to goddess Renuka, and forms one part of the Saade Teen Shaktipeeth (three and a half seats of Deity of Power). It also has a Parshuram Mandir. Located on two adjoining hills, the Mahur fort was an important point on the major route from the North to the Deccan.
Sahasrakund Waterfalls is a favourite destination for tourists during the monsoon. Situated in Islapur village in Kinwat taluka, it is also accessible by train.
Unkeshwar village in Kinwat taluka also has a famous Shiva temple. Hot water springs with contents of sulphur and phosphate are believed to have medicinal properties.
Transport
Road NH 61 (New Number) Kalyan-Ahmednagar-Parbhani-Nanded-Nirmal, NH 361 Nagpur-Wardha-Yavatmal-Nanded-Latur-Solapur-Sangli-Kolhapur-Ratnagiri and NH 161 Akola-Washim-Hingoli-Nanded-Degloor-Sangareddy passes through the city. State Road Transport Bus service operates to every major city in Maharashtra and nearby cities in like Hyderabad & Bidar in Telangana & Karnataka respectively.
Rail
Nanded railway station is located on the Secunderabad-Manmad section of Nanded railway division of the South Central Railway Zone (SCR). Nanded station is biggest station in Marathwada region, it is connected to all parts of India. It is served by 48 pairs of trains every day. and is one of the major stations on the Secunderabad-Manmad railway line. Maltekdi Railway Station is another railway station that serves the city of Nanded. Nanded station has frequent connections to Secunderabad and Aurangabad.
Air
Nanded airport, the Shri Guru Gobind Singh Ji Airport is served by daily flight to Hyderabad by Trujet Airlines and soon will connected by daily flight to Mumbai too.
Notable locals
Guru Gobind Singh: last Sikh Guru, died in Nanded.
Banda Singh Bahadur : Sikh military Commander
Vaman Pandit - (Famous Poet)
Pachlegaonkar Maharaj: Rashtra Sant, Founder of Mukteshvar Dal, Hindu Rashtra Sena. Social Activist. leader of Hyderabad Liberation Struggle.
Shankarrao Chavan (Former Home Minister of India, Former Chief Minister of Maharashtra)
Ashok Chavan (President Maharashtra Congress & Former Chief Minister of Maharashtra, MP Nanded Loksabha)
Narhar Ambadas Kurundkar (Scholar, critic and writer)
Kamalkishor Kadam (Former Education Minister)
Nagnath Lalujirao Kottapalle (Educationist / Writer)
References
Nanded Wikipedia
(Text) CC BY-SA