India




Marathi




Maharashtra




Yavatmal



Umarkhed is a town (Population: 48000) and a municipal council in Yavatmal district of Vidarbha region of the Indian state of Maharashtra.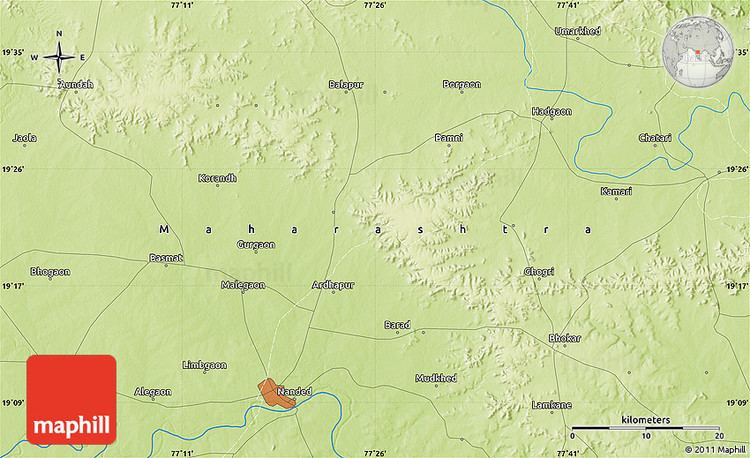 Umarkhed is located at 19.6°N 77.7°E? / 19.6; 77.7. It has an average elevation of 416 metres (1364 feet).
Umarkhed is a municipal town near the Painganga river.It is tehsil place. It is situated 110 km from Yavatmal and 72 km from Nanded. Umarkhed falls in Yavatmal district. It is surrounded by mountains and Ghats from three sides and a plane surface on one of its sides. Umarkhed town has very good connectivity. During the monsoon one can experience real treasure of nature. It lies on the Bittargaon-Savargaon Road which forks off here, one arm running towards Hadgaon in Nanded district. Its population in 1961 was 12,647. Sahastrakund Waterfall in Painganga River near Jewali village is 50 km away from Umarkhed. Visitors come here in August, September and October.
Town experiences both hotter summer and colder winter. The temperature rises till 45 degrees Celsius in Summer while in winter it experiences the temperature of 8 to 12 degrees Celsius.
Umarkhed was earlier known as Audumbar Kshetra and then as UmbarKhed and later known as Umarhked. Audumbar means Umbar or Figs. There were many fig trees.
This place has seen great warriors during the pre-independence era and have actively participated in the movements against British rule, those people also suffered imprisonment along with other great Indian leaders.
Umarkhed Wikipedia
(,)http://umarkhedonline.com/images/img0047.png(,)http://umarkhedonline.com/images/Slide-2.JPG(,)http://s4.scoopwhoop.com/sup/places/4.PNG(,)http://static.ibnlive.in.com/ibnlive/pix/sitepix/04_2013/yavatmal.jpg(,)http://i.ytimg.com/vi/pUKk3L_dkHQ/0.jpg(,)http://i.ytimg.com/vi/gC4pMDcrBp0/0.jpg(,)http://mw2.google.com/mw-panoramio/photos/medium/46950842.jpg(,)http://i.ytimg.com/vi/ZRSSipvBTXc/0.jpg(,)http://i.ytimg.com/vi/AmJgYk1WKgg/0.jpg(,)http://i.ytimg.com/vi/pxiFaaswBV8/hqdefault.jpg
(,)http://maps.maphill.com/atlas/19n20-77e25/maps/physical-map/physical-map-of-19n20-77e25.jpg(,)http://www.expatads.com/adpics1/2014/10/Hand-Made-Mosaic-Tiles-in-India5440bf457cdc8d27d200.jpg(,)http://maps.maphill.com/atlas/19n20-77e25/location-maps/gray-map/gray-location-map-of-19n20-77e25.jpg(,)http://maps.maphill.com/atlas/19n20-77e25/panoramic-maps/satellite-map/satellite-panoramic-map-of-19n20-77e25.jpg(,)http://www.behindcity.com/images/articleimages/3102/artitrekmaha.jpg(,)http://image.slidesharecdn.com/maharashtraataglance-121121141325-phpapp02/95/maharashtra-at-a-glance-2-638.jpg%3Fcb%3D1353511685(,)http://bakulaji.typepad.com/.a/6a00e550089f9688330147e124a565970b-800wi(,)http://qph.is.quoracdn.net/main-qimg-60be72d7a66a5ae29841c24d8b0d757b%3Fconvert_to_webp%3Dtrue(,)http://qph.is.quoracdn.net/main-qimg-b34a7c8ccae750e6ffb7584e4f1831db%3Fconvert_to_webp%3Dtrue
(,)http://umarkhedonline.com/images/Slide-1.jpg(,)http://umarkhedonline.com/images/HanumanMandir1.JPG(,)http://umarkhedonline.com/images/SBH.JPG(,)http://umarkhedonline.com/images/GajananMaharaj2.JPG(,)http://umarkhedonline.com/images/img0133.gif(,)http://images.mojostreet.com.s3.amazonaws.com/114158/L_eAh1362570798.jpeg(,)http://umarkhedonline.com/images/Utareshwar%2520Mandir.JPG(,)http://mw2.google.com/mw-panoramio/photos/medium/46950852.jpg