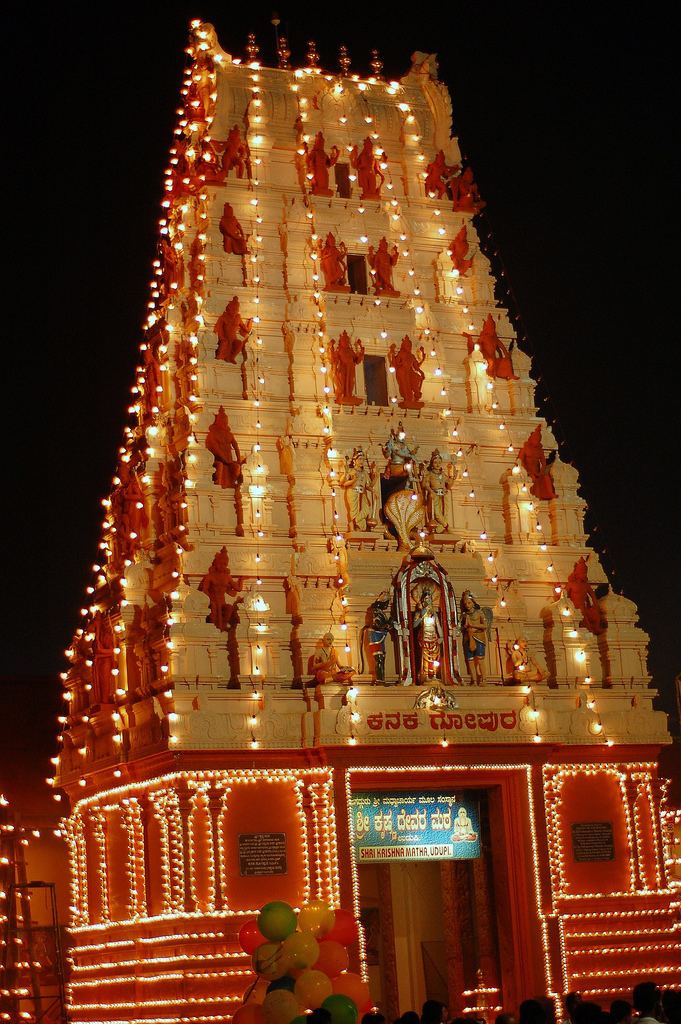 The climate in Udupi is hot in summers and pleasant in winter. During summers (from March to May) the temperature reaches up to 38 °C and in winters (from December to February) it is usually between 32 °C and 20 °C.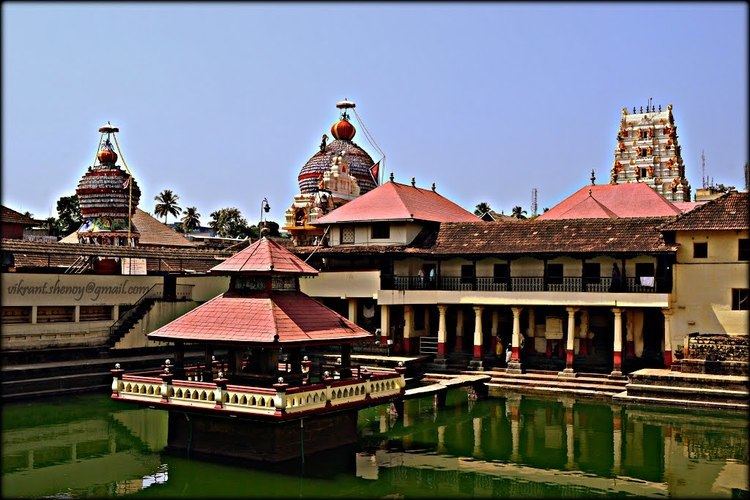 The monsoon period is from June to September with one of the rainfall averaging more than 4000mm every year and heavy winds.
As of the 2011 India census, Udupi had a population of 165,401. Males constituted 51% of the population and females 49%. The average literacy rate was 93.89%, higher than the national average of 59.5%; male literacy was 86% and female literacy 81%. Eight percent of the population was under 6 years of age.
Shivalli Brahmins, Goud Saraswat Brahmins (GSB), Rajapur Saraswat Brahmins (RSB), Mogaveeras, Billavas, Bunts, Mangalorean Catholics, Beary, Devadigas, Padmashalis are some prominent communities in Udupi.
Udupi, which previously had a Town Municipal Council now has a City Municipal Council which came into existence in 1995. Areas around Udupi, such as Manipal, Parkala, Malpe, Udyavara and Santhekatte were merged to form the City Municipal Council.
Udupi was carved out as a separate district from the erstwhile Dakshina Kannada district on 25 August 1997. Udupi, Kundapura and Karkala were bifurcated from the Dakshina Kannada District and the Udupi District was formed. Savita S. Kotian and Prakash T. Mendon of the Bharatiya Janata Party (BJP) are the current president and vice-president of the Udupi Zilla Panchayat, after the election held at the Zilla Panchayat on 7 August 2014.
Tulu is the most widely spoken language in Udupi City. Other languages spoken here include Konkani and Kannada. Muslims in Udupi speak Urdu Nawayathi and Beary Bashe.
Bhuta Kola, Aati kalenja, Karangolu, and Nagaradhane are some cultural traditions of Udupi. The residents celebrate festivals such as Makara Sankranti, Krishna Janmashtami, Navaratri, Deepavali, Eid al-Adha, Eid al-Fitr and Christmas. Folk arts like Yakshagana are also popular.
Rathabeedhi Geleyaru and Kalavrinda are local non-profit organisations, founded to encourage creative pursuits, especially those that keep alive the traditions of the region. Its primary focus has been historic dramas.
Udupi is known as temple city and famous for its temple festival.
There are several festivals during which huge crowds of locals as well as outsiders gather in Udupi.
During the biennial Paryaya festival, the temple management is handed over to the next Matha. Each of the Ashtamathas (eight mathas) is headed by a Swami, who will be in charge of the pooja or worship of Lord Krishna, not to mention, the temple, during his 'Paryaya'. The Paryaya ceremony is held on 18 January on even years (like 2012, 2014 and so on), starting early in the morning at around 3 AM. During this festival there are representative tableau which gather near the entrance of the town (called 'Swagata Gopura' meaning the arc of welcome). Festivals like Makara Sankranti (the day the idol's prathisha was done), Ratha Sapthami, Madhwa Navami (the day on which the Acharya Madhwa disappeared while he was teaching his disciples, the exact place of which is still marked and visited by devotees, near the matha), Madhwa Jayanti (the birthday of the great saint Madhwacharya), Vijaya Dashami, Hanuma Jayanthi, Sri Krishna Janmashtami, Navaratri Mahotsava, Naraka Chathurdashi, Deepavali, Geetha Jayanthi, Daasara aradhanas, etc. are celebrated with grandiosity by the Paryaya Mutt every year.
Krishna Janmashtami is celebrated every year. During this festival groups of men wear 'Pili Vesha' (in Tulu; Huli vesha in Kannada), which literally means 'tiger costume'. They visit houses and shops around Udupi, to perform a rather unusual dance. There is a lot of enthusiasm among the participants and public.
A yet another signature celebration is the Bhajana Saptaha Mahotsava, held in Sri Laxmi Venkatesha Temple, by the Goud Saraswat community. 'Saptaha' means 7 days and throughout these 7 days, Bhajans are sung, day and night by devotees. This event takes place every year during the month of August, starting from Nagara Panchami till the next Dwadashi.
Rathothsava (Chariot Festival) is held in almost all occasions around Rathabeedi. A ratha (chariot) carries a 'utsava moorthi' of Lord Krishna. This chariot is pulled by devotees around Rathabeedi. Though, Rathothsava is common in the Hindu form of worshiping, Udupi is known for the multiplicity and beauty of the chariots and festivals.
The term Udupi (also Udipi) is synonymous with vegetarian food now found all over world. The origin of this cuisine is linked to Krishna Matha (Mutt). Lord Krishna is offered food of different varieties every day, and there are certain restrictions on ingredients during Chaturmasa (a four-month period during the monsoon season). These restrictions coupled with the requirement of variety led to innovation, especially in dishes incorporating seasonal and locally available materials. This cuisine was developed by Shivalli Madhwa Brahmins who cooked food for Lord Krishna, and at Krishna Matha in Udupi, the food is provided free of cost. Restaurants specialised in Udupi cuisine can be seen widely in most metropolitan and large cities around the length and breadth of India.
A three-screen cinema multiplex Inox Movies has started in the newly built Central Cinemas in the foothills of Manipal; it is located in Udupi-Agumbe State Highway 65 near Syndicate Circle of Manipal. Apart from this, other cinema theaters in the city are Alankar, Ashirvad, Diana, Gitanjali and Kalpana. Kalpana is near old Diana restaurant circle. Alankar, close to Kalpana theater, is in the mid-city nearby Udupi bus terminus. Gitanjali, close to Alankar, is in Maruti Vithika nearby junction of SH 37 and 65. Diana theater is near Chitpadi and Kukkikatte on Udupi-Subrahmanya State Highway 37 and Ashirvad is placed in Santekatte on the Edapally (Kerala)-Panvel (Maharashtra) National Highway near Robosoft Technologies Pvt Ltd and PVR Cinemas are planning to open cinemas in Udupi.
Udupi is known for the Krishna Mutt (Temple of Lord Krishna) and as the native place of the Vaishnava saint Shri Madhvacharya, who founded the (Dvaita) sect of Vaishnava Hinduism and the Udupi Krishna Mutt (in the 13th century). He is known as the third form of Mukhya praana (literally meaning 'primary life source'), after Hanuma and Bheema. For Vaishnavas and Dvaitas all around the globe, including ISKCON, Udupi is a significant place. It is of historic importance due to it being the birthplace of a new branch of philosophy and of a great philosopher and saint. The Krishna Matha is known throughout the world for its religious customs, traditions, and learning in Dvaita philosophy. It is also the center of Daasa Sahitya, a form of literature that originated in Udupi.
Other places of interest are:
Ananteshvara and Chandramaulishvara Temples.
Ambalapady Mahakali Temple
The Kadiyali Mahishamardini.
The Shankar Narayana Temple, Kodavoor
Mandarthi, Durgaparameshwari Temple
Shri Veerabhadraswami Temple, Hiriadka
Dr TMA Pai Planetarium, Manipal Anatomy Museum, Manipal Health Sciences Library, Hotel Valleyview, Manipal Endpoint, Manipal Lake (Ganapati Temple) and Suvarna River (Ganapati Temple).
The Rashtrakavi Govinda Pai Research Centre Museum in the M.G.M. College premises
Karkala Jain temples and Bahubali statue
Moodabidri Jain temples
Mookambika Temple, Kollur, Kundapur - Around 64 km
Kaup Beach - Around 15 km
Malpe Beach - Around 7 km
St. Mary's Island -Around 15 km
St. Lawrence Church, Karkala
St. Antony shrine, Kerekatte, Siddapura
St Mary's Syrian Orthodox Cathedral, Brahmavar
Udupi is becoming a major town in Karnataka. The poverty rate in Udupi is fairly low when compared to Bangalore and other districts of Karnataka.
Udupi is the birthplace of the Syndicate Bank, Corporation Bank and Harsha Retail, the leading retailer of coastal Karnataka. Udupi's economy also consists of agriculture and fishing. Small-scale industries like the cashew industry, and other food industries and milk cooperatives are the most prominent. Recently, Udupi is also making its mark in the real estate industry, greatly influenced by its neighboring spearhead Mangalore.
The Karnataka government had signed a memorandum of understanding (MoU) with the Cogentrix Light and Power Industry to set up a thermal power plant in the district at Nandikur. However, because of stiff opposition from citizens and environmentalist groups, the project has been temporarily suspended. An attempt by the Nagarjuna Power Corporation to set up a similar plant at nearby Padubidri also met strong opposition. Now, the power plant has not only been set up, it is generating 1,200 MW of power under the name of Udupi Power Corporation Limited (UPCL), a subsidiary of Lanco Infra, an Andhra Pradesh-based infrastructure major. The opposition, however, continues.
Manipal, a suburb of Udupi, is home to the headquarters of Syndicate Bank. It is renowned as an education and medical hub. Kasturba Medical College and MIT (Manipal Institute of Technology) are situated here.
TEBMA Shipyards Ltd is located in Malpe harbour complex. It is involved in building multipurpose platform supply vessels (MPSVs), platform supply vessel, geo-technical research vessel, dredgers and tugs for Indian as well as export markets.
Udupi has a local handloom sari industry. Made of pure cotton and lightweight, the sari has art silk design on its border and pallu besides butta of art silk dotting it. Hard work, low returns and competition from power loom has led to a drop in the number of weavers of nearly 95% over three decades. A geographical indication tag for Udupi sarees is under examination with the Geographical Indications Registry of India.
National Highway NH 66 passes through Udupi. Other significant roads include the State Highways to Karkala and Dharmastala and to Sringeri. The NH-66 provides a link to Mangalore and Karwar via Kundapur. Private as well as government buses connect Udupi to parts of Karnataka. Udupi has a railway station on the Konkan Railway. The nearest International Airport to Udupi is Mangalore International Airport, which is 50 km away.
City and suburban transport is available for travel within Udupi and suburbs. The buses originate from the suburban bus stand (City Bus Stand). There are different route numbers.
The nearest harbour/port to Udupi is Malpe, which is 5 km away, and Gangolli (Byndoor), which is 36 km away. The New Mangalore Port is 50 km away from Udupi.
Udupi railway station is managed by the Konkan Railways. It is about 4 km from Udupi city and is on the Kanyakumari-Mumbai rail route. Direct trains are available to Bengaluru, Mumbai, New Delhi, Amritsar, Chandighar, Pune, Ajmer, Jaipur, Rajkot, Ahmedabad, Okha. Cities like Mysore, Belgaum, Jodhpur, Agra, Thiruvananthapuram, Ernakulam, Kollam(Quilon) etc. also connected with Udupi. Konkan has a beautiful scenic view throughout its way.