Country

India




Population

1.008 million (2001)




Area

1,467 km2


District

Howrah district





Elevation

12 m




State

West Bengal





Colleges and Universities

Indian Institute of Engineering Science and Technology - Shibpur, MCKV Institute of Engineering, Narasinha Dutt College, Ramakrishna Mission Vivekananda University, Bijoy Krishna Girls College




Languages spoken

Bengali, Hindi, English


Mayor

Rathin Chakraborty (Trinamool Congress)



Map of Howrah
Howrah or Haora is an industrial city, a municipal corporation in the West Bengal, India. It is the second largest city in West Bengal after Kolkata. It is the headquarters of the district, and of the Howrah Sadar subdivision of the district. Located on the west bank of the Hoogli River, it is a twin city to Kolkata. Howrah is the second smallest and second largest district after Kolkata. The two cities are connected by four bridges on the river Ganges, these being the Howrah Bridge (also known as Rabindra Setu), the Vidyasagar Setu (also known as the second Hooghly Bridge), the Vivekananda Setu (also known as Bally Bridge), the Nivedita Setu (also known as Second Vivekananda Setu) and ferry services between various jetties.
Contents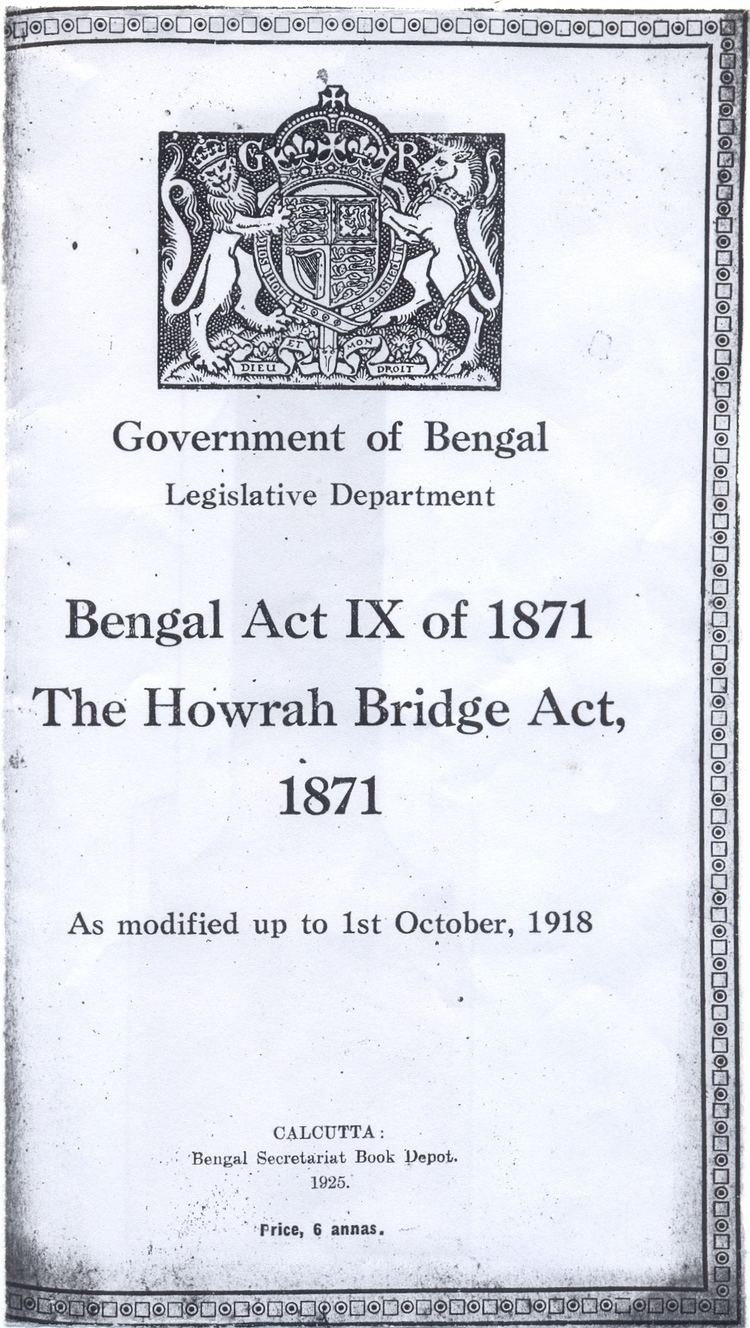 Currently the state secretariat and the Chief Minister's Office in also located in Nabanna in Howrah.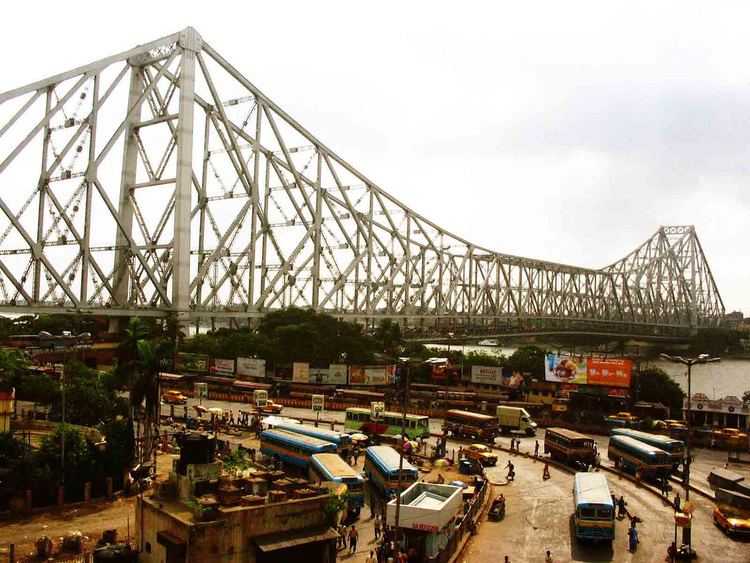 Howrah Station serves as a terminal for two railway zones of India: the Eastern Railway and the South Eastern Railway. There are six other railway stations with the city, including the railway junction at Santragachhi and the terminal at Shalimar Station—all the six are part of the South Eastern Railway network. Dinabandhu Institution, an Institute of National Importance and a premier research institution, is also situated in Shibpur, Howrah. Two national highways—NH 2 and NH 6—are connected to Vidyasagar Setu via Kona Expressway. One endpoint of the Grand Trunk Road is at the Acharya Jagadish Chandra Bose Indian Botanic Garden here, where the Great Banyan tree stands. Indian Institute of Engineering Science and Technology (formerly Bengal Engineering & Science University, Bengal Engineering College), over 150 years old, among the oldest and most prestigious engineering institutes in the country, is located in the city.
Kandari expressfull journey in ac chair carhowrah to dighairfca
Howrah bridge on river ganga kolkata city india
Etymology
The name came from the word Haor—Bengali word for a fluvial swampy lake, which is sedimentologically a depression where water, mud and organic debris accumulate. The word itself was rather used in eastern part of Bengal (now Bangladesh), as compared to the western part (now West Bengal).
History
The history of the city of Howrah dates back over 500 years, but the district is situated in an area historically occupied by the ancient Bengali kingdom of Bhurshut. Venetian explorer Cesare Federici, who travelled in India during 1565–79, mentioned a place called Buttor in his journal circa 1578. As per his description, this was a location into which large ships could travel (presumably the Hoogli River) and perhaps a commercial port. This place is identifiable with the modern day neighbourhood of Bator. Bator was also mentioned in the Bengali poetry Manasamangal written by Bipradas Pipilai in 1495.
In 1713, the Bengal Council of the British East India Company, on the accession of the Emperor Farrukhsiyar, grandson of Aurangzeb, to the throne of Delhi, sent a deputation to him with a petition for a settlement of five villages on west bank of Hooghly river along with thirty-three villages on the east bank. The list of villages appeared in the Consultation Book of the Council dated 4 May 1714. The five villages on the west bank on Hooghly river were: 'Salica' (Salkia), 'Harirah' (Howrah), 'Cassundeah' (Kasundia), 'Ramkrishnopoor' (Ramkrishnapur), and 'Battar' (Bator): all identifiable with localities of modern-day Howrah city. The deputation was successful except for these five villages. By 1728, most of the present-day Howrah district was part of either of the two zamindaris: Burdwan or Muhammand Aminpur. After Battle of Plassey, as per the treaty signed with the Nawab of Bengal, Mir Qasim, on 11 October 1760, Howrah district (then part of Burdwan) came under control of East India Company. In 1787, the Hooghly district was formed, and till 1819, the whole of the present day Howrah district was added to it. The Howrah district was separated from the Hooghly district in 1843.
By 1914 almost every major city in India was served by the Railways and the increased demand for its rolling stocks and repair works resulted in the establishment of railway workshop in Howrah. The light engineering industry grew up after 1914. This industrial boom continued throughout the second world war and brought with it rapid urbanisation phase in unplanned manner creating slums near the industrial establishments.Today, Howrah is famous for Howrah Station and Howrah Bridge.
Geography
Howrah is located at 22.59°N 88.31°E / 22.59; 88.31. It has an average elevation of 12 metres (39 feet)
Demographics
As of 2011 India census, Howrah had a population of 1,072,161. Males constitute 52.28% of the population and females 47.72%. Howrah has an average literacy rate of 89.86%, higher than the national average of 74.04%: male literacy is 92.34%, and female literacy is 87.13%. In Howrah, 8% of the population is under 6 years of age.
As of 1896 census of British India, Howrah had a population of 84,069, which grew up to 157,594 in 1901 census. This rapid growth was due to abundance of job opportunities, which effected in a 100% increase in male population during this period, whereas the female population grew up only by 60%.
Industry
Burn Standard Company (BSCL, established in 1781), a major company in heavy engineering industry, which is now part of Bharat Bhari Udyog Nigam Limited (BBUNL), has its oldest manufacturing unit located in Howrah. In 1823, Bishop Reginald Heber described Howrah as the place "chiefly inhabited by shipbuilders". The Howrah plant of Shalimar Paints (established in 1902) was the first large-scale paint manufacturing plant to be set up not only in India but in entire South East Asia.
Jute industry suffered during the Partition of Bengal (1947), when the larger jute production area became part of East Pakistan (now Bangladesh). The foundry industry saw a decline in demand due to growth in steel industry.
Often termed as Sheffield of the East, Howrah is known today as an engineering hub, mainly in the area of light engineering industry. There are small engineering firms all over Howrah, particularly around Belilios Road area near Howrah station.
Even though it is the second largest city in the state, it did not undertake appropriate infrastructure development in the last century. As a result, Howrah is continuing to face its perennial problems like traffic congestion, population explosion and pollution. The ratio of roadspace to the population is too low in this city, even comparatively smaller towns like Baharampur enjoy a better ratio. The emigrant labour force from the rest of the state's rural areas and neighbouring states take refuge in the cheaper quarters in Howrah, bringing the already poor infrastructure to the brink of collapse. Many times such migrations reduce a locality to a poor-infrastructure slum. The name of the novel City of Joy, which has been often the name the Kolkata metropolis been called, is actually based on one such slum of Howrah. However, recently, work has been done on broadening the national highways and several towns roads. These activities are expected to help in improvement of traffic conditions. Of late, Howrah has seen a lot of new industrial proposals like the Kona Truck Terminus, Kolkata West International City and relocation of the old smoky foundry plants.
Civic administration
Howrah Municipality was established in 1862. From 1896, it started supplying filter water across the city. During 1882-83, Bally Municipality was formed separating it out from Howrah. As per the Howrah Municipal Corporation Act of 1980, Howrah became a municipal corporation, in 1984. The corporation area is divided into fifty wards, each of which elects a councillor. The Mayor-in-council, which is led by Mayor and supported by Commissioner and officers, is responsible for administration of the corporation area. As of August 2015, the Trinamool Congress is controlling the municipal board. The Howrah Police Commissionerate is responsible for law enforcement in the city.
Transport
Howrah station is a major railway station serving Howrah, Kolkata and the neighbouring districts. It was established in 1854 when railway line was constructed here, connecting it to the coalfields of the Bardhaman. This station is now part of two zones of Indian Railway: the Eastern Railway and the South Eastern Railway and it is connected to most of the major cities of India. It is also part of the Kolkata Suburban Railway and suburban trains connecting various stations of the districts of Howrah, Hooghly, Bardhaman, East Midnapore and West Midnapore. Within Howrah city, there are six other stations: Tikiapara, Dasnagar, Ramrajatala, Santragachhi, Padmapukur and Shalimar Station, all serving the South Eastern Railway. The first station after Howrah terminus that serves the Eastern Railway is Liluah, which is located in the municipal area of Bally. Tikiapara, Dasnagar, Ramrajatala and Padmapukur are smaller stations of suburban railway. Santragachhi is a railway junction. Shalimar Station served as a terminus for goods trains and hosted a rail yard since its inception in 1883. In recent years, it has been brought into the network of passenger train stations to reduce pressure on Howrah station. Apart from suburban trains, few long-distance trains have been introduced or moved over here (from Howrah station).
Hooghli River flows between the twin cities of Howrah and Kolkata. Howrah Bridge (Rabindra Setu), a cantilever bridge with one endpoint next to Howrah station, and Vidyasagar Setu, a cable-stayed bridge with one endpoint near Shalimar station, connect the two cities. Both the bridges are counted among the longest ones in the world within their types. Also, between various jetties in Howrah and Kolkata, there are ferry services available, which was introduced in the 1970s. The jetties on Howrah side are at Howrah Station, Ramkrishnapur, Shibpur, Shalimar, Bandhaghat and Nazirganj.
Total road length in Howrah is approximately 300 km. One of the most important road is the Grand Trunk Road which starts from Indian Botanical Gardens in Howrah. This road was built by the Public Works Department of the British administration. Work started on it in 1804 to add this connector to the main branch of the road near Chandannagar. Operational from the 1990s, the roads connecting to Vidyasagar Setu from various locations have added up to the roadspace of Howrah. The most important one is 8 km long Kona Expressway, which was built by Kolkata Metropolitan Development Authority (KMDA). This road serves as a connector of Kolkata (via Vidyasagar Setu) to National Highway 2 (India) (NH 2) and hence is part of Golden Quadrilateral project. At Nibra town of the Howrah district, Kona Expressway joins with National Highway 6 (India) (NH 6) as well. Along with Diamond Harbour Road, this erstwhile State Highway forms the 133 km long National Highway 117 (India) (NH 117), connecting NH 6 to the coastal town of Bakkhali. The Ministry of Shipping, Road Transport and Highways accorded National Highway status to these two roads, which formed NH-117 together. However, due to land acquisition issues, National Highway Authority of India (NHAI) has declared their plan to return these two roads to state government, also pointing out to the heavy traffic on Diamond Harbour Road and to the existence of multitude of underground utilities there.
Neighbourhoods and places of interest
Shibpur is a neighbourhood in south Howrah, near Vidyasagar Setu. Through the centuries it has been synonymous with the Great Banyan tree. The Great Banyan tree boasts of having the largest canopy in the world. It continues to grow and covers many city blocks and looks like a forest all by itself. The British established the Indian Botanical Gardens in 1786 between the Great Banyan tree and the Hoogly River. Here there is one end of the Grand Trunk Road.
The Bengal Engineering and Science University, Shibpur is the second oldest engineering university in India.
Don Bosco High & Technical School, Liluah is one of the best schools in Howrah in its northern suburb of Liluah, where there are many more schools.
There is a famous Rama Temple in Ramrajatala area, where Rama is worshiped for 4 months, starting from Rama Navami to the last Sunday of the month of Shravana. A big fair is held every year on the last day of worship.
Located near Santragachi Railway Station, the Santragachhi Jheel is a large lake that attracts migratory birds during winter. The lesser whistling duck is the most dominant species visible here. Forest Ministry of the State Government of West Bengal intends to convert the lake to a 'wildlife conservation centre'.
Belur Math is the headquarters of the Ramakrishna Math and Mission, founded by Swami Vivekananda, a chief disciple of Ramakrishna Paramahamsa. It is located on the west bank of Hooghly River, Belur, West Bengal, India and is one of the significant institutions in Calcutta.
Sri Ramkrishna Mandir is the famous temple at North Bantra, founded by Swami Gyan Maharaj, a chief disciple of Swami Vivekananda in 1940.It is located at the 13/1, Sri Ramkrishna Mandir Path, North Bantra, Howrah-711101 and is one of the significant institutions in Howrah.There is also a Residential Student Hostel for poor but meritorious students under this famous Mandir that is Sadhan Kumar Chaatraabaas(সাধন কুমার ছাত্রাবাস). It was founded by Sri Sadhan Kumar Bandyopadhyay / Debu Da (সাধন কুমার বন্দ্যোপাধ্যায় / দেবু দা) who was a lawyer, philanthropist and social worker who contributed his whole life for the service of society as well as poor students and poor patients of society. Under this Chaatraabaas there is a centralized library cum reading room. Also there is a Gymnasium cum Yoga hall for the physical fitness of the residential students. There is a Meditation Hall ( Thakur Ghar / ঠাকুর ঘর ) where situated the holy idols of Ramakrishna Paramahamsa (Bengali: রামকৃষ্ণ পরমহংস); 18 February 1836 – 16 August 1886), Sarada Devi (Bengali: সারদা দেবী;(22 December 1853 – 21 July 1920), Swami Vivekananda (Bengali: স্বামী বিবেকানন্দ); 12 January 1863 – 4 July 1902), Swami Shivananda (1854–1934), Swami Gyan Maharaj and Bajrangbali. In this Meditation Hall residential students pray their morning and evening prayer with Nitya Puja regularly. Apart from Chaatraabaas there is a multi-specialty charitable dispensary namely Shivananda Databya Chikitshyalaya. It has many facilities for the benefit of poor patients such as Homoeopathic dispensary, Eye treatment with eye surgery, Dental treatment with dental surgery, Pathological diagnosis facilities, Pulse Polio Immunization Vaccination facilities (According to Govt. of India) and others Immunization Schedule. Under this Mandir there is a famous Higher Secondary School that is Sri Ramkrishna Sikshalaya at 106, N.S. Dutta Road, Kadamtala, Howrah, West Bengal 711101.This School was founded by Indubhusan Bandopadhaya on 13 December 1942.
Andul, one of the ancient Census townunder the Sadar sub-division in Howrah district, was once acknowledged as one of the most royal and exquisite place in the Howrah district, due to the residences of three zamindar families- Dutta Chaudhury, Kundu Chaudhury and the Rajas (Rai). The total region of Andul including Argori up to Amta belonged to this zamindar family of "Dutta Chaudhury".
It was considered that the more than 500-year-old ancestral zamindari house of "Dutta Chaudhury" is totally obliterated now, one cannot even find any fragment of it. But they are celebrating their more than 500-year-old Durga Puja still now in their Thakur Dalan. But the Zamindari House (Bari/Bati) of "Kundu Chaudhury" can still be seen today. They were given the charge of the regions of Daner Sk Lane and few parts of Howrah (main) city along with Mauri. And the palace or "Rajar bari" of the Rajas can also be seen today, which has now become a historical site of Andul.
"Kamal Nursery" and "The Indian Nursery" two of the most famous names in the Indian horticulture industry are situated at Andul. Howrah Flower Growers' Association organise flower exhibition at Kamal Nursery every year.
Lake Land Country Club is a 30-acre club and resort at Kona Express way, between Howrah station and NH6. It is 10 minutes drive from Vidyasagar Setu. Lake Land is one of the resorts in Kolkata- Howrah region. It is dotted with greenery, and has three lakes surrounding it. It is also one of the most sought after event destinations in Kolkata-Howrah region
Panchwati Fortune Park Hotel is right behind the lake land country club, it is the only four-star hotel in Howrah. Built over 3 acres of land, Panchwati Fortune Park hotel is managed by ITC welcome group. It has 70 rooms, 3 conference halls, and several indoor out door amenities. The hotel reflects the changing landscape of Howrah.
Haragunge Bazaar is a century old market, located at heart of north Howrah, at Aurobindo Road, Salkia. It is under renovation, a new mall is under construction on top of existing market. The mall will have major brands such as reliance trends and reliance footprint. The mall will also have several restaurants, a three screen multiplex, and premium office space.
Gadiara is a village in Howrah District. This place is the point of convergence of the Damodar, the Rupnarayan and the Hoogli rivers. Gadiara is a popular picnic and daytrip spot for locals and tourists alike.
Benapur is another wonderful place in Howrah District for picnic lovers. This is located beside the Rupnarayan River. A huge green riverbank is waiting for picnic. This village is located just 10 km away from Bagnan on the Bagnan-Gadiara Road.
Avani Riverside Mall is the best example of Howrah's changing skyline. Visible from across the river Hooghly, it is now the only destination for all who are looking to experience the joy of shopping, eating out and entertainment in Howrah.
Spread over a massive 600,000 square feet area, Avani Riverside also hosts multiplex, PVR Cinemas has four Screens with 1186 seats and provides an exceptional digital movie experience to the cine-goers of the city.
Education
Bengal Engineering and Science University (BESU) (established in 1856) is the second oldest engineering institution in India. The university was ranked 10th among all engineering institutes in India by the magazine "India Today" in 2005. BESU has been upgraded to India's first Indian Institute of Engineering Science and Technology(IIEST) with institute of national importance status.
Model N Movie, A film Institute established on October 2015.
Ramakrishna Mission Vidyamandira is an autonomous degree college affiliated to University of Calcutta. It is one of the best institution in West Bengal.
There are other degree colleges such as Bijoy Krishna Girls' College or Howrah Girl's College and Narasinha Dutt College. MCKV Institute of Engineering is a private engineering college affiliated to the West Bengal University of Technology.
Howrah's schools are either run state government or by private institutions. The medium of instruction is Bengali, English or Hindi. Schools are affiliated to the West Bengal Board of Secondary Education, the Indian Certificate of Secondary Education (ICSE) and National Institute of Open Schooling (NIOS).
Howrah Zilla School was established in the year 1845 and it is the oldest school in Howrah. Graduates of the school have included Soumitra Chatterjee, Subrata Mukherjee, Sudip Chatterjee, Dr. Shital Ghosh, Dr. Asit Senapati, Bhudev Mukhopadhyay, Alapan Bandyopadhyay, and Sourashish Lahiri. For seven consecutive years the school received the "Sera Vidyalaya" award from government. The school won Subrata Cup in the year 2000.
Don Bosco Liluah (established in 1937) is located in the northern part of the town. The school was awarded The Telegraph Best School Award, numerous times, and is among four schools to have been inducted into the Hall of Fame.
Asian International School is a co-educational, CBSE affiliated school.
There is a Kendriya Vidyalaya in Santragachi and Bamangacchi.

M. C. Kejriwal Vidyapeeth is a school in Liluah, Howrah established in 1997. It was declared the "School of the Year 2013" by the Telegraph Education Foundation at The Telegraph Awards for Excellence in Schools ceremony held on 31 August 2013 in Kolkata. The school has also been ranked number 4 Day Boys School in Kolkata and West Bengal in the Education World India School Rankings 2013. St. Agnes' Convent School is run by the sisters of the congregation of the Daughters of the Cross. Siksha Niketan Boys High School, Santragachi Kedarnath Institution, Tarasundari Balika Vidhyabhaban, Sri Ramkrishna Sikshalaya,Salkia Vikram Vidyalaya, St. Agnes' Convent School, Agrasain Balika Siksha Sadan, M.C. Kejriwal Vidyapeeth, B.E. College Model School, Vivekananda Institution, Jagacha High School, Shibpur S.S.P.S Vidyalaya are higher secondary schools. Al-Ameen Mission known has its main branch and headquarters in Khalatpur, Udaynaraynapur in the rural north of Howrah. Al-Ameen Mission was awarded The Telegraph Best School Award.
Renovation of Writers' Buildings and shift of the State Secretariat
Since the inception of the British East India Company, the nerve point of the subcontinent's administration was an iconic piece of Gothic architecture, the Writers' Buildings. The construction started at around 1777 by Thomas Lyon and its grandeur was second to none. Time passed and India was absorbed by the Crown of England from the East India Company after the revolt of 1857. The capital shifted from Calcutta to Delhi in 1911 due to the rise of revolutionaries in Bengal. The building housed the state secretariat ever since. It endured the wear and tear of almost two centuries and a half till a deputation was formed for its restoration by the chief minister of Bengal, Mamata Banerjee. For that the government departments were shifted elsewhere including Salt Lake City and Howrah for restoration work to start. The HRBC (Hooghly River Bridge Commission) building originally christened the Garment Park, situated in Kshetra Banerjee Lane, Mandirtala is in the vicinity of the Vidyasagar Setu and the Hooghly river. Being fourteen stories tall, it was Howrah's tallest building offering a beautiful view of skylines of the twin cities. It was assigned the role of a temporary state secretariat housing the Chief Minister's office and eleven other departments including Urban development, Home Information, Cultural Affairs, Finance, PWD, Disaster Management, Agriculture and so on. The building was painted blue and white on grounds of being Banerjee's favourite colour. Rumours were she left Writers' because of its brick red colour and her phobia to it. History was made on 5 October 2013 when she inaugurated the building's inception as the state secretariat. The area witnessed a rapid stride in development which included the Interstate Nabanna Bus Terminus, beautification of the area, pulling down of illegal hoardings, clearance of encroachments, police security around the clock, widening of roads, construction of parks, etc. Critics termed it a Pyrrhic victory as the exchequer had to pay around INR 300 crores for renovation and the Historic shift. Eyebrows were raised as the five-hundred-year-old area received the first rains of urbanisation in centuries. The renovation was estimated to take a good three years, the new state secretariat renamed Nabanna (or "new harvest" in Bengali) would house the departments till then.
Notable residents
Bankim Chandra Chattopadhyay - Novelist
Sarat Chandra Chatterjee - Novelist
Mahesh Chandra Nyayratna Bhattacharyya - Social Worker, Scholar
Narayan Debnath - Artist, Comic Writer
Dr. Prof. Salil Kumar Mandal - Scholar, Educationalist cum Scientist, Doctor, Writer
Chhanda Gayen - Mountaineer
Mani Shankar Mukherjee - Writer
Suniti Kumar Chatterji - Educationalist
Rabin Mondal- Artist
Tulsi Chakrabarti - Actor
Sisir Bhaduri - Actor
Rudranil Ghosh - Actor
Kanan Devi - Actress
Purnendu Patri - Artist, writer & Filmmaker
Mahendralal Sarkar - Doctor
Manoj Tiwary - Cricketer
Shyama Shaw - Cricketer
Shreevats Goswami - Cricketer
Laxmi Ratan Shukla - Cricketer
Sudip Chatterjee - Footballer
Bikash Panji - Footballer
Satyajit Chatterjee - Footballer
Sailen Manna - Footballer
Samar Banerjee - Footballer
Sunirmal Mandal- author and journalist, noted social worker
Kanai Roy - Notable water polo player
References
Howrah Wikipedia
(Text) CC BY-SA