Area

66,000 km2 (25,000 sq mi)

Population

15,300,000 (2011)

Population Density

230/km2 (600/sq mi) (2011)

Large cities

Botad, Rajkot, Jamnagar, Bhavnagar, Morbi, Gir Junagadh, Porbandar, Veraval, Surendranagar,

Similar

Rajkot, Kutch district, Junagadh
Saurashtra is a peninsular region of western India, located on the Arabian Sea coast. It covers about a third of Gujarat state, notably 11 districts of Gujarat, including Rajkot District.
Contents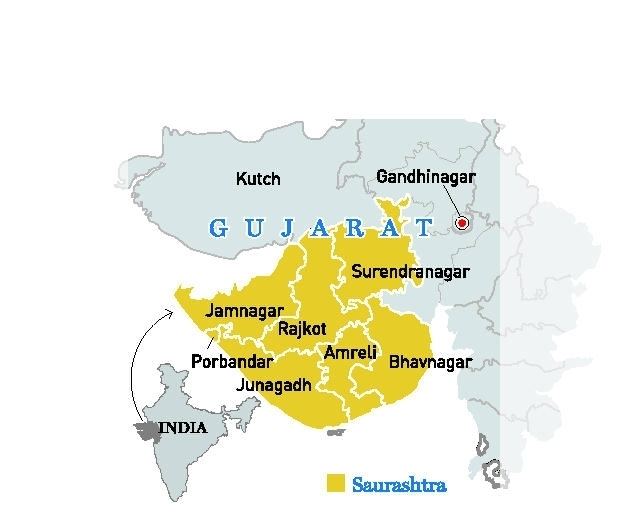 Location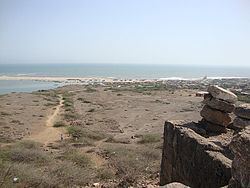 Saurashtra peninsula is bounded on the south and south-west by the Arabian sea, on the north-west by the Gulf of Kutch and on the east by the Gulf of Khambhat. From the apex of these two gulfs, the Little Rann of Kutch and Khambhat, waste tracts half salt morass half sandy desert, stretch inland towards each other and complete the isolation of Kathiawar, except one narrow neck which connects it on the north-east with the mainland of Gujarat.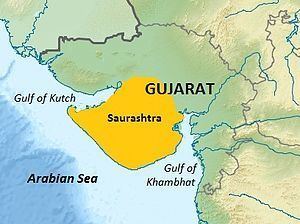 The peninsula is sometimes referred to as Kathiawar after the Kathi Darbar who once ruled part of the region. Sorath forms the southern portion of the peninsula.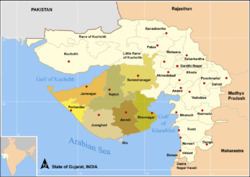 The Saurastra region comprises the south western part of modern Gujarat state and the districts included in this region are Rajkot, Jamnagar, Junagadh, Bhavnagar, Porbandar, Amreli, Surendranagar, Devbhoomi Dwarka, Morbi, Gir Somnath and some portions of Ahmedabad and Botad Districts also fall under this area.
The region also historically encompassed the Diu district of the Daman and Diu union territory.
History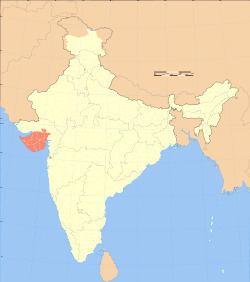 Referred to as Saurashtra and as some other names as well over a period of time, since the Mahabharata and Vedic period, this region is mentioned again as Surastrene, or Saraostus in the 1st century CE Periplus of the Erythraean Sea: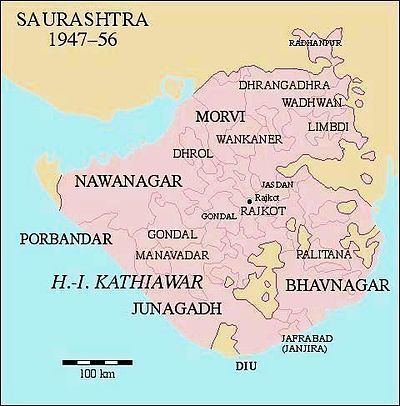 Surashtra and its Prakrit name Sorath, literally means "good country", the name finds mentions in the Junagadh Rock inscription dating 150 CE, attributed to Rudradaman I. Prior to it, during the rule of Ashoka (268–232 BCE), the region was under Yavana Tushaspa, and governed by Pushyagupta during Chandragupta Maurya's reign (322BC – 298BC). Vrajlal Sapovadia noted from literature and Tamil Nadu Government record that around AD 1000, weaver community left Saurashtra region to South India and are known as Saurashtra people.
GIR
For long period of time, the name Sorath referred to this region. From the 9th to 14th century Chudasama Rajput ruled Sorath with their capitals Vanthali and Junagadh alternatively. The Chudasama Rajputs ruled Sorath longer than any others, until the Sorath area came under Muslim-rule. Sorath, a Muslim corruption of Saurashtra, was initially one of ten prants, but by the colonial age it was one of only four surviving ones, the others being absorbed. The salute state Junagadh (alias "Junagarh" or the "Old Fort"), founded during British rule, and its neighbouring states were controlled by the Western India States Agency (WISA). In 1947, Junagadh's Muslim ruler desired to accede his territory to Pakistan, but the predominantly Hindu population rebelled.
Saurashtra State
After India's independence in 1947, 217 princely states of Kathiawar, including the former Junagadh State, were merged to form the state of Saurashtra on 15 February 1948. Initially, it was named United State of Kathiawar which was renamed to Saurashtra State in November 1948. The exercise took up a lot of Shri Vallabhbhai Patel's time to convince the local princes and petty subas (totalling 222 in Saurashtra alone). However, Maharaja Krishnakumar Sinhji of Bhavnagar State readily extended to offer his large and royal empire of Bhavnagar / Gohilwar to Sardar Vallabhbhai Patel and Bhavnagar became first in the country to get merged into the union of India.
The capital of Saurashtra was Rajkot. Uchharangray Navalshankar Dhebar (1905–1977), who later went on to become President of the Indian National Congress between 1955 and '59, became Saurashtra's first Chief Minister. He was succeeded by Rasiklal Umedchand Parikh (born 1910) on 19 December 1954.
On 1 November 1956, Saurashtra was merged into Bombay state. In 1960 Bombay state was divided along linguistic lines into the new states of Gujarat and Maharashtra. The territory of Saurashtra, including Junagadh and all Sorath, became part of the state of Gujarat.
Language
Saurashtra (alternate names and spellings: Sourashtra, Sowrashtra, Palkar) is also the name of an Indo-Aryan language of Kathiawar-Saurashtra. Though Saurashtra language is not spoken in the region now, people of this region who migrated to Southern India- especially Karnataka (Bengaluru), Tamil Nadu (Ambur, Madurai, Paramakudi, Salem, Tanjore, Trichy, Namakkal, Kanyakumari, Kanchipuram, Walajapet, Arani, Chennai, Palayamkottai, Kumbakonam, Thirubuvanam) and Andhra Pradesh- still preserve and speak the language. The script of this language is derived from the Devanagari script and shares similarities with modern-day Gujarati.
Postage stamps
The first postage stamps of the state were issued for Princely State of Junagadh in 1864. They consisted of three lines of Hindi script in colourless letters on black, and were produced by hand-stamping with watercolor ink. A second issue, in 1868 used coloured letters, printed in black or red on several colours of paper.
The issue of 1877 was the first to include Latin letters; the circular design included the inscription "SORUTH POSTAGE" at the top, and "ONE anna OF A RUPEE" (or "FOUR ANNAS...") at the bottom. Some of these were surcharged in 1913–14, followed by redesigned stamps in 1914.
A set of eight stamps in 1929 including pictures of Junagadh, the Gir lion, and the Kathi horse in addition to the nawab. In 1937 the one anna value was reissued reading "POSTAGE AND REVENUE".
The Indian province of Saurashtra did not design any of its own stamps, but before adopting the stamps of India, Saurashtra issued a court fee stamp overprinted for postal use, then created more one anna stamps by surcharging three stamps of the 1929 issue.
Separatist movements for Saurashtra and/or Kutch State(s)
Saurashtra State and Kutch State separately existed from Indian independence (1947) to 1956.
Gujarat has demands for separate states of Kutch State, Sourashtra State and Bhilistan from many decades.
Revival movement for formerly separate Saurashtra State
Movement for separate Saurashtra State was initiated in 1972 by advocate Ratilal Tanna, a close aide of former Indian Prime Minister Morarji Desai. As per [Saurashtra Sankalan Samiti], more than 300 organisations across the Saurashtra region support the demand of the separate State. Samiti also claims that compared to other parts of Gujarat, Saurashtra is underdeveloped. Big industrial projects are coming near Ahmedabad and Vadodara, while Saurashtra is being ignored. It is claimed that people in Saurashtra are facing shortage of drinking water and even youths are forced to migrate in search of jobs. No development is made along the coastline and if Saurashtra had its own state government the region would have done much better. Parag Tejura is current president of Saurashtra Sankalan Samiti.
Saurashtra (alias Kathiawar) has separate identity from the rest of Gujarat. The region has its own Saurashtra language dialect. Sourashtra people have their own diaspora all over world including in Tamil Nadu for centuries. Some agitators claim that people from Saurashtra are often taunted with titles such as "Kathiawadi" and "via Viramgam".
Demand for combined Sourashtra-Kutch State
There is also a demand for a combined Kutch - Saurashtra (or Saurashtra-Kutch) state. Mansukhbhai Joshi has called a meeting under the banner 'Kutch Saurashtra Vikas Sangharsh Samiti' to find ways to rekindle the issue. The former minister claims people of Saurashtra do not emotionally associate themselves with Gujarat. He says leaders from the territory have always faced hostility in Gandhinagar. Yuva Kranti Sena is another organisation fighting for a separate Saurashtra-Kutch State.
Revival movement for formerly separate Kutch State
Kutch Rajya Sankalp Samitee (KRSS) from Kutch Region is spearheading demand for a separate Kutch State under leadership of Pragmalji III. At the time of integration of the princely state with India in 1947, the accession was done on the condition that Kutch would retain the status of a separate state. It enjoyed this status till 1960, when a separate state of Gujarat was carved out of Maharashtra and Kutch was merged with it. The main reason behind a separate state is cultural and geographical distance from Gandhinagar. The latter, according to KRSS, is also a hindrance to the development of the region. Kutch is still governed by an administration in Gandhinagar, which sits 400 km away. In 1960, Kutch was promised an autonomous development board under Article 371(2) of the Constitution, which never came into existence due to lack of political will. Narmada water does not reach the farms of this region, which is basically a desert land.
References
Saurashtra (region) Wikipedia
(Text) CC BY-SA