It is a part of Kongu Nadu (Kongu Desam) region of Tamil Nadu which was hotly contested and coveted by both the ancient Pallavas and the Pandyas. Namakkal was in the hands of Atiakula King called Gunasila who has marriage with Pallava King. Later the taluk was overrun by the Cholas in the Kongu Mandalam. After the struggle between the Cheras, Cholas and Pandiyas, the Hoysalas rose to power and had control till the 14th century followed by Vijayanagar Kings till 1565 AD. Then the Madurai Nayakas came to power in 1623 AD. Two of the Polygons of Thirumalai Nayak namely, Ramachandra Nayaka and Gatti Mudaliars ruled the Salem area. The Namakkal Fort is reported to have been built by Ramachandra Nayakas. After about 1625 AD, the area came successively under the rule of Muslim Sultans of Bijapur and Golkonda Mysore kings and then the Marathas, when about the year 1750 AD. Hyder Ali came to power. During this period, it was a history of power struggle between Hyder Ali and later Tippu, with the British. The Rock Fort in Namakkal is a special feature of the Town. The Fort covers an area of one and half acres of flat surface and is accessible from South-West by a flight of narrow steps. Namakkal was held by Killdhar (Caption) on Hyder Ali until it was captured by British in 1768. For a brief period during late 18th and early 19th century Namakkal was under Tiruchirappalli district of British Rule. Later Namakkal was transferred back to Salem District.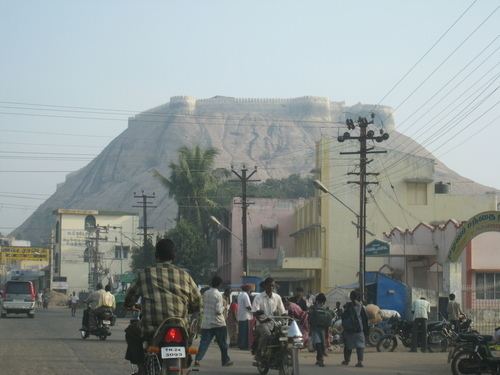 Namakkal is located at 11.23°N 78.17°E / 11.23; 78.17. It has an average elevation of 218 metres (726 ft). It is close to Kolli Hills - which is part of the Eastern Ghats. The closest river is Kaveri and it is located 360 km southwestof Chennai and 250 km south of Bangalore.
Namakkal is a historic town with reference back to at least the 7th century. The name Namakkal derives from Namagiri, which is the name of the single rock formation at the center of the town. The rock is enormous - 65 meters high and more than a kilometre in circumference. Over this massive rock, is a fort, Namakkal Fort. The fort over the rock was built by Ramachandra Nayakar, a small king who ruled Namakkal during the 16th century. It is believed that Tippu Sultan hid himself in this fort for some time to escape the British. The fort was not built by Tippu Sultan but he occupied it for a brief period of time. Later the fort was captured by British. The front side of the hill is called Thiru. Vi. Ka. Paarai and today is used by taxis as their stand.
Two cave temples at Namakkal were called as Adiyendra Visnugrha (Ranganatha swamy Temple) and Adiyanavaya Visnugrha (Narasimha swamy Temple). These Rock cut shrines were built by King Gunaseela of Adhiyaman clan descendant. Because of his marriage relations with Pallavas the temples were built of Pallava Architectural style during the 7th century. Generally, Namakkal is considered to be a Vaishnava Kshetram, and there is no Shiva temple in the town until a few years ago.
Mahatma Gandhi held a public meeting in 1933 in Namakkal under the slope of the Namakkal rock.
It is one of the few places in Tamil Nadu that has not been seriously affected by famine and war.
The economy of the district was primarily agricultural, but as on today it has changed its occupation to Lorries, Educational Institutions, Poultry Farms and real estate. So, Poultry, Lorry Transport and related businesses drive the economy of the town. Namakkal is famous for its Lorry body building industries and Poultry farms. It is India's 2nd biggest egg producing region (producing 3 crore eggs per day). A wide variety of crops are grown within the district. One of the main crop is Tapioca and due to that Namakkal is famous for Sago Factories (particularly Sellappampatty and Attur taluk around the place).
Namakkal is noted for truck body building activity. Truck body building is being carriedout in Namakkal since 1956. Nationwide Namakkal is known for body building for truck, trailer, tanker and rig unit. Customers from other states also get the truck body building work done in Namakkal. Body built trucks and rig units are being exported to foreign countries from Namakkal. About 25000 people are employed directly and indirectly in truck body building activity in Namakkal District. About 300 units in Namakkal are engaged in this activity.
Ashok Leyland's Driver Training Institute in Namakkal (right in the trucking heartland of Tamil Nadu) was the first of its kind and has served as a beacon to lead the way in the training of drivers. Easily accessible from Erode, Salem and Trichy, and spread over 25 acres, the campus includes a driving range with every conceivable road configuration. A spacious building accommodates large classrooms, a library, a model room, a laboratory and a cafeteria with an open-air theatre attached. The roads come with electronic signals, signs, markings and streetlights for night driving – everything, in fact, that drivers will encounter on the highways.
A number of poultry units are functioning in Namakkal District, hence about 1500 Poultry/Cattle Feed manufacturing units are also in existence. Mostly every poultry unit has put up their own feed manufacturing unit. A few units supply poultry feed to other units also.
Next to Salem District, Tapioca is cultivated in Namakkal District in abundance. Using tapioca as raw material about 350 units are engaged in the production of Starch and Sago in Namakkal District. There is a good market for Sago and Sago products in North India.
Namakkal Anjaneyar temple is located in Namakkal, and is dedicated to the Hindu god Hanuman. It is constructed in the Dravidian style of architecture. The legend of the temple is associated with Narasimha, an avatar of Hindu god Vishnu appearing for Hanuman and Lakshmi. The image of Anjaneyar is 18 ft (5.5 m) tall, making it one of the tallest images of Hanuman in India. The image of Anjaneyar is carved out of a single stone and believed to be existing from the 5th century. There is no roof over the sanctum and Anjaneyar has a unique iconography sporting a sword in his waist and holding a garland made of saligrama. The temple is considered one of the prominent temples in the Tamil Nadu state and the country. The Agamam is followed by "Sri Vaikhanasam".
Namagiri Lakshmi Narasimhaswami Temple a beautiful "swayam udbhava" (naturally formed) murti of Lord Vishnu in the form of Sri Narasimha Swami. The ancient cave temple are carved out of an imposing hill. There is a separate shrine for Goddess Namagiri Lakshmi. Namagiri Lakshmi was the family Goddess of the renowned Mathematician Srinivasa Ramanujan. Ramanujan credited his acumen to his family goddess, Mahalakshmi of Namakkal. He looked to her for inspiration in his work, and claimed to dream of blood drops that symbolised her male consort, Narasimha, after which he would receive visions of scrolls of complex mathematical content unfolding before his eyes. He often said, "An equation for me has no meaning, unless it represents a thought of God. It was in front of Namagiri Narashimhaswami, Saint Purandaradasa composed his famous song "Simha Rupanada Sri Hari, Namagirishane.." The prominent mosques in the town are Main Bajar Mosque, Tntj Mosque, Jamia Pallivasal, Thowheeth mosque and Ahle hadees Pallivasal.
Annual car Festival for the Lord Narasimmaswamy temple is celebrated in March and April every year (Tamil Month "Panguni") as per "Sri Vaikhanasa Ahamam". There are number of sacred bathing places or thirthams in hollows in the sides of the rock and the largest of them is called "Kamalalayam" which is sacred to Lakshmi. Apart from the rock temples there is one Murugan temple at Koolipatti at about 3 km from the town.
There are two rock–cut cave temples alongside the fort, located along the slopes of the hillock, one dedicated to Narasimhaswamy and the other is ofRanganathaswamy. Ranganathaswamy is equally impressive
Namakkal Fort is a historic fort present in Namakkal in Namakkal district in the South Indian state of Tamil Nadu. The rock fort is on the summit of the rock, and the remnants in brick and stone still bear the brunt of the skirmishes to lay siege to the fort by the Cholas in the 9th century. The fort was reinforced during the reign of Thirumalai Nayak of Madurai in the 17th century.The fort is located on the top of a hillock made of a single rock, 75 m (246 ft) tall. There is a temple and a mosque that are located within the fort, both of which are popular tourist attractions of the town. In modern times, the fort is under the control of the Archaeological Department of the Government of Tamil Nadu.
The Kolli Hills are featured in several works of classical Tamil literature such as Silappathigaram, Manimekalai, Purananuru and Ainkurnuru. The region was ruled by Valvil Ori around 200 AD, who is praised as one of the seven great philanthropists of ancient Tamil Nadu. His valor and marksmanship are sung by several poets, and his exploits are a popular part of folklore. Ori is said to have killed a lion, bear, deer and a boar with a single arrow.
The jack-fruit grown on these mountains is known for its taste and fragrance and is often soaked in wild honey that is also harvested from these mountains. The mountains are covered by lush green vegetation in the spring and monsoon, and are streaked with streams which add to the natural beauty. There are three reserved forests that are controlled by the Government of Tamil Nadu, namely Ariyur Solai, Kundur Nadu, Pulianjolai It is not correct to regard the name kolli hills as being due to the incidence of deadly diseases such as malaria!It is because early literature records the existence of an image called kollippavai on top of these hills. This image was believed to represent the spirit of a maiden who lured wayfarers by her beauty and then killed them. The mountain is a site of pilgrimage, because of the Arapaleeswarar temple, which is believed to have a secret path to the Shiva temple in Rasipuram. This Shiva temple is said to have been built by Valvil Ori in the 1st or 2nd century when he ruled this area. "Arappaleeswara sathakam" is the poem which praises the Lord Arappaleeswarar. It is believed that this temple exists during the Sangam period itself.
Ardhanareeswarar, one of the 64 manifestations of Shiva, representing the unity of Shiva and Parvati, is enshrined in this revered hill temple of great significance, accessible by a motorable road.
Thiruchengode hill siva temple This temple is regarded as the 4th of the 7 Tevara Stalams in the Kongu Region of Tamil Nadu.
Ancient walls, mandapams and sculptured pillars (now in a state of disrepair) add to the awe that this temple perpetuates, on top of the hill. The motorway and the renovated Rajagopuram are of recent origin. True to the name Nagagiri, there is a 60 ft long snake carved on the hill.Although the sanctum faces the West, entrance to it is from the South. A majestic image of Ardanareeswarar adorns the sanctum. There is a water spring at the foot of the image which is said to have been divinely manifested (Uli Padaa Uruvam). There are inscriptions here from the times of Parantaka Chola, Gangaikonda Chola, the Vijayanagar and Mysore Kings and the Nayaks.kannagi after burning madurai finally reached thiruchengode hill and she was taken by pushpak viman and went to heaven. and kannagi vizhla is celebrated with pomp and glory every year.
Buses ply to cities in Tamil Nadu like Salem, Chennai, Coimbatore, Trichy, Madurai, Erode, Dindigul and Karur. Namakkal is connected to the rest of India through National Highway 44 Buses from Trichy, Madurai will pass through Namakkal to reach Salem and Banglore.
A new broad-gauge railway line from Salem to Karur via Namakkal started its service on 25 May 2013.
Namakkal railway station
Rasipuram railway station
Mohanur railway station
The nearest international airport is at Coimbatore International Airport (153 km) & Trichy (85 km) The nearest airport is Salem Airport had started from 15 November 2009, by the Kingfisher Airlines from Salem to Chennai.
According to 2011 census, Namakkal had a population of 55,145 with a sex-ratio of 1,015 females for every 1,000 males, much above the national average of 929. A total of 5,002 were under the age of six, constituting 2,609 males and 2,393 females. Scheduled Castes and Scheduled Tribes accounted for 13.7% and .5% of the population respectively. The average literacy of the town was 82.52%, compared to the national average of 72.99%. The town had a total of 15008 households. There were a total of 21,572 workers, comprising 133 cultivators, 264 main agricultural labourers, 562 in house hold industries, 19,646 other workers, 967 marginal workers, 22 marginal cultivators, 24 marginal agricultural labourers, 151 marginal workers in household industries and 770 other marginal workers. As per the religious census of 2011, Namakkal had 88.98% Hindus, 9.29% Muslims, 1.48% Christians, 0.01% Sikhs, 0.0% Buddhists, 0.01% Jains, 0.23% following other religions and 0.01% following no religion or did not indicate any religious preference.
Namakkal assembly constituency is part of Namakkal (Lok Sabha constituency). Mr. P.R. Sundaram serves as M.P. for Namakkal Constituency, Mr. K.P.P. Baskar serves as M.L.A. For Namakkal, India's largest egg export zone, catering to most of the countries in the world. Mr. K.S. Moorthiy serves as M.L.A. for Paramathi Velur, which comes under namakkal District.