Nationality

Indian


Parent(s)

Roshan


Role

Producer




Siblings

Rajesh Roshan


Religion

Hinduism




Name

Rakesh Roshan




Spouse

Pinky Roshan






Born

September 6, 1949 (age 66) (

1949-09-06

) Bombay, Bombay State, India(now Mumbai, Maharashtra)


Occupation

Film Director, Producer, Actor, Screen Writer, Editor


Notable work

Khudgarz,Karan Arjun, Kaho Naa... Pyaar Hai, Koi... Mil Gaya, Krrish, Krrish 3


Home town

Mumbai, Maharashtra, India




Children

Hrithik Roshan, Sunaina Roshan


Movies

Krrish 3, Krrish, Koi Mil Gaya, Kaho Naa Pyaar Hai, Karan Arjun


Similar People

Hrithik Roshan, Rajesh Roshan, Vivek Oberoi, Pinky Roshan, Sunaina Roshan
Rakesh Roshan Upset With Exhibitors for Giving Kaabil Fewer Screens Than Raees
Rakesh Roshan Lal Nagrath, better known as Rakesh Roshan, (born 6 September 1949) is an Indian producer, director and former actor in Bollywood films. He is known for having the greatest hero roles in many films in the period 1970-1990. He appeared in 84 films throughout the 1970s, 1980s till 1990. Later he achieved fame for directing films with titles beginning with the letter "K" since 1987 and is the father of actor Hrithik Roshan. His most notable works are Khudgarz, Khoon Bhari Maang, Kishen Kanhaiya, Karan Arjun, Kaho Naa... Pyaar Hai, Koi... Mil Gaya and Krrish (film series).He won Filmfare Award for Best Director for Kaho Naa... Pyaar Hai and Koi... Mil Gaya.
Contents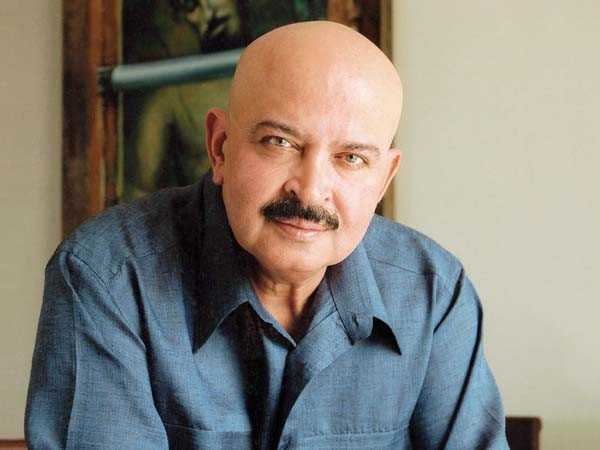 Rakesh Roshan : At His Best - Bollywood Blockbuster Songs || Audio Jukebox
Family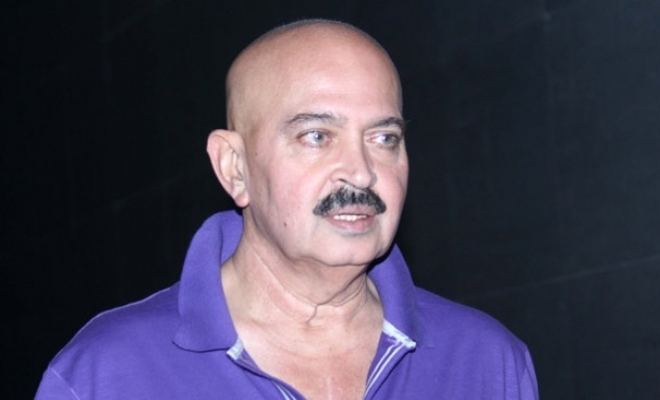 Born in a Punjabi family, Roshan's father was the Bollywood music director Roshan, and his younger brother Rajesh Roshan is also a music director. Rakesh is married to Pinky, daughter of director J. Om Prakash. His son, Hrithik Roshan, is an actor. He also has a daughter, Sunaina. He studied in Sainik School, Satara, Maharashtra.
1970-1990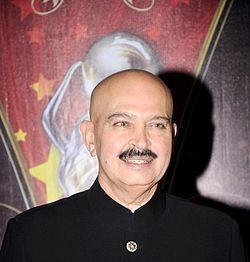 Roshan started his career as an actor making his debut in the 1970 film Ghar Ghar Ki Kahani in which he got supporting role. He got very few solo hero films in his career. He got solo hero roles as a hero in more women-oriented films where the focus would be more on the heroine like Paraya Dhan with Hema Malini, Aankh Micholi with Bharati, Khubsoorat with Rekha, Kaamchor with Jaya Prada. His few successful solo hero films, with focus equal on both hero and heroine were Aankhon Aankhon Mein with Rakhee, Nafrat with Yogita Bali, Ek Kunwari Ek Kunwara with Leena Chandaravarkar, Hamari Bahu Alka with Bindiya Goswami, Shubh Kaamna with Rati Agnihotri. J.Omprakash produced Ankhon Ankhon Mein and directed Aakraman with Rakesh in the lead and then produced Aakhir Kyun, with Rakesh in supporting role. He played supporting roles in few successful films like Man Mandir, Khel Khel Main, Bullet, Hatyara, Dhongee, Khandaan, Neeyat. He played supporting roles regularly in films with Rajesh Khanna in the lead role and of them Chalta Purza was a failure and other 3 were blockbusters- Dhanwan, Awaaz, Aakhir Kyon?. The few multi-star cast films he was part of as the lead hero to be successful between 1977-1986 were Devata, Shriman Shrimati and Hathkadi,all of which had Sanjeev Kumar as the main lead hero and Jaag Utha Insan and Ek Aur Sikander, which had Mithun Chakrborthy in main lead and other hits like Dil Aur Deewaar, Khatta Meetha, Unees-Bees (1980),Maqaar (1986). Most of his other films as second lead hero or solo hero films between 1973 to 1990 were box office flops.
Roshan set up his own production company Filmkraft in 1980 and their first production was Aap Ke Deewane (1980), which was a box office flop. His next venture was Kaamchor,which was produced by him, which became a hit but success of this film was attributed to its music and the heroine. His next solo hero film Shubkaamna directed by K. Vishwanath was a hit. He tried to re-launch himself as lead hero with Bhagwan Dada(1986), directed by J.Om Prakash and starring Rajnikanth as the main lead and himself in second lead. But Bhagwan Dada was a flop.Between 1983-1990 he only got supporting roles with exception of Bahurani and multi star films where he was the second lead like Maqar and Ek Aur Sikander. His last film as a leading hero was Bahurani, which was a woman oriented film starring Rekha in the lead directed by Manik Chatterjee and released in 1989.
1990-present
He made his champion debut with Khudgarz (1987) and went onto direct several box office hits such as Khoon Bhari Maang (1988), Kishen Kanhaiya (1990) and Karan Arjun (1995). During this time from 1990-1999 he only acted occasionally in films making guest appearances and focused mostly on direction. He launched his son Hrithik's career as an actor with Kaho Naa... Pyaar Hai (2000). This film, the highest grosser of 2000, entered the Limca Book of Records for the most number of awards won by a Bollywood film. He directed his son again in the 2003 science fiction film Koi... Mil Gaya, which fetched him the Filmfare award 2004 for Best Director, and its sequel, the science fiction superhero film Krrish (2006) both of which were also very successful at the box office. In 2008 he produced the film Krazzy 4. In 2010 he released a Bollywood meets Hollywood crossover film titled Kites. Another version of this film was released internationally, and known as Brett Ratner presents Kites: The Remix. This version was shorter, and mainly toned down the amount of musical numbers. Heartbroken with his son's recent divorce, Roshan chose to abandon all old connections. He will start working on his first non 'K' movie, "Judai... Matlab Pyaar Hai". Expected to release in 2017, it will unravel the thoughts of a divorcee trying to understand the true meaning of love.
Attack
On January 21, 2000, Rakesh Roshan was shot at by two Budesh gang members near his office on Tilak Road at Santacruz West. The assailants fired two bullets at him, one of which hit him on the left arm while the other grazed his chest. As the director fell to the ground, the assailants fled the scene. The assailants were later identified as Sunil Vithal Gaikwad and Sachin Kamble. The attack on Roshan was not undertaken with the intent to kill, but to signal that the Shiv Sena could no longer protect its clients. Roshan had stonewalled demands from Budesh for a percentage of the profits from the overseas sale of the Hindi blockkbuster, Kaho Naa... Pyaar Hai.
Honors
Rakesh Roshan was honoured on 3 December 2006 during the International Film Festival of India (IFFI) in Panaji for his contribution to mainstream cinema.
On 11 December 2006 Rakesh Roshan was honoured during the Global Indian Film Awards (GIFA) for his outstanding contribution to Indian cinema over the past 35 years.
As an actor
Ghar Ghar Ki Kahani (1970) ... Suresh
Seema (1971)
Man Mandir (1971) ... Ramu
Paraya Dhan (1971) .. Shankar
Aankhon Aankhon Mein (1972) .... Rakesh Rai
Madhosh(1974)
Zakhmee (1975) .... Amar
Khel Khel Mein (1975) .... Vikram
Aakraman (1975) ... Lieutenant Sunil Mehra
Ginny Aur Johnny (1976) .... Johny
Anand Ashram (1977) .... Dr. Samaresh
Anand Ashram (1977) .... Dr.Prakash
Chalta Purza (1977) .... Police Inspector Sunil Verma
Priyatama (1977) ... Vicky
Khatta Meetha (1978) .... Firoz Sethna
Aahuti (1978) ... Bharat Prasad
Dil Aur Deewar (1978)
Devata (1978) ... George
Jhoota Kahin Ka (1979) ... Vijay Rai / Vikram
Khandaan (1979) .... Rakesh Dinanath
Khoobsurat (1980) .... Inder Gupta
Pyaara Dushman (1980)
Aap Ke Deewane (1980) .... Rahim
Dhanwaan (1981) .... Anil
Shriman Shrimati (1982) ... Rajesh
Hamari Bahu Alka (1982) ... Pratap Chand
Kaamchor (1982) .... Suraj
Teesri Aankh (1982) .... Anand Nath
Shubh Kaamna (1983)... Ratan
Jaag Utha Insan(1984) ... Nandu
Awaaz (1984) .... Vijay Gupta
Aakhir Kyon? (1985) ... Kabir Suri
Mahaguru (1985)... Subhash
Bhagwan Dada (1986) .... Swaroop
Anubhav (1986).... Amit
Ek Aur Sikander (1986) ... Boga Seth
Daku Hasina (1987) ... SP Ranjit Saxena
Khoon Bhari Maang (1988) .... Vikram Saxena
Bahurani (1989) .... Amit
Akele Hum Akele Tum (1995) .... Paresh Kapoor
Aurat Aurat Aurat (1996) .... Rakesh 'Guddu'
Mother (1999) .... Amar Khanna
Koi... Mil Gaya (2003) .... Sanjay Mehra
Om Shanti Om (2007) .... Himself (cameo appearance)
As a director
Khudgarz (1987)
Khoon Bhari Maang (1988)
Kala Bazaar (1989)
Kishen Kanhaiya (1990)
Khel(1992)
King Uncle (1993)
Karan Arjun (1995)
Koyla (1997)
Kaho Naa... Pyaar Hai (2000)
Koi Mil Gaya (2003)
Krrish (2006)
Krrish 3 (2013)
As a producer
Aap Ke Deewane (1980)
Kaamchor (1982)
Jaag Utha Insan(1984)
Bhagwan Dada (1986)
Khudgarz (1987)
Khoon Bhari Maang (1988)
Kishen Kanhaiya (1990)
King Uncle (1993)
Karan Arjun (1995)
Koyla (1997)
Kaho Naa... Pyaar Hai (2000)
Koi Mil Gaya (2003)
Krrish (2006)
Krazzy 4 (2008)
Kites (2010)
Krrish 3 (2013)
Songs
Gulmohar Gar Tumhara Naam Hota
Tum Itni Sundar Ho
Dil Mera Churaya Kyun
En Panchhiyon
Aa Meri Jaan
Idhar Chala Mein Udhar Chala
Haila Haila
Dil Kehta Hai
Disco Station
Sun Sun Sun Didi
Jiyo Jiyo Pyare
Kabhi Tum Aag Ho
Aisa Zakhm Diya Hai
Raja Ko Rani Se
Akele Hum Akele Tum
Piya Bawri Piya Bawri
Sare Niyam Tod Do - Part II
Instrumental Theme
Qayda Qayda
Khat Likhna Hai Par Sochti
Raja Ko Rani Se II
Pyar Karte Hain Hum
Idlee Doo Idlee Doo
Prem Ki Hai Kya (Hamari Bahu Alka / Soundtrack Version)
Pakka Jamun Todo Nahin (Hamari Bahu Alka / Soundtrack Version)
Jaldi se aa mere pardesi babul
Jaadoo Jaadoo
Chhaila Ne Challa Chhin Liyo
Superman
Paida karke bhool gaya kyoon
Frenny O Frenny
Yeh Ankhein Dekh Kar

References
Rakesh Roshan Wikipedia
(Text) CC BY-SA