Years active

2000–present







Full Name

Paris Whitney Hilton

Born

February 17, 1981 (age 40) (

1981-02-17

)

Occupation

Socialitetelevision personalitymodelactresssingerDJbusinesswomanauthor

Net worth

U.S. $100 million (July 2013 estimate)

Siblings

Nicky

Hilton Rothschild, Barron Hilton II, Conrad Hughes Hilton

Grandparents

Barron Hilton, Laurence K. Avanzino, Marilyn June Hawley, Kathleen Richards

Movies and TV shows




Similar People




Profiles



Paris Hilton - Good Time (Explicit) ft. Lil Wayne
Paris Whitney Hilton (born February 17, 1981) is an American businesswoman, socialite, television and media personality, model, actress, singer, and DJ. She is the great-granddaughter of Conrad Hilton, the founder of Hilton Hotels. Born in New York City and raised there and in Beverly Hills, California, Hilton began her modeling career as a teenager when she signed with New York-based modelling development agency Trump Model Management. Her lifestyle and rumored short-lived relationships made her a feature of entertainment news and tabloid magazines, and Hilton was proclaimed "New York's leading It girl" in 2001. In 2003, a sex tape with Hilton and her then-boyfriend Rick Salomon, later released as 1 Night in Paris, was leaked to the public. Released only three weeks before the premiere of the reality television series The Simple Life, in which she starred alongside her long-Time friend Nicole Richie, the sex tape became a media sensation.
Contents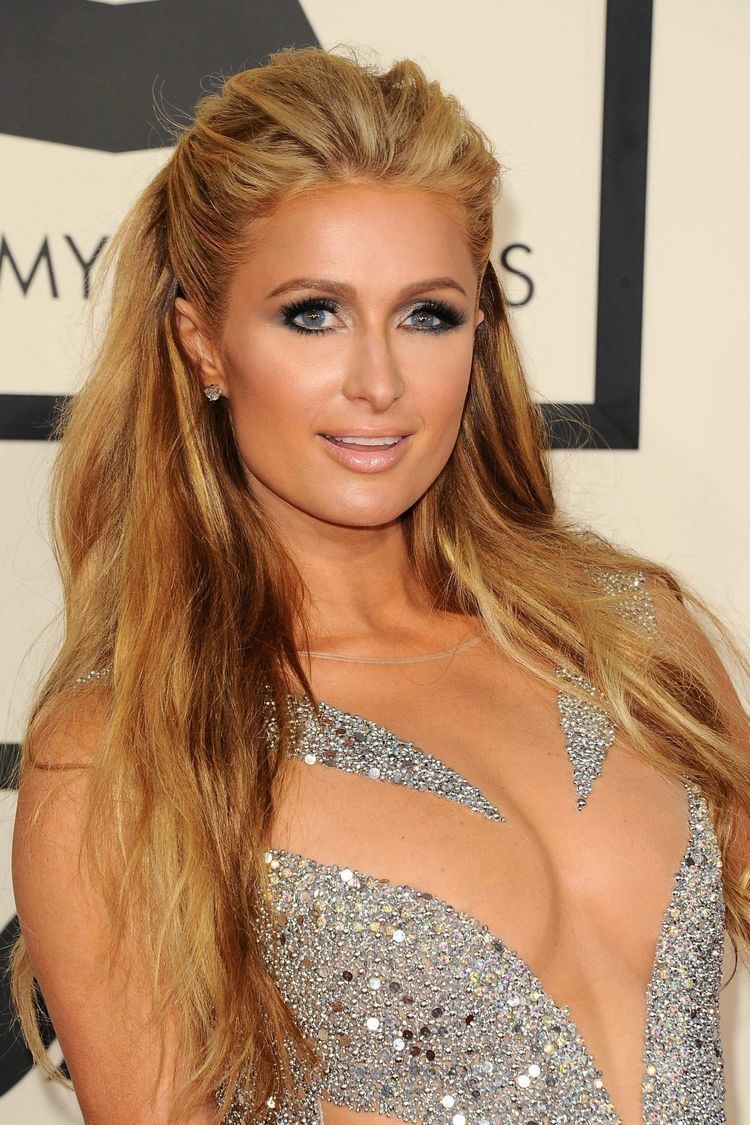 In 2004, Hilton released her book Confessions of an Heiress, which became a New York Times Best Seller. She later played a supporting role in the horror film House of Wax (2005). In 2005, Hilton signed to Warner Bros. Records as a singer and began working with producers such as Scott Storch, Tom Whalley, J.R. Rotem, Dr. Luke, Fernando Garibay and Kara DioGuardi on a pop album.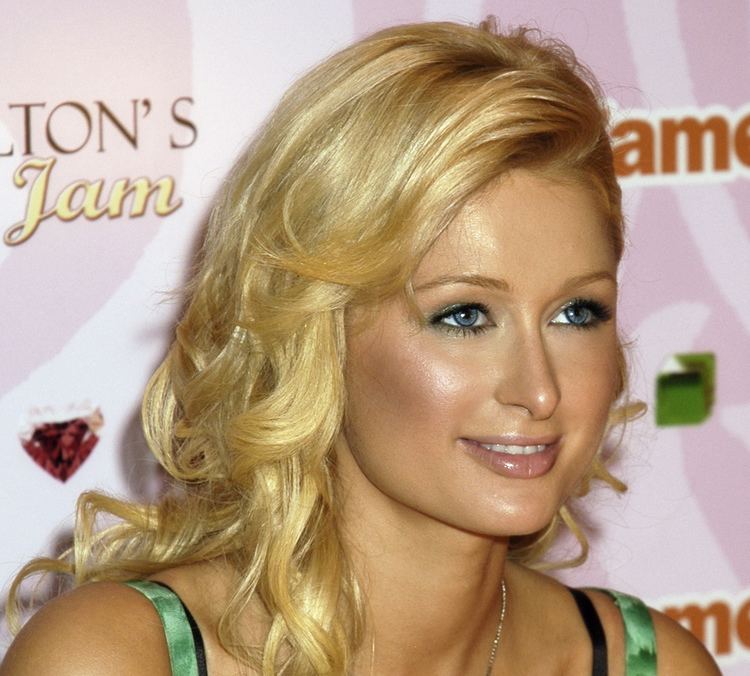 Hilton's debut single "Stars Are Blind" was released worldwide in June 2006 and quickly became an instant hit around the world including number one in Scotland. In the United States, "Stars Are Blind" was amongst the highest debuting singles in the U.S. in 2006, entering the Billboard Hot 100 at number 18 due to strong digital sales and was played on more than 125 pop stations in the U.S. alone in 2006-2007. The self-titled album, Paris, was released worldwide on August 22, 2006. The album reached number six on the Billboard 200, and has since sold over 600,000 copies worldwide.
Hilton returned to reality television in 2008 with Paris Hilton's My New BFF (2008) and its two spin-offs: Paris Hilton's British Best Friend (2009) and Paris Hilton's Dubai BFF (2009), and again in 2011 with Oxygen series The World According to Paris. Her other acting credits include Bottoms Up, National Lampoon's Pledge This! (2006), The Hottie and the Nottie (2008), Repo! The Genetic Opera (2008) and Sofia Coppola's film The Bling Ring (2013). In 2012, Hilton announced her DJ career and made her debut at the São Paulo Pop Music Festival. Although her performance was criticized, she became one of the highest-paid celebrity DJs, holding club residencies all over the world. That same year, she also returned to music, signing a record deal with Lil Wayne's and Birdman's label Cash Money Records.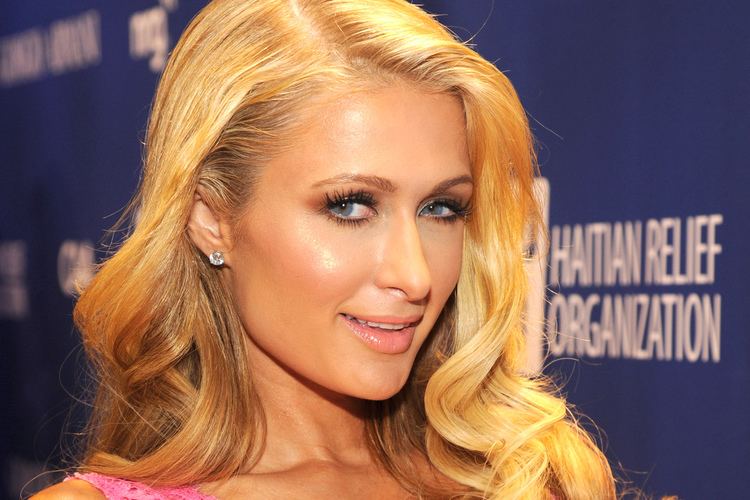 Critics and admirers have said that Hilton is famous for being famous, exemplifying the celebutante: a celebrity not through talent or work, but through inherited wealth and lifestyle.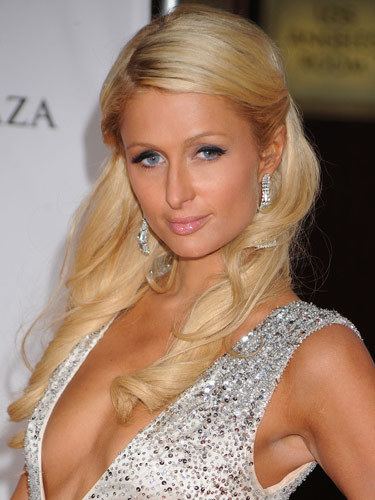 She has parlayed her media fame into perfumes and a fashion line with her endorsement; her fragrances have earned $1.5 billion. There are currently three Paris Hilton apartment complexes and 44 Paris Hilton stores worldwide, with products including perfumes, handbags, watches and footwear. Hilton earns over $10 million a year from product sales. Hilton's perfume products alone have brought in over $2.5 billion in revenue, the second largest celebrity fragrance of all time behind Hollywood actress Liz Taylor, and, as of 2005, was paid about $300,000 for appearances in clubs and events.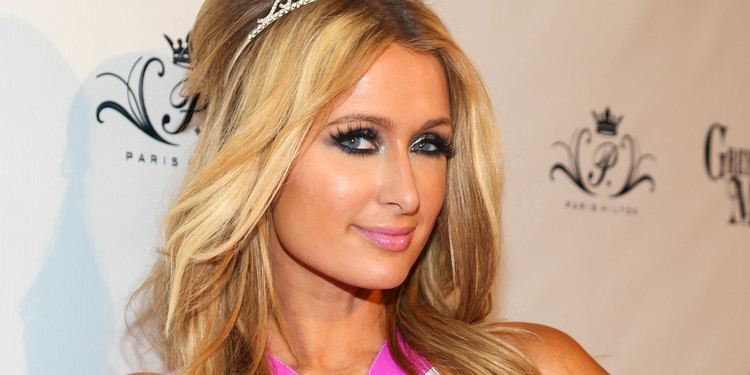 Paris Hilton from 1 to 36 years old
1981–2002: Early life and career
Hilton was born in New York City. Her mother, Kathy Hilton (née Kathleen Elizabeth Avanzino), is a socialite and former actress; her father, Richard Howard "Rick" Hilton, is a businessman. Hilton is the oldest of four children; she has one sister, Nicholai Olivia "Nicky" Hilton (born 1983), and two brothers: Barron Nicholas Hilton II (born 1989) and Conrad Hughes Hilton III (born 1994). Her paternal great-grandfather was Conrad Hilton, who founded Hilton Hotels. Hilton has Norwegian, German, Italian, English, Irish, and Scottish ancestry. She moved frequently in her youth, living in a suite in the Waldorf-Astoria Hotel in Manhattan, Beverly Hills and the Hamptons. As a child, she was friends with other socialites, including Ivanka Trump, Nicole Richie and Kim Kardashian.
Growing up in Los Angeles, Hilton attended the Buckley School and St. Paul the Apostle School, finishing elementary school in 1995. Her freshman year of high school (1995–96) was spent at the Marywood-Palm Valley School in Rancho Mirage, California. In 1996, Hilton and her family left California for the East Coast. At age 16, Hilton spent one year at the Provo Canyon School for emotionally troubled teens. She then attended the Canterbury School in New Milford, Connecticut from fall 1998 to February 1999 (her junior year), where she was a member of the ice hockey team. In February 1999, Hilton was expelled from Canterbury for violating school rules, returning to the Dwight School before dropping out a few months later. She later earned a GED certification.
Hilton began modeling as a child, originally at charity events. When she was 19, she signed with Donald Trump's modeling agency, T Management. Hilton said that she "wanted to model", Trump wanted her at his agency, and she was "loving" the work. While modeling, she became a daily feature of entertainment news for her partying; according to Vanity Fair, Cisco Adler (producer of Sweetie Pie, in which Hilton acted) called her "a young party girl who gets sucked into the L.A. party scene and grew up a little too fast". In 2001, Hilton developed a reputation as a socialite; she was called "New York's leading It Girl", whose fame was beginning to "extend beyond the New York tabloids". Around that time she made a cameo appearance in Zoolander and appeared on several magazine covers, including the UK's Tatler, Italy's Giola and the US' Vanity Fair and FHM. Hilton also appeared in Vincent Gallo's "Honey Bunny" video. In 2002, she played a lead role in the straight-to-video horror film, Nine Lives. According to Beyondhollywood.com, "Hilton's presence in the cast is the film's main marketing point, which is plainly obvious by the fact that she's front and center on the box art and is the only recognizable name in the cast". The website noted that her character was, basically, herself: "Hilton plays—what else?—a spoiled American socialite who shops on three continents in one day. The script is even clever enough to take a few jabs at Hilton's real-life social standing, even mentioning that she's been on the cover of a few sleaze rags in her day". That year Hilton became engaged to fashion model Jason Shaw, but they broke up in early 2003.
2003–2005: The Simple Life and breakthrough
Hilton's breakout role came in 2003, when she co-starred with her socialite counterpart Nicole Richie in the Fox reality series The Simple Life. The series premiered on December 2, 2003, shortly after the release of Hilton's sex tape. The Simple Life had good ratings; its first episode attracted 13,000,000 viewers, increasing Fox's adult 18–49 rating by 79 percent. She became known for an onscreen dumb blonde persona; after the series ended, she said several times that she played a character (not herself) on the show. In 2003, Hilton began a relationship with singer Nick Carter that lasted until the following year.
The socialite introduced a lifestyle brand in 2004, helping to design a purse collection for the Japanese label Samantha Thavasa. A jewelry line designed by Hilton was sold on Amazon.com; she said that she wanted to "create a line that was beautiful and very high quality, yet affordable and available to everyone". The jewelry was "inspired by Hilton's personal style—feminine, flirtatious and glamorous—with heart, star and cross motifs." In the fall of 2004 Hilton released an autobiography co-written by Merle Ginsberg, Confessions of an Heiress: A Tongue-in-Chic Peek Behind the Pose, with color photos and advice on life as an heiress. The book was seventh on The New York Times Best Seller list. Her quote, "Dress cute wherever you go; life is too short to blend in", was added to The Oxford Dictionary of Quotations in September 2009. Hilton was involved in creating a perfume line by Parlux Fragrances. Originally planned for a small release, high demand led to increased availability by December 2004. Its introduction was followed by a 47-percent increase in Parlux sales, primarily of the Hilton-branded perfume. After this success Parlux released several more perfumes with her name, including fragrances for men. Hilton published her second book, Your Heiress Diary: Confess It All to Me, in 2005; that year she introduced another fragrance, Just Me.
After Hilton hosted NBC's Saturday Night Live in February 2005 with Keane as the musical guest she received her first major role, starring with Elisha Cuthbert and Chad Michael Murray in the horror film House of Wax. The movie, first screened at the Tribeca Film Festival, opened in May 2005 to mixed reviews. In View London, Matthew Turner said that Hilton "does better than you might expect". Although MTV thought her "actually pretty good", TV Guide called Hilton "talentless". Her role as Paige Edwards won the Teen Choice Award for Best Scream and earned her a nomination for Choice Breakout Performance – Female; it also won her the 2005 Razzie for Worst Supporting Actress at the 2005 Golden Raspberry Awards. Hilton received a nomination for Best Frightened Performance at the 2006 MTV Movie Awards, and House of Wax grossed over $70 million.
From May to October 2005, she was engaged to Greek shipping heir Paris Latsis. The Simple Life was canceled after three seasons in 2005 following a dispute between Hilton and Richie. Hilton said, "It's no big secret that Nicole and I are no longer friends. Nicole knows what she did, and that's all I'm ever going to say about it." Neither Richie nor Hilton spoke publicly about their split, although it was speculated that they fell out after Richie showed one of Hilton's homemade sex tapes to a group of their friends. They reconciled in October 2006.
2006–2007: Paris, films and arrests
After The Simple Life was cancelled by Fox in 2005, other networks (NBC, The WB, VH1 and MTV) were reportedly interested in obtaining the rights for new seasons of the show. On November 28, 2005, E! announced that it had picked up The Simple Life, ordering the production of a fourth season and obtaining the rights to repeat the first three seasons. Shooting for the new season began on February 27, 2006. The fourth-season premiere received high ratings, attracting 1.3 million viewers. Hilton released her self-titled debut album, Paris, on August 22, 2006. The album reached number six on the Billboard 200, and sold over 600,000 copies worldwide. Its first single, "Stars Are Blind", was played on more than 125 pop stations in the U.S. The song was a worldwide hit, reaching the top ten in 17 countries. Although The Guardian said that Hilton sounded "both distracted and bored stiff", AllMusic called the album "more fun than anything released by Britney Spears or Jessica Simpson". Critical reception was generally mixed.
In September 2006, Hilton was arrested and charged with driving under the influence of alcohol, with a blood alcohol content of 0.08%. Her arrest complicated the fifth season of The Simple Life. Hilton's driver's license was suspended in November 2006, and in January 2007 she pleaded no contest to a reckless driving charge. Her sentence was 36 months' probation and fines totaling about $1,500. Her straight-to-DVD film Bottoms Up was released in late 2006. It received negative reviews; Australia's Urban Cinefile said that Hilton, is the lead role, "spends most of her screen time flicking her hair as she delivers lines like 'books are those things you read'". In December 2006 National Lampoon's Pledge This!, in which Hilton appeared and produced, premiered in a limited release before going directly to video. She missed its premiere at the Cannes Film Festival, protesting the addition of several nude scenes: "I was so angry I snubbed my own premiere." In August 2008 Worldwide Entertainment Group sued Hilton in Miami District Court, alleging that she did not fulfill her contractual agreement to provide "reasonable promotion and publicity" for the film. She reportedly received $1 million for her work.
On January 10, 2007, Hilton introduced her DreamCatchers line of hair extensions in partnership with Hair Tech International. On January 22, 2007, her private life became public on ParisExposed.com, a website with images of personal documents, video and other material allegedly obtained when the contents of a storage locker rented by Hilton were auctioned in lieu of a $208 payment. The website, which charged for online access to the material, had 1.2 million visitors in just over 40 hours. Among its contents were medications, diaries, photographs, contracts, love letters and a video shot by Joe Francis of Girls Gone Wild.
Hilton obtained a temporary injunction against ParisExposed.com which shut down the website. In January 2007, she was stopped for driving with a suspended license, and signed an agreement that she was not permitted to drive. The next month, she was caught driving 70 mph in a 35-mph zone without headlights at night with a suspended license. Prosecutors in the office of the Los Angeles City Attorney charged that these infractions and her failure to enroll in a court-ordered alcohol-education program violated her probation. On May 4, Hilton was sentenced by Judge Michael T. Sauer to 45 days in jail for the probation violation. She planned to appeal the sentence, supporting an online petition (created on May 5 by Joshua Morales) asking California governor Arnold Schwarzenegger for a pardon. A counter-petition to maintain the sentence was posted. Hilton changed lawyers and dropped her plans to appeal.
She was required to begin her jail term on June 5, and entered the Century Regional Detention Facility (a women's prison in Lynwood, California) after attending the 2007 MTV Movie Awards on June 3. On June 7, Los Angeles County Sheriff Lee Baca signed an order resentencing Hilton to 40 days of home confinement with an electronic monitoring device due to an unspecified medical condition. Baca said, "My message to those who don't like celebrities is that punishing celebrities more than the average American is not justice." He added, "The special treatment, in a sense, appears to be because of her celebrity status ... She got more time in jail". Judge Michael Sauer summoned her to reappear in court the following morning (June 8), since her original sentence specified imprisonment: "No work furlough. No work release. No electronic monitoring." At the hearing, Sauer declined a briefing in chambers by Hilton's attorney on her medical condition and sent her back to jail to serve the original 45-day sentence. When she heard the decision, Hilton shouted "It's not right!" Screaming, she asked to hug her mother. Hilton was moved to the medical wing of the Twin Towers Correctional Facility in Los Angeles, and returned to the Century Regional Detention Facility in Lynwood on June 13.
The socialite was influenced by minister Marty Angelo in jail, referring to a "new beginning" in an interview with talk-show host Larry King on June 28, 2007 (two days after her release) and quoting from Angelo's autobiography (Once Life Matters: A New Beginning). On June 9, Angelo unsuccessfully petitioned Sauer to let him serve the remainder of Hilton's sentence if the judge would release her to an alternative treatment program. Hilton told King during the interview that she had taken Adderall for ADHD since childhood. Due to her incarceration, The Simple Life finished its run at the end of its fifth season in July 2007. In early August, Hilton signed a licensing agreement with Antebi for a signature footwear line (Paris Hilton Footwear, featuring stilettos, platforms, flats, wedges and a sports collection) which was expected to reach stores in 2008. In mid-August, she introduced a line of tops, dresses, coats and jeans at the Kitson Boutique in Los Angeles. Hilton called the event "a dream come true", describing the clothing line as "fun, bright and flashy". In December 2007 she posed nude (covered with gold paint) to promote "Rich Prosecco", a canned version of the Italian sparkling wine, traveling to Germany to appear in print ads for the wine.
Around that time, Hilton's grandfather Barron Hilton pledged 97 percent of his estate (the Hilton family fortune) to a charitable organization founded by her great-grandfather Conrad N. Hilton: the Conrad N. Hilton Foundation. As a result, his grandchildren's inheritance was reduced. An immediate pledge of $1.2 billion (proceeds from the sale of Hilton Hotels Corporation) was made, with a further $1.1 billion due after his death. Barron cited the actions of his father, Conrad N. Hilton, as the motivation for his pledge. Conrad (Barron's father) had also left 97 percent of his estate to the foundation, and Barron contested his father's will to regain a sizable amount of the family fortune in a settlement. In 2007, Hilton modeled for 2 B Free and introduced her fourth perfume, Can Can.
2008–2009: Focus on acting and My New BFF shows
Hilton's love for dogs led her to create a canine apparel line, Little Lily by Paris Hilton, with some of the proceeds benefiting animal rescue. "I have 17 dogs and I like to dress them, so I started designing this clothing line and it's really cute, like dresses and jeans—everything you can imagine for humans, but for dogs," she said in an interview during Super Bowl XLII. In April 2008, she appeared in the My Name Is Earl episode "I Won't Die with a Little Help from My Friends". On August 6, 2008 Hilton appeared in an online video, Paris Hilton Responds to McCain Ad, directed by Adam McKay and posted on the Funny or Die website. The video, featuring Hilton in a parody advertisement, was made in response to a television campaign ad ("Celeb") by the 2008 John McCain presidential campaign. In "Celeb" McCain compared Barack Obama to celebrities such as Hilton and Britney Spears, questioning his readiness to lead and criticizing his energy policy. In what The Washington Post said "might just be her best acting role yet", Hilton wore a leopard-print swimsuit in the video. It had seven million views in two days, receiving worldwide press coverage and written and verbal responses from both campaigns. In October she appeared in a second parody video on Funny or Die, "Paris Hilton Gets Presidential with Martin Sheen", with Martin Sheen; Sheen's son, actor Charlie Sheen, made a cameo appearance. Hilton, in a green evening dress and wearing heavy makeup, discusses political issues with Martin Sheen in his West Wing role.
At the 2008 Toronto International Film Festival a documentary about Hilton, Paris, Not France, was screened. In the film, she talks about her image in the media: "I'm basically being judged, and they're creating this false person, and I can't do anything about it". At the festival premiere, director Adria Petty said that Hilton "created a mystery about herself that a film like this maybe wouldn't have been a great thing for her in the past. But now, she's been so saturated in the media. We're so used to her. To see a new side of her is so exciting". In July 2009, the film was broadcast on MTV.
Hilton starred in an MTV reality series, Paris Hilton's My New BFF, about her search for a new best friend; the series premiered on September 30, 2008. That day she introduced her song, "My BFF" (the show's theme song), on KIIS-FM with host Ryan Seacrest. The series was a hit; 1,200,000 viewers watched the premiere episode, and it averaged a 1.6 rating among viewers 12–34 in its Tuesday 10 p.m. slot (topping all other cable shows in the time slot). Hilton's next project was a Gothic rock musical, Repo! The Genetic Opera. She played Amber Sweet, the surgery- and painkiller-addicted daughter of a biotech magnate. Horror.com said: "Not only is this by far Hilton's best role, she's actually got a grain of gravitas in the end". However, Jam! Movies called her a "hopeless twit as an actress". Hilton said, "Just getting a role like this offered to me was new to me because I always get offered a certain role just basically playing myself". She was nominated for the 2009 Razzie Award for Worst Supporting Actress for the role. The film, first screened at the 2008 San Diego Comic-Con International, began a limited release in the United States and Canada on November 7, 2008. Repo! had "solid numbers" for its opening weekend, grossing $51,600 gross in eight theaters. Around that time Hilton released her fifth fragrance for women, Fairy Dust, and broke up with Good Charlotte guitarist Benji Madden; they had begun a relationship early that year.
As a result of the American version's success, on January 29, 2009 Paris Hilton's British Best Friend debuted on ITV2 in England; Hilton began to film the show in October 2008. The series was successful; its first episode was watched by 428,000 viewers, and 605,000 viewers watched its finale. The second season of Paris Hilton's My New BFF premiered on June 2, 2009. The British series' runner-up, Kat McKenzie, died on July 3, 2009 from a suspected drug overdose. In June Hilton shot Paris Hilton's Dubai BFF, which was finally broadcast in 2011. She appeared in the fifth episode of Supernatural's fifth season. In July 2009 Hilton's sixth fragrance for women, Siren, was introduced and she won the Female Celebrity Fragrance of the Year Award at the 2009 Fifi Awards. Hilton was involved in the creation of a sunglass line by Gripping Eyewear. She introduced the line on October 7, 2009, and the collection became available in stores in March 2010. The following month, Hilton introduced a hair-and-beauty-products line which included shampoos, conditioners and hair vitamins. That year, she began dating The Hills star Doug Reinhardt; they broke up in April 2010, when she became concerned that he was using her to further his career.
2010–2012: Legal issues, return to reality TV and career as a DJ
In February 2010 Hilton participated in an advertising campaign for the Brazilian beer Devassa Bem Loura, whose slogan roughly translates into English as "very blonde bitch". As part of the campaign, she rode the brewery's float in the Rio Carnival. On July 2, Hilton was accused of smoking marijuana at the 2010 FIFA World Cup game between Brazil and the Netherlands. Although she was escorted from the Nelson Mandela Bay Stadium by local police, the case was later dismissed. Her publicist, Dawn Miller, said: "I can confirm that the incident was a complete misunderstanding and it was actually another person in the group who did it". Two weeks later, Hilton was detained and released after she was caught with cannabis at Corsica's Figari Sud-Corse Airport.
On August 10 Hilton released her 10th fragrance, Tease, which was inspired by Marilyn Monroe. On August 19 she launched a footwear line in Las Vegas, saying about the collection (priced from $60 to $160) in an interview that she "chose the styling, design, materials and colours for the line and also wanted to make sure it was super comfortable". That month Hilton was arrested on suspicion of cocaine possession in Las Vegas and her boyfriend, Cy Waits, was charged with driving under the influence. Hilton's defense initially claimed that the handbag (containing 0.8g of cocaine) was not hers: "This purse in question was a high street brand – and by no means up to her high fashion standards." She later claimed personal items (including cash and credit cards) from the bag, acknowledging that it was hers. To avoid a felony conviction, Hilton pleaded guilty to two misdemeanors on September 17, 2010. Under the terms of the plea bargain she was sentenced to one year of probation, 200 hours of community service, a $2,000 fine and the completion of a drug-abuse treatment program. Clark County District Attorney David Roger said, "If she was arrested for anything besides a minor traffic violation she will spend a year in jail. There will be no discussion. The court will have no discretion." On September 21, 2010, on their way to a Tokyo press conference to promote fashion and fragrance lines, Hilton and her sister Nicky were stopped by immigration officers at Narita Airport because of Hilton's drug-possession conviction the previous day. Under Japan's strict drug laws, travelers convicted of a drug crime are usually denied entry into the country. Airport officials questioned Hilton "for hours", and she and Nicky were detained overnight at the airport hotel. On September 22 Japanese authorities denied Hilton entry, and she was put on a plane back to the United States. Other stops on their Asian promotional tour were canceled due to Indonesia and Malaysia's anti-drug laws. The critically acclaimed documentary Teenage Paparazzo, in which Hilton appeared, aired on HBO on September 27.
She voiced the character of Bella in the ABC made-for-television film The Dog Who Saved Christmas Vacation in her first voice-over role, saying: "I just think it's a really cute film" and "I love animal movies, I love Christmas movies, and also, my grandmother, who passed away a couple of years ago from breast cancer, actually had a standard poodle and her name was Paris. So when I'm watching this, it's kind of like watching grandma's dog. It's kind of like a sign to me." The film aired on November 28, 2010 and received good ratings, with 2.611 million viewers. In December 2010, Hilton launched her motorcycle team; her Spanish driver, Maverick Vinales, won the final race and finished third overall in the 125cc world championship the following November. She modeled for a second time at the 2011 Brazil Fashion Week (her first time was in early 2010). In February Hilton introduced a fragrance line, the Passport Collection, with perfumes inspired by cities such as Paris, South Beach, Florida and Tokyo. The following month, she introduced a footwear collection in Mexico. Around that time, she introduced a mobile application which became available for iPhone and iPod touch.
On May 12, 2011, Hilton opened her third store in the Philippines. The store, in the Abreeza Mall in Davao City, featured bags, earrings, wallets, belts, caps and perfumes. On June 1, she returned to reality television in Oxygen's The World According to Paris. The show, which followed her daily life, attracted 409,000 viewers. It was not a success, however, which led to a belief that Hilton's popularity was fading. The New York Times wrote that she "is an attractive woman with proven talent for marketing and self-promotion, though as a reality heroine she seems a little passé—a Sony Walkman in an iPod era, a Friendster in the age of Facebook or, to put it in context, a single-process blonde in a triple-process world", also saying that she "appears to have plenty of boyfriends, present and ex. Paparazzi still snap her picture. But it's hard to see how she can recapture the kind of audience she enjoyed in her heyday—even by streaming her premiere live on Facebook". Hilton appeared on the show with her boyfriend, Las Vegas nightclub owner Cy Waits, with whom she broke up in June. She was labeled a "Billion Dollar Entrepreneur" by Variety magazine, and was featured on its cover. Hilton opened her fourth store in the Philippines on August 18, 2011. In September she introduced a footwear line in Istanbul; a Paris Hilton store opened in India, with plans for eight more. Hilton modeled for designer Andre Tan during Ukraine Fashion Week in October 2011.
In early 2012 Hilton introduced a new line of sunglasses in Shanghai, calling the launch a "huge success". She then debuted as a DJ at a Brazilian pop-music festival, introducing her single "Last Night" (produced by Afrojack). Although Hilton received negative reviews after her videos were posted on YouTube from DJs Deadmau5, Samantha Ronson and Afrojack, she was praised by DJ Poet, fans and the festival audience. Shortly after her performance, she became a trending topic on Twitter. "Last Night" was later given to Pitbull, who included the song on his 2012 album Global Warming with Havanna Brown as the lead singer. Hilton's footwear line was nominated for the Best Celebrity Licensee of the Year award at the 2012 International Licensing Excellence Awards and she released her fifteenth perfume, Dazzle. The socialite appeared in a music video for Korean singer Kim Jang-hoon, which was filmed on Malibu Beach, August 24–25, 2012. An agent for the singer said that several other Hollywood stars were considered for the lead-actress role in Kim's music video, including Jessica Alba and Scarlett Johansson. Hilton was chosen after Korean survey respondents recognized her more than the others. She was reportedly paid $1 million for her appearance in the video, which premiered in 3D in October 2012.
On September 20, 2012, an audio recording of Hilton making derogatory comments about gay people was posted on the Internet. That day, following a backlash, she issued an apology through GLAAD in which she said she was a "huge supporter of the gay community" and called gay people "the strongest and most inspiring people I know". As a result of her remarks, Logo TV canceled plans to air a documentary about her (Paris Hilton Inc). That month Hilton began a relationship with Spanish model River Viiperi, and opened a store in Mecca in early November. Since it is considered the "holiest city in the Muslim world" and Saudi Arabia is a conservative country, controversy about her personal life swirled on Twitter. In early December she modeled for designers Shane and Falguni Peacock at India Fashion Week, also appearing as a DJ. Like her debut, although her set was criticized after a YouTube video was posted the audience enjoyed it.
2013–present: Return to music and other projects
In January 2013, Hilton appeared in four episodes of the Danish version of Paradise Hotel, for which she was reportedly paid $300,000. She also appeared in two episodes of The Real Housewives of Beverly Hills, in which her aunts Kyle and Kim Richards play the leads. In April, Hilton opened the 44th Paris Hilton store in Bogotá, Colombia. In May, the music video for Rich Gang's song "Tapout", in which Hilton appeared alongside Lil Wayne, Christina Milian and Nicki Minaj, premiered. That same month, it was reported that Hilton had signed with Cash Money Records and planned to release a second album sometime that year featuring collaborations with RedOne, Snoop Dogg and Flo Rida. She told Rolling Stone, "I'm working with so many talented and awesome people for my album and can't wait to share more of the music", describing the album as "very eclectic". The following month, Hilton made a cameo appearance in Sofia Coppola's film The Bling Ring, about the infamous group of teenagers who had robbed homes of celebrities such as Hilton, Lindsay Lohan and Orlando Bloom. In addition to appearing in the film, she loaned Coppola her house for two weeks of shooting. In an interview with The Hollywood Reporter, Hilton said that Coppola liked her house when she went to a birthday party there. Recalling the house, Coppola said: "It was like we have to get this into the movie. It was so unique. It would be hard to recreate that. She is larger than life and her house is like Paris World."
During August, Hilton was a DJ at Amnesia's weekly "Foam and Diamonds" parties on Ibiza. The positive reaction from critics and audiences led to her contract's renewal for 2014. In October, Hilton released the first single from her upcoming second studio album, "Good Time" featuring rapper Lil Wayne. It debuted at number eighteen on the US Billboard dance/Electronic Songs chart. The second single, "Come Alive", was released in July 2014. In April 2015, it was reported that Hilton's dog Tinkerbell, who appeared with her in The Simple Life, had died at the age of 14. In May, Hilton's third single from her upcoming second album, "High Off My Love", was released. It eventually peaked at number three on the Billboard US Dance Club Songs chart. In January 2016, Hilton's song "Crazy" in collaboration with DJ Poet surfaced online.
Public image
A fixture in entertainment news for her lifestyle, Hilton attracted notoriety for her participation in 1 Night in Paris (a sex tape leaked before the first episode of The Simple Life). Some entertainment writers felt that Hilton's overnight success was due to the tape. According to Entertainment Weekly, "I dare say the Paris Hilton-Rick Salomon tape received more print and television coverage in a week than the run-up to The Simple Life received in the months since its premiere was announced. We in the media have become Paris-ites". According to People magazine, the show "no doubt was helped by the very public saga of a pirated three-year-old video tape, which recently made the rounds on the Internet showing Hilton engaged in various sex acts with ex-boyfriend Rick Salomon". Hilton's profile was higher, paparazzi began following her and her relationships, lifestyle and legal issues were targets of gossip sites and tabloid media worldwide. Critics suggest that Hilton epitomizes being famous for being famous, and she is an example of the celebutante.
The socialite ranked 59th, 23rd, 34th and 35th in FHM's 100 Sexiest Women poll in 2004, 2005, 2006 and 2012, respectively, and was 20th and 38th on Maxim magazine's Hot 100 list in 2005 and 2006. In a poll conducted by the Associated Press and AOL Hilton was the second-Worst Celebrity Role Model of 2006, behind Britney Spears. Lloyd Grove banned her from his New York Daily News gossip column, and in February 2007 the Associated Press attempted to not mention her for a week. In May Hilton denied calling herself the "iconic blonde of the decade", like Princess Diana and Marilyn Monroe, in Harper's Bazaar. She appeared in the 2007 Guinness World Records as the world's Most Overrated Celebrity.
In 2009, a quiet relationship between Hilton and the tabloids led entertainment writers to suggest that her popularity had waned. In a CNN story, "Why has Paris Hilton disappeared?", editor Samantha Yanks of Gotham and Hamptons magazines said: "Phase one was the ascension, seemingly out of nowhere. That came with a media frenzy, the antics, the partying, the music, the babe-like status and of course, the fashion label. Phase two, she disappears". Hilton's absence from the news was an apparent response to a new generation of tabloid consumers uninterested in her. This suspicion was reinforced in June 2011 when her reality show, The World According to Paris, had low ratings and Hilton walked out during an interview with Good Morning America when asked if she worried about her moment having passed.
In 2011 Hilton was named one of the 100 Hottest Women of All Time by Men's Health, but according to an Ipsos poll she was the most unpopular celebrity with Americans (with 60 percent of respondents viewing her unfavorably). In 2012 she ranked fifth on Forbes' Most Over-Exposed list; according to the magazine, Hilton "is another star who hasn't been on magazine covers for a long time. But she was so ubiquitous at one point that the public still views her as overexposed." On the May 2, 2013 episode of The Wendy Williams Show, Hilton addressed her absence from the news, saying that she was "staying out of trouble" and had grown up. After her small role in The Bling Ring, writer Nancy Jo Sales said that Hilton was "enjoying a little comeback". Shortly after the film's premiere at Cannes, her deal with Cash Money Records made her a trending topic worldwide on Twitter and media outlets have noted 2013 as Hilton's "pop culture renaissance" year. Birdman, co-founder of Cash Money Records, said that her deal "being so talked about shows the strength of her popularity."
Hilton is listed on the "First Families" of the Children's Hospital Los Angeles, which means she has donated US$100,000 or more to the hospital. In 2008, a room at the CHLA was named in her honor.
"That's hot" catchphrase
The catchphrase "That's hot" is Hilton's signature line. The catchphrase is also registered as a trademark for products, like clothing apparel, electronic devices, and alcoholic beverages. Hilton appeared in a 2005 television commercial entitled "Paris Car Wash," promoting Carl's Jr.'s Spicy Burger product. The television spot contained a penultimate black screen showing the lines, "The spicy BBQ burger / That's hot."
On September 6, 2007, Hilton filed an injunction lawsuit against Hallmark Cards Inc., titled Hilton v. Hallmark Cards, in U.S. District Court over the unlawful use of her picture and catchphrase "That's hot" on a greeting card. The card is titled "Paris's First Day as a Waitress" with a photograph of Hilton's face on a cartoon of a waitress serving a plate of food, with a dialogue bubble saying "Don't touch that, it's hot" (which had a registered trademark on February 13, 2007). Hilton's attorney Brent Blakely said that the infringement damages would be based on profits from the greeting cards. Julie O'Dell said that Hallmark used the card as parody, protected under fair use law. The Court of Appeals for the Ninth Circuit reviewed the case and "denied Hallmark's motion to dismiss". Hilton and Hallmark Cards Inc. later settled out of court.
In popular culture
Hilton has had two popular television characters loosely based on her real life persona: London Tipton from The Suite Life of Zack & Cody (Tipton's father in the series is a hotel mogul) and Caroline Channing in 2 Broke Girls.
The World of Warcraft massively multiplayer online role-playing game has featured a character named Haris Pilton, labeled a "Socialite", since the release of The Burning Crusade expansion on January 15, 2007. The character remains in the game as of April 2015.
Discography
Paris (2006)
Tours
"Paris Hilton: Foam & Diamonds" (2015-present)
Video games
In 2006 Hilton licensed her name to Gameloft for their mobile video game Paris Hilton's Diamond Quest. She made an appearance at E3 to promote the game, arriving 90 minutes late and getting the name of the game wrong. In 2015 Animoca Brands, a mobile game developer from Hong Kong, announced that they had secured a license from Hilton to use her name and likeness to produce mobile games and themes.
References
Paris Hilton Wikipedia
(Text) CC BY-SA