Country of origin

United States




First episode date

22 September 2003




Cast
Las Vegas is an American television series broadcast by NBC from September 22, 2003, to February 15, 2008. The show focuses on a team of people working at the fictional Montecito Resort & Casino dealing with issues that arise within the working environment, ranging from valet parking and restaurant management to casino security. The series originally aired on Monday nights, though NBC later moved the series to Friday nights -- first to 9 p.m. Eastern/8 p.m. Central and then to 10 p.m. Eastern/9 p.m. Central. The show entered syndication in the United States in September 2007. In July 2013, after a long run of weekday back-to-back episodes on TNT, "Las Vegas" reruns were moved to a graveyard slot of 4 a.m., then removed totally from TNT's lineup.
Contents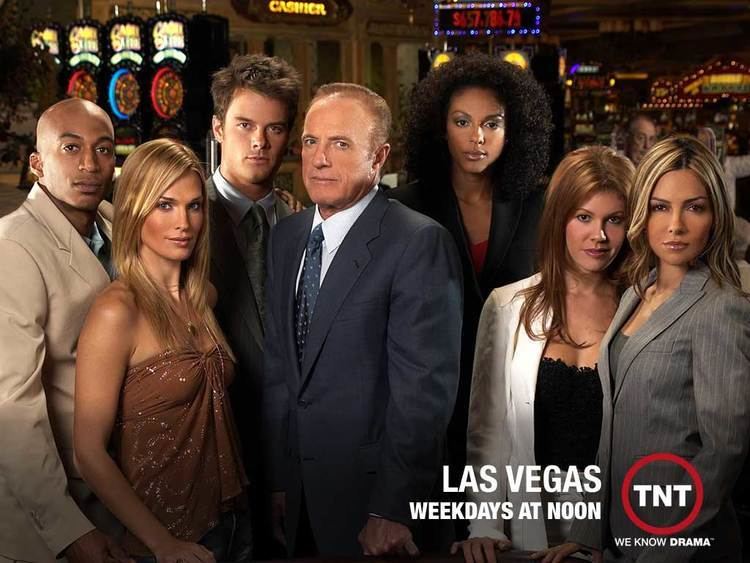 The series originally centered on Ed Deline (James Caan), a strict ex-CIA officer who went from being Head of Security to becoming President of Operations of the Montecito, whose job is to run the day-to-day operations of the casino. Following his departure from the series in Season 5, former Marine Danny McCoy (Josh Duhamel), Ed's former protégé, became the Montecito's new President of Operations.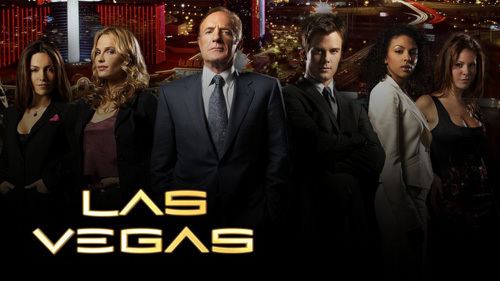 The series abruptly ended with a cliffhanger because NBC canceled Las Vegas in the offseason following season five.
Danny McCoy (Seasons 1–5)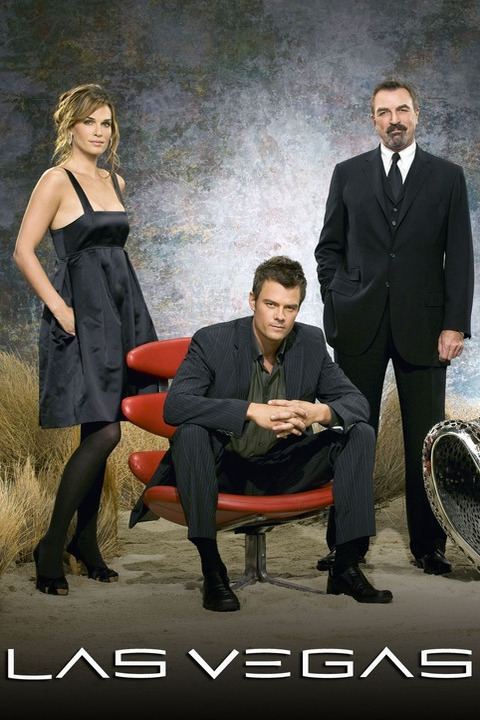 Daniel "Danny" McCoy (Josh Duhamel) is initially Ed Deline's apprentice, surrogate son, and good friend, who is later promoted to Head of Security. The series' pilot episode is told largely from his perspective and features Danny doing voice-over narration. This convention was quickly dropped, although he remained the show's main character throughout its five-year run. After Ed's resignation in Season 3, Danny is made President of Operations of the Montecito Resort & Casino for a brief period. However, following Ed's return, Danny is officially reinstated as Head of Security in Season 3. He was born and raised in Las Vegas. Towards the end of Season 2, his father Larry McCoy (John Terry) dies in an accident and Danny inherits his father's construction company, McCoy Construction, and house. Danny sells his father's house and uses the money to pay for a condo. Danny is a former U.S. Marine, with guerrilla training and counter intelligence training. He is recalled into military service in Iraq at the end of Season 1. In season 2, he is awarded the Silver Star after he calls in an air-strike over his unit and himself when they are ambushed and overrun. Only he survives the air strike. He is involved in an on-and-off relationship with Ed Deline's daughter, Delinda, in Season 1. Danny and Mary have known each other since childhood, and have had a confusing on-and-off relationship. Danny proposes to Mary, but Mary calls off the engagement because she feels that Danny had a lot of things to sort out for himself. He ultimately begins living with his girlfriend, Delinda, who is pregnant with their first child.
Edward Melvin "Ed" Deline (Seasons 1–4)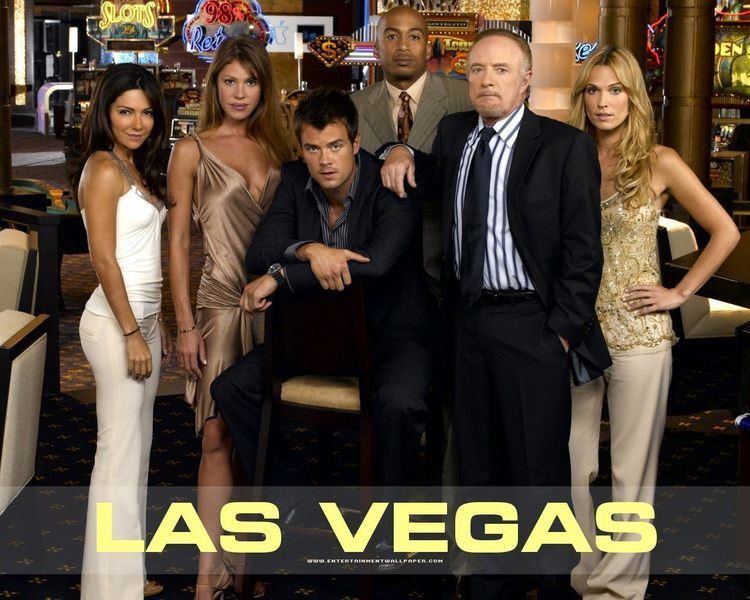 Edward Melvin Deline (James Caan) is the former President of Operations of the Montecito Resort & Casino, and a former member of the Board of Directors. He starts as Head of Security and Surveillance, but is promoted to President of Operations at the end of the eighth episode, when Gavin Brunson (James McDaniel) takes over the Montecito. He's portrayed as a loving husband and father, as well as a father figure to his employees, especially Danny. Nevertheless, he is a tough man and doesn't hesitate to use violence to get what he wants. As the former Director of Counter Intelligence for the CIA, his past has come back to haunt him on several occasions, most recently during his daughter's wedding in "Father of the Bride Redux". During Season 3, Ed is briefly in retirement until the Maloofs try to hire him for their potential casino in Macau. Eventually, Ed returns to his position when Casey Manning buys the casino. Ed leaves the casino after becoming wanted by the Las Vegas police for killing Mary Connell's father and goes into hiding. Ed returns to work for the CIA and is stationed in Paris, France. He makes the point of not being called Mr. Ed, Edward or Eddie (the only exceptions to this are for his mother, who calls him Edward, and his wife, who calls him Eddie). James Caan's earlier "tough guy" roles are sometimes referenced, for example when Ed is in a Montecito commercial, the director says he needs to be more like Sonny Corleone in The Godfather. However, in response, Ed says he "never saw" the movie, and indicates no interest in doing so. Another reference (to Caan's first major film role) is the name on a fake passport he uses (Alan Bodillion Treherne) when Ed travels to Morocco to re-locate a former CIA asset. That is the name of the "sidekick" character Caan played in the movie El Dorado with John Wayne.
Mike Cannon (Seasons 1–5)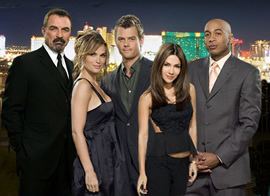 Mike Cannon (James Lesure) is an engineer, with both undergraduate and graduate degrees from MIT in Mechanical Engineering. He works as head valet for the first season, but is officially recruited by Ed Deline to the security department to help during Danny's military absence. He stays on as security personnel despite being paid less than his job as a valet. He is cured of his claustrophobia at the end of Season 1. Originally, in the pilot episode, Mike has a wife and daughter; this plot line is seemingly abandoned thereafter. Mike and Nessa become close in Season 2, until Nessa leaves to be with her dad and sister, without saying goodbye. In Season 5, when Danny accepts the job as President of Operations for the Casino, Mike is promoted to Head of Security and Surveillance. Mike and Piper are married in the series cliffhanger. Whenever approaching a beautiful girl, he first uses breath spray. He is Danny's best friend. There is some discrepancy over whether Mike is a local or not. The initial season it is stated he is a local who moved back as evidenced in "Decks and Violence" through his conversations. However, in later seasons he stated he moved/stayed in Vegas to get out of debt he landed himself in when going on a poker tilt in "A Cannon Carol".
Samantha Jane "Sam" Marquez (Seasons 1–5)
Samantha Jane "Sam" Marquez (Vanessa Marcil) is the self-proclaimed best Casino Host in the world. She lives in a Montecito suite, and is portrayed as a ruthless businessperson whose sole interest is to get high rollers to play at the Montecito. However, in the Season 4 episode, "The Burning Bedouin", she reveals that she is only "cold and jaded because everyone expects it of her", and "underneath it all, she is weak and pathetic like everyone else." She was married to billionaire Casey Manning, whom she was estranged from for seven years prior to divorcing. She is also involved in an on-and-off relationship with Det. Woody Hoyt from Crossing Jordan, which ends officially based on the events from Season 4 episode, "History of Violins". From "The Burning Bedouin", it is seen that she is currently in love with and waiting for Jeremy, who fell into a 20-year coma after falling off a stool at a slot machine; he is the man who first brought her to Las Vegas from Austin, Texas. Following the death of her ex-husband Casey in a freak fishing accident (he is later revealed to have been poisoned), Sam is left control of the casino. She becomes the latest former owner of the Montecito Resort & Casino after failing to pay the back taxes owed on the property. Her ownership of the Montecito lasts for a week, when A.J. Cooper buys the Montecito by paying off the back taxes. A.J. fires Sam when she is rude to his ranch manager's son. After Delinda intervenes, Sam and Cooper work things out over a milkshake, bowling, beers, and cigars and Cooper agrees to rehire Sam. Sam is originally from Texas and enjoys playing bingo. In the Season 5 finale, Casey Manning's younger brother Vic Manning visits the Montecito to take over the ownership of the casino. At the end of the show, it is announced that Sam and Vic plan to get married. When asked why Sam wants to marry Vic – she always stated she didn't have feelings for him even though he loved her – she says it is because Vic understands her and won't try to change her; plus, he reminds her of Casey.
Delinda Deline (Seasons 1–5)
Delinda Deline (Molly Sims) is Ed and Jillian's daughter and the Entertainment Manager/Food and Beverage Manager for all the food and beverage outlets in the Montecito: the Mystique Club, the former Wolfgang Puck's restaurant, Opus Bar, and the Bella Petto Pool Bar. Delinda is also shown to have a genius level IQ, and once majored in Psychology but decided the human race's biggest problem is that they are boring. Delinda has also been shown to be fluent in French, in the season 4 episode, "The Burning Bedouin". Delinda leaves the Montecito in the beginning of Season 3, until Monica forces Ed to hire her back. She becomes Danny's girlfriend after a long and complicated romantic history with him. They are "involved" briefly for the first episodes of Season 1 before calling it off. During Season 3, an old college flame returns and asks Delinda to marry him. She accepts, but before the ceremony, Ed is shot. In the fray of Ed's medical crisis, Delinda calls off her wedding to Derek. At the end of the Season 5 finale, Delinda becomes overwhelmed with pain after just learning that A.J. Cooper is alive; he was supposedly killed in a plane crash. Jillian is with her, and Delinda begins bleeding.
Mary Connell (Seasons 1–4)
Mary Connell (Nikki Cox) is the Special Events Director at the casino. Originally she was supposed to play the casino's personal hooker, but at the last minute during the pilot filming, Gary Scott Thompson changed it to Special Events Director. A Las Vegas native, her father sexually abused her when she was a child, and Danny always came to her rescue. In Season 3, Mary is rehired and promoted to Hotel Manager. In Season 4, she helps her stepmother and half-sisters testify against her father – a case which is lost because of his connections. In the episode "Bare Chested in the Park", she is shown purchasing a revolver to shoot her father in the Season 4 finale. She is involved in a relationship with Danny, who proposes to her in Season 2 – she accepts, then later calls off the engagement. Mary is currently hiding from the law for her part in her father's murder, but is apparently safe, as she sends Danny a photo with a house and white picket fence (her dream house).
Nessa Holt (Seasons 1–2)
Nessa Holt (Marsha Thomason), also known as "The Ice Queen", is the former head pit boss of the Montecito and is described as "the best pit boss in Las Vegas". She was born in Manchester, England, and has a shady past due to her father's connections with Ed Deline. Her father was a well-known gambler, cheater and con artist, who was forcefully recruited into the CIA and faked his death. Nessa was raised by Ed and Jillian for some years, and is referred to as a sister to Delinda. At the opening of Season 3, it is explained that Nessa has left Las Vegas and been given a new identity to be able to live with her father and long-lost sister. Nessa fails to say goodbye to Mike, although they were getting closer to a relationship.
A.J. Cooper (Season 5)
A.J. Cooper (Tom Selleck) is the new owner of the Montecito as of 2007. He is a former Marine and cattle rancher from Wyoming who stirs things up at the casino. It is said his net worth is about $2 billion. On his first day, he allows an oncologist to avoid jail for cheating the Montecito by making him lose his winnings and promise not to return to Las Vegas again. In "Run Cooper Run", it is revealed that Cooper was a Black Ops Marine in the Vietnam War and awarded the Bronze Star for his work. He was a Marine who served in the Battle of Khe Sanh, a 77-day siege in which outnumbered Marines fought off and killed between 10-15k NVA regulars as told by Danny in the episode. In "Sex, Lies and Lamaze", Cooper admits that he was best friends with Piper's father, a fellow Marine. Before Piper's father died, Cooper promised he would watch over Piper. Cooper also owns condominiums in Florida, the largest paper mill in Wisconsin, the largest cattle ranch in Wyoming, and a high-tech company in California. In the Season 5 finale, Cooper tells the Montecito workers he must go to New York and take care of some lawsuits filed against him by Vic Manning. Later, Mitch alerts Danny that the Montecito's jet has crashed in Colorado. The news reports say only one of the pilots survived. In lieu of the planned triple wedding, Danny and Mike set up a memorial service for Cooper's presumed death. At the last moments of the show, Cooper arrives at the service and appears to be fine.
Piper Nielsen (Season 5)
Piper Nielsen (Camille Guaty), the newest concierge of the Montecito introduced in Season 5. She frequently socializes with both Sam and Delinda. In the episode "The Glass is Always Cleaner", she is arrested at a rave party with Sam and has to be bailed out by Mike. In her first episode, she states she is just 22 years old, but later slips and says she is 25. She is fired for letting a minor gamble, but Cooper pays a $1,000,000 fine to hire her back. Piper never knew who her father was, but it is revealed that her father was a Marine who was Cooper's best friend during the Vietnam War. He died sometime after Vietnam. Before he died, Cooper promised him that he would keep an eye on Piper. Mike and Piper were married in Season 5. With the help of Cooper and Delinda, she won a magazine award as Las Vegas' best concierge.
Mitch Sassen (Seasons 1–5)
Mitch Sassen (Mitch Longley), a regular member of the Surveillance team. Mitch, like the actor who plays him, is paraplegic and uses a wheelchair. Mitch has a recurring role from Season 1 through Season 5.
Polly (Seasons 3–5)
Polly (Suzanne Whang), a Korean manicurist in the Montecito's spa, who has recently formed a friendship with A.J. Cooper. Polly is always open about discussing her sexual experience, such as claiming she was one of Wilt Chamberlain's 20,000 partners in "2 on 2". Sam once gave Ed a full body massage from Polly for Christmas, in which Polly attempted to give Ed a "happy ending".
Luis Perez (Seasons 1–2)
Luis Perez (Guy Ecker), a Las Vegas Police detective, childhood friend of Danny and Mary, and friend of Ed Deline and his team. He was also a former marine whose unit was recalled for service in Iraq. In the episode "One Nation, Under Surveillance", he asks Danny about his experience in the war and what to expect. Luis dies the first week sent in the war, and in the episode "Letter, Lawyers and Loose Women", a funeral is held in his honor with Ed and everyone attending and it is discovered he has a child whose existence was unknown to him.
Kathy Berson (Seasons 2–5)
Kathy Berson (Rikki Klieman), The Montecito's main legal adviser and lawyer. If there are any legal issues, Kathy is the first person whom everyone asks. Kathy helps Ed, Cooper, and Danny with many of their problems over the course of the show.
Jillian Deline (Seasons 1–5)
Jillian Deline (Cheryl Ladd), Ed's wife and Delinda's mother. Jillian expressed growing resentment of Ed's time on the job, and admits this to her daughter, Delinda, at the end of Season 4. In the Season 4 finale, it is revealed that Jillian would leave Ed if he decided to purchase the Montecito. In the opening of Season 5, it is revealed that she would support Ed's decision for better or worse after learning of her future grandchild. She leaves Ed after they move away under sketchy circumstances. She is currently awaiting her first grandchild, via Delinda and Delinda's fiance Danny McCoy.
Monica Mancuso (Season 3)
Monica Mancuso (Lara Flynn Boyle), former owner of the Montecito, is portrayed as self-centered and bull-headed. In the first episode of Season 3, it is revealed that at age 25, she married an 83-year-old billionaire. Upon his death at age 93, she inherited his fortune and used it to purchase the Montecito and upgrade it. She was a waitress in the morning and a stripper at night before she married the billionaire in Ohio. She later used the casino as collateral to try to purchase other casinos in Las Vegas. Dedicated to proving that she is more than just a woman who inherited money, she is determined to make the Montecito a success. In the Season 3 episode "Mothwoman", she dies in a freak accident: a gust of wind blows her off the roof of the Montecito, and down the strip into a shoe store at the Wynn. Because her character was generally disliked by the other characters in the series, and typically was portrayed as a buffoon, her death was constructed mostly for humor. Ed, Sam, Delinda, and Mary, along with Monica's former co-worker, Norma, dispose of her ashes ceremoniously by flushing them down the toilet (as per her wishes) in her suite at the Montecito.
Casey Manning (Seasons 2–4)
Casey Manning (Dean Cain), a shrewd and cunning businessman, Sam Marquez's ex-husband, and former owner of the Montecito Resort & Casino. In Season 3, Casey buys the Montecito from the Foundation for the Blind, after it was left to them following Monica's death. In the Season 4 episode "Bare Chested in the Park", his character is killed off in a fishing accident: a giant squid envelops him off the coast of New Zealand. The autopsy reveals that he was poisoned before the accident. After his death, he leaves the Montecito to Sam, who faces tax problems left by Casey. In the series finale, Sam plans to marry Casey's brother Vic, even though she doesn't love him, because Vic reminds Sam of Casey.
Sarasvati Kumar (Seasons 1–3)
Sarasvati Kumar (Lakshmi Manchu), is an accountant for the Casino and one time interest of Frank (Sylvester Stallone), and later Mike. Her relationship with Mike ends officially after she goes home with Delinda's bachelorette party strippers.
Gunther (Seasons 1–3)
Gunther (Harry Groener), the temperamental executive chef at the Montecito's original restaurant. He habitually has issues that require Delinda's attention, and develops a rivalry with Wolfgang Puck when the more famous chef opens a restaurant at the casino. Gunther eventually quits after losing a cook-off to Puck; he sells his restaurant to Charo. Believed to be a parody of Wolfgang Puck, his disposal by means of a cook-off is arranged when the show was able to sign on the real Wolfgang Puck, who plays himself in the series.
Erika (Seasons 3–5)
Erika (Anna Pheil), a hard-as-nails barmaid Danny hires on a lark when he sees her dealing with customers while tending bar at a strip club.
Shannon (Seasons 3–4)
Shannon (Malaya Drew), a member of the Montecito's security. She plays a small role in six episodes. She briefly shows interest in Mike Cannon.
Notable guest stars
Jean-Claude Van Damme as himself, episode 15
Sean Astin as Lloyd, episode 17
Alec Baldwin as Jack Keller, episodes 12 and 32
Terry Bradshaw as Peter "Pete" Skinner, episode 104
Richard Burgi as Vince Peterson, episode 86 and 87
Dean Cain as Casey Manning, recurring 9 episodes (season 2-4)
Erin Cardillo as Kelly Crever, episode 92
JC Chasez as William, Piper's Ex-Boyfriend, episode 98
Sarah Clarke as Olivia Duchey, episodes 56 and 57
Rachael Leigh Cook as Penny Posin, episodes 50–53
Eric Dane as Leo Border, episode 24 and 25
Elliott Gould as The Professor, episode 4
Ben Feldman as Herbert, episode 102
Dave Foley as Mertens, Season 2, episode 22
Tamyra Gray as Patty, episode 65
Brian Austin Green, as Connor Mills, episode 14
Jill Hennessy, as Dr. Jordan Cavanaugh of Crossing Jordan in several crossover episodes
Paris Hilton, as Madison, Connor Mills' fiancee, episode 14
James Hong as Soli Tendar Monk, episode 76
Dennis Hopper, as Jon Castille, episode 16
Kathryn Joosten as Roberta "Robbie", episode 104
Christian Kane, as Bob, episode 20
Dominic Keating, as Anthony Demby, episode 12
Joanna Krupa, as Nicole, episode 32
Jon Lovitz, as Fred Puterbaugh, episodes 14, 25 and 46
Raul Macias as bar patron, episode 12
Jay Mohr as Martin Levson, episode 38
Jerry O'Connell, as Detective Woody Hoyt of Crossing Jordan in several crossover episodes.
Sylvester Stallone, as Frank, episodes 35 and 41
Robert Wagner as Alex Avery, episode 66
Lakshmi Manchu as Sarasvati Kumar, recurring role in 11 episodes
Crossing Jordan crossover
Las Vegas is set in the same universe as fellow NBC series Crossing Jordan. In the Season 2 episode "Two of a Kind," a case brought Dr. Jordan Cavanaugh (Jill Hennessy) and Det. Woody Hoyt (Jerry O'Connell) to Las Vegas. Woody and Sam got very well acquainted and maintained a long-distance relationship. However, as of the Season 4 episode "History of Violins," the relationship seemed to be over. Jordan and Danny also become involved, but both agreed it was only for fun, and no relationship came from it.
Episodes ordered by airdate:
Crossing Jordan: "What Happens in Vegas Dies in Boston" (November 7, 2004) with Duhamel, Marcil and Caan
Las Vegas: "Two of a Kind" (November 8, 2004) with O'Connell & Hennessy
Crossing Jordan: "Luck Be a Lady" (October 2, 2005) with Duhamel & Marcil
Las Vegas: "Double Down, Triple Threat" (October 3, 2005) with O'Connell & Hennessy
Las Vegas: "Fidelity, Security, Delivery" (May 5, 2006) with O'Connell
Las Vegas: "Father of the Bride" (May 12, 2006) with O'Connell
Las Vegas: "History of Violins" (November 17, 2006) with O'Connell & Hennessy
Crossing Jordan: "Crazy Little Thing Called Love" (February 11, 2007) with Duhamel & Molly Sims
Other crossovers
The Montecito Hotel and Casino has appeared in multiple shows — Heroes, Knight Rider, Medium, Monk, Passions, and Stargate Atlantis (in an "Alternate Universe") — when characters from those shows visited Las Vegas. Of these, only the daytime soap Passions included Las Vegas characters in cameo roles: Nikki Cox appeared as Mary Connell. The final season of Las Vegas also featured a crossover episode of sorts with one of the highest rated TV shows from the 1980s. During the episode, several cast members of the hit TV show Magnum P.I. including guest stars Roger Mosley and Larry Manetti appeared on the program with Las Vegas regular Tom Selleck. Manetti and Mosley essentially played millionaire older versions of their characters from Magnum P.I. in the episode.
The Las Vegas episode "The Story of Owe" mentions a Dunder-Mifflin convention, obliquely linking to The Office.
In the episodes "Father of the Bride Redux" and "Died in Plain Sight", when Ed DeLine travels to Morocco to find and re-locate a former CIA asset, the false passport he uses is in the name of "Alan Bourdillion Traherne". This is the name of the character he played, also known as "Mississippi", in the 1966 film El Dorado in which he starred with John Wayne. When Wayne asks the character "Mississippi" his real name, he replies "Alan Bodillion Traherne", to which Wayne responds incredulously "Lord Almighty!".
Opening sequence
Various theme songs have been used, depending on where, how or when the show has aired. In France, Italy, Spain, Portugal, The Netherlands, the UK, and other countries the theme song is "Let It Ride" by Charlie Clouser and Jon Ingoldsby, while in other countries, such as the USA and Canada, the theme song is "A Little Less Conversation" (the Memories – The '68 Comeback Special version) by Elvis Presley. For the American DVD, as well as the episodes available for viewing on NBC's website, Clouser's song is used, with the exception of the pilot episode.
Season information
The show has five complete seasons; all are available on DVD. The show was renewed for the fifth season on February 27, 2007. On March 2, 2007, it was announced that James Caan and Nikki Cox would be leaving the series. Caan departed because he wanted to return to acting in feature films, while Cox's departure seems to stem from budget cuts. Tom Selleck replaced James Caan as head boss in Season 5. In the final season, only 19 episodes of the originally planned 22-episode season were filmed at the time the show was cancelled. The final episode was a cliffhanger with many issues left unresolved; they will remain unresolved, according to TV Guide Canada. At one point, Michael Ausiello of TV Guide said that there were plans, should a proper resolution not be possible, to have the characters of Danny McCoy and Delinda Deline cameo in an episode of Knight Rider, carrying a newborn. Due to Knight Rider's cancellation, however, Danny and Delinda's cameo appearance never came to fruition.
Setting
The location of the fictional Montecito has changed from season to season. Some of the first episodes were shot at the Monte Carlo and Mandalay Bay. Because of its similarity to Mandalay Bay, many of the show's visuals place the Montecito at the far southern end of The Las Vegas Strip, albeit usually across the street from Luxor on the airport side of Las Vegas Boulevard. The exact location and rotation of the building seems to vary a lot within this area; indeed the CGI zoom shots of the building's exterior in the season two episode, "Montecito Lancers", shows the building in three slightly differing locations for three different shots. There were also a few interior and exterior shots filmed in Dana Point, CA, at the St. Regis Hotel in Monarch Beach, CA. In Season 5, the Montecito seems to have a consistent location across from Luxor.
Many of Mandalay Bay's interiors and exteriors (including its wave pool) have been used as Montecito exteriors, although (according to the Internet Movie Database) the actual set of Montecito is located at Culver Studios, in Culver City, California, so the interiors are a replica of the Mandalay Bay. The Season 3 set of Las Vegas has been said to be the biggest set for a TV show ever.
During the first season of the show, many of the Montecito's suites overlooked various parts of the middle part of the Strip, placing the hotel near where The Venetian, Flamingo Las Vegas, or The Mirage are currently, before the more consistent location at the southern end of the Strip was finalized.
During the first season, except for the pilot episode, the sets were built as needed for filming.
Some episodes were shot using interior and exterior shots of Green Valley Ranch, including a shot of the pool and spa area where, in one episode, Everlast holds a concert.
In Season 3, Ed Deline's office appears to be in the middle of the strip, overlooking Harrah's, Caesars Palace, The Mirage, and The Venetian, which puts the Montecito near where Treasure Island is located. This is inconsistent with the flyover shots of the Montecito, which would place Ed's office over two miles away. Closer examination of the window scene shows that The Mirage's marquee over their driveway has been edited to read "Montecito". In Season 4, episode 2 "Died in Plain Sight", there is a scene in Ed Deline's office where again we can see an overview of The Mirage and Caesars Palace. Again it's a confirmation that Ed Deline's office would be where Treasure Island is located.
According to an episode that originally aired in December 2005, the Montecito is located about 1.5 miles from Wynn Las Vegas. It's possible that this distance is in a straight line ("as the crow flies") as opposed to a reference to actual driving distance. This distance is inconsistent with long shots that place the Montecito near the airport, Luxor and Mandalay Bay, but is in line with Season 3 visual references noted above. Other episodes show aerial shots of the Montecito that make it appear to be situated at the corner of Giles St. and Reno Ave., about half a mile from Mandalay Bay and across from Luxor.
Spin-off fiction
The Las Vegas tie-in novel High Stakes Game, by Jeff Mariotte, tells the tale of what could have occurred between the Season 2 finale and the Season 3 premiere when the casino was destroyed and rebuilt and the characters briefly went their separate ways. A second novel called Sleight of Hand, also by Jeff Mariotte, was launched in 2007.
References
Las Vegas (TV series) Wikipedia
(Text) CC BY-SA