My name is earl season 1 bloopers part 1
My Name Is Earl is an American sitcom series created by Greg Garcia that aired on the NBC television network from September 20, 2005, to May 14, 2009, in the United States. It was produced by 20th Century Fox Television and starred Jason Lee as Earl Hickey, the title character. The series also stars Ethan Suplee, Jaime Pressly, Nadine Velazquez, and Eddie Steeples.
Contents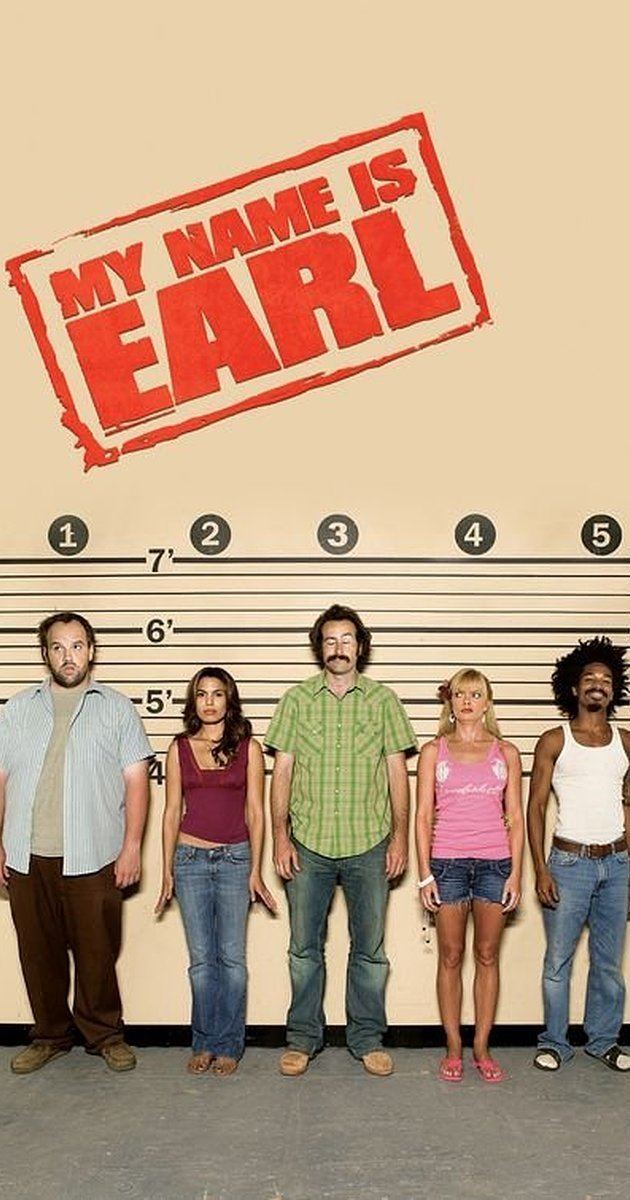 Most episodes from the first season, then only a few from the rest, begin with Earl presenting the premise of the series: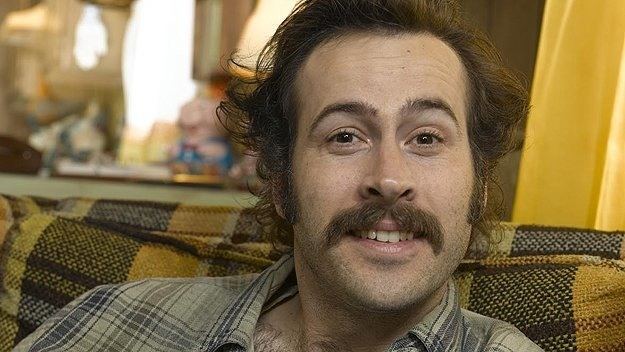 You know the kind of guy who does nothing but bad things and then wonders why his life sucks? Well, that was me. Every time something good happened to me, something bad was always waiting around the corner: karma. That's when I realized that I had to change, so I made a list of everything bad I've ever done and one by one I'm gonna make up for all my mistakes. I'm just trying to be a better person. My name is Earl.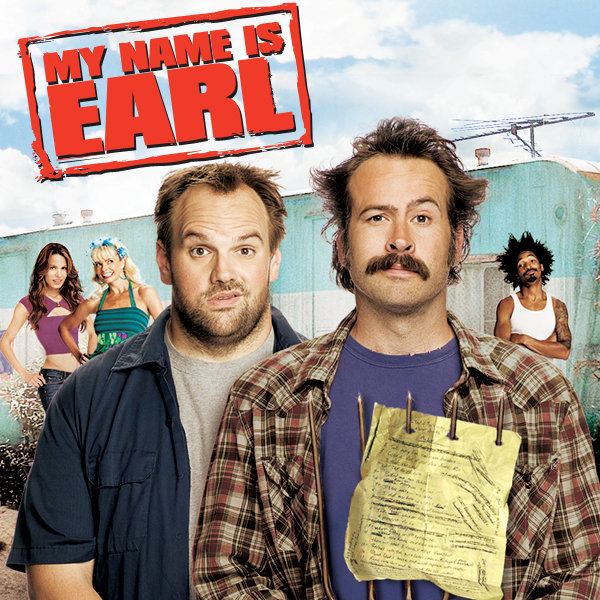 Ufo in american sitcom my name is earl
Synopsis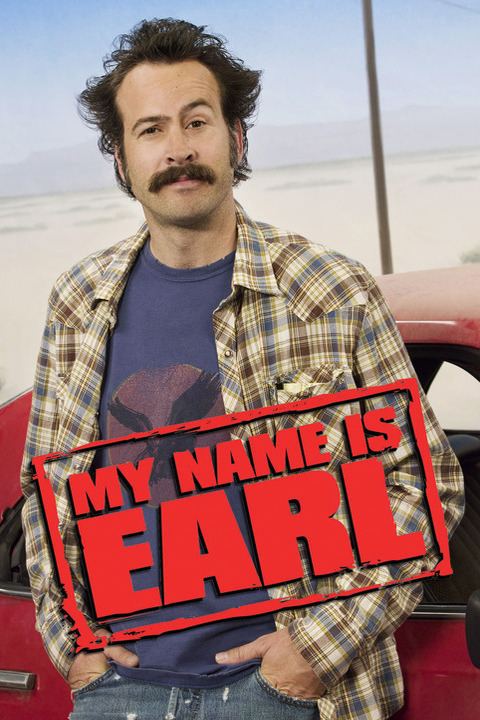 Earl Jehoshaphat Hickey (Lee) is a small-time criminal, living in the fictional rural county of Camden, whose winning $100,000 lottery ticket is lost when he is hit by a car while he celebrates his good fortune. Lying in a hospital bed, under the influence of morphine, he develops a belief in the concept of karmic retribution when he hears about karma during an episode of Last Call with Carson Daly in which Daly is interviewing country music star Trace Adkins. Convinced he has to turn his life around to survive, Earl gives himself over to the power of karma. As his first step of a makeshift twelve-step program to fix his misdeeds, Earl makes a list of every bad thing and every person he has wronged and commences efforts to fix them all. After doing a first good deed, he finds the $100,000 lottery ticket that was previously lost. Seeing this as a sign of karma rewarding him for his commitment, Earl uses his newfound wealth to do more good deeds according to his list.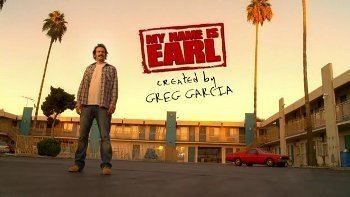 After a year of doing good deeds, a major plot-twist occurs in season two. Earl's ex-wife Joy Turner (recently remarried to local "Crabman" Darnell Turner) steals a truck from a local "Bargain Bag" supermarket in retaliation for their refusing to process a return for the $3000 home-entertainment system she'd purchased (due to gum being on her receipt), and in so doing, accidentally kidnaps a Bargain Bags employee (who, unbeknownst to Joy, was in the truck's container). She is facing life in prison due to this being her third strike. To soften the jury, she decides to have a surrogate baby for her half-sister Liberty Washington. When things do not go well at her trial, Earl takes the blame for the truck theft and kidnapping to protect Joy's freedom and family and is sentenced to two years in a state penitentiary. Behind bars, Earl is forced to surrender his original list, but continues to do good deeds. He also meets fellow prisoner and friend Frank's girlfriend, Billie.
In an attempt to re-capture an escaped Frank, Earl, his brother Randy, and Frank end up seeing Joy give birth.
Through Earl's captivity, the Warden grants more and more time off Earl's sentence for his good deeds. However, the Warden revokes all of this time off on what would be Earl's second-to-last day in prison, realizing that Earl was making him look good by solving so many problems in the prison. However, Earl eventually gains the upper hand and forces the Warden to honor his early release.
After leaving prison, Earl loses his faith in the list; he has spent years and all of his lottery winnings doing good things, but has nothing lasting to show for it, and is insistent that Karma should have given him some kind of lasting reward by now. He reverts to his pre-list ways, doing reckless and bad things until Billie hits him with her car and sends him into a coma. Billie is subsequently hit by a car herself, leaving them both lying in the street. Eventually, Earl wakes up, finds Billie, and marries her, as he believes her to be Karma's reward for his years of effort. However, Earl and Billie argue about his list, and Earl eventually chooses the list over her, sending her into a rampage where she undoes the good things that he has accomplished to that point. However, Billie converts to a "Camdenite" (a parodic sect of the Mennonites) after hiding out in their territory to avoid arrest, and divorces Earl on friendly terms, giving him the settlement money from the person who ran her down in the street because she felt Earl deserved the money, and as a Camdenite, she wouldn't be needing it. Earl uses it to continue doing good deeds on his original list.
As he continues to perform good deeds, Earl's motives initially come across as shallow and selfish – that he is only doing good to improve his karma and by extension his own life. However, Earl begins to develop a genuine sense of morality and principles, refusing to participate in illegal or immoral activities – though sometimes finding himself in very awkward situations, including those involving a suicidal stunt man, a second-hand hot tub that gives his ex-wife Joy a communicable toe disease, a Korean War veteran who wants to reclaim some possessions Earl destroyed (including the ear of a fellow soldier) and a "witch woman" who proves him right in thinking she is evil when she knocks him and many others out and stores them in her basement.
As another plot-twist, Darnell (aka, the Crabman) blows his Witness Protection cover when Joy goes crazy at an audition for a game show entitled ¿Estrada or Nada?. After Joy beats host Erik Estrada in the game show, they go through different covers, eventually stopping at an upper-class lifestyle. Soon, Darnell's father finds his son. It is then revealed that Darnell's name is actually Harry Monroe (although he is still called Darnell or Crabman). As a child, he was a spy in a top-secret espionage agency. Feeling that his job was immoral, he publicly testified against the agency, getting himself placed in the Witness Protection Program. Crabman, his father, and Earl (who must be drugged so he sees nothing) go on a final mission for the agency. After everyone survives a helicopter crash, life goes back to normal.
In many cases, Earl discovers that his crimes and misdemeanors had far more repercussions than he had known, and that complete fixes in those cases would require far more effort than he had first thought when selecting his list item. Yet he would also find that repairs would have deeper and more layered results, bringing the realm of the show into the religious and spiritual as well as comedic.
The series often ended its episodes with a final scene of Earl and Randy conversing in their shared motel room bed at night about a non-important, trivial topic.
Conception
Creator and head writer Greg Garcia wrote the pilot while working on another sitcom, Yes, Dear. He initially pitched the series to Fox which passed on the series. He then approached NBC, which optioned the pilot on a cast-contingent basis, meaning they would order the pilot provided a suitable cast could be assembled. Jason Lee was approached for the lead role, but was uninterested in working in television and passed on the series twice before finally agreeing to read the pilot script. Though he liked the pilot, he was hesitant to commit to his first TV starring role until meeting with Garcia, after which he signed on to play Earl Hickey.
Ratings
The series premiered on September 20, 2005, drew in 14.9 million viewers in the United States, earning a 6.6 rating. By the airing of the third episode it was apparent that My Name Is Earl was the highest rated of NBC's new fall offerings, and a full season (22 episodes) was ordered. In its first month, it was also the highest rated new sitcom of the season to air on any network and was the highest rated sitcom on any network in the 18–49-year-old demographic. The show was renewed for a second season (2006–07), a third (2007–08), and a fourth (2008–09).
Cancellation and future
The series ended abruptly on May 19, 2009 after running for four seasons. Season four had ended with the caption 'To Be Continued'. The series' producer, 20th Century Fox Television, approached the Fox, TBS and TNT networks to continue the series, but they were unable to come to terms without "seriously undermining the artistic integrity of the series."
In October 2011, Jason Lee told E! Online he has been in talks with Greg Garcia to finish the list via a movie, possibly to be released online.
On October 1, 2013, creator Greg Garcia participated in an AMA on reddit.com. Fan Jerry Denton asked "Who was Earl Jr's. real father and did Earl ever finish the list?"
Garcia replied:
We never really got the chance to fully figure it out but the talk in the writers room was that Earl Jr's Dad was going to be someone famous. Like Dave Chappelle or Lil Jon. Someone that came to town on tour and Joy slept with. But when we got canceled we never got the chance to figure it out. I was worried about doing a cliffhanger but I asked NBC if it was safe to do one at the end of the season and they told me it was. I guess it wasn't.
I had always had an ending to Earl and I'm sorry I didn't get the chance to see it happen. You've got a show about a guy with a list so not seeing him finish it is a bummer. But the truth is, he wasn't ever going to finish the list. The basic idea of the ending was that while he was stuck on a really hard list item he was going to start to get frustrated that he was never going to finish it. Then he runs into someone who had a list of their own and Earl was on it. They needed to make up for something bad they had done to Earl. He asks them where they got the idea of making a list and they tell him that someone came to them with a list and that person got the idea from someone else. Earl eventually realizes that his list started a chain reaction of people with lists and that he's finally put more good into the world than bad. So at that point he was going to tear up his list and go live his life. Walk into the sunset a free man. With good karma.
Connection to Raising Hope
In 2010, Garcia premiered a new show, titled Raising Hope on Fox Broadcasting Company. On the series premiere, you see the newspaper being delivered by two men in a green Ranchero, Randy's car (which was a gift from Earl in season 4 episode 7), and also a newscaster in the background reports, "A small-time crook with a long list of wrongs he was making amends for has finally finished, and you'll never guess how it ended." However, the newscast is cut off before viewers can hear more. In episode 10 of the first season Jason Lee appears as an aged rock star and refers to Gregg Binkley as Kenny, his character's name on My Name is Earl rather than Barney, his character's name on Raising Hope. Jasper makes recurring appearances as Officer Buckley, as first seen in the Halloween episode "Happy Halloween".
In episode 15, Darnell "Crabman" Turner appears as Tyler, the Chance's gas bill collector and then later again working at the video arcade.
In Season 1 episode 21, entitled "Baby Monitor", Burt and Virginia receive transmissions from a nearby baby monitor and when they find the source it is their neighbors Donna and Andrew, played by Jaime Pressly (who played Joy Turner) and Ethan Suplee (who played Randy).
In the Season 1 finale, Jimmy is living in Howdy's watching pornographic videos that his cousin drops off. The video he is watching is from the episode Inside Probe Part 1 when Joy reveals she starred in a smut film for Crabshack owner, Ernie, kicking a man repeatedly in the crotch. Also, Bert and Virginia write on a Chubby's Burgers bag during the episode.
Midway through season two, more cross overs to My Name Is Earl were made. In "It's a Hopeful Life", when Jimmy is standing outside the movie theater, posters for two movies – My Name Is Earl: The Movie and 2 the Max – can clearly be seen. In "Gambling Again", Patty the Daytime Hooker and TV's Tim Stack make an appearance. In "Hogging all the Glory" talk of Karma leads to Virginia telling Burt 'Yeah like that show with the Mallrats guy you kept trying to make me like'. The Hope two-part second-season finale "Inside Probe" and "I Want My Baby Back, Baby Back, Baby Back," featured the show within the show Inside Probe, which formerly had appeared (with Geraldo Rivera hosting) in a two-part fourth-season Earl episode also titled Inside Probe. Part of the opening sequence to Earl can also be seen on the Chance's television in the "Inside Probe" episode of Hope. When Frank is being interviewed, there is a giant donut in the background that says Chubby's Donuts.
In season three, episode three, "Throw Maw Maw From the House, Part 2", Maw Maw is temporarily sent to live at the "Earl J. Hickey Memorial Nursing Home." Later in season three, during episode sixteen, the Chances take a trip to Hollywood where Burt encounters the executives for numerous television networks. He kicks the NBC executive in the groin shouting "That's for cancelling 'My Name Is Earl'!" before running off; the executive (played by Graham Clarke), in pain on the ground, then complains that he was not responsible for the series' cancellation, and that he actually loved the show.
In the season 3 episode "Making the Band" every major actor from My Name Is Earl appeared as their Raising Hope characters in a storyline that contained an abundance of references to the former show, including the list itself and background music. For example, Crabman "pizza man" says he is in witness protection and that Mr. Turtle had been missing for roughly four years, this includes a reference by Ethan's character running over said turtle four years before. This also includes a reference to Earl's list of people he wronged, and his sudden belief in karma.
Main cast and characters
Jason Lee as Earl Hickey
Ethan Suplee as Randy Hickey
Jaime Pressly as Joy Turner
Nadine Velazquez as Catalina Aruca
Eddie Steeples as Darnell Turner (Crabman)
Location
My Name Is Earl is set in fictional Camden County. Creator Greg Garcia says:
On episode Inside Probe (Part 2), Earl hints at a general location by saying, "I guess we are in the central time zone". The show is filmed in the San Fernando Valley, in Southern California. On the last DVD, in reply to a viewer's question, Greg Garcia admits that Camden is loosely modeled on Pimmit Hills, Virginia. The trailer park is named "Pimmit Hills Trailer Park" after the neighborhood. The series creator, Greg Garcia, lived in Pimmit Hills for a time as a child.
In the episode "Burn Victim," Earl is seen writing a check to pay for a prom for a fellow prisoner, a gift in hopes the prisoner will make amends with his parents, thereby earning Earl 6 months off his sentence. As he writes "freedom" in the memo line, a closeup of the check is seen. Though Earl's information merely lists his address as "Camden County, USA", the bank information is also visible. The fictional bank, "Eagle America Bank" is listed as being in fictional "Glen Falls, Ohio 44529". Though the zip code is also fictional, it would be in the suburbs of Youngstown if real.
In the episode "Girl Earl", Billie starts her own list and Earl discovers that they each robbed Joel Malone (Jon Heder), Camden County's fastest bagger, who was interviewed by local news for an upcoming National Bagging Competition held in Youngstown, Ohio.
In one episode, Earl and his brother Randy are trapped in the Artesia water tower.
During "Equipment Demonstration" Officer Stuart Daniels states that the equipment was "supposed to go to Camden, New Jersey, but came here instead".
In season 4 episode 10 "Earl and Joy's Anniversary", Crabman, Paddy, Catalina, and Kenny are hiding in a phone booth from bees. When the bees leave the Indian clerk wakes them up and says, "It's all okay. The bees are heading for Texas." This would limit them to the states close to Texas and eliminate Texas as their state.
Critical reception
The show was well received by critics and audiences alike. One reviewer speculated that Earl's forthrightness to having led a life of idiocy is what endears him to the viewer, and is what suggests there is a depth to his character beyond what is initially seen. Many of the negative and ambivalent reviews center on what is perceived to be base and bigoted humor.
Some critics claimed the series had a Scientologist bias or message, with actors Jason Lee and Ethan Suplee being Scientologists. In 2008, Alec Baldwin publicly named Earl creator Greg Garcia as being a Scientologist; Garcia quickly denied any involvement with Scientology, claiming that the Daily Mirror had incorrectly reported him to be a Scientologist.
The series was nominated twice for Best International Programme at the British Academy Television Awards in 2007 and 2008. The pilot episode won Emmy awards for Outstanding Writing and Directing in a Comedy Series for Greg Garcia and Marc Buckland respectively at the 58th Primetime Emmy Awards. Jaime Pressly won for Outstanding Supporting Actress in a Comedy series at the 59th Primetime Emmy Awards. Other Emmy nominations include Beau Bridges and Giovanni Ribisi for Outstanding Guest Actor in a Comedy Series.
Season 1 DVD set
The season one "mini-episode", titled Bad Karma, is an alternate version of the events of the pilot episode featuring what would have happened if, instead of seeing Carson Daly talking about karma while in the hospital, Earl saw Stewie Griffin of Family Guy talking about vengeance.
At Best Buy locations the set came wrapped in a miniature replica of Earl's flannel shirt.
The DVD set sold at Target stores featured a limited-edition bonus DVD with extra bloopers and other bonus features.
Syndication
20th Century Fox Television has cleared My Name Is Earl in nearly 50% of the U.S., said Bob Cook, the company's president and chief operating officer. 20th had sold the off-net sitcom to the Fox, Tribune, CBS, Hearst-Argyle, and Sinclair station groups for a fall 2009 debut.
My Name Is Earl aired in off-network syndication and on TBS, Ion Television, and MyNetworkTV in the United States. Canada airs the series on Joytv. The series premiered in January 2006 on Channel 4 in the UK. The fourth and Final season was shown on E4 in January 2009. In 2013, 5* gained the repeat rights to the series.
Adaptation outside the U.S.
A Greek adaptation entitled Με λένε Βαγγέλη (Μy name is Vangelis), starring Vasilis Charalampoupoulos as Vangelis, Makis Papadimitriou, Klelia Renesi, Anna Dimitrievic and Michalis Afolayan, premiered on November 14, 2011 on Mega Channel.
A Turkish drama featuring a moustached man looking like Jason Lee's character and using the "list" element in the character's search for repentance for past crimes has been airing on Turkish television and in a dubbed format in various Arab channels.
Comic book
Independent comic book publisher Oni Press had announced a comic book tie-in to the series in 2006, and season one's DVD release included ads for the comic; but none were produced. Since the cancellation of the show, Oni has abandoned the comic.
References
My Name Is Earl Wikipedia
(Text) CC BY-SA