Years active

1987–present







Full Name

Illeana Hesselberg

Born

July 25, 1965 (age 52) (

1965-07-25

)

Education

Neighborhood PlayhouseAADA

Occupation

ActressDirectorScreenwriterProducer

Notable work

Grace of My HeartEasy to Assemble

Home town

Los Angeles, California U.S.

Spouse

Jonathan Axelrod (m. 1998–2001)

Grandparents

Melvyn Douglas, Rosalind Hightower

Parents

Melvyn Gregory Hesselberg, Joan Hesselberg

Books

I Blame Dennis Hopper: And Other Stories from a Life Lived In and Out of the Movies

Movies and TV shows




Similar People
Cenk interviews actress illeana douglas
Illeana Hesselberg, most commonly known as Illeana Douglas, (born July 25, 1965) is an American actress, director, screenwriter, and producer. Douglas has had a long-ranging diverse career as a character actor with a specialty in comedy. Notable works include work in a 2001 episode of Six Feet Under – for which she received a Primetime Emmy nomination as Outstanding Guest Actress in a Drama Series and won the Best Guest Actress in a Drama Series award from OFTA, the Online Film & Television Association – and her work in the TV series Action opposite Jay Mohr – for which she won a Satellite Award for Best Actress – Television Series Musical or Comedy. She can currently be seen on Turner Classic Movies where she hosts specials focused on unheralded women directors from film history.
Contents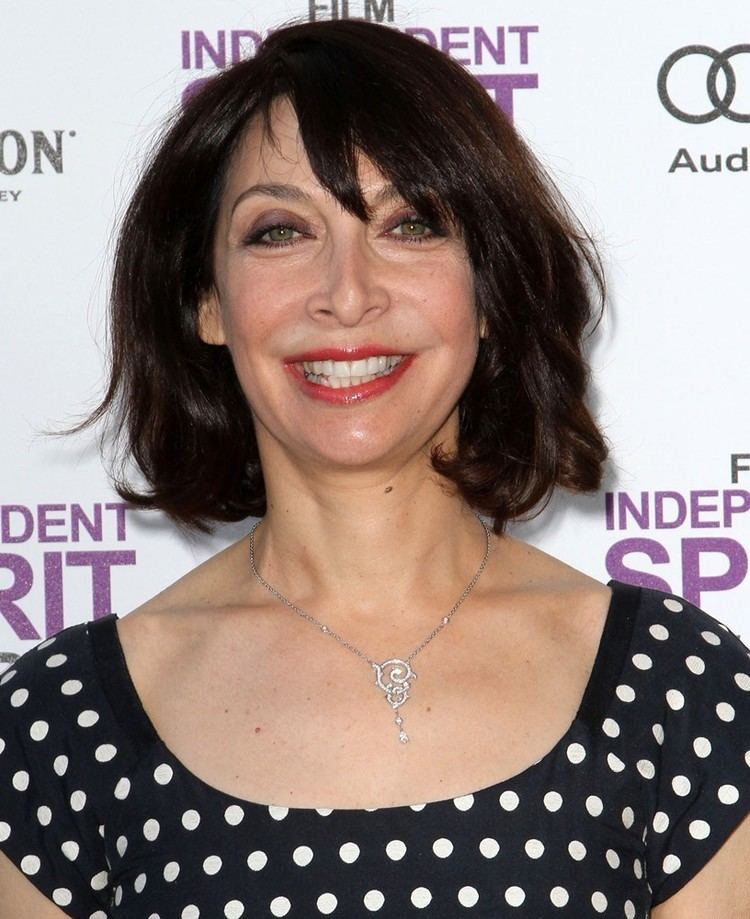 Actress illeana douglas of cape fear goodfellas more
Early life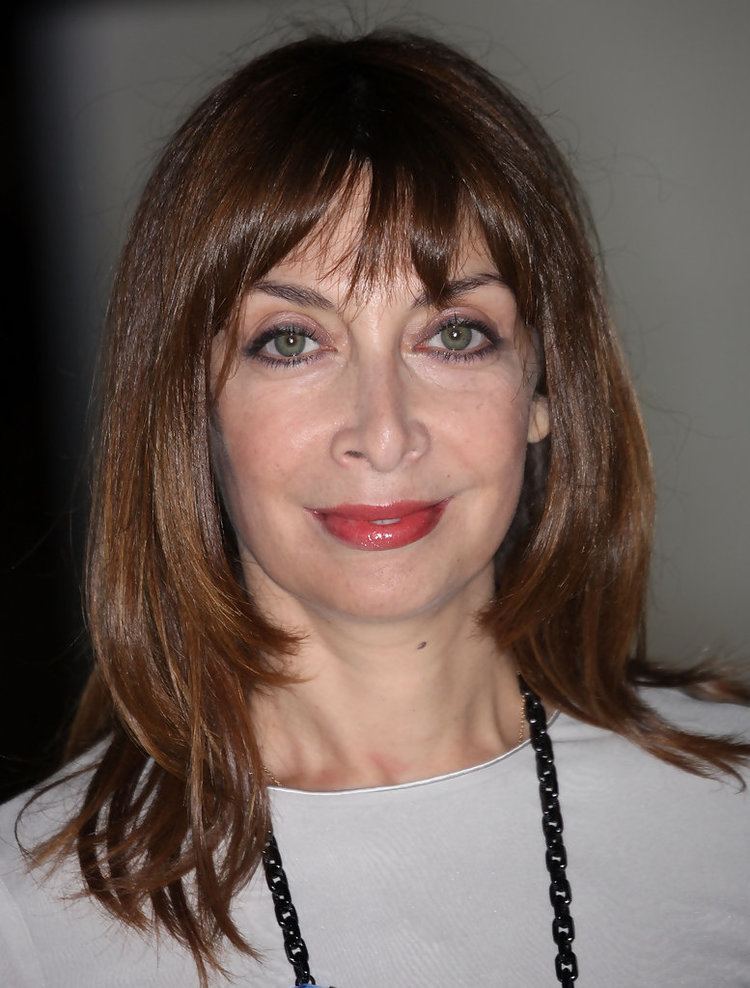 Douglas was born in Quincy, Massachusetts, the daughter of Joan Douglas (née Georgescu), a schoolteacher, and Gregory Douglas, a painter. Douglas' father was the son of Hollywood actor Melvyn Douglas and his wife, the artist Rosalind Hightower. Douglas had two older brothers, the late Stefan Gregor Hesselberg, a technician in the histology laboratory at the Massachusetts Institute of Technology who also trained racehorses in Verona, Italy, and Erik Hesselberg, a journalist.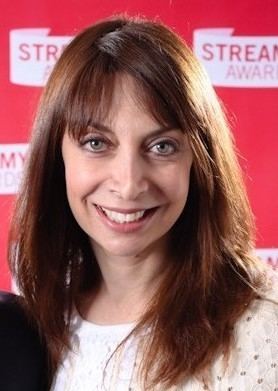 Douglas grew up in Connecticut, in the Old Saybrook area, but said that really she grew up all over, in Massachusetts where her father lived, Connecticut where her mother lived, and New York, where her extended family lived. During her childhood she spent time going back and forth between relatives during the summer. Douglas said that her parents were heavily influenced by the 1970s hippie culture—her father especially by the movie Easy Rider. They had a loose parenting style and did not pressure her to go to college. Comedy albums were really big in her family. The family would put on dramatic interpretations and performances.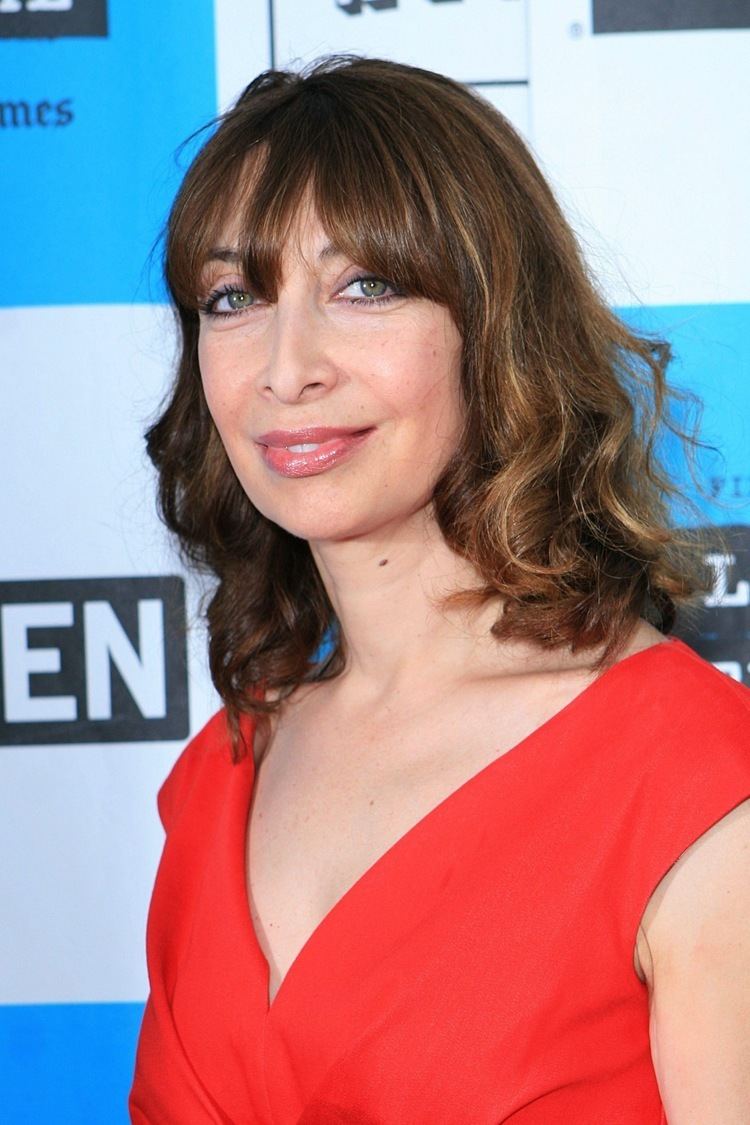 Douglas' mother's side is Catholic, Italian and Romanian from Astoria, Queens. Her maternal grandmother worked in the restaurant at Gertz' department store in Astoria and her maternal grandfather was a welder. Douglas said that her maternal grandmother, a former Rockette, had really wanted to be an actor. She instilled in Douglas a love for the movies, which they attended together frequently when she was a child.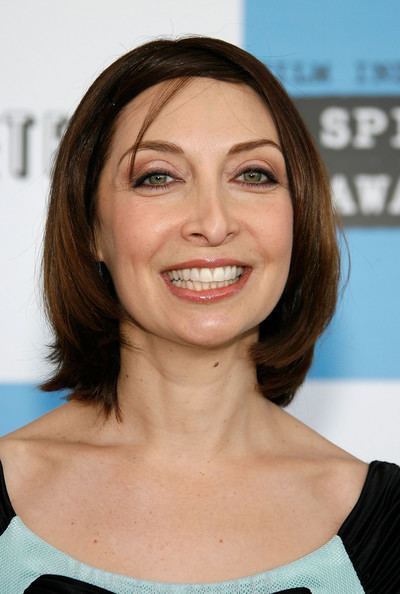 As a child she would visit her paternal grandfather, the actor Melvyn Douglas, in his apartment in Manhattan on the Upper West Side as well as his home in the Hollywood Hills section of Los Angeles on Senalda Road off Outpost Drive. Douglas said her summers with Melvyn Douglas were about experiencing with him his love of theater and elocution as well as reading, art, and history.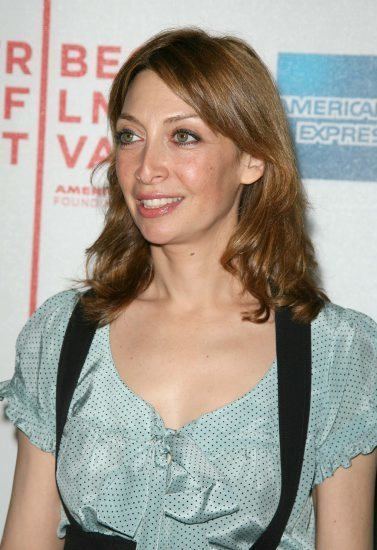 Douglas has said that her grandfather's performance in Being There was influential on her own career. In the 1940s, Douglas' grandfather and Peter Sellers both served in the military during WWII and met in Burma. In the 1960s, the two men reconnected in London and talked about their time together in the war. During high school, Douglas visited the set while they were shooting on location in Asheville, North Carolina and got to meet Sellers, whose work she admired greatly. It was the first time she was on a film set.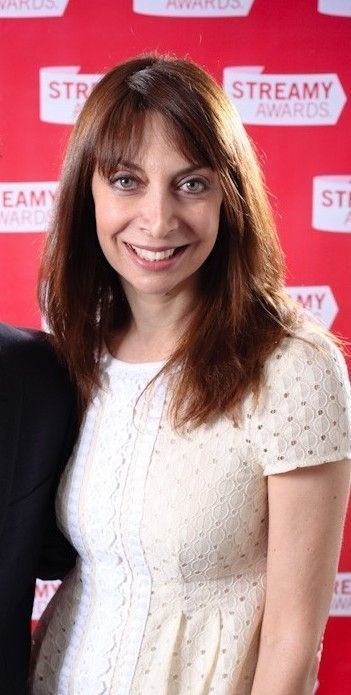 Douglas notes the contrast between her working-class Italian roots and the glamorous Hollywood world of her paternal side of her family. Famous people like Myrna Loy, Gore Vidal, Gloria Steinem, politicians, writers, and others were always around in a salon-type world. Douglas said it took her a long time to figure out the contrasting diversity, to put both halves together. She identifies more with the Italian side of her family, that she developed more of their "rhythms and ways" because she spent so much time with them in Queens.
Early career
After graduating from high school, Douglas moved to New York City. Obsessed with the movies from her childhood, Douglas wanted to be in show business. She stayed with relatives in various temporary arrangements. Douglas attended American Academy of Dramatic Arts, where she was a contemporary of Elias Koteas and Lou Mustillo. Mustillo and Douglas were not asked back to school after their first year.
When she was 18 years old, Douglas went to work for Steve Rubell at the Morgans Hotel. While there, Douglas decided to reinvent herself and began attending Neighborhood Playhouse School of the Theatre, where she studied with the acting teacher Richard Pinter. While she was working in a sketch comedy group called Manhattan Punchline, one of the troupe members suggested she try stand-up comedy. Douglas decided to give it a try, working briefly at Stand Up New York. She found the writing and acting easy, but the performing very difficult. She did not like the graphic comedy style then in vogue, and didn't like the lifestyle.
Douglas got a job working for a well-known publicist, Peggy Siegal. Through this job, she tried to get her headshot to the casting director who worked with Martin Scorsese, but was not successful; however, Scorsese was editing his film Last Temptation of Christ down the hall from Siegal's offices. The editors needed a sound effect to convey Mary Magdalene screaming, and asked her to help out. Through this happenstance, Douglas met Scorsese, his editor, Thelma Schoonmaker, as well as filmmaker Michael Powell, and provided many ADR of crowd sounds. The group bonded over discussion of old films, which was a long-standing interest. Soon Scorsese and Douglas began a long-term relationship.
Soon afterwards, she got her first movie role: a small part in the Scorsese segment of New York Stories. Douglas said that Lorraine Bracco took Douglas under her wing during the shooting of Goodfellas, helping her find an agent. It was then that Douglas became Scorsese's girlfriend.
Douglas appeared in Scorsese's Cape Fear (1991) – one of four Scorsese films in which she has appeared. After Cape Fear, she had several film roles where her segment was eventually cut, including in Household Saints, Jungle Fever, and Quiz Show. "It was kind of depressing," she commented.
Douglas did a low-budget movie called Grief that got into Sundance, which led to her meeting director Allison Anders.
Feature work
Douglas had her first starring role as singer-songwriter Denise Waverly in Anders' 1996 film, Grace of My Heart. and supporting roles in To Die For (1995) and Ghost World (2001). Douglas, a huge music fan, was fascinated by the Brill Building-era and its personalities. Douglas drew parallels to the Connecticut of her youth and the many contradictions of her childhood and was based in a collaborative effort between herself and Anders that was very meaningful.
Douglas said that when she worked on 1995's To Die For, the director Gus Van Sant taught her about the technical aspects of filmmaking, like camera blocking, film lenses, and modulating a performance for film. It was also a movie where she felt that the Meisner technique she learned at the Neighborhood Playhouse started to connect for her.
In June 2015, it was announced that Douglas was attached to co-star opposite Sean Astin in the independent feature film, Unleashed, that will be directed by Dream with the Fishes filmmaker Finn Taylor.
Television work
On television, Douglas appeared in a memorable role as one of Garry Shandling's love interest towards the end of the series, The Larry Sanders Show, in 1998. In 1999, she had a starring role opposite Jay Mohr in the series Action. She played a television executive who started out as a prostitute who had Mohr as a regular customer.
She guest starred on Seinfeld, Frasier and The Drew Carey Show, and has played a public defender on several episodes of Law & Order: Special Victims Unit in 2002 and 2003. She appeared in two episodes of the critically acclaimed HBO TV-series Six Feet Under, both of which earned Emmy nominations for Guest Actress in a Drama. She appeared as Mrs. Ari's sister Marci in the Season 7 finale of Entourage.
In 2006, she starred in the Lifetime TV film Not Like Everyone Else and played herself in Pittsburgh opposite Jeff Goldblum. In 2007, Douglas was added to the cast of Ugly Betty, playing Sheila, an editor for MODE magazine.
Douglas spent time in Sweden shooting a TV show called Welcome to Sweden, which is produced by Amy Poehler and stars Lena Olin and Will Farrell. A co-Swedish/American production that will air on Swedish TV but will be sold on Netflix.
Writing & producing
Douglas has written and directed a comedy short The Perfect Woman (1993) (a satire about what men really want from women), the documentary Everybody Just Stay Calm—Stories in Independent Filmmaking (1994), and the satire Boy Crazy, Girl Crazier (1995). She has been the producer for several projects including Illeanarama, a collection of her short films for the Sundance Channel.
From 2008 to 2012, Douglas starred in a web series sponsored by IKEA called Easy to Assemble, where she plays herself as an actor-in-recovery-from-acting who goes to work at IKEA. Douglas said that she has a great deal of autonomy from sponsor Ikea, whose only condition was that the show be suitable for children and families. It was canceled after 4 seasons.
In 2015, Douglas is producing and mentoring women filmmakers a web-series for Jill Soloway called The Skinny.
Turner Classic Movies
Douglas worked on a Turner Classic Movies series called Friday Night Spotlight, a prime-time show featuring a month-long festival of movies programmed by special guests. The season that she worked on focused on the theme "Second Looks". Douglas said that curating, writing, and working on this series allowed her to use her movie knowledge while making it funny, entertaining, and informative.
In 2015, in association with the advocacy group, Women in Film, Douglas presented a month-long series on the TCM cable channel called "Trailblazing Women," an initiative to highlight women's contributions to the art of cinema. Douglas became involved in the project when she found out that the American Film Institute's list of 100 greatest American movies didn't include any movies directed by women. The series was also in response to active discussions about the gender imbalance in Hollywood. The series will present work by female pioneers like Dorothy Arzner, Alice Guy-Blaché, Agnès Varda, Lina Wertmüller, as well as interviews with Allison Anders, Amy Heckerling, Julie Dash, and others. The series will be a multi-year event, with the first year's focus on women directors from the 1920s to the present. Each night is themed, with programming topics from foreign films to African-American filmmakers.
Other work
Douglas is Beirget Kattsson, a member of a band called Spärhusen, a Swedish pop group. Douglas describes them: "Spärhusen has had their ups and downs over the years. They've been in many plane crashes, but they've survived and they're together."
At the Walt Disney World Resort in the Disney's Hollywood Studios theme park, Douglas plays Aerosmith's manager in the preshow video for the Rock 'n' Roller Coaster attraction. She later appeared in an Aerosmith music video as Liv Tyler's mother.
Douglas and the comedian Sarah Sweet produced and co-starred in a series professional variety shows called The Living Room Show, that is hosted in various Los Angeles living rooms.
Additionally, Douglas wrote a memoir called I Blame Dennis Hopper which was published by Flatiron Books in 2015. The memoir focuses on Douglas telling her life via her love for the movies and her exposure to Hollywood through her paternal grandfather Melvyn Douglas.
Personal life
From 1989 until 1997, Douglas was the companion of director Martin Scorsese. On 16 May 1998, she married producer and writer Jonathan Axelrod, the stepson of producer George Axelrod; they divorced in 2001. Douglas said that the period after her divorce was difficult both emotionally and financially, and that she relocated from living in Los Angeles to the New York area, where she took classes at her former school, the Neighborhood Playhouse, and worked in theater. She also began writing and directing.
Douglas is a vegetarian. She was named after Princess Ileana of Romania.
Works and publications
I Blame Dennis Hopper: And Other Stories from a Life Lived in and Out of the Movies. New York: Flatiron Books. 2015. ISBN 978-1-250-05291-9. OCLC 912507695.
Web television
2008–2012: Easy to Assemble
Filmography
Actress
-
In Fidelity (post-production)
as
Ethel
-
The Abomination (completed)
as
Merga
2023
Made for Each Other (TV Movie)
as
Doris
2022
Just One Kiss (TV Movie)
as
Marlene Schwartz Rivera
2022
Search Party (TV Series)
as
Annabelle
- The Gospel of Judas (2022) - Annabelle
2020
Shrill (TV Series)
as
Sheila
- No (2021) - Sheila
- Salon (2020) - Sheila
- HR (2020) - Sheila
2019
All Rise (TV Series)
as
Beatrix Rycroft
- Dripsy (2019) - Beatrix Rycroft
2019
Goliath (TV Series)
as
Rita
- Joy Division (2019) - Rita
- Conscious Uncoupling (2019) - Rita
- Fer-De-Lance (2019) - Rita
- Full Circle (2019) - Rita
- Good Morning, Central Valley (2019) - Rita
- Happiness from the Ground Up (2019) - Rita
- The Subsidence Adventure (2019) - Rita
2019
The Simpsons (TV Series)
as
New Age Clerk
- Crystal Blue-Haired Persuasion (2019) - New Age Clerk (voice)
2017
Cups & Robbers (Short)
as
Lori
2016
The Late Bloomer
as
Linda
2016
Anamnesis (Short)
as
Doctor
2016
Modern Family (TV Series)
as
Janet
- Double Click (2016) - Janet
2016
The Skinny (TV Mini Series)
as
Jacqueline
- Better (2016) - Jacqueline
- AWOL (2016) - Jacqueline
- Squad (2016) - Jacqueline
- Bigger (2016) - Jacqueline
- Relapse (2016) - Jacqueline
2015
Semi-Charmed Life (TV Movie)
2015
Chasing Life (TV Series)
as
Mariann Russo
- Life of Brenna (2015) - Mariann Russo
- Rest in Peace (2015) - Mariann Russo
2014
Welcome to Sweden (TV Series)
as
Nancy
- Sexy Dancing/Bröllopet (2015) - Nancy
- Parental Guidance/Svartsjuk (2015) - Nancy
- Scrapbook/Skidresa (2015) - Nancy
- Searching for Bergman/Ljuden (2015) - Nancy
- Parents!/Föräldrar (2014) - Nancy
- Fitting In/Vänner (2014) - Nancy
2015
Mega Shark vs. Kolossus
as
Dr. Alison Gray
2014
The Darwin Initiative (Short)
as
Lindsey Teller
2014
All Stars
as
Billie Burke
2014
She's Funny That Way
as
Judy
2014
Outlook Not So Good (Short)
as
Mom
2014
The Boxcar Children
as
Mary (voice)
2013
It's Dark Here
as
Linda Tennies
2013
Grey's Anatomy (TV Series)
as
Dr. Alma
- Man on the Moon (2013) - Dr. Alma
2013
CSI: Crime Scene Investigation (TV Series)
as
Ruby Banks
- Passed Pawns (2013) - Ruby Banks
2013
A Country Christmas
as
Susan Satcher
2013
Drop Dead Diva (TV Series)
as
Dr. Reza
- The Kiss (2013) - Dr. Reza
2013
Dark Around the Stars
as
Dayton
2013
Maron (TV Series)
as
Illeana Douglas
- Dominatrix (2013) - Illeana Douglas
2013
Max Rose
as
Jenny Flowers
2013
Chez Upshaw
as
Rita Upshaw
2013
Monarch (Short)
as
Lindsey Teller
2009
Easy to Assemble (TV Series)
as
Illeana / Bierget Kattson / Illeana Douglas
- Finding North (2011) - Illeana / Bierget Kattson
- Flying Solo: Part 1 (2010) - Illeana
- Co-Worker of the Year (2009) - Illeana
- Meet Sparhusen (2009) - Illeana
- People Skills (2009) - Illeana
- Celebrity Intervention (2009) - Illeana
- Taking Stock (2009) - Illeana
- Bitter Is Better (2009) - Illeana
- The Team Building Event (2009) - Illeana
- What's in Store (2009) - Illeana Douglas
- Flying Solo: Part 3 - Illeana
- Flying Solo: Part 2 - Illeana
2011
4 Wedding Planners
as
Miriam
2010
Entourage (TV Series)
as
Marcie
- Out with a Bang (2011) - Marcie
- Lose Yourself (2010) - Marcie
2011
Chaos (TV Series)
as
Linda Phillips
- Two Percent (2011) - Linda Phillips
2011
The Cape (TV Series)
as
Netta Stilton
- The Lich: Part 2 (2011) - Netta Stilton
- The Lich: Part 1 (2011) - Netta Stilton
2010
The Temp Life (TV Series)
as
Eve Randall
- Return of the Eddie (2011) - Eve Randall
- The Hungover (2011) - Eve Randall
- We're Number Two (2010) - Eve Randall
- Back in Business (2010) - Eve Randall
- The Boss (2010) - Eve Randall
2010
Spärhusen Plays the Egyptian (Short)
as
Beirget Kattson
2010
Suite 7 (TV Series)
as
Livvy
- Soulmates (2010) - Livvy
2010
The Webventures of Justin & Alden (TV Series)
as
Illeana Douglas
- 1760 (2010) - Illeana Douglas
2009
Triumph of Spärhusen (Short)
as
Beirget Kattsson
2009
Life Is Hot in Cracktown
as
Mommy
2008
Law & Order: Criminal Intent (TV Series)
as
Beverly Tyson
- Contract (2008) - Beverly Tyson
2008
The Year of Getting to Know Us
as
Christine Jacobson
2007
Ugly Betty (TV Series)
as
Sheila
- Giving up the Ghost (2007) - Sheila
- Grin and Bear It (2007) - Sheila
- How Betty Got Her Grieve Back (2007) - Sheila
2007
Walk the Talk
as
Jill (as Illeana Douglass)
2007
Order Up (Short)
as
Waitress
2006
Shark (TV Series)
as
Gloria Dent
- Here Comes the Judge (2007) - Gloria Dent
- Dial M for Monica (2006) - Gloria Dent
2006
Crumbs (TV Series)
as
Shelley
- Tennis Any Crumb? (2006) - Shelley
- He Ain't Hetero, He's My Brother - Shelley
- And It All Came Crumbling Down - Shelley
2006
Women of a Certain Age (TV Movie)
as
Sharon
2006
Factory Girl
as
Diana Vreeland
2006
Not Like Everyone Else (TV Movie)
as
Toni Blackbear
2006
The Bondage
as
Elaine Edwards
2005
The Californians
as
Olive Ransom
2001
Six Feet Under (TV Series)
as
Angela
- Hold My Hand (2005) - Angela
- The New Person (2001) - Angela
- Life's Too Short (2001) - Angela (uncredited)
2003
Missing Brendan
as
Julie Conroy
2003
The Kiss (Video)
as
Joyce Rothman
2002
Law & Order: Special Victims Unit (TV Series)
as
Gina Bernardo
- Tortured (2003) - Gina Bernardo
- Resilience (2002) - Gina Bernardo
- Juvenile (2002) - Gina Bernardo
2002
The Adventures of Pluto Nash
as
Dr. Mona Zimmer
2002
Point of Origin (TV Movie)
as
Kate
2002
The New Guy
as
Kiki Pierce
2001
Strange Frequency (TV Series)
as
Dr. Helen Mead
- A Change Will Do You Good (2001) - Dr. Helen Mead
2001
Ghost World
as
Roberta Allsworth
2001
The Drew Carey Show (TV Series)
as
Rachel Murray
- Drew and the Activist: Part 2 (2001) - Rachel Murray
- Drew and the Activist: Part 1 (2001) - Rachel Murray
2001
Frasier (TV Series)
as
Kenny's Wife
- Hungry Heart (2001) - Kenny's Wife
1999
Action (TV Series)
as
Wendy Ward
- The Last Ride of the Elephant Princess (2000) - Wendy Ward
- One Easy Piece (2000) - Wendy Ward (credit only)
- Dead Man Floating (2000) - Wendy Ward (credit only)
- Love Sucks (2000) - Wendy Ward
- Dragon's Blood (2000) - Wendy Ward
- Strong Sexual Content (1999) - Wendy Ward
- Lights, Camera, Action! (1999) - Wendy Ward
- Twelfth Step to Hell (1999) - Wendy Ward
- Mr. Dragon Goes to Washington (1999) - Wendy Ward
- Blowhard (1999) - Wendy Ward
- Blood Money (1999) - Wendy Ward
- Re-Enter the Dragon (1999) - Wendy Ward
- Pilot (1999) - Wendy Ward
2000
The Next Best Thing
as
Elizabeth Ryder
1999
Neutrino (TV Series)
as
Various
1999
Rockin' Roller Coaster (Short)
as
Band Manager
1999
Lansky (TV Movie)
as
Anna Lansky
1999
Brother's Keeper (TV Series)
as
Ginny
- Dating the Teacher (1999) - Ginny
1999
Message in a Bottle
as
Lina
1999
Happy, Texas
as
Ms. Schaefer
1999
Can't Stop Dancing
as
Anita Dick
1998
The Thin Pink Line
as
Julia Bullock
1998
The Larry Sanders Show (TV Series)
as
Illeana Douglas
- Putting the 'Gay' Back in Litigation (1998) - Illeana Douglas
- Just the Perfect Blendship (1998) - Illeana Douglas
1998
Seinfeld (TV Series)
as
Loretta
- The Strongbox (1998) - Loretta
1997
Rough Riders (TV Mini Series)
as
Edith Roosevelt
- Episode #1.2 (1997) - Edith Roosevelt
- Episode #1.1 (1997) - Edith Roosevelt
1997
Bella Mafia (TV Movie)
as
Teresa Scorpio Luciano
1997
Weapons of Mass Distraction (TV Movie)
as
Rita Pascoe
1997
Chasing Amy
as
Alyssa's Roommate (uncredited)
1996
Four Tales of Two Cities
as
Celena (segment "Boy Crazy, Girl Crazier")
1996
Wedding Bell Blues
as
Jasmine
1996
Grace of My Heart
as
Denise Waverly / Edna Buxton
1995
The Single Guy (TV Series)
as
Martha
- Distance (1996) - Martha
- Sister (1995) - Martha
1995
Judgement (Short)
as
Laurel
1995
Homicide: Life on the Street (TV Series)
as
Gina Doolen
- Autofocus (1995) - Gina Doolen
1995
Boy Crazy, Girl Crazier (Short)
as
Celena
1995
To Die For
as
Janice Maretto
1995
Search and Destroy
as
Marie Davenport
1994
Quiz Show
as
Woman at Book Party
1993
The Perfect Woman (Short)
1993
Household Saints
as
Evelyn Santangelo
1991
Guilty by Suspicion
as
Nan, Zanuck's Secretary
1989
New York Stories
as
Paulette's Friend (segment "Life Lessons")
1988
The Last Temptation of Christ
as
Crowd Member (voice)
1987
Hello Again
as
Mother in Park
Producer
2016
The Skinny (TV Mini Series) (executive producer - 6 episodes)
- Better (2016) - (executive producer)
- Control (2016) - (executive producer)
- AWOL (2016) - (executive producer)
- Squad (2016) - (executive producer)
- Bigger (2016) - (executive producer)
- Relapse (2016) - (executive producer)
2013
Chez Upshaw (executive producer)
2013
Monarch (Short) (associate producer) / (consulting producer)
2008
Easy to Assemble (TV Series) (producer - 57 episodes)
- Bossy Lady (2012) - (producer)
- What's Happening? (2012) - (producer)
- I'm Gonna Love You Through This (2012) - (producer)
- Will You Be My Partner? (2012) - (producer)
- We're Finished (2012) - (producer)
- The All-Nighter (2012) - (producer)
- Good with Names (2012) - (producer)
- The Friske Touch (2012) - (producer)
- Married to My Work (2012) - (producer)
- You're My Producer? (2012) - (producer)
- IKEA's Got Talent (2012) - (producer)
- I'm Literally out of Material (2011) - (producer)
- Bjorn Borg is Not a Celebrity in America (2011) - (producer)
- Now I'm Blackmailing You (2011) - (producer)
- Sammy Salt (2011) - (producer)
- Co-Worker of the Year (2011) - (producer)
- You're Never Alone (2011) - (producer)
- Mrs. Hullestaad (2011) - (producer)
- Taxi to Trosa (2011) - (producer)
- Scorpio Rising (2011) - (producer)
- A Very Heavy Package (2011) - (producer)
- Chasing Windmills (2011) - (producer)
- 48 Hours of Daylight (2011) - (producer)
- Almost Happy (2011) - (producer)
- The Road to Uppsala (2011) - (producer)
- The Third Bateman (2011) - (producer)
- Good Morning Stockholm (2011) - (producer)
- We're in Swedenland (2011) - (producer)
- Finding North (2011) - (producer)
- Flying Solo: Part 1 (2010) - (producer)
- Co-Worker of the Year (2009) - (producer)
- Gotcha! Covered (2009) - (producer)
- Meet Sparhusen (2009) - (producer)
- People Skills (2009) - (producer)
- Celebrity Intervention (2009) - (producer)
- Taking Stock (2009) - (producer)
- Bitter Is Better (2009) - (producer)
- The Team Building Event (2009) - (producer)
- S. Erland Hussen #76 (2009) - (producer)
- What's in Store (2009) - (producer)
- Training Video 4: Swedish Phrases (2008) - (producer)
- Art Is Where You Make It (2008) - (producer)
- You Can't Be Somebody Else (2008) - (producer)
- Celebrity Bull-Riding (2008) - (producer)
- How Swede It Is (2008) - (producer)
- Personal Shopper (2008) - (producer)
- Training Video 5: Self Service Warehouse (2008) - (producer)
- The Justine Bateman Show (2008) - (producer)
- Co-mingling (2008) - (producer)
- Gotcha! (2008) - (producer)
- Training Video 3: Meatball Preparation (2008) - (producer)
- Training Video 2: Your Allen Wrench and You (2008) - (producer)
- Actors Anonymous (2008) - (producer)
- Training Video: Greeting the Customers (2008) - (producer)
- Training Day (2008) - (producer)
- Flying Solo: Part 3 - (producer)
- Flying Solo: Part 2 - (producer)
2011
Kingdom Come (Documentary) (co-producer)
2010
Spärhusen Plays the Egyptian (Short) (producer)
2010
Suite 7 (TV Series) (producer - 1 episode)
- Soulmates (2010) - (producer)
2010
The Webventures of Justin & Alden (TV Series) (producer - 5 episodes)
- The Last Episode (2010) - (producer)
- The Streamys (2010) - (producer)
- Back to the Present (2010) - (producer)
- 1760 (2010) - (producer)
- A Questionable Quest (2010) - (producer)
2009
Triumph of Spärhusen (Short) (producer)
2008
Celebrity Garage Sale (TV Series) (executive producer)
2005
Illeanarama (TV Series) (executive producer)
2004
Supermarket (Short) (producer)
2003
Devil Talk (Short) (producer)
2002
Life Without Dick (Video) (executive producer)
1993
The Perfect Woman (Short) (executive producer)
Writer
-
Easy to Assemble (TV Series) (4 episodes, 2011 - 2012) (created and written by - 17 episodes, 2008 - 2012) (creator - 14 episodes, 2009 - 2012) (writer - 10 episodes, 2009 - 2012) (created & written by - 4 episodes, 2009 - 2010) (written by - 1 episode, 2011)
- Bossy Lady (2012)
- What's Happening? (2012) - (creator) / (writer)
- I'm Gonna Love You Through This (2012)
- Will You Be My Partner? (2012) - (creator) / (writer)
- Good with Names (2012) - (created and written by)
- The Friske Touch (2012) - (creator)
- Married to My Work (2012) - (creator)
- You're My Producer? (2012) - (creator)
- IKEA's Got Talent (2012) - (creator)
- Good Morning Stockholm (2011)
- We're in Swedenland (2011)
- Finding North (2011) - (written by)
- Flying Solo: Part 1 (2010) - (created & written by)
- Co-Worker of the Year (2009) - (created & written by)
- Gotcha! Covered (2009) - (creator) / (writer)
- Meet Sparhusen (2009) - (creator) / (writer)
- People Skills (2009) - (creator) / (writer)
- Celebrity Intervention (2009) - (creator) / (writer)
- Taking Stock (2009) - (creator) / (writer)
- Bitter Is Better (2009) - (creator) / (writer)
- The Team Building Event (2009) - (creator) / (writer)
- S. Erland Hussen #76 (2009) - (created and written by)
- What's in Store (2009) - (creator) / (writer)
- Training Video 4: Swedish Phrases (2008) - (created and written by)
- Art Is Where You Make It (2008) - (created and written by)
- You Can't Be Somebody Else (2008) - (created and written by)
- Celebrity Bull-Riding (2008) - (created and written by)
- How Swede It Is (2008) - (created and written by)
- Personal Shopper (2008) - (created and written by)
- Training Video 5: Self Service Warehouse (2008) - (created and written by)
- The Justine Bateman Show (2008) - (created and written by)
- Co-mingling (2008) - (created and written by)
- Gotcha! (2008) - (created and written by)
- Training Video 3: Meatball Preparation (2008) - (created and written by)
- Training Video 2: Your Allen Wrench and You (2008) - (created and written by)
- Actors Anonymous (2008) - (created and written by)
- Training Video: Greeting the Customers (2008) - (created and written by)
- Training Day (2008) - (created and written by)
- Flying Solo: Part 3 - (created & written by)
- Flying Solo: Part 2 - (created & written by)
2010
Spärhusen Plays the Egyptian (Short)
2010
Suite 7 (TV Series) (written by - 1 episode)
- Soulmates (2010) - (written by)
2009
Triumph of Spärhusen (Short)
2005
Illeanarama (TV Series)
2005
Stories of Lost Souls (segment "Supermarket")
1996
Four Tales of Two Cities (segment "Boy Crazy, Girl Crazier")
1995
Boy Crazy, Girl Crazier (Short)
1993
The Perfect Woman (Short) (writer)
Director
2005
Stories of Lost Souls (segment "Supermarket")
1996
Four Tales of Two Cities (segment "Boy Crazy, Girl Crazier")
1995
Boy Crazy, Girl Crazier (Short)
1994
Everybody Just Stay Calm (Documentary)
1993
The Perfect Woman (Short)
Composer
2010
Spärhusen Plays the Egyptian (Short)
2009
Triumph of Spärhusen (Short) (music written and performed by)
Soundtrack
2005
The Californians (performer: "Ivory Towers" - uncredited)
2002
Dummy (performer: "My Own Morning")
Thanks
2013
Furever (Documentary) (very special thanks)
2009
A Night at the Movies: The Suspenseful World of Thrillers (TV Movie documentary) (special thanks)
2005
Adam & Steve (thanks)
Self
2023
Rock Hudson: All That Heaven Allowed (Documentary)
as
Self
2020
Time Warp: The Greatest Cult Films of All-Time, Parts 1-3 (TV Mini Series documentary)
as
Self
- Time Warp Vol 3: Comedy & Camp (2020) - Self
- Time Warp: The Greatest Cult Films of All-Time- Vol. 2 Horror and Sci-Fi (2020) - Self
- Time Warp: The Greatest Cult Films of All-Time- Vol. 1 Midnight Madness (2020) - Self
2020
25 Words or Less (TV Series)
as
Self
- Jessica Tuck, Lisa Kudrow, Nicole Sullivan, Ileana Douglas (2020) - Self
- Jessica Tuck, Ileana Douglas, Nicole Sullivan, Oscar Nunez (2020) - Self
- Nicole Sullivan, Lisa Kudrow, Ileana Douglas, Jessica Tuck (2020) - Self
- Jessica Tuck, Nicole Sullivan, Oscar Nunez, Illena Douglas (2020) - Self
- Jessica Tuck, Lisa Kudrow, Nicole Sullivan, Ileana Douglas (2020) - Self
- Oscar Nunez, Nicole Sullivan, Illena Douglas, Jessica Tuck (2020) - Self
2019
Larry King Now (TV Series)
as
Self - Guest
- Illeana Douglas on Goliath, Female Filmmakers & Why She Blames Dennis Hopper (2019) - Self - Guest
2019
The Movies (TV Mini Series documentary)
as
Self - Actor
- The Golden Age (2019) - Self - Actor
- The Seventies (2019) - Self - Actor
- The Nineties (2019) - Self - Actor
- The Eighties (2019) - Self - Actor
2018
TCM Spotlight: Funny Ladies (TV Mini Series)
as
Self - Host
- 1960s, '70s and '80s (2018) - Self - Host
- 1950s (2018) - Self - Host
- 1930s - 1940s (2018) - Self - Host
- Silents to 1930s (2018) - Self - Host
2018
The View (TV Series)
as
Self - Guest
- Illeana Douglas/Terri, Bindi & Robert Irwin (2018) - Self - Guest
2017
Art as Dialogue (Video documentary short)
as
Self
2017
Chopped (TV Series)
as
Self - Contestant
- Star Power: The Last Laugh! (2017) - Self - Contestant
2017
78/52: Hitchcock's Shower Scene (Documentary)
as
Self
2016
The Tomorrow Show (TV Series)
as
Self (2016)
2015
TCM Spotlight: Trailblazing Women (TV Series)
as
Self - Host
- Activism (2016) - Self - Host
- Philanthropic Work (2016) - Self - Host
- Politics and Public Service (2016) - Self - Host
- Breaking Barriers (2016) - Self - Host
- Fighting the Blacklist (2016) - Self - Host
- Wartime Contributions (2016) - Self - Host
- Controlling Their Own Destiny (2016) - Self - Host
- The Business of Film and Television (2016) - Self - Host
- A New Generation (2015) - Self - Host
- International Breakthroughs (2015) - Self - Host
- African American Independents (2015) - Self - Host
- 1990s Mainstream Hits (2015) - Self - Host
- Essential Documentaries (2015) - Self - Host
- The 1980s: A Step Forward (2015) - Self - Host
- Independent Classics (2015) - Self - Host
- Studio Directors from the Dawn of Sound to the '70s (2015) - Self - Host
- Film Pioneers (2015) - Self - Host
2009
Kevin Pollak's Chat Show (TV Series)
as
Self - Guest
- Illeana Douglas (II) (2016) - Self - Guest
- 1st Year Birthday (2010) - Self - Guest
- Nia Vardalos/Illeana Douglas (2009) - Self - Guest
2016
Bret Easton Ellis Podcast (Podcast Series)
as
Self
- Illeana Douglas (2016) - Self
2016
Between the Lines with Barry Kibrick (TV Series)
as
Self
- Illeana Douglas: I Blame Dennis Hopper (2016) - Self
2015
The Jimmy Star Show with Ron Russell (TV Series)
as
Self - Guest
- Illeana Douglas (2015) - Self - Guest
2015
The Playboy Morning Show (TV Series)
as
Self
- Episode #8.64 (2015) - Self
2015
Sidewalks Entertainment (TV Series)
as
Self - Guest
- Illeana Douglas (2015) - Self - Guest
2015
Entertainment Tonight (TV Series)
as
Self
- Episode dated 20 August 2015 (2015) - Self
2015
AFI Life Achievement Award (TV Series)
as
Self
- AFI Life Achievement Award: A Tribute to Steve Martin (2015) - Self (uncredited)
2015
The Haunting Of (TV Series)
as
Self
- Illeana Douglas (2015) - Self
2014
Take My Bitcoins (TV Series)
as
Self - Guest Co-Host
- Illeana Douglas (2014) - Self - Guest Co-Host
2014
The True Adventures of Raoul Walsh (Documentary)
as
Self
2014
CSI: Crime Scene Investigation - Season 14: Guest Who's Coming to Visit? (Video documentary short)
as
Self
2013
WTF with Marc Maron (Podcast Series)
as
Self - Guest
- Illeana Douglas (2013) - Self - Guest
2013
One Question Interviews (TV Series)
as
Self - Guest
- Special FAQ Edition #1: Cannibals? (2013) - Self - Guest
- Who Is Illeana Douglas' Celebrity Guardian Angel? (2013) - Self - Guest
2013
Furever (Documentary)
as
Narrator (voice)
2013
Retire from Show Biz? No Thanks! (TV Special)
as
Self - Moderator
2008
Easy to Assemble (TV Series)
as
Self
- Bossy Lady (2012) - Self
- What's Happening? (2012) - Self
- I'm Gonna Love You Through This (2012) - Self
- Will You Be My Partner? (2012) - Self
- The All-Nighter (2012) - Self
- IKEA's Got Talent (2012) - Self
- I'm Literally out of Material (2011) - Self
- Bjorn Borg is Not a Celebrity in America (2011) - Self
- Now I'm Blackmailing You (2011) - Self
- Sammy Salt (2011) - Self
- Co-Worker of the Year (2011) - Self
- You're Never Alone (2011) - Self
- Mrs. Hullestaad (2011) - Self
- Taxi to Trosa (2011) - Self
- Scorpio Rising (2011) - Self
- A Very Heavy Package (2011) - Self
- Chasing Windmills (2011) - Self
- 48 Hours of Daylight (2011) - Self
- Almost Happy (2011) - Self
- The Road to Uppsala (2011) - Self
- The Third Bateman (2011) - Self
- Good Morning Stockholm (2011) - Self
- We're in Swedenland (2011) - Self
- Gotcha! Covered (2009) - Self
- S. Erland Hussen #76 (2009) - Self
- Training Video 4: Swedish Phrases (2008) - Self
- Art Is Where You Make It (2008) - Self
- You Can't Be Somebody Else (2008) - Self
- Celebrity Bull-Riding (2008) - Self
- How Swede It Is (2008) - Self
- Personal Shopper (2008) - Self
- Training Video 5: Self Service Warehouse (2008) - Self
- The Justine Bateman Show (2008) - Self
- Co-mingling (2008) - Self
- Gotcha! (2008) - Self
- Training Video 3: Meatball Preparation (2008) - Self
- Training Video 2: Your Allen Wrench and You (2008) - Self
- Actors Anonymous (2008) - Self
- Training Video: Greeting the Customers (2008) - Self
- Training Day (2008) - Self
2012
SAG Foundation Conversations (TV Series)
as
Self
- Illeana Douglas (2012) - Self
2012
Chug, Plug & Review (TV Series)
as
Self
2012
Tweet Out (TV Series)
as
Self
- Illeana Douglas (2012) - Self
2012
A Night at the Movies: Hollywood Goes to Washington (TV Movie documentary)
as
Self - Interviewee
2012
The 2012 Film Independent Spirit Awards (TV Special)
as
Self - Presenter
2012
Hollywood Uncensored with Sam Rubin (TV Series)
as
Self
- Episode #1.177 (2012) - Self
2011
Kingdom Come (Documentary)
as
Self
2010
Red Carpet Report (TV Series short)
as
Self
- iTVFest Gala 2010 (2010) - Self
2010
25th Film Independent Spirit Awards (TV Special)
as
Self - Audience Member
2009
On Profiles in Courage (Documentary)
as
Self
2009
Celebrity Ghost Stories (TV Series documentary)
as
Self
- Episode #1.5 (2009) - Self
2009
A Night at the Movies: The Suspenseful World of Thrillers (TV Movie documentary)
as
Self - Interviewee
2009
Head Case (TV Series)
as
Self
- Twinkle, Twinkle- (2009) - Self
2009
The 1st Annual Streamy Awards (TV Special)
as
Self - Presenter
2009
The 2009 Independent Spirit Awards (TV Special)
as
Self
2009
Memories from 'Being There' (Video short)
as
Self
2008
Celebrity Garage Sale (TV Series)
as
Self / Host
2008
Jiminy Glick: Independent Spirit Awards (Short)
as
Self
2005
The Late Late Show with Craig Ferguson (TV Series)
as
Self - Guest
- Episode #5.13 (2008) - Self - Guest
- Episode #2.173 (2006) - Self - Guest
- Episode #2.20 (2005) - Self - Guest
2008
2008 Film Independent's Spirit Awards (TV Special)
as
Self - Performer
2008
Speechless (TV Movie documentary)
as
Self
2007
Greatest Ever Disaster Movies (TV Special)
as
Self
2007
Film Independent's 2007 Spirit Awards (TV Special)
as
Self - Presenter
2007
Fired! (Documentary)
as
Self
2006
Pittsburgh
as
Self / 'The Music Man' Cast
2006
The Fabulous Life Presents: Really Rich Real Estate (TV Series)
as
Self
- Episode #1.3 - Self
2006
The Instant Talk Show (TV Series)
as
Self
- Tribeca Film Festival (2006) - Self
2006
30 Even Scarier Movie Moments (TV Mini Series documentary)
as
Self
- Part II: 15 to 1 (2006) - Self
2006
Gotta Get Off This Merry Go Round: Sex, Dolls and Showtunes (Video documentary)
as
Self
2006
TCM Guest Programmer (TV Series)
as
Self - Special Guest
- Illeana Douglas (2006) - Self - Special Guest
2006
#1 Single (TV Series)
as
Self
- Cats and Dogs (2006) - Self
- Following the Rules (2006) - Self
- Leaving Los Angeles (2006) - Self
2005
Illeanarama (TV Series)
as
Self
- Pilot (2005) - Self
2004
Flops 101: Lessons from the Biz (TV Movie documentary)
as
Narrator
2004
Supermarket (Short)
as
Self
2003
The 2003 IFP Independent Spirit Awards (TV Special documentary)
as
Self
2002
Dinner for Five (TV Series)
as
Self - Special Guest
- Episode #2.6 (2003) - Self - Special Guest
- Episode #1.3 (2002) - Self - Special Guest
2002
Brilliant But Cancelled (TV Movie documentary)
as
Self
2002
Making of 'Ghost World' (Video documentary short)
as
Self
2002
The Perfect Pitch (TV Movie documentary)
as
Self
2001
The Late Late Show with Craig Kilborn (TV Series)
as
Self - Guest
- Episode dated 24 July 2001 (2001) - Self - Guest
2001
The 2001 IFP/West Independent Spirit Awards (TV Special)
as
Self - Presenter
2000
It's Only Rock 'n' Roll (TV Movie documentary)
as
Host
1999
The List (TV Series)
- Best Love Song of All Time (1999)
1999
Mad TV (TV Series)
as
Self
- Halloween Special Edition (1999) - Self
1999
The Martin Short Show (TV Series)
as
Self - Guest
- Episode #1.13 (1999) - Self - Guest
1996
Late Night with Conan O'Brien (TV Series)
as
Self - Guest
- Sam Donaldson/Illeana Douglas/Jimeoin (1999) - Self - Guest
- Tom Brokaw/Illeana Douglas/Leonard Garment (1997) - Self - Guest
- Sarah Jessica Parker/Tim Meadows/Illeana Douglas (1996) - Self - Guest
- David Alan Grier/Illeana Douglas/John Pizzarelli (1996) - Self - Guest
1999
The 14th Annual IFP/West Independent Spirit Awards (TV Special)
as
Self - Presenter
1998
Women's Day: The Making of a Bill (Documentary short)
1997
Pitch (Documentary)
as
Self
1996
Late Show with David Letterman (TV Series)
as
Self - Guest
- Episode dated 13 September 1996 (1996) - Self - Guest
1991
Late Night with David Letterman (TV Series)
as
Self - Guest
- Episode dated 19 November 1991 (1991) - Self - Guest
Archive Footage
2006
Premio Donostia a Matt Dillon (TV Special short)
as
Janice Maretto (uncredited)
2005
Six Feet Under (TV Series)
as
Angela
- Time Flies (2005) - Angela (uncredited)
2005
Stories of Lost Souls
as
Self (segment "Supermarket")
References
Illeana Douglas Wikipedia
(Text) CC BY-SA