Nationality

American




Siblings

Barry Shandling




Role

Comedian




Name

Garry Shandling




Years active

1978–present








Birth name

Garry Emmanuel Shandling




Born

November 29, 1949Chicago, Illinois, U.S. (

1949-11-29

)


Medium

Stand-up, Television, Film




Genres

Observational comedy, Satire, Cringe comedy




Subject(s)

Self-deprecation, Human interaction, Everyday life




Influenced

Ricky Gervais, Judd Apatow, Jon Stewart, Louis C.K.




Parents

Muriel Shandling, Irving Shandling




Movies and TV shows

It's Garry Shandling's Show, The Larry Sanders Show, Over the Hedge, Iron Man 2, What Planet Are You From?


Similar People

Judd Apatow, Tim Johnson, Karey Kirkpatrick, Linda Doucett, Jeffrey Tambor


Profiles




Twitter
Comic relief garry shandling stand up comedy
Garry Emmanuel Shandling (November 29, 1949 – March 24, 2016) was an American stand-up comedian, actor, writer, and producer, best known for his work in It's Garry Shandling's Show and The Larry Sanders Show.
Contents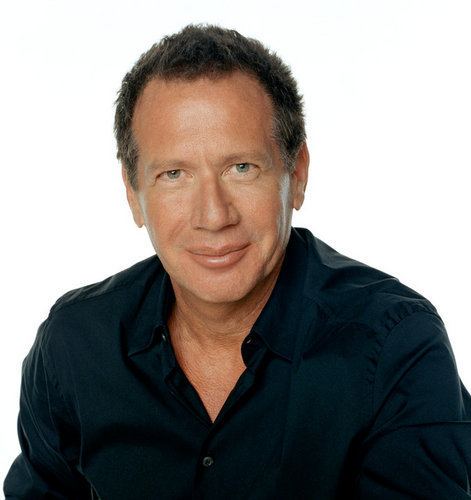 Shandling began his career writing for sitcoms, such as Sanford and Son and Welcome Back, Kotter. He made a successful stand-up performance on The Tonight Show Starring Johnny Carson and became a frequent guest-host on the show. Shandling was for a time considered the leading contender to replace Carson (other hopefuls were Joan Rivers, David Letterman, and David Brenner). In 1986, he created It's Garry Shandling's Show for Showtime. It was nominated for four Emmy Awards (including one for Shandling) and lasted until 1990. His second show titled The Larry Sanders Show, which began airing on HBO in 1992, was even more successful. Shandling was nominated for 18 Emmy Awards for the show and won the Primetime Emmy Award for Outstanding Writing for a Comedy Series in 1998, along with Peter Tolan, for writing the series finale. In film, he had a recurring role in the Marvel Cinematic Universe, appearing in Iron Man 2 and Captain America: The Winter Soldier. He also voiced Verne in DreamWorks Animation's Over the Hedge.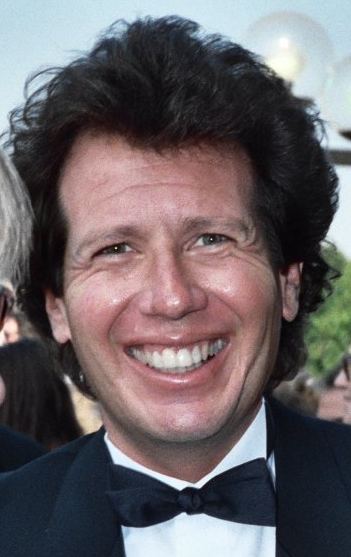 During his three-decade career, Shandling was nominated for nineteen Primetime Emmy Awards and two Golden Globe Awards, along with many other awards and nominations. He served as host of the Grammy Awards four times and as host of the Emmy Awards two times.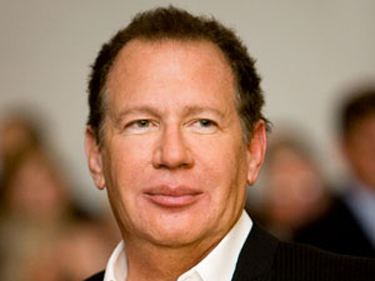 Garry shandling on the tonight show with johnny carson 1981
Early life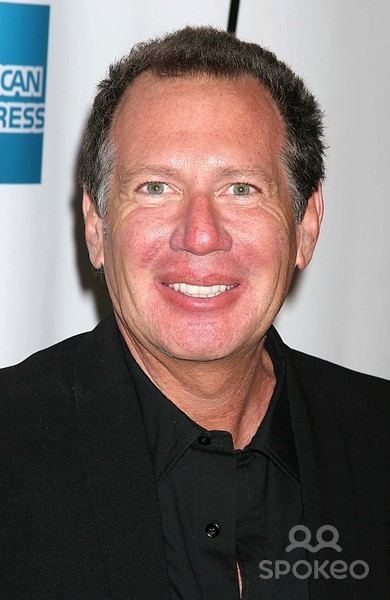 Shandling was born Garry Emmanuel Shandling on November 29, 1949 in Chicago, Illinois to a Jewish family. He grew up in Tucson, Arizona, one of two sons of Irving Shandling, a print shop owner, and Muriel Estelle Shandling (née Singer), a pet store proprietor.
The family moved to Tucson so that Garry's older brother Barry could receive treatment for cystic fibrosis. Barry died when Garry was 10. Shandling attended Palo Verde High School.
Career
After graduation from Palo Verde High School, he attended the University of Arizona, at first majoring in electrical engineering, but eventually completing a degree in marketing and pursuing a year of postgraduate studies in creative writing.
In 1973, Shandling moved to Los Angeles. He worked at an advertising agency for a time, and then sold a script for the popular NBC sitcom Sanford and Son. In addition to several scripts for Sanford and Son, Shandling wrote for the sitcoms Welcome Back, Kotter and attended a story meeting for Three's Company.
In 1977, Shandling was involved in an auto accident in Beverly Hills that left him in critical condition for two days and hospitalized for two weeks with a crushed spleen. The accident inspired him to pursue a career in comedy, and he later turned the accident into part of his comedy.
Stand-up comedy
Shandling became a stand-up comedian because he was frustrated by situation comedy's "formulaic writing". In 1978, Shandling performed his first stand-up routine at The Comedy Store in Los Angeles. This was the same time Jerry Seinfeld began performing at The Comedy Store, where the two developed a friendship. In fact, their careers paralleled one another as time moved on, as they went from stand-up to The Tonight Show to having shows in the 90's that were produced in the same studio on the same lot. Shandling's material also served as inspiration for Episode 17, Season 9 of Seinfeld titled The Bookstore where George Costanza is forced to buy an expensive book after reading it while in the bathroom of a New York bookstore.
Shandling was one of the few performers to cross the picket line when a group of comedians organized a boycott against the Comedy Store, protesting owner Mitzi Shore's policy of not paying comedians to perform. According to William Knoedelseder, Shandling "was the scion of a family with … decidedly anti-union views. He had not shared the struggling comic experience. He was a successful sitcom writer trying to break into stand-up, and prior to the strike, Shore had refused to put him in the regular lineup because she didn't think he was good enough. Of course, that changed the minute he crossed the picket line."
His persona was an anxiety-ridden, grimacing, guarded, confused man on the verge of losing control. After a couple of years on the road, a talent scout from The Tonight Show Starring Johnny Carson booked him to appear as a guest in 1981. Shandling substituted for Carson on a regular basis until 1987, when he left to focus on his cable show leaving Jay Leno as permanent guest host and Carson's eventual successor.
In 1984, Shandling performed his first stand-up special Garry Shandling: Alone in Vegas for Showtime, followed by a second televised special in 1986 titled The Garry Shandling Show: 25th Anniversary Special, also for Showtime. In 1991, a third special titled Garry Shandling: Stand-Up was part of the HBO Comedy Hour.
It's Garry Shandling's Show
In 1985, Shandling and co-writer Alan Zweibel went on to create the surreal comedy series It's Garry Shandling's Show. It ran for 72 episodes on the Showtime cable television network through 1990. The edited reruns played on the Fox network beginning in 1988. Shandling wrote 15 episodes of the series.
The series subverted the standard sitcom format by having its characters openly acknowledge that they were all part of a television series. Building on a concept that harked back to The George Burns and Gracie Allen Show, in which George Burns would frequently break the "fourth wall" and speak directly to the audience, Shandling's show went so far as to incorporate the audience and elements of the studio itself into the storylines, calling attention to the artifice of the show.
The series was nominated for four Emmy Awards, including one for Shandling. He won an American Comedy Award for Funniest Male Performance in a Series, and won four CableACE awards, two for Best Comedy Series. The show also won an award for Outstanding Achievement in Comedy from the Television Critics Association.
The Larry Sanders Show
In 1992, Shandling launched another critical and commercial success by creating the mock behind-the-scenes talk show sitcom The Larry Sanders Show. It ran for 89 episodes through to 1998 on HBO. It had 56 Emmy Award nominations and three wins. Shandling based the series on his experiences guest hosting The Tonight Show Starring Johnny Carson.
In 1993, NBC offered Shandling $5 million to take over Late Night when David Letterman announced his highly publicized move to CBS but Shandling declined. He was subsequently offered The Late Late Show but also declined in favor of doing The Larry Sanders Show.
Shandling wrote 38 episodes of the show and directed three in the series' final season. Shandling was nominated for 18 Emmy Awards for the series; five for acting, seven for writing and six for being co-executive producer with Brad Grey. He won one Emmy Award for Outstanding Writing in a Comedy Series for the series finale "Flip". He has also been nominated for two Golden Globe Awards for Best Actor (Musical or Comedy) in 1994 and 1995. He won two American Comedy Awards for Funniest Male Performance in a Comedy Series, eight CableACE Awards, and a BAFTA Award. The show also influenced other shows, such as Entourage, 30 Rock and Curb Your Enthusiasm in which guest stars play themselves in episodes of the series.
In 2002, TV Guide named The Larry Sanders Show as 38th Greatest Show of All Time. In 2008, Entertainment Weekly ranked the series the 28th Best Show of the past 25 years. It was also included on Time magazine's 100 Greatest Shows of All Time.
The first season was re-released in 2007, along with a Not Just the Best of the Larry Sanders Show, which were Shandling's pick of the best 23 episodes. In January 2015, Shandling returned with fellow cast members from The Larry Sanders Show for Entertainment Weekly's Reunions issue. He was reunited with co-stars Rip Torn, Jeffrey Tambor, Sarah Silverman, Penny Johnson Jerald, Wallace Langham and Mary Lynn Rajskub.
Other work
Shandling hosted the Grammy Awards in 1990, 1991, 1993, and 1994. He hosted the Emmy Awards in 2000 and 2004, and co-hosted (giving the opening monologue) in 2003. He appeared occasionally in films, beginning with a cameo as Mr. Vertisey in The Night We Never Met. He played supporting roles in Love Affair and Mixed Nuts, Dr. Dolittle (1998) as the voice of a live-action pigeon, the David Rabe play adaptation Hurlyburly (1998), and Trust the Man (2001). Shandling wrote and starred in Mike Nichols' What Planet Are You From? (2000), and co-starred with Warren Beatty and others in Town & Country (2001).
He also appeared in a brief cameo in Zoolander (2001). Again voicing an animal, Shandling co-starred as Verne in Over the Hedge (2006), which went on to become one of his best known roles. He appeared in Iron Man 2 (2010) as Senator Stern and reprised the role in Captain America: The Winter Soldier (2014). He appeared uncredited as a health inspector in The Dictator (2012).
In 2006, Ricky Gervais interviewed Shandling for a British documentary, citing him as a comic influence. The reviews of British TV critics were mixed – one Guardian reviewer described it as "the uneasiest interview ever", another as Gervais' most interesting but the general consensus was that it felt "awkward", due to both men's different comedic styles.
He starred as himself representing Fox Mulder alongside Téa Leoni as Dana Scully in The X-Files season 7 spoof episode "Hollywood A.D."
Shandling, along with co-author David Rensin, wrote Confessions of a Late Night Talk Show Host: The Autobiography of Larry Sanders written in the voice of his alter-ego Larry Sanders.
In January 2016, Shandling was the featured guest on two different online shows. On January 13, Shandling appeared on episode 299 of the podcast You Made It Weird with Pete Holmes, which ran for over 2 hours. A week later, on January 20, Comedians in Cars Getting Coffee with Jerry Seinfeld debuted the episode titled "It's Great That Garry Shandling Is Still Alive."
Personal life
Shandling never married nor had children. He revealed little about his personal life. He shared an apartment with his fiancée Linda Doucett, from 1987 until 1994; on The Larry Sanders Show, Doucett portrayed Darlene, Hank Kingsley's doting assistant. In 1994, when their relationship ended, Shandling had her dismissed from The Larry Sanders Show. Doucett filed a lawsuit against Shandling and Grey's production company, Brillstein Entertainment Partners, for sexual harassment and wrongful termination. The case was settled out of court in 1997 for $1 million.
Shandling played a lot of basketball and boxed four times per week. An avid boxing fan, he owned the Wildcard West Boxing Gym in Santa Monica, California, along with director Peter Berg. He was also a former amateur radio operator, at one time holding the callsign W7BKG as well as KD6OY.
Awards and nominations
Shandling won two British Comedy Awards, 12 CableACE Awards (including eight for The Larry Sanders Show and four for It's Garry Shandling's Show), a BAFTA Award and was nominated for two Writers Guild of America Awards for The Larry Sanders Show. He received three American Comedy Awards, two Satellite Award nominations, and in 2004 he was presented with the Austin Film Festival's Outstanding Television Writer Award.
Death
On March 24, 2016, Shandling died in his home in Los Angeles, California, at age 66. The Los Angeles Police Department reported that he suddenly collapsed in his home and was rushed to a hospital, suffering from an apparent medical emergency. However, by the time the paramedics had arrived, Shandling was already unconscious. In December 2016, the coroner said the cause of death was a blood clot in his lungs following deep vein thrombosis in his legs.
During his opening monologue Season 7, Episode 4 of Comedians in Cars Getting Coffee, Jerry Seinfeld commented that Garry was a longtime friend of his. He stated that "Garry was one of the first comedian friends of mine in LA to get a 911." This comment was referring to the exotic 911 Turbo sports car produced by Porsche when both men were making their shows in studios adjacent to one another. The car he selected for Garry's episode of Cars was a pale yellow classic Porsche 930, similar to the models both Garry and Jerry owned while living in Los Angeles as young men starring in comedy TV shows. The episode aired on January 20, 2016, two months before Shandling's sudden death. The episode was titled "It's Great That Garry Shandling Is Still Alive". In the show, Shandling makes comments about his overall physical state and feelings on death. Seinfeld and Shandling were close in age, and widely recognized as members of the same cohort with similar comedic styles. The two were close friends.
Prior to his death, Shandling reflected on lost friends, such as Robin Williams, by commenting, "What I want at my funeral is an actual boxing referee to do a count, and at 'Five,' just wave it off and say, 'He's not getting up.'", prompting Matt Roush of TV Guide to remark (following Shandling's death), "Seriously, who wouldn't want to go a few more rounds with the great Garry Shandling?".
Books
Confessions of a Late-night Talk-show Host: The Autobiography of Larry Sanders was written in-character as Larry Sanders by Shandling with David Rensin. It was released October 4, 1999 and was the topic of season five's episode "The Book".
References
Garry Shandling Wikipedia
(Text) CC BY-SA