Preceded by

Diosdado Macapagal


Succeeded by

Corazon Aquino


Name

Ferdinand Marcos




Preceded by

Macario Peralta




Preceded by

Juan Ponce Enrile






Prime Minister

Himself (1978–1981)Cesar Virata (1981–1986)


Vice President

Fernando Lopez (1965–1973)Arturo Tolentino (Feb. 16–25, 1986)


Preceded by

Office established(Position previously held by Jorge B. Vargas)




Role

Former President of the Philippines


Died

September 28, 1989, Honolulu, Hawaii, United States


Full name

Ferdinand Emmanuel Edralin Marcos




Spouse

Imelda Marcos (m. 1954–1989)


Children

Bongbong Marcos, Imee Marcos, Irene Marcos-Araneta, Aimee Marcos


Similar People

Imelda Marcos, Corazon Aquino, Diosdado Macapagal, Benigno Aquino - Jr, Imee Marcos
Philippine most intelligent president ferdinand marcos september 17 1982
Ferdinand Emmanuel Edralin Marcos, Sr. (11 September 1917 – 28 September 1989) was a Filipino Politician and kleptocrat who was President of the Philippines from 1965 to 1986. He ruled as a dictator under martial law from 1972 until 1981 . His regime was infamous for its corruption, extravagance and brutality.
Contents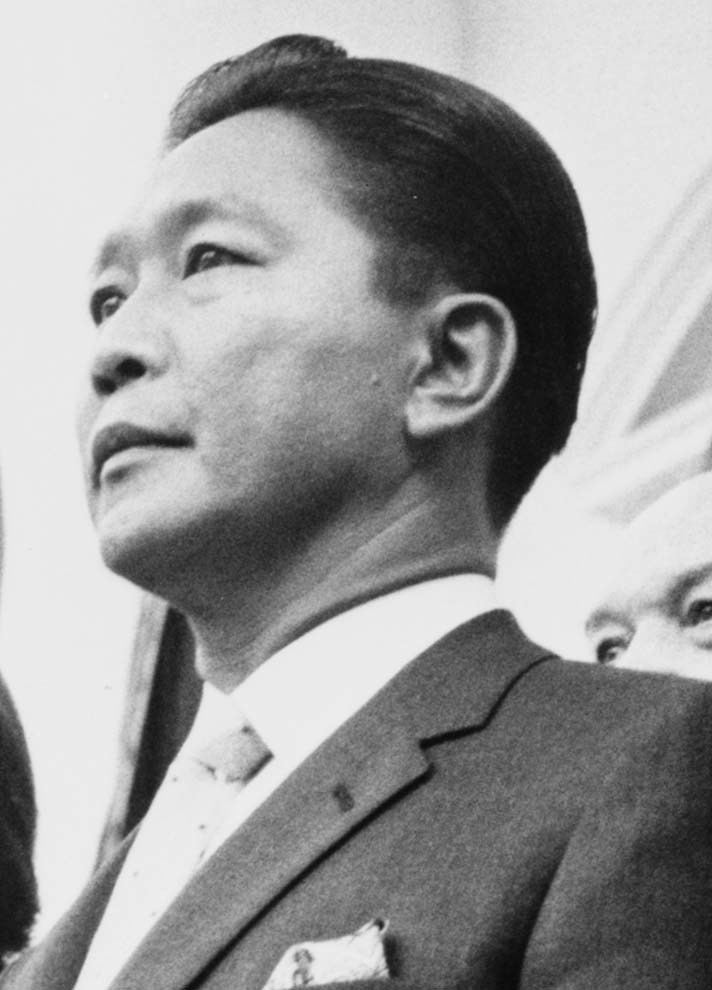 Marcos claimed an active part in World War II, including fighting alongside the Americans in the Bataan Death March and being the "most decorated war hero in the Philippines". A number of his claims were found to be false and United States Army documents described Marcos's wartime claims as "fraudulent" and "absurd".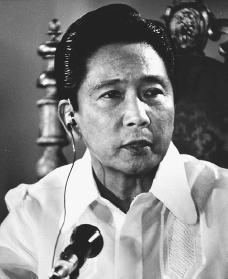 Marcos started as an attorney, then served in the Philippine House of Representatives from 1949 to 1959 and the Philippine Senate from 1959 to 1965. He was elected President in 1965, and presided over a growing economy during the beginning and intermediate portion of his 20-year rule, but ended in loss of livelihood, extreme poverty and a crushing debt crisis. Marcos placed the Philippines under martial law on September 23, 1972, during which he revamped the constitution, silenced the media, and used violence and oppression against the political opposition, Muslims, communist rebels, and ordinary citizens. martial law was ratified by 90.77% of the voters during the Philippine Martial Law referendum, 1973 though the referendum was marred with controversy.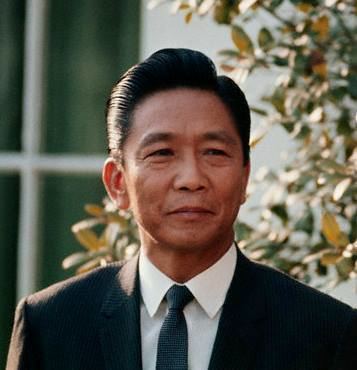 Public outrage led to the snap elections of 1986. Allegations of mass cheating, political turmoil and excesses of human rights abuses led to the People Power Revolution in February 1986, which removed him from power. To avoid what could have been a military confrontation in Manila between pro- and anti-Marcos troops, Marcos was advised by President Ronald Reagan through Sen. Paul Laxalt to "cut and cut cleanly", after which Marcos fled to Hawaii. Marcos was succeeded by Corazon "Cory" Aquino, widow of the assassinated opposition leader Senator Benigno "Ninoy" Aquino, Jr. who had flown back to the Philippines to face Marcos.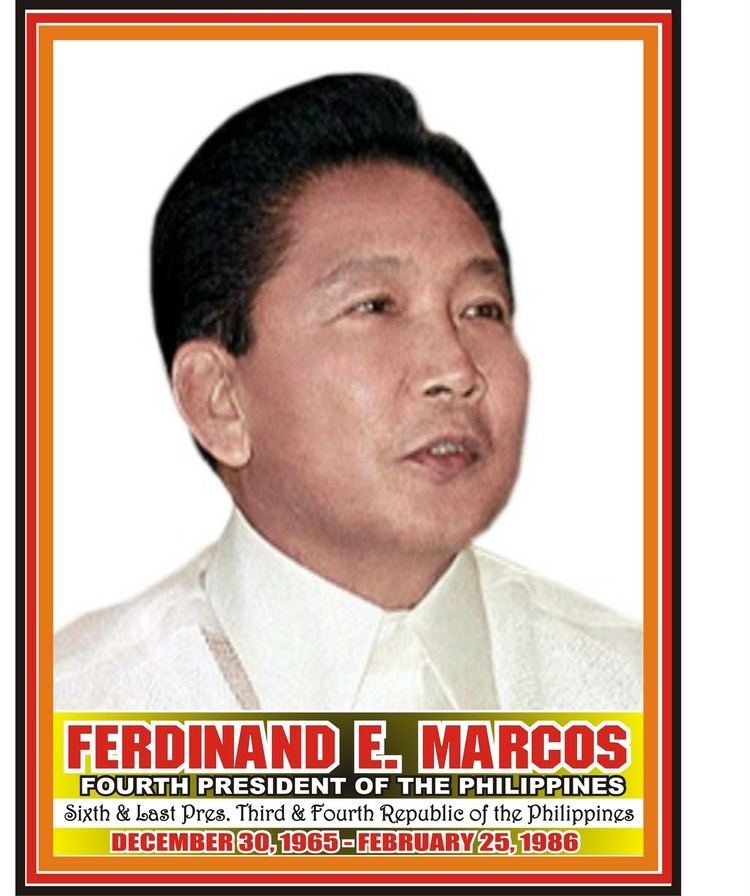 According to source documents provided by the Presidential Commission on Good Government, the Marcos family had stolen $5–10 billion USD. The PCGG also maintained that the Marcos family enjoyed a decadent lifestyle—taking away billions of dollars from the country between 1965 and 1986. His wife Imelda Marcos, whose excesses during the couple's conjugal dictatorship made her infamous in her own right, spawned the term "Imeldific". Two of their children, Imee Marcos and Ferdinand "Bongbong" Marcos Jr. are still active in Philippine politics.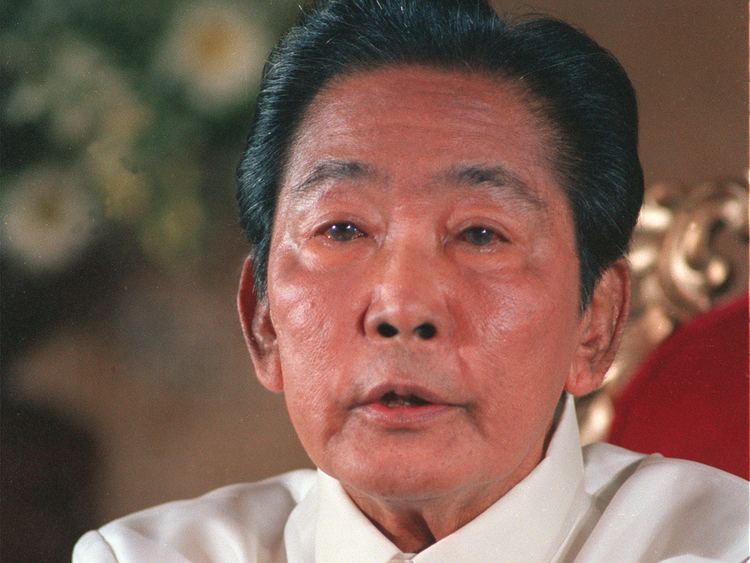 Ferdinand marcos flees the philippines 1986 today in history 25 feb 17
Early life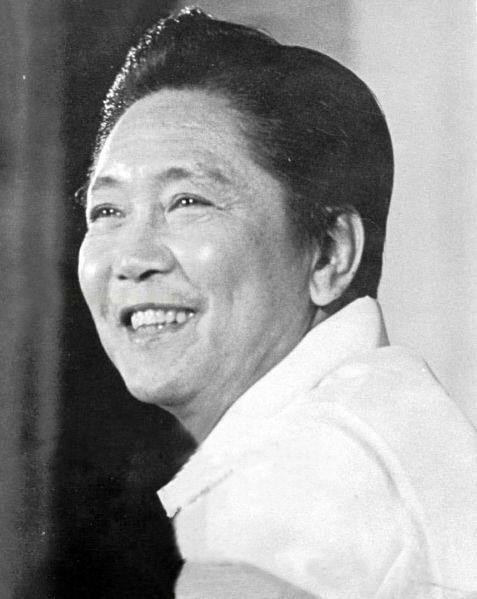 Ferdinand Edralin Marcos was born on September 11, 1917, in the town of Sarrat, Ilocos Norte, to Mariano Marcos and Josefa Edralin (1893—1988). He was later baptized into the Philippine Independent Church, but was first baptized in the Roman Catholic Church at the age of three.
In December 1938, Ferdinand Marcos was prosecuted for the murder of Julio Nalundasan. He was not the only accused from the Marcos clan; also accused was his father, Mariano, his brother, Pio, and his brother-in-law Quirino Lizardo. Nalundasan, one of the elder Marcos's political rivals, had been shot and killed in his house in Batac on September 21, 1935 – the day after he had defeated Mariano Marcos a second time for a seat in the National Assembly. According to two witnesses, the four had conspired to assassinate Nalundasan, with Ferdinand Marcos eventually pulling the trigger. In late January 1939, they were finally denied bail and later in the year, they were convicted. Ferdinand and Lizardo received the death penalty for premeditated murder, while Mariano and Pio were found guilty of contempt of court. The Marcos family took their appeal to the Supreme Court of the Philippines, which overturned the lower court's decision on 22 October 1940, acquitting them of all charges except contempt.
Marcos studied law at the University of the Philippines, attending the prestigious College of Law. He excelled in both curricular and extra-curricular activities, becoming a valuable member of the university's swimming, boxing, and wrestling teams. He was also an accomplished and prolific orator, debater, and writer for the student newspaper. He also became a member of the University of the Philippines ROTC Unit (UP Vanguard Fraternity) where he met some of his future cabinet members and Armed Forces Chiefs of Staff. When he sat for the 1939 Bar Examinations, he received a near-perfect score of 98.8%, although some have disputed this score. The Philippine Supreme Court felt justified in altering his scoring. He graduated cum laude.. He was elected to the Pi Gamma Mu and the Phi Kappa Phi international honor societies, the latter giving him its Most Distinguished Member Award 37 years later.
In Seagrave's book The Marcos Dynasty, he mentioned that Marcos possessed a phenomenal memory and exhibited this by memorizing complicated texts and reciting them forward and backward, even such as the 1935 Constitution of the Philippines. Sen. Miriam Defensor-Santiago, in an interview with the Philippine Star on March 25, 2012, shared her experience as a speech writer to President Marcos: "One time, the Secretary of Justice forgot to tell me that the President had requested him to draft a speech that the President was going to deliver before graduates of the law school. And then, on the day the President was to deliver the speech, he suddenly remembered because Malacañang was asking for the speech, so he said, 'This is an emergency. You just have to produce something.' And I just dictated the speech. He liked long speeches. I think that was 20 or 25 pages. And then, in the evening, I was there, of course. President Marcos recited the speech from memory."
Personal life
He was married to Imelda Romualdez, on May 1, 1954 and the marriage produced three children:
Maria Imelda "Imee" Marcos (born 12 November 1955), Governor of Ilocos Norte
Ferdinand "Bongbong" Marcos Jr. (born 13 September 1957), Senator of the Philippines
Irene Marcos (born 16 September 1960)
His fourth child, Aimee Romualdez Marcos, was adopted and was a musician in 2012
Ancestry
Marcos claimed that he was a descendant of Antonio Luna, a Filipino general during the Philippine–American War. He also claimed that his ancestor was a 16th-century pirate Lim-A-Hong (Chinese: 林阿鳳) who used to raid the coasts of the South China Sea.
Military career
The subject of Marcos's military career has been the subject of debate and controversy. Before World War II, Marcos was already a Reserve Officers' Training Corps graduate during his time studying law. Hours after the attack on Pearl Harbor on December 8, 1941, the Japanese simultaneously bombed many places in the Philippines, including Clark Field. The 14th Army began its invasion with a landing on Batan Island (not to be confused with Bataan Peninsula), 120 miles (190 km) off the north coast of Luzon on the same day, by selected naval infantry units. Landings on Camiguin Island and at Vigan, Aparri, and Gonzaga in northern Luzon followed two days later. Marcos was one of those who were called into the army as a 3rd lieutenant during the mobilization in the summer and fall of 1941. The U.S. Army has confirmed that Ferdinand Marcos fought on the U.S. side after the December 1941 Japanese invasion of the Philippines until April 1942, before being taken prisoner. He also had records showing that he fought on the American side again from December 1944 until the end of the war.
Marcos would be one of the 78,000 Filipino and American troops who surrendered at Bataan on April 9, 1942, four months after the Japanese initiated their invasion of the Philippines. He survived the Bataan Death March that followed the surrender. In 1962, Marcos would claim to be the "most decorated war hero of the Philippines" by garnering almost every medal and decoration that the Filipino and American governments could give to a soldier. Included in his 27 war medals and decorations are that of the Distinguished Service Cross (allegedly pinned by General Douglas MacArthur) and the Medal of Honor (allegedly pinned by General Jonathan M. Wainwright); these claims have been discredited. Marcos was not listed in General Douglas MacArthur's "List of Recipients of Awards and Decorations" issued from December 7, 1941 through June 30, 1945 that was compiled in Tokyo, and General Jonathan Wainwright's list of 120 Americans and Filipinos who were awarded during the Bataan campaign by the War Department shortly before his surrender. Colonel Manriquez and Adjutant Captain Rivera who were the commanders of the 14th Infantry, whom Marcos claimed to have served under, attested that Marcos was not a soldier, but was a non-combatant and a Civil Affairs officer. Marcos did receive campaign ribbons given to all combatant and non-combatant participants "in the defense of Bataan and in the resistance."
Later research showed the wartime exploits of Marcos to be mostly propaganda, being inaccurate or untrue. In 1986, research by historian Alfred W. McCoy into United States Army records showed most of Marcos's medals to be fraudulent. According to Ricardo José, former chairman of the Department of History of the University of the Philippines, Marcos's claims in his self-commissioned autobiography Marcos of the Philippines that Gen. Douglas MacArthur pinned on him the Distinguished Service Cross medal for delaying Japanese at Bataan for 3 months was highly improbable. As with many stories about members of the Marcos family, there is some controversy about the exact nature of the death of Mariano Marcos, whom numerous schools were named after. Some versions saying he was executed by the Japanese in Bacnotan, La Union, and others saying that he was a collaborator and was killed by guerrillas related to Julio Nalundasan, the man Ferdinand Marcos had been accused of killing before the war. John Sharkey of the Washington Post found records that Marcos was in the list of those that were released due to either "having severe health problems and those whose families have cooperated with the Japanese military authorities." Since Marcos's name did not appear in the 1942 Manila Tribune list of ailing prisoners that were released by the Japanese, Sharkey believed that Marcos may have been freed due to his connections with his father.
Marcos also claimed to have led a 9,000-man guerrilla force called Ang Mahárlika (Tagalog, "The Freeman") in northern Luzon during World War II. His account of events was later cast into doubt after a United States military investigation exposed many of his claims as either false or inaccurate. Meanwhile, Marcos claimed that he was able to get the United States Adjutant General to recognize 3,500 individual claims of soldiers then under his command.
Despite criticisms on Marcos's claims, according to the 1992 presidential inaugural biography of President Fidel Ramos who turned his back on Ferdinand Marcos during the People Power Revolution, his father Narciso Ramos served as one of the leaders of the guerrilla group Maharlika founded by President Ferdinand Marcos.
House of Representatives
When the Philippines was granted independence on July 4, 1946 by the American government, the Philippine Congress was established. Marcos ran and was three times elected as representative of the 2nd District of Ilocos Norte, 1949–1959. He was named chairman of the House Committee on Commerce and Industry and member of the Defense Committee headed by Ramon Magsaysay. He was chairman, House Neophytes Bloc in which (President) Diosdado Macapagal, (Vice President) Emmanuel Pelaez and (Manila Mayor) Arsenio J. Lacson were members. He was also a member of the House Committee on Industry; LP spokesman on economic matters; member, Special Committee on Import and Price Controls and on Reparations; House Committees on Ways and Means, Banks Currency, War Veterans, Civil Service, Corporations and Economic Planning; and the House Electoral Tribunal.
Senate
After he served as member of the House of Representatives for three terms, Marcos won his senate seat in the elections in 1959 and became the Senate minority floor leader in 1960. He became the executive vice president of the Liberal Party in and served as the party president from 1961 to 1964.
Senate Presidency
From 1963 to 1965, he became the Senate President. Thus far, he is the last Senate President to become President of the Philippines. He introduced a number of significant bills, many of which found their way into the Republic statute books.
Presidential campaign
Marcos ran a populist campaign emphasizing that he was a bemedalled war hero emerging from World War II. In 1962, Marcos would claim to be the most decorated war hero of the Philippines by garnering almost every medal and decoration that the Filipino and American governments could give to a soldier. Included in his claim of 27 war medals and decorations are that of the Distinguished Service Cross and the Medal of Honor. According to Primitivo Mijares, author of the book Conjugal dictatorship, the opposition Liberal Party would later confirm that many of his war medals were only acquired in 1962 to aid in his reelection campaign for the Senate, not for his presidential campaign. Marcos won the presidency in 1965.
Vietnam War
To the surprise of many, soon after becoming president, Marcos wanted the Philippines to become involved, although in a limited way, in the Vietnam War. He asked Congress to approve sending a combat engineer unit to South Vietnam. When the previous Philippine president, Macapagal, suggested sending troops in 1964–1965, it was Marcos who led the opposition to this plan on both legal and moral grounds. Despite opposition to the new plan, the Marcos government gained Congressional approval and Philippine troops were sent from the middle of 1966 as the Philippines Civic Action Group (PHILCAG). PHILCAG reached a strength of some 1,600 troops in 1968 and between 1966 and 1970 over 10,000 Filipino soldiers served in South Vietnam, mainly being involved in civilian infrastructure projects.
1969 Presidential Election
In 1969, Marcos was reelected for a second term—the first and the last Filipino president to win a second full term. His running mate, incumbent Vice President Fernando Lopez was also elected to a third full term as Vice President of the Philippines.
First Quarter Storm and rumored coup d'état and plot to assassinate President Marcos
Around 1970, student activism was raging and many student activists joined the ranks of the communists. Kabataang Makabayan (Patriotic Youth, or 'KM') a political organization founded by Jose Maria Sison intended to be a nationwide extension of the Student Cultural Association of the University of the Philippines, carried out study sessions on Marxism–Leninism and intensified the deployment of urban activists in rural areas to prepare for People's war. The line between leftist activists and communists became increasingly blurred, as a significant number of KM advanced activists joined the party of the Communist Party also founded by Jose Maria Sison. Earlier, during the campaign period for the 1969 elections, students called promoted a mock campaign called the Dante-for-President movement, likely referring to New People's Army founder Bernabe 'Kumander Dante' Buscayno. KM members protested in front of Congress, throwing a coffin, a stuffed alligator, and stones at Ferdinand and Imelda Marcos after his State of the Nation Address. On the presidential palace, activists rammed the gate with a fire truck and once the gate broke and gave way, the activists charged into the Palace grounds tossing rocks, pillboxes, Molotov cocktails. In front of the US embassy, protesters vandalized, arsoned and damaged the embassy lobby resulting to a strong protest from the U.S. Ambassador. The KM protests ranged from 50,000 to 100,000 in number per weekly mass action. In the aftermath of the January 1970 riots, at least two activists were confirmed dead and several were injured by the police. The mayor of Manila at the time, Antonio Villegas, commended the Manila Police District for their "exemplary behavior and courage" and protecting the First Couple long after they have left. The death of the activists was seized by the Lopez controlled Manila Times and Manila Chronicle, blaming Marcos and added fire to the weekly protests. Students declared a week-long boycott of classes and instead met to organize protest rallies.
In Marcos's diary, he wrote that the whole crisis has been utilized by communism to create a revolutionary situation. He lamented that the powerful Lopez family, which controlled Manila Times and Manila Chronicle, blamed him for the riots thus raising the ire of demonstrators. He mentioned that he was informed by his mother of a planned assassination paid for by the powerful oligarch, Eugenio Lopez Sr (Iñing Lopez). He narrated how he dissuaded his supporters from the Northern Philippines in infiltrating the demonstration in Manila and inflicting harm on the protesters, and how he showed to the UP professors that the Collegian was carrying the communist party articles and that he was disappointed in the faculty of his alma matter for becoming a spawning ground of communism. He also added that he asked Ernesto Rufino, Vicente Rufino and Carlos Palanca to withdraw advertisements from The Manila Times which was openly supporting revolution and the communist cause, and they agreed to do so.
Rumors of coup d'état were also brewing. A report of the U.S. Senate Foreign Relations Committee said that shortly after the Philippine presidential election, 1969, a group composed mostly of retired colonels and generals organized a revolutionary junta with the aim of first discrediting President Marcos and then killing him. The group was headed by Eleuterio Adevoso, an official of the opposition Liberal Party. As described in a document given to the committee by Philippine Government official, key figures in the plot were Vice President Fernando Lopez and Sergio Osmena Jr., whom Marcos defeated in the 1969 election. Marcos even went to the U.S. embassy to dispel rumors that the U.S. embassy is supporting a coup d'état which the opposition liberal party was spreading. While the report obtained by the NY Times speculated saying that story could be used by Marcos to justify Martial Law, as early as December 1969 in a message from the U.S. Ambassador to the U.S. Assistant Secretary of State, the U.S. Ambassador said that most of the talk about revolution and even assassination has been coming from the defeated opposition, of which Adevoso (of the Liberal Party) is a leading activist. He also said that the information he has on the assassination plans are 'hard' or well-sourced and he has to make sure that it reached President Marcos.
In light of the crisis, Marcos wrote an entry in his diary in January 1970: "I have several options. One of them is to abort the subversive plan now by the sudden arrest of the plotters. But this would not be accepted by the people. Nor could we get the Huks (Communists), their legal cadres and support. Nor the MIM (Maoist International Movement) and other subversive [or front] organizations, nor those underground. We could allow the situation to develop naturally then after massive terrorism, wanton killings and an attempt at my assassination and a coup d'etat, then declare martial law or suspend the privilege of the writ of habeas corpus – and arrest all including the legal cadres. Right now I am inclined towards the latter."
Martial Law and the New Society (1972–1981)
At the height of the armed communist insurgency in the Philippines, Philippine Military Academy instructor Lt Victor Corpuz led New People's Army rebels in a raid on the PMA armory, capturing rifles, machine guns, grenade launchers, a bazooka and thousands of rounds of ammunition in 1970. In 1972, China, which was then actively supporting and arming communist insurgencies in Asia as part of Mao Zedong's People's War Doctrine, transported 1,200 M-14 and AK-47 rifles for the NPA to speed up NPA's campaign to defeat the government.
According to interviews by The Washington Post with former Communist Party of the Philippines Officials "the (Communist) party leadership planned – and three operatives carried out – the (Plaza Miranda) attack in an attempt to provoke government repression and push the country to the brink of revolution... (Communist Party Leader) Sison had calculated that Marcos could be provoked into cracking down on his opponents, thereby driving thousands of political activists into the underground, the former party officials said. Recruits were urgently needed, they said, to make use of a large influx of weapons and financial aid that China had already agreed to provide."
It is easier perhaps and more comfortable to look back to the solace of a familiar and mediocre past. But the times are too grave and the stakes too high for us to permit the customary concessions to traditional democratic processes.
Marcos declared martial law on September 21, 1972 when his Press Secretary, Francisco Tatad, announced on Radio that Proclamation № 1081. which Marcos had signed 2 days earlier on September 21, 1972, had come into force and would extend Marcos's rule beyond the constitutional two-term limit. He justified this by highlighting the threats of Communist and Muslim insurgencies. Ruling by decree, he almost dissolved press freedom and other civil liberties to add propaganda machine, closed down Congress and media establishments, and ordered the arrest of opposition leaders and militant activists, including senators Benigno Aquino Jr., Jovito Salonga and Jose Diokno. However, unlike Ninoy Aquino's senator colleagues who were detained without charges, Ninoy, together with communist NPA leaders Lt Corpuz and Bernabe Buscayno, was charged with murder, illegal possession of firearms and subversion. Marcos claimed that martial law was the prelude to creating his Bagong Lipunan, a "New Society" based on new social and political values.
Martial Law was put on vote in July 1973 in the Philippine Martial Law referendum, 1973 and was marred with controversy resulting to 90.77% voting yes and 9.23% voting no.
A constitutional convention, which had been called for in 1970 to replace the Commonwealth era 1935 Constitution, continued the work of framing a new constitution after the declaration of martial law. The new constitution went into effect in early 1973, changing the form of government from presidential to parliamentary and allowing Marcos to stay in power beyond 1973. The constitution was approved by 95% of the voters in the Philippine constitutional plebiscite.
After putting in force amendments to the constitution, legislative action, and securing his sweeping powers and with the Batasan, his supposed successor body to the Congress, under his control, President Marcos lifted martial law on January 17, 1981. However, the suspension of the privilege of the writ of habeas corpus continued in the autonomous regions of Western Mindanao and Central Mindanao. The opposition dubbed the lifting of martial law as a mere "face lifting" as a precondition to the visit of Pope John Paul II.
Marcos had a vision of a Bagong Lipunan (New Society) similar to Indonesian president Suharto's "New Order administration", China leader Mao Zedong's Great Leap Forward and Korean Kim Il-Sung's Juche. He used the years of martial law to implement this vision. According to Marcos's book Notes on the New Society, it was a movement urging the poor and the privileged to work as one for the common goals of society and to achieve the liberation of the Filipino people through self-realization.
University of the Philippines economics professor and former NEDA Director-General Dr. Gerardo Sicat, an MIT Ph.D. graduate, portrayed some of Martial Law's effects as follows:
Economic reforms suddenly became possible under martial law. The powerful opponents of reform were silenced and the organized opposition was also quilted. In the past, it took enormous wrangling and preliminary stage-managing of political forces before a piece of economic reform legislation could even pass through Congress. Now it was possible to have the needed changes undertaken through presidential decree. Marcos wanted to deliver Major changes in an economic policy that the government had tried to propose earlier.
The enormous shift in the mood of the nation showed from within the government after martial law was imposed. The testimonies of officials of private chambers of commerce and of private businessmen dictated enormous support for what was happening. At least, the objectives of the development were now being achieved...
During his martial law regime, Marcos confiscated and appropriated by force and duress many businesses and institutions, both private and public, and redistributed them to his cronies and close personal friends. Two of these friends were Eduardo "Danding" Cojuangco Jr., who would go on to control San Miguel Corporation, and Ramon Cojuangco, late businessman and chairman of PLDT, and father of Antonio "Tony Boy" Cojuangco (who would eventually succeed his father in the telecommunications company), both happened to be cousins of Corazon Aquino. These associates of Marcos then used these as fronts to launder proceeds from institutionalized graft and corruption in the different national governmental agencies as "crony capitalism" for personal benefit. Graft and corruption via bribery, racketeering, and embezzlement became more prevalent during this era. Marcos also silenced the free press, making the press of the state propaganda the only legal one, which was a common practice for governments around the world that sought to fight communism.
By 1977, the armed forces had quadrupled and over 60,000 Filipinos had been arrested for political reasons. In 1981, Vice President George H. W. Bush praised Marcos for his "adherence to democratic principles and to the democratic processes". No American military or politician in the 1970s ever publicly questioned the authority of Marcos to help fight communism in South East Asia.
Marcos and his close Rolex 12 associates like Juan Ponce Enrile used their powers to settle scores against old rivals such as the Lopezes who were always opposed to the Marcos administration. Enrile and the Lopezes (Eugenio Lopez, Sr. and Eugenio Lopez Jr.) were Harvard-educated Filipino leaders. Leading opponents such as Senators Benigno Aquino Jr., Jose Diokno, Jovito Salonga and many others were imprisoned for months or years. This practice considerably alienated the support of the old social and economic elite and the media, who criticized the Marcos administration endlessly. The old social and economic elite, all of whom relied on trade and agricultural and industrial exports to the United States such as the families of Enrile, Lopez, Cojuangco, and Aquino, sought a free-market economy. At this point, Marcos controlled both the oligarchy and the oligopoly.
Between 1972 and 1976, Marcos increased the size of the Philippine military from 65,000 to 270,000 personnel, in response to the fall of South Vietnam to the communists and the growing tide of communism in South East Asia. Military officers were placed on the boards of a variety of media corporations, public utilities, development projects, and other private corporations, most of whom were highly educated and well-trained graduates of the Philippine Military Academy. At the same time, Marcos made efforts to foster the growth of a domestic weapons manufacturing industry and heavily increased military spending.
From the declaration of martial law in 1972 until 1983 the U.S. government provided $2.5 billion in bilateral military and economic aid to the Marcos regime, and about $5.5 billion through multilateral institutions such as the World Bank.
In a 1979 U.S. Senate report it was stated that U.S. officials were aware, as early as 1973, that Philippine government agents were in the United States to harass Filipino dissidents. In June 1981, two anti-Marcos labor activists were assassinated outside of a union hall in Seattle. On at least one occasion, CIA agents blocked FBI investigations of Philippine agents.
Many human rights abuses were attributed to the Philippine Constabulary which was then headed by future president Fidel Ramos. The Civilian Home Defense Force, a precursor of Civilian Armed Forces Geographical Unit (CAFGU), was organized by President Marcos to battle with the communist and Islamic insurgency problem, has particularly been accused of notoriously inflicting human right violations on leftists, the NPA, Muslim insurgents, and rebels against the Marcos government. However, under martial law the Marcos administration was able to reduce violent urban crime, collect unregistered firearms, and suppress communist insurgency in some areas.
The Marcos regime instituted a mandatory youth organization, known as the Kabataang Barangay, which was led by Marcos's eldest daughter Imee. Presidential Decree 684, enacted in April 1975, required that all youths aged 15 to 18 be sent to remote rural camps and do volunteer work.
Along with Marcos, members of his Rolex 12 circle like Defense Minister Juan Ponce Enrile, Chief of Staff of the Philippine Constabulary Fidel Ramos, and Chief of Staff of the Armed Forces of the Philippines Fabian Ver were the chief administrators of martial law from 1972 to 1981, and the three remained President Marcos's closest advisers until he was ousted in 1986. Other peripheral members of the Rolex 12 included Eduardo "Danding" Cojuangco Jr. and Lucio Tan.
Normalization of ties with Communist China and effort to isolate local communist rebels
Marcos recognized the need to established a peaceful relationship with China. In his 1969 State of the Nation Address, he said:
We, in Asia must strive toward a modus vivendi with Red China. I reiterate this need, which is becoming more urgent each day. Before long, Communist China will have increased its striking power a thousand fold with a sophisticated delivery system for its nuclear weapons. We must prepare for that day. We must prepare to coexist peaceably with Communist China.
Prior to 1975, the Philippine government maintained a close relationship with the Kuomintang-ruled Chinese government which fled to Taiwan (Republic of China), despite the Chinese Communist Victory in 1949, and saw Communist China (People's Republic of China) as a security threat due to China's financial and military support of Communist rebels in the country.
In June 1975, President Marcos went to the People's Republic of China and signed a Joint Communiqué normalizing relations between the Philippines and China. Among other things, the Communiqué recognizes that "there is but one China and that Taiwan is an integral part of Chinese territory…" In turn, Chinese Prime Minister Zhou Enlai also pledged that China would not intervene in the internal affairs of the Philippines nor will it seek to impose its policies in Asia, a move which isolated the local communist movement that China had financially and militarily supported.
The Washington Post in an interview with former Philippine Communist Party Officials, revealed that, "they (local communist party officials) wound up languishing in China for 10 years as unwilling "guests" of the (Chinese) government, feuding bitterly among themselves and with the party leadership in the Philippines".
The government subsequently captured NPA leaders Bernabe Buscayno in 1976 and Jose Maria Sison in 1977.
First parliamentary elections after martial law declaration
The Philippine parliamentary election, 1978 was held on April 7, 1978 for the election of the 166 (of the 208) regional representatives to the Interim Batasang Pambansa (the nation's first parliament). The elections were participated by several parties including Ninoy Aquino's newly formed party, the Lakas ng Bayan (LABAN) and the regime's party known as the Kilusang Bagong Lipunan (KBL).
The Ninoy Aquino's LABAN party fielded 21 candidates for the Metro Manila area including Ninoy himself and Alex Boncayao, who later was associated with Filipino communist death squad Alex Boncayao Brigade that killed U.S. army captain James N. Rowe. All of the party's candidates, including Ninoy, lost in the election.
Marcos's KBL party won 137 seats, while Pusyon Bisaya led by Hilario Davide Jr., who later became the Minority Floor Leader, won 13 seats.
Prime Minister
In 1978, the position returned when Ferdinand Marcos became Prime Minister. Based on Article 9 of the 1973 constitution, it had broad executive powers that would be typical of modern prime ministers in other countries. The position was the official head of government, and the commander-in-chief of the armed forces. All of the previous powers of the President from the 1935 Constitution were transferred to the newly restored office of Prime Minister. The Prime Minister also acted as head of the National Economic Development Authority. Upon his re-election to the Presidency in 1981, Marcos was succeeded as Prime Minister by an American-educated leader and Wharton graduate, Cesar Virata, who was elected as an Assemblyman (Member of the Parliament) from Cavite in 1978. He is the eponym of the Cesar Virata School of Business, the business school of the University of the Philippines Diliman.
Third term (1981–1986)
We love your adherence to democratic principles and to the democratic process, and we will not leave you in isolation.
On June 16, 1981, six months after the lifting of martial law, the first presidential election in twelve years was held. President Marcos ran and won a massive victory over the other candidates. The major opposition parties, the United Nationalists Democratic Organizations (UNIDO), a coalition of opposition parties and LABAN, boycotted the elections.
After the lifting of Martial Law, the pressure on the Communist CPP-NPA alleviated. The group able to return to urban areas and form relationships with legal opposition organizations, and became increasingly successful attacks against the government throughout the country. The violence inflicted by the communists reached its peak in 1985 with 1,282 military and police deaths and 1,362 civilian deaths.
Aquino's assassination
On August 21, 1983, opposition leader Benigno Aquino Jr. was assassinated on the tarmac at Manila International Airport. He had returned to the Philippines after three years in exile in the United States, where he had a heart bypass operation to save his life after Marcos allowed him to leave the Philippines to seek medical care. Prior to his heart surgery, Ninoy, along with his two co-accused, NPA leaders Bernabe Buscayno (Commander Dante) and Lt. Victor Corpuz, was sentenced to death by a military commission on charges of murder, illegal possession of firearms and subversion. A few months before his assassination, Ninoy was decided to go back to the Philippines after his research fellowship from Harvard University had expired. The opposition blamed Marcos directly for the assassination while others blamed the military and his wife, Imelda. Popular speculations pointed to three suspects; the first was Marcos himself through his trusted military chief Fabian Ver; the second theory pointed to his wife Imelda who had her own burning ambition now that her ailing husband seemed to be getting weaker, and the third theory was that Danding Cojuangco planned the assassination because of his own political ambitions. The 1985 acquittals of Chief of Staff General Fabian Ver as well as other high-ranking military officers charged with the crime were widely seen as a whitewash and a miscarriage of justice.
On November 22, 2007, Pablo Martinez, one of the convicted suspects in the assassination of Ninoy Aquino Jr. alleges that it was Ninoy Aquino Jr.'s relative, Danding Cojuangco, cousin of his wife Corazon Cojuangco Aquino, who ordered the assassination of Ninoy Aquino Jr. while Marcos was recuperating from his kidney transplant. Martinez also alleges only he and Galman knew of the assassination, and that Galman was the actual shooter, which is not collaborated by other evidence of the case.
Impeachment attempt
In August 1985, 56 Assemblymen signed a resolution calling for the impeachment of President Marcos for alleged diversion of U.S. aid for personal use, citing a July 1985 San Jose Mercury News exposé of the Marcos's multimillion-dollar investment and property holdings in the United States.
The properties allegedly amassed by the First Family were the Crown Building, Lindenmere Estate, and a number of residential apartments (in New Jersey and New York), a shopping center in New York, mansions (in London, Rome and Honolulu), the Helen Knudsen Estate in Hawaii and three condominiums in San Francisco, California.
The Assembly also included in the complaint the misuse and misapplication of funds "for the construction of the Manila Film Center, where X-rated and pornographic films are exhibited, contrary to public morals and Filipino customs and traditions." The impeachment attempt gained little real traction, however, even in the light of this incendiary charge; the committee to which the impeachment resolution was referred did not recommend it, and any momentum for removing Marcos under constitutional processes soon died.
Physical decline
During his third term, Marcos's health deteriorated rapidly due to kidney ailments, as a complication of a chronic autoimmune disease lupus erythematosus. He had a kidney transplant in August 1983, and when his body rejected the first kidney transplant, he had a second transplant in November 1984. Marcos's regime was sensitive to publicity of his condition; a palace physician who alleged that during one of these periods Marcos had undergone a kidney transplant was shortly afterwards found murdered. Police said he was kidnapped and slain by communist rebels. Many people questioned whether he still had capacity to govern, due to his grave illness and the ballooning political unrest. With Marcos ailing, his powerful wife, Imelda, emerged as the government's main public figure. Marcos dismissed speculations of his ailing health as he used to be an avid golfer and fitness buff who liked showing off his physique.
By 1984, U.S. President Ronald Reagan started distancing himself from the Marcos regime that he and previous American presidents had strongly supported even after Marcos declared martial law. The United States, which had provided hundreds of millions of dollars in aid, was crucial in buttressing Marcos's rule over the years, although during the Carter administration the relationship with the U.S. had soured somewhat when President Jimmy Carter targeted the Philippines in his human rights campaign.
Snap election, revolution
In late 1985, in the face of escalating public discontent and under pressure from foreign allies, Marcos called a "snap election" with more than a year left in his term. He selected Arturo Tolentino as his running mate. The opposition to Marcos united behind two American-educated leaders, Aquino's widow, Corazon, and her running mate, Salvador Laurel.
It was during this time that Marcos's World War II medals for fighting the Japanese Occupation was first questioned by the foreign press. During a campaign in Manila's Tondo district, Marcos retorted:
You who are here in Tondo and fought under me and who were part of my guerrilla organization—you answer them, these crazy individuals, especially the foreign press. Our opponents say Marcos was not a real guerrilla. Look at them. These people who were collaborating with the enemy when we were fighting the enemy. Now they have the nerve to question my war record. I will not pay any attention to their accusation.
Marcos was referring to both Presidential candidate Corazon Aquino's father-in-law Benigno Aquino Sr. and Vice Presidential Candidate Salvador Laurel's father, José P. Laurel, who were leaders of the KALIBAPI, a puppet political party that collaborated with the Japanese during the Japanese occupation of the Philippines. Both were arrested and charged for treason after the war.
The elections were held on February 7, 1986. The official election canvasser, the Commission on Elections (COMELEC), declared Marcos the winner. The final tally of the COMELEC had Marcos winning with 10,807,197 votes against Aquino's 9,291,761 votes. On the other hand, the partial 69% tally of the National Movement for Free Elections (NAMFREL), an accredited poll watcher, had Aquino winning with 7,502,601 votes against Marcos's 6,787,556 votes. Cheating was reported on both sides. This electoral exercise was marred by widespread reports of violence and tampering of election results.
Despite common knowledge that Marcos cheated the elections, some claim that Marcos is the one that had been cheated by NAMFREL because his Solid North votes were transmitted very late to the tabulation center at the PICC. Two Namfrel volunteers were hanged in Ilocos. The Ilocano votes were enough to overwhelm Cory's lead in Metro Manila and other places.
The alleged fraud culminated in the walkout of 35 COMELEC computer technicians to protest the manipulation of the official election results to favor Ferdinand Marcos. The walkout of computer technicians was led by Linda Kapunan and the technicians were protected by Reform the Armed Forces Movement (RAM) officers led by her husband Lt. Col. Eduardo "Red" Kapunan. RAM, led by Lt. Col. Gregorio "Gringo" Honasan and backed by Enrile had plotted a coup d'etat to seize Malacañang and kill Marcos and his family.
The failed election process gave a decisive boost to the "People Power movement." Enrile and Ramos would later abandon Marcos's 'sinking ship' and seek protection behind the 1986 People Power Revolution, backed by fellow-American educated Eugenio Lopez Jr., Jaime Augusto Zobel de Ayala, and the old political and economic elites. At the height of the revolution, Juan Ponce Enrile revealed that a purported and well-publicized ambush attempt against him years earlier was in fact faked, in order for Marcos to have a pretext for imposing martial law. However, Marcos never ceased to maintain that he was the duly elected and proclaimed president of the Philippines for a fourth term, but unfairly and illegally deprived of his right to serve it. On February 25, 1986, rival presidential inaugurations were held, but as Aquino supporters overran parts of Manila and seized state broadcaster PTV-4, Marcos was forced to flee.
Fleeing from the Philippines to Hawaii
At 15:00 PST (GMT+8) on February 25, 1986, Marcos talked to United States Senator Paul Laxalt, a close associate of the United States President, Ronald Reagan, asking for advice from the White House. Laxalt advised him to "cut and cut cleanly", to which Marcos expressed his disappointment after a short pause. In the afternoon, Marcos talked to Enrile, asking for safe passage for him and his family, and included his close allies like General Ver. Finally, at 9:00 p.m., the Marcos family was transported by four Sikorsky HH-3E helicopters to Clark Air Base in Angeles City, Pampanga, about 83 kilometers north of Manila, before boarding US Air Force C-130 planes bound for Andersen Air Force Base in Guam, and finally to Hickam Air Force Base in Hawaii where Marcos arrived on February 26.
As per the official twenty-three page US Customs record, the two C-141 transport planes that carried the Marcos family and their closest allies had 23 wooden crates; 12 suitcases and bags, and various boxes, whose contents included enough clothes to fill 67 racks; 413 pieces of jewelry; 24 gold bricks, inscribed "To my husband on our 24th anniversary"; and more than 27m Philippine pesos in freshly-printed notes. The jewelry included 70 pairs of jewel-studded cufflinks; an ivory statue of the infant Jesus with a silver mantle and a diamond necklace. The total value of these items was $15 millon. Meanwhile, when protestors stormed Malacañang Palace shortly after their departure, it was famously discovered that Imelda had left behind over 2,700 pairs of shoes in her closet.
The Catholic hierarchy and Manila's middle class were crucial to the success of the massive crusade, but only within Metro Manila because no mass demonstrations or protests against Marcos occurred in the provinces and islands of Visayas and Mindanao.
Economy
To help finance a number of economic development projects, the Marcos government borrowed large amounts of money from international lenders. The external debt of the Philippines rose more than 70-fold from $360 million in 1962 to $26.2 billion in 1985, making the Philippines one of the most indebted countries in Asia. Philippine Annual Gross Domestic Product grew from $5.27 billion in 1964 to $37.14 billion in 1982, a year prior to the assassination of Ninoy Aquino. The GDP went down to $30.7 billion in 1985, after two years of economic recession brought about by political instability following Ninoy's assassination. A sizable amount of this money went to the Marcos family and friends in the form of behest loans.
As a former colony of the United States, the Philippines was heavily reliant on the American economy to purchase agricultural goods such as sugar, tobacco, coconut, bananas, and pineapple and US corporations prospered.
Economy during martial law (1973–1980)
According to World Bank Data, the Philippine's Annual Gross Domestic Product quadrupled from $8 billion in 1972 to $32.45 billion in 1980, while debt stood at US$17.2 billion by the end of 1980. Indeed, according to the U.S. based Heritage Foundation, the Philippines enjoyed its best economic development since 1945 between 1972 and 1979. The economy grew amidsts two severe global oil shocks following the 1973 oil crisis and 1979 energy crisis – oil price was $3 / barrel in 1973 and $39.5 in 1979, or a growth of 1200%. By the end of 1979, debt was still manageable, with debt to Debt-GNP ratio about the same as South Korea, according to th US National Bureau of Economic Research.
Foreign capital was invited to invest in certain industrial projects. They were offered incentives, including tax exemption privileges and the privilege of bringing out their profits in foreign currencies. One of the most important economic programs in the 1980s was the Kilusang Kabuhayan at Kaunlaran (Movement for Livelihood and Progress). This program was started in September 1981. It aimed to promote the economic development of the barangays by encouraging its residents to engage in their own livelihood projects. The government's efforts resulted in the increase of the nation's economic growth rate to an average of six percent or seven percent from 1970 to 1980.
Economy after martial law (1981–1985)
The Philippine economy, heavily reliant on exports to the United States, suffered a great decline after the Aquino assassination in August 1983 because Filipino business and political leaders who studied in Harvard, Yale, and other US universities began lobbying American and foreign firms to discourage them from investing in the Philippines. This was taking place at the same time that China was beginning to accept free-market capitalism and American businesses were jockeying to establish manufacturing plants in China. The political troubles of the Philippines hindered the entry of foreign investments, and foreign banks stopped granting loans to the Philippine government. In an attempt to launch a national economic recovery program and despite his growing isolation from American businesses, Marcos negotiated with foreign creditors including the International Bank for Reconstruction and Development, World Bank, and the International Monetary Fund (IMF), for a restructuring of the country's foreign debts – to give the Philippines more time to pay the loans. Marcos ordered a cut in government expenditures and used a portion of the savings to finance the Sariling Sikap (Self-Reliance), a livelihood program he established in 1984.
However, the economy continued to shrink despite the government's recovery efforts due to a number of reasons. Most of the so called government development programs failed to materialize. Government funds were often siphoned off by Marcos or his cronies. American investors were discouraged by the Filipino economic elite who were against the corruption that by now had become endemic in the Marcos regime. The failure of the recovery program was further augmented by civil unrest, rampant graft and corruption within the government, and Marcos's lack of credibility. The unemployment rate increased from 6.25% in 1972 to 11.058% in 1985.
Considering the severe 1984–1985 recession, the Philippine economy annual growth rate from 1972 to 1985 of 3.4% is significantly lower than the 5.4% growth rate achieved by other countries in ASEAN (Thailand, Malaysia, Indonesia, Singapore) in the same time period.
In 1981, Ferdinand Marcos issued Letter of Instructions No. 1107 mandating the Central Bank of the Philippines to analyze the probability of establishing and funding the operation of a credit bureau in the Philippines due to the disturbing increase of failures on corporate borrowers. In adherence to the order, Central Bank of the Philippines organized the Credit Information Exchange System under the department of Loans and Credit. It was created to engage in collating, developing and analyzing credit information on individuals, institutions, business entities and other business concerns. It aims to develop and undertake the continuing exchange of credit data within its members and subscribers and to provide an impartial source of credit information for debtors, creditors and the public. On April 14, 1982, Credit Information Bureau, Inc. was incorporated as a non-stock, non-profit corporation. CIBI was created pursuant to LOI No. 1107 dated February 16, 1981 and was further strengthened by PD No. 1941 which recognizes and supports CIBI as a suitable credit bureau to promote the development and maintenance of rational and efficient credit processes in the financial system and in the economy as a whole. In 1997, Credit Information Bureau, Inc. was incorporated and transformed into a private entity and became CIBI Information, Inc. CIBI is a provider of information and intelligence for business, credit and individuals. The company also supplies compliance reports before accrediting suppliers, industry partners and even hiring professionals.
Economic Controversies
According to the book The Making of the Philippines by Frank Senauth (p. 103):
"Marcos himself diverted large sums of government money to his party's campaign funds. Between 1972 and 1980, the average monthly income of wage workers had fallen by 20%. By 1981, the wealthiest 10% of the population was receiving twice as much income as the bottom 60%.
The country's total external debt rose from US$2.3 billion in 1970 to US$26.2 billion in 1985 during Marcos's term. Marcos's critics charged that policies have become debt-driven with rampant corruption and plunder of public funds by Marcos and his cronies. This held the country under a debt-servicing crisis which is expected to be fixed by only 2025. Critics have pointed out an elusive state of the country's development as the period is marred by a sharp devaluing of the Philippine Peso from 3.9 to 20.53. The overall economy experienced a slower growth GDP per capita, lower wage conditions and higher unemployment especially towards the end of Marcos's term after the 1983–1984 recession. Some of Marcos's critics claimed that poverty incidence grew from 41% in the 1960s at the time Marcos took the Presidency to 59% when he was removed from power,
From 1972 to 1980, agricultural production fell by 30%. After declaring martial law in 1972, Marcos promised to implement agrarian reforms. However, the land reforms served largely to undermine Marcos's landholder opponents, not to lessen inequality in the countryside, and encouraged conversion to cash tenancy and greater reliance on farm workers. Under Marcos, timber products were among the nation's top exports but little attention was paid to the environmental impacts of deforestation as cronies never complied with reforestation agreements. By the early 1980s, forestry collapsed because most of the Philippines' accessible forests had been depleted—of the 12 million hectares of forestland, about 7 million had been left barren."
While the book claimed that agricultural production declined by 30% in the 1970s and suggested that timber exports were growing in the same period, an article published by the World Bank on Philippine Agriculture says that crops (rice, corn, coconut, sugar), livestock and poultry and fisheries grew at an average rate of 6.8%, 3% and 4.5%, respectively from 1970 to 1980, and the forestry sector actually declined by an annual average rate of 4.4% through the 1970s.
Despite claims made by the book that land reforms served largely to undermine Marcos's landholder opponents, Marcos's government did not distribute to small farmers his political rival Ninoy Aquino's family's 6,453 hectare Hacienda Luisita plantation, the biggest in the country.
By 1960 the Rockefeller and Ford Foundations had worked with the Garcia administration and the UP College of Agriculture to establish the International Rice Research Institute (IRRI) in Los Baños, Laguna, signaling the rise of the Green Revolution (industrialized, chemical agriculture) to the Philippines. In the late '60s, the Marcos administration took advantage of IRRI's new "miracle rice" cultivar (IR8), promoting its use throughout the Philippines. While this resulted in annual rice production in the Philippines increasing from 3.7 to 7.7 million tons in two decades and made the Philippines a rice exporter for the first time in the 20th century, the switch to IR8 required more fertilizers and pesticides. This and other related reforms resulted in high profits for transnational corporations, but were generally harmful to small, peasant farmers who were often pushed into poverty.
Human rights abuses
As many student activists like Edgar Jopson and Rigoberto Tiglao, farmers like Bernabe Buscayno, journalist like Satur Ocampo, legal political opposition (Ninoy Aquino and fellow candidate in 1978 election Alex Boncayao), and priest and nuns joined or developed relationships with the CPP/NDF/NPA, many farmers, student protesters, leftists, political opponents, journalists and members of the media accused of being members or sympathizing with the CPP, NPA or MNLF or of plotting against the government were frequent targets of human rights violations. Victims would simply be rounded up with no arrest warrant nor reading of prisoners' rights and kept indefinitely locked up with no charges filed against them.. In a keynote speech at the University of the East, journalist Raissa Robles described how anyone could just be arrested (or abducted) with ease through pre-signed Arrest Search and Seizure Orders (ASSO), which allowed the military or police to detain victims on trumped up charges or unclear allegations according to Rappler research. Anybody could be picked up at anytime for any reason by the military or the police, according to Raissa's husband, journalist Alan Robles.
A 1976 Amnesty International report had listed 88 government torturers, including members of the Philippine Constabulary and the Philippine Army, which was respectively under the direct control of Major General Fidel V. Ramos and Defense Minister Juan Ponce Enrile. According to torture victim Rigoberto Tiglao, nearly all of the human rights abuses President Marcos has been accused of were undertaken by Philippine Constabulary units, especially through its national network of "Constabulary Security Units," whose heads reported directly to Fidel V. Ramos. The most dreaded of these was the Manila-based 5th Constabulary Security Unit (CSU) which featured the dreaded torturer Lt. Rodolfo Aguinaldo, credited with capturing most of the Communist Party leaders including Jose Ma. Sison and the communist's Manila-Rizal Regional Committee he headed, the Metrocom Intelligence and Security Group (MISG) under the command of Col. Rolando Abadilla, and the Intelligence Service, Armed Forces of the Philippines (ISAFP).
There are various statistics for human rights abuses committed during the Marcos regime.
Task Force Detainees of the Philippines has recorded:
2,668 incidents of arrests
398 disappearances
1,338 salvagings
128 frustrated salvagings
1,499 killed or wounded in massacres
Amnesty International reports:
70,000 imprisoned
34,000 tortured
3,240 killed
Historian Alfred McCoy gives a figure of 3,257 recorded extrajudicial killings by the military from 1975-1985, 35,000 tortured and 70,000 incarcerated. The newspaper Bulatlat (lit. "to open carelessly") places the number of victims of arbitrary arrest and detention at 120,000, the extrajudicial execution of activists under martial law at 1,500 and Karapatan (a local human rights group)'s records show 759 involuntarily disappeared with their bodies never found.
Abductions
Victims were often taken to military "Safehouses", a euphemism for hidden places of torture, often blindfolded. In a document titled "Open Letter to the Filipino People," martial law martyr Edgar "Edjop" Jopson described safehouses as such: "Safehouses usually have their windows always shut tight. They are usually covered with high walls. One would usually detect [safehouses] through the traffic of motorcycles and cars, going in and out of the house at irregular hours. Burly men, armed with pistols tucked in their waists or in clutch bags, usually drive these vehicles."
Torture
Various forms of torture were used by the military, and these forms of torture were usually combined with each other.
Psychological & emotional torture
Among the forms of psychological and emotional torture performed were:
Solitary confinement. Victims include Ninoy Aquino, Danilo Vizmanos, CPP/NPA Leaders Lt. Victor Corpuz, Bernabe Buscayno, and Jose Maria "Joma" Sison, and World War II Hunter's Guerrilla forces commander Eleuterio "Terry" Adevoso, who was accused of plotting a coup.
Sleep deprivation. Victims include Ninoy Aquino and Maria Elena-Ang.
Playing loud, repetitive music. Victims include Ninoy Aquino.
Forcing victims to strip naked. Victims include Virgillo Villegas, Maria Elena Ang, Erlene Dangoy, and Monica Atienza.
Government units mutilating, cooking and eating the flesh of victims (cannibalism) in front of their family and friends to sow terror.
Physical torture
Physical torture was also often inflicted upon victims. Aside from deadly weapons, implements of torture included water, pliers, thumb tacks, ballpoint pens, and flat irons. Physical torture also took the forms of:
Beatings. Almost all who were tortured were subjected to beatings. Victims include Rigoberto Tiglao, Roland Simbulan, Julius Giron, Macario Tiu, Eugenio Magpantay, Joseph Gatus, Rev. Cesar Taguba, Reynaldo Guillermo, Alejandro Arellano, Charley Palma, Victor Quinto, Pedro de Guzman Jr., Reynaldo Rodriguez, Ma. Cristina Verzola, Armando Teng, Romeo Bayle, Agaton Topacio, Reynaldo Ilao, Erlinda Taruc-Co, Ramon Casiple, Winfiredo Hilao, Bernabe Buscayno and Jose Maria Sison.
Electric Shock (also known as the Meralco Treatment) - where electric wires were attached to fingers, genitalia, arms or the head of the victim, beatings. Victims include Etta Rosales, Charlie Revilla Palma, Wilfredo Hilao, Romeo Tolio, Reynaldo Guillermo, Alejandro Arellano, Victor Quinto, Pedro de Guzman Jr., Reynaldo Rodriguez, Julius giron, Armando Teng, Santiago Alonzo, Romeo Bayle, Agaton Topacio, Neri Colmenares, Trinidad Herrera and Marco Palo.
San Juanico Bridge or Air Treatment - Victim lies between two cots. If the victim's body falls or sags, he or she would be beaten. Victims include Jose "Pete" Lacaba and Bonifacio Ilagan.
Truth Serum. Victims include Pete Lacaba, Danilo Vizmanos, Fernando Tayag, Bernardo Escarcha, Julius Giron, and Victor Quinto.
Russian Roulette - a revolver with one bullet loaded is spun up, aimed at the head of the victim, and then the trigger pulled. Victims include Etta Rosales, Cesar Taguba, Carlos Centenera, and Winifredo Hilao and Danilo Vizmanos.
Pistol-whipping - beating with rifle or pistol butts. Victims include Reynaldo Guillermo, Robert sunga, Joseph Gatus, Maria Elena-Ang and Nathan Quimpo.
Water Cure (also known as the Nawasa Treatment) - large amounts of water would be forced through the victim's mouth, then forced out by beating. Victims Include Judy Taguiwalo, Guillermo Ponce de Leon, Alfonso Abzagado, Andrew Ocampo, and Jose Maria Sison.
Wet Submarine - victims' heads would be submerged in a toilet full of urine and excrement. Victims include Charlie Palma and Wenifredo Villareal.
Dry Submarine - victims' heads would be inserted into plastic bags, causing suffocation. Victims include Rolieto Trinidad.
Strangulation - Done by hand, electric wire or steel bar. Victims include Etta Rosales, Carlos Centenera, Willie Tatanis, Juan Villegas and Reynaldo Rodriguez.
Ashtray - cigarette burns would be inflicted on the victim. Victims include Marcelino Tolam Jr., Philip Limjoco, Charley Palma, Ma. Cristina Verzola, Reynaldo Rodriguez Neri Colmenares, Ernesto Luneta and Peter Villaseñor.
Flat Iron burns - feet are burned with flat irons. Victims include Cenon Sembrano and Bonfiacio Ilagan.
Candle burns. Victims include Etta Rosales
Sinusunog na rekado (burning spices) or Pepper Torture - concentrated peppery substance placed on lips, ears and genitals. Victims include Rolieto Trinidad, Meynardo Espeleta. and Carlos Yari.
Animal Treatment - victims are manacled and caged like beasts. Victims include Leandro Manalo, Alexander Arevalo, Manuel Daez, Marcelo Gallarin, romualdo Inductivo, Faustino Samonte, Rodolfo Macasalabang. Others like Cesar Taguba was made to drink his own urine and Satur Ocampo was made to eat his own feces.
Cold Torture - Forcing victims to sit against air conditioners set on maximum while shirtless, or to sit or lie down on blocks of ice while naked (sometimes with electric wires). Victims include Rolieto Trinidad, Nestor Bugayong, Winifredo Hilao, Pete Villaseñor and Judy Taguiwalo.
Food deprivation. Victims include NPA founder Jose Maria Sison and Rev. Cesar Taguba.
Pompyang (cymbals) - ear clapping. Victims include Charlie Revilla and Julius Giron.
Putting bullets between fingers then squeezing the hands tightly. Victims include Erlene Dangoy.
Sexual torture
Rape. Victims include Maria Cristina Pargas-Bawagan , Etta Rosales, and Erlene Dangoy.
Gang Rape. Victims include Hilda Narciso.
Molestation. Victims include Judy Taguiwalo, Erlinda Taruc-Co and Cristina Pargas.
Sticks inserted into penises. Victims include Bonifacio Ilagan.
Salvagings
Summary executions, with often mutilated bodies, sometimes bearing signs of torture, recovered. One theory is that the term is derived from the Spanish word salvaje (savage). Mutilated remains were often dumped on roadsides for public display in order to show what happens in "safehouses", to spread a sense of fear and intimidate opponents -- turning the Philippines into a theater state of terror.
Victims included 16-year old Luis Manuel "Boyet" Mijares (tortured brutally, with burn marks, all his nails pulled and removed, 33 ice pick wounds around his body, skull bashed in, eyeballs gouged out, genitals mutilated, then dropped from a helicopter),Pamantasan ng Lungsod ng Maynila student Liliosa Hilao, Archimedes Trajano and Juan Escandor.
Desaparecidos
Enforced disappearances - people who suddenly went missing, sometimes without a trace and with bodies never recovered.
Victims include Primitivo "Tibo" Mijares, Emmanuel Alvarez, Albert Enriquez, Ma. Leticia Ladlad, Hermon Lagman, Mariano Lopez, Rodelo Manaog, Manuel Ontong, Florencio Pesquesa, Arnulfo Resus, Rosaleo Romano, Carlos Tayag, Emmanuel Yap, Jan Quimpo, Rizalina Ilagan, Christina Catalla, Jessica Sales and Ramon Jasul.
Murder
Victims include NPA commander Alex Boncayao, Ninoy Aquino, Evelio Javier, Liliosa Hilao, Noel Cerrudo Tierra, Antonio "Tonyhil" Hilario, Wiliam Vincent "Bill" Begg, Emmanuel "Eman" Lacaba, Lorena Barros, Juan Escandor, Edgar Jopson, Fr. Zacarias Agatep, Fr. Tulio Favali, Macli-ing Dulag, Resteta Fernandez, Soldedad Salvador and Nilo Valerio.
Human Rights Violations Committed by the NPA rebels During Marcos' Rule
Human Rights Violations were also committed by the NPA, which summarily executes "enemies of the people", who they say were condemned by "people's courts". From late 1985 to mid-1986, over 600 communist cadres and activists were killed by their own men in a hunt for "deep penetration agents" who had infiltrated the movement for the military. Cadres were accused by their comrades of being military agents and tortured. They confessed and implicated others, leading to more torture and murder.
On the stories of human rights abuses during the Marcos administration, Ferdinand "Bongbong" Marcos, Jr. describes them as "self-serving statements by politicians, self-aggrandizement narratives, pompous declarations, and political posturing and propaganda."
Ill-gotten wealth
The Philippine Supreme Court considers all Marcos assets beyond their legally declared earnings/salary to be ill-gotten wealth and such wealth have been forfeited in favor of the government or human rights victims. However, except for a former Marcos aide who conspired to sell a Monet and other artworks sequestered by the Philippine government, no one accused of taking what the Philippine government calls "ill-gotten" assets has been convicted for plundering the Philippine treasury, receiving bribes, or corruption. In 1990, Imelda Marcos, the widow of the former Philippine President, was acquitted of charges by a U.S. Jury that she raided the country's treasury and invested the money in the United States. In 1993, she was convicted of graft in Manila for entering into three unfavorable lease contracts between a Government-run transportation agency and another government-run hospital. In 1998, the Philippine Supreme Court overturned the previous conviction of Imelda Marcos and acquitted her of corruption charges. In 2008, Philippine trial court judge Silvino Pampilo acquitted Imelda Marcos, then widow of Ferdinand Marcos, of 32 counts of illegal money transfer from the 1993 graft conviction. In 2010, she was ordered to repay the Philippine government almost $280,000 for funds taken by Ferdinand Marcos in 1983. In 2012, a US Court of Appeals of the Ninth Circuit upheld a contempt judgement against Imelda and her son Bongbong Marcos for violating an injunction barring them from dissipating their assets, and awarded $353.6 million to human rights victims. As of October 2015, she still faces 10 criminal charges of graft, along with 25 civil cases, down from 900 cases in the 1990s, as most of the cases were dismissed for lack of evidence.
Enrique Zobel, founder of Makati Business Club and former chairman and president of Ayala Corporation, in his sworn statement, estimated Marcos gold hoard valued at US$100 billion and that Marcos wealth and riches were part of the stolen Yamashita treasure. Moreover, Marcelino Tagle, ex-director of Caritas Manila and Ten Outstanding Young Man awardee in 1967, corroborated Zobel and said that Marcos's gold was not stolen from the Philippine government, but came from stolen Yamashita gold hoard and Vatican gold stolen by Hitler.
On May 9, 2016, the International Consortium of Investigative Journalists released the searchable database from Panama Papers. His two daughters, Imee Marcos Manotoc and Irene Marcos Araneta, have been named, along with his grandsons Fernando Manotoc, Matthew Joseph Manotoc, Ferdinand Richard Manotoc, his son-in-law Gregorio Maria Araneta III, including his estranged son-in-law Tommy Manotoc's relatives Ricardo Gabriel Manotoc and Teodoro Kalaw Manotoc. According to the PCGG and The Guardian, Ferdinand Marcos had an accumulated stolen wealth of US $10 billion during his presidency from 1965 to 1986, while earning an annual salary equivalent to US $13,500.00.
On September 3, 2017, President Rodrigo Duterte said the family of the late dictator Ferdinand Marcos is "ready to return" their wealth to the government, possibly through a settlement.
Death
In his dying days, Marcos was visited by Vice President Salvador Laurel. During the meeting with Salvador Laurel, Marcos offered 90% of his possessions back to the Filipino people in exchange for being buried back in the Philippines beside his mother, an offer also disclosed to Enrique Zobel. However, Marcos's offer was rebuffed by the Aquino government.
Marcos died in Honolulu on the morning of September 28, 1989, of kidney, heart, and lung ailments. Marcos was interred in a private mausoleum at Byodo-In Temple on the island of Oahu where his remains were visited daily by the Marcos family, political allies and friends.
The Aquino government refused to allow Marcos's body to be brought back to the Philippines. The body was only brought back to the Philippines 4 years after Marcos's death during the term of President Fidel Ramos.
From 1993 to 2016, his remains were interred inside a refrigerated crypt in Ilocos Norte, where his son, Ferdinand Jr., and eldest daughter, Imee have since become the local governor and congressional representative, respectively. A large bust of Ferdinand Marcos (inspired by Mount Rushmore) was commissioned by the tourism minister, Jose Aspiras, and carved into a hillside in Benguet. It was subsequently destroyed; suspects included left-wing activists, members of a local tribe who had been displaced by construction of the monument, and looters hunting for the legendary Yamashita treasure.
Opinion on his burial remains split: 50 percent of the 1,800 respondents of a survey conducted by SWS in February 2016 said Marcos "was worthy to be buried at the Libingan ng mga Bayani" while the other half rejected a hero's burial, calling him a "thief".
On November 18, 2016, the remains of Marcos was buried at the Heroes' Cemetery despite opposition from various groups. The burial came as unexpected to many, as the Supreme Court's ruling still allowed 15 days for the opposition to file a motion for reconsideration. On the morning of November 18, using Philippine Armed Forces choppers, his family and their supporters flew his remains from Ilocos to Manila for a private burial.
Various protest groups formed immediately upon news of the burial. Among those who gathered to opposed the burial was a group of youth. The League of Filipino Students described the transfer of Marcos remains for the eventually successful burial the former president as being done like "a thief in the night." They also criticized the government's involvement in the burial of the former president which they describe as a "fascist dictator". The Kabataan Partylist condemn the burial labeling it as a "grave travesty" and as "galawang Hokage" (lit. Hokage move; Hokage is a high-ranked ninja in the Naruto anime franchise).
National
: Chief Commander of the Philippine Legion of Honor (September 11, 1972)
Man of the Year 1965, Philippine Free Press (January 1, 1966)
Foreign
Guinness World Records (with wife, Imelda): largest-ever theft: USD860.8 million "salted away" identified in April 23, 1986 with total stolen since November 1965, an estimated 5 to 10 billion dollars.
Gabon: Grand Cross of the Order of the Equatorial Star (July 8, 1976)
Indonesia: Star of Indonesia, First Class (January 12, 1968)
Japan: Grand Cordon of the Supreme Order of the Chrysanthemum (September 20, 1966)
Jordan: Grand Collar of the Order of al-Hussein bin Ali (March 1, 1976)
Sovereign Military Order of Malta: Grand Cross of the Order pro merito Melitensi
Romania: Order of the Star of the Romanian Socialist Republic (April 9, 1975)
Singapore: Order of Temasek, First Class (January 15, 1974)
Knight of the Collar of the Order of Isabella the Catholic (December 22, 1969)
Knight Grand Cross of the Order of Military Merit- White Decoration (February 18, 1974)
Thailand: Knight of the Most Auspicious Order of the Rajamitrabhorn (January 15, 1968)
Thammasat University: Honorary degree of Doctor of Laws (LLD) honoris causa (January 15, 1968)
Infrastructure and monuments
Marcos's government built a large number of widely publicized infrastructure projects and monuments using foreign currency loans and at great taxpayer cost. This focus on infrastructure, which critics saw as a propaganda technique, eventually earned the colloquial label "edifice complex".
These including hospitals like the Philippine Heart Center, Lung Center, and Kidney Center, transportation infrastructure like San Juanico Bridge, Pan-Philippine Highway, North Luzon Expressway, South Luzon Expressway, and Manila Light Rail Transit (LRT), and 17 hydroelectric and geothermal power plants to lessen the country's dependency on oil. By 1983, the Philippines became the second largest producer of geothermal power in the world with the commissioning of the Tongonan 1 and Palinpinon 1 geothermal plants. According to UP Economics Professor Dr. Sicat, "a study of infrastructure construction by various presidents shows that Marcos was the president who made the largest infrastructure investment. This is not because he was the longest-serving leader of the country alone. On a per-year basis, he led all the presidents. Only Fidel Ramos had bested him in road building for a period of one year". On the education front, 47 state colleges and universities were built during the Marcos administration, which represents over 40% of all the existing 112 state colleges and universities in the country. To help transform the country's agricultural-based economy to a Newly industrialized country, he spearheaded the development of 11 heavy industrialization projects including steel, petrochemical, cement, pulp and paper mill, and copper smelter. Cultural and heritage sites like the Cultural Center of the Philippines, Nayong Pilipino, and Philippine International Convention Center were built.
Laws
Likewise, the country crafted a large number of decrees, laws, and edicts during Marcos's term. From 1972 to 1986, the Marcos Administration codified laws through 2,036 Presidential Decrees, an average of 145 per year during the 14-year period. To put this into context, only 14, 12, and 11 laws were passed in 2015, 2014 and 2013, respectively. A large amount of the laws passed during the term of Marcos remain in force today and are embedded in the country's legal system.
Marcos, together with agriculture minister and Harvard-educated Arturo Tanco and later on Salvador Escudero Jr., was instrumental in the Green Revolution in the Philippines and initiated an agricultural program called Masagana 99, improving agricultural productivity and enabling the country to achieve rice sufficiency in the late 1970s.
Authored works
National discipline: the key to our future (1970)
Today's Revolution: Democracy (1971)
Notes on the New Society of the Philippines (1973)
Tadhana: the history of the Filipino People (1977, 1982)
The democratic revolution in the Philippines (1977)
Five years of the new society (1978)
President Ferdinand E. Marcos on law, development and human rights (1978)
President Ferdinand E. Marcos on agrarian reform (1979)
An Ideology for Filipinos (1980)
An introduction to the politics of transition (1980)
Marcos's Notes for the Cancun Summit, 1981 (1981)
Progress and Martial Law (1981)
The New Philippine Republic: A Third World Approach to Democracy (1982)
Toward a New Partnership: The Filipino Ideology (1983)
A Trilogy on the Transformation of Philippine Society (1988)
Reparations
In 1995, some 10,000 Filipinos won a U.S. class-action lawsuit filed against the Marcos estate. The claims were filed by victims or their surviving relatives consequent on torture, execution, and disappearances.
The Swiss government, initially reluctant to respond to allegations that stolen funds were held in Swiss accounts, has returned $684 million of Marcos's stash.
Corazon Aquino repealed many of the repressive laws that had been enacted during Marcos's dictatorship. She restored the right of access to habeas corpus, repealed anti-labor laws and freed hundreds of political prisoners.
From 1989 to 1996, a series of suits were brought before U.S. courts against Marcos and his daughter Imee, alleging that they bore responsibility for executions, torture, and disappearances. A jury in the Ninth Circuit Court awarded USD2 billion to the plaintiffs and to a class composed of human rights victims and their families. On June 12, 2008, the U.S. Supreme Court (in a 7–2 ruling penned by Justice Anthony Kennedy in Republic of the Philippines v. Mariano Pimentel) held that: "The judgment of the Court of Appeals for the Ninth Circuit is reversed, and the case is remanded with instructions to order the District Court to dismiss the interpleader action." The court dismissed the interpleader lawsuit filed to determine the rights of 9,500 Filipino human rights victims (1972–1986) to recover USD35 million, part of a USD2 billion judgment in U.S. courts against the Marcos estate, because the Philippines government is an indispensable party, protected by sovereign immunity. The Philippines government claimed ownership of the funds transferred by Marcos in 1972 to Arelma S.A., which invested the money with Merrill Lynch, Pierce, Fenner & Smith Inc., in New York.
In July 2017, the Philippine Court of Appeals rejected the petition seeking to enforce the United States court decision that awarded the $2 billion in compensation to human rights victims during the term of former President Ferdinand Marcos.
Legacy
Marcos left a mixed legacy for future generations. On one hand, many laws written by Marcos are still in force and in effect. Out of thousands of proclamations, decrees, and executive orders, only a few were repealed, revoked, modified or amended. On the other, his twenty years in power represent the bloodiest in the history of Philippines, with more extra judicial killings of civic people than those that occurred during parallel Latin American dictators like Pinochet. More importantly, many people who rose to power under Marcos continued to remain in power or even ascended higher after his exile, thus leaving a further imprint on present-day Filipino affairs. One of these was Fidel Ramos, a general promoted by Marcos who supervised many terror killings and tortures, who later switched sides and subsequently fought elections and became president himself.
I often wonder what I will be remembered in history for. Scholar? Military hero? Builder? The new constitution? Reorganization of government? Builder of roads, schools? The green revolution? Uniter of variant and antagonistic elements of our people? He brought light to a dark country? Strong rallying point, or a weak tyrant?
Massive foreign loans also enabled Marcos to build more schools, hospitals and infrastructure than all of his predecessors combined, but at great cost. Today, according to Ibon Foundation, a left-leaning think tank that advocated the government to default on its debt, Filipino citizens are still bearing the heavy burden of servicing public debts incurred during Marcos's administration, with ongoing interest payments on the loan schedule by the Philippine government estimated to last until 2025–59 years after Marcos assumed office and 39 years after he was kicked out.
Corazon Aquino had an opportunity to default and not pay foreign debt incurred during the Marcos administration. However, due to Finance Secretary Jaime Ongpin's warning on the consequences of a debt default, which includes isolating the country from the international financial community and hampering the economic recovery, Corazon Aquino honored all the debts incurred during the Marcos Administration, contrary to expectations of left-learning organizations like Ibon foundation which advocated for non-payment of debt. Jaime Ongpin, who is a brother of Marcos trade minister Roberto Ongpin, was later dismissed by Cory Aquino and later died in an apparent suicide after "he had been depressed about infighting in Aquino's cabinet and disappointed that the 'People Power' uprising which had toppled dictator Ferdinand Marcos had not brought significant change".
In the 2004 Global Transparency Report, Marcos appeared in the list of the World's Most Corrupt Leaders, listed in second place behind Suharto, the former President of Indonesia.
The amount of theft perpetrated by Marcos's regime was probably less than that by Suharto on Indonesia, but harmed our country more because the sums stolen by Marcos were sent out of the country, whereas Suharto's loot mostly were invested in Indonesia.
According to Jovito Salonga, monopolies in several vital industries were created and placed under the control of Marcos cronies, such as the coconut industries (under Eduardo Cojuangco Jr. and Juan Ponce Enrile), the tobacco industry (under Lucio Tan), the banana industry (under Antonio Floirendo), the sugar industry (under Roberto Benedicto), and manufacturing (under Herminio Disini and Ricardo Silverio). The Marcos and Romualdez families became owners, directly or indirectly, of the nation's largest corporations, such as the Philippine Long Distance Company (PLDC), of which the present name is Philippine Long Distance Telephone (PLDT), Philippine Airlines (PAL), Meralco (an electric company), Fortune Tobacco, numerous newspapers, radio and TV broadcasting companies (such as ABS-CBN), several banks (most notably the Philippine Commercial and Industrial Bank; PCIBank of the Lopezes [now BDO after merging with Equitable Bank and after BDO acquired the merged Equitable PCI]), and real estate in New York, California and Hawaii. The Aquino government also accused them of skimming off foreign aid and international assistance.
During the ICIJ's (International Consortium of Investigative Journalists) expose of offshore leaks in April 2013, the name of his eldest daughter, Imee Marcos, appeared on the list of wealthy people involved in offshore financial secrecy. It was revealed that she is hiding parts of her father's ill-gotten wealth in tax havens in the British Virgin Islands.
Comparisons have also been made between Ferdinand Marcos and Lee Kuan Yew's authoritarian style of governance and Singapore's success, but in his autobiography, From Third World to First: The Singapore Story: 1965–2000, Lee relates:
It is a soft, forgiving culture. Only in the Philippines could a leader like Ferdinand Marcos, who pillaged his country for over 20 years, still be considered for a national burial. Insignificant amounts of the loot have been recovered, yet his wife and children were allowed to return and engage in politics.
According to Presidential Commission on Good Government, the Marcos family and their cronies looted so much wealth from the Philippines that, to this day, investigators have difficulty determining precisely how many billions of dollars were stolen. The agency claimed that Marcos stole around $5 to $10 billion from the Philippine treasury. Adjusted for inflation, this would be equivalent to about USD11.16 to USD22.3 billion or over 550 billion to 1.1 trillion Philippine pesos in 2017.
References
Ferdinand Marcos Wikipedia
(Text) CC BY-SA