Dialing code

+1




ISO code

GUM




Continent

Oceania




Currency

United States Dollar




Area

- Total541.3 km2 209 sq mi


Capital

Hagåtña




Population

- 2010 census159,358




Points of interest

UnderWater World Guam, Ritidian Point, Cocos Island, Dulce Nombre de Maria Cathedral Basilica, Mount Lamlam




Destinations

Tamuning, Dededo, Talofofo, Hagåtña, Piti





Similar

Saipan, American Samoa, Palau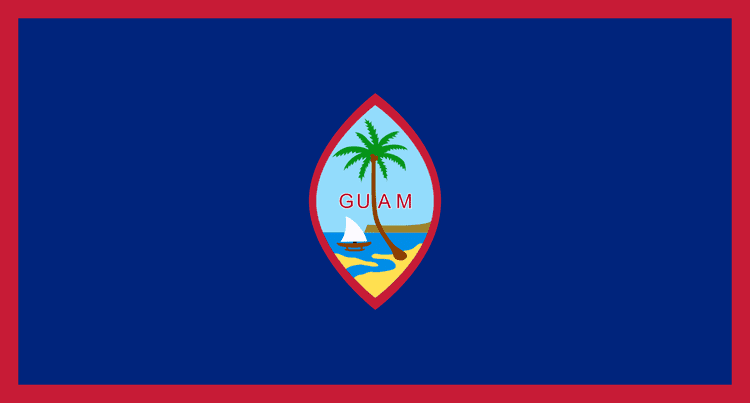 Guam ( or Chamorro: ) is an organized, unincorporated territory of the United States in the western Pacific Ocean. It is one of five U.S. territories with an established civilian government. Guam is listed as one of seventeen Non-Self-Governing Territories by the Special Committee on Decolonization of the United Nations. The islands capital is Hagåtña (formerly rendered Agana). Guam is the largest and southernmost of the Mariana Islands.
Contents
Map of Guam
The Chamorros, Guams indigenous people, first populated the island approximately 4,000 years ago. The island has a long history of European colonialism, beginning with its discovery for Europe by Ferdinand Magellan during a Spanish expedition on March 6, 1521. The first colony was established in 1668 by Spain with the arrival of settlers including Padre San Vitores, a Catholic missionary. For more than two centuries Guam was an important stopover for the Spanish Manila Galleons that crossed the Pacific annually. The island was controlled by Spain until 1898, when it was surrendered to the United States during the Spanish–American War and later formally ceded as part of the Treaty of Paris.
July 2014 gopro project guam usa
Guam is the largest island in Micronesia and was the only U.S.-held island in the region before World War II. Guam was captured by the Japanese on December 8, 1941, just hours after the attack on Pearl Harbor, and was occupied for two and a half years. During the occupation, the people of Guam were subjected to acts that included forced labor, torture, beheadings, and rape, and were forced to adopt the Japanese culture. Guam was subject to fierce fighting when U.S. troops recaptured the island on July 21, 1944, a date commemorated every year as Liberation Day.
Guam restaurants guam mobile restaurant sites restaurants in guam
Today, Guams economy is supported by its principal industry, tourism, which is composed primarily of visitors from Japan. Guams second largest source of income is the United States Armed Forces.
History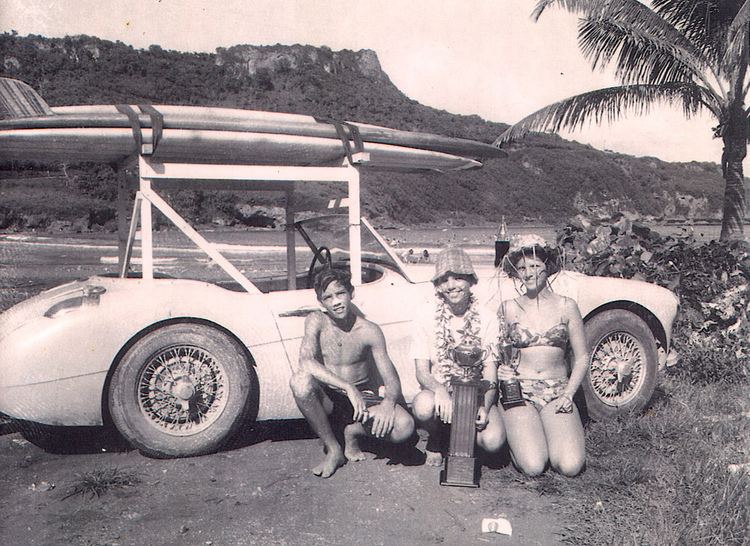 The original inhabitants of Guam and the Northern Mariana Islands are believed to be descendents of Austronesian people originating from Southeast Asia as early as 2000 BC. These people evolved into the Chamorro people.
Ancient Chamorro society had four classes: chamorri (chiefs), matua (upper class), achaot (middle class), and manachang (lower class). The matua were located in the coastal villages, which meant they had the best access to fishing grounds, whereas the manachang were located in the interior of the island. Matua and manachang rarely communicated with each other, and matua often used achaot as an intermediary. There were also "makåhna" (similar to shamans), skilled in healing and medicine. Belief in spirits of ancient Chamorros called "Taotao mona" still persists as a remnant of pre-European culture. Society was organized along matrilineal clans.
Latte stones are stone pillars that are found only in the Mariana Islands and are a recent development in Pre-Contact Chamorro society. The latte stone was used as a foundation on which thatched huts were built. Latte consist of a base shaped from limestone called the haligi and with a capstone, or tåsa, made either from a large brain coral or limestone, placed on top. A possible source for these stones, the Rota Latte Stone Quarry, was discovered in 1925 on Rota.
Geography
Guam lies between 13.2°N and 13.7°N and between 144.6°E and 145.0°E, and has an area of 212 square miles (549 km2), making it the 32nd largest island of the United States. It is the southernmost and largest island in the Mariana island chain and is also the largest island in Micronesia. This island chain was created by the colliding Pacific and Philippine Sea tectonic plates. Guam is the closest land mass to the Mariana Trench, a deep subduction zone, that lies beside the island chain to the east. Challenger Deep, the deepest surveyed point in the Oceans, is southwest of Guam at 35,797 feet (10,911 meters) deep. The highest point in Guam is Mount Lamlam at an elevation of 1,334 feet (407 meters).

The island of Guam is 30 miles (50 km) long and 4 to 12 miles (6 to 19 km) wide, 3?4 the size of Singapore. The island experiences occasional earthquakes due to its location on the western edge of the Pacific Plate and near the Philippine Sea Plate. In recent years, earthquakes with epicenters near Guam have had magnitudes ranging from 5.0 to 8.7. Unlike the Anatahan volcano in the Northern Mariana Islands, Guam is not volcanically active. However, due to its proximity to Anatahan, vog (i.e. volcanic smog) does occasionally affect Guam.
A coral table reef with deepwater channels surrounds most of Guam. Sandy beaches, rock cliff lines and mangroves characterize the coastline area. Sheer limestone coastal cliffs dominate the north, while the southern end of the island is mountainous, with lower hills in between.
Culture
Post European contact Chamorro culture is a combination of American, Spanish, Filipino, other Micronesian Islander and Mexican traditions, with few remaining indigenous pre-Hispanic customs. These influences are manifested in the local language, music, dance, sea navigation, cuisine, fishing, games (such as batu, chonka, estuleks, and bayogu), songs and fashion. During Spanish colonial rule (1668–1898) the majority of the population was converted to Roman Catholicism and religious festivities such as Easter and Christmas became widespread. Post-contact Chamorro cuisine is largely based on corn, and includes tortillas, tamales, atole and chilaquiles, which are a clear influence from Spanish trade between Mesoamerica and Asia. The modern Chamorro language is a Malayo-Polynesian language with much Spanish and Filipino influence. Many Chamorros also have Spanish surnames because of their conversion to Roman Catholic Christianity and the adoption of names from the Catálogo alfabético de apellidos, a phenomenon also common to the Philippines.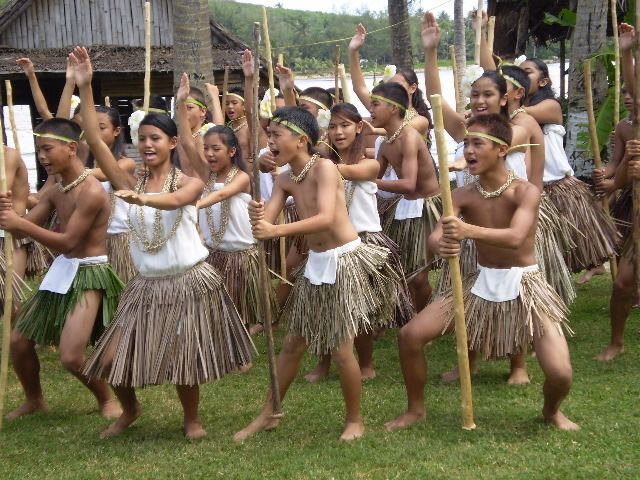 Due to foreign cultural influence from Spain, most aspects of the early indigenous culture have been lost, though there has been a resurgence in preserving any remaining pre-Hispanic culture in the last few decades. Some scholars have traveled throughout the Pacific Islands conducting research to study what the original Chamorro cultural practices such as dance, language, and canoe building may have been like.
Two aspects of indigenous pre-Hispanic culture that withstood time are chenchule and inafamaolek. Chenchule is the intricate system of reciprocity at the heart of Chamorro society. It is rooted in the core value of inafamaolek. Historian Lawrence Cunningham in 1992 wrote, "In a Chamorro sense, the land and its produce belong to everyone. , or interdependence, is the key, or central value, in Chamorro culture ... depends on a spirit of cooperation and sharing. This is the armature, or core, that everything in Chamorro culture revolves around. It is a powerful concern for mutuality rather than individualism and private property rights."
The core culture or Pengngan Chamorro is based on complex social protocol centered upon respect: From sniffing over the hands of the elders (called mangnginge in Chamorro), the passing down of legends, chants, and courtship rituals, to a person asking for permission from spiritual ancestors before entering a jungle or ancient battle grounds. Other practices predating Spanish conquest include galaide canoe-making, making of the belembaotuyan (a string musical instrument made from a gourd), fashioning of slings and slingstones, tool manufacture, burial rituals, and preparation of herbal medicines by Suruhanu.
Master craftsmen and women specialize in weavings, including plaited work (niyok- and åkgak-leaf baskets, mats, bags, hats, and food containments), loom-woven material (kalachucha-hibiscus and banana fiber skirts, belts and burial shrouds), and body ornamentation (bead and shell necklaces, bracelets, earrings, belts and combs made from tortoise shells) and Spondylus.
The cosmopolitan and multicultural nature of modern Guam poses challenges for Chamorros struggling to preserve their culture and identity amidst forces of acculturation. The increasing numbers of Chamorros, especially Chamorro youth, relocating to the U.S. Mainland has further complicated both definition and preservation of Chamorro identity. While only a few masters exist to continue traditional art forms, the resurgence of interest among the Chamorros to preserve the language and culture has resulted in a growing number of young Chamorros who seek to continue the ancient ways of the Chamorro people.
Economy
Guams economy depends primarily on tourism, Department of Defense installations and locally owned businesses. Despite paying no income or excise tax, it receives large transfer payments from the general revenues of the U.S. federal treasury. Under the provisions of a special law of Congress, it is Guams treasury rather than the U.S. treasury that receives the federal income taxes paid by local taxpayers (including military and civilian federal employees assigned to Guam).
Home guam cookin at terrys local comfort food
Pancit guam pancit canton recipe
Guam is good wine, art & food festival this friday
References
Guam Wikipedia
(Text) CC BY-SA
(,)https://farm3.staticflickr.com/2776/4079135117_b1868130bb_b.jpg(,)http://www.guam-online.com/gallery/landmarks/tailafak.jpg(,)http://www.guam-online.com/gallery/landmarks/latte_01.jpg(,)http://www.guam-online.com/gallery/landmarks/plaza_03.jpg(,)http://ns.gov.gu/icons/chamorros.in.ancient.guam.jpg(,)http://www.pacificnewscenter.com/images/stories/640_Early_Guam_Photos.jpg(,)http://2.bp.blogspot.com/_2IrK3R3NtyQ/TRFCoLQCv-I/AAAAAAAAADY/VPZRzvzllkA/s1600/map18752.png(,)https://farm3.staticflickr.com/2463/3986702082_f360177a11_z.jpg%3Fzz%3D1(,)http://i.ytimg.com/vi/VDMLyTk4gZM/hqdefault.jpg(,)https://farm3.staticflickr.com/2674/4006789505_7bd6608eb7_z.jpg%3Fzz%3D1
(,)http://www.beckiemerrill.com/website/wp-content/uploads/2013/04/MG_2328-blog.png(,)http://farm5.static.flickr.com/4058/4242068895_be9c2f5f60_b.jpg(,)http://ronolinger.com/wp-content/uploads/2010/12/IMG_1102.jpg(,)http://static2.stuff.co.nz/1365376330/683/8522683.jpg(,)http://farm3.static.flickr.com/2625/4149456290_f3cb95ea29_b.jpg(,)http://www.tmyun.com/mid/yun_3475.jpg(,)http://aminus3.s3.amazonaws.com/image/g0006/u00005681/i00151659/3c5df645cbe764cc385e2da942326a03_large.jpg(,)https://c1.staticflickr.com/3/2268/2415916169_deabf46efd.jpg(,)http://farm3.static.flickr.com/2129/2433851027_6077224962.jpg(,)http://mw2.google.com/mw-panoramio/photos/medium/20319856.jpg(,)http://www.wondermondo.com/Images/Oceania/Guam/Guam/GuamSunset.jpg(,)http://brianaabrahms.files.wordpress.com/2013/04/capture1.jpg
(,)http://theguamguide.com/wp-content/uploads/Red-Rice-600.jpg(,)https://s-media-cache-ak0.pinimg.com/736x/d7/d0/91/d7d091afa8ddbf2c26ed3c49851cdb65.jpg(,)http://guam.stripes.com/sites/guam.stripes.com/files/styles/news_node/public/stuffing_0.jpg%3Fitok%3Dg_USeP9X(,)http://abcfoodguide.com/images/client/napu-beef1.jpg(,)http://www.danur.com/ribs.gif(,)http://tasithoughts.files.wordpress.com/2010/11/food1.jpg(,)http://theguamguide.com/wp-content/uploads/Kadon-Pika-600.jpg(,)http://www.stripes.com/polopoly_fs/1.211507.1363102212!/image/image.jpg_gen/derivatives/landscape_804/image.jpg(,)http://guam.stripes.com/sites/guam.stripes.com/files/styles/restaurant_guide_slideshow_pmd_guam/public/onobbq_0.jpg%3Fitok%3D6OE_WeiR(,)http://www.travelgrove.com/blog/wp-content/uploads/keleguen.jpg(,)http://outoftownblog.com/wp-content/uploads/2012/02/Guam-Breakfast.jpg(,)http://tasithoughts.files.wordpress.com/2008/09/1542132861_36e0f77df8.jpg(,)http://guam.stripes.com/sites/guam.stripes.com/files/styles/restaurant_guide_slideshow_pmd_guam/public/Terry%27s-local_web_0.jpg%3Fitok%3DqXHAmjtR
(,)http://media.utsandiego.com/img/photos/2015/03/25/chamarro_r620x349.jpg%3F75d51d0aea2efce5189afce216053cbc530c46a8(,)http://therealrevo.com/blog/wp-content/uploads/2008/02/gng.jpg(,)http://news.outrigger.com/wp-content/uploads/2014/04/Screen-Shot-2014-04-22-at-11.31.27-AM.png(,)http://2camels.com/festival-photos/liberation-day-guam.jpg(,)http://blog.indianholiday.com/wp-content/uploads/2014/09/Onam-Festival.jpg(,)http://svcdn.simpleviewinc.com/v3/cache/www_visitguam_com/135AACE59E36071642BEDFAFABAFCAB9.jpg(,)http://www.jaunted.com/files/34094/mudfestival.jpg(,)http://svcdn.simpleviewinc.com/v3/cache/www_visitguam_com/F5A5B7670FD55909F353EE84B7C36DAC.jpg
(,)http://www.picresorts.com/d/guam/media/Optimised/General_images/__thumbs_728_486_crop/Culture_Activity.jpg(,)http://tasithoughts.files.wordpress.com/2008/10/yrkykdancers.jpg(,)http://guam.stripes.com/sites/guam.stripes.com/files/styles/news_node/public/Guam-flag_0.jpg%3Fitok%3DDGZrCeuI(,)http://www.guam-online.com/gallery/landmarks/umatacbridge_01.jpg(,)http://www.travelmagma.com/uploads/images/4a.jpeg(,)http://guam.stripes.com/sites/guam.stripes.com/files/styles/news_node/public/asia-pac-culture_0.jpg%3Fitok%3DTwqW05E-(,)http://www.jamrockmagazine.com/wp-content/uploads/2012/07/guam1-515x343.jpg
(,)https://c2.staticflickr.com/8/7276/6884453936_7bd32aeeb4_z.jpg(,)http://media-cdn.tripadvisor.com/media/photo-s/01/28/d3/34/reef-hotel-pool.jpg(,)http://www.iexplore.com/sites/default/files/destination_hero/1133093_660x250.jpg(,)http://www.shanecurrie.id.au/photogallery/misc1/Guam_Map_1.gif(,)http://ladiesonthego.ca/wp-content/uploads/machur.jpg(,)http://www.traveldailynews.asia/uploads/images/GUAM1.jpg(,)http://www.amillionlives.net/wp-content/uploads/2011/08/Guam-Tourism.jpg(,)http://www.easyvoyage.co.uk/images/attractions/1355/570x360/12267.jpg(,)http://paramounttravel.com/wp-content/uploads/2013/01/RockandsquaretunnelTumon.jpg(,)http://www.marcburba.com/img/guam8.jpg(,)http://tours-tv.com/uploads/2/photo-Tourist-Attractions-on-Guam-1.jpg(,)https://static.groupon.hk/67/34/1317468353467.jpg(,)http://www.leeabbamonte.com/wp-content/uploads/2010/05/guam-me-on-steer.bmp