Occupation

Actress




Website

www.virginiamayo.com




Children

Mary Catherine O'Shea




Religion

Roman Catholicism


Height

1.65 m




Political party

Republican


Role

Actress




Years active

1939–1997




Name

Virginia Mayo








Full Name

Virginia Clara Jones




Born

November 30, 1920 (

1920-11-30

)

St. Louis, Missouri, U.S.




Died

January 17, 2005, Thousand Oaks, California, United States


Spouse

Michael O'Shea (m. 1947–1973)


Movies

White Heat, The Best Years of Our Lives, Captain Horatio Hornblower, Colorado Territory, The Flame and the Arrow


Similar People

Michael O'Shea, Danny Kaye, Raoul Walsh, James Cagney, Dorothy Malone
Virginia mayo rare 1984 tv interview skip e lowe
Virginia Mayo (born Virginia Clara Jones; November 30, 1920 – January 17, 2005) was an American actress and dancer. Best known for a series of comedy films with Danny Kaye, Mayo was Warner Brothers' biggest box-office money-maker in the late 1940s. She also co-starred in the 1946 Oscar-winning movie The Best Years of Our Lives.
Contents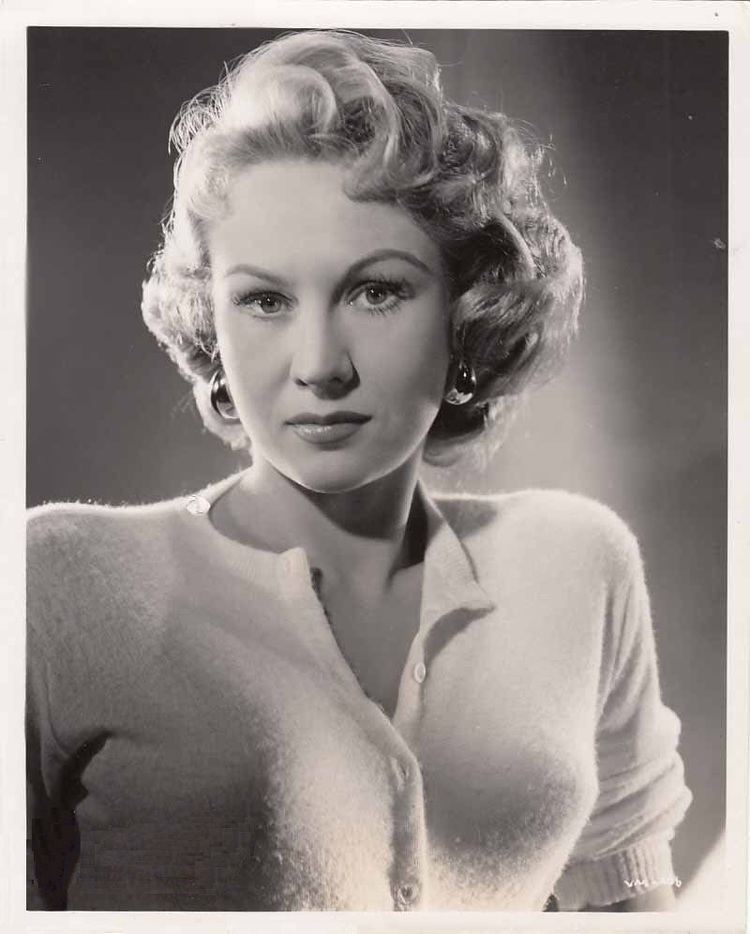 Movie Legends - Virginia Mayo
Early life and career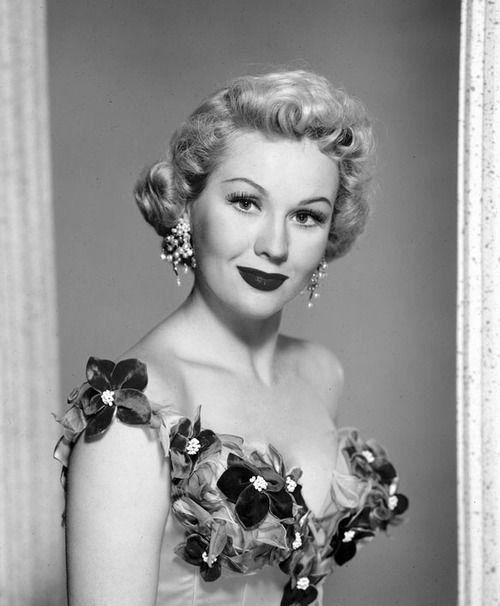 Born Virginia Clara Jones in St. Louis, Missouri, she was the daughter of newspaper reporter Luke and wife, Martha Henrietta (née Rautenstrauch) Jones. Her family had roots back to the earliest days of St Louis, including great-great-great grandfather Captain James Piggott, who founded East St. Louis, Illinois, in 1797. Young Virginia's aunt operated an acting school in the St Louis area, which Virginia began attending at age six. She also was tutored by a series of dancing instructors engaged by her aunt.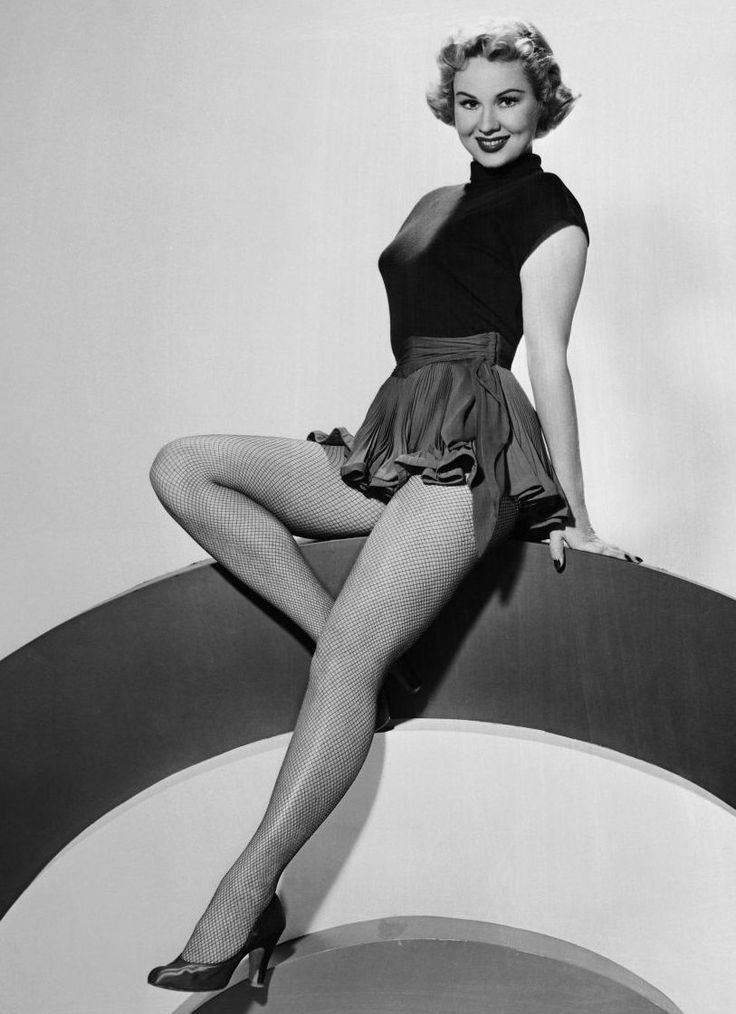 Following her graduation from Soldan High School in 1937, Jones landed her first professional acting and dancing jobs at the St Louis Municipal Opera and in an act with six other girls at the Hotel Jefferson. Impressed with her ability, her brother-in-law, vaudeville performer, Andy Mayo, recruited her to appear in his act "Morton and Mayo". Jones toured the American vaudeville circuit for three years, serving as ringmaster and comedic foil for "Pansy the Horse", as Mayo and his partner, Nonnie Morton, performed in a horse suit. In 1941 Jones, now known by the stage name Virginia Mayo, got another career break as she appeared on Broadway with Eddie Cantor in Banjo Eyes.
Hollywood stardom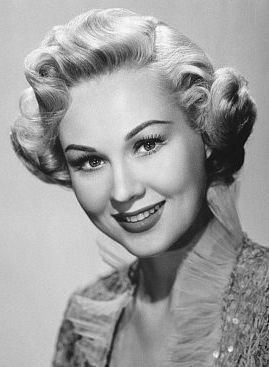 In the early 1940s, Virginia Mayo's talent and striking beauty came to the attention of movie mogul Samuel Goldwyn, who signed her to an acting contract with his company. One of her first films was the 1943 hit Jack London, which starred her future husband Michael O'Shea. Other roles soon followed as she became a popular actress who personified the dream girl or girl-next-door image in a series of films. A beneficiary of the Technicolor film process, it was said that audiences—particularly males—would flock to theaters just to see her blonde hair and classic looks on-screen. Her first starring role came in 1944 opposite comedian Bob Hope in The Princess and the Pirate. Remaining in the comedy genre, Mayo had several popular on-screen pairings with dancer-actor Danny Kaye, including Wonder Man (1945), The Kid from Brooklyn (1946), and The Secret Life of Walter Mitty (1947).
Going against previous stereotype, Mayo accepted the supporting role of unsympathetic, gold-digger Marie Derry in William Wyler's drama The Best Years of Our Lives (1946). Her performance drew favorable reviews from critics, as the film also became the highest-grossing film inside the US since Gone with the Wind. At the zenith of her career, Mayo was seen as the quintessential voluptuous Hollywood beauty. It was said that she "looked like a pinup painting come to life". According to widely published reports from the late 1940s, the Sultan of Morocco declared her beauty to be "tangible proof of the existence of God." She would continue a series of dramatic performances in the late 1940s in films such as Smart Girls Don't Talk (1948). Virginia Mayo was a constant fixture in the movie theaters in 1949 as she co-starred in many movies all released that year. Among them were Flaxy Martin, opposite Joel McCrea in the western Colorado Territory, co-starred with future United States President Ronald Reagan in The Girl from Jones Beach, and with comedian Milton Berle in Always Leave Them Laughing. Mixing drama with comedy roles all year, Mayo received rave reviews for her performance alongside James Cagney and Edmond O'Brien in 1949's White Heat and received equally impressive reviews for co-starring with George Raft in Roy Del Ruth's Red Light that same year. In a later interview, Mayo admitted she was frightened by Cagney as the psychotic gunman in White Heat because he was so realistic.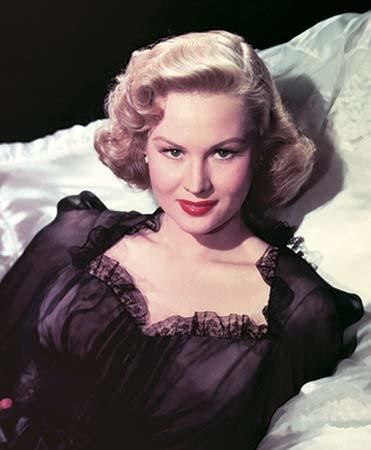 At the beginning of the 1950s, Mayo scored success with the adventure film The Flame and the Arrow (1950) with Burt Lancaster. She co-starred again with James Cagney and a young Doris Day in The West Point Story (1950), singing and dancing with Cagney, and appeared in the all-star cast of Starlift (1951). She starred opposite Dennis Morgan in David Butler's Technicolor musical, Painting the Clouds with Sunshine (1951) which was a moderate success. While Mayo appeared in several musicals, using her training in dance, her voice was always dubbed.
During the rest of the 1950s, Mayo continued to appear in films with varying genres. In 1953, she appeared in the comedy-drama-action film South Sea Woman with Burt Lancaster and Chuck Connors. She played Helena in Victor Saville's The Silver Chalice (1954) opposite Pier Angeli and Paul Newman in his film debut. Mayo co-starred with Rex Harrison and George Sanders in King Richard and the Crusaders (1954). Mayo played Cleopatra in the 1957 fantasy film The Story of Mankind with Vincent Price, Hedy Lamarr, Cesar Romero, Agnes Moorehead, and the Marx Brothers. She appeared as Celia Grey in the 1958 western, Fort Dobbs, with Clint Walker and Brian Keith. Her last film of the decade was 1959's Jet Over the Atlantic with Guy Madison and George Raft.
Later career
By the 1960s Mayo's film career had tapered off considerably, although she continued to appear in films throughout the next several decades, with one of her last prominent roles being in Fort Utah (1967) with John Ireland. She was also one of the several stars to make a cameo appearance in the all-star box office bomb Won Ton Ton, the Dog Who Saved Hollywood (1976). Her final film appearance was in the 1997 film The Man Next Door. Later in life, Mayo appeared in stage and musical theater productions, often with her husband, Michael O'Shea (who co-starred in such stage productions as Tunnel of Love, Fiorello, and George Washington Slept Here). Mayo also enjoyed notoriety in the 1970s and 1980s as a television guest star in the hit shows The Love Boat, Remington Steele, and Murder, She Wrote, and a dozen episodes of the soap opera Santa Barbara.
Mayo was one of the first to be awarded a star on the Hollywood Walk of Fame. Hers is located at 1751 Vine Street. In 1996, Mayo was honored by her hometown as she received a star on the St. Louis Walk of Fame.
Personal life
Mayo wed Michael O'Shea in 1947, and they remained married until his death in 1973. The couple had one child, Mary Catherine O'Shea (born 1953). The family lived for several decades in Thousand Oaks, California. In later years she developed a passion for painting and also occupied her time doting on her three grandsons. She converted to Roman Catholicism by way of Archbishop Fulton J. Sheen. A lifelong Republican, she endorsed Richard Nixon in 1968 and 1972, and longtime friend Ronald Reagan in 1980.
Death
Mayo died of pneumonia and complications of congestive heart failure in Los Angeles on January 17, 2005, aged 84, at a nursing home in Thousand Oaks. Her death was reported the next day in the New York Times. She is buried next to her husband in Pierce Brothers Valley Oaks Park in Westlake Village, California.
Short subjects
Gals and Gallons (1939)
So You Think You're Not Guilty (1950)
Screen Snapshots: Hollywood Night Life (1952)
Screen Snapshots: Salute to Hollywood (1958)
Live Theater
That Certain Girl (1967, Thunderbird Hotel, Las Vegas)
Barefoot in the Park (1968 National Company)
No, No Nanette (1972 National Company)
40 Carats (1975/May–June, Hayloft Dinner Theatre [Theater-in-the-Round], Lubbock, Texas)
Good News (1977, Paper Mill Playhouse)
Mover Over Mrs. Markham (1980 National Tour)
Butterflies Are Free (1981 Tour)
Follies (1995, Houston and Seattle)
References
Virginia Mayo Wikipedia
(Text) CC BY-SA