Occupation

Director, actor





Born

March 11, 1887 (

1887-03-11

)

New York, New York, United States

Spouse

Mary Simpson (m. 1947–1980), Lorraine Miller (m. 1928–1947),

Miriam Cooper

(m. 1916–1926)

Children

Jackie Walsh, Bobbie Walsh

Books

Each Man in His Time: The Life Story of a Director

Movies

White Heat, High Sierra, The Big Trail, The Roaring Twenties, The Thief of Bagdad




Similar People
Examining the films of raoul walsh
Raoul A. Walsh (March 11, 1887 – December 31, 1980) was an American film director, actor, founding member of the Academy of Motion Picture Arts and Sciences (AMPAS) and the brother of the silent screen actor George Walsh. He was known for portraying John Wilkes Booth in the silent classic The Birth of a Nation (1915) and for directing such films as The Big Trail (1930), starring John Wayne, High Sierra (1941), starring Ida Lupino and Humphrey Bogart; and White Heat (1949), starring James Cagney and Edmond O'Brien. He directed his last film in 1964.
Contents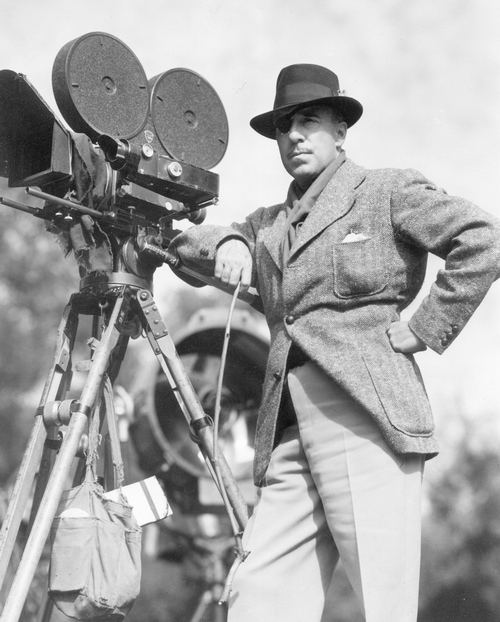 Raoul Walsh raconte The Big Trail
Life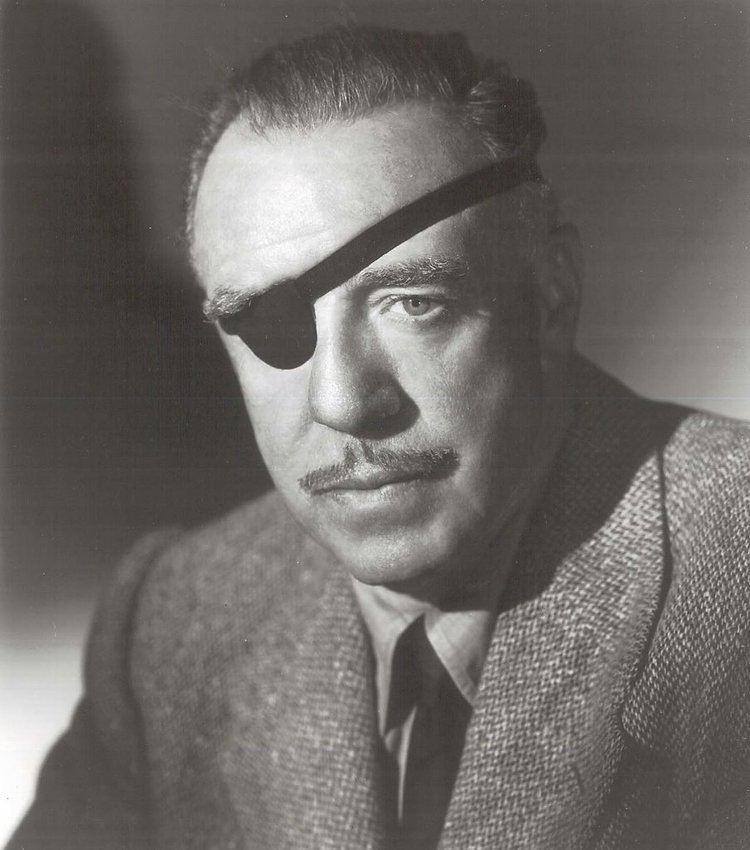 Walsh was born in New York as Albert Edward Walsh to Elizabeth T. Bruff, the daughter of Irish Catholic immigrants, and Thomas W. Walsh, an Englishman. Like his younger brother, he was part of Omega Gamma Delta in high school. Growing up in New York, Walsh was also a friend of the Barrymore family. (John Barrymore recalled spending time reading in the Walsh family library as a youth.) Later in life he lived in Palm Springs, California. He was buried at Assumption Cemetery Simi Valley, Ventura County, California.
Film career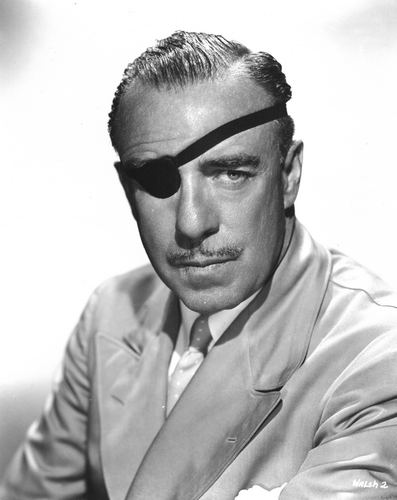 Walsh was educated at Seton Hall College. He began acting in 1909, first as a stage actor in New York City and later as a film actor. In 1914 he became an assistant to D.W. Griffith and made his first full-length feature film, The Life of General Villa, shot on location in Mexico with Pancho Villa playing the lead and with actual ongoing battles filmed in progress as well as recreations (events dramatized in the 2003 film And Starring Pancho Villa as Himself, with Kyle Chandler playing Walsh). Walsh played John Wilkes Booth in Griffith's epic The Birth of a Nation (1915) and also served as an assistant director. This was followed by the critically acclaimed Regeneration in 1915, possibly the earliest feature gangster film, shot on location in Manhattan's Bowery district.
Walsh served as an officer in the United States Army during World War I. He later directed The Thief of Bagdad (1924), starring Douglas Fairbanks and Anna May Wong, and What Price Glory? (1926), starring Victor McLaglen and Dolores del Río.
In Sadie Thompson (1928), starring Gloria Swanson as a prostitute seeking a new life in Samoa, Walsh starred as Swanson's boyfriend in his first acting role since 1915; he also directed the film. He was then hired to direct and star in In Old Arizona, a film about O. Henry's character the Cisco Kid. While on location for that film Walsh was in a car crash when a jackrabbit jumped through the windshield as he was driving through the desert; he lost his right eye as a result. He gave up the part (but not the directing job) and never acted again. Warner Baxter won an Oscar for the role Walsh was originally slated to play. Walsh would wear an eyepatch for the rest of his life.
In the early days of sound with Fox, Walsh directed the first widescreen spectacle, The Big Trail (1930), an epic wagon train western shot on location across the West. The movie starred John Wayne, then unknown, whom Walsh discovered as prop boy Marion Morrison and renamed after the Revolutionary War general Mad Anthony Wayne; Walsh happened to be reading a book about him at the time. Walsh directed The Bowery (1933), featuring Wallace Beery, George Raft, Fay Wray and Pert Kelton; the energetic movie recounts the story of Steve Brodie (Raft), supposedly the first man to jump off the Brooklyn Bridge and live to brag about it.
An undistinguished period followed with Paramount Pictures from 1935 to 1939, but Walsh's career rose to new heights after he moved to Warner Brothers, with The Roaring Twenties (1939), featuring James Cagney and Humphrey Bogart; Dark Command (1940), with John Wayne and Roy Rogers (at Republic Pictures); They Drive By Night (1940), with George Raft, Ann Sheridan, Ida Lupino and Bogart; High Sierra (1941), with Lupino and Bogart again; They Died with Their Boots On (1941), with Errol Flynn as Custer; The Strawberry Blonde (1941), with Cagney and Olivia de Havilland; Manpower (1941), with Edward G. Robinson, Marlene Dietrich and George Raft; and White Heat (1949), with Cagney. Walsh's contract at Warners expired in 1953.
He directed several films afterwards, including three with Clark Gable: The Tall Men (1955), The King and Four Queens (1956) and Band of Angels (1957). Walsh retired in 1964.
Some of Walsh's film-related material and personal papers are contained in the Wesleyan University Cinema Archives, to which scholars and media experts from around the world may have full access.
Selected filmography
Walsh replaced director Bretaigne Windust, who fell severely ill, on "The Enforcer" and shot over half the film, but refused to take screen credit.
Misc.
The Conqueror (Writer) (1917)
The Big Trail (story contributor) (uncredited) (1930)
Captain Horatio Hornblower R.N. (producer) (uncredited) (1951)
The Lawless Breed (producer) (uncredited) (1953)
Esther and the King (screenplay) (1960)
The Men Who Made the Movies: Raoul Walsh (TV Movie documentary)
Himself (1973)
Filmography
Director
1958
The Sheriff of Fractured Jaw
1958
The Naked and the Dead
1956
The King and Four Queens
1956
The Revolt of Mamie Stover
1956
Helen of Troy (uncredited)
1953
A Lion Is in the Streets
1952
Blackbeard, the Pirate
1952
The World in His Arms
1951
Along the Great Divide
1951
Captain Horatio Hornblower
1951
The Enforcer (uncredited)
1947
Stallion Road (uncredited)
1945
San Antonio (uncredited)
1945
The Horn Blows at Midnight
1943
Action in the North Atlantic (uncredited)
1942
In This Our Life (uncredited)
1941
They Died with Their Boots On
1941
The Strawberry Blonde
1937
When Thief Meets Thief
1937
You're in the Army Now
1931
The Man Who Came Back
1926
The Lady of the Harem
1923
Lost and Found on a South Sea Island (as R.A. Walsh)
1921
Serenade (as R.A. Walsh)
1920
The Deep Purple (as R.A. Walsh)
1920
The Strongest (as R.A. Walsh)
1919
Should a Husband Forgive? (as R.A. Walsh)
1918
I'll Say So (as Raoul A. Walsh)
1918
On the Jump (as R.A. Walsh)
1918
The Prussian Cur (as R.A. Walsh)
1918
The Woman and the Law (as R.A. Walsh)
1917
The Pride of New York (as R.A. Walsh)
1917
This Is the Life (as R.A. Walsh)
1917
Betrayed (as R.A. Walsh)
1917
The Innocent Sinner (as R.A. Walsh)
1917
The Silent Lie (as R.A. Walsh)
1917
The Honor System (as R.A. Walsh)
1915
Home from the Sea (Short)
1915
The Lone Cowboy (Short)
1915
The Regeneration (as R.A. Walsh)
1915
A Bad Man and Others (Short)
1915
The Celestial Code (Short)
1915
A Man for All That (Short) (as Raoul A. Walsh)
1915
The Fencing Master (Short) (as Raoul A. Walsh)
1915
The Fatal Black Bean (Short) (as Raoul A. Walsh)
1915
The Death Dice (Short)
1914
Who Shot Bud Walton? (Short)
1914
Out of the Deputy's Hands (Short) (as Raoul A. Walsh)
1914
The Double Knot (Short)
1914
The Life of General Villa (uncredited)
1913
The Pseudo Prodigal (Short) (as Raoul A. Walsh)
Actor
1949
It's a Great Feeling
as
Raoul Walsh (uncredited)
1928
Sadie Thompson
as
Sergeant Timothy O'Hara
1927
Life in Hollywood No. 5 (Short)
1927
Life in Hollywood No. 7 (Short)
1915
Home from the Sea (Short)
1915
The Smuggler (Short)
as
Connors - the Secret Service Man (as Raoul A. Walsh)
1915
A Man for All That (Short)
as
The Detective (as Raoul A. Walsh)
1915
The Outlaw's Revenge
as
The outlaw (as R.A. Walsh)
1915
The Artist's Wife (Short)
as
Undetermined Role (unconfirmed)
1915
The Greaser (Short)
as
Miguel
1915
The Fatal Black Bean (Short)
as
Undetermined Secondary Role (as Raoul A. Walsh, unconfirmed)
1915
The Birth of a Nation
as
John Wilkes Booth (uncredited)
1915
The Double Deception (Short)
1915
The Love Pirate (Short)
as
The Railroad Magnate
1914
The Old Fisherman's Story (Short)
as
Ben (as Raoul A. Walsh)
1914
The Exposure (Short)
as
Joe Reed (as Raoul A. Walsh)
1914
Who Shot Bud Walton? (Short)
as
Bud Walton
1914
They Never Knew (Short)
as
Carrol Walker (as Raoul A. Walsh)
1914
The Little Country Mouse (Short)
as
The Designing Guest
1914
Paid with Interest (Short)
as
George Watson (as Raoul A. Walsh)
1914
The Availing Prayer (Short)
as
The Doctor
1914
Out of the Deputy's Hands (Short)(as Raoul A. Walsh)
1914
Sands of Fate (Short)
as
James Holden
1914
The Unpainted Portrait (Short)
as
Jack Londell (as Raoul A. Walsh)
1914
The Final Verdict (Short)
as
King (as R.A. Walsh)
1914
Sierra Jim's Reformation (Short)
as
Sierra Jim
1914
The Second Mrs. Roebuck (Short)
as
Francis Carryl
1914
The Mystery of the Hindu Image (Short)
as
The Detective
1914
Lest We Forget (Short)(as Raoul A. Walsh)
1914
The Only Clue (Short)
as
The Detective (as Raoul A. Walsh)
1914
The Angel of Contention (Short)
as
Jack Colter
1914
The Rebellion of Kitty Belle (Short)
as
Bud Parker (as Raoul A. Walsh)
1914
The Double Knot (Short)
as
The Prospector (as Raoul A. Walsh)
1914
The Life of General Villa
as
Villa as a young man
1914
The Dishonored Medal
as
The Adopted Son (as Raoul A. Walsh)
1914
The Great Leap: Until Death Do Us Part
1914
The Banker's Daughter
1914
The Baited Trap (Short)
as
Undetermined Role (unconfirmed)
1914
When Fate Frowned (Short)
as
Dick Steele (as Raoul A. Walsh)
1914
For His Master (Short)
as
The Bad Man (as Raoul A. Walsh)
1913
The Pseudo Prodigal (Short)
as
The Prodigal's Rival (as Raoul A. Walsh)
1913
The Detective's Stratagem (Short)
as
Gang's Driver
1913
The Stranger (Short)
as
Jack Nobel (as A.E. Walsh)
Writer
1993
La femme à abattre (inspired by film "The Enforcer")
1970
The Delta Factor (uncredited)
1961
Marines, Let's Go (based on a story by)
1960
Esther and the King (screenplay)
1936
Spendthrift (screenplay)
1936
Big Brown Eyes (screenplay)
1930
The Big Trail (story contributor - uncredited)
1929
Hot for Paris (story)
1929
The Cock-Eyed World (scenario)
1928
Me, Gangster (scenario)
1928
Sadie Thompson (adaptation)
1920
From Now On (scenario)
1920
The Strongest (scenario - as R.A. Walsh)
1919
Should a Husband Forgive? (scenario - as R.A. Walsh) / (story - as R.A. Walsh)
1919
Evangeline (scenario)
1918
Every Mother's Son (screenplay) / (story)
1918
The Prussian Cur (screenplay) / (story)
1918
The Woman and the Law (writer)
1917
The Pride of New York (scenario - as R.A. Walsh)
1917
Betrayed (screenplay - as R.A. Walsh) / (story - as R.A. Walsh)
1917
The Innocent Sinner (scenario - as R.A. Walsh)
1917
The Honor System (scenario)
1916
Blue Blood and Red (screenplay) / (story)
1916
The Serpent (scenario)
1915
The Regeneration (adapted from the book: "My Mamie Rose" - as R.A. Walsh)
1914
The Life of General Villa
Producer
1961
Marines, Let's Go (producer)
1961
Come September (producer - uncredited)
1960
Esther and the King (producer)
1955
Battle Cry (producer - uncredited)
1951
Captain Horatio Hornblower (producer - uncredited)
1933
Sailor's Luck (producer)
1932
Me and My Gal (producer)
1931
The Yellow Ticket (producer)
1931
Camino del infierno (producer)
1931
The Man Who Came Back (producer)
1928
Me, Gangster (producer)
1928
Sadie Thompson (producer - uncredited)
1926
The Lucky Lady (producer)
1925
The Wanderer (producer - uncredited)
1922
Kindred of the Dust (producer)
1920
Dangerous Business (producer)
1920
The Deep Purple (producer - as R.A. Walsh)
1919
Evangeline (producer)
1916
Blue Blood and Red (producer)
Miscellaneous
1922
Kindred of the Dust (presenter - as R.A. Walsh)
1920
Headin' Home (supervisor - as R.A. Walsh)
1913
The Detective's Stratagem (Short) (production staff)
1912
Life of Villa (Documentary) (production staff)
Assistant Director
1956
Helen of Troy (second unit director - uncredited)
1943
Edge of Darkness (second unit director - uncredited)
1915
The Birth of a Nation (assistant director - uncredited)
Cinematographer
1914
The Life of General Villa (Battle of Torreon sequence)
Editor
1915
The Birth of a Nation
Music Department
1939
St. Louis Blues (songs by)
Soundtrack
2002
The Laramie Project (TV Movie) (writer: "Let's Dream in the Moonlight")
Thanks
1976
Nickelodeon (special thanks)
Self
1973
The Men Who Made the Movies: Raoul Walsh (TV Movie documentary)
as
Self
1972
75 Years of Cinema Museum (Documentary)
as
Self
1966
Cinéastes de notre temps (TV Series documentary)
as
Self
- Raoul Walsh ou le bon vieux temps (1966) - Self
1941
Meet the Stars #2: Baby Stars (Documentary short)
as
Self
Archive Footage
2020
There Are Not Thirty-six Ways of Showing a Man Getting on a Horse (Documentary)
2019
John Wayne: America at All Costs (Documentary)
as
Self
2014
The True Adventures of Raoul Walsh (Documentary)
as
Self
2012
Cinéphiles de notre temps (TV Series documentary)
as
Self
- D'un écran à l'autre (1965-2012) (2012) - Self
2008
Murnau, Borzage and Fox (Video documentary)
as
Self (uncredited)
2008
Public Enemies: The Golden Age of the Gangster Film (TV Movie documentary)
as
Self
2008
American Masters (TV Series documentary)
as
Self
- You Must Remember This: The Warner Bros. Story - Part 1 (2008) - Self
2006
Jane Russell - Der Star aus dem Heu (TV Movie documentary)
as
Self
2005
Filmmakers vs. Tycoons (Documentary)
as
Self
2004
Le fantôme d'Henri Langlois (Documentary)
as
Self
1998
The Making of 'the Birth of a Nation' (Video documentary short)
as
Self / John Wilkes Booth
1996
Secret Lives (TV Series documentary)
as
Self - Funeral Guest
- Errol Flynn (1996) - Self - Funeral Guest (uncredited)
1995
Century of Cinema (TV Series documentary)
as
actor 'The Birth of a Nation'
- A Personal Journey with Martin Scorsese Through American Movies (1995) - actor 'The Birth of a Nation' (uncredited)
1980
Hollywood (TV Mini Series documentary)
as
Self
- Hollywood Goes to War (1980) - Self
1956
The Ed Sullivan Show (TV Series)
as
Self
- 15th Anniversary Show (1963) - Self
- Episode #10.10 (1956) - Self
References
Raoul Walsh Wikipedia
(Text) CC BY-SA