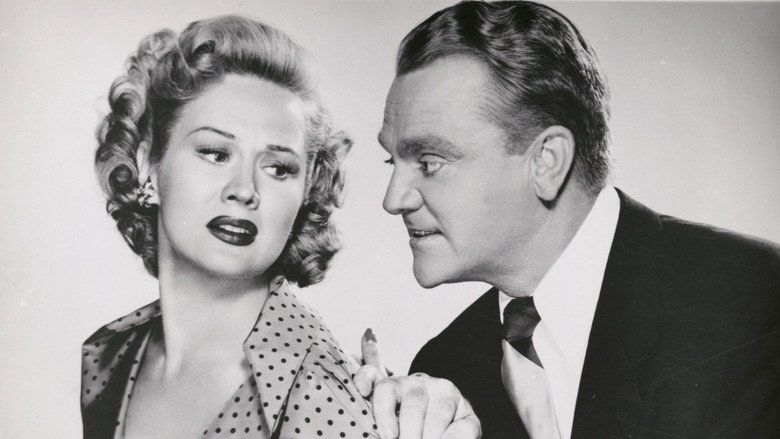 Arthur "Cody" Jarrett is a ruthless, psychotic criminal and leader of the Jarrett gang. Although married to Verna, he is overly attached to his equally crooked and determined mother, "Ma" Jarrett, his only true confidante.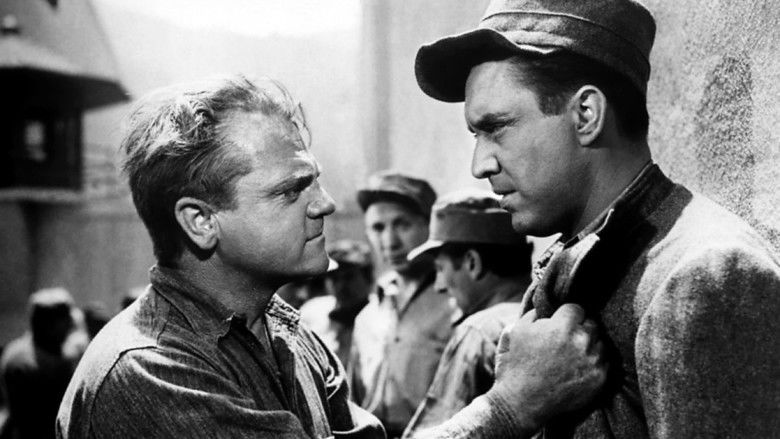 Cody and his gang rob a mail train in the Sierra Nevada, resulting in the deaths of four bystanders. With the help of informants, the authorities close in on a motor court in Los Angeles where Cody, Verna and Ma are holed up. Cody shoots and wounds US Treasury investigator Philip Evans and makes his escape. He then comes up with a scheme: to confess to a lesser crime committed in Springfield, Illinois, which an associate committed at the same time as the train robbery, thus providing him with a false alibi. He turns himself in and is sent back to Illinois, where he receives a one to three-year sentence in state prison. This doesn't fool Evans, however, who plants undercover agent Hank Fallon (aka Vic Pardo) in Cody's cell in the Illinois State Penitentiary. His task is to find the "Trader", a fence who launders stolen money for Cody.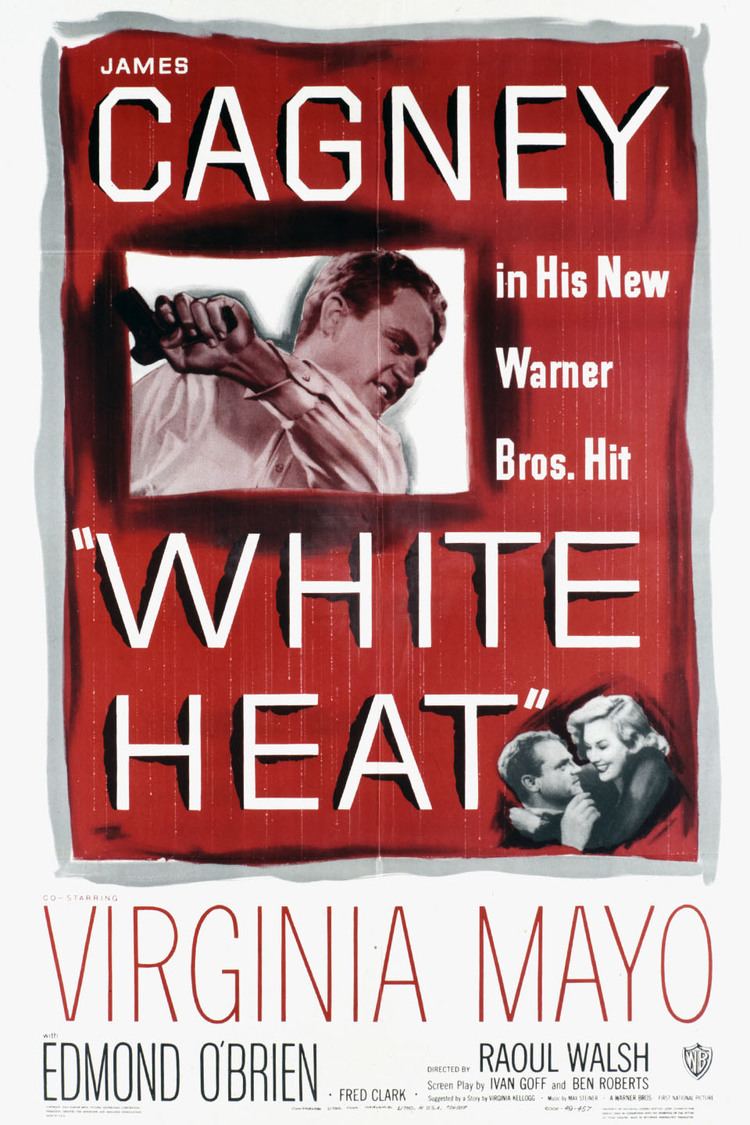 On the outside, "Big Ed" Somers, Cody's ambitious right-hand man, takes leadership of the gang. Verna betrays Cody and joins Ed, feeling assured Cody will never make it out of prison because Big Ed has paid Roy Parker, an associate, to kill Cody. In the prison workshop, Parker drops a heavy piece of machinery on Cody, but Hank pushes him out of the way, saving his life. Ma visits and vows to take care of Big Ed, despite Cody's frantic attempts to dissuade her. He starts worrying and decides to break out, but before he can, he learns of Ma's death and goes berserk in the mess hall, hitting a number of guards before being overpowered and dragged to the infirmary. He concocts a plan to escape by feigning a psychosis. In the infirmary, he's diagnosed as having a "homicidal psychosis" and is recommended for a transfer to an asylum.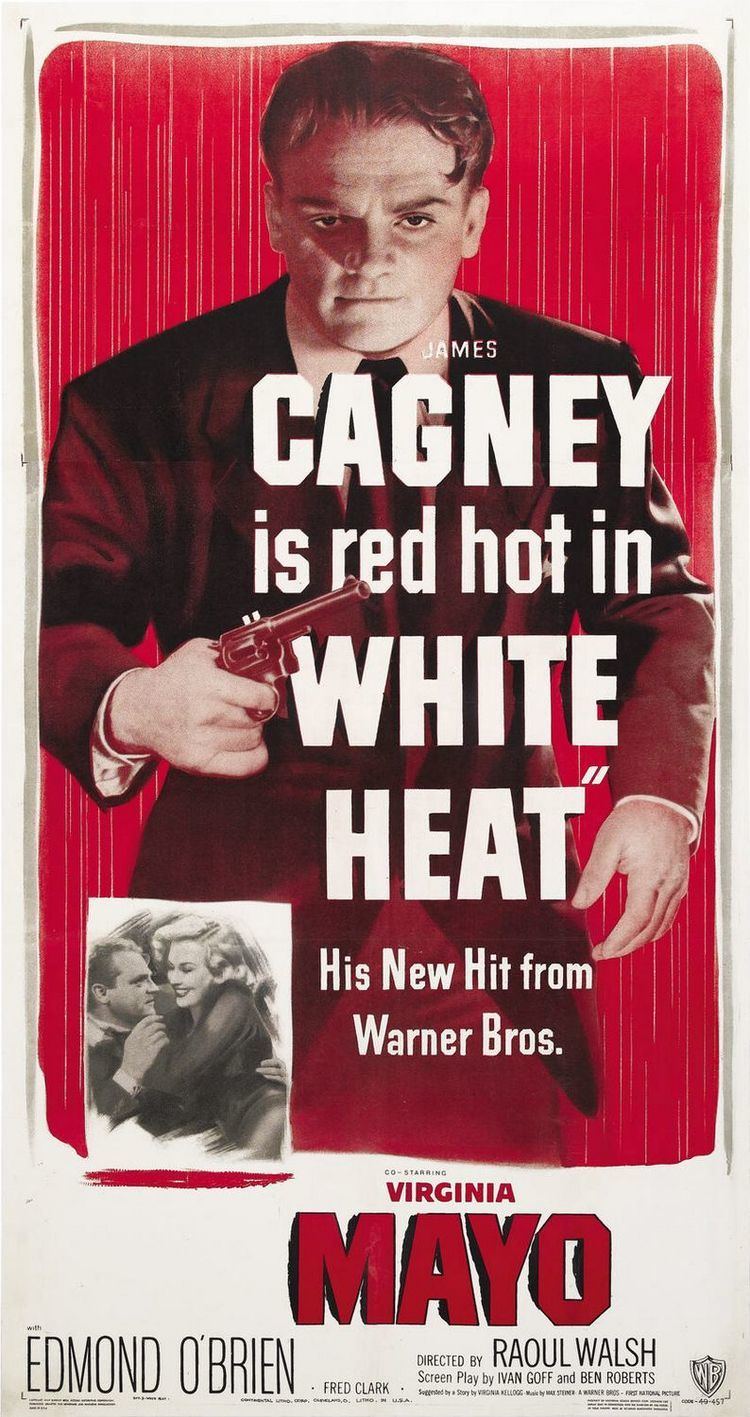 Cody takes hostages and escapes, along with his cell mates, including Hank. He takes Parker along with him as hostage, for "payback." He locks Parker in the trunk of a getaway car and shoots him dead after making his escape. He then heads for California with his men. On hearing of Cody's escape, Big Ed anxiously awaits his arrival. Verna tries slipping away but Cody catches her. Although Verna murdered Ma, she convinces Cody that Big Ed killed her, so Cody guns him down. The gang welcome the escapees, including Hank, for whom Cody has developed a keen liking.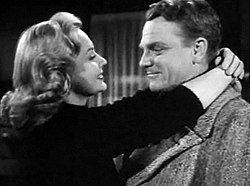 A stranger shows up at the gang's isolated hideout, asking to use the phone. To Hank's surprise, Cody introduces the stranger as Daniel "The Trader" Winston, the fence whom Hank has been trying to track down. Cody intends to steal the payroll at a chemical plant in Long Beach, California, by using a large and empty tanker truck as a trojan horse. Hank manages to get a message to Evans and an ambush is laid. The gang get into the plant and makes their way to the payroll office, but as they begin to cut through the safe, the tanker's driver, "Bo" Creel, recognizes Hank as the man who arrested him four years prior.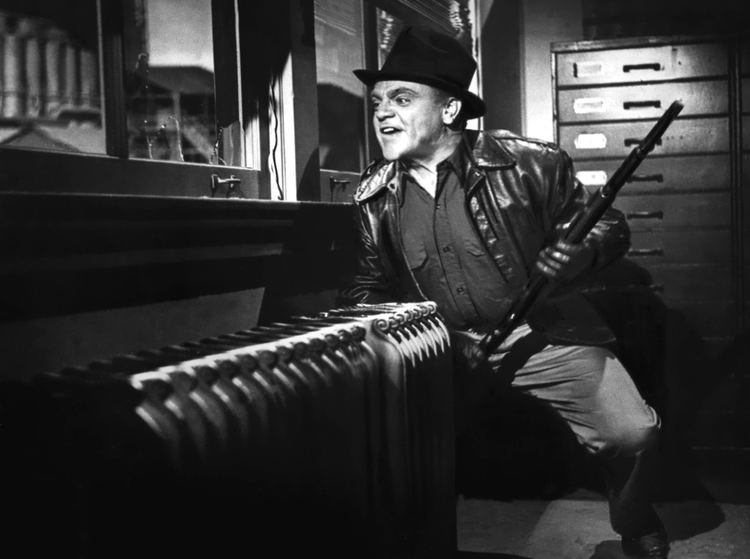 The police surround the building and call on Cody to surrender, but Cody decides to fight it out. When the police fire tear gas into the office, Hank escapes. In the ensuing gun battle, the police kill most of Cody's gang, and in frustration, Cody shoots one of his men for trying to surrender. Verna, who was parked in a getaway car across from the plant, is arrested. She tries to barter with Evans for leniency, saying she can convince Cody to surrender, but Evans turns her down and she is taken away. Cody flees to the top of a gigantic, globe-shaped gas storage tank. When Hank, a marksman, shoots Cody several times with a rifle, Cody starts firing at the tank and shouts, "Made it, Ma! Top of the world!" The tank and several adjoining ones explode, killing Cody instantly.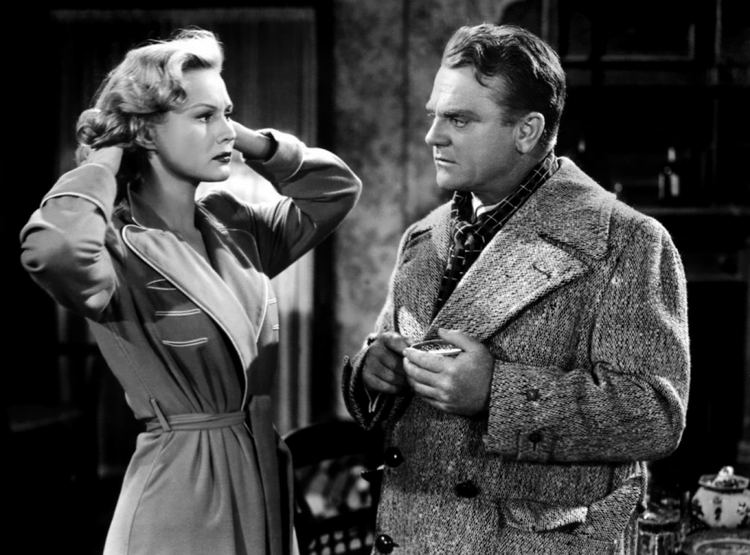 James Cagney as Arthur "Cody" Jarrett
Virginia Mayo as Verna Jarrett
Edmond O'Brien as Hank Fallon, alias "Vic Pardo"
Margaret Wycherly as "Ma" Jarrett
Steve Cochran as "Big Ed" Somers
John Archer as Philip Evans
Wally Cassell as "Cotton" Valletti
Fred Clark as Daniel "The Trader" Winston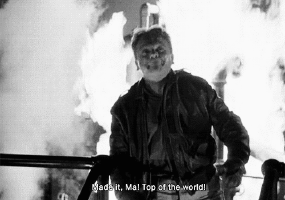 Uncredited: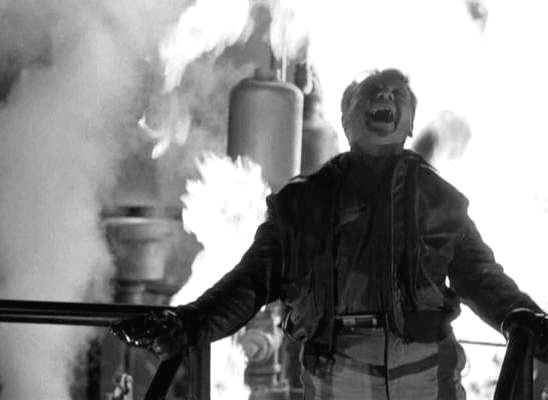 G. Pat Collins as "Reader" Curtin
Paul Guilfoyle as Roy Parker
Ian MacDonald as "Bo" Creel
Robert Osterloh as Tommy Ryley
Ford Rainey as "Zuckie" Hommel
After winning an Oscar for Yankee Doodle Dandy, Cagney left Warner Brothers in 1942 to form his own production company with his business manager and brother, William. After making four unsuccessful movies (including the well-regarded, but "financially disastrous" adaptation of William Saroyan's The Time of Your Life), Cagney returned to Warner in mid-1949. His decision to return was purely financial; Cagney admitted he "needed the money," and that he never forgot the "hell" Warner put him through in the 1930s when it came to renewing his contract. Likewise, the last thing Jack Warner wanted to see was Cagney back on his lot; referring to him as "that little bastard", he vowed to never take him back. Cagney's new contract with Warner enabled him to make $250,000 per film on a schedule of one film per year, plus script approval and the opportunity to develop projects for his own company.
To make good on his comeback, Cagney settled on the script for White Heat; on May 6, 1949, he signed on to portray Arthur "Cody" Jarrett. Much to Jack Warner's dismay, it was writers Ivan Goff and Ben Roberts who suggested him for the lead, claiming "there's only one man who can play [Jarrett] and make the rafters rock." For years, Cagney resisted gangster roles in an effort to avoid typecasting, but decided to return to the genre after feeling his box office power waning. Following Cagney's attachment, Warner increased the production budget to $1 million and hired Raoul Walsh to direct. Walsh had previously worked with Cagney on The Roaring Twenties (in 1939) and The Strawberry Blonde (in 1941). However, Cagney was unhappy with the studio's decision to hire Walsh; in part, because he requested Frank McHugh be in the film, but Warner turned his friend down in an attempt cut costs.
Warner bought the rights to the story from Virginia Kellogg for $2 thousand. Being "methodical craftsmen", it took Goff and Roberts six months to complete the first draft. They "would plot in complete detail before even beginning to write, then write their dialogue together, line by line." When Walsh saw it, he pleaded with Cagney's brother, William, to talk Cagney out of doing the picture. According to him, the draft was "bad - a real potboiler," but William reassured Walsh that "Jimmy [would] rewrite it as much as possible."
White Heat was meant to be based on the true story of Ma Barker, a bank robber who raised her four sons as criminals. However, this was changed along with Cagney's involvement; Ma Barker became Ma Jarrett, and her four children were reduced to one. Arthur Barker became Arthur "Cody" Jarrett, a psychopath with a mother fixation. Cody's mental illness and the exact cause of his migraines remain a mystery throughout the film. This was done intentionally, enabling viewers to use their imaginations and draw their own conclusions. In total, the script received several rewrites, with input being given from some of Cagney's closest friends. Humphrey Bogart and Frank McHugh worked "after hours" on revisions; with McHugh writing the film's opening scene.
The script is notable for reworking many themes from Cagney's previous films with Warner. Most notably, in The Public Enemy, Cagney smashed a grapefruit into Mae Clarke's face; in White Heat he kicks Virginia Mayo off a chair. In Each Dawn I Die, his character suffers the ill effects of prison; while here, his character has a breakdown in the prison mess hall. Furthermore, in The Roaring Twenties Cagney fought with rival gangsters in a similar fashion to how Cody Jarrett stalks the double-crossing "Big Ed" Somers (portrayed by Steve Cochran).
Filming began on May 6, 1949 and lasted six weeks; until completion on June 20. Walsh made use of a number of locations in southern California; first by going to the Santa Susana Mountains (near his home) to shoot "chase scenes". He then moved on to an old Southern Pacific tunnel near Chatsworth to stage the opening robbery scenes. Urban street scenes along with the "Milbank Hotel" were shot in and around Van Nuys. The "hideaway lodge sequences" were shot at the Warner ranch, the interior scenes in the studio itself, and the climax scene at an oil refinery near Torrance, south of Los Angeles on 198th Street and Figueroa. The drive-in theater scenes were shot at the now demolished San Val Drive-In in Burbank.
Jack Warner wanted the prison mess hall scene replaced for budgetary reasons, stating the "cost of a single scene with 600 extras and only one line of dialogue would be exorbitant." For this reason, Warner wanted the scene shot in a chapel, but relented when "the writers pointed out that, apart from the fact that Jarrett would [never be willingly caught in a] chapel", the whole point of the scene was to "have a lot of noise, with rattling knives and forks and chatter, that suddenly goes completely silent when Jarrett first screams." The scream was improvised by Cagney, and the shock on everyone's face was real, for neither Cagney nor Walsh informed any of the extras of what was going to happen. Warner agreed to the scene on the condition that it be shot in three hours, so "that the extras were through by lunchtime."
A number of scenes were improvised; Walsh's "personal touches go beyond the script." When Cody and his gang hideout in their cabin just after the train heist, Cody has one of his "debilitating headaches", causing him to fall from his chair and leave off a round from his .45. This was Walsh's idea, as was the showing of Virginia Mayo's upper thigh on screen. Another scene involved Cody giving his wife, Verna, a "seething look", but Walsh improvised and had Cagney knock her off of her chair. Cagney claimed it was his idea "to have Cody climb onto Ma Jarrett's lap and sit there; being soothed during one of his psychotic [episodes]", but Walsh has always denied this; claiming many years later that it was his idea.
Critical reaction to the film was positive, and today it is considered a classic. Bosley Crowther of The New York Times called it "the acme of the gangster-prison film" and praised its "thermal intensity".
This classic film anticipated the heist films of the early '50s (for example John Huston's 1950 The Asphalt Jungle and Stanley Kubrick's 1956 The Killing), accentuated the semi-documentary style of films of the period (the 1948 The Naked City), and contained film-noirish elements, including the shady black-and-white cinematography, the femme fatale character, and the twisted psyche of the criminal gangster.
White Heat was listed in Time magazine's top 100 films of all time. Based upon both contemporary and more recent film reviews, the film has a 100% "fresh" rating on film review aggregate website Rotten Tomatoes.
In 1950, Virginia Kellogg was nominated for the Academy Award for Best Story, while Ivan Goff and Ben Roberts were nominated for the Edgar Award for Best Motion Picture. In 2003, the United States Library of Congress selected White Heat for preservation in the National Film Registry.
On June 4, 2003, the American Film Institute named Cody Jarrett in its list of the best heroes and villains of the past 100 years. Furthermore, in June 2005, "Made it, Ma! Top of the World!" was voted 18th in AFI's 100 Years...100 Movie Quotes; while, in June 2008, White Heat was voted 4th in AFI's 10 Top 10 list of gangster movies. The film was nominated for inclusion into three other lists by the American Film Institute.