Occupation

Actor




Height

1.83 m




Role

Actor · valkilmer.com





Name

Val Kilmer




Years active

1977–present







Born

December 31, 1959 (age 63) (

1959-12-31

) Los Angeles, California, U.S.


Alma mater

Chatsworth High SchoolJuilliard School




Spouse

Joanne Whalley (m. 1988–1996)


Children

Jack Kilmer, Mercedes Kilmer




Movies

Tombstone, Top Gun, Batman Forever, Willow, The Saint




Similar People

Joanne Whalley, Jack Kilmer, Mercedes Kilmer, Kelly McGillis, Tom Cruise


Profiles




Facebook

Twitter

Tumblr

Myspace




Music director

The Fourth Dimension

What's Really Going On With Val Kilmer
Val Edward Kilmer (born December 31, 1959) is an American actor. Originally a stage actor, Kilmer became popular in the mid-1980s after a string of appearances in comedy films, starting with Top Secret! (1984), then the cult classic Real Genius (1985), as well as the military action film Top Gun (1986) and the fantasy film Willow (1988).
Contents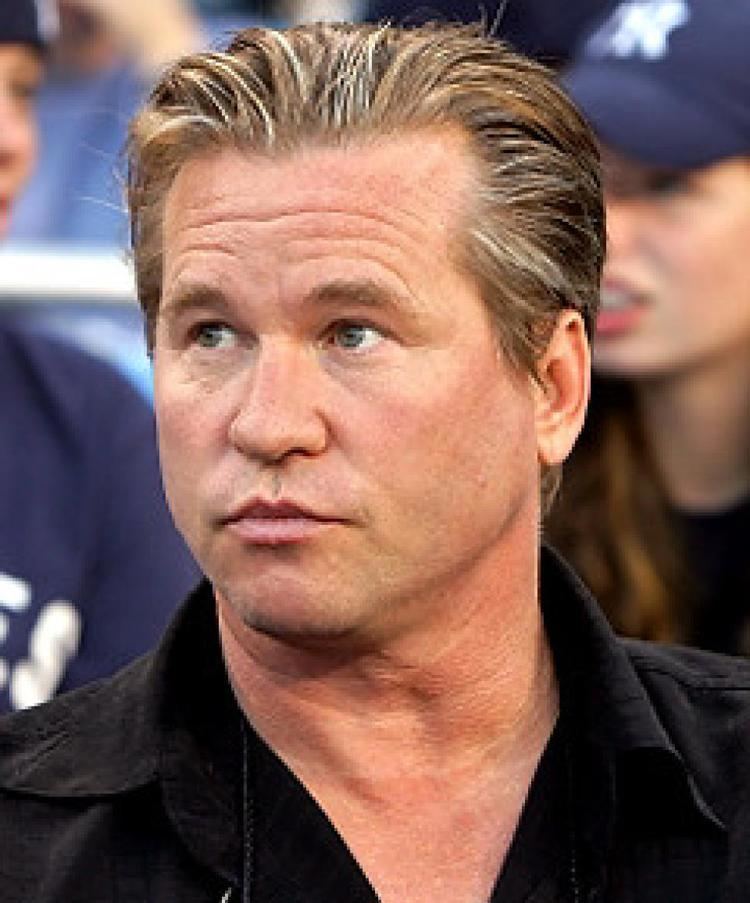 Some of his other notable film roles include Jim Morrison in The Doors (1991), Doc Holliday in Tombstone (1993), armed robber Chris Shiherlis in Heat (1995), Bruce Wayne / Batman in Batman Forever (1995), Simon Templar in The Saint (1997), astronaut Robby Gallagher in Red Planet (2000), and a meth-using informant in The Salton Sea (2002).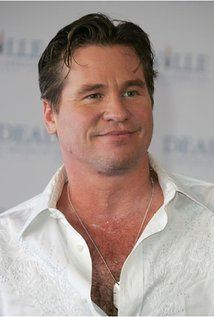 Val kilmer in citizen twain morning post 2013 tour
Early life and education
Kilmer was born December 31, 1959, in Los Angeles, the son of Gladys Swanette (née Ekstadt) and Eugene Dorris Kilmer, an aerospace equipment distributor and real estate developer. His mother was of Swedish descent. His father's ancestry included English, Scots-Irish, French and German. His parents divorced in 1968 when he was 8 years old. Kilmer's grandfather was a gold miner in New Mexico, near the border with Arizona. In 1977 Kilmer's younger brother Wesley drowned in a swimming pool at age 15; their father died in 1993.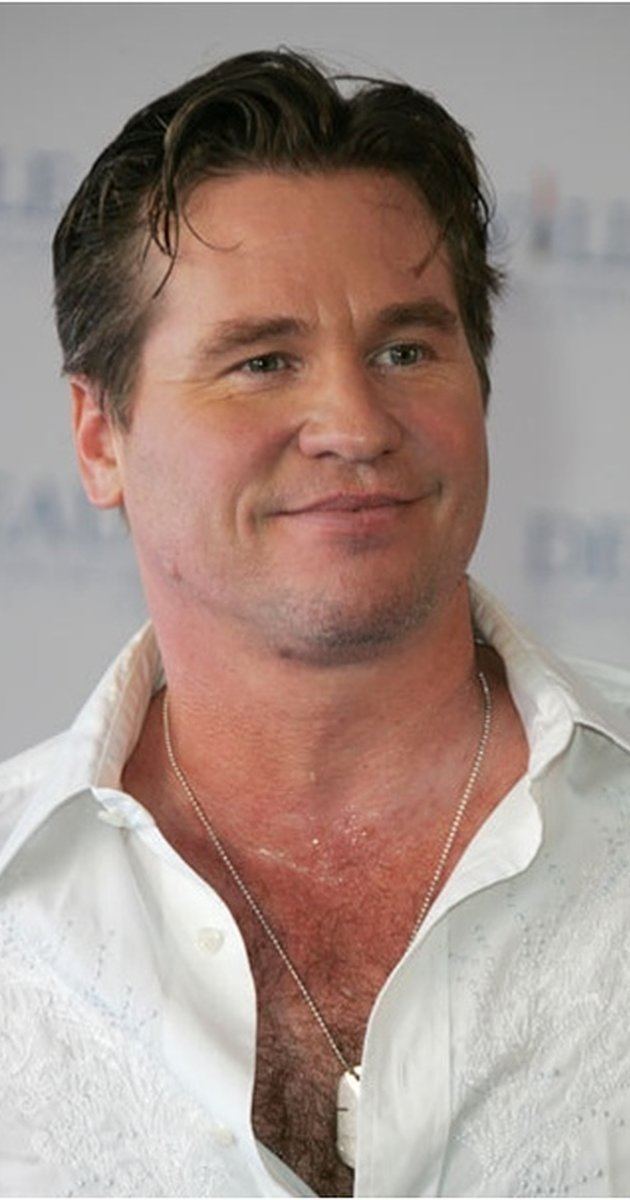 Kilmer attended Berkeley Hall School, a Christian Science school in Los Angeles, until ninth grade. He attended Chatsworth High School with Kevin Spacey and Mare Winningham, and also attended the Hollywood Professional School. He became the youngest person at the time to be accepted into the Juilliard School's Drama Division, where he was a member of Group 10.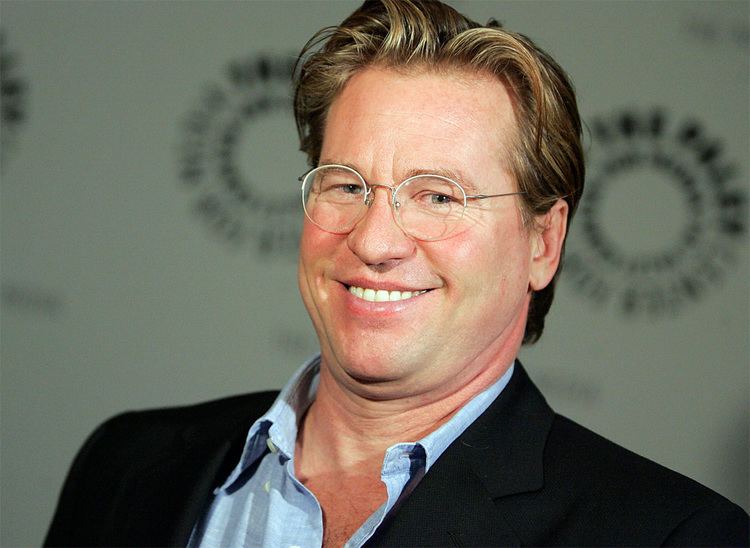 On May 5, 2012, Kilmer was awarded an honorary doctorate of Fine Arts from William Woods University.
1980s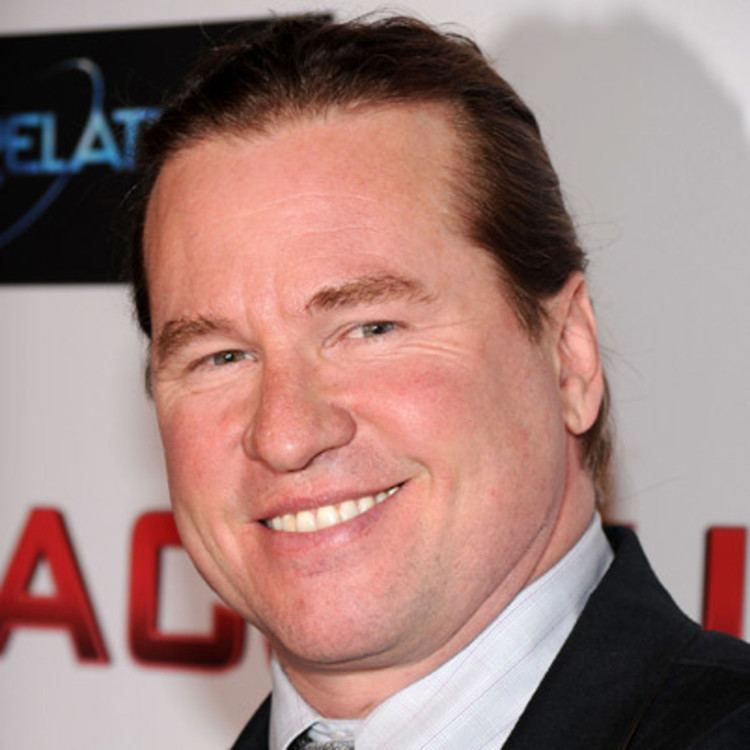 In 1981, while at Juilliard, Kilmer co-authored and starred in the play How It All Began, which was performed at the Public Theater at the New York Shakespeare Festival. Kilmer turned down a role in Francis Ford Coppola's 1983 film The Outsiders, as he had prior theatre commitments. In 1983 he appeared off Broadway in The Slab Boys with Kevin Bacon and Sean Penn. That same year, his first off-stage acting role (excluding television commercials) came in the form of an episode of ABC Afterschool Special called One Too Many, which was an educational drama on drinking and driving; it also starred a young Michelle Pfeiffer. Also in 1983, Kilmer self-published a collection of his own poetry entitled My Edens After Burns, that included poems inspired by his time with Pfeiffer. The book of poems is difficult to obtain, and expensive; even second-hand copies fetch $300 and up.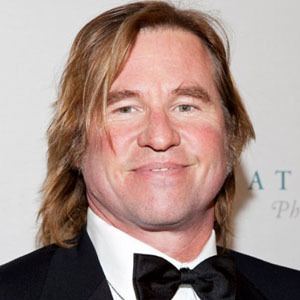 His big break came when he received top billing in the comedy spoof of spy movies Top Secret!, where he played an American rock and roll star. Kilmer sang all the songs in the film and released an album under the film character's name, "Nick Rivers." While garnering more substantial roles and prestige, he also gained a reputation as a ladies man, dating numerous women, some many years older, including Cher and Ellen Barkin.
During a brief hiatus, he backpacked throughout Europe before going on to play the lead character in the 1985 comedy Real Genius. He turned down a role in David Lynch's Blue Velvet before being cast as naval aviator "Iceman" in the action film Top Gun alongside Tom Cruise. Top Gun grossed a total of $344,700,000 worldwide and made Kilmer a major star. Following roles in the television films The Murders in the Rue Morgue and The Man Who Broke 1,000 Chains, Kilmer played Madmartigan in the fantasy Willow; he met his future wife, co-star Joanne Whalley, on the film's set. Kilmer starred in the Colorado Shakespeare Festival production of Hamlet in 1988. In 1989, Kilmer played the lead in both Kill Me Again, again opposite Whalley, and in TNT's Billy the Kid.
1990–1995
After several delays, director Oliver Stone finally started production on the film The Doors, based on the band of the same name. Kilmer spoke with Oliver Stone early on, concerned about what he might want to do with the story because Kilmer didn't believe in or want to promote substance abuse. Kilmer saw Morrison as having picked the wrong heroes, who had different issues, that were not part of the creativity or inspiration. Kilmer saw Morrison's story as one that could be told "a thousand different ways" and didn't want to tell it by playing the role in the style of drugs, with which Oliver Stone agreed. Kilmer memorized the lyrics to all of lead singer Jim Morrison's songs prior to his audition, and sent a video of himself performing some Doors songs to director Stone. Stone was not impressed with the tape, but Paul Rothchild (the original producer of The Doors) said "I was shaken by it" and suggested they record Kilmer in the studio. After Kilmer was cast as Morrison, he prepared for the role by attending Doors tribute concerts and reading Morrison's poetry.
He spent close to a year before production dressing in Morrison-like clothes, and spent time at Morrison's old hangouts along the Sunset Strip. His portrayal of Morrison was praised and members of The Doors noted that Kilmer did such a convincing job that they had trouble distinguishing his voice from Morrison's. Paul Rothchild played Kilmer's version of "The End" for the band's guitarist, Robby Krieger, who told him, "I'm really glad they got 'The End'. We never got a recording of that live with Jim and now we've got it." However, Doors keyboardist Ray Manzarek was less than enthusiastic with how Morrison was portrayed in Stone's interpretation.
In the early 1990s, Kilmer starred in the mystery thriller Thunderheart, the action comedy The Real McCoy, and again teamed with Top Gun director Tony Scott to play Elvis Presley in True Romance, which was written by Quentin Tarantino. In 1993, Kilmer played Doc Holliday in the western Tombstone alongside Kurt Russell. In the film, Doc Holliday performs Chopin's Nocturne in E minor, Op.72, No. 1; however, Kilmer does not play the piano and he practiced that one piece for months in preparation. In 1995, Kilmer starred in Wings of Courage, a 3D IMAX film, and that same year, he starred opposite Al Pacino and Robert De Niro in Heat, which is now considered one of the best crime/drama films of the 1990s.
Batman
In December 1993, Batman Forever director Joel Schumacher had seen Tombstone and was most impressed with Kilmer's performance as Doc Holliday. Schumacher felt him to be perfect for the role of Batman, though at the time, the role was still Michael Keaton's. In July 1994, Keaton decided not to return for a third Batman film after 1992's Batman Returns, due to "creative differences". William Baldwin (who previously worked with Schumacher on Flatliners) was reported to be a top contender, though just days after Keaton dropped out, Kilmer was cast. Kilmer took the role without even knowing who the new director was and without reading the script.
Released in June 1995, Batman Forever was a success at the box office, despite receiving mixed reviews from critics. There was debate about Kilmer's performance; some critics charged that Kilmer, while physically fit to play Batman, more so than his predecessor Michael Keaton had been, gave a wooden performance as Bruce Wayne. Other critics though, such as Roger Ebert, had kind words for Kilmer. Batman creator Bob Kane said in a Cinescape interview that of all the actors to have played Batman up to that point, he felt Kilmer had given the best interpretation. Film critic Leonard Maltin (who criticized the dark tone contained in Batman Returns) complimented Kilmer's portrayal when he reviewed the film for his expanding collection of film reviews, as well as being very favorable of the film as a whole. Defenders of Batman Forever praised the film for portraying Batman as a more heroic, less ruthless, and more human character than in the Tim Burton films. The film also brought the film interpretation of Bruce Wayne more into line with his comic book counterpart, showing him as a socialite and a very public figure rather than the neurotic recluse of the previous films.
In February 1996, Kilmer decided not to return for another Batman feature film, feeling that Batman was being marginalized in favor of the villains. and because of their scheduling problems with The Saint. George Clooney replaced Kilmer as Batman in 1997's Batman & Robin. There were also reports that Kilmer had not had a good working relationship with Schumacher, as another reason for not reprising the role.
1996–1999
In 1996, he appeared in a largely unknown film, Dead Girl, and starred alongside Marlon Brando in the poorly received The Island of Dr Moreau. That year, Kilmer starred alongside Michael Douglas in the thriller The Ghost and the Darkness. In 1997 he played Simon Templar in the popular action film, The Saint. Kilmer looked forward to the title role as a change toward a more fun, less serious action thriller, while enjoying the "master of disguise" chameleon characters like a mad artist, a nerdy British scientist, a cleaner, and a Russian mob boss. Kilmer also wrote the poetry in the film. He received a salary of $6 million for the movie. The Saint was a financial success, grossing $169.4 million worldwide.
In 1998, he voiced Moses in the animated film The Prince of Egypt, before starring in the independent film Joe the King (1999). Also in 1999, he played a blind man in the drama/romance At First Sight, which he described as being, of then, the hardest role he had ever had.
2000s
Kilmer's first role in 2000 was in the big budget Warner Bros. box office disaster Red Planet. That same year, he had a supporting role in the film Pollock and hosted Saturday Night Live for the first time. In 2002, he starred in the thriller The Salton Sea, which was generally well-reviewed, but received only a limited release. The same year, he teamed with his True Romance co-star, Christian Slater, and the two starred in the low-budget film, Hard Cash, also known as Run for the Money.
In 2003, Kilmer starred alongside Kate Bosworth in the drama/thriller Wonderland, portraying porn star John Holmes. He also appeared in The Missing, where he again worked with Willow director Ron Howard. The next year, he starred in David Mamet's Spartan, where he played a United States government secret agent who is assigned the task of rescuing the kidnapped daughter of the President. He received Delta Force-like training in preparation for the role. Subsequently, he had a role in the drama, Stateside, and starred (again with Slater) in the thriller Mindhunters, which was filmed in 2003 but not released until 2005. Kilmer next appeared in the big budget Oliver Stone production, Alexander, which received poor reviews.
Also in 2004, Kilmer returned to the theatre to play Moses in a Los Angeles musical production of The Ten Commandments: The Musical, produced by BCBG founder Max Azria. The production played at the Kodak Theater in Hollywood and also featured Adam Lambert. Kilmer had previously played Moses in the animated film The Prince of Egypt. Finally in 2004, Kilmer appeared in an episode of Entourage, where he played a Sherpa whose primary source of income was the growing, harvesting and distributing high-quality cannabis, all under a guise of metaphysical insights.
Kilmer was in negotiations with Richard Dutcher (a leading director of Mormon-related films) to play the lead role in a film entitled Prophet: The Story of Joseph Smith, although the project never materialized.
Kilmer performed in The Postman Always Rings Twice on the London stage from June to September 2005. In 2005, he co-starred with Robert Downey, Jr. in the action-comedy film Kiss Kiss Bang Bang. His performance was praised and the film was well reviewed, but it received only a limited release. It later won the award for "Overlooked Film of the Year" from the Phoenix Film Critics Society.
In 2006, he reunited with director Tony Scott a third time for a supporting role opposite Denzel Washington in the box-office hit Déjà Vu. The song "Val Kilmer" was named after him on Bowling for Soup's 2006 album The Great Burrito Extortion Case. The song was later used for a Ford Motors commercial on season 10 of American Idol in 2011. In 2007, he guest-starred on the hit TV series Numb3rs in the episode "Trust Metric", portraying torture expert Mason Lancer. That same year, he released a CD, proceeds of which went to his charity interests. In 2008, Kilmer starred alongside Stephen Dorff in the Sony and Stage 6 film Felon. The film was given only a limited theatrical release in New York and Los Angeles in 2008, but it developed into a success secondary to positive word of mouth.
Kilmer was the voice of the car KITT for the 2008 Knight Rider TV pilot film and the following television series. He replaced Will Arnett, who had to step down from the role due to contractual conflict with General Motors. In keeping with tradition established by the original Knight Rider series and original KITT actor William Daniels, Kilmer was uncredited for the role on-screen. He next starred alongside Nicolas Cage in the Werner Herzog film Bad Lieutenant: Port of Call New Orleans, and alongside Curtis "50 Cent" Jackson in Streets of Blood. Both were released in 2009. He appeared as the main antagonist "Mongoose" in a live TV series adaptation of the comic/video game of XIII on NBC in 2009.
2010s
In 2010, Kilmer starred in the horror film from Michael Oblowitz, The Traveler, where he played the vengeful spirit of a man who had been tortured and murdered while in police custody. In November 2010, Kilmer was filming in Kelseyville, California. He was finally able to work with his lifelong friend Francis Ford Coppola and star in the film Twixt. The film was filmed mostly on Coppola's estate in Napa County. The filming was expected to take five weeks and was being independently funded by Coppola. In 2010, Kilmer appeared as the villain Dieter Von Cunth in MacGruber, and Tenacious D's music video "To Be The Best" as a small cameo role.
Kilmer spoke at the May 5, 2010, commencement ceremonies of William Woods University in Fulton, Missouri. During his week-long visit on campus, he also performed his one-man play, Citizen Twain. He received an honorary doctorate "in recognition of his creative abilities and his contributions to art and theater."
In 2012, Kilmer received a Grammy nomination for Best Spoken Word. He also starred in Harmony Korine's short "The Lotus Community Workshop" which is part of a collaborative film The Fourth Dimension. He plays a version of himself from an alternate reality, that is a former actor, turned self-help guru. The Fourth Dimension is a collection of three standalone short films about parallel universes produced by Vice Films in collaboration with Grolsch Film Works, a new division of the namesake beer company. Kilmer notes that his addition to the list of actors, including John Malkovich (Being John Malkovich) and Al Pacino (Jack and Jill), that mock their real-life persona in fictional movies was an accident and says, "I still love saying the premise because it makes me laugh every time."
In 2002, Kilmer worked on a film about the life of Mary Baker Eddy, the founder of the Christian Science church, and Mark Twain, one of her most famous critics. Kilmer is still working on the film, which is about the lives and relationship of Mary Baker Eddy and Mark Twain as "a quirky, tender, tragicomic portrait of two contrasting lives, set against the backdrop of Gilded Age America." Citizen Twain was initially performed as a one-man show Hollywood workshop in April 2012; it is now the basis of Kilmer's film project, which will be his directorial debut. In 2013, he reunited with his Top Gun co-star Anthony Edwards in the Disney animated movie Planes. Kilmer voiced the character Bravo, while Edwards supplied Echo. Kilmer also played the role of Detective Dobson in the series finale of the television show Psych.
In 2017, Kilmer appeared in Song to Song opposite Rooney Mara and Ryan Gosling directed by Terrence Malick.
Influence and public image
Kevin Spacey told James Lipton on Inside the Actors Studio that one of the turning points of his life was at a high school drama festival when he saw Kilmer and Mare Winningham perform a scene from The Prime of Miss Jean Brodie and the drama teacher, Robert Carrelli, invited him to transfer to Chatsworth High School; he accepted. In the same interview, Spacey said he went to Juilliard because Kilmer did. Kilmer was at that time the youngest person ever admitted to Juilliard. During Kilmer's subsequent Inside the Actors Studio interview, he said "Robert Carrelli, who was our teacher, had a knack for producing and directing. And it was either Beverly Hills High, because of their very talented pool of students, or Chatsworth High that would win all these festivals."
Politics and charity work
Kilmer made several trips to New Orleans to help in the 2005 Hurricane Katrina disaster relief. Kilmer is a supporter of Native American affairs and an advocate of environmental protection. He briefly flirted with running for Governor of New Mexico in 2010, but decided not to run.
In May 2013, Kilmer lobbied Congress on behalf of Equitable Access to Care and Health Act, or EACH Act (H.R. 1814), a bill "to provide an additional religious exemption from the individual health coverage mandate" of Obamacare.
Personal life
Kilmer was married to actress Joanne Whalley from March 1988 to February 1996. The two met while working together on the film Willow. The couple had two children: a daughter, Mercedes (b. October 29, 1991), and a son, Jack (b. June 6, 1995). Warwick Davis, Kilmer's co-star from the 1988 fantasy Willow, in his audio commentary for the film said that the question he is most asked is what it was like working with Kilmer. Though Kilmer has a reputation of being difficult, Davis describes him as a very funny man and a hard working, dedicated actor. Kilmer reunited with Davis in the 2013 Easter special of the sitcom Life's Too Short, in which he plays a fictionalized version of himself as a mooching, arrogant eccentric.
Kilmer has gotten into feuds with some of the actors with whom he has worked, notably The Island of Dr. Moreau co-star Marlon Brando and Red Planet co-star Tom Sizemore.
Other actors have noted that he prepares for his roles extensively and meticulously. Irwin Winkler (director of At First Sight) talked about his decision to hire Kilmer. "I'd heard the stories, so I checked him out. I called Bob De Niro and Michael Mann, who'd worked with him on Heat, and they both gave him raves... I had a wonderful experience in spite of all the naysayers." Jeffrey Katzenberg (producer of Prince of Egypt) talks about the actor: "Val was one of the first people cast in The Prince of Egypt. He was there every step of the way; patient, understanding, and phenomenally generous with his time."
In 2011, Kilmer sold his 6,000-acre (24 km2) ranch in New Mexico, where he would track, hike, fish, and raise bison. Kilmer is a devout Christian Scientist. He is also an avid musician; he released a CD in the fall of 2007 and donated its proceeds to his charity interests.
Health
In January 2015, Kilmer was hospitalized for what his representative said were tests for what could be a possible tumor. Kilmer said on social media, "I have not had a tumor, or a tumor operations [sic], or any operation. I had a complication where the best way to receive care was to stay under the watchful eye of the UCLA ICU." After previously denying persistent rumors that he had been diagnosed with cancer, Kilmer said in April 2017 that he had a "healing of cancer".
Filmography
Actor
-
Mark Twain and Mary Baker Eddy (announced)
as
Mark Twain
-
Riptide (pre-production)
2022
Top Gun: Maverick
as
Adm. Tom 'Iceman' Kazansky
2021
The Birthday Cake
as
Uncle Angelo
2020
Paydirt
as
Sheriff Tucker
2020
A Soldier's Revenge
as
CJ
2019
Jay and Silent Bob Reboot
as
Bluntman
2019
Cinema Twain
as
Mark Twain
2016
Oneohtrix Point Never: Animals (Video short)
2014
Tom Sawyer & Huckleberry Finn
as
Mark Twain
2014
Robot Chicken (TV Series short)
as
Man-E-Faces / The Borg
- Noidstrom Rack (2014) - Man-E-Faces / The Borg (voice)
2014
Psych (TV Series)
as
Detective Dobson
- The Break-Up (2014) - Detective Dobson
2014
The Spoils of Babylon (TV Series)
as
General Cauliffe
- The Age of the Bastard (2014) - General Cauliffe
- The Rise of the Empire (2014) - General Cauliffe
- The War Within (2014) - General Cauliffe
- The Foundling (2014) - General Cauliffe (credit only)
2013
Ghost Ghirls (TV Series)
as
Sweetriver Jackson
- Spirits of '76: Part 2 (2013) - Sweetriver Jackson
- Spirits of '76: Part 1 (2013) - Sweetriver Jackson
2013
Planes (Video Game)
as
Bravo (voice)
2013
Life's Too Short (TV Series)
as
Val Kilmer
- Easter Special (2013) - Val Kilmer
2013
Standing Up
as
Hofstadder
2013
Riddle
as
Sheriff Richards
2012
The Fourth Dimension
as
Val Kilmer (segment "The Lotus Community Workshop")
2012
7 Below
as
Bill McCormick
2012
Tenacious D: To Be the Best (Music Video short)
as
Val Kilmer
2012
Wyatt Earp's Revenge (Video)
as
Wyatt Earp - 1907
2012
Deep in the Heart
as
The Bearded Man
2011
Saturday Night Live (TV Series)
as
Brilliant Lunatic
- Katy Perry/Robyn (2011) - Brilliant Lunatic (uncredited)
2011
Spider-Man: Edge of Time (Video Game)
as
Dr. Walker Sloan (voice)
2011
Blood Out (Video)
as
Arturo
2011
5 Days of War
as
Dutchman
2011
Kill the Irishman
as
Joe Manditski
2010
The Traveler
as
Mr. Nobody / Drifter
2010
Bloodworth
as
Warren Bloodworth
2009
Double Identity
as
Dr. Nicholas Pinter
2009
The Bad Lieutenant: Port of Call - New Orleans
as
Stevie Pruit
2009
American Cowslip
as
Todd Inglebrink
2009
Streets of Blood (Video)
as
Det. Andy Deveraux
2008
Knight Rider (TV Series)
as
K.I.T.T.
- I Love the Knight Life (2009) - K.I.T.T. (voice, uncredited)
- Knight and the City (2009) - K.I.T.T. (voice, uncredited)
- Fly by Knight (2009) - K.I.T.T. (voice, uncredited)
- Fight Knight (2009) - K.I.T.T. (voice, uncredited)
- Exit Light, Enter Knight (2009) - K.I.T.T. (voice, uncredited)
- Knight to King's Pawn (2009) - K.I.T.T. (voice, uncredited)
- Day Turns Into Knight (2009) - K.I.T.T. (voice, uncredited)
- Don't Stop the Knight (2009) - K.I.T.T. (voice, uncredited)
- Knight Fever (2008) - K.I.T.T. (voice, uncredited)
- Knight of the Zodiac (2008) - K.I.T.T. (voice, uncredited)
- I Wanna Rock and Roll All Knight (2008) - K.I.T.T. (voice, uncredited)
- Knight of the Living Dead (2008) - K.I.T.T. (voice, uncredited)
- Knight of the Hunter (2008) - K.I.T.T. (voice, uncredited)
- A Hard Day's Knight (2008) - K.I.T.T. (voice, uncredited)
- Knight of the Iguana (2008) - K.I.T.T. (voice, uncredited)
- Journey to the End of the Knight (2008) - K.I.T.T. (voice, uncredited)
- A Knight in Shining Armor (2008) - K.I.T.T. (voice, uncredited)
- Knight Rider (2008) - K.I.T.T. (voice, uncredited)
2009
The Steam Experiment
as
Jimmy
2008
XIII: The Conspiracy (TV Mini Series)
as
La Mangouste
- Toutes les larmes de l'enfer (2008) - La Mangouste
- Le jour du soleil noir (2008) - La Mangouste
2008
The Love Guru
as
Val Kilmer (uncredited)
2008
Columbus Day
as
John Cologne
2008
Delgo
as
Bogardus (voice)
2008
Comanche Moon (TV Mini Series)
as
Inish Scull
- Episode #1.3 (2008) - Inish Scull
- Episode #1.2 (2008) - Inish Scull
- Episode #1.1 (2008) - Inish Scull
2007
A West Texas Children's Story
as
Henderson
2007
Numb3rs (TV Series)
as
Mason Lancer
- Trust Metric (2007) - Mason Lancer
2006
The Ten Commandments: The Musical
as
Moses
2006
Deja Vu
as
Agent Pryzwarra
2006
Summer Love
as
The Wanted Man
2005
Kiss Kiss Bang Bang
as
Gay Perry
2004
Entourage (TV Series)
as
The Sherpa
- The Script and the Sherpa (2004) - The Sherpa
2004
George and the Dragon
as
El Cabillo (uncredited)
2004
Mindhunters
as
Jake Harris
2004
Stateside
as
Staff Sergeant Skeer
2003
Blind Horizon
as
Frank Kavanaugh
2003
The Missing
as
Lt. Jim Ducharme
2003
Wonderland
as
John Holmes
2003
Masked and Anonymous
as
Animal Wrangler
2002
Hard Cash
as
FBI Agent Mark C. Cornell
2002
The Salton Sea
as
Danny Parker / Tom Van Allen
2000
Red Planet: Deleted Scenes (Video short)
as
Gallagher (uncredited)
2000
Pollock
as
Willem DeKooning
1999
Joe the King
as
Bob Henry
1999
At First Sight
as
Virgil Adamson
1998
The Prince of Egypt
as
Moses / God (voice)
1997
The Saint
as
Simon Templar
1996
The Ghost and the Darkness
as
Col. John Henry Patterson
1996
The Island of Dr. Moreau
as
Montgomery
1995
Batman Forever
as
Batman / Bruce Wayne
1995
Wings of Courage
as
Jean Mermoz
1993
Tombstone
as
Doc Holliday
1993
The Real McCoy
as
J.T. Barker
1992
Thunderheart
as
Ray Levoi
1991
The Doors
as
Jim Morrison
1989
Kill Me Again
as
Jack Andrews
1989
Billy the Kid (TV Movie)
as
William Bonney
1987
The Man Who Broke 1, 000 Chains (TV Movie)
as
Robert Elliot Burns / Elliot Roberts
1986
The Murders in the Rue Morgue (TV Movie)
as
Phillipe Huron
1985
Real Genius
as
Chris Knight
1985
ABC Afterschool Specials (TV Series)
as
Eric
- One Too Many (1985) - Eric
1984
Top Secret!
as
Nick Rivers
Producer
-
Mark Twain and Mary Baker Eddy (producer) (announced)
-
The Tree Is Still There (Short) (executive producer) (post-production)
2021
Val (Documentary) (producer)
2019
Cinema Twain (producer)
2008
Columbus Day (producer)
2008
Comanche Moon (TV Mini Series) (associate producer - 3 episodes)
- Episode #1.3 (2008) - (associate producer)
- Episode #1.2 (2008) - (associate producer)
- Episode #1.1 (2008) - (associate producer)
Director
-
Mark Twain and Mary Baker Eddy (announced)
Soundtrack
2021
Val (Documentary) (performer: "Hour for Magic", "Five To One", "The End", "Not To Touch the Earth")
2012
The Fourth Dimension (performer: "The Fourth Dimension") / (writer: "The Fourth Dimension")
2011
Saturday Night Live (TV Series) (performer - 1 episode)
- Katy Perry/Robyn (2011) - (performer: "Best Friends" - uncredited)
2006
The Ten Commandments: The Musical (performer: "When We Rule The World", "A Love That Never Was", "Keys To The Kingdom", "Guilty", "The Horns Of Jericho", "Why Me?", "Let Them Go", "The Plagues", "Into The Deep", "Brothers Still", "Back In Egypt", "A Prayer For Life")
1996
The Island of Dr. Moreau (performer: "God Bless The Child")
1993
True Romance (performer: "Heartbreak Hotel")
1991
The Doors (performer: "Moonlight Drive", "Break On Through", "Light My Fire", "The Crystal Ship", "My Wild Love", "The End", "Not to Touch the Earth", "The Soft Parade", "Back Door Man", "When the Music's Over", "Touch Me", "Five to One", "Dead Cats, Dead Rats")
1984
Top Secret! (performer: "Skeet Surfing", "Tutti Fruti", "How Silly Can You Get?", "Spend This Night with Me", "Are You Lonesome Tonight?", "Straighten Out the Rug")
Writer
-
Mark Twain and Mary Baker Eddy (announced)
2019
Cinema Twain (based on his play "Citizen Twain")
Cinematographer
Thanks
2016
The Art of Zen (Documentary) (special thanks)
2008
American Meth (Video documentary) (special thanks)
Self
-
The Man-Eaters of Tsavo (Documentary) (completed)
as
Self
2007
Entertainment Tonight (TV Series)
as
Self
- Episode #41.220 (2022) - Self
- Ryan Reynolds New York City Takeover (2021) - Self
- Big Star Exclusives! (2020) - Self
- Episode dated 20 January 2009 (2009) - Self
- Episode dated 28 September 2007 (2007) - Self
2019
Hollywood Insider (TV Series)
as
Self
- Full Commentary on 'Top Gun: Maverick': Tom Cruise, Val Kilmer, Jennifer Connelly, Miles Teller (2022) - Self
- Tom Cruise Arrives in Helicopter to Premiere of 'Top Gun: Maverick': Tom Cruise and Val Kilmer (2022) - Self
- Top Gun: Maverick' Full Premiere Reactions: Tom Cruise, Val Kilmer, Jennifer Connelly, Miles Teller (2022) - Self
- Come Behind the Scenes of 'Top Gun: Maverick' (2019) - Self
2022
The 26th Satellite Awards (TV Special)
as
Self - Humanitarian Award Recipient
2021
Val (Documentary)
as
Self
2021
The Choe Show (TV Series)
as
Self
- Hurt People, Heard People (2021) - Self
- Just us 3 (2021) - Self
2020
DC Fandome (TV Special)
as
Self
2020
Good Morning America (TV Series)
as
Self - Guest
- Episode dated 3 August 2020 (2020) - Self - Guest
- Episode dated 21 April 2020 (2020) - Self - Guest
2020
Sean Carnage Parking Lot (Video documentary short)
as
Self
2017
Heat: Academy of Motion Picture Arts and Sciences Filmmaker Panel (Video documentary)
as
Self
2016
Gylne tider (TV Series documentary)
as
Self
- Gylne tabber og tilbakeblikk (2016) - Self
2016
Academy Event: Heat (Video short)
as
Self
2013
Late Night with Jimmy Fallon (TV Series)
as
Self - Guest
- Val Kilmer (2014) - Self - Guest
- Episode dated 13 June 2013 (2013) - Self - Guest
2013
Conan (TV Series)
as
Self - Guest
- Now You See Me, Now You Put on Your Glasses & See Me Better (2013) - Self - Guest
2013
Larry King Now (TV Series)
as
Self - Guest
- Val Kilmer (2013) - Self - Guest
2013
Tavis Smiley (TV Series)
as
Self - Guest
- Episode dated 18 June 2013 (2013) - Self - Guest
2013
Good Day L.A. (TV Series)
as
Self - Guest
- Episode dated 1 April 2013 (2013) - Self - Guest
2011
The Making of Spider-Man: Edge of Time (Video short)
as
Self
2011
Shakespeare High (Documentary)
as
Self
2010
Beyond the Trailer (TV Series)
as
Self - Guest
- MacGruber Movie: Val Kilmer talks to Beyond The Trailer (2010) - Self - Guest
2010
Making American Cowslip (Documentary short)
as
Self
2009
2009 American Music Awards (TV Special)
as
Self
2009
MTV EMA Berlin '09 (TV Special)
as
Self
2009
The Thaw: Behind the Scenes (Video documentary short)
as
Self
2008
Unconquered; Allan Houser and the Legacy of One Apache Family (Documentary short)
as
Narrator
2006
The Late Late Show with Craig Ferguson (TV Series)
as
Self - Guest
- Episode #4.300 (2008) - Self - Guest
- Episode #4.191 (2008) - Self - Guest
- Episode #3.36 (2006) - Self - Guest
2008
Mon clown (TV Movie documentary)
as
Self
2008
American Meth (Video documentary)
as
Narrator
2007
Déjà Vu: Surveillance Window (Video documentary short)
as
Self
2005
Live with Kelly and Mark (TV Series)
as
Self - Guest
- Episode dated 20 November 2006 (2006) - Self - Guest
- Episode dated 21 October 2005 (2005) - Self - Guest
2005
Jimmy Kimmel Live! (TV Series)
as
Self - Guest
- Episode #4.344 (2006) - Self - Guest
- Episode #4.129 (2005) - Self - Guest
2006
Oliver Stone - Hollywoods Lieblingsrebell (TV Movie documentary)
as
Self
2006
The Reichen Show (TV Series)
as
Self
- Episode dated 16 February 2006 (2006) - Self
2005
Batman Forever Heroes: Batman (Video documentary short)
as
Self
2005
Beyond Batman: The Many Faces of Gotham City (Video documentary short)
as
Self
2005
Fight Against Time: Oliver Stone's Alexander (Video documentary)
as
Self
2005
Film '72 (TV Series)
as
Self
- Episode dated 29 December 2005 (2005) - Self
- Episode dated 7 November 2005 (2005) - Self
2005
GMTV (TV Series)
as
Self
- Episode dated 11 November 2005 (2005) - Self
2005
The Showbiz Show with David Spade (TV Series)
as
Self
- Episode #1.6 (2005) - Self
2005
Magacine (TV Series)
as
Self
- Episode dated 21 October 2005 (2005) - Self
- Episode dated 16 September 2005 (2005) - Self
2003
Late Night with Conan O'Brien (TV Series)
as
Self - Guest
- Val Kilmer/Gabrielle Union/Mark Leyner (2005) - Self - Guest
- Val Kilmer/Peter Gallagher/The Killers (2004) - Self - Guest
- Val Kilmer/Carmen Electra/Todd Barry (2003) - Self - Guest
2005
Shadows of the Bat: The Cinematic Saga of the Dark Knight - Batman Unbound (Video documentary short)
as
Self
2005
Shadows of the Bat: The Cinematic Saga of the Dark Knight - Reinventing a Hero (Video documentary short)
as
Self
2005
Mon plus grand moment de cinéma (TV Series short)
as
Self
- Episode dated 2 October 2005 (2005) - Self
2004
Biography (TV Series documentary)
as
Self
- Marlon Brando: The Agony of Genius (2005) - Self
- Val Kilmer (2004) - Self
2005
Mindhunters: Stunt Sequence (Video short)
as
Self
2005
Big Brother's Efourum (TV Series)
as
Self
- Episode #2.32 (2005) - Self (uncredited)
2005
The Bigger Picture (TV Series)
as
Self
- Episode #1.2 (2005) - Self
2005
The Death of 'Alexander' (Video documentary short)
as
Self
2005
The Making of 'Heat' (Video documentary)
as
Self
2005
Nigella (TV Series)
as
Self
- Episode #1.1 (2005) - Self
2005
Breakfast (TV Series)
as
Self - Guest
- Episode dated 7 June 2005 (2005) - Self - Guest
2005
Shootout (TV Series)
as
Self
- Episode #2.28 (2005) - Self
2005
Champion (Documentary)
as
Self
2000
Inside the Actors Studio (TV Series)
as
Self - Guest
- Val Kilmer - second visit (2005) - Self - Guest
- Episode #6.11 (2000) - Self - Guest
2005
Trudell (Documentary)
as
Self
2004
Danger Zone: The Making of 'Top Gun' (Video documentary)
as
Self
1998
HBO First Look (TV Series documentary short)
as
Self
- The Making of 'Alexander': Fortune Favors the Bold (2004) - Self
- The Making of 'The Prince of Egypt' (1998) - Self
2004
The Money Programme (TV Series documentary)
as
Self
- Get Cartier (2004) - Self
2004
On the Set of 'Alexander' (Video documentary short)
as
Self
2004
Bounty Hunters (TV Movie documentary)
as
Self - Narrator
2003
Last Call with Carson Daly (TV Series)
as
Self - Guest
- Episode dated 26 May 2004 (2004) - Self - Guest
- Episode dated 9 October 2003 (2003) - Self - Guest
2004
Richard & Judy (TV Series)
as
Self - Guest
- Episode dated 11 May 2004 (2004) - Self - Guest
1995
This Morning (TV Series)
as
Self - Guest
- Episode dated 10 May 2004 (2004) - Self - Guest
- Episode dated 7 July 1995 (1995) - Self - Guest
1996
Charlie Rose (TV Series)
as
Self - Guest
- Episode dated 12 March 2004 (2004) - Self - Guest
- Episode dated 13 January 1999 (1999) - Self - Guest
- Episode dated 9 October 1996 (1996) - Self - Guest
2002
The Daily Show (TV Series)
as
Self - Guest
- Val Kilmer (2004) - Self - Guest
- Val Kilmer (2002) - Self - Guest
2004
The Orange British Academy Film Awards (TV Special)
as
Self
2004
The Heaven and Earth Show (TV Series)
as
Self - Guest
- Episode dated 16 January 2004 (2004) - Self - Guest
2003
'Masked & Anonymous' Exposed (Video documentary short)
as
Self
2003
V Graham Norton (TV Series)
as
Self - Guest
- Episode #5.35 (2003) - Self - Guest
2003
Tussen de sterren (TV Series documentary)
as
Self
- Episode #1.3 (2003) - Self
2003
The Wayne Brady Show (TV Series)
as
Self
- Episode #2.24 (2003) - Self
2003
A Director's Journey: The Making of 'Red Dragon' (Video documentary short)
as
Self (uncredited)
2003
The Seventh Man (Documentary)
as
Self - Narrator (voice)
2002
Embracing the Chaos: A Conversation with the Cast of 'the Salton Sea' (Video documentary short)
as
Self / Danny Parker / Tom Van Allen
1994
The Tonight Show with Jay Leno (TV Series)
as
Self - Guest
- Episode #10.64 (2002) - Self - Guest
- Episode #7.1 (1999) - Self - Guest
- Episode #5.60 (1997) - Self - Guest
- Episode #3.334 (1995) - Self - Guest
- Episode #3.14 (1994) - Self - Guest
2002
The Making of 'Tombstone' (Video documentary short)
as
Self
2001
Africa Unbottled (TV Movie documentary)
as
Self
2000
Saturday Night Live (TV Series)
as
Self - Host
- Val Kilmer/U2 (2000) - Self - Host
1996
Late Show with David Letterman (TV Series)
as
Self - Guest
- Episode dated 17 November 2000 (2000) - Self - Guest
- Episode dated 15 December 1998 (1998) - Self - Guest
- Episode dated 2 October 1996 (1996) - Self - Guest
2000
Saturday Night Live: Presidential Bash 2000 (TV Special)
as
Self / Jeb Bush
1999
Vivement dimanche (TV Series)
as
Self
- Episode dated 16 May 1999 (1999) - Self
1999
The 71st Annual Academy Awards (TV Special)
as
Self - Presenter
1999
The Rosie O'Donnell Show (TV Series)
as
Self - Guest
- Episode dated 15 January 1999 (1999) - Self - Guest
1999
Live & Kicking (TV Series)
as
Self
- Episode #6.15 (1999) - Self
1997
Mundo VIP (TV Series)
as
Self
- Show nº136 (1998) - Self
- Show nº52 (1997) - Self
1998
NeXt (TV Series)
as
Self
- Episode dated 13 December 1998 (1998) - Self
1997
The Road of Excess (Video documentary short)
as
Self
1997
Xtravaganza (TV Series documentary)
as
Self
- Val Kilmer (1997) - Self
1997
Alta Voltagem (TV Series)
as
Self
- Episode #1.45 (1997) - Self
1996
A Century of Science Fiction (Video documentary)
as
Self
1995
The Annual 1995 ShoWest Awards (TV Special)
as
Self - Presenter
1995
Riddle Me This: Why Is Batman Forever? (TV Movie documentary)
as
Self
1995
Showbiz Today (TV Series)
as
Self
- Episode dated 18 June 1995 (1995) - Self
1995
1995 MTV Movie Awards (TV Special)
as
Self - Presenter
1994
100 Years of the Hollywood Western (TV Movie documentary)
as
Self
1994
The 66th Annual Academy Awards (TV Special)
as
Self - Presenter
1994
The 9th Annual IFP/West Independent Spirit Awards (TV Special)
as
Self - Presenter
1994
The 51st Annual Golden Globe Awards (TV Special)
as
Self - Presenter
1993
The Untold West (TV Series documentary)
as
Self
- Outlaws, Rebels and Rogues (1993) - Self
1991
Memorial: Letters from American Soldiers (Documentary short)(voice)
1991
The Doors: Featurette (Video documentary short)
as
Self
1988
Willow: The Making of an Adventure (TV Movie documentary)
as
Self / Madmartigan
1984
The 56th Annual Academy Awards (TV Special documentary)
as
Self - Audience Member
1984
The 41st Annual Golden Globe Awards (TV Special)
as
Self - Audience Member
Archive Footage
2016
Entertainment Tonight (TV Series)
as
Self
- ET Vault Unlocked: Tom Cruise (2023) - Self
- 'Top Gun' Takeover (2022) - Self
- Grammys Throwback Thursday! (2019) - Self
- Media (2018) - Self
2022
The Future Of (TV Series documentary)
as
Self - Actor
- Life After Death (2022) - Self - Actor
2021
Good Morning America (TV Series)
as
Self
- Episode dated 19 August 2021 (2021) - Self
2021
Le Fossoyeur de Films (TV Mini Series documentary)
as
Self
- Le Gag Ultime (2021) - Self
2020
Minty Comedic Arts (TV Series)
as
Self
- 10 Things You Didn't Know About TombStone (2020) - Self
2020
Behind Closed Doors (TV Series)
- Top Gun (2020)
2016
No Sleep TV3 (TV Series)
as
Doc Holliday
- Classic Episode #10: "God, Guns & Guts" - Westerns (2016) - Doc Holliday (uncredited)
2016
The Cowboy (TV Series documentary)
as
Self - Actor
- Hollywood Vs. History - Self - Actor
2012
Welcome to the Basement (TV Series)
as
Animal Wrangler / Iceman / Chris Knight
- Masked and Anonymous (2013) - Animal Wrangler
- Top Gun (2012) - Iceman / Chris Knight
2012
Special Collector's Edition (TV Series)
as
Nick Rivers
- Especial Top Comedias (2012) - Nick Rivers
2009
American Masters (TV Series documentary)
- Hollywood Chinese (2009)
2008
5 Second Movies (TV Series short)
as
Batman
- Batman (2008) - Batman
2006
Canada A.M. (TV Series)
as
Gay Perry
- Episode dated 16 June 2006 (2006) - Gay Perry
2005
Cinema mil (TV Series documentary)
as
Self
- Episode #1.2 (2005) - Self
2003
Dr. X's Creatures (TV Series)
as
Various Characters (2003)
2001
Saturday Night Live: The Best of Molly Shannon (Video)
as
Dr. Marshal Reams (uncredited)
1995
Seal: Kiss from a Rose (Batman Forever Version) (Music Video)
as
Batman / Bruce Wayne
1995
Joe Bob's Drive-In Theater (TV Series)
as
Doc Holliday
- More Girls with Big Guns (1995) - Doc Holliday
1991
The Doors: Break on Through (Music Video)
as
Jim Morrison
References
Val Kilmer Wikipedia
(Text) CC BY-SA