Occupation

Actress




Height

1.78 m




Role

Actress




Name

Kelly McGillis




Years active

1983–present








Full Name

Kelly Ann McGillis




Born

July 9, 1957 (age 65) (

1957-07-09

) Newport Beach, California, U.S.


Education

Juilliard School (1979–1983)


Partner(s)

Melanie Leis (2010-2012)




Spouse

Melanie Leis (m. 2010–2011), Fred Tillman (m. 1989–2002), Boyd Black (m. 1979–1981)




Children

Sonora Tillman, Kelsey Tillman




Parents

Virgina Joan McGillis, Donald Manson McGillis




Movies

Top Gun, Witness, The Accused, Stake Land, The Innkeepers




Similar People

Tom Cruise, Melanie Leis, Val Kilmer, Anthony Edwards, Meg Ryan
The accused 1 9 movie clip will those bastards go to jail 1988 hd
Kelly Ann McGillis (born July 9, 1957) is an American actress. She has found fame for her acting roles in several films since the 1980s including: her role as Rachel Lapp in Witness (1985) with Harrison Ford, for which she received Golden Globe and BAFTA nominations, the role of Charlie in the film industry's blockbuster hit Top Gun (1986) with Tom Cruise, and the role of attorney Kathryn Murphy in The Accused (1988), with Jodie Foster.
Contents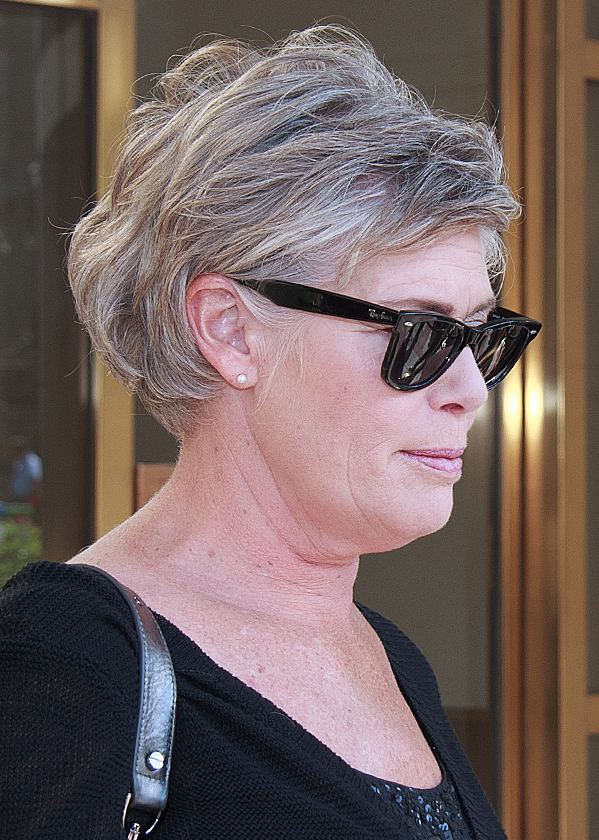 Kelly mcgillis from top gun to 1 a minute edited interview fb joybeharhln for full vid
Early life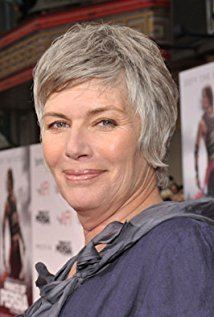 Kelly McGillis was born July 9, 1957, in Newport Beach, California, the daughter of Virginia Joan (née Snell), a homemaker, and Dr. Donald Manson McGillis, a general practitioner of medicine.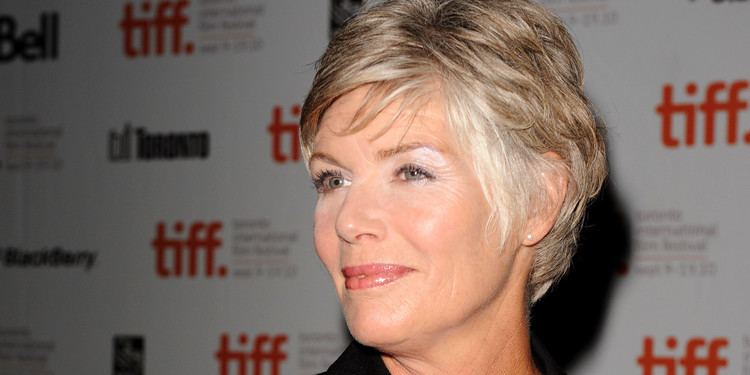 McGillis was raised in Los Angeles, and attended the Pacific Conservatory of the Performing Arts in Santa Maria, California. After graduating from high school in 1975, she moved to New York City to study acting at the Juilliard School, where she graduated in 1983, Group 12.
Film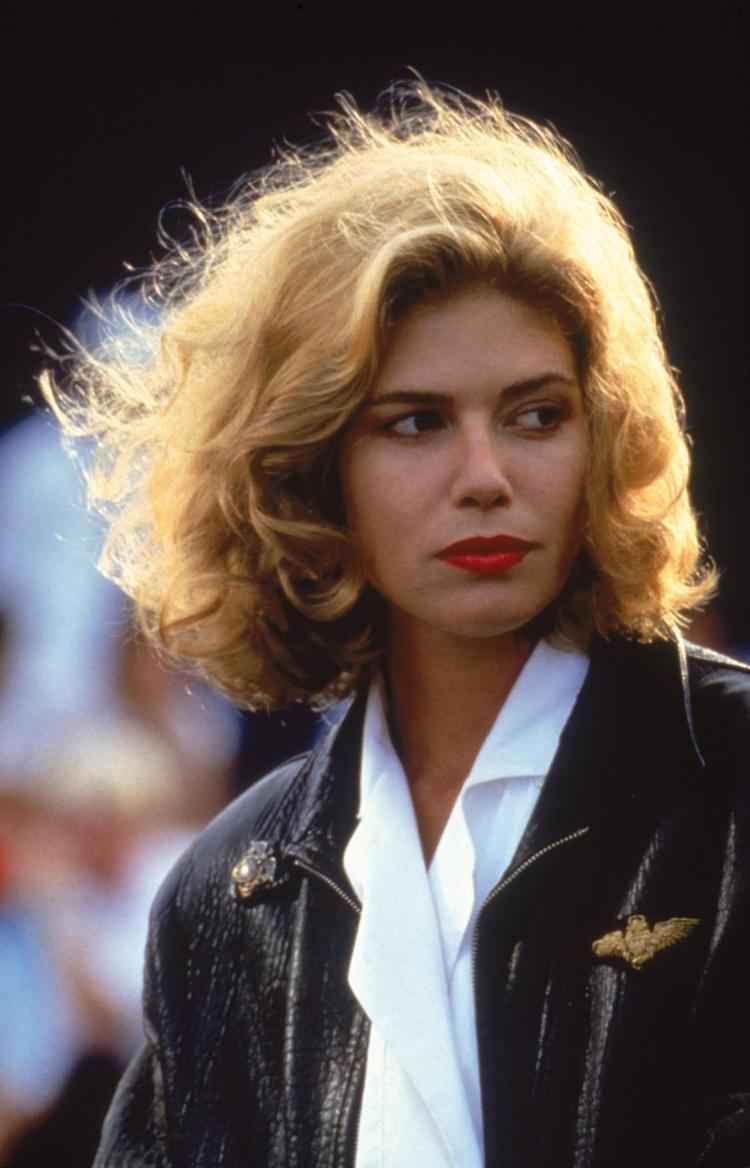 Her breakout role was that of an Amish mother in the 1985 film Witness with Harrison Ford, for which she received Golden Globe and BAFTA award nominations. Her next high-profile role was that of flight instructor Charlie in the 1986 fighter-pilot film Top Gun with Tom Cruise and Val Kilmer.
In 1987, McGillis acted in the fantasy-comedy film Made in Heaven, directed by Alan Rudolph, which was produced by Lorimar Productions. The film also co-stars Oscar winner Timothy Hutton.
McGillis played the part of caretaker for Miss Venable (Jessica Tandy) in 1988's The House on Carroll Street, which also stars Jeff Daniels. She overhears a suspicious conversation in the house next door and suspects that she's stumbled on a conspiracy to smuggle Nazi war criminals into the United States.
After 1988's The Accused, she appeared in Cat Chaser with Peter Weller, a film she despised and which discouraged her from pursuing an acting career. McGillis appeared in dozens of television and film roles throughout the 1990s before taking a break from acting for a few years.
In 1992's The Babe, Ms. McGillis plays a Ziegfeld Follies showgirl who becomes Babe Ruth's (played by John Goodman) second wife. She prepared for the role by reading Billie Burke's autobiography about her career with the Follies, "With a Feather on My Nose".
In 1999, McGillis teamed up with Val Kilmer (who plays Virgil, a blind man), for a second time as his over protective sister in At First Sight, with Mira Sorvino.
She played the suspect in the disappearance of a young woman starring Susie Porter in The Monkey's Mask, an international lesbian cult film from 2000. The film is based on the verse novel of the same name by Australian poet Dorothy Porter.
Stage
While at Juilliard she performed in William Congreve's Love for Love, directed by John Bletchley.
Since her graduation, McGillis has performed live theatre, including classics by Chekov, Shaw, Ibsen, Shakespeare and O'Neill. She has often appeared in starring roles with the Shakespeare Theatre Company of Washington, DC.
In 2004, she appeared in the stage play The Graduate as Mrs. Robinson, touring the United States. McGillis starred in a Pasadena Playhouse stage production of Little Foxes by Lillian Hellman in May 2009, co-starring with Julia Duffy.
She also appeared in a production of Frankie and Johnny in the Clair de Lune by Terrence McNally, which toured the United Kingdom in 2010.
Return to Film and TV
She began working in television again in 2006, then in 2007, she joined the cast of Showtime's The L Word for its fifth season.
She had a role in the 2010 vampire film Stake Land, directed by Jim Mickle. She stars alongside Nick Damici, Connor Paolo and Danielle Harris.
McGillis was featured in a breast cancer docu-drama titled 1 a Minute, released in 2010.
She starred in Ti West's 2011 thriller The Innkeepers.
We Are What We Are and Tio Papi in 2013
Grand Street in 2014
Love Finds You in Sugarcreek, Ohio in 2014, TV, (McGillis' 2nd Amish themed film)
Z Nation in 2014, Sisters of Mercy, Season 1, Episode 11
Blue in 2015
An Uncommon Grace, on Hallmark Channel, (McGillis' 3rd Amish themed film)
Lead role in Mother of All Secrets in 2017 as Rose Lewis
Personal life
McGillis married fellow Juilliard student Boyd Black in 1979, but the couple divorced in 1981.
McGillis married Fred Tillman in 1989, and they have two daughters. The couple divorced in 2002.
McGillis came out as a lesbian in April 2009 during an interview with SheWired. McGillis said that coming to terms with her sexual orientation has been an ongoing process since age 12, and she was long convinced that God was punishing her for being homosexual with a rape incident. In 2010, McGillis entered into a civil union with Melanie Leis, a Philadelphia-based sales executive; she and McGillis met in 2000 when Leis was a bartender at the "Kellys' Caribbean Bar Grill & Brewery" in Key West, Florida, which McGillis owned with her then-husband Fred Tillman. Leis and McGillis broke up in 2011.
McGillis worked full-time with drug addicts and alcoholics at Seabrook House Drug Alcohol Rehab Center, a rehabilitation center in Bridgeton, New Jersey, when she and Leis shared a home in Collingswood.
McGillis currently lives in Hendersonville, North Carolina. She teaches acting at The New York Studio for Stage and Screen NYS3 in Asheville, North Carolina.
June 2016 Attack
McGillis was reportedly assaulted by a stranger who broke into her North Carolina home on June 17, 2016. She said the attack, as well as others she has experienced in the past, has led her to decide to apply for a concealed carry gun permit to protect herself.
Upcoming
McGillis is set to star in crime thriller Annie Cook, which Angel Grace Worldwide will introduce to international buyers at the Cannes Film Market.
McGillis filmed Mother of All Secrets in early 2017 in Bermuda and that trailer has already been released.
Filmography
Actress
2020
Dirty John (TV Series)
as
Miriam Saslaw
- Scream Therapy (2020) - Miriam Saslaw (uncredited)
2018
Maternal Secrets (TV Movie)
as
Rose
2017
An Uncommon Grace (TV Movie)
as
Elizabeth Conner
2014
Z Nation (TV Series)
as
Helen
- Sisters of Mercy (2014) - Helen
2014
Love Finds You in Sugarcreek (TV Movie)
as
Bertha
2013
Tio Papi
as
Elizabeth Warden
2013
We Are What We Are
as
Marge
2011
What Could Have Been
as
Margaret
2011
Stake Land: Origins (TV Series short)
as
Sister
- Sister (2011) - Sister
2011
The Innkeepers
as
Leanne Rease-Jones
2008
The L Word (TV Series)
as
Colonel Gillian Davis
- Lay Down the Law (2008) - Colonel Gillian Davis
- Lesbians Gone Wild (2008) - Colonel Gillian Davis
2007
Supergator (Video)
as
Kim Taft
2006
Black Widower (TV Movie)
as
Nancy Westveld
2001
Morgan's Ferry (Video)
as
Vonnie Carpenter
2001
No One Can Hear You
as
Trish Burchall
2000
Cold Shoulder (TV Movie)
as
Lieutenant Lorraine Page
2000
Buzz Lightyear of Star Command (TV Series)
as
Gorgeous Woman
- Planet of the Lost (2000) - Gorgeous Woman (voice)
2000
The Monkey's Mask
as
Professor Diana Maitland
2000
The Outer Limits (TV Series)
as
Nicole Whitley
- Final Appeal (2000) - Nicole Whitley
2000
The Wild Thornberrys (TV Series)
as
Winema
- Pack of Thornberrys (2000) - Winema (voice)
1999
The Settlement
as
Fake Barbara / Ellie
1999
At First Sight
as
Jennie Adamson
1998
Ground Control
as
Susan Stratton
1998
Perfect Prey (TV Movie)
as
Audrey Macleah
1998
Storm Chasers: Revenge of the Twister (TV Movie)
as
Jamie Marshall
1997
The Third Twin (TV Movie)
as
Dr. Jean 'Jeannie' Ferrami
1996
We the Jury (TV Movie)
as
Alyce Bell
1995
Dark Eyes (TV Series)
as
Mila McGann
- Pilot (1995) - Mila McGann
1995
Remember Me (TV Movie)
as
Menly Nichols
1994
In the Best of Families: Marriage, Pride & Madness (TV Movie)
as
Susie Lynch
1993
Bonds of Love (TV Movie)
as
Rose Parks
1992
Perry Mason: The Case of the Fatal Framing (TV Movie)
as
Mrs. Joel McKelvey (uncredited)
1991
Grand Isle
as
Edna Pontellier
1989
Cat Chaser
as
Mary DeBoya
1989
Rabbit Ears: Thumbelina (Video short)
as
Storyteller
1989
Winter People
as
Collie Wright
1988
The Accused
as
Kathryn Murphy
1988
The House on Carroll Street
as
Emily
1987
Santabear's High Flying Adventure (TV Movie)
as
Missy Bear (voice)
1987
Once We Were Dreamers
as
Anda
1987
Made in Heaven
as
Annie Packert / Ally Chandler
1986
Santabear's First Christmas (TV Movie)
as
Narrator (voice)
1985
Private Sessions (TV Movie)
as
Jennifer Coles
1984
Sweet Revenge (TV Movie)
as
Katherine Dennison Breen
1983
Reuben, Reuben
as
Geneva Spofford
1968
One Life to Live (TV Series)
as
Glenda Livingston #1 (1984)
Producer
1991
Grand Isle (co-producer)
Soundtrack
1986
Top Gun (performer: "Great Balls of Fire")
Thanks
2007
Girl 27 (Documentary) (special thanks)
Self
2022
IMDb Supercuts (TV Series documentary)
as
Self
- Kelly McGillis Career Retrospective (2022) - Self
2021
A League of Our Own (Documentary short)
as
Self
2012
The Innkeepers: Behind the Scenes (Video documentary short)
as
Self
2010
Gylne tider (TV Series documentary)
as
Self / Charlie
- Episode #4.1 (2010) - Self / Charlie
2010
1 a Minute (Documentary)
as
Main Lady Narrator (voice)
2010
Breakfast (TV Series)
as
Self - Actress
- Episode dated 25 January 2010 (2010) - Self - Actress
2005
Biography (TV Series documentary)
as
Self
- Jodie Foster (2005) - Self
2005
Between Two Worlds: The Making of 'Witness' (Video documentary)
as
Self
2003
Journey to Planet Earth (TV Series documentary)
as
Narrator
- The Urban Explosion (2003) - Narrator
- Rivers of Destiny (2003) - Narrator
- Land of Plenty, Land of Want (2003) - Narrator
2002
VH-1 Behind the Movie (TV Series documentary)
as
Self
- Top Gun (2002) - Self
1999
Donny & Marie (TV Series)
as
Self
- Episode dated 10 March 1999 (1999) - Self
1998
Kate Chopin: A Re-Awakening (TV Movie documentary)
as
Narrator
1997
Late Show with David Letterman (TV Series)
as
Self - Guest
- Episode dated 5 November 1997 (1997) - Self - Guest
1997
The Rosie O'Donnell Show (TV Series)
as
Self - Guest
- Episode #1.206 (1997) - Self - Guest
1995
Out of Ireland (TV Movie documentary)
as
Narrator (voice)
1993
Canceled Lives: Letters from the Inside (Video documentary)
as
Self (voice)
1992
The Word (TV Series)
as
Self - Guest
- Episode #2.13 (1992) - Self - Guest
1989
The Kennedy Center Honors: A Celebration of the Performing Arts (TV Special)
as
Self
1989
Late Night with David Letterman (TV Series)
as
Self - Guest
- Episode dated 7 April 1989 (1989) - Self - Guest
1988
De película (TV Series)
as
Self - Interviewee
- Episode dated 22 August 1988 (1988) - Self - Interviewee
1987
Wogan (TV Series)
as
Self
- Episode #7.108 (1987) - Self
1986
Entertainment Tonight (TV Series)
as
Self
- Dated 27 October 1986 (1986) - Self
1986
The 43rd Annual Golden Globe Awards 1986 (TV Special)
as
Self - Nominee
1985
Live from Lincoln Center (TV Series)
as
Self - Host
- Juilliard at 80 (1985) - Self - Host
1985
Today (TV Series)
as
Self
- Dated 4 October 1985 (1985) - Self
1985
Drôle de festival (TV Short documentary)
as
Self (uncredited)
1984
The Tonight Show Starring Johnny Carson (TV Series)
as
Self - Guest
- Episode #23.19 (1984) - Self - Guest
Archive Footage
2016
Entertainment Tonight (TV Series)
as
Self
- 'Top Gun' Takeover (2022) - Self
- Episode #41.223 (2022) - Self
- Episode #41.209 (2022) - Self
- Hollywood Sequels and Spin-Offs! (2020) - Self
- 2020 Movies (2020) - Self
- Golden Globes Weekend (2020) - Self
- Episode #38.276 (2019) - Self
- Episode #35.211 (2016) - Self
- Episode dated 25 June 2016 (2016) - Self
- Episode #35.205 (2016) - Self
2021
Val (Documentary)
as
Self
2020
Tom Cruise: An Eternal Youth (Documentary)
as
Self
2020
Behind Closed Doors (TV Series)
as
Self / Charlie
- Top Gun (2020) - Self / Charlie
2017
Happy Pride! Sexy LGBT Stars (Video short)
as
Emily
2007
Girl 27 (Documentary)
as
Self
2004
Retrosexual: The 80's (TV Mini Series documentary)
1999
A Conversation with Director Peter Weir (Video documentary short)
as
Rachel Lapp
1987
The 59th Annual Academy Awards (TV Special)
as
Charlie (uncredited)
1986
Sexy Folies (TV Series documentary)
as
Self
- Episode dated 17 September 1986 (1986) - Self
1986
Berlin: Take My Breath Away (Music Video)
as
Charlie
1986
Kenny Loggins: Danger Zone (Music Video)
as
Charlie
1986
The 58th Annual Academy Awards (TV Special)
as
Rachel Lapp (uncredited)
References
Kelly McGillis Wikipedia
(Text) CC BY-SA