7.4

/

10

Alchetron

7.4

Rate This





Genre

WesternLegal drama




First episode date

17 September 1957




Location

California




Also known as

'Tenderfoot (UK name)




Created by

Michael Fessier




Theme song

Sugarfoot Theme Song







Written by

Montgomery Pittman (four episodes)


Directed by

Irving J. MooreLeslie H. MartinsonMontgomery Pittman (four episodes)




Starring

Will HutchinsJack Elam




Cast

Will Hutchins, Jack Elam, Kurt Russell
sugarfoot us tv series 1957 61 promo
Sugarfoot is an American western television series that aired on ABC from 1957-61 on Tuesday nights on a "shared" slot basis – rotating with Cheyenne (1st season); Cheyenne and Bronco (2nd season); and Bronco (3rd season). The Warner Bros.production stars Will Hutchins as Tom Brewster, an Easterner who comes to the Oklahoma Territory to become a lawyer. Jack Elam is cast in occasional episodes as sidekick Toothy Thompson. Brewster was a correspondence-school student whose apparent lack of cowboy skills earned him the nickname "Sugarfoot", a designation even below that of a tenderfoot.
Contents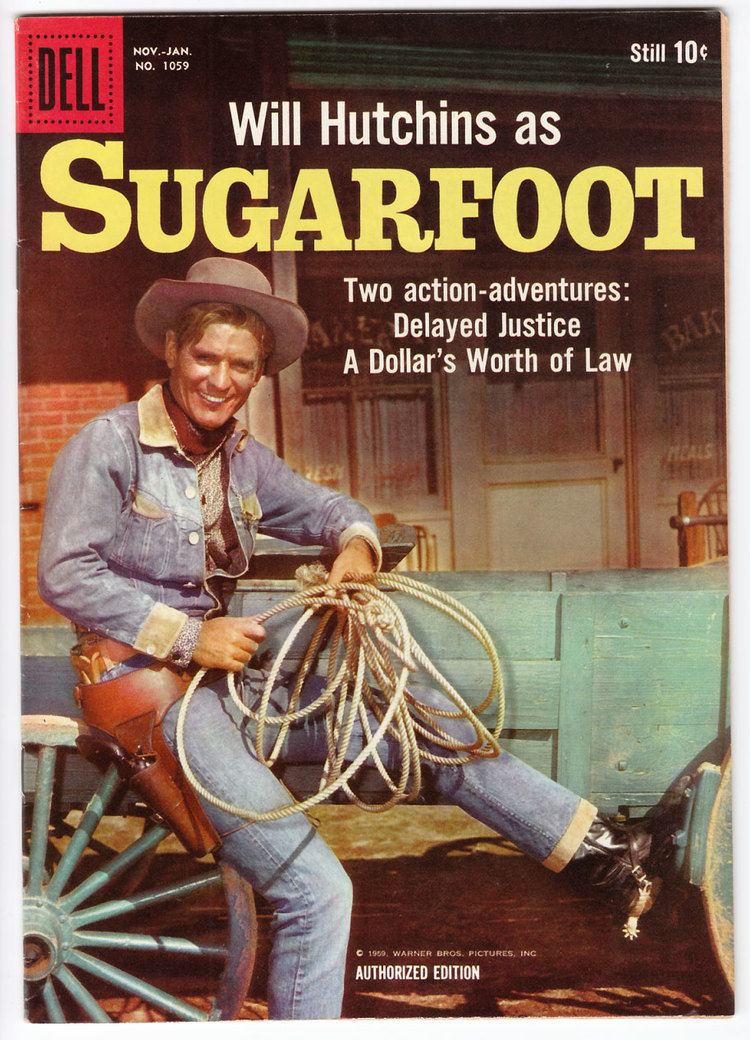 Sugarfoot the complete fourth season preview clip
Background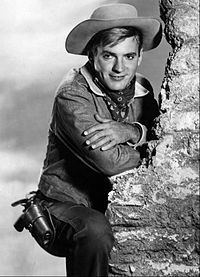 Sugarfoot had no relation to the 1951 Randolph Scott Western film Sugarfoot aside from the studio owning the title (and the theme music), but its pilot episode was a remake of an offbeat 1954 western film called The Boy from Oklahoma, starring Will Rogers, Jr., as Tom Brewster. The pilot and premiere episode, "Brannigan's Boots," was so similar to The Boy from Oklahoma that Sheb Wooley and Slim Pickens reprised their roles from the film.
As played by Rogers in the film, Brewster avoided firearms but preferred to vanquish villains with his roping skills (à la Will Rogers, Sr.) if friendly persuasion failed. Perhaps for practical reasons, the pilot altered the character slightly and made Brewster reluctant to use firearms (or any other kind of violence) but able and willing to do so when there was no alternative. That remained his stance throughout the series, and the title song mentions that Sugarfoot carries a rifle and a law book.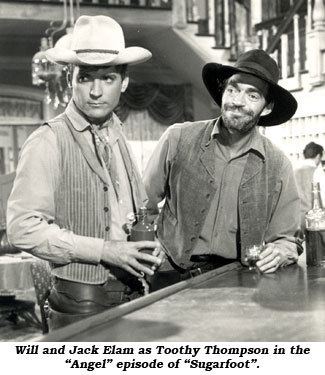 Whenever he enters a saloon, Sugarfoot refuses alcohol and orders sarsaparilla "with a dash of cherry" (sarsaparilla is a drink similar to root beer).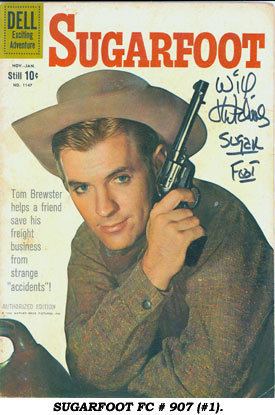 Sugarfoot was one of the earliest products of the alliance between ABC and the fledgling Warner Brothers Television Department, chaired by William T. Orr. During the same period, other similar programs would appear, including Maverick, Cheyenne, Bronco, Lawman, and Colt .45. Hutchins appeared as Sugarfoot in crossover episodes of Cheyenne and Maverick, and in an installment of Bronco called "The Yankee Tornado", with Peter Breck as a young Theodore Roosevelt. Jack Kelly appeared as Bart Maverick in the Sugarfoot episode "A Price on His Head."
Sugarfoot is only partly set in Oklahoma; the character seems to appear at any place in the West though geographic place names are often missing in the scripts. He often journeys south of the border into Mexico, and numerous episodes are rich in Hispanic culture, with various roles played by Mexican or Mexican-American actors.
Cast of "Brannigan's Boots"
The pilot and premiere episode, "Brannigan's Boots", aired on September 17, 1957. In the story line, Tom Brewster is appointed the sheriff of the town of Bluerock by politicians who believe his apparent lack of cowboy skills will render him unable to maintain order after the murder of Sheriff Brannigan. Brewster takes the appointment seriously and symbolically puts on a pair of boots left behind in the sheriff's office. Brannigan's daughter, Katie (played by the late Merry Anders), sees Brewster wearing her father's boots and calls him a "sugarfoot". She questions whether he is capable of filling her father's boots. "Sugarfoot" then successfully finds her father's killer but not without a fictitious incident with Billy the Kid. He soon wins Katie's heart too. The opening episode reveals that Sugarfoot's guns, mailed to him by his mother, were those of his late father.
Will Hutchins ... Tom 'Sugarfoot' Brewster
Merry Anders ... Katie Brannigan
Louis Jean Heydt ... Paul Evans
Dennis Hopper ... Billy the Kid
Arthur Hunnicutt ... Pop Purty
Chubby Johnson ... Postmaster Wally Higgins
Slim Pickens ... Shorty
Ainslie Pryor ... Mayor Barney Turlock
Sheb Wooley ... Pete
Cast of The Boy from Oklahoma film (1954)
Will Rogers, Jr. ... Sheriff Tom Brewster
Nancy Olson ... Katie Brannigan
Lon Chaney, Jr. ... Crazy Charlie
Anthony Caruso ... Mayor Barney Turlock
Wallace Ford ... Postmaster Wally Higgins
Clem Bevans ... Pop Pruty, Justice of the Peace
Merv Griffin ... Steve
Louis Jean Heydt ... Paul Evans
Sheb Wooley ... Pete Martin
Slim Pickens ... Shorty
Tyler MacDuff ... Billy the Kid
James Griffith ... Joe Downey
1957
In "Reluctant Hero", the second episode of the series (October 1, 1957), Sugarfoot takes a ranch job from the aging Charlie Cade (Will Wright). He soon finds that Cade is involved in a range war with Ken and Linda Brazwell, brother-and-sister ranchers played by Michael Dante and Gloria Talbott. Sugarfoot clashes with Cade's foreman Curly Day (Steve Brodie), who burns down Cade's ranch house after Cade fires him. Cade dies in the fire, and Sugarfoot is shot in the attack. Linda takes it upon herself to nurse Sugarfoot back to health. I. Stanford Jolley plays the mysterious "The Nighthawk".
In "The Strange Land" (October 15, 1957), viewers learn that Sugarfoot's father, George Brewster, was a highly regarded law-enforcement officer. Based on a story by Louis L'Amour, this episode focuses upon an embittered rancher named Cash Billings (Morris Ankrum). An old friend of George Brewster's, Billings hires Sugarfoot to repair fence on Billings' Slash B Ranch. Billings has allowed a hired gunman, Burr Fulton (Rhodes Reason), to take over his spread and harass the neighboring small ranchers, but Sugarfoot arrives to bring law and justice to the situation. Jan Chaney plays Billings's daughter, Anne, who takes a liking to Sugarfoot, the nickname that is the title of the series. Anne had accidentally killed her brother in a shooting, and her father was unforgiving.
In the unusually titled "Bunch Quitter" (October 29, 1957), Sugarfoot is hired by Otto Jardine (Frank Ferguson, earlier of My Friend Flicka), for a mysterious cattle drive to an unknown destination. Kathleen Case plays Gail Jardine, Otto's daughter, who is smitten by an outlaw, Blacky (Ray Danton). When Blacky fatally shoots the trail boss Slim Jackson (Tyler McVey), Sugarfoot gathers the evidence to bring him to justice.
In "Trail's End" (November 12, 1957), Sugarfoot comes upon a former childhood sweetheart, Kathy Larsen (Venetia Stevenson), who is managing a dance hall. Chris Alcaide plays the corrupt Clay Horton, who forces Kathy to marry him so that she cannot testify in court in regard to Horton's crimes. Barbara Stuart portrays Muriel, Kathy's business partner. Gordon Jones plays Sugarfoot's lively friend, Wasco Wolters, who has an interest in Muriel. This episode reveals that Tom Brewster spent his childhood in Vermont before coming to the Oklahoma Territory.
In "Quicksilver" (November 26, 1957), Sugarfoot investigates the robbery of a silver mine which prevents the owner from meeting his payroll. The episode features Lane Bradford as the cutthroat Ellis; John Litel as Hank Tatum, the owner of the mine, and Fay Spain as Tatum's daughter, Susie, the girlfriend and eventual wife of the local sheriff. Frank Wilcox plays George Beaumont, an unscrupulous businessman who had been rejected years earlier by Hank Tatum's late wife.
1958
Joi Lansing guest stars as the unsavory but attractive "Peaches", who claims to be a belle from Georgia, in the episode "Bullet Proof" (January 21, 1958). Sugarfoot tricks a gang into believing that he knows the location of the loot from their last bank robbery. Gregory Walcott plays Peaches' presumed fiance, Duke McKlintock, and Don "Red" Barry is cast as Tanner.
After several episodes aired in the second season, a disappointed Hutchins complained in a letter to executive director William T. Orr that the scripts were written so that the lead character Sugarfoot was not particular needed in many of the episodes. The action revolved around Sugarfoot who was often not a real party to the events. Hutchins attributed writer and director Montgomery Pittman for saving the series for two more seasons by setting the tone for the redirection of the latter scripts. Pittman directed four episodes and wrote four others.
In the second-season premiere on September 16, 1958, Will Wright returns to portray Job Turner, a curmudgeon living alone in the desert. Entitled "Ring of Sand", the episode is a lesson in vengeance, forgiveness, and hope. Three outlaws, played by John Russell, Edd Byrnes, and Rodolfo Hoyos, Jr., have in a stagecoach robbery murdered Turner's son, a newly licensed medical doctor. The men compel Turner to take them to the Mexican border, but Turner seeks vengeance by leading the trio around in circles despite the lack of water and a crippling sandstorm. Tom Brewster's role in the episode is tangential, as Hutchins had explained in his letter to William T. Orr. Sugarfoot was at Turner's house delivering a letter when the outlaws arrived. Sugarfoot uses biblical quotations to soften Turner's heart, particularly when a young woman with a baby is found wandering in the desert after the murder of her husband. Meanwhile, Russell and Byrnes launched their own ABC/WB series, Lawman and 77 Sunset Strip, respectively, just a couple of weeks after this episode aired.
In "Brink of Fear" (September 30, 1958), a lesson about the line of good and evil in the human heart, Tom Brewster attempts to help his boyhood friend Cully Abbott, using the name Todd Frye (Jerry Paris), put aside his lawless past after Abbott is paroled from prison. Abbott's former partners in crime come into the town where he is trying to start afresh and compel him into a bank robbery. Abbott becomes discouraged when the young woman he likes, Dodie Logan (Venetia Stevenson), has no romantic interest in him. When the moment of truth arrives, Abbott returns to his criminal ways, and Sugarfoot must hunt him down. Allen Case appears as the hot-headed deputy Bud Wilkins a year prior to being cast as "the deputy" in the NBC series, The Deputy.
In a gloomy episode entitled "The Ghost" (October 28, 1958), Tommy Rettig plays Steve Carter, a troubled youth whom Sugarfoot is hired to escort to St. Louis to collect an inheritance. The youth is falsely charged with the murder of a sheriff. Rettig sings part of the popular western song, "The Streets of Laredo". The episode has been called "a Greek Chorus in a Stetson hat". Other guest stars include Ed Kemmer, Gail Kobe, and Martin Landau, who plays "The Ghost".
In "The Hunted" (November 25, 1958), based on a story in True West Magazine, Sugarfoot, while working in a railroad gang, befriends a wounded former soldier, John Allman (Mike Lane), who has become mentally unbalanced as a result of the terror of an Apache attack on his Army unit. Allman engages in bank robbery and murder, but Sugarfoot is unable to bring him to justice because of the impatient action of a persistent posse led by Clay Calhoun (R.G. Armstrong). Francis De Sales appears in this episode as Major Sterling.
In "Yampa Crossing" (December 9, 1958), Sugarfoot and three other men wait at a river crossing for high water to subside. Sugarfoot has been retained to obtain a legal statement from Galt Kimberly (Harold J. Stone) regarding Kimberly's estranged 13-year-old son in Missouri, who is in line to collect an inheritance. Roger Smith of 77 Sunset Strip plays Gene Blair, a kind family man living in the nearby mountains who agrees to adopt Kimberly's son after he is compelled to kill Kimberly in a shootout. Brian G. Hutton is cast as the ill-fated young gunfighter known only as "The Kid".
In "Devil to Pay" (December 23, 1958), Sugarfoot arrives at an Arapaho trading post whose owner has been killed by an arrow. Though warned away by a small "devil doll" planted in his saddlebag, Sugarfoot stays to help a young Indian woman, Monah (Grace Raynor), and Grey Hawk (H.M. Wynant) keep the trading post in operation. Tol Avery plays Jim Case, a rival trading post operator; John Carradine is cast as Mathew McDavitt, Case's drunken cohort.
1959
In "The Desperadoes" (January 6, 1959), Sugarfoot c. 1870 visits his friend Padre John (Anthony George) at a Roman Catholic mission in South Texas, where he learns of a mysterious plot to assassinate Mexican President Benito Juarez. Abby Dalton and Jack Kruschen guest star in this episode as Elizabeth Bingham and Sam Bolt, a military officer with a Napoleonic complex.
In "The Extra Hand" (January 20, 1959), in exchange for a horse and supplies, Sugarfoot becomes the traveling companion of a former Russian seaman, Alexi Sharlakov (Karl Swenson), soon to become an American citizen. When the two reach a mining ghost town in Kansas, Sharlakov searches for Vic Latour (Anthony Caruso) and Hank Bremer (Jack Lambert), who had tried to kill him and left him with only one arm. The "extra hand" is that of Sugarfoot, backing up Sharlakov in a showdown with Latour and Bremer.
Wayde Preston, who played Christopher Colt on the ABC western Colt .45, appeared four times in that same role on Sugarfoot in the episodes dealing with "The Canary Kid," a role also played by Will Hutchins. In the semi-comical "The Return of the Canary Kid" (February 3, 1959), Hutchins and Preston are joined by Don "Red" Barry as Arkansas, Richard Reeves as Blackie Stevens, and Sandra Edwards as Prudence, the Canary Kid's girlfriend who instead falls for the kindly Tom Brewster. The "Canary Kid" episodes began to transition the series to correct the deficiencies that Hutchins had explained in his letter to Orr.
"The Mysterious Stranger" (February 17, 1959) features Adam West (Batman) as Frederick Pulaski, a declared descendant of the Polish military commander Casimir Pulaski, who was mortally wounded at the British Capture of Savannah, Georgia, in the American Revolution. Casimir Pulaski, "the father of the American cavalry", however, never married or had direct descendants and died at the age of thirty-four. In the story line, Frederick Pulaski is a concert pianist who defends oppressed Polish miners in a western town. After studying law under the deceitful Jay Hollis (Frank Cady), who take a fatherly interest in Tom Brewster, Sugarfoot befriends Pulaski in a legal hearing and reconciles him with the young woman to whom both are smitten, Kathy O'Hara (Sue Randall of Leave It to Beaver), who is also studying to be a concert pianist. Karl Swenson appears in this episode as Kathy's wealthy Irish father, Dennis O'Hara, who had mistakenly placed his full confidence in lawyer Hollis. Walter Burke plays a bartender in this episode.
In "The Giant Killer" (March 3, 1959), Patricia Barry plays the recently widowed Doreen Bradley who with the assistance of Sugarfoot exposes to a grateful town the corruption and cowardice of Lou Stoner (R. G. Armstrong), a leading candidate for a territorial governorship but not before she threatens to blow up the town hotel. Stoner murdered Doreen's husband but with no witnesses to the crime. Russ Conway plays the town marshal. Dorothy Provine, John Litel in his second appearance on the series, and child actor Jay North of Dennis the Menace are cast, respectively, as Ada, Mr. Crenshaw, and Bobby.
In "The Royal Raiders" (March 17, 1959), Sugarfoot comes to the aid of a young Frenchwoman, Yvette Marveux (Jacqueline Beer of 77 Sunset Strip), who asks him to hide valuable jewels after military men take over the train on which they are riding. Sugarfoot places the jewels in a coffeepot for safe keeping while the frightened passengers await their uncertain fate. Other guest stars are Dennis Patrick, Betty Lynn, and Joe De Santis as General Carlos Jose Perez.
Don Dubbins guest starred in two consecutive Sugarfoot episodes. In "The Mountain" (March 31, 1959), he played "good guy" Vic Bradley, an escaped convicted murderer for whom Sugarfoot brings news of a new trial based on additional evidence uncovered in the case. Miranda Jones plays Bradley's Indian wife, Jean. The couple is hidden away in a mine shaft in a mountain, and much of the episode deals with Sugarfoot and Jean seemingly lost in a cave-in. Bradley's brother-in-law, Dixon White Eagle (Don Devlin), on his deathbed from a snake bite, confesses to the crime for which Bradley had been convicted, the killing of an old miner.
In "The Twister" (April 14, 1959), Dubbins is cast as the "bad guy" Sid Garvin who comes into a quiet town looking for his estranged brother, a schoolteacher who calls himself "Roy Cantwell" (Fred Beir). Cantwell has hidden away $20,000 in loot from one of Garvin's robberies. Sugarfoot, a friend of Cantwell's, tries to free three children being held hostage at the school. Meanwhile, a tornado wipes out the schoolhouse and virtually the entire town though most of the inhabitants made it to safe shelter. Cantwell will not be around to rebuild; he dies from a shot fired by his brother, who with his loot finally in hand perishes in the storm. Betty Lynn returns for another appearance in the series, this time as Alice Fenton, Cantwell's friend who takes over the teaching duties after his death. Child actor Stephen Talbot delivers a compelling role as Ab Martin, Cantwell's prize pupil who at the end of the episode recites to his dying teacher part of Patrick Henry's 1775 address at St. Johns' Church.
Richard Long, five months before he was cast in the ABC/WB detective series Bourbon Street Beat, appears as United States Army Capt. Clayton Raymond in "The Vultures" (April 26, 1959). Raymond faces court martial and certain execution for desertion at the fictitious Fort Rockwell prior to a deadly Apache attack. Following a trail of vultures—hence the episode title—Sugarfoot arrives at the fort, accompanied by a shaken Isabel Starkey (Faith Domergue), the wife of the fort commander, Colonel Starkey (Alan Marshal). Sugarfoot agrees to defend Captain Raymond, but his client refuses to tell what really happened in the matter. Philip Ober plays General Humphrey, who is determined to uncover the truth.
In "The Avengers" (May 12, 1959), Sugarfoot is a passenger on the same stagecoach as Pike (Steve London), a murderer with a debonair appearance condemned to be hanged. Pike boasts that his brothers will quickly free him from his fate. A heavy thunderstorm compels the travelers to take shelter in a dark deserted cathedral inhabited by bats and mysterious occurrences. When the officer guarding Pike is shot, Sugarfoot finds the sniper, a prospector in an abandoned mine shaft of iron pyrites. Meanwhile, Pike never faces the noose but is shot and then crushed to death. Guest stars include Dorothy Provine, in a return appearance on the series, this time as Pike's sister Bonnie, Luana Anders as Princess, the young woman living in the cathedral with the prospector, Vito Scotti as the superstitious Acquistapace, and Chubby Johnson as the stage driver.
In "Small Hostage" (May 26, 1959), Sugarfoot goes south of the border with Army Col. Cyrus Craig (Robert Warwick) to reclaim from a cemetery the body of Craig's military son killed in an Apache attack. While there, Pepe Valdez (Jay Novello), the owner of an orphanage, attempts to persuade Craig that the blonde boy "Chico" (Gary Hunley) is actually Craig's grandson, but Craig had never been informed that his son may have married and he doubts Chico's parentage.
In "Wolf" (June 9, 1959), while working as the new foreman at the ranch of Belle Kellogg (Virginia Gregg), Sugarfoot come into contact with the troublesome but harmless Juf Wilkes (William Fawcett), whose poor family often engages in petty theft to feed themselves, with little said from sympathetic townspeople. Wilkes's estranged son, Wolf (Wright King), for whom the episode is titled, returns home to take over the homestead. In a gunfight, Wolf kills another rancher, Lee Spate (Ted de Corsia), who caused Juf's sudden death by poisoning beef that Juf had killed on Spate's property. Judy Nugent is cast as Charonne; Frank Ferguson in a return appearance, this time as Doc Spooner, and Tommy Ivo as Jed Wilkes.
Guest stars
Notable guest stars, excluding the aforementioned:
Ratings
Sugarfoot finished at #24 in the Nielsen ratings for the 1957-1958 season and #21 for 1958-1959.
DVD releases
Warner Bros. has released the all four seasons on MOD (manufacture on demand) DVD-R's in Region 1 via their Warner Archive Collection.
In popular culture
The television series Sugarfoot is mentioned, and the theme song is presented, in an episode of Arrested Development titled "Spring Breakout".
The series debuted in 1958 in the United Kingdom but only in the Midlands area. In 1960, it was aired nationally in the UK by the BBC, at which point it was renamed Tenderfoot despite the fact that it kept the theme song which refers to the character as "Sugarfoot". After 1964, the series returned to ITV, this time not just restricted to the midlands, where it was once again billed under its original name.
The animated television series King of the Hill features a barbecue restaurant named "Sugarfoot's".
References
Sugarfoot Wikipedia
(Text) CC BY-SA