Full Name

Joy Brown




Years active

1942–1970




Cause of death

Breast cancer




Name

Joi Lansing




Other names

Joyce Wassmansdorff




Role

Model








Born

April 6, 1928 (

1928-04-06

)

Salt Lake City, Utah, U.S.




Died

August 7, 1972, Santa Monica, California, United States


Spouse

Stan Todd (m. 1960–1972), Lance Fuller (m. 1951–1953), Jerome Safron (m. 1950–1950)


Parents

Vernon Loveland, Virginia Grace Shupe, Jack Glenn Brown




Movies and TV shows

Touch of Evil, Hillbillys in a Haunted House, Marriage on the Rocks, The Bob Cummings Show, Who Was That Lady?


Similar People

Sally Todd, Suzanna Leigh, Victoria Vetri, Mamie Van Doren, Nancy Sinatra



Occupation

Model, actress, singer



Jack Benny, Joi Lansing, Jean Willes--The Face is Familiar, 1954 TV
Joi Lansing (April 6, 1929 – August 7, 1972) was an American model, film and television actress, and nightclub singer. She was noted for her pin-up photos and roles in B-movies, as well as a prominent cameo in the famous opening "tracking shot" in Orson Welles' crime drama Touch of Evil.
Contents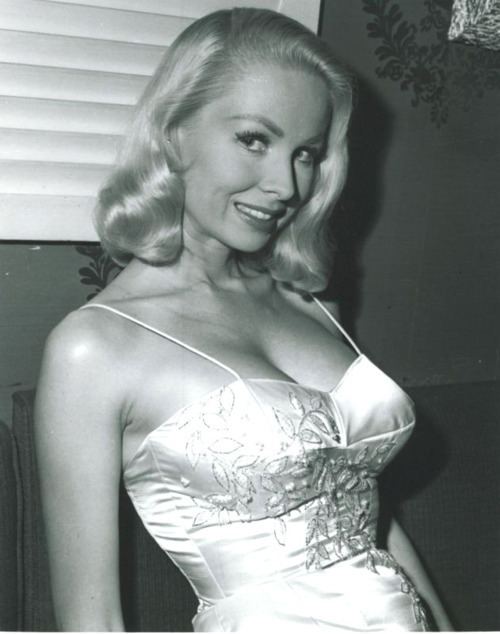 Early life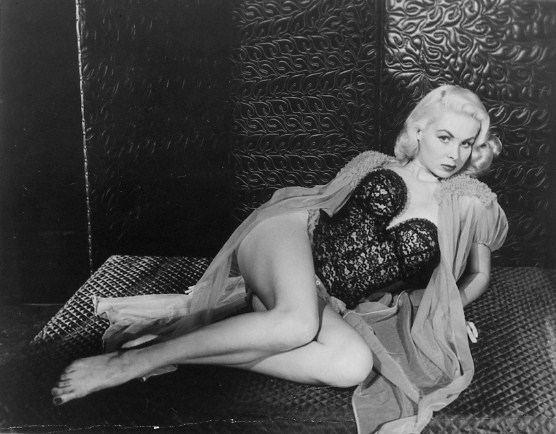 Lansing was born Joy Rae Brown at Holy Cross Hospital, Salt Lake City, Utah in 1929 to Jack Glen Brown (also known as Glen Jack Brown and Glenn Jack Brown; 1900–1960), a shoe salesman and orchestra musician, and Virginia Grace (née Shupe) Brown, a housewife (1908–1984).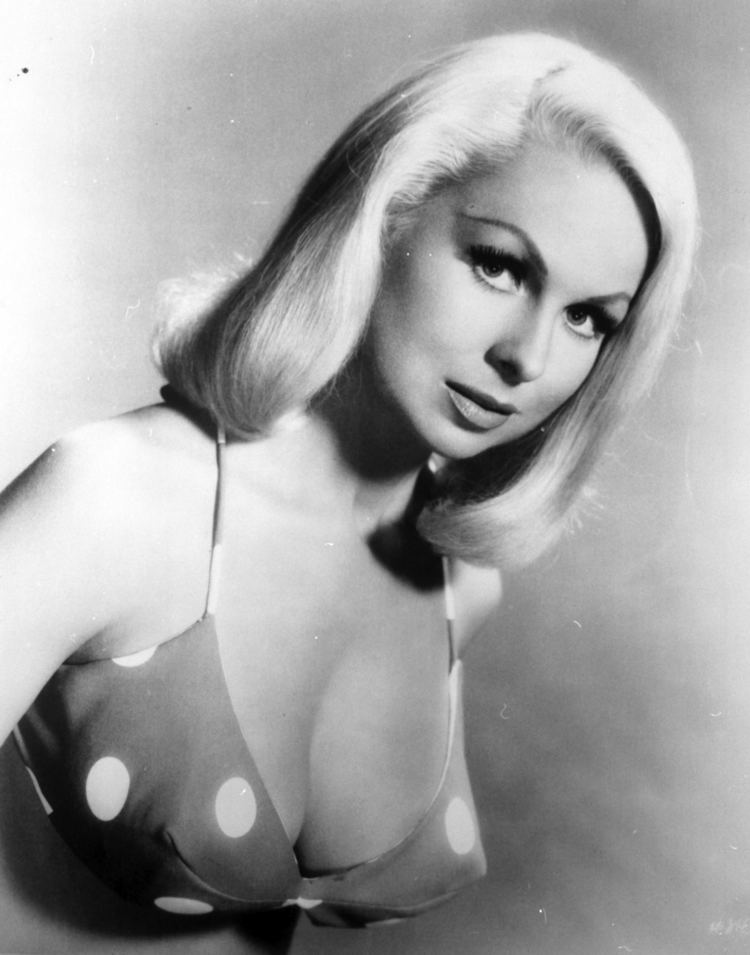 She would later be known by her stepfathers' surnames, i.e. Wassmansdorff and Loveland. In 1940, her family moved to Los Angeles, where her half-brother, Larry Vernon Loveland, was born the same year. She began modeling in her teens, and at age 14 was signed to a contract at MGM. She completed high school on the studio lot.
Career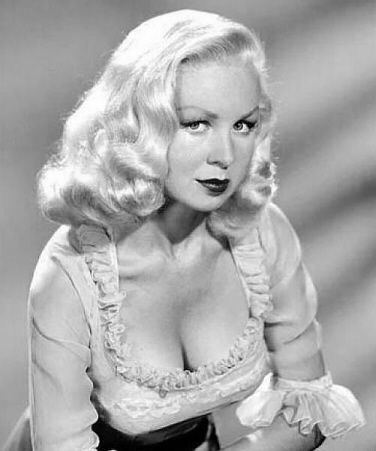 A model and actress, Lansing was often cast in roles similar to those played by her contemporaries Jayne Mansfield and Mamie Van Doren. She was frequently clad in skimpy costumes and bikinis that accentuated her attractive figure (34D bust), but she never posed nude. Lansing practiced yoga for relaxation, and as a devout Mormon, she did not drink or smoke.
Films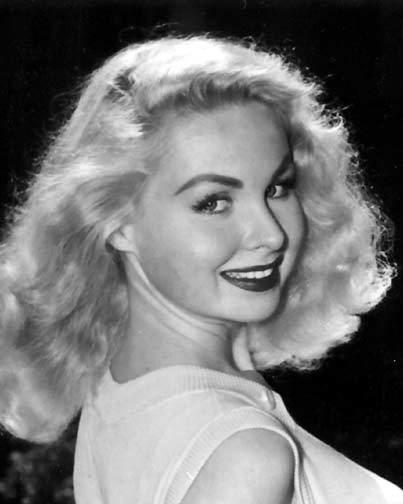 Lansing's film career began in 1948, and in 1952, she played an uncredited role in MGM's Singin' in the Rain. She received top billing in Hot Cars (1956), a crime drama involving a stolen-car racket. In the opening sequence of Orson Welles's Touch of Evil (1958), she appeared as Zita, the dancer who dies at the end of the famous first tracking shot, during which her character exclaims to a border guard, "I keep hearing this ticking noise inside my head!"
She had a brief role as an astronaut's girlfriend in the 1958 sci-fi classic Queen of Outer Space. She had fourth billing in another sci-fi story, 1959's The Atomic Submarine. During the 1960s, she starred in short musical films for the Scopitone video-jukebox system. Her songs included "The Web of Love" and "The Silencer".
In 1964, producer Stanley Todd discussed a film project with Lansing, tentatively titled Project 22, with location shooting planned in Yugoslavia, and George Hamilton and Geraldine Chaplin named to the cast. The movie was never made.
Lansing played "Lola" in the romantic comedy Marriage on the Rocks (1965) with a cast that included Frank Sinatra, Deborah Kerr, and Dean Martin. She previously had appeared in Sinatra's drama A Hole in the Head and in Martin's comedy Who Was That Lady?. She turned down the chance to replace Jayne Mansfield in The Ice House (a horror film), and instead appeared opposite Basil Rathbone (in his last film appearance) and John Carradine in Hillbillys in a Haunted House, as Mamie Van Doren's replacement. Her last film was Bigfoot (1970).
Discography
Lansing starting singing in nightclubs in the early 1960's, and her performances are documented in several trade magazines. She performed with the Xavier Cugar orchestra and briefly toured with Les Paul, but little is known about songs she actually recorded. Apparently, while starring on Love That Bob, she recorded a 45 r.p.m. single on the small REO record label in 1957: Love Me/What's It Gonna Be (REO #1007). In 1962, she recorded 6-8 sides at Que Recorders in Los Angeles. These turned up at auction and were acetates of 4 songs each (with two songs duplicated on the second acetate). It is unknown whether these tracks were ever released on an album. Both acetates list the same identifying number of #4-8351. The songs recorded on 2/23/62 were "Masquerade Is Over", "All of You" (Cole Porter), "The One I Love" (which was most likely "The One I Love (Belongs to Somebody Else)", and ""Who Cares?" (George and Ira Gershwin)". On 4/30/62, the songs recorded were Feel So Young (which was probably You Make Me Feel So Young), Dream (1944 song), Masquerade, and All Of You. Her version of The One I Love (Belongs to Somebody Else) can be heard on youtube. It was reported in Cashbox magazine on 4/17/65 that Lansing was recording an album for RCA records with Jimmy Haskell (and suggested that it should be titled "Joi To The World Of Jazz"), but nothing further is known about this project.
Television
Lansing appeared in The Adventures of Wild Bill Hickok, It's a Great Life, I Love Lucy, Where's Raymond?, Noah's Ark, State Trooper, The People's Choice, Richard Diamond, Private Detective, Sugarfoot, Bat Masterson, This Man Dawson, Maverick, Petticoat Junction, The Mothers-in-Law, and The Adventures of Ozzie and Harriet, and had a recurring role in The Beverly Hillbillies.
In 1957, she played Vera Payson in the Perry Mason episode, "The Case of the Crimson Kiss". She is best known perhaps as Shirley Swanson in The Bob Cummings Show or Love That Bob (1956–59). She appeared in several episodes as a busty model who was the foil for photographer Bob Collins, Cummings' series name. The series ran for 173 episodes. She achieved some distinction for beating out Lois Lane (Noel Neill) to marry Superman (George Reeves) as the title character in "Superman's Wife", a 1958 episode of The Adventures of Superman.
What was possibly Lansing's best role may ironically have been her least-seen as the leading lady in The Fountain of Youth, a Peabody Award-winning unsold television pilot directed by Orson Welles for Desilu in 1956 and broadcast on the Colgate Theatre two years later. The half-hour film remains available for public viewing at the Paley Center for Media in New York City and Los Angeles.
In the 1960–61 season of Klondike, Lansing appeared as Goldie with Ralph Taeger, James Coburn, and Mari Blanchard. In 1960, she appeared as Evelyn in the "Election Bet" episode of the Mr. Lucky TV series (season 1, episode 34). In May 1963, Lansing appeared in Falcon Frolics '63. The broadcast honored the men stationed at the Vandenberg Air Force Base. By 1956, she had appeared in more than 200 television shows. The real count according to IMDb is around 104 appearances.
She appeared in five episodes of The Beverly Hillbillies in the role of Gladys Flatt, the unlikely glamorous wife of bluegrass musician Lester Flatt. She named Ozzie Nelson as possessing the greatest sex appeal of any actor with whom she worked. The two played a love scene in a Fireside Theater drama.
Death
Lansing died from breast cancer on August 7, 1972, at St. John's Hospital, Santa Monica, California. She had been treated surgically for the disease two years earlier. She also suffered from severe anemia. She was survived by her mother, half-brother, and paternal grandmother. While some press accounts gave her age as 37, she was actually most likely 43 years old.
Features
When a Girl's Beautiful (1947)
Linda Be Good (1947)
The Counterfeiters (1948)
Easter Parade (1948)
Julia Misbehaves (1948)
Blondie's Secret (1948)
Take Me Out to the Ball Game (1949)
Neptune's Daughter (1949)
The Girl from Jones Beach (1949)
In the Good Old Summertime (1949)
On the Riviera (1951)
Pier 23 (1951)
FBI Girl (1951)
Two Tickets to Broadway (1951)
Singin' in the Rain (1952)
The Merry Widow (1952)
The French Line (1954)
Son of Sinbad (1955)
Finger Man (1955)
Hot Cars (1956)
Hot Shots (1956)
The Brave One (1957)
Touch of Evil (1958)
Queen of Outer Space (1958)
A Hole in the Head (1959)
It Started with a Kiss (1959)
But Not for Me (1959)
The Atomic Submarine (1959)
Who Was That Lady? (1960)
Marriage on the Rocks (1965)
Hillbillys in a Haunted House (1967)
Bigfoot (1970)
Short subjects
Super Cue Men (1937)
The House of Tomorrow (1949)
"So You Want to Go to a Nightclub" (1954)
"So You're Taking in a Roomer" (1954)
"So You Want to Be on a Jury" (1955)
"So You Want to Be a V.P." (1955)
"So You Want to Be a Policeman" (1955)
"So You Think the Grass Is Greener (1956)
The Fountain of Youth (1958)
References
Joi Lansing Wikipedia
(Text) CC BY-SA