7

/

10

Alchetron

7.2

Rate This





Original language(s)

English, Spanish




Country of origin

USA




First episode date

1953







Original release

1953 (1953-USA) – 1994 (1994-USA)




Genres

Children's television series, Educational television




Similar

Captain Kangaroo, The Bozo Show, Howdy Doody, TV Party, New Zoo Revue
1984 romper room magic mirror clip

Romper Room is an American children's television series that ran in the United States from 1953 to 1994 as well as being franchised internationally at various times in Canada, the United Kingdom, New Zealand, Australia, Japan, and Finland. The program targeted preschoolers, children five years of age or younger, and was created and produced by Bert and Nancy Claster of Claster Television.
Contents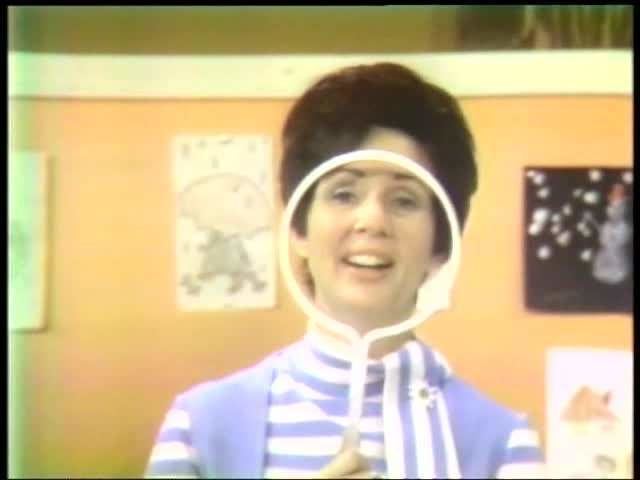 Television franchises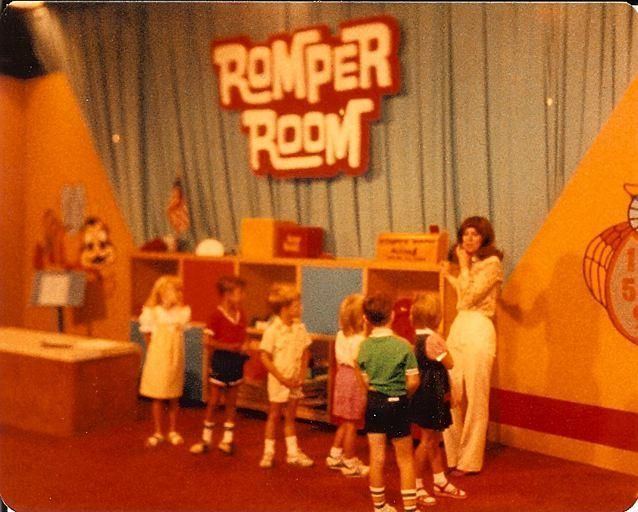 Romper Room was a rare case of a series being franchised and syndicated, so local affiliates—Los Angeles and New York were prime examples—could produce their own versions of the show instead of airing the national telecast. For some time local shows all over the world used the same script but with local children; some affiliates, starting with KWEX-TV in San Antonio, translated the scripts into Spanish for local airings. Kids would be on waiting lists for years (sometimes before birth) to be on the show. It was called "an actual kindergarten". Originally filmed in Baltimore from its inception in 1953 Romper Room eventually moved its broadcast facilities to Chicago then moved back to Baltimore in 1981.
Synopsis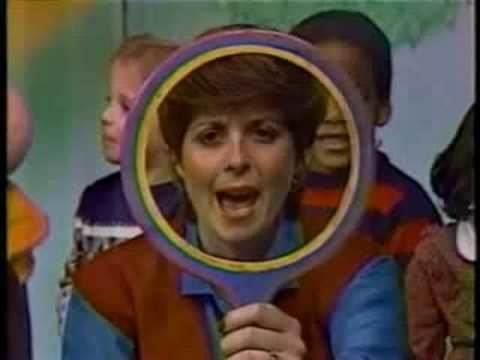 Each program would open with a greeting from the hostess and the Pledge of Allegiance (unless the episode was not broadcast in America). Then the hostess and her group of children would embark on 30 or 60 minutes of games, exercises, songs and moral lessons, which were regularly accompanied by background music. The hostess (or sometimes the children in cadence) would always ask "Mr. Music, please." or "We're ready, Mr. Music." to prompt the background music into playing. The young cast was rotated every two months and ranged from four to five years old.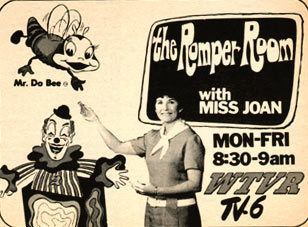 Romper Room tried to teach its young charges to be polite. For instance, the hostesses were always addressed as "Miss". Many of the hostesses had prior experience in working with small children and many were former kindergarten teachers.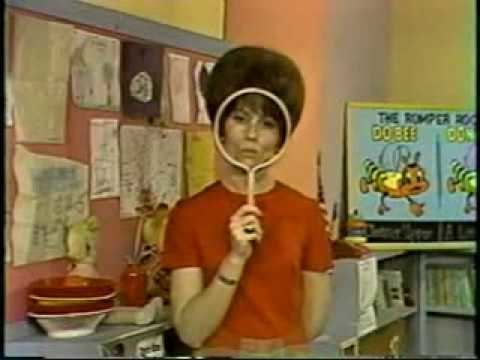 The hostess would also serve milk and cookies to the children, with prayer offered before eating. The famous Romper Room prayer went "God is great, God is good. Let us thank Him for our food. Amen."
A recurring character was Mr. Do-Bee, an oversized bumblebee, who was also the show's mascot who came to teach the children proper deportment; he was noted for always starting his sentence with "Do Bee", as in the imperative "Do be"; for example, "Do Bee good boys and girls for your parents!" There was also a "Mr. Don't Bee" to show children exactly what they should not do. Do-Bee balloons were also manufactured. Each balloon featured a painted sketch of Do-Bee on it. When the balloons were inflated and then released, they would fly around the room slowly emitting a buzzing sound. These balloons were made available for purchase to the public.
The show used the then-popular Mattel Jack-in-the-box for its opening and closing titles, with its traditional nursery rhyme "Pop Goes the Weasel" theme song. Starting in 1981, a new, original theme song was used.
At the end of each broadcast, the hostess would look through a "magic mirror" – actually an open frame with a handle, the size and shape of a hand mirror – recite the rhyme, "Romper, stomper, bomper boo. Tell me, tell me, tell me, do. Magic Mirror, tell me today, did all my friends have fun at play?" She would then name the children she saw in "televisionland", saying, for example, "I can see Kathleen and Owen and Julie and Jimmy and Kelly and Tommy and Bobby and Jennifer and Martin" and so forth. Kids were encouraged to mail in their names, which would be read on the air – first names only.
Romper Room and Friends
In 1981, the format of Romper Room was overhauled and re-titled Romper Room and Friends. 100 syndicated versions were taped in Baltimore with "Miss Molly" as host. The biggest change to the program was the introduction of a series of new puppet characters, including a full costume character named Kimble, and puppets named Granny Cat and Up-Up. Kimble and Up-Up were performed by Bruce Edward Hall and Granny Cat by Molly McCloskey aka "Miss Molly". The three characters were developed by The Great Jones Studios in NYC. The new characters starred in a series of vignettes, somewhat similar to the "Neighborhood of Make-Believe" segments on Mister Rogers' Neighborhood, and were meant to introduce or reinforce simple moral lessons. About 100 of these skits — each running three to five minutes — were produced for insertion into local Romper Room programs; the host would introduce each segment and comment after its conclusion.
In addition, a new opening and closing credits sequence, and lyrical theme – "Romper Room and Friends", containing mostly non-sensical lyrics, but also naming the characters Up-Up, Do Bee, Granny Cat, and Kimble in the lyrics as well – were introduced, replacing the "Pop Goes the Weasel" theme that had been used.
National
Nancy Terrell, known to audiences as "Miss Nancy" was the national hostess in the 1960s and early 1970s when Romper Room was seen on ABC-owned and operated stations throughout the United States in locales that did not have their own hostesses.
Atlanta
Romper Room had aired on Atlanta stations since the 1950s but, in December 1976, it found nationwide exposure as part of the WTCG morning lineup when Ted Turner began broadcasting the station's signal nationally via satellite. (3 years later, WTCG became SuperstationWTBS, while the programming remained essentially unchanged.) Unlike the nationally-syndicated version, the WTCG/WTBS version of Romper Room was locally produced.
Baltimore
The first Romper Room hostess was Nancy Claster, (1915-1997), who helped produce the series with her husband Bert under the Claster Television banner. Miss Nancy hosted the show, produced at the studios of WBAL-TV in Baltimore, Maryland, from the first episode in 1953 until 1963, when she was replaced by her daughter Sally Claster Gelbard. Miss Sally hosted the show, in Baltimore and the surrounding area, until 1981 when it was retitled.
Boston
Miss Jean (real name Jean Harrington) hosted the Boston area Romper Room (which aired on WHDH and its successor WCVB) for fourteen years. She was an English major and Education minor and a graduate of Salem State College, in Salem, Massachusetts. A Swampscott native, she was a former high school teacher. Her husband at that time was WHDH news reporter Bill Harringtom. The show aired with Miss Jean from 1958 to 1972. She was replaced in March 1972 by "Miss Louise" (Louise Lark, a 23-year-old school-teacher and a graduate of Boston University). She and Bill Harrington divorced, and she ultimately moved to Florida.
Chicago
Romper Room debuted on WGN in 1954, and ran until 1960. From 1961 to 1962, a nationally syndicated version aired. The local Romper Room returned a year later and ran from 1963 to 1975. Three of the Chicago hostesses were "Miss Rosemary" Rapp, "Miss Beverly" Marston-Braun and "Miss Elizabeth" Trench.
Cleveland
Cleveland hostess "Miss Barbara" (full name: Barbara R. (Bowen) Plummer), born in Norwalk on February 13, 1930 hosted the local version of Romper Room on WEWS from 1958 until 1971. She was also a weather presenter on Channel 5 and appeared on Captain Penny. She was a survivor of breast cancer in 1978, and lung cancer in 1996. She resided in South Euclid and died on March 20, 2010, at the age of 80 from cancer and pneumonia-related complications. She was survived by husband Gordon and two children.
Denver
"Miss Genie" deLuise hosted the Denver area Romper Room between 1962 and 1972 on KWGN-TV (which was KCTO prior to 1966). Denver's Miss Genie deLuise was also the Romper Room hostess in Phoenix from fall of 1957 to March 1959.
Quad Cities, Iowa/Illinois
Quad Cities hostess "Miss Peggy" Wittke and "Miss Jean" Engman hosted the local version of Romper Room on WQAD-TV from the Mid 60s and into the '80s.
Honolulu
The Hawaiian version of Romper Room debuted in 1964 on KTRG (now KHNL) with "Miss Robin" (Robin Mann), but after the station canceled the program in 1966, the show and its host moved over to KHON where it ran until 1972, when KHON replaced it with Today. Mann later admitted that despite the success of Romper Room in Honolulu, she felt that there wasn't any Hawaiian influence or culture being emphasized into the series during its run. In 1974, KHON bought Mann back for a series called Robin's Room, which incorporated the Hawaiian culture, but kept the Romper Room elements, and ran until 1976.
Johnstown, Pennsylvania
A version of the program aired on WJAC-TV out of Johnstown, Pennsylvania, was originally hosted and taught by "Miss Jean," Jean Federici of Pittsburgh. A music education graduate of Indiana State Teacher's College in Indiana, Pa - now Indiana University of Pennsylvania, she hosted the program from 1958 to 1960. "Miss Patti" Patti Hewitt was the hostess from October 1960 through December 1973. She was an elementary major and graduated from Penn State University in State College, Pennsylvania. Miss Patti was replaced with "Miss Mary" Mary Parks until the end of its run about 1976. Mary remained with channel 6 for until 1990 as an anchor, reporter and public affairs reporter. She left WJAC in 1990 to become Sister Mary of the Sisters of St Joseph.
Kansas City
"Miss Virginia" (Virginia Lee Hassenflu) hosted the Kansas City area Romper Room from 1954 to 1964 on KMBC. She passed away on November 7, 2016.
Lexington, Kentucky
A local version of the program in Lexington, Kentucky, was hosted by "Miss Roni," Roni Martin Scott, from 1974 until 1976 on WTVQ-TV.
Los Angeles
In Los Angeles, Romper Room aired on KCOP-TV. There were only two hosts of the Los Angeles version of the series: "Miss Mary Ann" and "Miss Soco". The first host was Mary Ann King who hosted from 1966 to 1976. The second host of the program was Socorro Serrano, aka "Miss Soco", who hosted from 1977 until it ended in 1989 and was the first Latina of Mexican American heritage to host Romper Room. Hostess Mary Ann King (Miss Mary Ann), a resident of Hacienda Heights died on June 16, 2016, aged 82
Little Rock, Arkansas
Margaret Jones, who hosted the Little Rock show as "Miss Peggy" between 1963 and 1966, went on to sing and to play tabla and keyboards for a locally popular psychedelic rock band called Campbell's Lavender Circus (or sometimes simply Lavender Circus). The sextet sold 2,000 copies statewide of their single, "I Have No Time for Time"/"Mr. N. Bourbaki's Multicoloured Jam."
Madison, Wisconsin
Madison hostess Judy Fraser attended the University of Wisconsin in Madison and graduated with a B.A. in Speech Communications. She received an honorary scholarship and membership in the Phi Beta Honorary Society for outstanding academic work and the University's Outstanding Actress Award for her portrayal of Maggie in Cat on a Hot Tin Roof. After college, Judy remained in Madison, working at a local television station as weathercaster, movie hostess, and Romper Room hostess "Miss Judy" for WMTV.
Memphis, Tennessee
WHBQ-TV was the Memphis home for Romper Room, which ran from 1956 to 1970.
Miami
The Miami, Florida hostess "Miss Iris" Maxwell from WCKT (now WSVN) Channel 7 was formerly Miss Miami Beach 1953. She was also the author of the children's book Terri and Mike in Lollipop Land, named after her first two children, Michael and Theresa Martin, who had appeared on the show several times. She later married philanthropist and real estate developer Ben Tobin, with whom she had a daughter, Benita Tobin.
Milwaukee
The Milwaukee version of Romper Room aired on WISN-TV, Channel 12.
Minneapolis-St. Paul
The show aired on WTCN channel 11 (1955–62) and then on KMSP channel 9 (1962–74) hosted by Mary Betty Douglass among others. [1] [2]
New Orleans
Virginia Sherwood Carino, better known as "Miss Ginny", presided over the New Orleans version for almost a decade on WWL until her departure from the station in 1967, and later became one of the first female White House correspondents for ABC News, followed by a stint as a communications coach and consultant. She died of complications from Alzheimer's in 2012, at the age of 87. Local actress Linda Barnett Mintz took over the series following Carino's departure, and remains an active TV and radio personality to this day.
Linda Barnett Mintz, is a New Orleans' born child actress of radio and stage. She already possessed local celebrity upon being selected to be New Orleans' next "Romper Room" teacher. She appeared on the "Miss Muffin Show" with Terry Flettrich and PBS's "Let's Tell a Story, which was a collaborative effort between the National Council of Jewish Women, New Orleans Section; WDSU-TV; the New Orleans Public Library; and New Orleans schools. These programs encouraged reading and literacy. Linda Mintz was well recognized for her voice-over work on many radio and television commercials. She was a wonderful character actress in local theaters and national television movies. She has performed on every stage in New Orleans as a mistress of ceremonies, songstress, lead in musical theatre, and dramatic actress. She is best known for her portrayal as Amanda Wingfield, in Tennessee Williams' "Glass Menagerie," and Desiree in Stephen Sondheim/Hugh Wheeler's "A Little NIght Music." Her loyal work with PBS has been a constant. She wrote and produced "Dark Secrets" about Russian composer Peter Ilyich Tchaikovsky, as well as a series of poetry shows. She recently released a grammy nominated CD for spoken word, a romantic poetry collection "Soft Words, Warm Nights." Mrs. Mintz graduated with a BA and MA in theatre from Tulane University. She is a loyal board member of Tulane's Summer Lyric Theatre at Tulane University.
Linda Mintz is married to Albert Mintz, a prominent New Orleans corporate attorney. She has two adult children and two adult grandchildren. Miss Linda is still an active participant in the New Orleans' community and continues to appear on television and radio. Although a studied actress, singer, and poet—with heart, depth and range—she remains the beloved last Miss Linda of New Orleans.
New York City
In New York City, the first hostess was "Miss Gloria" Flood on WABC-TV for the years 1955-57. "Miss Joan" Thayer became the new hostess when it moved to WNEW-TV (now WNYW) in 1957. "Miss Louise" Redfield took over hosting duties at the same time the program moved over to WOR-TV (now WWOR-TV) in 1966. "Miss Louise" was followed by "Miss Mary Ann" Pedersen, who began filling in for Louise in the early 1970s. After Louise Redfield left in 1975, Mary Ann Pederson took over the show until 1981.
In 1981, the station took the Baltimore-based Romper Room and Friends offered in syndication by Claster Television with new host "Miss Molly" McCloskey, which gave the program nationwide carriage even in markets where it was not available on a broadcast station, as a result of WOR's superstation feed. Miss Molly gained a great deal of popularity with viewers and is still fondly remembered today. Children who were on the show for a week were on a waiting list for three to four years.
From 1966 to 1971, WOR aired Romper Room during the 11 AM hour, then moved it back to 10 AM, where it would remain for most of the next 14 years. The station briefly moved it back to 9 AM in the fall of 1981, but returned it to 10 AM a month later, due to complaints that it was interfering with the airing of PBS's Sesame Street. The show was aired "live" until 1985, at which time it was also pushed back to 8:30 AM. In the fall of 1987, after WOR-TV was sold and renamed WWOR, Romper Room was reduced to 30 minutes and moved to 6 AM, and production in the New York area was discontinued a year later. While many local versions ended in the late 1980s and early 1990s (and some ended in the early-to-mid 1980s), nationally syndicated episodes of Romper Room and Friends with "Miss Molly" stopped airing in 1994.
Oakland/San Francisco
Miss Nancy Besst hosted the San Francisco version on KTVU from 1958 to 1969. "Miss Mary Ann" King hosted from 1969 to 1979; "Miss Teresa" followed until 1981.
From 1981 to 1987, the San Francisco Bay Area featured another version of Romper Room, which was televised live from Oakland on local station KTVU. This version featured "Ms. Nancy", whose real name was Ruby Unger, a Mill Valley resident. There were several other local producer / teachers during the life of the show, which began in Baltimore, MD, in 1954.
"Miss Sharon" Jeffery was the last Romper Room Teacher in Northern California. A fourth grade teacher at the time, she was hired and trained by Sally Claster Bell in Pacific Palisades, California. Miss Sharon was the only African-American hostess and was featured on Romper Room from 1987 to 1992, which was filmed at KTVU in the San Francisco Bay Area. She was the final teacher on the last Romper Room in the US.
Philadelphia
Another early Romper Room hostess was Claire Coleman, who was the original "Miss Claire" on WFIL (now WPVI-TV) from 1954 until 1956. During this time, she shared an office with Dick Clark from American Bandstand. Claire Coleman was married to former U.S. Senator Richard Schweiker.
Pittsburgh
Jan Ballard Bohna ("Miss Jan") was the first "teacher" in 1958 on WIIC-TV (later WPXI) until the program moved to WTAE in 1960, where she was replaced by "Miss Janey" Vance Braham for 10 years until her sudden death in 1970. Bohna, who had filled in as a substitute host for Braham during the 1960s run on WTAE, took over as host until the local version ended in 1976. WTAE also carried the national version on Saturday mornings in its later years.
Puerto Rico
In Puerto Rico, the show was hosted by Bertita Novoa and later, by Sandra Zaiter.
Rochester
In Rochester, New York, where the show was carried on the newly founded WOKR, now WHAM-TV, it was hosted from 1962 to 1967 by Rita Barton known as "Miss Rita," later founded an innovative child-care facility and is still active today, nearly 50 years after her debut on the program. The role was later taken on by "Miss Karen" for a later portion of the program's run in the 1960s and early 1970s.
Salt Lake City, Utah
Miss Julie, the unflappable mistress of KSL-TV's Romper Room, was played by Edna Anderson-Taylor, from 1964 thru 1981. Some 6,100 children would come to appear on the program, and Anderson-Taylor was quoted saying that the program gives "a big boost to a child's self-esteem".
Savannah, Georgia
In the early years Miss Margaret was the host followed by Miss Nancy. Miss Kay Lisicia hosted the Savannah version on WTOC during the early 1970s.
Seattle/Tacoma, Washington
Miss Margaret was played by Margaret Lloyd, a former kindergarten teacher. The show aired on KSTW Channel 11, from Tacoma. She hosted the show from the late 1960s into the 1970s.
St. Louis, Missouri
Miss Lois (Lois Witzig) hosted the St. Louis version on KTVI during the 1960s and early 1970s
Washington, D.C.
Constance Anne Bohlin hosted the D.C. version on WTTG Channel 5 from 1957 to 1967, as "Miss Connie".
Wichita, Kansas
Miss Marti Watson Garlett was the final host of Romper Room on KAKE in Wichita, Kansas, from 1977 to 1986, when KAKE canceled the show, a few years after the FCC ceased requiring educational programs for children on commercial television (KAKE was and is an ABC affiliate). Garlett holds a Ph.D. and was one of the few nationwide hosts who came from a child development background and was a former classroom teacher (preschool through grade 3). Most hosts came with radio-television prior experience. She went on to create online teacher preparation programs at Western Governors University, Walden University, and Kendall College, the latter in early childhood education. While she was hosting Romper Room, she was also a full-time professor of elementary teacher education at Friends University in Wichita. She lovingly called Romper Room her "moonlight job" and thought aloud that she should have paid for the privilege of being Miss Marti, rather than being paid.
Miss Barbara Balay was one of the first hosts of Romper Room on KAKE. She later married one of the first producers on the morning show, David Carl Dunn. He later wrote a book about their relationship, both on and off the air, called "From Kansas to Hollywood."
Controversy
Two controversial events were connected with Romper Room:
Miss Sherri
In 1962, the hostess of the Phoenix franchise of Romper Room linked her own name with that of the ongoing controversies over abortion. Sherri Finkbine, known to television viewers as "Miss Sherri", sought hospital approval for abortion on the ground that she had been taking thalidomide and believed her child would be born deformed. Finkbine made a public announcement about the dangers of thalidomide, and the hospital refused to allow an abortion, apparently because of her announcement and its own fear of publicity. Finkbine traveled to Sweden for the abortion. Upon completion, it was confirmed that the fetus had no legs and only one arm. The incident became a made-for-TV movie in 1992, A Private Matter, with Sissy Spacek as Finkbine.
Action For Children's Television
After the children's television watchdog group Action for Children's Television was organized in 1968, the group's first target was Boston's version of Romper Room at WHDH-TV, which at the time was a children's show that focused on the promotion of its branded line of toys to its viewers. Threatened with referral to the Federal Communications Commission (FCC), WHDH scaled back the host's role in pitching the program's products ("host-selling").
Through the 1980s, Hasbro (which had purchased the program in 1969) sold branded Romper Room toys and products, but since ACT's intervention, ads and promotions for the items were not seen in the Romper Room program.
International
The Romper Room format was expanded into other countries, such as Australia, New Zealand, Canada, Hong Kong, Japan, and the United Kingdom.
Australia
Several stations in Australia aired their own versions of Romper Room, most notably the Seven Network (who produced a national version through its Sydney station ATN-7) and regional station NBN-3 Newcastle.
The hostesses of the national edition were Miss Susan, Miss Patricia, Miss Colleen, Miss Helena, Miss Nancy, and Miss Megan. This version of Romper Room was axed in 1988 as the children's show Fat Cat and Friends replaced it.
The NBN edition continued after the station became an affiliate of the Nine Network, with a new title, Big Dog and Friends, the title referring to the station's mascot Big Dog, who appeared in the show as the sidekick of the hostess, Miss Kim. This, the last version of Romper Room to survive on Australian television, was eventually cancelled.
Other stations known to have produced their own versions of Romper Room are SAS-10 (now SAS-7) Adelaide, which ran from 1965 to 1974, and ATV-0 (now ATV-10) Melbourne.
MTN9 Griffith, NSW, also ran a live version with Anna Pistillo (known as Miss Anne) between 1967 - 1968. Anna was trained in Sydney by Miss Pat, produced and presented the programme locally with the support of station Manager, Norm Murphy. Unfortunately all archival footage has since been destroyed but 8mm behind the scenes footage does exist. It is rumored Miss Anne was the progeny for the naming of Humphrey the Bear.
Canada
In Canada, the first station to start airing the locally produced version of Romper Room was CKLW-TV in Windsor, Ontario, which at the time was serving the Detroit, Michigan television market, in 1954, the year the station signed on, with Miss Ardis (Ardis Kenealy) and Miss Flora, Flora (Paulin) Asselstine. Besides Windsor, CJCH-TV in Halifax, Nova Scotia also produced a local version during the 1960s, which was hosted by "Miss Jo-Anne" (Jo-Anne Lawson). This version later moved to CHSJ-TV in Saint John, New Brunswick during the 1970s. Other local versions were produced at CFPL-TV in London, Ontario CHCH-TV in Hamilton, Ontario, CHBC-TV in Kelowna, BC, hosted by "Miss Betty" (Betty Pavle), CJAY-TV in Winnipeg, CKVR-TV in Barrie, Ontario hosted by "Miss Lois" (Lois Welsman), CKSO-TV in Sudbury, Ontario hosted by "Miss Pat" (Patricia Wilson), and CFCF-TV in Montreal. In Newfoundland and Labrador, a local version was produced on CJON-TV (NTV) in St. John's, and there was another local version produced in Grand Falls-Windsor. The version in Toronto aired on CFTO-TV.
CKCO-TV in Kitchener, Ontario also had a local version, starting in 1963. In 1972 this version became nationwide running until 1992 on CTV and was hosted by "Miss Fran" (Fran Pappert), "Miss Jean" (Jeanette Moffat), "Miss Cathie" (Cathie Sackville) and "Miss Betty" (Betty Thompson). The Canadian version of the program used the same opening credits and "Pop Goes the Weasel" theme as the US version, the Jack-in-the-box logo, and other elements such as the Do-Bee character and the Magic Mirror (including the psychedelic visual effect that went along with it). When the US franchise changed the title to Romper Room and Friends, the Canadian series followed suit. When the Canadian version ended production in 1992, it was the last version in production anywhere.
Hong Kong
In Hong Kong, there was a local version called Siusiu Lokyuen (小小樂園), which aired from the late 1960s to the early 1970s on Asia Television's Chinese channel (now ATV Home). It was hosted by Miss Chiu Suk-ching (趙淑貞) but she would be known as "Sister Chiu" (趙淑貞姐姐). Elements such as "Pop Goes the Weasel" theme, the Jack-in-the-box logo, the Do-Bee character and the Magic Mirror are the same as other versions.
Japan
In Japan, there was a localised version called Ronpārūmu (ロンパールーム), which aired from 1963 to 1979 on NTV. Just before this show debuted, the first Japanese hostess, Midori Namiki, visited New York for training with other hostesses from several countries.
Hostesses of the Japanese version were always named Miss Midori, with "midori" meaning "green".
The Japanese version had a controversial episode, when hostess Midori Utsumi (the second "Miss Midori") asked the kids, "Who can tell me a word that begins with ki?" (き or キ). A boy answered: "I know: Kintama!"—a slang term for "testicles" that is roughly equivalent to "balls" or "nuts" in English. Hoping to give the boy a gentle little hint, Miss Midori suggested "Maybe you could think of something that sounds a bit more kireina?" (with careful emphasis on the "ki" portion of this word), which means "nice" or "pretty". The boy immediately responded "Kireina kintama!"—i.e., "Nice nuts!". After a commercial break, the boy was replaced with a teddy bear. Midori Utsumi, who has since become a major media personality, often tells this story on some TV programs that she appears in.
United Kingdom
The United Kingdom had several versions of Romper Room.
Anglia Television produced a version for broadcast in the East Anglia region of England from 1964 to 1976, hosted by "Miss Rosalyn" (Rosalyn Thompson).
In Northern Ireland, local ITV company UTV created a local production in the late 1960s and early 1970s, hosted by "Miss Adrienne" (mother of television reporter Andrea Catherwood), and then "Miss Helen", and Rose Neill as "Miss Rose".
Around the same time, Grampian Television in northern Scotland produced a version hosted by "Miss Lesley" (Lesley Blair, a continuity announcer) and "Miss Rose Neill".
References
Romper Room Wikipedia
(Text) CC BY-SA