Population

1.203 million (2010)

Founded

28 December 1836




Points of interest

Art Gallery of South Australia, Adelaide Zoo, Adelaide Botanic Garden, Cleland Conservation Park, Adelaide Oval




Colleges and Universities

University of Adelaide, University of South Australia, Flinders University, Carnegie Mellon University - Australia, University of Adelaide Law School



Adelaide ( AD-?-layd) is the capital city of the state of South Australia, in Australia and the fifth-largest city in Australia. In June 2014, Adelaide had an estimated resident population of 1.30 million. The demonym "Adelaidean" is used in reference to the city and its residents. Adelaide is north of the Fleurieu Peninsula, on the Adelaide Plains between the Gulf St Vincent and the low-lying Mount Lofty Ranges which surround the city. Adelaide stretches 20 km (12 mi) from the coast to the foothills, and 90 km (56 mi) from Gawler at its northern extent to Sellicks Beach in the south.
Contents
Map of Adelaide
Named in honour of Adelaide of Saxe-Meiningen, queen consort to King William IV, the city was founded in 1836 as the planned capital for a freely-settled British province in Australia. Colonel William Light, one of Adelaides founding fathers, designed the city and chose its location close to the River Torrens, in the area originally inhabited by the Kaurna people. Lights design set out Adelaide in a grid layout, interspaced by wide boulevards and large public squares, and entirely surrounded by parklands. Early Adelaide was shaped by prosperity and wealth–up until the Second World War, it was Australias third largest city. Religious freedom, a commitment to political progressivism and civil liberties led to the moniker "City of Churches", which is still used today.
Top adelaide attractions to experience on a city break
As South Australias seat of government and commercial centre, Adelaide is the site of many governmental and financial institutions. Most of these are concentrated in the city centre along the cultural boulevard of North Terrace, King William Street and in various districts of the metropolitan area. Today, Adelaide is noted for its many festivals and sporting events, its food and wine, its long beachfronts, and its large defence and manufacturing sectors. It ranks highly in terms of liveability, being listed in the Top 10 of The Economists Worlds Most Liveable Cities index in 2010, 2011 and 2012. It was also ranked the most liveable city in Australia by the Property Council of Australia in 2011, 2012 and 2013.
Top 10 attractions in adelaide by joguru
History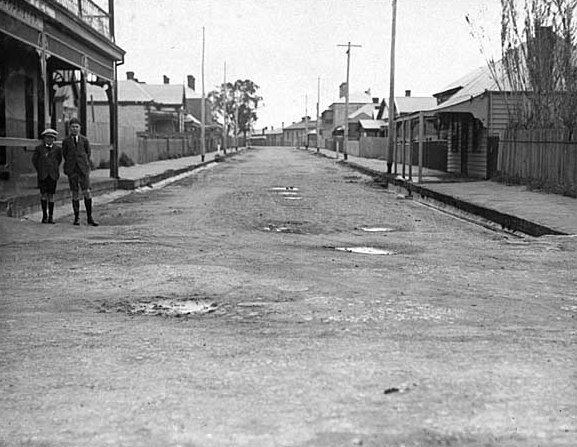 Prior to its proclamation as a British settlement in 1836, the area around Adelaide was inhabited by the indigenous Kaurna Aboriginal nation (pronounced "Garner" or "Gowna").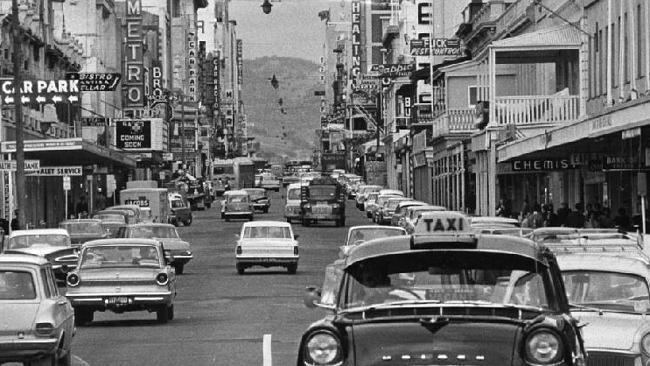 Kaurna culture and language was almost completely destroyed within a few decades of the European settlement of South Australia in 1836. However, extensive documentation by early missionaries and other researchers has enabled a modern revival of both language and culture.
Geography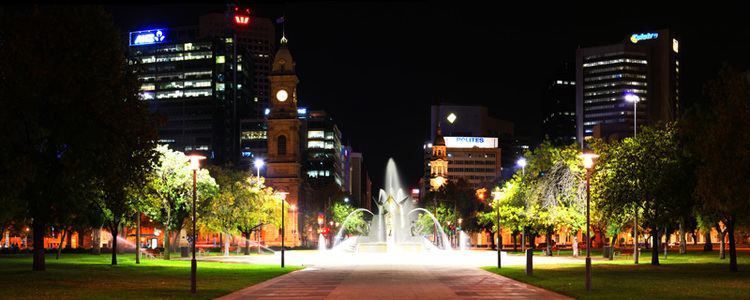 Adelaide is north of the Fleurieu Peninsula, on the Adelaide Plains between the Gulf St Vincent and the low-lying Mount Lofty Ranges. The city stretches 20 km (12 mi) from the coast to the foothills, and 90 km (56 mi) from Gawler at its northern extent to Sellicks Beach in the south. According to the Regional Development Australia, an Australian government planning initiative, the "Adelaide Metropolitan Region" has a total land area of 870 km2 (340 sq mi), while a more expansive definition by the Australia Bureau of Statistics defines a "Greater Adelaide" statistical area totalling 3,257.7 km2 (1,257.8 sq mi). The city sits at an average elevation of 50 metres (160 ft) above sea level. Mount Lofty, east of the Adelaide metropolitan region in the Adelaide Hills at an elevation of 727 metres (2,385 ft), is the tallest point of the city and in the state south of Burra.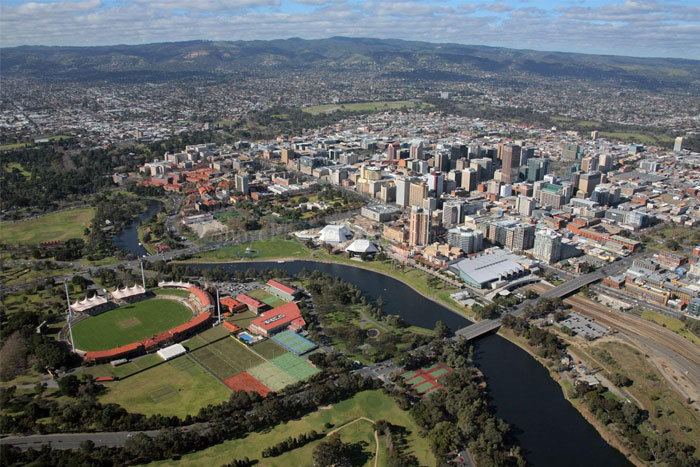 Much of Adelaide was bushland before British settlement, with some variation – sandhills, swamps and marshlands were prevalent around the coast. The loss of the sandhills to urban development had a particularly destructive effect on the coastline due to erosion. Where practical, the government has implemented programs to rebuild and vegetate sandhills at several of Adelaides beachside suburbs. Much of the original vegetation has been cleared with what is left to be found in reserves such as the Cleland Conservation Park and Belair National Park. A number of creeks and rivers flow through the Adelaide region. The largest are the Torrens and Onkaparinga catchments. Adelaide relies on its many reservoirs for water supply with the Happy Valley Reservoir supplying around 40% and the much larger Mount Bold Reservoir 10% of Adelaides domestic requirements respectively.
On 1 March 1954 at 3:40 am Adelaide experienced its largest recorded earthquake to date, with the epicentre 12 km from the city centre at Darlington, and a reported magnitude of 5.6. There were smaller, but still noticeable, earthquakes in 2010, 2011 and 2014.
Economy
South Australias largest employment sector is health care and social assistance, surpassing manufacturing in SA as the largest employer since 2006–07. In 2009–10, manufacturing in SA had average annual employment of 83,700 persons compared with 103,300 for health care and social assistance. Health care and social assistance represented nearly 13% of the state average annual employment.
You gotta try finding the tastiest food at the adelaide central market
References
Adelaide Wikipedia
(Text) CC BY-SA
(,)https://www.portenf.sa.gov.au/webdata/resources/photogallery/Glanville.jpg(,)http://resources0.news.com.au/images/2013/10/08/1226734/963668-0572e580-2b2b-11e3-8568-6d90cd61124d.jpg(,)http://resources0.news.com.au/images/2013/10/08/1226734/963780-fb22d5ae-2b2a-11e3-8568-6d90cd61124d.jpg(,)http://www.sajc.com.au/files/280_early-view-of-morphettville-on-adelaide-cup-day-approx-1900.jpg(,)https://www.portenf.sa.gov.au/webdata/resources/photogallery/Windosr_Gardens.JPG(,)https://s-media-cache-ak0.pinimg.com/736x/00/59/24/0059243dfcd3ecf5455958c52396b275.jpg(,)https://www.portenf.sa.gov.au/webdata/resources/photogallery/Enfield.jpg(,)http://www.bishopsadelaidehills.com.au/images/large/history04.jpg(,)https://s-media-cache-ak0.pinimg.com/736x/5e/c6/5f/5ec65f4cf9da0a9d92dd676ba852b6bd.jpg(,)http://image.slidesharecdn.com/historyresourcespowerpointadelaide-110929221034-phpapp01/95/history-resources-powerpoint-adelaide-19-728.jpg%3Fcb%3D1317352360
(,)http://www.landscape-photograph.com/images/panoramas/city/adelaide-fountain.jpg(,)https://sourceable.net/wp-content/uploads/2013/10/adelaide-cbd.jpg(,)http://www.landscapeinspirations.com.au/images/hero4.jpg(,)http://www.landscape-photograph.com/images/panoramas/city/adelaide-city-day.jpg(,)http://www.tonedeaf.com.au/wp-content/uploads/southaustralia.jpg(,)http://chockstone.smugmug.com/photos/2902785012_wLXKJZx-L.jpg(,)http://www.landscapeinspirations.com.au/images/hero5.jpg(,)http://adelaide-photographers.com/repository/Landscape%2520Image1371032750_800_600.jpg(,)http://media2.architecturemedia.net/site_media/media/cache/41/7b/417b4bda54d3e20c4bee87476484100d.jpg(,)http://unearthedlandscaping.com.au/wp-content/themes/perspective/timthumb.php%3Fsrc%3Dhttp://unearthedlandscaping.com.au/wp-content/uploads/2012/03/unearthed-landscaping-29-1.jpg%26w%3D592%26zc%3D1(,)http://www.landscapetechniques.com.au/images/home-feature-1.jpg(,)http://www.landscapeinspirations.com.au/gallery/gallery_turf/3.jpg(,)http://www.landscape-photograph.com/images/panoramas/city/melbourne-city-skyline.jpg(,)http://www.photographers.com.au/images/usr/b98249b38337c5088bbc660d8f872d6a/20/super_Adelaide-chechor.jpg
(,)http://www.goodfood.com.au/long-reads/adelaide/eat-and-drink/img/food_centralmarkets_satc.jpg(,)http://www.sbs.com.au/food/sites/sbs.com.au.food/files/styles/full/public/homegrown-adelaide-food-trucks-02_0.jpg%3Fitok%3D8UYO7ejY%26mtime%3D1411353915(,)http://www.adelaideeguide.com/images/adelaide-restaurant.jpg(,)http://www.berrytravels.com/wp-content/uploads/2013/01/sneakypickle01.jpg(,)http://cdn.10ofthebest.com/images/advert-images/totb2014/3.jpg(,)http://www.south-australia.aussietrueblue.com/chinatown-food-plaza.jpg(,)http://static.theculturetrip.com/images/56-247408-restaurants-adelaide-windypoint2.jpg(,)http://alreadyhome.com.au/alreadyhome/wp-content/uploads/2013/02/market-plaza.jpg(,)http://media-cdn.tripadvisor.com/media/photo-s/02/be/24/18/press-food-wine.jpg(,)http://www.miettas.com.au/static/images/guide/sa_adelaide/shanghai_cuisine.jpg(,)http://www.goodfood.com.au/long-reads/adelaide/eat-and-drink/img/StreetADL-satc-main.jpg
(,)http://resources1.news.com.au/images/2013/10/17/1226741/630757-e556f8fa-3605-11e3-9051-f1cffb9afa3c.jpg(,)http://media-2.web.britannica.com/eb-media/13/96313-004-08839658.jpg(,)http://alreadyhome.com.au/alreadyhome/wp-content/uploads/2012/04/Fringe-Street-Party.jpg(,)http://baysidejournal.com/wp/wp-content/uploads/2015/01/image-110.jpg(,)http://theclothesline.com.au/wp-content/uploads/2015/02/Dylan-Thomas-Header-Return-Journey-Bob-Kingdom-The-Clothesline-620x350.jpg(,)http://www.kryztoff.com/RAW/wp-content/uploads/2014/03/adelaide-cabaret-festival-760.jpg(,)https://s3-ap-southeast-2.amazonaws.com/cdn.adelaidefringe.com.au/wp-content/uploads/2011/08/ABOUT-US.jpg(,)https://s3-ap-southeast-2.amazonaws.com/cdn.adelaidefringe.com.au/wp-content/uploads/2011/08/About-Adelaide-1.jpg(,)http://resources1.news.com.au/images/2013/03/01/1226588/785265-festival-elder-park.jpg(,)http://jaba.com.au/lib/images/_portfolio/96afa480.jpg
(,)http://www.tastesa.com.au/images/Walking3.jpg(,)http://www.thinkers.sa.gov.au/core/thumbnailer_1_0/thumb.ashx%3Fresize%3Dfalse%26src%3D/lib/images/Issues/Crowd-Scene.jpg(,)http://travel.9msn.com.au/img/insiders/adelaide/adelaide-culture.jpg(,)http://www.thinkers.sa.gov.au/core/thumbnailer_1_0/thumb.ashx%3Fresize%3Dfalse%26src%3D/lib/images/Issues/Arts-and-Culture-2.jpg(,)http://www.weekendnotes.com/im/007/03/milkcrate-culture-vacant-space-art-gallery-art-sup1.jpg(,)http://resources3.news.com.au/images/2012/10/29/1226505/626643-international-students-at-adelaide-university.jpg(,)http://deshbidesh.com.au/wp-content/uploads/2014/05/bangla-adlaid-7.jpg(,)http://www.weekendnotes.com/im/006/08/things-to-do-adelaide-free-festival-park-christmas31.jpg(,)http://i.guim.co.uk/static/w-620/h/q-95/sys-images/Guardian/Pix/pictures/2014/3/7/1394156684689/Adrienne-Truscott-011.jpg(,)http://travelblog.viator.com/wp-content/uploads/2009/06/adelaide-cafes.jpg(,)http://www.southaustraliagov.co.uk/files/423.article.jpg%3F20150417215459(,)http://media-cdn.tripadvisor.com/media/photo-s/07/9d/54/66/adelaide-culture.jpg(,)http://www.travelpoint.com.au/locationphotos/475w/super_region-adelaide_city_and_surrounds-002.jpg
(,)https://www.adelaidesightseeing.com.au/sites/default/files/styles/mediam_size_tour_cat_img/public/ultimate_adelaide_tour_big_0.jpg%3Fitok%3DmiEOW0Rw(,)http://www.amillionlives.net/wp-content/uploads/2011/08/Adelaide-Tourist.jpg(,)https://www.adelaidesightseeing.com.au/sites/default/files/styles/mediam_size_tour_cat_img/public/popeye_crusie.jpg%3Fitok%3DeFT5kUVk(,)http://www.australiacitytrip.com/adelaide/images/River-Torrens.jpg(,)http://playandgo.com.au/wp-content/uploads/2012/03/Adelaide-sights-630x449.jpg(,)http://5000plus.net.au/system/images/216/show/Screen%2520shot%25202011-10-12%2520at%252011.38.04%2520AM.png(,)http://www.atn.com.au/pics/fpslider/adelaide.jpg(,)http://media-cdn.tripadvisor.com/media/photo-s/02/64/3a/bb/filename-australia-100.jpg(,)http://blog.aussiecampervans.com/image.axd%3Fpicture%3D2014%252F8%252Ffdgfgff.jpg(,)http://lifestyle.iloveindia.com/lounge/images/adelaide-attractions.jpg(,)http://lifestyle.iloveindia.com/lounge/images/adelaide-attractions-1.jpg(,)http://www.onepiecetravel.com/upimg/090516/1_225925.jpg(,)http://farm3.static.flickr.com/2280/2371304850_b905c9cd8b.jpg(,)http://www.ozforkids.com/images/adelaide.jpg(,)http://media-cdn.tripadvisor.com/media/photo-s/03/2d/69/59/adelaide-sightseeing.jpg