Occupation

Actor




Height

1.91 m




Role

Boxer




Name

Victor McLaglen




Years active

1920–1958








Full Name

Victor Andrew de Bier Everleigh McLaglen




Born

10 December 1886 (

1886-12-10

) Tunbridge Wells, Kent, England, United Kingdom


Died

November 7, 1959, Newport Beach, California, United States


Children

Andrew V. McLaglen, Sheila McLaglen




Spouse

Margaret Pumphrey (m. 1948–1959), Suzanne M. Brueggeman (m. 1943–1948), Enid Lamont (m. 1919–1942)




Movies

The Quiet Man, The Informer, She Wore a Yellow Ribbon, Fort Apache, Gunga Din




Similar People

Andrew V McLaglen, Ward Bond, Barry Fitzgerald, John Ford, Mildred Natwick
Victor mclaglen wiki videos
Victor Andrew de Bier Everleigh McLaglen (10 December 1886 – 7 November 1959) was a British-American film actor. He was known as a character actor, particularly in Westerns, and made seven films with John Ford and John Wayne. McLaglen won the Academy Award for Best Actor in 1935 for his role in The Informer.
Contents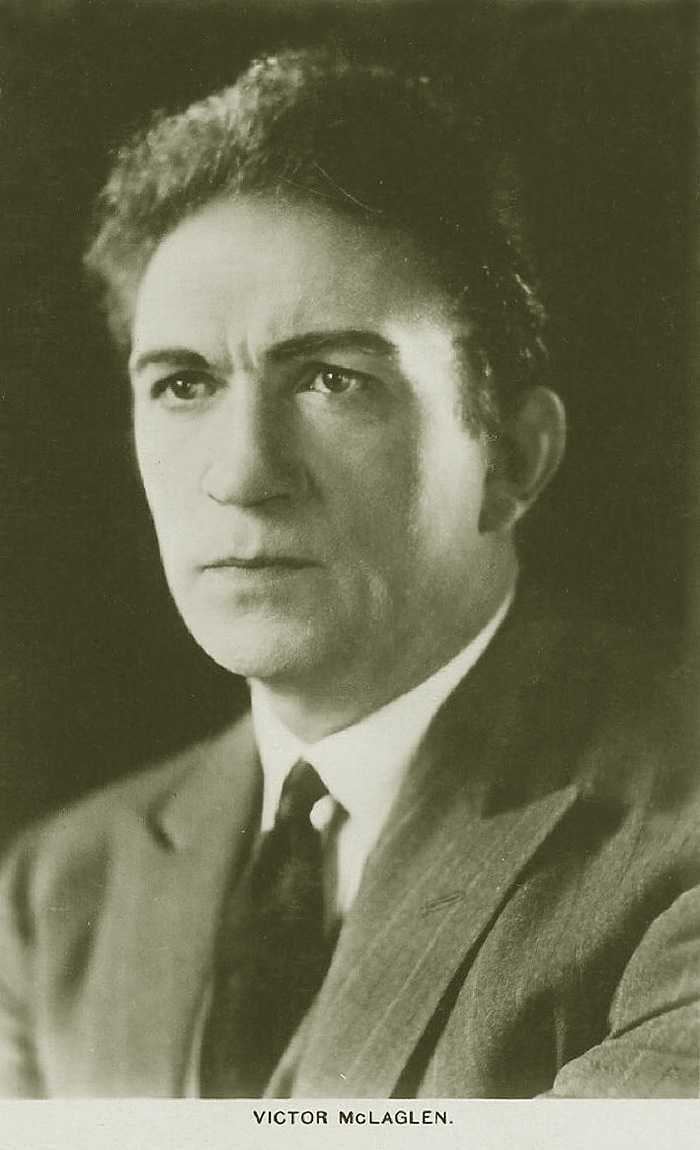 Movie Legends - Victor McLaglen
Early life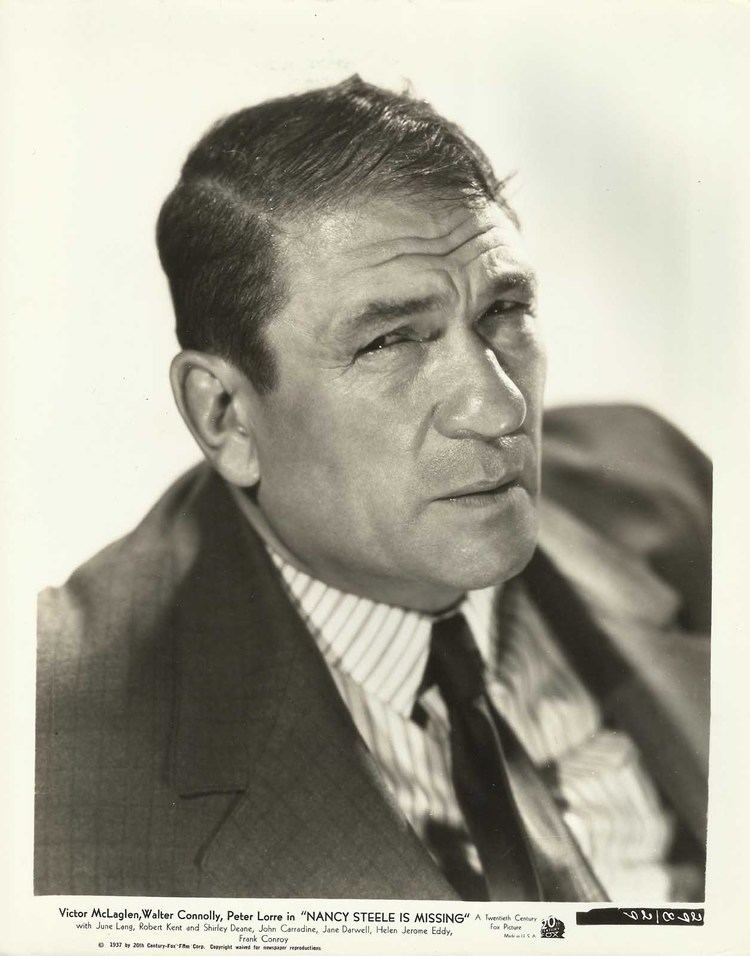 McLaglen claimed to have been born in Tunbridge Wells, Kent, though his birth certificate records Stepney in the East End of London as his true birthplace. His father, Andrew Charles Albert McClaglen, later a bishop of the Free Protestant Episcopal Church of England, moved the family to South Africa when McLaglen was a child. He had eight brothers and a sister. Four of his brothers also became actors: Arthur (1888–1972), an actor and sculptor, and Clifford (1892–1978), Cyril (1899–1987) and Kenneth (circa 1901-1979). Other siblings included Frederick (born circa 1882), Sydney (born circa 1884), Lewis (born circa 1889) and a sister, Lily (born circa 1893). Another brother, Leopold McLaglen (1884-1951), who appeared in one film, gained notoriety prior to World War I as a showman and self-proclaimed world jujutsu champion, who authored a book on the subject.
Military service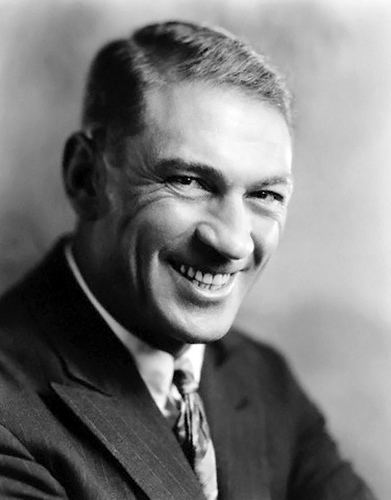 McLaglen left home at 14 to join the British Army with the intention of fighting in the Second Boer War. However, much to his chagrin, he was stationed at Windsor Castle in the Life Guards and was later forced to leave the army when his true age was discovered.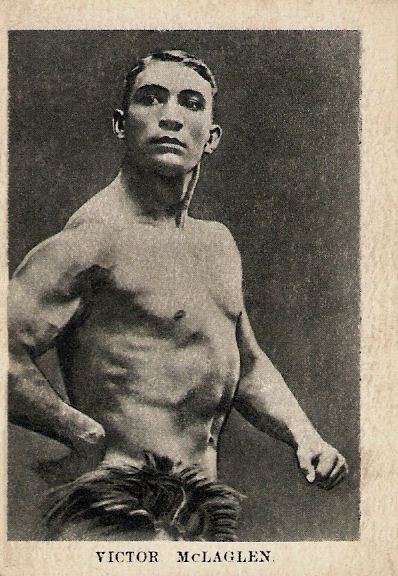 Four years later, he moved to Canada, where he earned a living as a wrestler and heavyweight boxer, with several notable wins in the ring. One of his most famous fights was against heavyweight champion Jack Johnson in a six-round exhibition bout. This was Johnson's first bout since winning the heavyweight title from Tommy Burns. Between bouts, McLaglen toured with a circus, which offered $25 to anyone who could go three rounds with him. He also briefly served as a constable in the Winnipeg Police Force in 1907. He returned to Britain in 1913 and during the First World War served as a captain (acting) with the 10th Battalion, Middlesex Regiment. Later, he claimed to have served with the Royal Irish Fusiliers. He served for a time as military Assistant Provost Marshal for the city of Baghdad. He also continued boxing, and was named heavyweight champion of the British Army in 1918. After the war, he began taking roles in British silent films.
Career
McLaglen's career took a surprise turn in the 1920s when he moved to Hollywood. He became a popular character actor, with a particular knack for playing drunks. He also usually played Irishmen, leading many film fans to mistakenly assume he was Irish rather than English. McLaglen played one of the titular Unholy Three in Lon Chaney, Sr.'s original silent version of the macabre crime drama. The following year, McLaglen was the top-billed leading man in director Raoul Walsh's First World War classic What Price Glory?(1926) with Edmund Lowe and Dolores del Rio. (McLaglen and Lowe reprised their roles from the movie in the radio program Captain Flagg and Sergeant Quirt, broadcast on the Blue Network (28 September 1941 – 25 January 1942, and on NBC 13 February 1942 – 3 April 1942.)
McLaglen made the transition to sound films with ease, memorably starring opposite Boris Karloff's crazed religious fanatic in John Ford's The Lost Patrol (1934), a picture about desperate soldiers gradually losing their minds fighting Arabs in the desert of what is now Iraq. Another highlight of his career was winning an Academy Award for Best Actor for his role in Ford's The Informer (1935), based on a novel of the same name by Liam O'Flaherty. Frank Tashlin's 1938 cartoon Have You Got Any Castles? features a caricature of McLaglen emerging from the novel and literally informing someone about some shady characters. Arguably his most famous film apart from What Price Glory? remains Gunga Din (1939), with Cary Grant and Douglas Fairbanks, Jr., an adventure epic loosely based on Rudyard Kipling's poem that served as the template decades later for Indiana Jones and the Temple of Doom (1984).
McLaglen was later nominated for another Oscar, this time for an Best Supporting Actor for his role opposite John Wayne in The Quiet Man (1952). He was especially popular with director John Ford, who frequently included McLaglen in his films, earlier as leading man, then later as comedy relief for films starring John Wayne.
Toward the end of his career, McLaglen made several guest appearances on television, particularly in Western series such as Have Gun, Will Travel and Rawhide. The episodes in which McLaglen guest-starred were both directed by his son, Andrew V. McLaglen, who later became a film director who frequently directed John Wayne.
Activism
In 1933, he founded the California Light Horse Regiment, which included a "riding parade club, a polo-playing group and a precision motorcycle contingent." He described it in a press interview as promoting "Americanism." He said it was organized to fight communists and others "opposed to the American ideal," both inside and outside the country. McLaglen was attacked by some on the left as fascist, which he denied. He said he was a "patriot of the good old-fashioned American kind."
Personal life
In 1935, McLaglen spent a reported $40,000 to build his own stadium near Riverside Drive and Hyperion Avenue, near Griffith Park and the Atwater Village neighborhood of Los Angeles. The stadium was used for football and many other activities. The Los Angeles River flood of 1938 seriously damaged the stadium, and it fell into disuse thereafter. In 1941, he was selected as the grand marshal of the Clovis Rodeo parade in Clovis, California.
Victor McLaglen was married three times. He first married Enid Lamont in 1919. The couple had one daughter, Sheila, and one son, Andrew. Andrew McLaglen was a television and film director who worked on several film projects with John Wayne. Andrew's children, Mary and Josh McLaglen, are both film producers and directors. Sheila's daughter, Gwyneth Horder-Payton, is a television director. Enid Lamont McLaglen died in 1942 as a result of a horse-riding accident.
His second marriage was to Suzanne M. Brueggeman. That marriage lasted from 1943 until 1948. His third and final marriage was to Margaret Pumphrey, a Seattle socialite he married in 1948. They remained married until his death of a heart attack in 1959. He had by that time become a naturalized U.S. citizen. His cremated remains are interred at Forest Lawn Memorial Park, Glendale in the Garden of Memory, Columbarium of Eternal Light.
On February 8, 1960, McLaglen received a star on the Hollywood Walk of Fame at 1735 Vine Street, for his contributions to the motion picture industry.
References
Victor McLaglen Wikipedia
(Text) CC BY-SA