5.6

/

10

Alchetron

7.2

Rate This






Genre

Biography, Drama, Romance

Initial DVD release

April 19, 2005




Release date

November 21, 1941 (1941-11-21) (USA)1947 (France)

Writer

Wally Kline (original screenplay), AEneas MacKenzie (original screenplay)

Cast




Similar movies

Night at the Museum: Secret of the Tomb

,

The Wolf of Wall Street

,

Black Mass

,

The Theory of Everything

,

Jobs

,

The Walk




Tagline

A STORY OF UNDYING FAITH!
Garry owen from they died with their boots on
They Died with Their Boots On is a 1941 black-and-white American western film from Warner Bros. Pictures, produced by Hal B. Wallis and Robert Fellows, directed by Raoul Walsh, that stars Errol Flynn and Olivia de Havilland.
Contents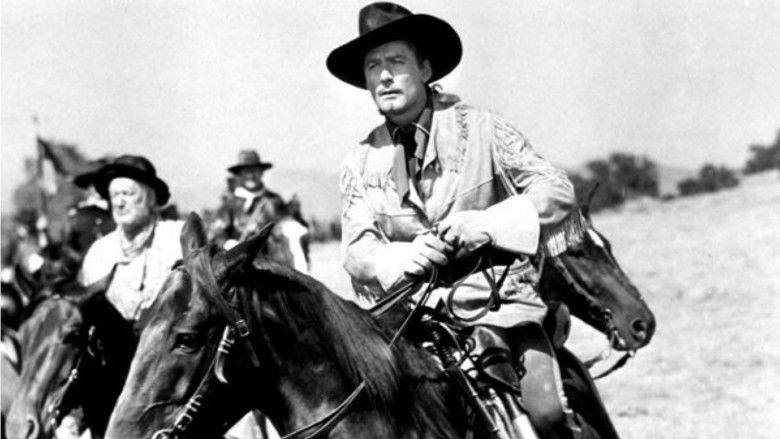 The film's storyline offers a highly fictionalized version of the life of Gen. George Armstrong Custer, from the time he enters West Point military academy through the American Civil War and finally to his death at the Battle of the Little Bighorn. Custer is portrayed as a fun-loving, dashing figure who chooses honor and glory over money and corruption. The battle against Chief Crazy Horse is portrayed as a crooked deal between politicians and a corporation that wants the land Custer promised to the Indians.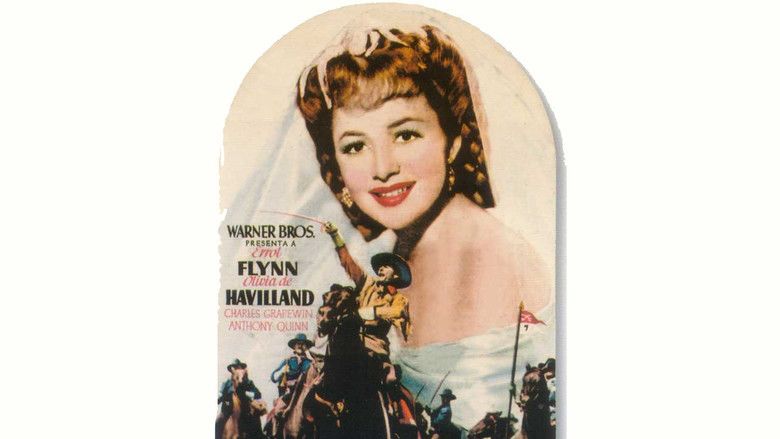 Despite its historical inaccuracies, the film was one of the top-grossing films of 1941. They Died with Their Boots On was the eighth film collaboration between Errol Flynn and Olivia de Havilland.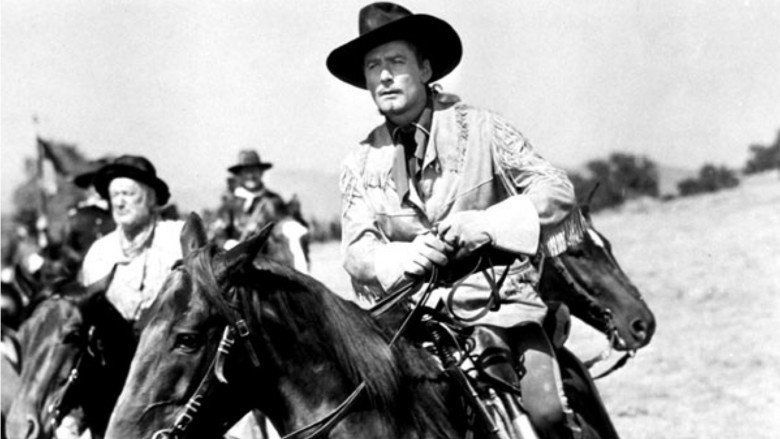 They died with their boots on gentlemen of the south
Plot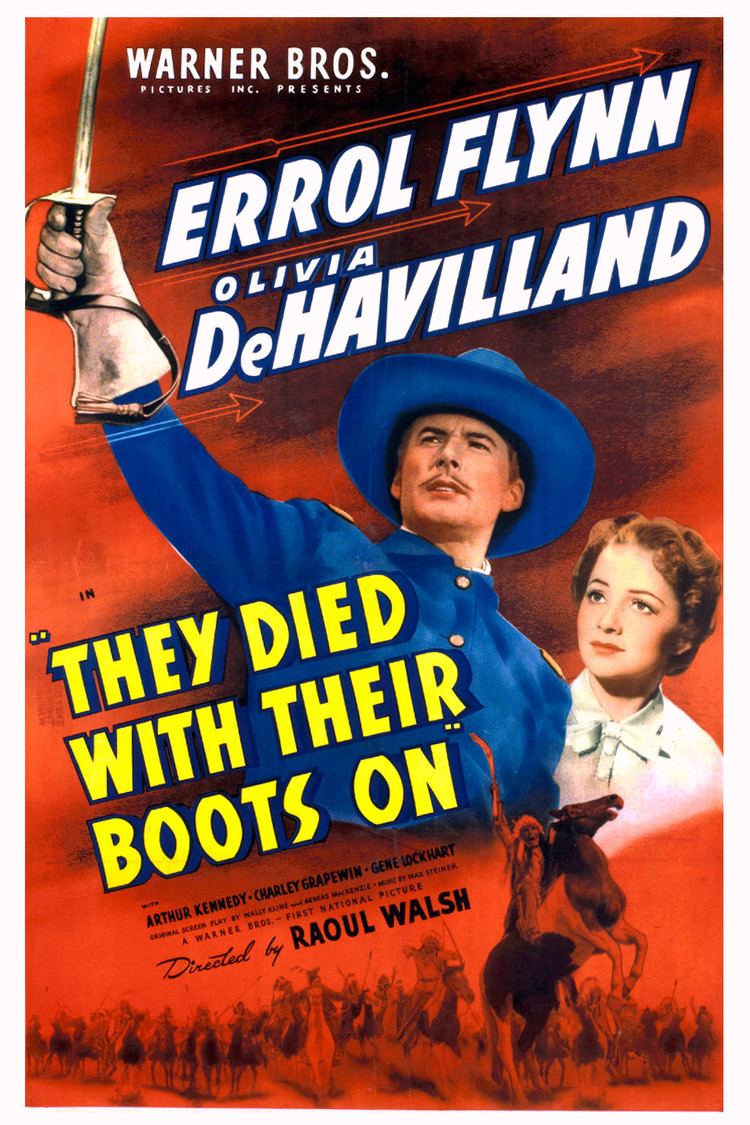 George Armstrong Custer (Flynn) enters West Point and quickly establishes himself as a troublemaker by showing up in an outlandish uniform he had designed himself, which makes him appear to be a visiting foreign general. After the misunderstanding, he signs up as a cadet and begins to stack up demerits for pranks and a general disregard for rules while at the Point. When the Civil War breaks out, Custer is at the bottom of his class.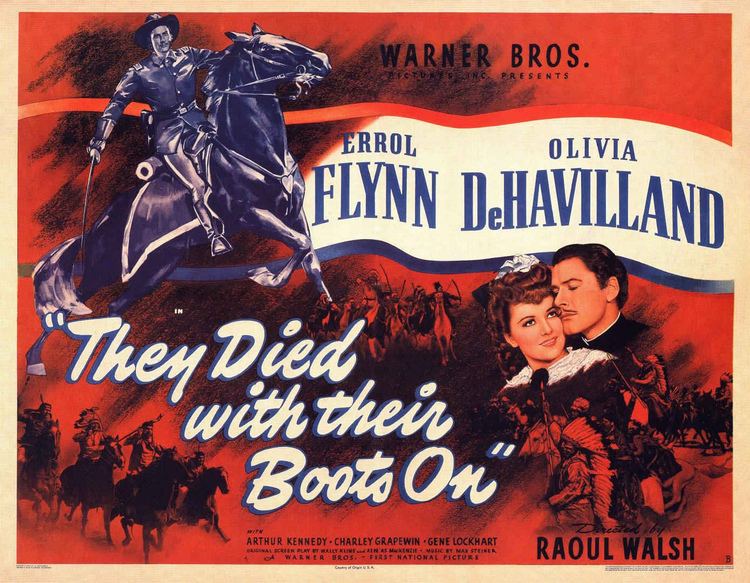 Custer's relationship with Libbie Bacon (from Monroe, Michigan) begins at the Point; walking a punishment tour, he is not allowed to speak, but he is approached by Libbie who asks him for directions. As soon as his punishment ends, he runs after her, explaining his rude silence, and asking if he may come by her front porch that evening. After speaking with Libbie, Custer and other members of his class are graduated early and ordered to report to Washington, D.C. for assignment. As a result, Custer misses his evening appointment.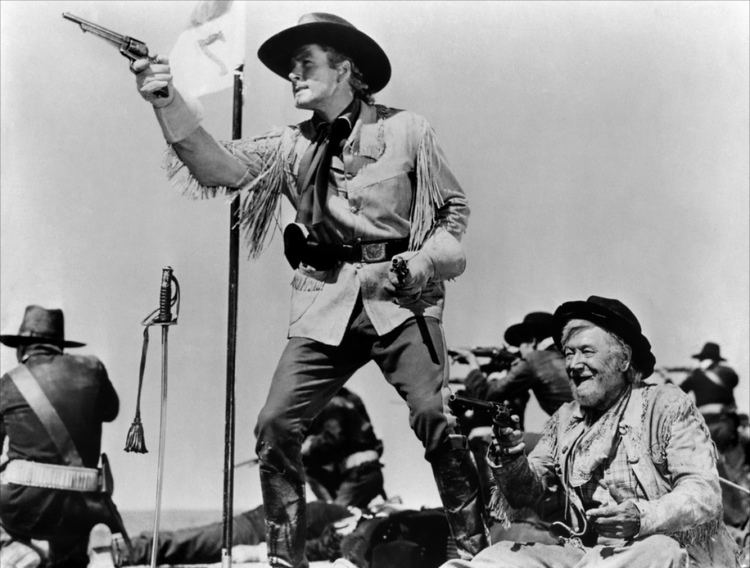 Once in the capital, Custer makes the acquaintance of Gen. Winfield Scott (Sydney Greenstreet) while dining, who then aids him in getting placed with the 2nd U.S. Cavalry. He becomes a war hero after disregarding a superior's orders during a crucial battle, successfully defending a bridge for the Union infantry. He is awarded a medal while recovering in a hospital after being shot in the shoulder; he then gets leave to return to his home in Monroe, Michigan. He meets Libbie at her home but her father, who has been the butt of Custer's joke earlier that day, orders him to leave. Custer returns to his regiment.
Due to a miscommunication from the Department of War, he is promoted to the rank of Brigadier General and takes command of the Michigan Brigade at the Battle of Gettysburg. He wins the day, and many victories follow him thereafter on his path to the Confederate surrender at Appomattox, which ends the Civil War.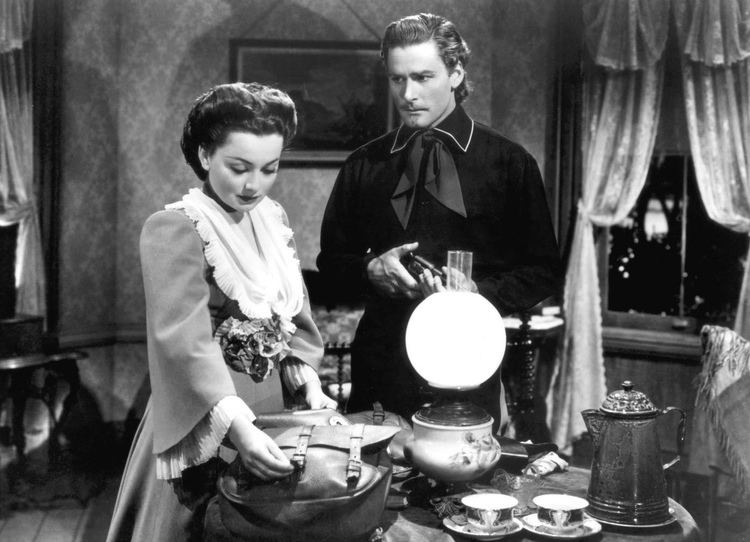 Upon returning home to Monroe as a war hero, Custer marries Libbie in a big ceremony, which includes a regimental honor guard, but he soon grows bored with civilian life and begins drinking too much. Libbie visits Custer's old friend Gen. Scott and begs him to assign Custer to a regiment again. He agrees, and Custer is given a Lt. Colonel's commission in the Dakota Territory.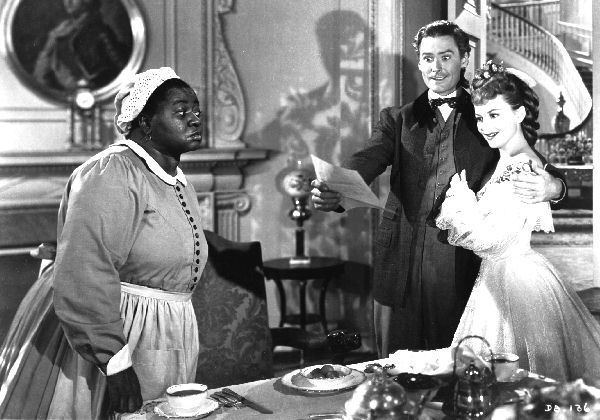 When Custer and Libbie arrive at Fort Lincoln, Custer finds the soldiers a drunken, rowdy and undisciplined lot in need of firm leadership. His old West Point enemy, Ned Sharp (Arthur Kennedy), who has a government license to run the fort's trading post and saloon, is providing Winchester repeating rifles to the local Native Americans. Furious, Custer stops the rifle sales and permanently closes the saloon. He then instills proper military discipline in his men and introduces a regimental song, "Garryowen", both of which quickly bring fame to the U.S. 7th Cavalry under Custer's command. The 7th has many engagements with Lakota tribal chief Crazy Horse (Anthony Quinn), who eventually offers peace, wanting a treaty that will protect the sacred Black Hills; Custer and Washington sign the treaty, but soon it is bankrupting Sharp's trading posts. Sharp spreads a rumor that large gold deposits have been discovered in the Black Hills. American settlers stream into the area in violation of the treaty, but Custer and his troops permit no infractions. To embarrass Custer, Sharp passes out free bottles of liquor to Custer's men hours before they drunkenly pass in revue, in complete disarray, before Commissioner Taipe, a politician in league with Sharp. Custer punches both Sharp and the commissioner in anger, and he is quickly relieved of his command.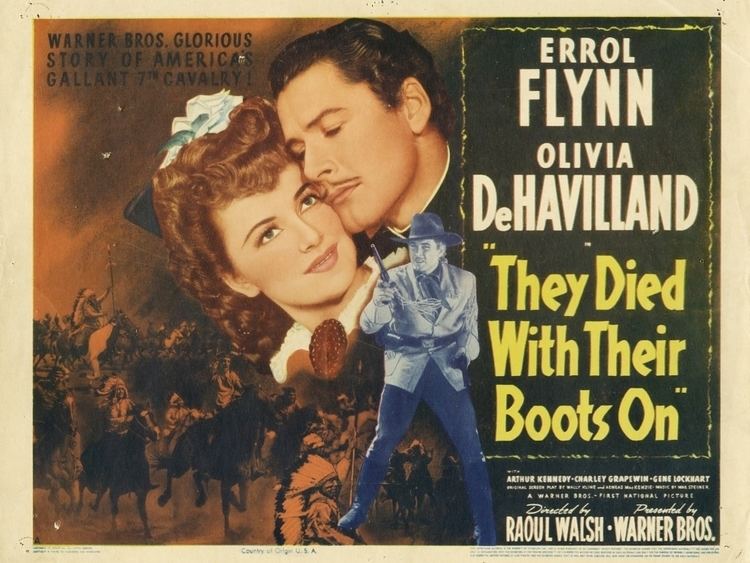 Custer hears from Libbie about Sharp's attempts to start a gold rush in the Black Hills, a plan that would bring him much business and large profits. Outraged, Custer takes the information to the U.S. Congress, but they only ridicule him. When news arrives that the presence of gold miners has led to open conflict between the Indians and U.S. troops, Custer appeals in person to President Ulysses S. Grant, one soldier to another, who restores him to command.
Custer comes to realize that his men are marching into a valley where thousands of Indians are waiting. Knowing they will have no chance, he has a final, emotion-filled goodbye with Libbie and leads his men into battle. Arrows and bullets fly and horses trample into the valley, where all of Custer's forces are killed. Earlier, Sharp has been forced by Custer to ride with the 7th "to Hell or glory. It depends on one's point of view", Custer tells him, "At least you can take glory with you". Sharp admits with his dying breath that Custer may have been right about "glory". Custer is killed by a rifle shot fired by Crazy Horse.
A few corrupt politicians have goaded the western tribes into war for personal profit, threatening the survival of all white settlers in the Dakota Territories. Custer and his men have given their lives at the Battle of the Little Bighorn to delay the Indians' advance and prevent this slaughter. A letter left behind by Custer, now considered his dying declaration, names the culprits and absolves the Indians of all responsibility; Custer has won his final campaign.
Development
The Warner Bros. script was an original screenplay and was announced in early 1941 as a vehicle for Errol Flynn. It was to be made after Warner's aviation film Dive Bomber, another feature starring Flynn.
Filming
The film is frequently confused with Michael Curtiz's Santa Fe Trail, released the previous year, in which Flynn portrayed Jeb Stuart and Ronald Reagan played Custer, also featuring Olivia de Havilland as Flynn's leading lady.
In September 1941, during filming, Flynn collapsed from exhaustion.
Three men were killed during the filming. One fell from a horse and broke his neck. Another stuntman had a heart attack. The third, actor Jack Budlong, insisted on using a real saber to lead a cavalry charge under artillery fire. When an explosive charge sent him flying off his horse, he landed on his sword, impaling himself.
The film reunited Gone With The Wind cast members Olivia de Havilland and Hattie McDaniel.
Custer's last stand
While the rest of the film was shot in various locales throughout southern California, the filmmakers had hoped to capture this climactic sequence near the actual location of the Battle of the Little Bighorn. Owing to scheduling and budget constraints, however, the finale of the film was relegated to a rural area outside Los Angeles.
The film shows Custer leading his troops in a saber charge on an Indian party, in the course of which they are surrounded and Custer, being the last man alive, is killed. In reality, the men had boxed their sabers and sent them to the rear before the battle; site evidence, along with some Indian accounts, indicates that Custer may have been among the first to die. He is also shown during the battle with his trademark long hair when, in reality, he had cut it short just prior to the Little Bighorn campaign.
Crazy Horse, played by Anthony Quinn, is the only individualized Indian appearing in scenes and represents the "Red Man", whose lifestyle is coming to an end. Quinn is one of the few actors of indigenous American descent in the film. Only 16 of the extras used were Sioux Indians. The rest of the Native American warriors were mostly portrayed by Filipino extras.
Soundtrack
The film score was composed by Max Steiner. He adapted George Armstrong Custer's favorite song, "Garryowen", for use in the score. Custer knew the song while he was still at West Point, where he is said to have performed it in a talent show. In the film Custer hears the song being played on a piano by former English soldier, now a U.S. Army officer, Lt. 'Queen's Own' Butler, who claims its origin is Australian. This connection is apocryphal. It is actually a traditional Irish drinking song, much beloved by the cavalry for its galloping rhythm. Warner Brothers recycled some of the music from the film and variations of it can be heard in Silver River and Rocky Mountain, both starring Errol Flynn, and The Searchers starring John Wayne.
Box office
They Died with Their Boots On grossed $2.55 million for Warner Bros. Pictures in 1941, making it the studio's second biggest hit of the year. It made the studio a profit of $1.5 million.
Home media
Like Errol Flynn's earlier film Sea Hawk, They Died With Their Boots On was digitally colorized in the early 1990s. This version was released on VHS tape in 1998 by Turner Entertainment and Warner Bros. Entertainment. The original black-and-white film was released on DVD in 2005 by Turner Entertainment and Warner Bros. Entertainment.
References
They Died with Their Boots On Wikipedia
(Text) CC BY-SA
They Died with Their Boots On IMDb
They Died with Their Boots On themoviedb.org