Palm Springs is a desert resort city in Riverside County, California, within the Coachella Valley. It is located approximately 55 mi (89 km) east of San Bernardino, 107 mi (172 km) east of Los Angeles, 123 mi (198 km) northeast of San Diego, and 268 mi (431 km) west of Phoenix, Arizona. The population was 44,552 as of the 2010 census. Palm Springs covers approximately 94 square miles (240 km2), making it the largest city in the county by land area.
Contents
Map of Palm Springs, California
Biking, golf, hiking, horseback riding, swimming, and tennis in the nearby desert and mountain areas are major forms of recreation in Palm Springs.
Gay travel palm springs california
Palm springs california travel tips
History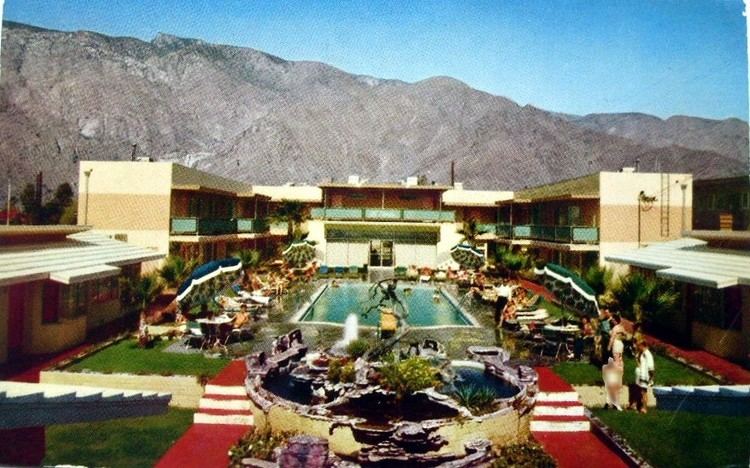 Archaeological research has shown that the Cahuilla people have lived in the area for the past 350–500 years. The Cahuilla name for the area was "Se-Khi" (boiling water). When the Agua Caliente Reservation was established by the United States government in 1896, the reservation land was composed of alternating sections (640 acres) of land laid out across the desert in a checkerboard pattern. The alternating non-reservation sections were granted to the Southern Pacific Railroad as an incentive to bring rail lines through the open desert.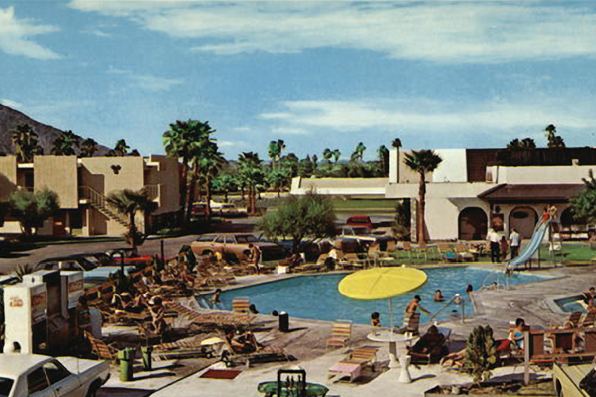 Presently the Agua Caliente Band of Cahuilla Indians is composed of several smaller bands who live in the modern day Coachella Valley and San Gorgonio Pass areas. The Agua Caliente Reservation occupies 32,000 acres (13,000 ha), of which 6,700 acres (2,700 ha) lie within the city limits, making the Agua Caliente band the citys largest landowner. (Tribal enrollment is currently estimated at between 296 and 365 people.)
As of 1821 Mexico was independent of Spain and in March 1823 the Mexican Monarchy ended. That same year (in December) Mexican diarist Jose Maria Estudillo and Brevet Captain Jose Romero were sent to find a route from Sonora to Alta California; on their expedition they first recorded the existence of "Agua Caliente" at Palm Springs, California. With the Treaty of Guadalupe Hidalgo, the region was ceded to the United States in 1848.
Early names and European settlers
One possible origin of palm in the place name comes from early Spanish explorers who referred to the area as La Palma de la Mano de Dios or "The Palm of Gods hand". The earliest use of the name "Palm Springs" is from United States Topographical Engineers who used the term in 1853 maps. According to William Bright, when the word "palm" appears in Californian place names, it usually refers to the native California fan palm, Washingtonia filifera, which is abundant in the Palm Springs area. Other early names were "Palmetto Spring" and "Big Palm Springs".
The first European resident in Palm Springs itself was Jack Summers, who ran the stagecoach station on the Bradshaw Trail in 1862. Fourteen years later (1876), the Southern Pacific railroad was laid 6 miles to the north, isolating the station. In 1880, local Indian Pedro Chino was selling parcels near the springs to William Van Slyke and Mathew Bryne in a series of questionable transactions; they in turn brought in W. R. Porter to help market their property through the "Palm City Land and Water Company". By 1885, when San Francisco attorney (later known as "Judge") John Guthrie McCallum began buying property in Palm Springs, the name was already in wide acceptance. The area was named "Palm Valley" when McCallum incorporated the "Palm Valley Land and Water Company" with partners O.C. Miller, H.C. Campbell, and James Adams, M.D.
Land development and drought
McCallum, who had brought his ill son to the dry climate for health, brought in irrigation advocate Dr. Oliver Wozencroft and engineer J. P. Lippincott to help construct a canal from the Whitewater River to fruit orchards on his property. He also asked Dr. Welwood Murray to establish a hotel across the street from his residence. Murray did so in 1886 (he later became a famous horticulturalist). The crops and irrigation systems suffered flooding in 1893 from record rainfall, and then an 11-year drought (1894–1905) caused further damage.
Economy
Though celebrities still retreat to Palm Springs, many today establish residences in other areas of the Coachella Valley. The citys economy now relies on tourism, and local government is largely supported by related retail sales taxes and the TOT (transient occupancy tax). It is a city of numerous festivals, conventions, and international events including the Palm Springs International Film Festival.
Arts and culture
The Palm Springs International Film Festival and Palm Springs International Festival of Short Films ("ShortFest") present movie star-filled, red-carpet affairs in January and June respectively.
Modernism Week, in February, is a ten-day event featuring mid-century modern architecture through films, lectures, tours and its Modernism Show & Sale.
Agua Caliente Cultural Museum presents its annual Festival of Native Film & Culture at the Camelot Theaters in central Palm Springs.
The Club Skirts Dinah Shore Weekend, known as "The Dinah", is a LGBT event billed as the "Largest Girl Party in the World" held each March.
A circuit White Party is held in April, attracting 10,000 visitors.
The Arthur Lyons Film Noir Festival, co-sponsored by the Palm Springs Cultural Center, is held in May with screenings at the Camelot Theater.
Palm Springs Desert Resorts Restaurant Week is held every June, featuring 10 days of dining at over 100 restaurants in the Coachella Valley.
The Palm Springs Black History Committee celebrates Black History Month with a parade and town fair in February.
The Caballeros, a gay mens chorus and member of GALA Choruses, has presented concerts since 1999.
The following three parades, held on Palm Canyon Drive, were created by former Mayor Will Kleindienst:
Palm Springs Annual Homecoming Parade is held on the Wednesday prior to the Friday night Palm Springs High School Homecoming Game.
The city sponsors a Veterans Day parade, concert and fireworks display since 1996. It is one of 54 US Department of Veterans Affairs designated Regional Sites for the national observance of Veterans Day.
Since 1992 the Palm Springs Festival of Lights Parade is held on the first Saturday of December.
Palm Springs in popular culture
The Palm Springs area has been a filming location, topical setting, and storyline subject for many films, television shows, and literature.
Museums and other points of interest
Agua Caliente Band of Cahuilla Indians
Agua Caliente Cultural Museum (presently located downtown at the Village Green)
Indian Canyons (Palm Canyon, Andreas Canyon, Murray Canyon)
Tahquitz Canyon
Agua Caliente Casino in Rancho Mirage
Spa Resort Casino, which is based on the original hot springs of the town
Forever Marilyn sculpture by Seward Johnson in downtown Palm Springs (presently in New Jersey for a Seward Johnson exhibition)
Palm Springs Historical Society Museums (and Village Green)
Miss Cornelia Whites "Little House" (railroad ties from the defunct Palmdale Railroad were used to build the house)
The McCallum Adobe – the oldest remaining building, built in 1884
Ruddys General Store Museum – a 1930s general store
Palm Springs Air Museum – located at the Palm Springs International Airport
Palm Springs Art Museum – originally developed as the Desert Museum
Annenberg Theater
San Jacinto Mountains
Cactus to Clouds Trail – leads from the Art Museum to San Jacinto Peak
Childrens Discovery Museum of the Desert – in Rancho Mirage
Living Desert Zoo and Gardens – in Palm Desert
Numerous galleries and studios are located in the city and region. The California Art Club has a chapter in Palm Springs. The Desert Art Center of Coachella Valley was established in Palm Springs in 1950.
Delos Van Earles "Jungle Red" (Warm Sands neighborhood)
Food challenge 28 nypd team pizza challenge w riverazilla freakeating in palm springs ca
Healthy vegan and gluten free food and eco hotels in palm springs on the healthy voyager
References
Palm Springs, California Wikipedia
(Text) CC BY-SA
(,)http://upload.wikimedia.org/wikipedia/commons/6/61/Hotel_La_Fonda,_Palm_Springs,_California_postcard_(1950s).jpg(,)http://www.acehotel.com/images/1475(,)http://upload.wikimedia.org/wikipedia/commons/c/c3/Greetings_from_Palm_Springs_-_Golf_Course_postcard_(1960s).jpg(,)http://imagesus.homeaway.com/mda01/c04e9e3f-2396-4975-bae5-58286b47e973.1.10(,)https://palmspringsrail.files.wordpress.com/2008/04/gs-palmsprings_actualsize2.jpg(,)http://static.messynessychic.com/wp-content/uploads/2012/10/salton2.jpg(,)http://img1.10bestmedia.com/Images/Photos/97272/bluember-at-rancho-las-palmas-resort-spa-font-o-fire-firebowl-03_54_990x660_201406011611.jpg(,)http://www.architecturaldigest.com/decor/2015-04/michael-s-smith-james-costos-palm-springs-home-article/_jcr_content/par/cn_contentwell/par-main/cn_pagination_container/cn_image.size.michael-s-smith-james-costos-palm-springs-home-01-h670-wm.jpg(,)http://images.trvl-media.com/hotels/1000000/30000/26100/26011/26011_151_z.jpg(,)http://www.pscondos.com/wp-content/uploads/2014/09/la-palme-palm-springs-condos-pool-spa.jpg(,)http://img2.10bestmedia.com/Images/Photos/33973/las-casuelas-terraza-palm-springs-ca-usa-restaurants-breakfast-brunch-latin-mexican-1547308_54_990x660_201406011136.jpg(,)http://www.kcet.org/updaily/socal_focus/CHS-9122.jpg(,)http://palmsprings.com/images/palmspringsmasthead.jpg
(,)http://photos.windermeresocal.com/agt_gallery/178/Mid-Century_Modern_Palm_Springs_CA_Edris_House.jpg(,)http://www.desertusa.com/dusablog/wp-content/uploads/JR5Y3433.jpg(,)http://ahouseinthehills.com/wp-content/uploads/2010/04/palm_springs_landscape_photo_birds_of_a_Feather_blog.jpg(,)http://gordonjameskurtis.com/images/portfolio/05.jpg(,)http://cdn.c.photoshelter.com/img-get2/I00004i_l5nK3uGE/fit%3D1000x750/PalmSprings-039.jpg(,)http://takesunset.com/wp-content/uploads/2010/04/richard-neutra.jpg(,)http://st.houzz.com/simgs/b1612a0f0122840d_4-0144/midcentury-landscape.jpg(,)http://st.houzz.com/simgs/6a91feaa01bbfbd0_4-4200/modern-landscape.jpg(,)https://img0.etsystatic.com/000/0/5324980/il_570xN.302223090.jpg(,)http://st.houzz.com/simgs/fd11ae4003597ca9_4-3551/contemporary-landscape.jpg(,)http://www.thegardenglove.com/wp-content/uploads/2013/07/palm-springs-desert-landscaping2.jpg(,)http://st.houzz.com/simgs/5e81f1dc02e7e5cc_4-9360/midcentury-patio.jpg(,)http://www.talkingrealestatepalmsprings.com/wp-content/uploads/2011/07/DSC09641.jpg(,)http://sandytriolo.com/wp-content/gallery/landscape/palm-springs-ca-4.jpg(,)http://movieplaces.tv/Pictures/bigstock_Palm_Springs_Landscape_18084845.jpg
(,)http://www.curvepalmsprings.com/d/curvepalm/media/Exterior/__thumbs_964_465_crop/Firepit_Night.jpg%3F1354738269(,)http://img1.10bestmedia.com/Images/Photos/72354/pacifica-seafood-restaurant-cocktails-palm-springs-ca_54_990x660_201404182157.jpg(,)http://www3.hilton.com/resources/media/hi/PSPPSHF/en_US/img/shared/full_page_image_gallery/main/HH_terracerest01_19_675x359_FitToBoxSmallDimension_Center.jpg(,)http://www.bringfido.com/site_media/images/thumbs/spencers.jpg(,)http://media-cdn.tripadvisor.com/media/photo-s/03/cf/b2/1f/melvyn-s-restaurant-lounge.jpg(,)http://www.gaytravelherald.com/wp-content/uploads/2012/12/gay-travel-herald-Palm-Springs-California-dining-Matchbox-restaurant-balcony-Palm-Canyon-Drive.jpg(,)http://img1.10bestmedia.com/Images/Photos/33979/lgs-prime-steakhouse-palm-springs-ca-usa-restaurants-steakhouses-american-steakhouse-1547320_54_990x660_201406011137.jpg(,)http://img1.10bestmedia.com/Images/Photos/121159/cork-tree-restaurant-elm-tree-02_54_990x660_201404221134.jpg(,)http://img2.10bestmedia.com/Images/Photos/213499/457976-337499282970546-1187293155-o_54_990x660_201404232143.jpg(,)http://inglesideinn.com/wordpress/wp-content/uploads/2013/12/ingleside_inn_restaurant_02.10.1-960x447.jpg
(,)http://cdn.visitgreaterpalmsprings.com/sites/palmspringsoasis.com/master/files/Palm-Springs-Internation-Film-Festival_2012_Awards-Gala_Red-Carpet_Octavia-Spencer%2520(1).jpg(,)http://cdn.visitgreaterpalmsprings.com/sites/palmspringsoasis.com/master/files/Palm-Springs_Art-Museum_Native-American_Gallery_Women_0.jpg(,)http://101thingstodosw.com/palmsprings/wp-content/uploads/2013/02/Palm-Springs-Modernism-Week11.jpg(,)http://cdn.visitgreaterpalmsprings.com/sites/palmspringsoasis.com/master/files/styles/slideshow_620/public/pow-wow-dancers.jpg(,)http://blog.modernismweek.com/wp-content/uploads/2013/01/ac-en-fiesta.jpg(,)http://latimesblogs.latimes.com/.a/6a00d8341c630a53ef01630182d16a970d-550wi(,)http://www.koocanusapublications.com/rvwest_test/images/uploads/palm_springs_1b.jpg(,)http://www.koocanusapublications.com/rvwest_test/images/uploads/palm_springs_2b.jpg(,)http://cache1.asset-cache.net/gc/463141902-general-view-of-at-palm-springs-convention-gettyimages.jpg%3Fv%3D1%26c%3DIWSAsset%26k%3D2%26d%3DGkZZ8bf5zL1ZiijUmxa7QUGfBaf2rRM37ZDrmO2%252BmlYgJ0djh9P1k6VE3oM4yjZvzAbHbXeVLqwiLU5AL3v48A%253D%253D(,)http://cache4.asset-cache.net/gc/461010342-elizabeth-matzner-and-palm-springs-gettyimages.jpg%3Fv%3D1%26c%3DIWSAsset%26k%3D2%26d%3DGkZZ8bf5zL1ZiijUmxa7QZhNhyUdO7PRnwoIkpy8Rh7ltKF%252BZndz52z4gC6IFx2vmLMWtqqYnYAWrLRZuu9bIA%253D%253D(,)http://cdn.visitgreaterpalmsprings.com/sites/palmspringsoasis.com/master/files/indian-baskets.jpg(,)http://farm1.staticflickr.com/41/92375461_b303c05b28.jpg(,)http://www.culturevixen.com/wp-content/uploads/2012/04/Riviera-01.jpg(,)http://www.culturevixen.com/wp-content/uploads/2012/03/RRS-Evening-pool-signatureFNL_hi.jpg