Course

Main course




Region or state

Assam West Bengal




Variations

Pakhal, Poitabhat




Place of origin

Bangladesh, India




Main ingredients

Rice, water




Places of origin

Bangladesh, India






Similar

Pakhala, Lamban, Agemochi, Glorified rice, Charleston red rice
Poitabhat or panta bhat (Assamese: পঁইতা ভাত; Bengali: পান্তা ভাত; Pàntà bhàt) is rice-based dish. It is prepared by soaking rice, generally leftover, in water overnight. Traditionally served in the morning with salt, onion and chili. It is consumed in Bangladesh and the eastern Indian states of West Bengal and Assam. It is a popular dish on the day of Bengali new year. It has been described in documents from 17th century. Panta bhat has more micronutrients than fresh rice. It is traditionally considered as beneficial in feverish conditions.
Contents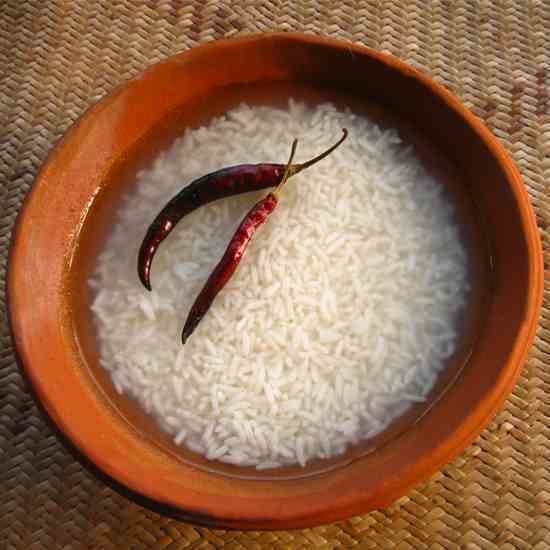 Etymology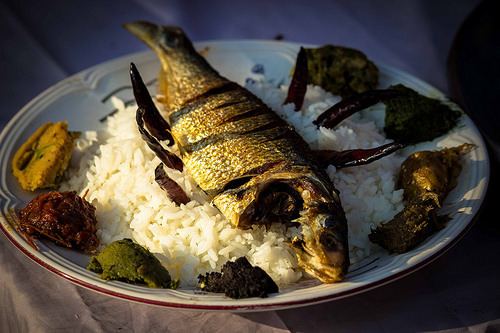 Light syrupy water for use in sweetmeats like pantua is called pani chasani or pani ras in Hindi, which may be boiled into jalao chasani or thick syrupy water used to make sweetmeats like Jilapi. Pantua and Jilapi took their names from the thickness of their chasani or ras (syrupy water). The lightly watered rice came to be called panta bhat.
History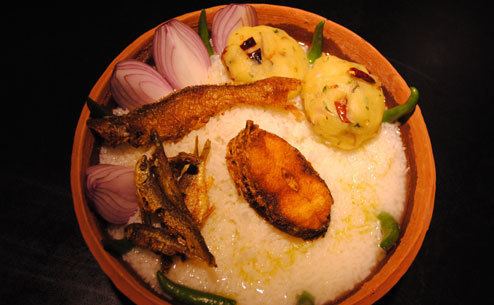 During the Mughal Era, members of socio-cultural organizations performed open air concerts, the audience listening to the concert and eating traditional food, particularly panta bhat. Friar Sebastian Manrique reported from his visit of Bengal in 17th century that the people of all communities, according to Manrique, were contented then with the daily meal of rice, often panta bhat, salt and green vegetable (shak). The better-off elements of the society consumed ghee, butter, milk and various lacteous preparations and sweetmeats.
Preparation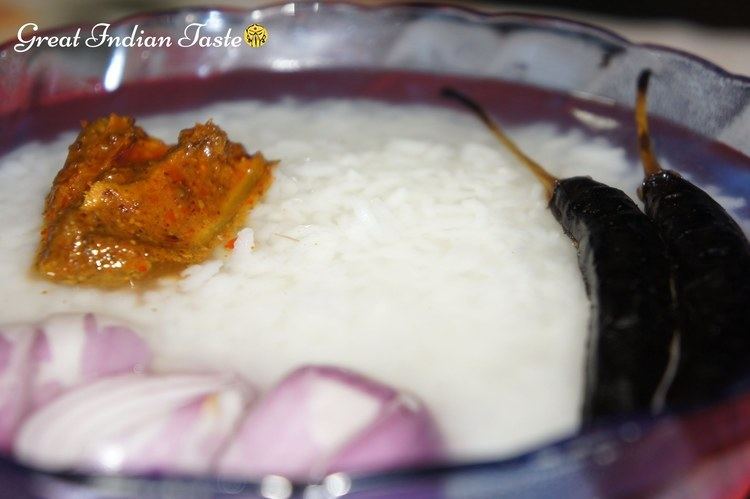 There are many variations of the dish but a common one is made by soaking cooked rice in water overnight. Rice is boiled the usual way. Then fen or starch is strained away. Rice is cooled in air temperature for 3–4 hours. Then cool water is added in a way that about an inch of water rises above the rice. Rice is generally covered with a light piece of fabric. 12–24 hours later panta bhat is ready. Care must be taken to cover the dish during the long soaking to avoid contamination. The soaked rice is usually eaten in the morning with salt, lime, chili (either raw or roasted) and onions (sliced or whole) mostly for flavor. Water is discarded before consumption. Sometimes edible oils may be added.
Serving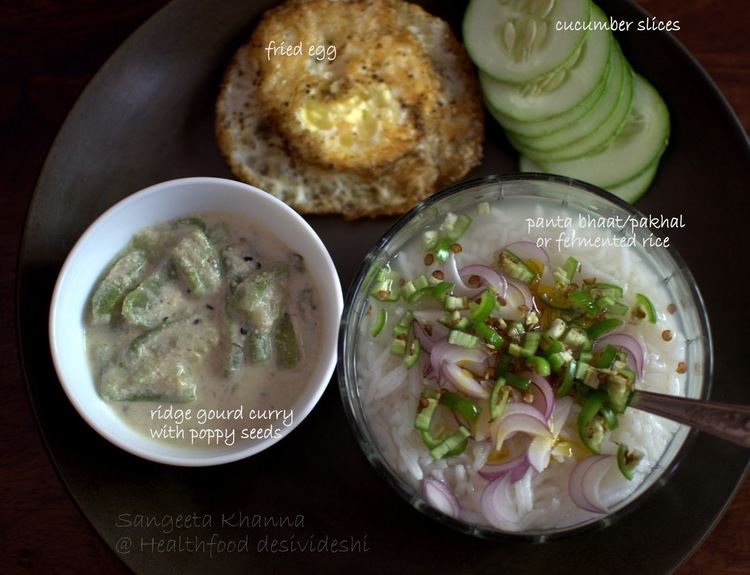 It is often served with fried fish or vegetable curry or flattened rice (chira), dried cane or palm molasses (jaggery or gurh) and milk curd (doi). Panta bhat or poita bhat is often garnished with mustard oil, onion, chilli, pickle, and served with shutki mach (dried fish), machher jhol (fish curry), especially Shorshe Ilish (ilish cooked with mustard seeds), aloo bhorta or aloo pitika (mashed potato), begun bhorta (mashed brinjal) and other bhorta or pitika (mashed food).
Variation
A similar dish consumed in the Indian states of Orissa and Chhattisgarh is known as pakhal, pokhalo, pakhala or pakhal bhat. It differs from panta bhat in seasoning as yoghurt is sometimes added prior to the fermentation process. This cold and wet food, is suitable for summer mornings, but in winter dry foods, such as chira (flattened rice) and muri (puffed rice) are more preferred.
Popularity
Panta bhat is especially popular in rural areas. It is usually served as breakfast, though noon or evening consumption is not uncommon. Panta bhat and other low nutrition food are consumed as fillers between meals. Folk rhymes about the dish include: "Shashuri nai nonod nai kar ba kori dar/Agey khai panta bhat sheshe lepi ghar", meaning: "No mother-in-law, no sister-in-law, whom do I fear/ Shall first eat rice then clean the room". There also are proverbs like: "Maga bhat tay basi ar panta", meaning: "Got rice begging, ask not whether stale or watered".
Panta bhat is also popular among slum-dwellers of Dhaka because it can be easily eaten only with salt or with an onion or a fried or green chili, without any other requirement.
In Bangladesh, it is a part of the Pohela Boishakh (Bengali new year festival) festivities. On that day it is consumed as breakfast by urban people. Panta is also served at high-end eateries in Bangladesh and West Bengal. Among Hindu Bengalis, it is consumed during the Ranna-Puja (Bengali cooking festival). In Assam, offering Dudh Panta (milk with stale water-soaked rice) is a part of the marital ritual. In Northeast India, there is a belief that taking painta or panta bhat gives the strength of a tiger.
Nutrients
An Assam Agricultural University study found that 100 gm of panta bhat, fermented for 12 hours, contains up to 73.91 mg of iron, while for the same quantity of fresh rice contains only 3.4 mg. 100 gm panta bhat also contains up to 303 mg of sodium, 839 mg of potassium and 850 mg of calcium, while fresh rice contains 21 mg of calcium. Panta bhat contains a small amount of alcohol as a result of fermentation. When the conditions of preparing panta bhat — keeping rice soaked overnight in water — were simulated in the laboratory, the rice was found to be inoculated with veratridine, a steroid-derived alkaloid.
Health effects
Panta bhat is often contaminated, with almost 90% of the samples containing fecal coliforms with a median count of 3.9 log cfu/ml. The contamination was more in the rainy season. Numbers of faecal coliforms increased 10-fold when there was a delay of more than 4 hours between preparation and consumption; 90% of the samples were eaten more than 12 hours after preparation. In cases of diarrhoea this stale rice is not to be served to the patient. According to another study (ILSI 1998), fermentation improves the bioavailability of minerals such as iron and zinc as a result of phytic acid hydrolysis, and increases the content of riboflavin and vitamin B. Panta bhat has some remedial use. It is considered as a "cold food" by Ayurveda traditions, while boiled rice is neutral. Hence is a preferred food for children with a fever.
References
Panta bhat Wikipedia
(Text) CC BY-SA