Covid-19
Odisha




Odisha




Hot and cold




India




Cooked rice






Hot pakhaḷa, jira (cumin) pakhaḷa, basi (stale) pakhaḷa,Dhai (Curd) Pakhala




Santula, Dahi baigana, Chingudi Jhola, Chhena poda, Cuisine of Odisha
Pakhaḷa (Odia: ପଖାଳ) is an Odia term for an Indian food consisting of cooked rice washed or little fermented in water. The liquid part is known as toraṇi. It is popular in Odisha, Bengal, Assam, Jharkhand and Chhattisgarh.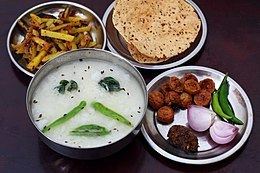 The Bengali name for this dish is panta bhat, in Chhattisgarh it's called bore bhat, in Jharkhand linguistic communities use names like paani bhat, paakhaal or pakhala, and in Assam it's called poita bhat.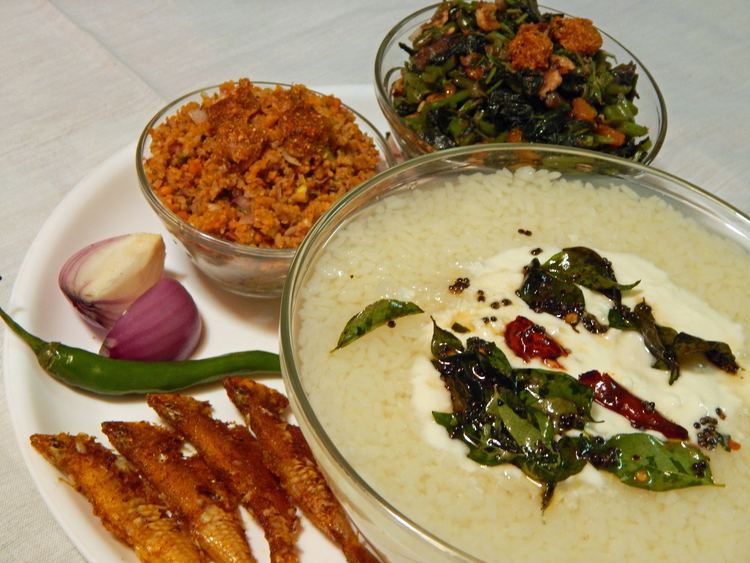 Eating pakhal has been recommended to prevent heat stroke in hot weather. A traditional Odia dish, it is prepared with rice, curd, cucumber, cumin seeds, fried onions and mint leaves. It is popularly served with roasted vegetables—such as potato, brinjal, badi and saga bhaja or fried fish.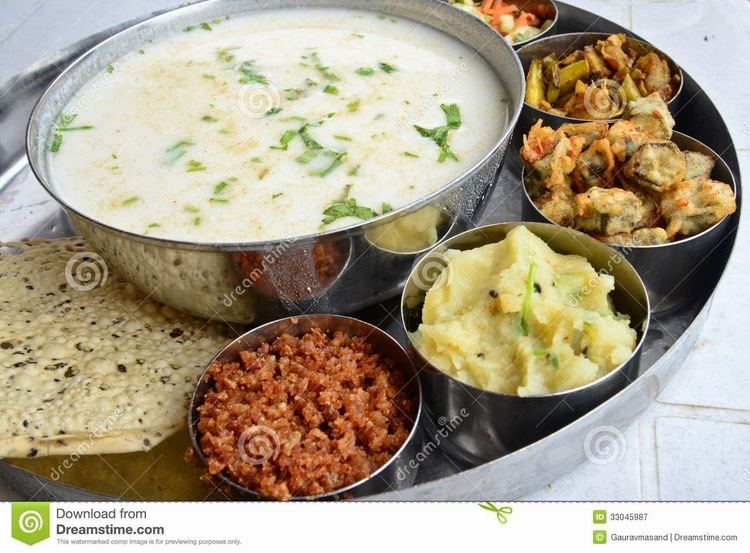 The term "pakhala" is derived from Pali word "pakhaliba" (Odia: ପଖାଳିବା) as well as Sanskrit word "Prakshāḷaṇa" (Sanskrit: प्रक्षाळन) which means "washed/to wash." The word pakhaḷa was used in the Odia poems of Arjuna Das in his literary work Kaḷpalata (1520-1530 AD).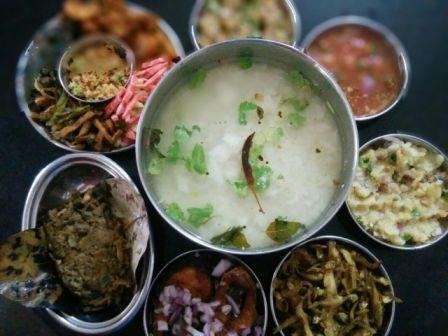 It is unknown when pakhaḷa was first included in the daily diet of Eastern India, but it was included in the recipe of Lord Jagannath Temple of Puri circa 10. Pakhaḷa is eaten in the eastern part of the Indian subcontinent (including Nepal, Bangladesh and some parts of Myanmar).
To beat the heat, this dish is cooked and cooled in a bowl with full of plain water. Odisha, Bengal, Assam, and Chhattisgarh also have this dish in their cuisine. The inclusion of pakhala in daily meal helps to prevent heat stroke in summer. To promote this food, 20 March is celebrated as Pakhala Dibas or day.
Jeera Pakhaḷa is made by adding fried cumin with curry leaves to pakhaḷa.
Dahi Pakhaḷa is made by adding curd with pakhaḷa. Badi chura is taken as a side dish with pakhala.
Garama pakhaḷa (hot pakhaḷa) is generally made by adding water instantly after making rice or with warm rice.
Basi pakhaḷa (basi in Oriya means "stale") is made by fermenting rice by adding water which is generally kept overnight and eaten in the next day. It is also known by the names basi amana or basyam (literally meaning stale cooked rice).
The dish is typically prepared with rice that is cooked and allowed to cool. Cook normal rice, then cool it. Pour water in a bowl and add rice to it. In a pan, heat a pinch of oil, add mustard seeds, curry leaves, dry red chili and fry well. Add this chhunka or tadka into the pakhala bowl with sour curd. One can add mint leaves and raw salt to enhance the taste. To add more zing, one may opt for fish fry or sukhua poda (dry fish fried), saga bhaja, badi chura (a regional food item made up of batter of urad or black gram by drying under sunshine as small nuts and then fried to serve) and much more. Cumin seeds are fried, ground into a fine powder and added to curd with coriander leaves and salt.
It is sometimes served with a fish fry and spinach.
Pakhaḷa is slightly fermented rice. The rice is cooked, water is added with little bit of old pakhal (something similar to making curd using milk and old curd). Pakhaḷa tastes best when served after 8 to 12 hours after preparation; in this case, no old pakhal is required to be added to the rice as fermentation usually happens after 6 hours of keeping rice in water.
Generally burnt potato or aloo poda (boiled is also used) and other fried vegetables or fried fish is served with pakhaḷa. Modern-day variation is to add curd instead of fermenting it.
20 March is declared Pakhala Dibasa (Universal Pakhala Day) by Odias worldwide. In a move to promote Odia food, the people of Odisha decided to celebrate 20 March as Pakhala Dibasa. People eat pakhala on 20 March to welcome summer season with Odisha's traditional food.
Pakhala Wikipedia