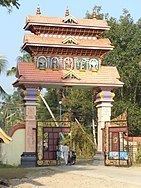 According to the 2001 Indian census, Mavelikara town has a population of 28,440 with males constituting 47% of the population. The average literacy rate is 86%, much higher than the national average of 59.5%, with male literacy at 87% and female literacy at 85%. Approximately 10% of the population is under 6 years old.
Kerala State Road Transport Corporation has a sub depot at Mavelikkara (Station Code: MVKA) which is one among the 46 sub depots in the state. The KSRTC sub depot at Mavelikkara has an inter state bus service which is operated to Tenkasi.
The Municipal Private bus stand is located at Mitchel Junction with buses to Chengannur, Pathanamthitta, Adoor, Pandalam, Thiruvalla, Charummood, Haripad, Kayamkulam.
Mavelikkara (Station Code:MVLK) is a mainline station in the Trivandrum Division of the Southern Railway Zone (India), with connections to New Delhi, Mumbai, Chennai, Kolkata, Bangalore, Hyderabad, Ahmedabad, Pune, Mangalore, Bhopal, Guwahati, Nagpur and Jammu. Other nearby stations are Kayamkulam Junction railway station, Chengannur Railway Station, Harippad Railway Station and Kollam Junction railway station.
The nearest airports are Trivandrum International Airport and Cochin International Airport (CIAL). State highway SH 10 road start in mavelikara
Local industries in and around Mavelikkara include:
KSRTC Regional Workshop and Bus Body Building Centre Mavelikkara
ALIND Switchgear, Mannar
Several small-scale industries are present in the Industrial Estate (an initiative of SIDCO) located at Kollakadavu.
Mavelikara has its own constituency in the Lok Sabha. Until the 2002 Lok Sabha Delimitation took effect in 2008, the constituency consisted of Chengannur, Mavelikara, Kayamkulam, Pandalam, Thiruvalla and Kallupara. Since then, the assembly constituencies have comprised Changanassery, Kuttanad, Mavelikara (SC), Chengannur, Kunnathur (SC), Kottarakkara and Pathanapuram. The constituency is now reserved for a scheduled caste candidate.
Kodikunnil Suresh of the INC has represented the Mavelikkara constituency since 2009.
R. Rajesh from the CPI(M) is the representative of Mavelikkara in the Kerala Legislative Assembly.
The cultural capital of Alappuzha is Mavelikkara. Mavelikara was once part of the principality of Onattukara and has been a centre of religious harmony, culture and arts for several centuries.
As a testament to its link to that flourishing centre of Buddhist culture, Mavelikkara is one of the rare places in Kerala where one can find the Statue of Buddha in Seated Position, which dates back to the 9th century AD. .Mar Ivanios the pioneer of Re union Movement is from this holy socio cultural land.He is from the Medayil Panicker Family situated at the center of the Mavelikara Town.
A.R.Raja Raja Varma (Kerala Panini) - one of the greatest names associated with Malayalam language.
Karoor Soman (Charummoodu) - notable writer and novelist from Kerala, India.
Raja Ravi Varma - World-famous artist.
Ravindra Varma - Minister for Labour and Parliamentary Affairs in the Morarji Desai Ministry in India from 1977 to 1979
R. Marthanda Varma - India's first neurosurgeon and developer of a surgical technique for treating Parkinson's disease
P. G. N. Unnithan- P G N Unnithan was the last Diwan (Prime Minister) of independent Travancore
Dr. M.S Valiathan- Renowned Cardiac Surgeon and National Research Professor
Vishnu Prakash- Film, Serial artist
Sivaraman Cheriyanadu- Novelist
Erumeli Parameswaran Pillai- Renowned Novelist
C. M. Stephen - Leader of Congress and the INTUC
N P Chellpan Nair / N P Chellppan Nair - A pioneer in Malayalam Drama literature
Marthanda Varma Sankaran Valiathan/ M.S Valiathan - Indian cardiac surgeon. Former president of the Indian National Science Academy
Archbishop Aboon Geevarghese Mar Ivanios - Founding father of the Syro–Malankara Catholic Church.
Geevarghese Mar Osthathios - Malankara Sabharathnam | Senior metropolitan of Indian Orthodox Church & a theologian, orator and writer.
Abu Abraham - Cartoonist and writer
Advocate K Achutha Warrier - Prominent Lawyer, President of Bar Association, Pathiyoor Panchayath, KCT, Senior Citizen Forum etc.
Yesudasan - Cartoonist
Mavelikkara Velukkutty Nair - Carnatic mridangam player
Ampalapattu Damodaran Asan - First Revenue Board Secretary, former NSS President
Mavelikkara Prabhakara Varma - Carnatic singer.
Mavelikkara Krishnankutty Nair - Carnatic mridangam player.
Mavelikkara Ponnamma - Actress.
Ramesh Chennithala - Former Home minister, Current leader of the Opposition in the Kerala Legislative Assembly
Mavelikkara S. R. Raju - Carnatic mridangam player
Narendra Prasad - College professor, actor, author
Divya Pillai - Actress
P. C. Alexander - Principal Secretary to former Prime Ministers Indira Gandhi and Rajiv Gandhi
C P Nair - IAS - Former Chief Secretary of Kerala
Zacharias Mar Athanasios, 3rd Bishop of Tiruvalla - Cherian Polachirackal, originally from Mavelikkara
[Thoma Mar Dynosious Kallumpurathu- Senior metropolitan of [[Indian Orthodox Church] &Founding father of Mount Tabor Daira Pathanapuram]
T K Madhavan - Reformist leader of modern Kerala
Venniyil Govinda Panicker- Freedom fighter(First arrested leader in Vaikom Satyagraha, One of the founder of Chennithala Mahatma High School).
K. E. Mathai (Parappurath) - novelist and short story writer from Kerala, India.
Madhava Warrier (Late)- Was the Leading Advocate at Mavelikkara Courts
Rahul Alex Panicker - Award-winning innovator, entrepreneur, scientist
George Thazhakara, Founder Director of Guru Nitya Chaitanya Yati Foundation. Novelist, Biographer
V.P SIVAKUMAR-shortstory writtr,profesor
Chettikulangara Kettukazhcha, conducted every year on the Bharani Nakshathram in the Malayalam month Kumbham, is a cultural spectacle in Kerala similar to the Thrissur Pooram.
The event is an offering of the people of Chettikulangara to their beloved deity known for her spontaneous blessings on true devotees as a mark of gratitude for their devotion and unflinching faith and for showering prosperity and protection on their lives. Kettukazhcha displays sculpted and decorated forms of six temple cars known as Kuthiras (Horses), five Therus (Chariots) and icons of Bhima and Hanuman. All the temple cars, chariots and icons are gigantic in size and many times larger than any other similar Kuthiras and Therus built during the festivities at other temples in the Central Travancore region.
Padanilam is a small town situated in the Mavelikkara Taluk of the Alappuzha district. The Padanilam Temple is situated in Padanilam. The temple has a number of festivals, one being the Sivarathri, usually celebrated in the month of February or March. During the day, thousands of devotees, including those from other districts come to the temple for the Kettukazhcha. On Sivaranthi day morning there is a Kaavadiyaattam for Lord Murugan. Thousands take Kaavadi and visit the temple in large groups. On the evening of the day, Large kettukazhchas of bulls (which are the vehicle of Lord Siva) come to the temple. The crowd dances to the rhythm of Kerala,The Sinkaarimelam.
Other festivals celebrated in Padanilam include the Vrischikamahotsavam in the Malayam month of Vrischikam. The celebrations last for 41 days, although the majority of the celebrations take place in the first 12 days.
Paththamudayam is a temple festival conducted at Vettiyar Palliyarakkavu temple. The 1000-year-old temple has 7 Karas (territories). Paththamudayam is held in April. The highlight of the festival is the Kettukazhchas. The preparation for Paththamudayam begins several days before the festival day which itself is usually the day of Vishu. Meanwhile, the people from 7 Karas of Vettiyar will arrange for the construction of Kettukazhcha to the temple. People from each area will pull the Kettukazhcha from the construction sites to the temple to present them before the Devi and after having darshan the parties take up their respective position in the ground lying east of the temple.
Eravankara is a small village in Mavelikkara. Anandeshwarathu Mahadevadeva temple in Eravankara is known for its Shivarathri Mahotsavam and Kaavadiyaattam, which are celebrated during the month of February or March. The temple is more than 1000 years old. Eravankara is derived from the concept of Mahabharatha as the land of Eravaan ( Eravaan kara) who is the son of Khadotghaja (Bheeman's son who is born in Hidumbi)...
A popular festival of Vazhuvady people celebrated in the month of March or Malayalam month of Kumbham. Ponkala, Kavadiyattam and Arattu are the attractions of this festival.
The Mother Teresa Trophy Boat Race is held during Onam along the stretch of the River Achankovil.
Kandiyoor is nearly 1 km far from Mavelikara and the Kandiyoor Sree Mahadeva temple is one of the most famous temple in South India and it is also known as Dakshina kashi.
Chettikulangara Devi Temple, founded in AD 823, is a Bhagawathy Temple. The major festival is Kumbha Bharani.
Kannamangalam south mahadevar temple......
"Ancient Durga Bhadra Devi Temple Ponnaramthottam "
Kandiyoor Temple, also known as Dakshina Kashi
Sree Krishna Swami Temple
Malimel Devi Temple
St Mary's Orthodox Cathedral
St Marys Malankara Catholic Cathedral Church
C.S.I. Christ Church
C.S.I. Ascension Church
St Kuriakose Orthodox Church
St Gregorios Orthodox Church
St.Joseph Malankara Catholic Church, Puthiyakavu-Mother Parish of Late Archbishop Servant of God Geevarghese Mar Ivanios
St.Marys malankara Catholic Church(Bethany Pally), kallumala-where Late Archbishop Servant of God Geevarghese Mar Ivanios received his parents to the Catholic Church.
Bishop Moore College, Kallumala, Mavelikkara
Raja Ravi Varma College of Fine Arts, Mavelikkara.
Peet Memorial Training College, Mavelikkara.
Bishop Moore Vidyapith, Kallumala, Mavelikkara
Bishop Hodges Higher Secondary School, Mavelikkara
CNPPM Vocational HS, Kattachira
K.K.M. Govt. V.H.S.S, Elippakulam
Mar Ivanios College Of Arts and Science, Kallumala, Mavelikkara
Jawahar Navodaya Vidyalaya, Chennithala