Country

India


District

Alappuzha



University

M.S.M College




State

Kerala


Literacy

81.76%%









Languages spoken

Malayalam, English



Map of Kayamkulam
Kayamkulam is a town on the Arabian Sea in the Alappuzha district of Kerala, Indian state. Located on the western coast of India, it was an ancient maritime trading centre. One of the largest thermal power plants in Kerala, the Rajiv Gandhi Combined Cycle Power Plant run by the NTPC, is situated in Kayamkulam. Krishnapuram Palace is located nearby. Many old cashew factories can also be seen in the locality.
Contents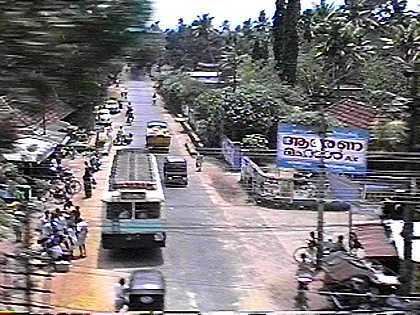 Kerala express ed wap4 12626 ndls tvc at kayamkulam junction
Kayamkulam Kochunni
Kayamkulam is closely associated with the legend of Kayamkulam Kochunni. He was a famed highwayman, active in the area known as Central Thiruvithamkoor, in the early part of the 19th century. He is said to have stolen from the rich and given to the poor (like Robin Hood). Legends about his exploits are part of the local folklore.
Kingdom of Kayamkulam
Kayamkulam was a mediaeval feudal kingdom, known as odanadu, ruled by the Kayamkulam Rajas, with their royal palaces at Eruva and Krishnapuram. Maha raja Marthanda Varma (1706–58) conquered kayamkulam and annexed its territories to Travancore. It is said that the kingdom of Kayamkulam had a huge army led by a valiant commander 'Yeruvayil Achutha warrier ' and therefore the large army of Travancore attempted three times before they succeeded in capturing Kayamkulam. The present day palace was built in its place by Marthanda Varma after he annexed Kayamkulam to Travancore.
Kayamkulam, Mavelikkara and Karunagappally were previously known as Onattukara.
Kayamkulam had slave markets in the 17th Century
Tourist attractions
The Krishnapuram Palace, built in the 18th century, now functions as a museum. Constructed in typical Kerala-style architecture, it has the largest mural painting in Kerala. Also, this palace museum at Krishnapuram houses the famous Kayamkulam double-edged sword.
Cartoonist Sankar Memorial National Cartoon Museum and Art Gallery, is the first of its kind in the state and would be elevated to the 'top cartoon study centre' in the country.
Kayamkulam Lake is a part of the Kerala backwaters tourist map. The Kayamkulam Boat Race is held on the fourth Saturday of August every year. The famous Chinese fishing nets can be found on the banks of the lagoon.
Azhikkal Beach (Aayiram Tengu) and Valiya Azhikkal beach (Kochiyude Jetty) have gained popularity as tourist locations.
Transport
Kayamkulam is well connected by road and rail network. Besides this, Alappuzha-Kollam boat service runs via Kayamkulam.
Roads
NH66 passes through Kayamkulam, which conveniently connects it to the major cities Kochi, Thiruvananthapuram, Thrissur, Kollam, Palakkad and Coimbatore. The Kayamkulam-Punalur (KP) road is a major road connecting it to the eastern parts of the State. The KSRTC Bus Station[code KYLM] lies very near to the national highway and is one of the biggest bus stations of KSRTC in terms of total area. All the KSRTC buses have halt at Kayamkulam Bus station. The new Railway Terminal Bus Stand near Kayamkulam Railway Station is an interlink between railway and road transport.
40 km from the Kollam, on National Highway 66.
105 km from Trivandrum International Airport, on National Highway 66.
131 km from Cochin International Airport, Nedumbassery, Alwaye, on National Highway 66.
106 km from Ernakulam KSRTC Bus Station via Alappuzha to Kayamkulam by bus takes about 2.20 hours
109 km from Thiruvananthapuram KSRTC Central Bus Station to Kayamkulam Bus station by bus takes about 2.40 hours
Railways
Kayamkulam Junction railway station(Kayankulam Jn) [code KYJ] is a major railway junction situated 1.5 km from the town on the K.P. Road. Trains from the North from Ernakulam via Kottayam, and from Ernakulam via Alappuzha pass through Kayamkulam Junction and then proceed to Kollam, Thiruvananthapuram and further to Nagercoil and Kanyakumari.
100 km from Ernakulam Junction via Alappuzha to Kayamkulam through train takes about 2.00 hours
114 km from Ernakulam Junction/Ernakulam Town via Kottayam to Kayamkulam through train takes about 2.30 hours
106 km from Thiruvananthapuram Central to Kayamkulam through train takes about 2.10 hours
41 km from Kollam Junction to Kayamkulam through train takes about 30 minutes
Demographics
As of 2001 India census, Kayamkulam has a population of 65,299. Males constitute 49% of the population and females 51%. Kayamkulam has an average literacy rate of 82%, higher than the national average of 59.5%: male literacy is 84%, and female literacy is 79%. In Kayamkulam, 11% of the population is under 6 years of age.
Civic administration
Kayamkulam assembly constituency is part of Alappuzha (Lok Sabha constituency).
Educational and research institutes
The Central Coconut Research Station (CCRS) at Kayamkulam was established in 1948, as a field station of the erstwhile Agricultural Research Laboratory. Presently, it is a regional station of the Central Plantation Crops Research Institute (CPCRI).
K.P.A.C. Drama Troupe
Kerala People's Arts Club (KPAC) is a theatrical movement in Kayamkulam, Kerala, India. It was formed in the 1950s by a group of individuals having close ties with Left-wing politics parties of Kerala. This political theatre was very influential in propagating communist ideas in Kerala.
In 1951 KPAC staged its first drama, Ente Makananu Sari (My Son is Right). The songs of this play were written by Punaloor Balan. Its second drama Ningalenne Communistakki (You Made Me a Communist), first performed in 1952, became a path-breaking play in the history of Malayalam theatre. The play was penned by the renowned playwright Thoppil Bhasi, under the pseudonym Soman. Bhasi was underground when he wrote the play. The success of Ningalenne Communistakki made KPAC in the forefront of a powerful people's theatre movement in Kerala.
KPAC played a significant role in popularising the Communist Party in Kerala through its dramas, road shows and kathaprasangams (story telling).
Power plant
Rajiv Gandhi Combined Cycle Power Plant - The Rajiv Gandhi Combined Cycle Power Plant (also known as Rajiv Gandhi CCPP Kayamkulam or NTPC Kayamkulam) is a combined cycle power plant located at Kayamkulam, Alappuzha district, Kerala, India. The power plant is owned by NTPC Limited. The power plant is fueled by imported and indigenous naphtha. Source of the cooling water is Achankovil river. There is a plan to expand the plant by three units with capacity of 350 MW each. New units would be fueled by re-gasified liquefied natural gas.
Popular personalities
Kayamkulam Philipose Ramban, a Christian priest lived in Kayamkulam in 19th century translated Bible into vernacular language Malayalam for the first time.
Eruvayil Achutha Warrier - Minister of Kayamkulam Rajyam. Ramayyan Dalava killed him, while praying in a temple. It was believed that he cannot be defeated if carrying a weapon.
Kayamkulam Kochunni a famed highwayman based in Kayamkulam, active in Central Travancore, India, in early 19th century. He is said to have stolen from the rich and given to the poor (like Robin Hood).He had his intimate friend Ithikkarappakki from Ithikkara village on the shore of Ithikkara River. Kochunni died in jail in 1859.
Cartoonist Shankar, (K. Shankara Pillai). Founder of Shankar's Weekly. Awarded with Padma Vibhushan in 1976.He is most remembered for setting up Children's Book Trust established in 1957 and Shankar's International Dolls Museum in 1965.
P. K. Kunju Sahib, former finance minister of Kerala state.
T. P. Sreenivasan, diplomat, former High Commissioner to Fiji and Kenya and Ambassador to Austria
Thopil Bhasi, Malayalam playwright, screenwriter, and film director. He was associated with the communist movement in Kerala and his play Ningalenne Communistakki (You Made Me a Communist) is considered to be a groundbreaking event in the history of Malayalam theatre. He is the founder of Kerala Peoples Arts Council (KPAC).
Kambisseri Karunakaran, a journalist, politician, actor, satirist and rationalist.
P. Padmarajan, Author, screenwriter, and film director who was known for his landmark works in Malayalam literature and Malayalam cinema. Padmarajan was the founder of a new school of film making in Malayalam, along with Bharathan, in the 1980s, which created films that were widely received while also being critically acclaimed.
Muthukulam RaghavanPillai, Well known dramatist, poet, screen play writer and actor.
Michael Mar Divannasious Bishop of Jacobite Churches, he was the member of Praja sabha of Shreemoolyam Thirunal Maha Raja
KPAC Lalitha, National Award-winning Indian film and stage actress.
Ramesh Chennithala, politician, affiliated to Indian National Congress. He is a former Member of Parliament and is the present state opposition leader, Government of Kerala in India .
P.Kesavadev, Novelist and social reformer. He is remembered for his speeches, autobiographies, novels, dramas, short stories, and films.
Prof. S. Guptan Nair, Well known Malayalam writer, critic, scholar and educationist.
Thachadi Prabhakaran, Former Minister of Kerala.
Resul Pookutty Oscar-winning Indian film sound designer, sound editor and mixer.
Dr. K. M. Cherian, Leading heart surgeon and founder of Frontier Lifeline Hospital and the Dr K M Cherian Heart Foundation.
Anil Panachooran noted Malayalam film lyricist and poet.
Madampies Madampil
References
Kayamkulam Wikipedia
(Text) CC BY-SA