India




Uttar Pradesh





Hindi




Mathura





Vrindavan ( pronunciation ) is a town in the Mathura district of Uttar Pradesh, India.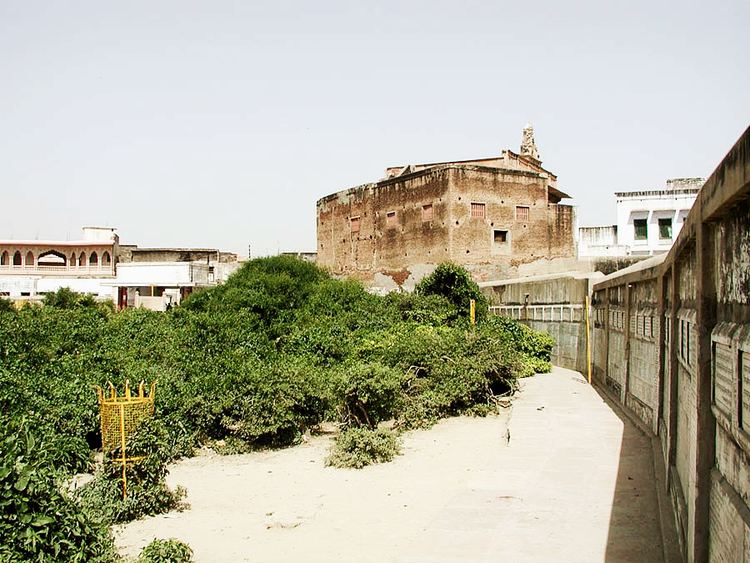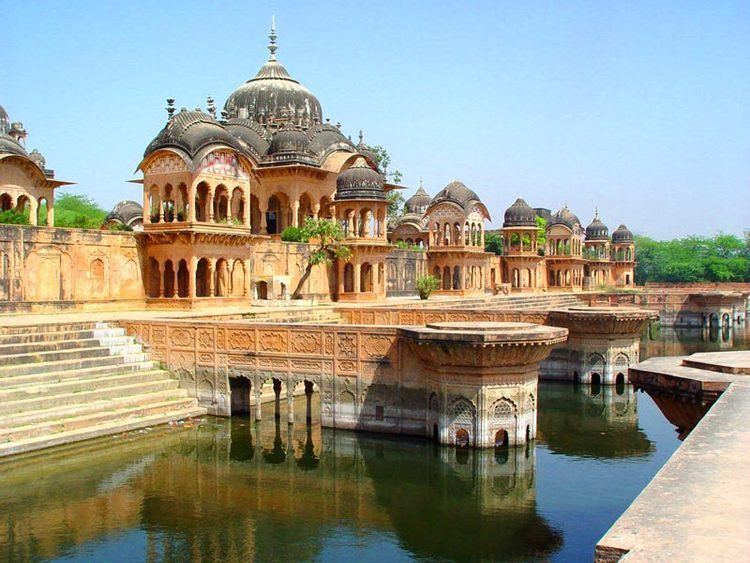 Vrindavan has an ancient past, associated with Hindu history, and is an important Hindu pilgrimage site.
Vrindavan is located at 27.58°N 77.7°E / 27.58; 77.7. It has an average elevation of 170 metres (557 feet).
As of 2001 India census, Vrindavan had a population of 56,618. Males constitute 56% of the population and females 44%. Vrindavan has an average literacy rate of 65%, lower than the national average of 74.04%. In Vrindavan, 13% of the population is under 6 years of age. The number of females is 24,200 including 13% who are under 6 years of age.
Govind Dev Temple (Sri Radha Govinda Temple) was a seven storeyed structure built by Raja Man Singh with red sandstone donated by Akbar in 1590. It was destroyed by Mughal ruler Aurangzeb.. See Also, Govind Dev Ji Temple, Jaipur city Palace complex
New Radha Govinda Temple was built by Sri Krishna Balaram Swamiji and was completed in 2004 is based on a historic temple built about 500 years ago by Srila Rupa Goswami, a direct Sanyasi disciple of Sri Chaitanya Mahaprabhu.
Sri Radha Raman Mandir, constructed at the request of Gopala Bhatta Goswami and houses a saligram deity of Krishna as Radha Ramana, alongside Radha.
Radha Vallabh Temple, set up by Hith Harivansh Mahaprabhu has a crown of Radharani placed next to the Krishna in the sanctum.
Meera Bai Temple, located at southern side of Shahji temple near Nidhivan and is dedicated to Meera. Some hagiography state she miraculously disappeared by merging into a deity of Krishna at Dwarika in 1547. While miracles are contested by scholars for the lack of historical evidence, it is widely acknowledged that Meera dedicated her life to Hindu deity Krishna, composing songs of devotion and was one of the most important poet-sant of the Bhakti movement period.
Banke Bihari Temple, built in 1862 after the image of Banke-Bihari was discovered in Nidhi Vana by Swami Haridas.
Prem Mandir is a spiritual complex situated on a 54-acre site on the outskirts of Vrindavan dedicated to divine love. The temple structure was established by spiritual guru Kripalu Maharaj. The main structure built in marble and figures of Krishna cover the main temple.
Sri Krishna-Balarama Temple was built by the International Society for Krishna Consciousness (ISKCON) in Raman-Reti. The principal deities of this temple are Krishna and Balaram, with Radha–Shyamasundar and Gaura-Nitai alongside. Adjoining the temple is the samadhi of A. C. Bhaktivedanta Swami Prabhupada, the founder of ISKCON, built in pure white marble.
Bhuteshwar Mahadev Temple, a shrine believed to be a Shakti Peetha where ringlets of hair of Sati Devi is believed to have fallen.
Garud Govind Temple is located on the turn of NH-2 to Vrindavan in Chhatikara village.
Vrindavan Chandrodaya Mandir is a temple under-construction at Mathura by ISKCON. At cost of

₹

300 crore (US$47 million) it will be the tallest temple in world on completion.
Vrindavan Wikipedia