7.4

/

10

Alchetron

7.4

Rate This





First episode date

12 September 1954







Also known as

'Jeff's Collie(episodes 1–116)Timmy &

Lassie

(episodes 116–352)

Genre

Children/FamilyAdventure/

Drama

Starring

Tommy RettigJan ClaytonGeorge ClevelandJon ProvostCloris LeachmanJon ShepoddJune LockhartHugh ReillyRobert BrayJack De MaveJed AllanRon HayesLarry WilcoxPamelyn FerdinLassie (various dogs)

Cast
Lassie 1954 1973 opening and closing theme with the lone ranger snippet
Lassie is an American television series that follows the adventures of a female Rough Collie dog named Lassie and her companions, both human and animal. The show was the creation of producer Robert Maxwell and animal trainer Rudd Weatherwax and was televised from September 12, 1954, to March 25, 1973. The fourth longest-running U.S. primetime television series after The Simpsons, Gunsmoke, and Law & Order, the show chalked up 17 seasons on CBS before entering first-run syndication for its final two seasons. Initially filmed in black and white, the show transitioned to color in 1965.
Contents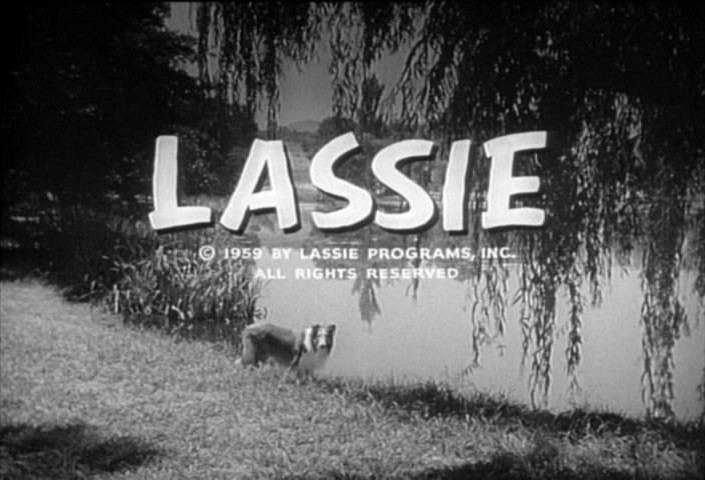 The show's first 10 seasons follow Lassie's adventures in a small farming community. Fictional eleven-year-old Jeff Miller, his mother, and his grandfather are Lassie's first human companions until seven-year-old Timmy Martin and his adoptive parents take over in the fourth season. When Lassie's exploits on the farm end in the eleventh season, she finds new adventures in the wilderness alongside United States Forest Service Rangers. After traveling on her own for a year, Lassie finally settles at a children's home for her final two syndicated seasons.

Lassie received critical favor at its debut and won two Emmy Awards in its first years. Stars Jan Clayton and June Lockhart were nominated for Emmys. Merchandise produced during the show's run included books, a Halloween costume, clothing, toys, and other items. Campbell's Soup, the show's lifelong sponsor, offered two premiums (a ring and a wallet), and distributed thousands to fans. A multi-part episode was edited into the feature film Lassie's Great Adventure and released in August 1963. Selected episodes have been released to DVD.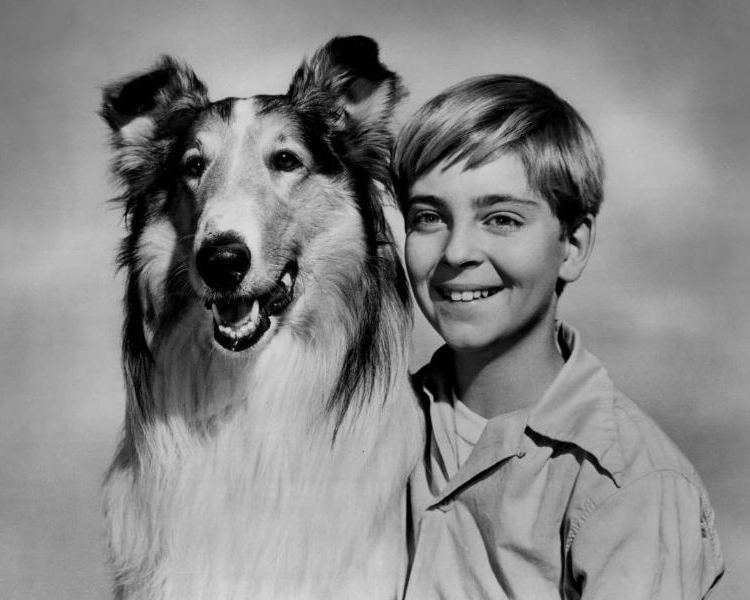 1954 lassie first tv show preview clip
Concept and development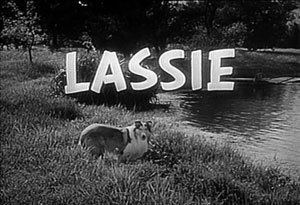 Between 1943 and 1951, fictional collie Lassie was the inspiration for seven MGM feature films. With completion of the seventh film in 1951, the studio planned no further films for the Lassie character or Pal, the dog actor who portrayed the character. In lieu of $40,000 back pay owed him by MGM, Pal's owner and trainer Rudd Weatherwax took all rights to the Lassie trademark and name, and hit the road with Pal to perform at fairs, rodeos, and other venues.
Needing material for the relatively new medium of television, producer Robert Maxwell sold Weatherwax on the concept of a Lassie television series with a boy and his dog theme. The two men developed a scenario about a struggling war widow, her young son, and her father-in-law set on a weather-beaten, modern day American farm. Two pilots were filmed in Calgary, Alberta, Canada with the first telling the story of the bond forged between boy and dog, and the second filmed to give potential sponsors and network buyers an idea of a typical episode. After viewing the pilots, CBS put the show on its fall 1954 schedule. Campbell's Soup Company signed on early as the show's sole sponsor and remained so for the show's entire run. Filming for the series began in the summer of 1954, and Lassie made its début Sunday, September 12, 1954, at 7:00 p.m. EST, a time slot the show would call home on CBS for the next seventeen years.
In 1957, Jack Wrather, owner of the hit television series The Lone Ranger and Sergeant Preston of the Yukon purchased all rights to the Lassie television show for $3.25 million, and guided the show through its next several seasons. As 1964 and the show's eleventh season approached, the decision was made to completely rework the show; the boy and his dog theme was dropped and Lassie was teamed with a succession of United States Forest Service workers. The show focused on conservation and environmentalism, but its relevance in a time of social change was questioned. The show began a steady decline in ratings. In 1971, new rulings regarding network prime time scheduling were handed down from the Federal Communications Commission, and CBS canceled the show. Lassie then entered first-run syndication for two seasons before televising its last new episode on Sunday March 25, 1973.
Casting
The show's title character is portrayed in the two pilots by Pal, the MGM film Lassie. Thereafter, five of his male descendants played the role. His son Lassie Junior performed through the Jeff years and first two Timmy years before retiring in 1959 to battle cancer. Though he recovered, Lassie Junior never worked the show again. His son Spook was rushed into the series while his brother Baby was in training for the role. Spook was inadequately prepared and never became comfortable on the set after an overhead light crashed to the floor on his first day. Weatherwax, however, coaxed a natural and seemingly confident performance from the frightened dog, and some regard Spook's portrayal as Weatherwax's finest work. Spook played the role in the spring and fall of 1960. Baby, son of Lassie Junior and brother to Spook, worked the show for six years. He appeared in the last Timmy years, and two of the Forest Service seasons. Baby died at eight years of age, the only Lassie not to live at least seventeen years. He was followed in the role by Mire who played Lassie for five years. He portrayed the fictional collie in the syndicated seasons.
Broadway star and quiz show panelist Jan Clayton was hired to play farm widow Ellen Miller with septuagenarian George Cleveland playing her father-in-law, George "Gramps" Miller. Child actor Tommy Rettig was hired to portray Ellen's eleven-year-old son Jeff Miller, and Donald Keeler (the professional name used at the time by Joey D. Vieira) was cast as Jeff's friend, Sylvester "Porky" Brockway. Porky's basset hound Pokey became a recurring animal character through the first several seasons.
In 1957, Clayton and Rettig wanted to leave the show. Producers decided to find a new boy and ease the Miller family out of the show. Two hundred boys were interviewed, and six-year-old film veteran Jon Provost was hired and made his début as Timmy in the fourth season opener, "The Runaway." In July 1957, George Cleveland died unexpectedly, and producers were forced to overhaul the show. The plot was extensively reworked and Clayton and Rettig were dropped. Cloris Leachman and Jon Shepodd were quickly hired as Timmy's adoptive parents Ruth and Paul Martin. In the fourth season, George Chandler was hired to play Petrie Martin, Paul's uncle, but was later dropped. As fourth season shooting progressed, Leachman grew unhappy playing a tired farm woman, feuded on-set with co-workers, and proved unpopular with viewers. Ratings dropped. When filming was completed for the 1957–58 season in February 1958, Wrather severed ties with producer Maxwell and dropped Leachman and Shepodd. Film veteran June Lockhart and Broadway stage star Hugh Reilly replaced the two at the top of the fifth season. Todd Ferrell played Timmy's friend Ralph "Boomer" Bates with his dog Mike a recurring character but both were dropped in 1959.
Former Keystone Kop Andy Clyde, also a co-star of The Real McCoys, became a regular in 1959 as neighbor Cully Wilson.
Guest stars during the Timmy years included "The Lone Ranger", Roy Campanella, Olympian Rafer Johnson, Stacy Keach, Marie Windsor, Dick Foran, Tod Griffin, Jane Darwell, Denver Pyle, Fuzzy Knight, Harry Carey, Jr., William Schallert, and Karl Swenson.
During its first four years, Lassie received very decent ratings. However, at the end of the 1958-1959 season, the ratings had fallen out of the top 30 due to the constant turnover in the cast. Once viewers began to warm to Lockhart and Reilly as Timmy's parents, the Martin family was accepted and embraced by the public. As a result, between 1960 and 1964, Lassie's ratings greatly improved and by the spring of 1964, it received its highest rating ever, ranking at #13.
In 1964, Provost declined to renew his contract. Producers decided to broaden the show's demographics to appeal to older viewers, and, to that end, dropped the boy and his dog theme for a plot featuring a Forest Service Ranger. Robert Bray, a former Marine and Gary Cooper Look-alike was cast as Corey Stuart. During Bray's first year, the show transitioned to Color filming and spectacular scenic locations across America were exploited as settings for the show. Eventually, Bray's alcoholism forced him from the show, and Jack De Mave and Jed Allan were hired to replace him.
Guest stars during the Ranger years included Ken Osmond, Paul Petersen, Suzanne Somers, Victor French, and Morgan Brittany. When the Forest Service years came to an end, Lassie wandered on her own for a season then settled at the Holden ranch for her final two syndicated seasons with costars Ron Hayes, Larry Pennell, Skip Burton, Larry Wilcox, Sherry Boucher, and Pamelyn Ferdin.
Narration
Wrather's wife, and series associate producer Bonita Granville Wrather narrated numerous episodes throughout the run of the series, usually the beginning and/or ending of multi-part episodes.
Writers
Novelist Inez Asher was among those who wrote for the series, while other scripts were produced by writers blacklisted during the heyday of McCarthyism and the House Un-American Activities Committee. These writers included Robert Lees (credited as J. E. Selby) and Adrian Scott, one of the Hollywood Ten who went to prison for contempt of the United States Congress. His wife, Joan Scott writing as Joanne Court, attended story conferences and gave her husband notes so he could do rewrites.
Filming
The show's first studio was Stage One of KTTV in Los Angeles, California, with the production moving to Desilu in 1957. Franklin Canyon Reservoir and Vasquez Rocks saw location shootings. During the Timmy seasons, episodes were filmed at the Grand Canyon and in the High Sierra, and, during the Forest Service seasons, the Forest Service and the Department of the Interior offered Alaska, Puerto Rico, the Washington Monument and other sites for location shoots.
Fifteen pages were filmed per day, six days a week, with three shows completed per week. Shooting in order was not possible. Several barn segments might be filmed at a particular time with the crew then moving on to film an equal number of kitchen scenes. The shots may have then been used in four or five different episodes. Rettig was allowed to bond with the dog and often groomed the dog at the studio or spent weekends at Weatherwax's home playing with the animal. The bond translated to film, making the boy and dog scenes more believable, but, eventually the dog developed divided loyalties (looking to Rettig for direction rather than Weatherwax) and the trainer was forced to curtail the amount of time boy and dog spent together.
Typically, there were two dog trainers on the set, each teetering on a stepladder only Lassie could see and waving a chunk of meat at the dog. "It would look as though Lassie was looking at Jon (Provost), but he was really looking past Jon at the piece of beef", Lockhart recalled in 2004. When Provost delivered his line, the trainer behind Lockhart would whisper "Lassie!" and wave another piece of meat. Lassie's head would turn to Lockhart who would deliver her line. Then the trainer behind Provost would get Lassie's attention again, and Provost would deliver his next line. "The sound editor would cut out all that," Lockhart said, "You finally got to where you never heard the trainers. Often, if the scene had gone well, and maybe we hadn't gotten the dialogue quite right, if the dog was right, they'd print it." In addition to the main Lassie, three other Lassies might be involved in an episode shoot: a stand-in for rehearsals, a stunt double, and a "fighter" for scenes involving battles with other animals.
Theme music
Lassie used several pieces of theme music during its long broadcast history. For the first season, "Secret of the Silent Hills (Theme from the Lassie TV series)", is used for both the opening and ending theme. Composed by William Lava, the orchestral theme was originally created for the 1940 radio show The Courageous Dr. Christian.
For the second and third season a variation of this theme, titled simply "Lassie Main & End Title", was used for the opening and ending theme. Raoul Kraushaar, the music director for the series, is the listed composer for the theme; however the changes he made to the original are so slight that only a trained ear can tell the difference. The third theme used for the series is an orchestral rendition of the aria, "Dio Possente" (Even Bravest Hearts May Swell) from Charles Gounod's opera, Faust. The exact time this theme started being used is uncertain due to conflicting records; however it is agreed that it was the third series, and was used for at least part of season four for the change of ownership of Lassie.
The most famous of the Lassie theme songs appeared at the start of the fifth season. Copyrighted as "Lassie Main & End Title", the song was created by Les Baxter, with the whistling itself performed by Muzzy Marcellino. Nicknamed "The Whistler," it remained the series theme for the rest of the "Martin years". With the coming of the "Ranger years", the opening and ending theme was changed to Nathan Scott's arrangement of the traditional folk tune Greensleeves. An orchestral "Whistler" returned for the series theme during the thirteenth season for the seven-part "Voyager" episode, and would remain the series theme for the rest of its run. Television composer Nathan Scott scored the music to nearly every episode between 1963 and 1973, except for four episodes.
Sponsor
Campbell's Soup Company sponsored the entire nineteen-year run off Lassie. In one of the first instances of product placement, the company asked that their products be visible on the set and so, in episode after episode, Campbell's products are seen in background shots. Campbell's also contractually required the show's stars to avoid appearing in any film or theatrical production that undermined their All-American images.
In 1956, the company held a "Name Lassie's Puppies" contest with the grand prizes being Lassie's pups and $2,000. Company executives hand-delivered puppies to the winner's homes. In 1958, for twenty-five cents and a label from a Swanson's frozen dinner, viewers could receive a Lassie portrait friendship ring based on one Uncle Petrie fashions for Timmy. The company mailed 77,715 rings to viewers. In 1959, the company offered a wallet "made of rich brown plastic" emblazoned with a picture of Lassie; 1,343,509 wallets were mailed to viewers who sent in five different labels from Campbell products. The labels represented 6.5 million cans of Campbell's products sold. Campbell's paid the Wrather Company $7 million a year to air its commercials. The soup company's profits rose seventy percent over its pre-Lassie days.
Lassie was spokesdog for Recipe Dog Food, a Campbell's product introduced in 1969, which was reportedly based on the homemade stew mixture Weatherwax prepared for Lassie. Printed advertisements for the product announced, "Now all dogs can come home to the dinner Lassie comes home to." In its first year, Recipe earned $10 million for Campbell's, and, in its third year, $40 million. To help boost sales, Campbell's paid Weatherwax to write a dog-training manual called The Lassie Method which the company used as a premium offer.
Plot and themes
Plots during the first ten "boy and his dog" seasons were similar: the boy (Jeff or Timmy) got into some sort of trouble. Lassie then dashed off to get help or rushed in to save her master's Life herself. After being reunited with family and breathing a sigh of relief, the boy received a light lecture on why he should not have done what he had done. In 2004, June Lockhart described the show as "...a fairy tale about people on a farm in which the dog solves all the problems in 22 minutes, in time for the last commercial."
Two Timmy and Lassie episodes launched Campbell's Soup premiums, while two others promoted a UNICEF Halloween project and the Peace Patrol, a children's savings bond program spearheaded by Lassie and The Lone Ranger. The same seasons saw several Christmas episodes, while conservation and environmentalism were brought center stage. Some scripts dealt with race and ethnicity with both Jeff and Timmy championing Hispanics, Native Americans, and Asian Americans. Aging Americans were presented in a positive light during the years when Andy Clyde was featured as Martin family friend/neighbor Cully Wilson.
Seasons 11-16 were the "Ranger years" of the series, as Lassie (due to not being able to travel to Australia with the Martins after Paul had gotten a job offer to teach agriculture there) was taken in by U.S. Forest Ranger Corey Stuart (who appeared in a few episodes of season 10) and began to work with the U.S. Forest Service. Color filming was exploited during the Ranger years with Lassie and her friends sent to exotic locations such as Sequoia National Forest and Monument Valley, creating miniature travelogues for viewers. Other rangers would be featured during the latter part of this era when Robert Bray (who played Stuart) left the series.
For season 17, the program shifted gears again and became somewhat of an anthology series, with Lassie traveling on her own, getting into to different adventures each week (similar in format to The Littlest Hobo). No explanation was given as to why Lassie was no longer with the Forest Service. Some episodes during this final CBS season were animals-only.
During seasons 18 and 19 (with the series having moved to first run syndication), Lassie was taken in by Garth Holden (played by Ron Hayes) who was in charge of the Holden Ranch – a home for orphaned boys – which he ran with his college-age son and his friend. This became Lassie's home for the final two years of the series.
Lassie themes explored the relationship between boys and their dogs with the show helping to shape the viewer's understanding of mid-twentieth century American boyhood. Lassie was associated with the wholesome family values of its period but some parents' groups monitoring television content found cliffhanger plots showing children in danger too intense for very young viewers and objected to some of Timmy's actions which were believed to encourage children to disobey parents. However, Lassie was consistently depicted as caring, nurturing, and responsible with a commitment to family and community, often rescuing those in peril and righting wrongs. She was the perfect 'mother' within the American ideology of the 1950s and 1960s.
1954–1957: Miller Family (Jeff's Collie)
Ellen Miller - war-widowed farm woman (Jan Clayton)
Jeff Miller - Ellen's eleven-year-old son (Tommy Rettig)
George "Gramps" Miller - Ellen's father-in-law and Jeff's paternal grandfather (George Cleveland)
Sylvester "Porky" Brockway - a farm boy and Jeff's friend (Joey D. Vieira - using the stage name "Donald Keeler")
1957–1964: Martin Family (Timmy & Lassie)
Timmy Martin - a foster boy on the Miller farm (Jon Provost)
Paul Martin - a young farmer, Ruth's husband and Timmy's adoptive father (Jon Shepodd 1957–1958; Hugh Reilly 1958–1964)
Ruth Martin - Paul's wife and Timmy's adoptive mother (Cloris Leachman 1957–1958; June Lockhart 1958–1964)
Petrie J. Martin - Paul's uncle (George Chandler) (1957–1959)
Cully Wilson - a neighbor of the Martins, who was a farmer and nature lover (Andy Clyde) (1959–1964)
Ralph "Boomer" Bates - a neighbor of the Martins who owned a dog named Mike and was Timmy's best friend (Todd Ferrell) (1958–1959)
1964–1970: U.S. Forest Service
Forest Ranger Corey Stuart (Robert Bray) (1964-1968)
Forest Ranger Bob Erickson (Jack De Mave) (1968-1970)
Forest Ranger Scott Turner (Jed Allan) (1968-1970)
1970–1971: Traveling on her own
No human leads
1971–1973: Holden Ranch
Garth Holden - director of the Holden Ranch (Ron Hayes)
Ron Holden - Garth's son (Skip Burton)
Dale Mitchell - Ron's friend (Larry Wilcox)
Keith Holden - Garth's brother (Larry Pennell)
Lucy Baker - a deaf child living near the Holden Ranch (Pamelyn Ferdin)
Dog actors as Lassie
Pal (Pilot episodes)
Lassie Junior (1954–59)
Spook (1960)
Baby (1960–66)
Mire (1966–1971)
Hey Hey (1971–73)
Broadcast history
First-run Lassie was televised September 12, 1954 to March 24, 1973 with its first 17 seasons airing on CBS Sundays at 7:00 p.m. EST. In 1971, in order to promote community-related programming among local affiliates, the Federal Communications Commission moved primetime Sundays to 8:00 P.M. EST with the institution of the Prime Time Access Rule. CBS executives felt Lassie would not be well received in a time slot other than its traditional 7:00 p.m. slot, and, with the network's other family programs set, the show was canceled. (Lassie was among several shows that CBS canceled during this time period as part of a change in its target demographics.) Lassie then entered first-run syndication with Jack Wrather and Campbell's Soup still on board, and remained on the air for another two years with its final episode airing in March 1973. All totaled, 591 episodes were produced.
The Miller years were sold into syndication in 1958 under the title of Jeff's Collie. In rerun syndication, the Martin family episodes aired under the title of Timmy & Lassie. Re-runs of the series aired on Nickelodeon from 1984 until 1996.
Current airings
Universal Television, as successor-in-interest to previous franchise owner Classic Media, currently owns the rights to the entire Lassie television series, as well as the Lassie trademark.
Timmy & Lassie episodes air throughout the week on Trinity Broadcasting Network's children's channel Smile. The NBC owned classic TV network Cozi TV airs the series Monday through Saturday mornings.
FETV (Family Entertainment Television) airs the show weeknights during the overnight hours.
Later series
While the original series had no direct spinoffs, a few subsequent productions would use the Lassie character.
In 1973, ABC created an animated Saturday-morning animated program called Lassie's Rescue Rangers produced by Filmation.
In 1989, what was essentially a sequel series, The New Lassie - featuring Jon Provost as Steve McCullough - aired in first-run syndication. In its seventh episode ("Roots"), June Lockhart reprised her Ruth Martin role when Steve McCullough is revealed to be the adult Timmy Martin. It is revealed that Timmy was never properly adopted by the Martins and consequently was forced to remain in the U.S. when Ruth and Paul emigrated to Australia. Timmy was then subsequently adopted by the McCullough family and began going by his middle name Steven. In 1991, Tommy Rettig made a guest appearance in the episode "The Amazing Lassie". This would be his final television appearance prior to his death in 1996.
In 1997, a modified remake - also called Lassie - debuted, airing in the U.S. on the then new Animal Planet cable network. This show (which was filmed in Canada and set in Vermont) also revolved around a boy named Timmy and his dog, though differences in setting and character circumstances precluded it from being an exact remake of the original series.
Feature film
During Thanksgiving week 1962, a five-part color episode called "The Journey". was filmed in the High Sierra. First telecast in February and March 1963, the episode follows Timmy and Lassie, as the two are swept away in a carnival hot air balloon that eventually comes to rest in the Canadian wilderness. The voyagers face many perils before being rescued by the Royal Canadian Mounted Police. Richard Simmons, star of another Jack Wrather property, Sergeant Preston of the Yukon, made an appearance, while Lassie star Jon Provost performed whitewater stunts. Lassie sponsor Campbell's Soup objected to multi-part episodes, believing viewers would not want to tune in week after week to find out what happened from one segment to the next, but three of the five segments of "The Journey" hit the Nielsen top ten for the weeks in which they aired. The five segments were later edited into a feature-length film and released in August 1963 through 20th Century Fox as Lassie's Great Adventure.
Comics
The TV series was adapted into a comic strip by Dan Spiegle, distributed by Gold Key Comics.
Ratings
Every year of its 17-year run on CBS, Lassie placed first in its time slot, Sunday 7:00 P.M. EST, and often ranked among the top 25 shows on television. The show's highest ranking years in the Nielsen ratings were the Martin years when the show placed #24 in 1957, #22 in 1958, #15 in 1959, #15 in 1961, #21 in 1962, #13 in 1963, and #17 in 1964. The only Martin year Lassie did not climb into the top twenty-five was 1960, when it ran opposite Walt Disney Presents on ABC and Shirley Temple Theater on NBC. However, Lassie still ran opposite Disney when the Disney anthology television series moved to NBC in 1961, and still managed to climb into the Top 25. With the advent of the Forest Service seasons, the show began a steady decline in ratings.
From 1959 through 1967 (with the exception of 1963), the show was regularly pre-empted by CBS's annual two-hour fall telecast of The Wizard of Oz, which was always shown on a Sunday from 6:00 to 8:00 P.M. E.S.T. Because the 1939 film always drew such a huge TV audience, CBS's Nielsen ratings in the 7:00 P.M. time slot remained high.
Awards and honors
(All awards listed given during the time of, or specifically related to the TV series)
Two-time Emmy Award winner for Best Children's Program (1955, 1956)
1956 Peabody Award
Three stars on the Hollywood Walk of Fame (Lassie - 1960, June Lockhart - 1960 for television, Jon Provost - 1994)
1967 U.S. Department of Agriculture Conservation Award (awarded to Lassie for promoting conservation during the series' Forest Service era)
Timmy Martin's shirt, jeans, and Keds displayed at the Smithsonian Institution
Cultural impact
In 1960, the Lassie character became one of only three live canine characters to receive a star on the Hollywood Walk of Fame. Jon Provost's Keds sneakers are in the collections of the Smithsonian Institution. Lassie and the show's stars have appeared on the covers of Parade, Life, Look, and TV Guide.
Ancillary merchandise produced during the show's first-run includes Halloween costumes, Viewmaster reels, comic books, and other items. In 2005, Karen Pfeiffer released The Legacy of Lassie: An Unauthorized Information and Price Guide on Lassie Collectibles (ISBN 978-0975887066).
In 1967, in conjunction with Lassie's association with the United States Forest Service and environmentalism, Lassie was welcomed to the White House by Lady Bird Johnson. In January 1968, President Lyndon Johnson signed into a law a bill targeting soil and water pollution that many called "the Lassie program". Lassie and her sponsors were honored with a luncheon in the Senate Dining Room on March 19, 1968, and presented with a plaque by senators Edmund Muskie and George Murphy, recognizing their commitment to the environment.
Jon Provost called his autobiography Timmy's in the Well! because a well was the one place Timmy never fell into—abandoned mine shafts, off cliffs, into rivers, lakes, and quicksand, but never a well.
Mad parodied the show as "Lizzy".
In an episode of The Flintstones ("Dino Goes Hollyrock"), the character Dino wins an appearance on the smash hit TV show "Sassie" starring a heavily made-up and snobby girl dinosaur and her Lassie-like adventures.
Belgian comics artist Willy Vandersteen created his own version of the TV show with a collie named Bessy in 1954. Apart from the fact that his comic strip starred the same dog breed with a similar name it had little to do with the series overall, since the comic was a western comic.
References
Lassie (1954 TV series) Wikipedia
(Text) CC BY-SA