Years active

1963–present

Website

www.suzannesomers.com




Children

Bruce Somers Jr.




Full Name

Suzanne Marie Mahoney

Born

October 16, 1946 (age 77) (

1946-10-16

)

Occupation

Actress, author, singer, businesswoman

Role

Actress · suzannesomers.com

Books

TOX-SICK: From Toxic to Not Sick, Knockout

Movies and TV shows




Similar People




Profiles



Suzanne somers toxic mold breast cancer c section risks 246
Suzanne Somers (born Suzanne Marie Mahoney, October 16, 1946) is an American actress, author, singer, businesswoman and health spokesperson; best known for her television roles as Chrissy Snow on Three's Company and as Carol Foster Lambert on Step By Step.
Contents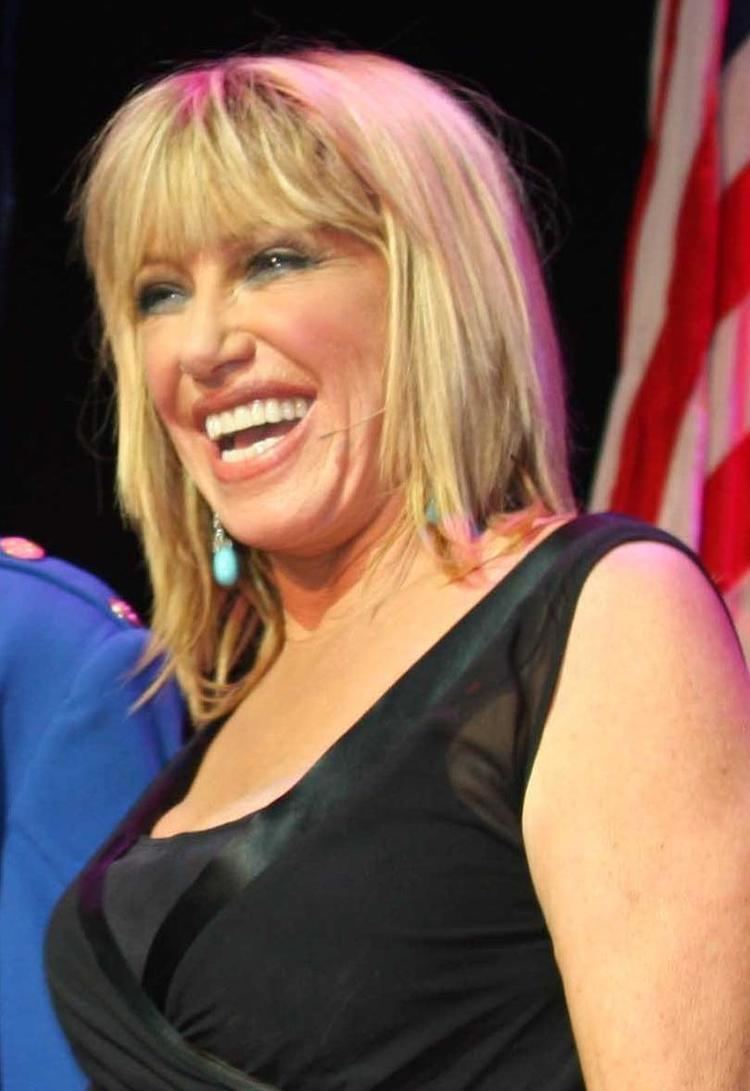 Somers later became the author of a series of best-selling self-help books, including Ageless: The Naked Truth About Bioidentical Hormones (2006), about bioidentical hormone replacement therapy. She has released two autobiographies, four diet books, and a book of poetry.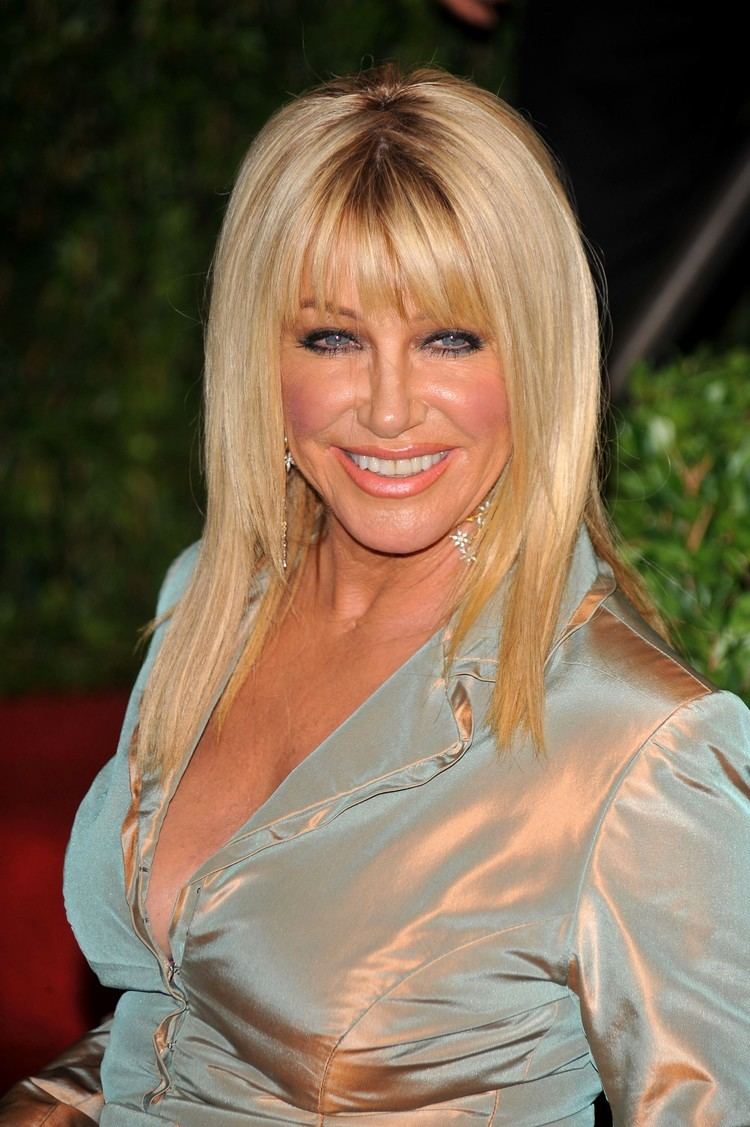 She has been criticized for her views on some medical subjects and her advocacy of the Wiley Protocol, which has been labelled as "scientifically unproven and dangerous". Her promotion of alternative cancer treatments has received praise from naturopathic health practitioners and criticism from the American Cancer Society.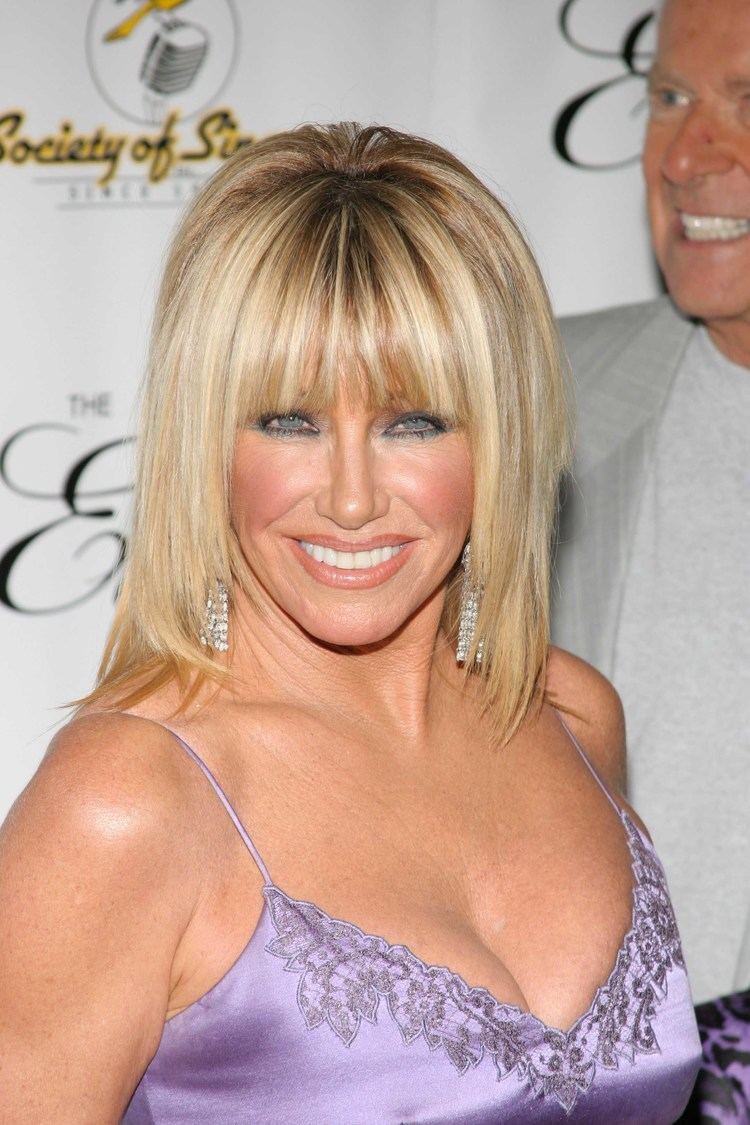 Suzanne Somers On Her 50-Year Sexual Relationship With Her Husband Alan Hamel | Megyn Kelly TODAY
Personal life
Born Suzanne Marie Mahoney in San Bruno, California, Somers was the third of four children in an Irish-American Catholic family.
Her mother, Marion Elizabeth (née Turner), was a medical secretary, and her father, Francis Mahoney, was a laborer and gardener. She attended Capuchino High School and was accepted at San Francisco College for Women (a.k.a. "Lone Mountain College"), a now-defunct single-sex school which became a campus of the Jesuit University of San Francisco. After a brief marriage to the father of her first child, Bruce Somers, she became a prize model on Anniversary Game (1969–70). There she met host Alan Hamel; they have been married since 1977. She was diagnosed with stage-two breast cancer in April 2000, and had a lumpectomy to remove the cancer followed by radiation therapy, but decided to forgo chemotherapy, that doctors may prescribe for extra assurance, in favor of a fermented mistletoe extract called Iscador.
On January 9, 2007, the Associated Press reported that a wildfire in Southern California had destroyed Somers' Malibu home.
Early acting roles
Somers began acting in small roles during the late 1960s and early 1970s (including on various talk shows promoting her book of poetry, and bit parts in movies, such as the "Blonde in the T-Bird" in American Graffiti, and an episode of the American version of the sitcom Lotsa Luck as the femme fatale in the early 1970s). She also appeared in The Rockford Files and had an uncredited role as a topless pool girl in Magnum Force, both in 1974. She also had a guest-starring role on The Six Million Dollar Man, in the 1977 episode "Cheshire Project." She later landed her most famous role of the ditzy blonde "Chrissy Snow" on the ABC sitcom Three's Company in 1977. Also that year, she was a celebrity panelist on Match Game, and appeared with husband Alan Hamel on Tattletales.
Three's Company
Somers was cast in the ABC sitcom Three's Company in January 1977. After actresses Suzanne Zenor and Susan Lanier did not impress producers during the first two test pilots, Somers was suggested by ABC president Fred Silverman, who had seen her on the Tonight Show and she was auditioned and hired the day before the taping of the third and final pilot officially commenced. She portrayed Chrissy Snow, a stereotypical dumb blonde, who was employed as an office secretary.
The series co-starred John Ritter and Joyce DeWitt in a comedy of errors about two young ladies living with a young man who pretends to be gay in order to bypass the landlord's policy prohibiting single men sharing an apartment with single women. It was an instant success in the ratings, eventually spawning a short-lived spin-off series (starring Norman Fell and Audra Lindley). Somers was an audience favorite, leading the media to proclaim her the show's breakout star, and she was generally credited for making the show a worldwide phenomenon. Somers role made her a sex symbol of that era.
At the beginning of the fifth season in 1980, Somers demanded a hefty salary raise from $30,000 to $150,000 an episode and 10 percent ownership of the show's profit. Those close to the situation suggested that Somers' rebellion was due to husband Hamel's influences. When ABC denied her request, she boycotted the second and fourth shows of the season, due to excuses such as a broken rib. She finished the remaining season on her contract, but her role was decreased to 60 seconds per episode (her character only appearing in the episode's closing tag in which she calls the trio's apartment from her parents' home). After her contract was terminated, she sued ABC for $2 million, claiming her credibility in show business had been damaged. It went to an arbitrator who decided she was owed only $30,000, due to a single missed episode for which she had not been paid. Other rulings favored the producers. Somers claims she was fired for asking to be paid as much as male television stars of the day such as Alan Alda and Carroll O'Connor.
Before the feud with Three's Company producers and ABC ended, rival network CBS knew that Somers was ultimately going to be available. They signed her to a contract and a development deal for her own sitcom, to be called The Suzanne Somers Show, in which she was to play an "over-the-top" airline stewardess. Once she was indeed available (after her firing from Three's Company), CBS gave Somers – and the public – a time frame in which to expect the show to hit the air, but due to a change in administration at CBS' entertainment division in early 1982, executives ended up passing on the project. Also, Somers claimed in her book After the Fall (1998) that the producers of Three's Company kept sending cease and desist forms to CBS stating that Somers could not use any of her Chrissy Snow characterization, which purportedly chilled the creative process.
Somers and her Three's Company co-star John Ritter reconciled their friendship after 20 years of not speaking to each other, shortly before Ritter's death.
Infomercials
Calling her a legend in the industry, on May 2, 2014, Direct Marketing Response inducted Somers into the infomercial Hall of Fame.
Playboy pictorials
Somers appeared in two Playboy cover-feature nude pictorials, in 1980 and 1984. The first set of photos was taken by Stan Malinowski in February 1970 when Somers was a struggling model and actress and did a test photoshoot for the magazine. She was accepted as a Playmate candidate in 1971, but declined to pose nude before the actual shoot. During a The Tonight Show appearance, she denied ever posing nude (except for a High Society topless photo), which prompted Playboy to publish photos from the Malinowski shoot a decade later, in 1980. The second nude pictorial by Richard Fegley appeared in December 1984 in an attempt by Somers to regain her popularity after being terminated from Three's Company in 1981.
Spokeswoman for the Thighmaster
During the 1980s, Somers became a Las Vegas entertainer. Later on, she was the spokeswoman for the Thighmaster in a series of infomercials airing in the early 1990s. The Thighmaster was a piece of exercise equipment that is squeezed between one's thighs. During this period of her career, she also performed for US servicemen overseas. During The 1980's Susan Somers filmed a pilot for a sitcom, the pilot aired but the show was never picked up. it was about a sexist jerk who gets killed and somehow come back to life as a woman.
She's the Sheriff
At the height of her exposure as official spokesperson for Thighmaster infomercials, Somers made her first return to a series, although not on network television. In 1987, she starred in the sitcom She's the Sheriff, which ran in first-run syndication. Somers portrayed a widow with two young kids who decided to fill the shoes of her late husband, a sheriff of a Nevada town. The show ran for two seasons.
Step by Step
In 1990, Somers returned to network TV, appearing in numerous guest roles and made-for-TV movies, mostly for ABC. Her roles in these, including the movie Rich Men, Single Women, attracted the attention of Lorimar Television and Miller-Boyett Productions, who were developing a new sitcom. Somers had starred in the film with Heather Locklear, who inadvertently directed the focus of both production companies to Somers due to Locklear's starring role on Going Places (from Lorimar and Miller/Boyett). For Lorimar, this was asking Somers back, since they alone had produced She's the Sheriff.
In September 1991, Somers returned to series TV in the sitcom Step By Step (with Patrick Duffy), which became a success on ABC's youth-oriented TGIF lineup. A week after the premiere of Step By Step, a two-hour biopic of Somers starring the actress herself, entitled Keeping Secrets (based on her first autobiography of the same title), was broadcast on ABC. The movie chronicled Somers' troubled family life and upbringing, along with her subsequent rise to fame. Playing off her rejuvenated career, Somers also launched a daytime talk show in 1994, aptly titled Suzanne Somers, which lasted one season. Step By Step continued on ABC until the end of its sixth season in 1997, whereupon the series moved to CBS that fall for what turned out to be its final season. With her sitcom now airing on CBS, Somers was chosen to co-host the network's revival of Candid Camera with Peter Funt, which began airing later that season.
Candid cohost
From 1997–99, Somers cohosted the revised Candid Camera show, when CBS chose to bring it back with Peter Funt. Somers stayed for two years before PAX TV renewed the series without her.
The Blonde in the Thunderbird
In summer 2005, Somers made her Broadway debut in a one-woman show, The Blonde in the Thunderbird, a collection of stories about her life and career. The show was supposed to run until September, but was cancelled in less than a week after poor reviews and disappointing ticket sales. She blamed the harsh reviews (The New York Times referred to it as "...a drab and embarrassing display of emotional exhibitionism masquerading as entertainment") and told the New York Post: "These men [New York critics] are curmudgeons, and maybe I went too close to the bone for them. I was lying there naked, and they decided to kick me and step on me, just like these visions you see in Iraq."
Breaking Through
In 2012, Somers began an online talk show, Suzanne Somers Breaking Through, at CafeMom. Three of the episodes featured a reunion with Joyce DeWitt, the two speaking with each other for the first time in 30 years.
The Suzanne Show
In the fall of 2012, the Suzanne Show, hosted by Somers, aired for a 13-episode season on the Lifetime Network. Somers welcomed various guests covering a wide range of topics related to health and fitness.
Dancing with the Stars
On February 24, 2015, Somers was announced as one of the stars participating on the 20th season of Dancing with the Stars. Her partner was professional dancer Tony Dovolani. Somers and Dovolani were eliminated on the fifth week of competition and finished in 9th place.
Views on medical subjects
Somers supports bioidentical hormone replacement therapy. Her book, Ageless, includes interviews with 16 practitioners of bioidentical hormone therapy, but gives extra discussion to one specific approach, the 'Wiley Protocol'. Somers and T. S. Wiley, the originator of the Wiley Protocol, have been criticized for their advocacy of the Wiley Protocol. A group of seven doctors, all of whom utilize bioidentical hormone therapies to address health issues in women, issued a public letter to Somers and her publisher, Crown, in which they state that the protocol is "scientifically unproven and dangerous" and cite Wiley's lack of medical and clinical qualifications. The use of bioidentical hormone therapies is a very controversial area of medicine; its efficacy has never been tested and numerous groups have expressed concern over its safety and the misleading claims made by practitioners, which was the subject of an Associated Press article:
"The problem, for many doctors: These custom-compounded products are not approved by the Food and Drug Administration. ... Somers, whose hormone regimen involves creams, injections and some 60 supplements daily, got a huge boost earlier this year from Oprah Winfrey. 'Many people write Suzanne off as a quackadoo' Winfrey said when Somers appeared on her show. 'But she just might be a pioneer.' ... Yet Winfrey's tacit support of Somers gave her some of the worst press of her career. 'Crazy Talk,' Newsweek headlined an article on the talk show host earlier this year. Another headline, on Salon.com: 'Oprah's Bad Medicine'."
In 2001, Somers was diagnosed with breast cancer. She had a lumpectomy, and radiation, but declined to undergo chemotherapy. In November 2008, Somers announced she was diagnosed with inoperable cancer by six doctors, but she learned a week later that she was misdiagnosed. During this time, she interviewed doctors about cancer treatments and these interviews became the basis of her book, Knockout, about alternative treatments to chemotherapy. In her book Knockout, Somers promotes alternative cancer treatments, for which she was criticized by the American Cancer Society:
"The American Cancer Society is concerned. ... 'I am very afraid that people are going to listen to her message and follow what she says and be harmed by it', says Dr. Otis Brawley, the organization's chief medical officer. 'We use current treatments because they've been proven to prolong life. They've gone through a logical, scientific method of evaluation. I don't know if Suzanne Somers even knows there IS a logical, scientific method.' ... More broadly, Brawley is concerned that in the United States, celebrities or sports stars feel they can use their fame to dispense medical advice. 'There's a tendency to oversimplify medical messages.... Well, oversimplification can kill.'"
She is also opposed to water fluoridation.
In January 2013 she suggested that Adam Lanza went on his shooting spree at Sandy Hook Elementary School due to the level of toxins in his diet and the household cleaners he was exposed to. She stated that all these chemicals may "overelectrify the brain".
In pop culture
A couple of episodes of South Park paid homage to Suzanne Somers; for instance, the episode Death references Suzanne Somers as the actress who stars in the reruns of She's The Sheriff which replaced the Terrance And Phillip series that was protested by parents. Another episode of South Park featured a product that endorsed this celebrity, but dubbed her name as "Susanne Somers" in which the product was "calf exerciser", in which Butters took the product name out-of-context when trying to care for calves (baby cows) since he didn't want them to turn into veal.
The Beavis And Butthead episode Killing Time mentioned Suzanne Somers as a "supermodel".
Television work
Anniversary Game (1969–70)
Mantrap (1971–73)
Lotsa Luck (c. 1973)
The Rockford Files – The Big Ripoff (aired October 25, 1974)
Sky Heist (1975)
Starsky & Hutch (1975–79, 3 appearances)
Match Game (1977/PM) (1977)
Tattletales (1977)
Three's Company (cast member from 1977–81)
Happily Ever After (1978)
Zuma Beach (1978)
Hollywood Wives (1985) (miniseries)
Goodbye Charlie (1985)
She's the Sheriff (1987–89)
Rich Men, Single Women (1990)
Step by Step (1991–98)
Keeping Secrets (1991)
Exclusive (1992) (also co-executive producer)
The Suzanne Somers Show (1994–95)
Full House (1994)
Seduced by Evil (1994)
8-Track Flashback (1995–98)
Devil's Food (1996)
Walt Disney World Christmas Day Parade (1996) (Host)
Love-Struck (1997)
No Laughing Matter (1998)
Candid Camera (co-host from 1998–2000)
The Darklings (1999)
Kathy Griffin: My Life on the D-List (2009) (guest appearance)
ShopNBC
The Suzanne Show (2012) (Host)
The Real Housewives of Beverly Hills (2013) (guest appearance)
Dancing with the Stars (2015) (contestant)
Filmography
Actress
2001
Say It Isn't So
as
Gilbert's Mom / Suzanne Somers (uncredited)
1999
The Darklings (TV Movie)
as
Clara Hagen / Emily Shepherd
1998
Rusty: A Dog's Tale
as
Malley the Dog (voice)
1991
Step by Step (TV Series)
as
Carol Foster Lambert
- Movin' on Up (1998) - Carol Foster Lambert
- We're in the Money (1998) - Carol Foster Lambert
- The Understudy (1998) - Carol Foster Lambert
- And Justice for Some (1998) - Carol Foster Lambert
- The Half Monty (1998) - Carol Foster Lambert
- Pain in the Class (1998) - Carol Foster Lambert
- Feet of Clay (1998) - Carol Foster Lambert
- Goin' to the Chapel (1998) - Carol Foster Lambert
- Phoney Business (1998) - Carol Foster Lambert
- Too Many Santas (1997) - Carol Foster Lambert
- Goodbye, Mr. Chip (1997) - Carol Foster Lambert
- Girls Just Wanna Have Fun (1997) - Carol Foster Lambert
- Dream Lover (1997) - Carol Foster Lambert
- Can't Buy Me Love (1997) - Carol Foster Lambert
- Poetic Justice (1997) - Carol Foster Lambert
- Take This Job and Shove It (1997) - Carol Foster Lambert
- Your Cheatin' Heart (1997) - Carol Foster Lambert
- A Star Is Born (1997) - Carol Foster Lambert
- Making the Grade (1997) - Carol Foster Lambert
- Bonjour Jean-Luc (1997) - Carol Foster Lambert
- The Kissing Game (1997) - Carol Foster Lambert
- Shear Madness (1997) - Carol Foster Lambert
- Walk Like a Man (1997) - Carol Foster Lambert
- Talking Trash (1997) - Carol Foster Lambert
- The Facts of Life (1997) - Carol Foster Lambert
- Ain't Misbehavin' (1997) - Carol Foster Lambert
- Macho Man (1997) - Carol Foster Lambert
- It Didn't Happen One Night (1997) - Carol Foster Lambert
- Show Me the Money (1997) - Carol Foster Lambert
- Future Shock (1997) - Carol Foster Lambert
- The Big Date (1997) - Carol Foster Lambert
- Loose Lips (1997) - Carol Foster Lambert
- Absolutely Fabio (1997) - Carol Foster Lambert
- How the West Was Won (1997) - Carol Foster Lambert
- Locket Man (1997) - Carol Foster Lambert
- Reality Bites (1997) - Carol Foster Lambert
- Independence Day (1997) - Carol Foster Lambert
- She's the One (1997) - Carol Foster Lambert
- The 'L' Word (1997) - Carol Foster Lambert
- Just Say Maybe (1997) - Carol Foster Lambert
- Sex, Lies and Videotape (1997) - Carol Foster Lambert
- Road Trip (1997) - Carol Foster Lambert
- Crazy Love (1997) - Carol Foster Lambert
- Men at Work (1996) - Carol Foster Lambert
- We're Going to Disney World: Part 2 (1996) - Carol Foster Lambert
- We're Going to Disney World: Part 1 (1996) - Carol Foster Lambert
- Major Pain (1996) - Carol Foster Lambert
- The Bodyguard Formerly Known as Prince (1996) - Carol Foster Lambert
- Do the Right Thing (1996) - Carol Foster Lambert
- Guess Who's Coming to Dinner? (1996) - Carol Foster Lambert
- Forever Young (1996) - Carol Foster Lambert
- Secret Admirer (1996) - Carol Foster Lambert
- Snow Bunnies (1996) - Carol Foster Lambert
- Torn Between Two Mothers (1996) - Carol Foster Lambert
- Beautiful Ladies of Wrestling (1996) - Carol Foster Lambert
- What's Wrong with This Picture? (1996) - Carol Foster Lambert
- The Fight Before Christmas (1995) - Carol Foster Lambert
- Baby Come Back (1995) - Carol Foster Lambert
- The Wall (1995) - Carol Foster Lambert
- Roadie (1995) - Carol Foster Lambert
- Hello, Mister Chips (1995) - Carol Foster Lambert
- Don't Ask (1995) - Carol Foster Lambert
- Maid to Order (1995) - Carol Foster Lambert
- Midnight Caller (1995) - Carol Foster Lambert
- Party Animal (1995) - Carol Foster Lambert
- Three Girls and a Baby (1995) - Carol Foster Lambert
- Lil Sister Dontcha (1995) - Carol Foster Lambert
- A Foster/Lambert Production (1995) - Carol Foster Lambert
- Big Girl on Campus (1995) - Carol Foster Lambert
- Adventures in Babysitting (1995) - Carol Foster Lambert
- Where Have You Gone, Joe DiMaggio? (1995) - Carol Foster Lambert
- Indecent Proposal (1995) - Carol Foster Lambert
- She Came in Through the Bedroom Window (1995) - Carol Foster Lambert
- Back to School (1995) - Carol Foster Lambert
- Head of the Class (1995) - Carol Foster Lambert
- One Truck, Al Dente (1995) - Carol Foster Lambert
- The Honeymoon Is Over (1995) - Carol Foster Lambert
- Thirtysomething (1995) - Carol Foster Lambert
- Can't Buy Me Love (1995) - Carol Foster Lambert
- I'll Be Home for Christmas (1994) - Carol Foster Lambert
- Make Room for Daddy (1994) - Carol Foster Lambert
- Letting Go (1994) - Carol Foster Lambert
- The Ice Cream Man Cometh (1994) - Carol Foster Lambert
- Beyond Therapy (1994) - Carol Foster Lambert
- Growing Up Is Hard to Do (1994) - Carol Foster Lambert
- Something Wild (1994) - Carol Foster Lambert
- Revenge of the Nerd (1994) - Carol Foster Lambert
- Spoiled Sport (1994) - Carol Foster Lambert
- Animal House (1994) - Carol Foster Lambert
- College Bound (1994) - Carol Foster Lambert
- Karate Kid (1994) - Carol Foster Lambert
- Prom Night (1994) - Carol Foster Lambert
- Great Expectations (1994) - Carol Foster Lambert
- The Case of the Missing Diary (1994) - Carol Foster Lambert
- Feeling Forty (1994) - Carol Foster Lambert
- Birth of a Salesman (1994) - Carol Foster Lambert
- Nightmare Weekend (1994) - Carol Foster Lambert
- Pretty Woman (1994) - Carol Foster Lambert
- My Bodyguard (1994) - Carol Foster Lambert
- Thirteen with a Bullet (1994) - Carol Foster Lambert
- Read All About It (1994) - Carol Foster Lambert
- Bad Girls (1994) - Carol Foster Lambert
- Close Encounters of the Marital Kind (1993) - Carol Foster Lambert
- Christmas Story (1993) - Carol Foster Lambert
- Sister Act (1993) - Carol Foster Lambert
- The Marrying Dude (1993) - Carol Foster Lambert
- Down and Out in Port Washington (1993) - Carol Foster Lambert
- Hog Wild (1993) - Carol Foster Lambert
- Video-Mania (1993) - Carol Foster Lambert
- Trading Places (1993) - Carol Foster Lambert
- The Paper Chase (1993) - Carol Foster Lambert
- Never on Sunday (1993) - Carol Foster Lambert
- The Apartment (1993) - Carol Foster Lambert
- Way-Off Broadway (1993) - Carol Foster Lambert
- Double Date (1993) - Carol Foster Lambert
- This Old House (1993) - Carol Foster Lambert
- The Psychic (1993) - Carol Foster Lambert
- The Un-Natural (1993) - Carol Foster Lambert
- No Way to Treat a Lady (1993) - Carol Foster Lambert
- Aloha: Part 2 (1993) - Carol Foster Lambert
- Aloha: Part 1 (1993) - Carol Foster Lambert
- Love, Port Washington Style (1993) - Carol Foster Lambert
- No Business Like Show Business (1993) - Carol Foster Lambert
- One of the Guys (1993) - Carol Foster Lambert
- Happy Birthday, Baby (1993) - Carol Foster Lambert
- If I Were a Rich Man (1993) - Carol Foster Lambert
- Boys Will Be Boys (1992) - Carol Foster Lambert
- Back to Basics (1992) - Carol Foster Lambert
- Virgin Territory (1992) - Carol Foster Lambert
- The Making of the President (1992) - Carol Foster Lambert
- Someone to Watch Over Me (1992) - Carol Foster Lambert
- Model Daughter (1992) - Carol Foster Lambert
- The Boss (1992) - Carol Foster Lambert
- It's a Dog's Life (1992) - Carol Foster Lambert
- J.T.'s World (1992) - Carol Foster Lambert
- Stuck on You (1992) - Carol Foster Lambert
- To B or Not to B (1992) - Carol Foster Lambert
- S.A.T. Blues (1992) - Carol Foster Lambert
- Beauty Contest (1992) - Carol Foster Lambert
- Daddy's Girl (1992) - Carol Foster Lambert
- Country Club (1992) - Carol Foster Lambert
- He Wanted Wings (1992) - Carol Foster Lambert
- School Daze (1992) - Carol Foster Lambert
- The Boys in the Band (1992) - Carol Foster Lambert
- Bully for Mark (1992) - Carol Foster Lambert
- Drive, He Said (1992) - Carol Foster Lambert
- Home Alone (1992) - Carol Foster Lambert
- Getting Organized (1991) - Carol Foster Lambert
- The New Car (1991) - Carol Foster Lambert
- A Day in the Life (1991) - Carol Foster Lambert
- Mixed Messages (1991) - Carol Foster Lambert
- Into the Woods (1991) - Carol Foster Lambert
- Just for Kicks (1991) - Carol Foster Lambert
- Yo-Yo's Wedding (1991) - Carol Foster Lambert
- Pulling Together (1991) - Carol Foster Lambert
- Frank & Son (1991) - Carol Foster Lambert
- First Anniversary (1991) - Carol Foster Lambert
- Rules of the House (1991) - Carol Foster Lambert
- The Dance (1991) - Carol Foster Lambert
- Pilot (1991) - Carol Foster Lambert
1998
No Laughing Matter (TV Movie)
as
Emma Poleski
1997
Love-Struck (TV Movie)
as
Venus
1996
Devil's Food (TV Movie)
as
Sally McCormick
1996
The Nutty Professor
as
Thighmaster Lady on TV (uncredited)
1996
The Simpsons (TV Series)
as
Suzanne Somers
- The Day the Violence Died (1996) - Suzanne Somers (voice)
1995
The Naked Truth (TV Series)
as
Suzanne Somers
- Star and Comet Collide! Giant Bugs Invade! (1995) - Suzanne Somers
1991
ABC TGIF (TV Series)
as
Carol Foster Lambert
- TGIF Super Bowl Party (1995) - Carol Foster Lambert
- Episode dated 6 March 1992 (1992) - Carol Foster Lambert
- Step by Step (1992) - Carol Foster Lambert
- Episode #3.2 (1991) - Carol Foster Lambert
1994
ABC Sneak Peek with Step by Step (TV Movie)
as
Carol Foster Lambert
1994
Seduced by Evil (TV Movie)
as
Leigh Lindsay
1994
Serial Mom
as
Suzanne Somers
1994
Full House (TV Series)
as
Suzanne Somers
- Love on the Rocks (1994) - Suzanne Somers
1993
The Larry Sanders Show (TV Series)
as
Suzanne Somers
- Larry Loses Interest (1993) - Suzanne Somers
1993
Sisters (TV Series)
as
Suzanne Somers
- Moving Pictures (1993) - Suzanne Somers (uncredited)
1992
Exclusive (TV Movie)
as
Marcy Singer
1991
Keeping Secrets (TV Movie)
as
Suzanne Somers
1990
Rich Men, Single Women (TV Movie)
as
Paige
1987
She's the Sheriff (TV Series)
as
Sheriff Hildy Granger
- Kissing Cousins (1989) - Sheriff Hildy Granger
- Me Tarzan, You Hildy (1989) - Sheriff Hildy Granger
- You Always Hurt the One You Love (1989) - Sheriff Hildy Granger
- Max Gets Trumped (1989) - Sheriff Hildy Granger
- I'm Okay, You're All Crazy (1989) - Sheriff Hildy Granger
- The Mother Mugger (1989) - Sheriff Hildy Granger
- The Teflon Sheriff (1989) - Sheriff Hildy Granger
- Forever Young (1989) - Sheriff Hildy Granger
- Divorce, Wiggins Style (1989) - Sheriff Hildy Granger
- Tastes Great, Less Killing (1989) - Sheriff Hildy Granger
- Midnight Run (1989) - Sheriff Hildy Granger
- Down for the Count (1988) - Sheriff Hildy Granger
- Love Hurts (1988) - Sheriff Hildy Granger
- Father-Son Banquet (1988) - Sheriff Hildy Granger
- Dream the Implausible Dream (1988) - Sheriff Hildy Granger
- Mulcahy Gets Kicked Out (1988) - Sheriff Hildy Granger
- Max's Ten (1988) - Sheriff Hildy Granger
- Gussie Behind Bars (1988) - Sheriff Hildy Granger
- Have a Nice Day (1988) - Sheriff Hildy Granger
- A Friend in High Places (1988) - Sheriff Hildy Granger
- Hildy's Public Defender (1988) - Sheriff Hildy Granger
- A Not So Fatal Attraction (1988) - Sheriff Hildy Granger
- Hildy's First Kiss (1988) - Sheriff Hildy Granger
- Dinsmore's Wedding (1988) - Sheriff Hildy Granger
- Hair (1988) - Sheriff Hildy Granger
- Hildy the Homewrecker (1988) - Sheriff Hildy Granger
- All Alone (1988) - Sheriff Hildy Granger
- Hostage (1988) - Sheriff Hildy Granger
- The Great Escape (1988) - Sheriff Hildy Granger
- New Year's Eve (1988) - Sheriff Hildy Granger
- The Feds (1987) - Sheriff Hildy Granger
- A Hero (1987) - Sheriff Hildy Granger
- The Perils of Pauline (1987) - Sheriff Hildy Granger
- Call Me Madam (1987) - Sheriff Hildy Granger
- Child's Play (1987) - Sheriff Hildy Granger
- Hildy Gets Shot (1987) - Sheriff Hildy Granger
- The Golden Streak (1987) - Sheriff Hildy Granger
- Max Moves In (1987) - Sheriff Hildy Granger
- Monkey Business (1987) - Sheriff Hildy Granger
- Lover Boy (1987) - Sheriff Hildy Granger
- A Little Romance (1987) - Sheriff Hildy Granger
- Unsafe at Any Speed (1987) - Sheriff Hildy Granger
- Butterfly Is Free (1987) - Sheriff Hildy Granger
- All in a Day's Work (1987) - Sheriff Hildy Granger
1988
Totally Minnie (TV Movie)
as
Director
1985
Goodbye Charlie (TV Movie)
as
Charlie / Charlene
1985
Hollywood Wives (TV Mini Series)
as
Gina Germaine
- Episode #1.3 (1985) - Gina Germaine
- Episode #1.2 (1985) - Gina Germaine
- Episode #1.1 (1985) - Gina Germaine
1977
Three's Company (TV Series)
as
Chrissy Snow
- Honest Jack Tripper (1981) - Chrissy Snow (credit only)
- The Case of the Missing Blonde (1981) - Chrissy Snow (credit only)
- Dying to Meet You (1981) - Chrissy Snow (credit only)
- Double Trouble (1981) - Chrissy Snow (credit only)
- Night of the Ropers (1981) - Chrissy Snow (credit only)
- And Baby Makes Four (1981) - Chrissy Snow
- Teacher's Pet (1981) - Chrissy Snow (credit only)
- In Like Larry (1981) - Chrissy Snow
- Furley vs. Furley (1981) - Chrissy Snow (credit only)
- Father of the Bride (1981) - Chrissy Snow
- Janet's Secret (1981) - Chrissy Snow (credit only)
- Make Room for Daddy (1981) - Chrissy Snow
- Jack's Other Mother (1981) - Chrissy Snow
- The Not-So-Great Imposter (1981) - Chrissy Snow (credit only)
- Jack to the Rescue (1981) - Chrissy Snow
- Chrissy's Cousin (1980) - Chrissy Snow (credit only)
- Room at the Bottom (1980) - Chrissy Snow
- A Crowded Romance (1980) - Chrissy Snow (credit only)
- Downhill Chaser (1980) - Chrissy Snow (credit only)
- A Hundred Dollars a What? (1980) - Chrissy Snow
- And Justice for Jack (1980) - Chrissy Snow (credit only)
- Upstairs, Downstairs, Upstairs (1980) - Chrissy Snow
- Jack's Graduation (1980) - Chrissy Snow
- The Goodbye Guy (1980) - Chrissy Snow
- Secret Admirer (1980) - Chrissy Snow
- The Root of All Evil (1980) - Chrissy Snow
- Lee Ain't Heavy, He's My Brother (1980) - Chrissy Snow
- Jack's Bad Boy (1980) - Chrissy Snow
- And Baby Makes Two (1980) - Chrissy Snow
- Handcuffed (1980) - Chrissy Snow
- The Love Lesson (1980) - Chrissy Snow
- Mighty Mouth (1980) - Chrissy Snow
- Larry Loves Janet (1980) - Chrissy Snow
- The Reverend Steps Out (1979) - Chrissy Snow
- A Black Letter Day (1979) - Chrissy Snow
- Ralph's Rival (1979) - Chrissy Snow
- The Love Barge (1979) - Chrissy Snow
- The Loan Shark (1979) - Chrissy Snow
- Chrissy's Hospitality (1979) - Chrissy Snow
- A-Camping We Will Go (1979) - Chrissy Snow
- Old Folks at Home (1979) - Chrissy Snow
- The Life Saver (1979) - Chrissy Snow
- Jack the Ripper (1979) - Chrissy Snow
- Snow Job (1979) - Chrissy Snow
- The New Landlord (1979) - Chrissy Snow
- Love Thy Neighbor (1979) - Chrissy Snow
- Jack on the Lam (1979) - Chrissy Snow
- Triangle Troubles (1979) - Chrissy Snow
- Jack Moves Out (1979) - Chrissy Snow
- An Anniversary Surprise (1979) - Chrissy Snow
- The Bake-Off (1979) - Chrissy Snow
- The Harder They Fall (1979) - Chrissy Snow
- The Best Laid Plans (1979) - Chrissy Snow
- The Catered Affair (1979) - Chrissy Snow
- Stanley's Hotline (1979) - Chrissy Snow
- The Older Woman (1979) - Chrissy Snow
- Eleanor's Return (1978) - Chrissy Snow
- The Party's Over (1978) - Chrissy Snow
- The Kleptomaniac (1978) - Chrissy Snow
- The Crush (1978) - Chrissy Snow
- Chrissy's New Boss (1978) - Chrissy Snow
- Larry's Bride (1978) - Chrissy Snow
- Chrissy and the Guru (1978) - Chrissy Snow
- My Sister's Keeper (1978) - Chrissy Snow
- Helen's Rendezvous (1978) - Chrissy Snow
- The Fast (1978) - Chrissy Snow
- The Love Diary (1978) - Chrissy Snow
- Good Old Reliable Janet (1978) - Chrissy Snow
- Double Date (1978) - Chrissy Snow
- Coffee, Tea, or Jack (1978) - Chrissy Snow
- Bird Song (1978) - Chrissy Snow
- Chrissy Come Home (1978) - Chrissy Snow
- Days of Beer and Weeds (1978) - Chrissy Snow
- Will the Real Jack Tripper- (1978) - Chrissy Snow
- Jack's Navy Pal (1978) - Chrissy Snow
- Jack in the Flower Shop (1978) - Chrissy Snow
- Home Movies (1978) - Chrissy Snow
- The Babysitters (1978) - Chrissy Snow
- The Rivals (1978) - Chrissy Snow
- The Gift (1978) - Chrissy Snow
- Three's Christmas (1977) - Chrissy Snow
- Helen's Job (1977) - Chrissy Snow
- Jack's Uncle (1977) - Chrissy Snow
- Janet's High School Sweetheart (1977) - Chrissy Snow
- Stanley Casanova (1977) - Chrissy Snow
- Chrissy's Night Out (1977) - Chrissy Snow
- Cyrano de Tripper (1977) - Chrissy Snow
- Roper's Car (1977) - Chrissy Snow
- Alone Together (1977) - Chrissy Snow
- Chrissy's Date (1977) - Chrissy Snow
- Strange Bedfellows (1977) - Chrissy Snow
- Janet's Promotion (1977) - Chrissy Snow
- Jack Looks for a Job (1977) - Chrissy Snow
- Ground Rules (1977) - Chrissy Snow
- It's Only Money (1977) - Chrissy Snow
- Jack the Giant Killer (1977) - Chrissy Snow
- No Children, No Dogs (1977) - Chrissy Snow
- Roper's Niece (1977) - Chrissy Snow
- And Mother Makes Four (1977) - Chrissy Snow
- A Man About the House (1977) - Chrissy Snow
1980
Nothing Personal
as
Abigail Adams
1979
Yesterday's Hero
as
Cloudy
1979
The Ropers (TV Series)
as
Chrissy Snow
- The Party (1979) - Chrissy Snow
1979
Billy (TV Series)
as
Suzanne Somers
- The Prize (1979) - Suzanne Somers
1978
Zuma Beach (TV Movie)
as
Bonnie Katt
1978
Happily Ever After (TV Movie)
as
Mattie
1977
The Six Million Dollar Man (TV Series)
as
Jenny Fraser
- The Cheshire Project (1977) - Jenny Fraser
1977
Ants! (TV Movie)
as
Gloria
1975
Starsky and Hutch (TV Series)
as
Jane Hutton / Linda Offenbecker / Sally Ann Sloane
- Murder Ward (1977) - Jane Hutton
- The Vampire (1976) - Linda Offenbecker
- Savage Sunday (1975) - Sally Ann Sloane
1977
The Love Boat (TV Series)
as
Lorraine Hoffman
- Captain & the Lady/Centerfold/One if by Land- (1977) - Lorraine Hoffman
1977
Billy Jack Goes to Washington
as
Party Girl
1976
One Day at a Time (TV Series)
as
Sondra
- Julie's Job (1976) - Sondra
1975
Sky Heist (TV Movie)
as
Female Reporter
1974
The Rockford Files (TV Series)
as
Ginny Nelson
- The Big Ripoff (1974) - Ginny Nelson
1974
Lotsa Luck! (TV Series)
as
Gloria
- Bummy's Girl (1974) - Gloria
1973
Magnum Force
as
Pool Girl (uncredited)
1973
American Graffiti
as
Blonde in T-Bird
1970
Fools
as
Woman at Baptism (uncredited)
1969
Daddy's Gone A-Hunting
as
Sidewalk Extra (uncredited)
1968
Bullitt
as
Woman (uncredited)
Composer
1997
The Jenny McCarthy Show (TV Series) (22 episodes)
- Pilot (1997)
Producer
1996
Somersize Part 1, Suzanne Somers: Eat Great, Lose Weight (Video) (executive producer)
1996
Somersize Part 2, Suzanne Somers: Think Great, Look Great (Video) (executive producer)
1994
The Suzanne Somers Show (TV Series) (executive producer)
1992
Exclusive (TV Movie) (co-executive producer)
1991
Keeping Secrets (TV Movie) (executive producer)
Soundtrack
1997
The Jenny McCarthy Show (TV Series) (performer: "The Jenny McCarthy Show") / (writer: "The Jenny McCarthy Show")
1991
Keeping Secrets (TV Movie) (lyrics: "Nothin's Gonna Stop Me Now") / (music: "Nothin's Gonna Stop Me Now")
1982
The Tonight Show Starring Johnny Carson (TV Series) (performer - 1 episode)
- Kaleena Kiff/Suzanne Somers (1982) - (performer: "Take Back Your Mink", "Breaking Up is Hard to Do")
1980
Nothing Personal (performer: "Nothing Personal")
1979
Yesterday's Hero (performer: "That's Not What We Came Here For", "Let's Work It Out", "Out Of Love With Love", "We've Got Us" - uncredited)
1978
Three's Company (TV Series) (performer - 1 episode)
- The Fast (1978) - (performer: "Amazing Grace" - uncredited)
Writer
1991
Keeping Secrets (TV Movie) (book "Keeping Secrets")
1989
She's the Sheriff (TV Series) (written by - 1 episode)
- Kissing Cousins (1989) - (written by)
Costume Department
1979
Yesterday's Hero (wardrobe from her own closet: Suzanne Somers)
Stunts
1969
Daddy's Gone A-Hunting (stunt double: Carol White - uncredited)
Thanks
2023
The Simpsons (TV Series) (in loving memory of - 1 episode)
- McMansion & Wife (2023) - (in loving memory of)
2010
1 a Minute (Documentary) (acknowlegment: Breast Cancer Survivor)
2009
Kathy Griffin: My Life on the D-List (TV Series) (special thanks - 1 episode)
- Kathy Is a Star- Kind Of (2009) - (special thanks)
Self
2017
Long Enough to Live Forever (Documentary) (completed)
as
Self
2022
The Drew Barrymore Show (TV Series)
as
Self - Guest
- Keegan-Michael Key/Chris Appleton/Suzanne Somers (2023) - Self - Guest
- Ellie Kemper/Chef Jet Tila/Suzanne Somers (2022) - Self - Guest
2021
Daily Blast Live (TV Series)
as
Self
- Episode #8.114 (2023) - Self
- Episode dated 13 July 2021 (2021) - Self
- Best of DBL #4 (2021) - Self
- Episode dated 24 May 2021 (2021) - Self
2023
Karen Carpenter: Starving for Perfection (Documentary)
as
Self
2022
TMZ Investigates: What Really Happened to Richard Simmons (TV Series)
as
Self
2022
The Good Dish (TV Series)
as
Self
- Guilt-Free Sheet Pan Meals (2022) - Self
2003
Entertainment Tonight (TV Series)
as
Self
- Nashville Week - Day 3 (2022) - Self
- CMA Biggest Moments! (2020) - Self
2022
Nick Cannon (TV Series)
as
Self
- Suzanne Somers/Larry Miller (2022) - Self
2015
The Dr. Oz Show (TV Series)
as
Self - Guest
- Scanning Scams: QR Costs That Clear Out Your Bank Account (2021) - Self - Guest
- Oz Investigates: Instant Soups and Ramen (2021) - Self - Guest
- Dr. Pimple Popper's Most Frightening Cases Yet! (2020) - Self - Guest
- Supermarket Alert: The Egg Hoax You're Falling For (2017) - Self - Guest
- Suzanne Somers' Health Crisis and New Mission (2015) - Self - Guest
2021
The Dick Van Dyke Show - Celebrating the 60th Anniversary (Documentary)
as
Self
2021
Million Dollar Listing Los Angeles (TV Series)
as
Self
- The House That Thighmaster Built (2021) - Self
2021
Superstar (TV Mini Series documentary)
as
Self
- John Ritter (2021) - Self
2021
History of the Sitcom (TV Series documentary)
as
Self - Actress
- Sex & The Sitcom (2021) - Self - Actress
2021
Good Day New York (TV Series)
as
Self
- Episode dated 26 April 2021 (2021) - Self
2021
Ask Jillian (Podcast Series)
as
Self - Guest
- Suzanne Somers is a LEGEND and still kicking ass! (2021) - Self - Guest
2020
Lucille Ball: We Love Lucy (TV Movie)
as
Self
2020
Extra (TV Series)
as
Self
- Episode #26.171 (2020) - Self
2015
Home & Family (TV Series)
as
Self / Self - Author, Two's Company
- Erin Krakow/Robert Buckley/Suzanne Somers (2020) - Self (credit only)
- Bridget Regan & Travis Van Winkle/Suzanne Somers/Coleen Christian Burke (2017) - Self - Author, Two's Company
- Zoe McLellan/Suzanne Somers (2015) - Self
2020
Really Famous with Kara Mayer Robinson (TV Series)
as
Self - Guest
- Suzanne Somers (2020) - Self - Guest
2020
Watch What Happens Live with Andy Cohen (Podcast Series)
as
Self - Guest
- Jennifer Coolidge & Suzanne Somers (2020) - Self - Guest
2019
GMA3: Strahan, Sara & Keke (TV Series)
as
Self
- Episode #2.74 (2020) - Self
- Episode #2.21 (2019) - Self
2009
The Wendy Williams Show (TV Series)
as
Self - Guest
- Suzanne Somers! (2020) - Self - Guest
- Hot Topics/Suzanne Somers (2015) - Self - Guest
- Episode dated 12 January 2011 (2011) - Self - Guest
- Episode #2.83 (2009) - Self - Guest
2017
Today (TV Series)
as
Self - Guest
- Episode dated 7 January 2020 (2020) - Self - Guest
- Episode dated 14 November 2017 (2017) - Self - Guest
1977
Good Morning America (TV Series)
as
Self - Guest
- Episode dated 6 January 2020 (2020) - Self - Guest
- Episode dated 31 October 2018 (2018) - Self - Guest
- Episode dated 14 April 2015 (2015) - Self - Guest
- Episode dated 23 September 2013 (2013) - Self - Guest
- Episode dated 5 March 2012 (2012) - Self - Guest
- Episode dated 21 April 1977 (1977) - Self - Guest
2020
Tucker Carlson Tonight (TV Series)
as
Self - Actress
- Discovering Sobriety (2020) - Self - Actress
2009
Inside Edition (TV Series documentary)
as
Self
- Suzanne Somers' 73rd Birthday Selfie (2019) - Self
- Episode #26.155 (2015) - Self
- Episode dated 24 September 2009 (2009) - Self
2018
Ok! TV (TV Series)
as
Self
- Episode #4.251 (2019) - Self
- Episode #4.30 (2018) - Self
2019
Ready Set Live with Gary Quinn (Podcast Series)
as
Self
2018
Behind Closed Doors (TV Series)
as
Self
- John Ritter (2018) - Self
2012
The Doctors (TV Series)
as
Self
- Swipe Right for an Inmate?/Flashback Friday: I Was Shot at Over 5 Times!/Suzanne Somers!/Hack or Wack? (2018) - Self
- Drive-Thru Food Makeovers/Suzanne Somers Reveals Her Personal Detox Tips/Makeup Application That Could Save Your Life? (2015) - Self
- Valentine's Day Health Secrets for Looking Younger, Losing Weight, & Better Sex! (2012) - Self
2017
KTLA Morning News (TV Series)
as
Self
- Episode dated 14 December 2017 (2017) - Self
2011
The Talk (TV Series)
as
Self - Guest
- Guest Co-Hosts Darius Rucker & Carnie Wilson/Suzanne Somers/Janee Bolden (2017) - Self - Guest
- Guest Co-Hostess Carnie Wilson/Suzanne Somers/Rove McManus/Chef Marjorie Johnson (2014) - Self - Guest
- Episode dated 17 January 2012 (2012) - Self - Guest
- Episode #1.120 (2011) - Self - Guest
2017
Harry (TV Series)
as
Self - Guest
- "Black-ish" Star Anthony Anderson/Last Minute Thanksgiving Ideas/Actress Suzanne Somers/Elevator Jam with Cyndi Lauper (2017) - Self - Guest
2017
The Chew (TV Series)
as
Self - Author, Two's Company
- The Best Thanksgiving Desserts (2017) - Self - Author, Two's Company
2017
Megyn Kelly Today (TV Series)
as
Self
- Episode #1.37 (2017) - Self
2015
The Insider (TV Series)
as
Self
- Episode #12.87 (2015) - Self
2015
FabLife (TV Series)
as
Self
- Suzanne Somers' Top Holiday Party Must-Haves/Chef Graham Elliot's Holiday Truffle Popcorn/Holiday Photo Do's and Don'ts (2015) - Self
2011
Access Daily (TV Series)
as
Self - Author, Tox-Sick / Self
- Suzanne Somer/Jamie-Lynn Sigler (2015) - Self - Author, Tox-Sick
- Episode dated 2 February 2011 (2011) - Self
2013
Watch What Happens Live with Andy Cohen (TV Series)
as
Self - Guest
- Reba & Suzanne Somers (2015) - Self - Guest
- Suzanne Somers & Nick Carter (2013) - Self - Guest
1990
Live with Kelly and Mark (TV Series)
as
Self - Guest
- Matthew Morrison/Pauley Perrette/Suzanne Somers & Tony Dovolani (2015) - Self - Guest
- Guest Co-Host Josh Groban/Emma Stone/Suzanne Somers/Neon Trees (2014) - Self - Guest
- Episode dated 10 January 2011 (2011) - Self - Guest
- Episode dated 12 July 2005 (2005) - Self - Guest
- Episode dated 29 January 1990 (1990) - Self - Guest
2015
Dancing with the Stars (TV Series)
as
Self - Contestant
- Disney Night (2015) - Self - Contestant
- Most Memorable Year (2015) - Self - Contestant
- Latin Night (2015) - Self - Contestant
- My Jam Monday (2015) - Self - Contestant
- Episode #20.1 (2015) - Self - Contestant
2014
On the Money (TV Series)
as
Self - Actress / Entrepreneur
- Episode dated 18 October 2014 (2014) - Self - Actress / Entrepreneur
2014
The Meredith Vieira Show (TV Series)
as
Self - Guest
- Organize Your Life/"DWTS" Amy Purdy (2014) - Self - Guest
2012
Fox and Friends (TV Series)
as
Self
- Episode dated 12 August 2014 (2014) - Self (voice)
- Episode dated 28 September 2013 (2013) - Self
- Episode dated 25 September 2013 (2013) - Self
- Episode dated 24 September 2012 (2012) - Self
2014
Weekend Today (TV Series)
as
Self
- Episode dated 17 May 2014 (2014) - Self
2013
A Healthy You & Carol Alt (TV Series)
as
Self
- Episode dated 5 October 2013 (2013) - Self
2009
Hannity (TV Series)
as
Self
- Episode dated 27 September 2013 (2013) - Self
- Episode dated 15 April 2010 (2010) - Self
- Episode dated 28 December 2009 (2009) - Self
2012
Cavuto on Business (TV Series)
as
Self
- Episode dated 24 September 2013 (2013) - Self
- Episode dated 10 May 2012 (2012) - Self
2013
Katie (TV Series)
as
Self
- Reincarnation/Suzanne Somers (2013) - Self
2013
The Real Housewives of Beverly Hills (TV Series)
as
Self
- Stars and Strips (2013) - Self
2013
Marie (TV Series)
as
Self
- Suzanne Somers (2013) - Self
2012
Larry King Now (TV Series)
as
Self - Guest
- Suzanne Somers (2012) - Self - Guest
2012
The Suzanne Show (TV Series)
as
Self - Host
- Hormone Replacement Theapy/Zumba Dance (2012) - Self - Host
2012
Anderson Live (TV Series)
as
Self
- Suzanne Somers & Caught on Tape (2012) - Self
2009
Rachael Ray (TV Series)
as
Self - Guest
- Suzanne Somers' Mother's Day Makeover (2012) - Self - Guest
- 2011 Fashion Trends (2011) - Self - Guest
- Episode #4.52 (2009) - Self - Guest
2012
Piers Morgan Live (TV Series)
as
Self
- Episode dated 7 May 2012 (2012) - Self
2009
The Hour (TV Series)
as
Self - Guest
- Episode #7.95 (2011) - Self - Guest
- Episode dated 27 October 2009 (2009) - Self - Guest
2011
The Marilyn Denis Show (TV Series)
as
Self - Guest
- Episode #1.8 (2011) - Self - Guest
1993
Larry King Live (TV Series)
as
Self - Guest
- The Woman Behind LKL (2010) - Self - Guest
- Suzanne Somers' Medical Nightmare (2009) - Self - Guest
- Obama's Late-Night Gaffe (2009) - Self - Guest
- McCarthy & Somers (2008) - Self - Guest
- Suzanne Somers (2008) - Self - Guest
- Episode dated 14 October 2006 (2006) - Self - Guest
- Episode dated 8 March 2004 (2004) - Self - Guest
- John Ritter Remembered (2003) - Self - Guest
- Episode dated 3 August 1993 (1993) - Self - Guest
2010
The Fran Drescher Show (TV Series)
as
Self - Guest
- Episode #1.6 (2010) - Self - Guest
2010
Global Business People (TV Series documentary)
as
Self - Guest
- Episode dated 8 May 2010 (2010) - Self - Guest
2009
How to Live Forever (Documentary)
as
Self
2009
Kathy Griffin: My Life on the D-List (TV Series)
as
Self
- Kathy Is a Star- Kind Of (2009) - Self
2009
The Interviews: An Oral History of Television (TV Series)
as
Self
- Suzanne Somers (2009) - Self
2009
Whatever Happened To? (TV Series)
as
Self
- Self Promoters (2009) - Self
2007
The Ellen DeGeneres Show (TV Series)
as
Self - Guest
- Suzzane Somers, Demi Lovato (2008) - Self - Guest
- Episode #5.141 (2008) - Self - Guest
- Episode #4.131 (2007) - Self - Guest (as Suzanne Summers)
1998
E! True Hollywood Story (TV Series documentary)
as
Self
- Kathy Griffin (2007) - Self
- John Ritter (2005) - Self
- Suzanne Somers (2002) - Self
- Jay Bernstein, Starmaker (2000) - Self
- Three's Company (1998) - Self
2006
Your Total Health (TV Series)
as
Self
- Episode #3.23 (2006) - Self
2006
The 2nd Annual Quill Awards (TV Special)
as
Self
2005
The View (TV Series)
as
Self - Guest
- Episode dated 9 October 2006 (2006) - Self - Guest
- Episode dated 18 July 2005 (2005) - Self - Guest
- Episode dated 13 April 2005 (2005) - Self - Guest
2006
Playboy: Celebrity Centerfolds (TV Movie documentary)
as
Self
2005
I Can't Believe I Wore That (TV Series documentary)
as
Self - Hostess
- Millennium Episode (2005) - Self - Hostess
2005
Corazón de... (TV Series)
as
Self
- Episode dated 12 October 2005 (2005) - Self
2005
Scarborough Country (TV Series)
as
Self
- Episode dated 18 July 2005 (2005) - Self
2005
TV Land's Top Ten (TV Series documentary)
as
Self
- Sexiest Men (2005) - Self
- Perfect 10's the Women (2005) - Self
- Wacky Neighbors (2005) - Self
2005
The Late Late Show with Craig Ferguson (TV Series)
as
Self - Guest
- Episode #1.65 (2005) - Self - Guest
2004
The Tony Danza Show (TV Series)
as
Self - Guest
- Episode #1.129 (2005) - Self - Guest
- Episode #1.7 (2004) - Self - Guest
2004
Good Day Live (TV Series)
as
Self
- Episode dated 24 January 2005 (2005) - Self (voice)
- Episode dated 16 March 2004 (2004) - Self
2004
The Factor (TV Series)
as
Self
- Episode dated 22 April 2004 (2004) - Self
2004
The Sharon Osbourne Show (TV Series)
as
Self - Guest
- Episode dated 19 March 2004 (2004) - Self - Guest
2004
The Wayne Brady Show (TV Series)
as
Self
- Episode dated 17 March 2004 (2004) - Self
2004
Jimmy Kimmel Live! (TV Series)
as
Self
- Episode #3.57 (2004) - Self
2003
A Life of Laughter: Remembering John Ritter (TV Movie documentary)
as
Self
2003
Heroes of Comedy: Women on Top (TV Mini Series documentary)
as
Self
- Sex & the Sitcom (2003) - Self
2002
Inside TV Land (TV Series)
as
Self
- Inside TV Land: Style and Fashion (2003) - Self
- Inside TV Land: Taboo TV (2002) - Self
- Inside TV Land: 40 Greatest Theme Songs (2002) - Self
2003
ET in TV Land (TV Series documentary)
as
Self
- Three's Company: Three's a Crowd - Self
2002
Biography (TV Series documentary)
as
Self
- John Ritter: In Good Company (2002) - Self
2002
TVography: Suzanne Somers - Mastering Success (TV Movie documentary)
as
Self
2002
VH-1 Where Are They Now? (TV Series documentary)
as
Self
- American Graffiti (2002) - Self
1997
The Rosie O'Donnell Show (TV Series)
as
Self - Guest
- Episode dated 13 December 2001 (2001) - Self - Guest
- Episode dated 23 April 2001 (2001) - Self - Guest
- Episode dated 28 April 1999 (1999) - Self - Guest
- Episode dated 22 April 1998 (1998) - Self - Guest
- Episode #1.167 (1997) - Self - Guest
1994
Howard Stern (TV Series)
as
Self
- Episode dated 13 June 2001 (2001) - Self
- Episode dated 27 January 2000 (2000) - Self
- Suzanne Somers Butt Master (1997) - Self
- Episode dated 14 November 1996 (1996) - Self
- Episode dated 13 November 1996 (1996) - Self
- Episode dated 28 November 1995 (1995) - Self
- Episode dated 27 November 1995 (1995) - Self
- Episode dated 16 September 1994 (1994) - Self
- Episode dated 15 September 1994 (1994) - Self
- Episode dated 6 September 1994 (1994) - Self
2000
Headliners & Legends with Matt Lauer (TV Series documentary)
as
Self
- Suzanne Somers (2000) - Self
2000
The Home Shopping Club (TV Series)
as
Self
- Suzanne Somers (2000) - Self
2000
The 70s: The Decade That Changed Television (TV Movie documentary)
as
Self
1998
Candid Camera (TV Series)
as
Self - Co-Host
- Episode dated 21 July 2000 (2000) - Self - Co-Host
- Coffee Shop (1998) - Self - Co-Host
1994
Late Night with Conan O'Brien (TV Series)
as
Self - Guest
- Julianna Margulies/Suzanne Somers (2000) - Self - Guest
- Rich Hall/Suzanne Somers/Luscious Jackson (1997) - Self - Guest
- Suzanne Somers/Sharon Lawrence/William Wegman (1995) - Self - Guest
- Suzanne Somers/Chris O'Donnell/The Chieftains (1995) - Self - Guest
- Fran Drescher/Suzanne Somers/The Mavericks (1994) - Self - Guest
2000
The Martin Short Show (TV Series)
as
Self - Guest
- Episode #1.82 (2000) - Self - Guest
2000
The Howard Stern Radio Show (TV Series)
as
Self - Guest
- Episode dated 15 January 2000 (2000) - Self - Guest
1999
TV Guide's Truth Behind the Sitcom Scandals (TV Movie documentary)
as
Self
1997
The Daily Show (TV Series)
as
Self - Guest
- Suzanne Somers (1999) - Self - Guest
- Suzanne Somers (1998) - Self - Guest
- Suzanne Somers (1997) - Self - Guest
1998
The Making of 'American Graffiti' (TV Movie documentary)
as
Self
1996
Maury (TV Series)
as
Self - Guest
- Episode dated 3 April 1998 (1998) - Self - Guest
- Episode dated 18 December 1996 (1996) - Self - Guest
1997
Michael Jackson: HIStory on Film - Volume II (Video)
as
Self (segment "Liberian Girl")
1997
The Annual Museum of Television and Radio Gala (TV Special)
as
Self
1996
Somersize Part 1, Suzanne Somers: Eat Great, Lose Weight (Video)
as
Self
1996
Somersize Part 2, Suzanne Somers: Think Great, Look Great (Video)
as
Self - Host
1996
Talk Soup (TV Series)
as
Self
- Senor Sock Celebrity Profile (1996) - Self
1996
Caesars Palace 30th Anniversary Celebration (TV Movie documentary)
as
Self
1996
Walt Disney World Very Merry Christmas Parade (TV Special)
as
Self - Host
1995
VH1's 8-Track Flashback (TV Series)
as
Self - Host
1994
The Tonight Show with Jay Leno (TV Series)
as
Self - Guest
- Episode #3.253 (1995) - Self - Guest
- Episode #3.234 (1995) - Self - Guest
- Episode #3.162 (1994) - Self - Guest
- Episode #3.74 (1994) - Self - Guest
1994
The Suzanne Somers Show (TV Series)
as
Self - Host
- The 5 Mrs. Buchanans (1994) - Self - Host
- Halloween Show (1994) - Self - Host
1994
Will You Marry Me? (TV Movie)
as
Self
1994
The 1994 Ambassador of Hope Awards (TV Special)
as
Self
1994
Sally Jessy Raphael (TV Series)
as
Self - Guest
- Episode dated 26 April 1994 (1994) - Self - Guest
1993
More of 'the Best of the Hollywood Palace' (TV Special)
as
Self
1992
ABC Saturday Morning Preview Special (TV Special)
as
Carol Foster Lambert
1992
The Best of 'the Hollywood Palace' (TV Special)
as
Self - Host
1991
One on One with John Tesh (TV Series)
as
Self
- Episode #1.143 (1992) - Self
- Episode #1.44 (1991) - Self
1992
The 18th Annual People's Choice Awards (TV Special)
as
Self - Winner
1991
Into the Night (TV Series)
as
Self - Host
- Episode dated 22 July 1991 (1991) - Self - Host
1990
Intimate Portrait (TV Series documentary)
as
Self - Interviewee
- Suzanne Somers - Self - Interviewee
1989
The Home Show (TV Series)
as
Self - Guest
- Episode dated 2 February 1990 (1990) - Self - Guest
- Episode dated 26 December 1989 (1989) - Self - Guest
1990
The 47th Annual Golden Globe Awards 1990 (TV Special)
as
Self - Presenter
1989
Michael Jackson: Liberian Girl (Music Video)
as
Self
1978
The Magical World of Disney (TV Series)
as
Self
- The Disney-MGM Studios Theme Park Grand Opening (1989) - Self
- NBC Salutes the 25th Anniversary of the Wonderful World of Disney Part 1 (1978) - Self
1989
One for the Road (TV Movie documentary)
as
Self
1984
Hour Magazine (TV Series)
as
Self
- Episode dated 1 December 1988 (1988) - Self
- Episode dated 24 May 1988 (1988) - Self
- Episode dated 23 May 1988 (1988) - Self
- Episode dated 2 May 1984 (1984) - Self
1988
Joan Rivers and Friends Salute Heidi Abromowitz (TV Special)
as
Suzanne Somers
1988
Sábado noche (TV Series)
as
Self - Musical Guest
- Episode dated 6 August 1988 (1988) - Self - Musical Guest
1987
The Wil Shriner Show (TV Series)
as
Self - Guest
- Episode #1.7 (1987) - Self - Guest
1987
The Late Show (TV Series)
as
Self - Host / Self - Guest
- Episode dated 1 July 1987 (1987) - Self - Host
- Episode #1.128 (1987) - Self - Guest
1985
Jerry Lewis MDA Labor Day Telethon (TV Series)
as
Self
- The 1985 Jerry Lewis MDA Labor Day Telethon (1985) - Self
1974
The Tonight Show Starring Johnny Carson (TV Series)
as
Self - Guest
- Kaleena Kiff/Suzanne Somers (1982) - Self - Guest
- Suzanne Somers/Warren Thomas (1981) - Self - Guest
1984
Super Bloopers and Practical Jokes (TV Series)
as
Self
- Michael Gross/Suzanne Somers (1984) - Self
1984
Cover Story (TV Series)
as
Self
- Episode dated 9 July 1984 (1984) - Self
1984
On Stage America (TV Series)
as
Self
- Episode #1.4 (1984) - Self
1983
All-Star Party for Frank Sinatra (TV Movie)
as
Self
1983
2 on the Town (TV Series)
as
Self
- Episode dated 25 February 1983 (1983) - Self
1983
Suzanne Somers... And 10,000 G.I.'s (TV Special)
as
Self
1982
The Regis Philbin Show (TV Series)
as
Self - Guest
- Episode #1.59 (1982) - Self - Guest
1982
The Suzanne Somers Special (TV Special)
as
Self - Host
1981
Television: Inside and Out (TV Series)
as
Self
- Episode dated 5 December 1981 (1981) - Self
1981
Donahue (TV Series)
as
Self - Guest
- Episode dated 25 March 1981 (1981) - Self - Guest
1977
The Mike Douglas Show (TV Series)
as
Self - Guest / Self - Co-Host
- Episode #20.50 (1980) - Self - Guest
- Episode #20.48 (1980) - Self - Co-Host
- Episode #20.46 (1980) - Self - Co-Host
- Episode #17.113 (1978) - Self - Co-Host
- Episode #17.60 (1977) - Self - Guest
- Episode #16.161 (1977) - Self - Guest
1980
The New High Rollers (TV Series)
as
Self - Assistant
- Episode dated 20 June 1980 (1980) - Self - Assistant
1980
John Ritter: Being of Sound Mind and Body (TV Special)
as
Self / Woman at Party
1980
The Tim Conway Show (TV Series)
as
Self
- Susan Anton & Suzanne Sommers (1980) - Self (uncredited)
1980
The American Movie Awards (TV Special)
as
Self - Presenter
1980
The 37th Annual Golden Globe Awards (TV Special)
as
Self - Presenter
1979
Look Magazine Gala Party (TV Special)
as
Self
1978
Danny Thomas: Young & Foolish (TV Movie)
as
Self
1978
Donny and Marie (TV Series)
as
Self
- Episode #4.7 (1978) - Self
- Episode #3.13 (1978) - Self
1978
Dean Martin Celebrity Roast: Suzanne Somers (TV Special)
as
Self
1978
General Electric's All-Star Anniversary (TV Special documentary)
as
Self
1978
Live Wednesday (TV Series)
as
Self
- Episode #1.2 (1978) - Self
1978
NBC Salutes the 25th Anniversary of the Wonderful World of Disney (TV Movie documentary)
as
Self - Co-Host
1977
Dinah! (TV Series)
as
Self - Guest
- Episode dated 12 September 1978 (1978) - Self - Guest
- Episode #3.198 (1977) - Self - Guest
1978
The Carpenters... Space Encounters (TV Special)
as
Self
1978
Rich Little's Washington Follies (TV Special)
as
Self
1978
Battle of the Network Stars IV (TV Special)
as
Self - Host
1978
The 4th Annual People's Choice Awards (TV Special)
as
Self - Winner
1978
The 1978 Cerebral Palsy Telethon Benefit (TV Special)
as
Self - Performer
1977
Disco Fever: 'Saturday Night Fever' Premiere Party (TV Movie)
as
Self
1977
The Alan Hamel Show (TV Series)
as
Self - Guest
- Episode dated 15 December 1977 (1977) - Self - Guest
- Episode dated 17 January 1977 (1977) - Self - Guest
1977
Celebrity Challenge of the Sexes 2 (TV Special)
as
Self
1977
Battle of the Network Stars III (TV Special)
as
Self - ABC Team
1977
Match Game PM (TV Series)
as
Self - Panelist
- Episode #3.6 (1977) - Self - Panelist
1977
The Hollywood Squares (Daytime) (TV Series)
as
Self - Panelist
- Episode dated 12 September 1977 (1977) - Self - Panelist
- Episode dated 15 August 1977 (1977) - Self - Panelist
- Episode dated 1 August 1977 (1977) - Self - Panelist
- Episode dated 13 June 1977 (1977) - Self - Panelist
- Episode dated 13 May 1977 (1977) - Self - Panelist
- Episode dated 12 May 1977 (1977) - Self - Panelist
- Episode dated 11 May 1977 (1977) - Self - Panelist
- Episode dated 10 May 1977 (1977) - Self - Panelist
- Episode dated 9 May 1977 (1977) - Self - Panelist
1977
US Against the World (TV Special)
as
Self
1977
Match Game (TV Series)
as
Self - Panelist
- Episode #5.163 (1977) - Self - Panelist
- Episode #5.162 (1977) - Self - Panelist
- Episode #5.161 (1977) - Self - Panelist
- Episode #5.160 (1977) - Self - Panelist
- Episode #5.159 (1977) - Self - Panelist
1977
Celebrity Challenge of the Sexes (TV Special)
as
Self
1971
Mantrap (TV Series)
as
Self - Panelist
- Episode dated 21 June 1971 (1971) - Self - Panelist
1969
Anniversary Game (TV Series)
as
Self - Model
- Pat Harrington/Joyce Jillson (1969) - Self - Model
- Phyllis Kirk (1969) - Self - Model
- Gisele MacKenzie/Rosey Grier (1969) - Self - Model
- Premier (1969) - Self - Model
Archive Footage
2009
Entertainment Tonight (TV Series)
as
Self
- ET's Iconic Leading Men of the '90s - Recap (2021) - Self
- ET's Iconic Leading Men of the '90s (2021) - Self
- ET's Iconic Leading Ladies of the '90 Series (2020) - Self
2023
Access Hollywood (TV Series)
as
Self
- Episode #28.33 (2023) - Self
- Episode #28.32 (2023) - Self
- Episode #28.31 (2023) - Self
2015
Extra (TV Series)
as
Self
- Episode #30.39 (2023) - Self
- Episode #30.38 (2023) - Self
- Episode #22.78 (2015) - Self
2023
Today (TV Series)
as
Self
- Episode dated 17 October 2023 (2023) - Self
- Episode dated 16 October 2023 (2023) - Self
2023
ABC World News Tonight with David Muir (TV Series)
as
Self
- Israel Prepares for Ground War (2023) - Self
- Sitcom Star Suzanne Somers Dies at 76 (2023) - Self
2023
Good Morning America (TV Series)
as
Self
- Episode dated 16 October 2023 (2023) - Self
2023
The Game Show Show (TV Mini Series)
as
Self
- Sex, Love or Money? (2023) - Self
2022
History 101 (TV Series documentary)
as
Self - Thigh Master
- Home Workouts (2022) - Self - Thigh Master
2021
History of the Sitcom (TV Series documentary)
as
Chrissy Snow
- Escaping Reality (2021) - Chrissy Snow
2021
Tatum Report (TV Series)
as
Self
- Suzanne Somers' live broadcast interrupted by home intruder (2021) - Self
2019
Ok! TV (TV Series)
as
Self
- Episode #7.247 (2020) - Self
- Episode #4.93 (2019) - Self
2019
The Jewels of the Salton Sea (Documentary)
as
Self
2014
The Insider (TV Series)
as
Self
- Episode #13.30 (2016) - Self
- Episode dated 1 August 2014 (2014) - Self
2015
The Factor (TV Series)
as
Self - Author, Tox-Sick
- The Factor's Most Compelling (2015) - Self - Author, Tox-Sick
2015
Inside Edition (TV Series documentary)
as
Self
- Episode #26.132 (2015) - Self
2012
Colorshopping Vol. 3 (Video)
as
Self
2008
Hillary! Uncensored: Banned by the Media (Video documentary)
as
Self
2005
Screen Goddesses (TV Series documentary)
as
Self
- Suzanne Somers (2005) - Self
2005
Candid Camera: 5 Decades of Smiles (Video)
as
Self
2005
I Love the '90s: Part Deux (TV Mini Series documentary)
as
Self
2004
Nudes in the News (TV Series)
as
Chrissy
- Show #84 (2004) - Chrissy
2004
The Ultimate Hollywood Blonde (TV Mini Series documentary)
as
Self
2004
101 Biggest Celebrity Oops (TV Special documentary)
as
Self - #66: Terrible Talk Shows
2000
Entertainment Tonight Presents: TV's Greatest Scandals (TV Movie documentary)
as
Self
2000
Biography (TV Series documentary)
as
Chrissy Snow
- Don Knotts: Nervous Laughter (2000) - Chrissy Snow
1999
Laugh? I Thought I'd Die! (Video)
1998
Target Presents CBS Sneak Peek (Video documentary short)
1995
Celebrity First Loves (TV Movie)
as
Self
1991
Humor cinco estrellas (TV Series)
as
Chrissy Snow
- Episode dated 9 October 1991 (1991) - Chrissy Snow
1985
Super Bloopers and Practical Jokes (TV Series)
as
Self
- O.J. Simpson/Lauri Hendler (1985) - Self
1982
Three's Company (TV Series)
as
Chrissy Snow
- The Best of Three's Company: Part 2 (1982) - Chrissy Snow
- The Best of Three's Company: Part 1 (1982) - Chrissy Snow
References
Suzanne Somers Wikipedia
(Text) CC BY-SA