Years active

1978–present




Spouse

Hoffman Gary




Role

Actress





Name

Julie Carmen




Children

2




TV shows

Condo





Born

April 4, 1954 (age 69) (

1954-04-04

)

New York City, New York, U.S.




Nominations

ALMA Award for Favorite Movie Actress - Supporting Role




Movies

Fright Night II, In the Mouth of Madness, Gloria, Dawn Patrol, The Milagro Beanfield



Similar

Traci Lind, William Ragsdale, Brian Thompson
Julie carmen elizabeth grant entrepreneur award
Julie Carmen (born April 4, 1954) is an American actress, dancer and a licensed psychotherapist. She came to prominence onscreen in the 1980s, winning the Venice Film Festival Best Supporting Actress Award for her role in John Cassavetes' film, Gloria (1980), opposite Gena Rowlands. Her acting training was with Sanford Meisner at Neighborhood Playhouse and with Uta Hagen at HB Studios. Carmen was on the Board of Directors of both Women in Film for three years and IFP/West for six years.
Contents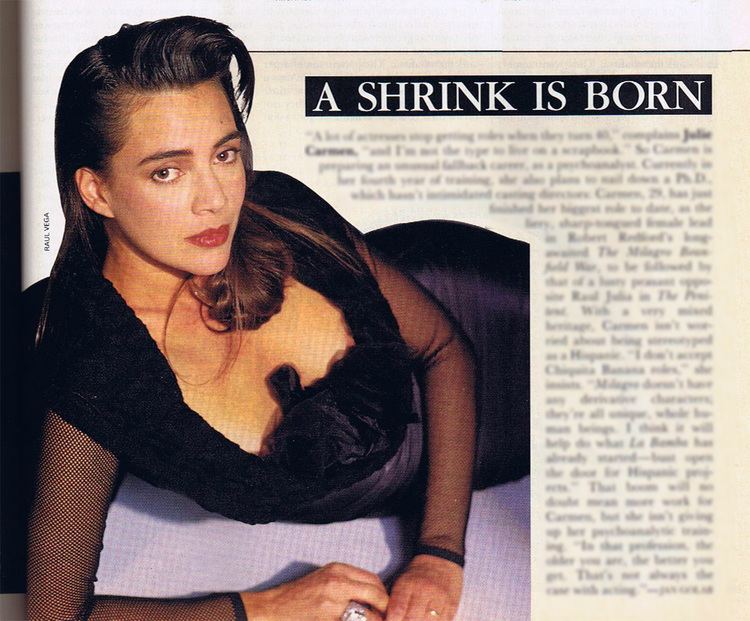 Josh radnor and julie carmen discuss ethical commerce in hollywood
Acting work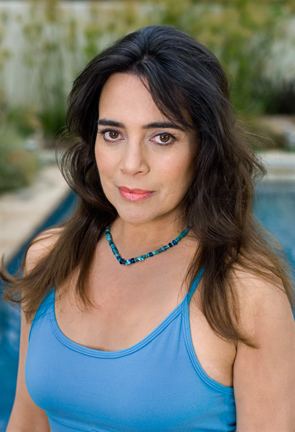 Carmen was born in New York City of Spanish and Cuban ancestry. She has starred in a variety of films including Night of the Juggler (1980), Comeback (1982) opposite Eric Burdon, Last Plane Out (1983), Condo (1983) Blue City (1986), Robert Redford's The Milagro Beanfield War (1988), Fright Night Part 2 (1988) as vampire Regine Dandrige, John Carpenter's In the Mouth of Madness (1995), and King of the Jungle (2000) opposite John Leguizamo. In 2012 she played a supporting role in Last Weekend and later starred in Dawn Patrol (2014).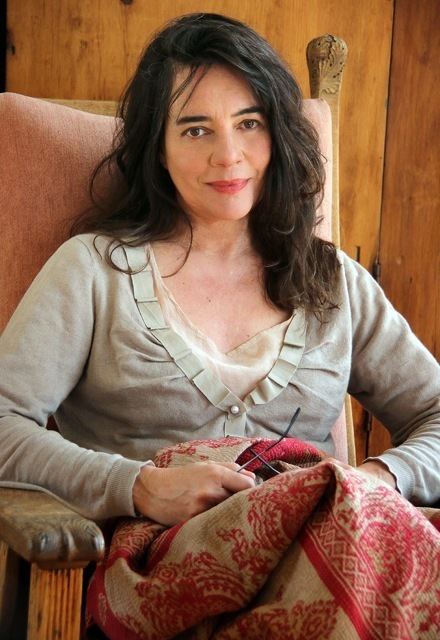 Carmen appeared on television as the female lead in the 1992 NBC mini-series Drugs Wars: The Cocaine Cartel, as well as playing the mother of Angelina Jolie's character in the 1997 Hallmark Entertainment miniseries True Women and the female lead opposite Val Kilmer in Gore Vidal's Billy the Kid directed by Billy Graham. Julie played female lead opposite George C. Scott in two made for television movies, Finding the Way Home and Curacao (also called Deadly Waters). She was a series regular, as Linda Rodriguez Kirkridge, on the short-lived ABC sitcom Condo (1983), and guest starred in three first-season (1990) episodes of the HBO original comedy series Dream On.
She danced on Broadway in Luis Valdez's Zoot Suit, and was resident choreographer at INTAR under the direction of Max Ferra. She studied dance at the Merce Cunningham and Erik Hawkins Studios, and Pilates with at the Joseph Pilates original studio in NYC, which led to her 1979 teaching position at Ron Fletcher's Pilates Studio in Los Angeles. In 2007, she played the lead role Liz Estrada at the Getty Villa's commissioned update of Lysistrata. In 2015, she returned to television, appearing as a series regular in the independent TV pilot Myrna as Stefie, the ex-wife of the title character.
Education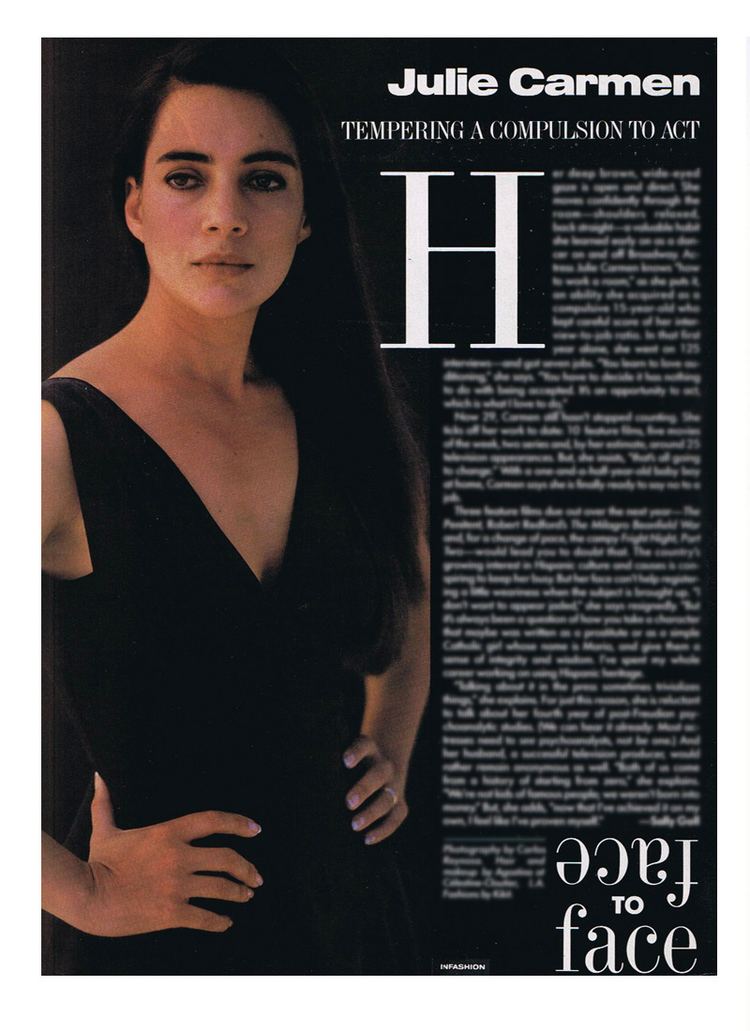 She earned a B.S. from the State University of New York, a master's degree in Clinical Psychology from Antioch College, and is a Licensed Marriage Family Therapist. She is also certified through the International Association of Yoga Therapists and Yoga Alliance at the ERYT-500 level.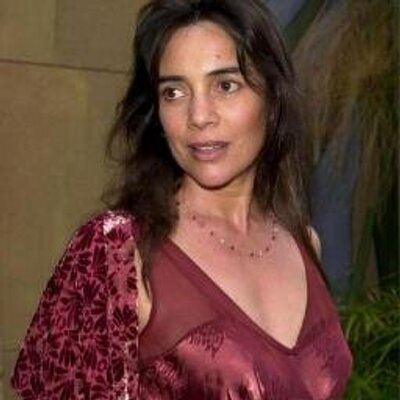 Carmen was trained as a drama therapist by Ramon Gordon of Cell Block Theater. She designed and led the drama therapy and yoga therapy programs at Passages Drug and Alcohol Residential Treatment Center. She was a yoga therapist at Monte Nido Eating Disorder Centers and the Los Angeles School Districts Program for Pregnant Teens.
Psychotherapist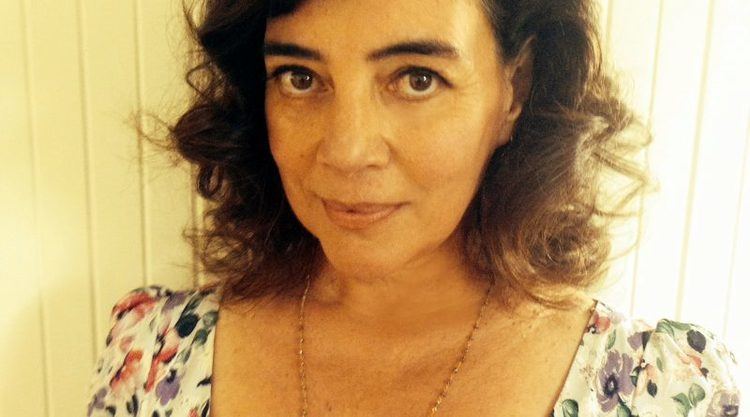 Recently she has worked as a licensed psychotherapist. She was referenced in actress Suzanne Somers' book, Ageless: The Naked Truth About Bioidentical Hormones. in the chapter titled Julie Carmen Yoga.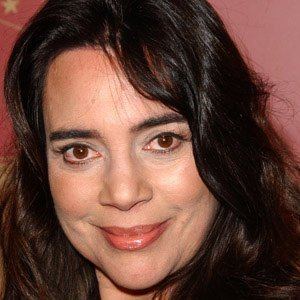 Filmography
Actress
2022
Grey's Anatomy (TV Series)
as
Sarah Martinez
- Everything Has Changed (2022) - Sarah Martinez
2022
Tales of the Walking Dead (TV Series)
as
La Doña Alma
- La Doña (2022) - La Doña Alma
2019
Windows on the World
as
Elena
2018
You Can't Say No
as
Matilda
2017
In My Mother's Arms (Short)
as
Soledad
2016
NCIS (TV Series)
as
Mrs. Medina (Victor's mother)
- Home of the Brave (2016) - Mrs. Medina (Victor's mother)
2015
Myrna (TV Movie)
as
Stefie
2014
Dawn Patrol
as
Laura Rivera
2014
Last Weekend
as
Maria Castillo
2005
Angels with Angles
as
Graciella
2004
Killer Snake (Short)
as
Veronica
2000
King of the Jungle
as
Mona
2000
The Expendables (TV Movie)
as
Jackie
2000
City of Angels (TV Series)
as
Nurse Vanessa Medina
- Weenis Between Us (2000) - Nurse Vanessa Medina
1999
Touched by an Angel (TV Series)
as
Elisa Morante
- The Letter (1999) - Elisa Morante
1999
NYPD Blue (TV Series)
as
Nydia
- I'll Draw You a Mapp (1999) - Nydia
1998
Gargantua (TV Movie)
as
Dr. Alyson Hart
1997
True Women (TV Mini Series)
as
Cherokee Lawshe
1996
Top Gun: Fire at Will (Video Game)
as
Amanda Moore
1995
The Omen (TV Movie)
as
Rita
1995
ER (TV Series)
as
Mrs. Lafferty
- Motherhood (1995) - Mrs. Lafferty
1995
Diagnosis Murder (TV Series)
as
Moriah Thomas
- The Bela Lugosi Blues (1995) - Moriah Thomas
1994
Seduced by Evil (TV Movie)
as
Rayna
1994
In the Mouth of Madness
as
Linda Styles
1993
Curacao (TV Movie)
as
Julia
1992
Drug Wars: The Cocaine Cartel (TV Mini Series)
as
Judge Sonia Perez-Vega
- Part II (1992) - Judge Sonia Perez-Vega
- Part I (1992) - Judge Sonia Perez-Vega
1991
Cold Heaven
as
Anna Corvin
1991
Finding the Way Home (TV Movie)
as
Elena
1991
Kiss Me a Killer
as
Teresa
1990
Dream On (TV Series)
as
Nina Ferrara
- Up the River (1990) - Nina Ferrara
- Trojan War (1990) - Nina Ferrara
- Three Coins in the Dryer (1990) - Nina Ferrara
1989
The Last Plane from Coramaya (Video)
as
Carlotta Guzman
1989
The Neon Empire (TV Movie)
as
Miranda
1989
Manhunt: Search for the Night Stalker (TV Movie)
as
Pearl Carrillo
1989
Paint It Black
as
Gina Bayworth
1989
Billy the Kid (TV Movie)
as
Celsa
1989
Gideon Oliver (TV Series)
as
Carlotta Guzman
- The Last Plane from Coramaya (1989) - Carlotta Guzman
1988
Police Story: Burnout (TV Movie)
as
Kathy
1988
Fright Night Part 2
as
Regine Dandridge
1988
Lovers, Partners & Spies
as
Madonna
1988
Beauty and the Beast (TV Series)
as
Luz Corrales
- Ozymandias (1988) - Luz Corrales
1988
The Milagro Beanfield War
as
Nancy Mondragon
1986
Blue City
as
Debbie Torres
1985
Falcon Crest (TV Series)
as
Sofia Stavros
- Law and Ardor (1986) - Sofia Stavros
- Flesh and Blood (1986) - Sofia Stavros
- Finders and Losers (1986) - Sofia Stavros
- Gambit Exposed (1986) - Sofia Stavros
- Checkmate (1986) - Sofia Stavros
- Conundrum (1986) - Sofia Stavros
- Inconceivable Affairs (1985) - Sofia Stavros
1985
Hotel (TV Series)
as
'Teresa'
- Celebrations (1985) - 'Teresa'
1985
Hollywood Beat (TV Series)
- Baby Blues (1985)
1985
The Twilight Zone (TV Series)
as
Mary Ellen Bradshaw (segment "Wish Bank")
- Little Boy Lost/Wish Bank/Nightcrawlers (1985) - Mary Ellen Bradshaw (segment "Wish Bank")
1985
Fame (TV Series)
as
Diane Petit
- Who Am I, Really? (1985) - Diane Petit
1985
Airwolf (TV Series)
as
Teresa Guzman
- Prisoner of Yesterday (1985) - Teresa Guzman
1984
Highway to Heaven (TV Series)
as
Elena Simms
- Hotel of Dreams (1984) - Elena Simms
1984
Matt Houston (TV Series)
as
Fran
- Caged (1984) - Fran
1984
Who's the Boss? (TV Series)
as
Teresa
- Angela's First Fight (1984) - Teresa
1984
Jessie (TV Series)
as
Donna Baxter
- The Lady Killer (1984) - Donna Baxter
1984
T.J. Hooker (TV Series)
as
Julie Mendez
- Gang War (1984) - Julie Mendez
1984
The Fall Guy (TV Series)
as
Estrelita
- Rabbit's Feet (1984) - Estrelita
1983
Remington Steele (TV Series)
as
Gina Barber
- Steele Knuckles and Glass Jaws (1983) - Gina Barber
1983
Last Plane Out
as
Maria Cardena
1983
Condo (TV Series)
as
Linda Rodriguez
- Members Only (1983) - Linda Rodriguez
- Nouveau Poor (1983) - Linda Rodriguez
- The Affair (1983) - Linda Rodriguez
- Condomania (1983) - Linda Rodriguez
- The Dog (1983) - Linda Rodriguez
- The Franchise (1983) - Linda Rodriguez
- That's Entertainment (1983) - Linda Rodriguez
- The First Fight (1983) - Linda Rodriguez
- The Babysitters (1983) - Linda Rodriguez
- The Baby (1983) - Linda Rodriguez
- The Wedding (1983) - Linda Rodriguez
- The Announcement (1983) - Linda Rodriguez
- The Neighbors (1983) - Linda Rodriguez
1982
The Man on the Wall
as
Viktoria
1982
Cagney & Lacey (TV Series)
as
Carmen
- Beyond the Golden Door (1982) - Carmen
1982
Cassie & Co. (TV Series)
as
Sheila
- The Golden Silence (1982) - Sheila
1981
McClain's Law (TV Series)
as
Natalie De Martino
- Let the Victims Beware (1981) - Natalie De Martino
1981
Fire on the Mountain (TV Movie)
as
Cruza Peralta
1981
She's in the Army Now (TV Movie)
as
Pvt. Yvette Rios
1981
Nero Wolfe (TV Series)
as
Dr. Lydia Proctor
- What Happened to April (1981) - Dr. Lydia Proctor
1981
300 Miles for Stephanie (TV Movie)
as
Rosa Sanchez
1980
Night of the Juggler
as
Maria
1980
Lou Grant (TV Series)
as
Teresa Davis
- Indians (1980) - Teresa Davis
1979
Can You Hear the Laughter? The Story of Freddie Prinze (TV Movie)
as
Rose
1978
Guiding Light (TV Series)
as
Carmen Monvales
- Episode dated 31 October 1978 (1978) - Carmen Monvales
- Episode dated 15 June 1978 (1978) - Carmen Monvales
Director
2020
The Unnecessary Salvation of Mary McDaniel (Short)
Producer
2020
The Unnecessary Salvation of Mary McDaniel (Short) (producer)
Thanks
2006
Wristcutters: A Love Story (special thanks)
Self
2022
In Search of Darkness: Part III (Documentary)
as
Self - Interviewee
2016
A Beautiful Darkness: The Look of Regine (Video documentary short)
as
Self
2016
Roddy McDowall: From Apes to Bats (Video documentary short)
as
Self
2016
What Is Fright Night? (Video documentary short)
as
Self
2016
You're So Cool, Brewster! The Story of Fright Night (Documentary)
as
Self
2016
31st Annual Imagen Awards (TV Special)
as
Self
2015
Noches con Platanito (TV Series)
as
Self - Guest
- Tomás Goros/Sofia Garza/Julie Carmen/Los Nuevos Rebeldes (2015) - Self - Guest
2006
Working with a Master: John Carpenter (Video documentary short)
as
Self
1992
Sci-Fi Buzz (TV Series documentary)
as
Self - Actress
- John Carpenter/Bob Burns/Barbara Hambly - Self - Actress
1987
Breastfeeding Your Baby: A Mother's Guide (Video documentary)
as
Self - Hostess
Archive Footage
2019
Minty Comedic Arts (TV Series)
as
Self
- 10 Things You Didn't Know About In The Mouth of Madness (2019) - Self
1995
Joe Bob's Drive-In Theater (TV Series)
as
Julia
- Blood, Breasts, and Beasts (1995) - Julia
References
Julie Carmen Wikipedia
(Text) CC BY-SA