5.6

/

10

Alchetron

Rate This





Screenplay

Michael De Luca





Initial DVD release

February 8, 2000




Release date

February 3, 1995 (1995-02-03)

Cast

Sam Neill

(John Trent),

Julie Carmen

(Linda Styles),

Jürgen Prochnow

(Sutter Cane),

David Warner

(Dr. Wrenn),

Peter Jason

(Mr. Paul),

Charlton Heston

(Jackson Harglow)




Similar movies

Mad Max: Fury Road

,

Blackhat

,

Salt

,

The Loft

,

Sin City: A Dame to Kill For

,

The Call




Tagline

Lived Any Good Books Lately?
in the mouth of madness trailer
In the Mouth of Madness (also known as John Carpenter's In the Mouth of Madness) is a 1994 American psychological Lovecraftian horror film directed and scored by John Carpenter and written by Michael De Luca. It stars Sam Neill, Julie Carmen, Jürgen Prochnow, David Warner and Charlton Heston. Informally, the film is the third installment in Carpenter's Apocalypse Trilogy, preceded by The Thing and Prince of Darkness.
Contents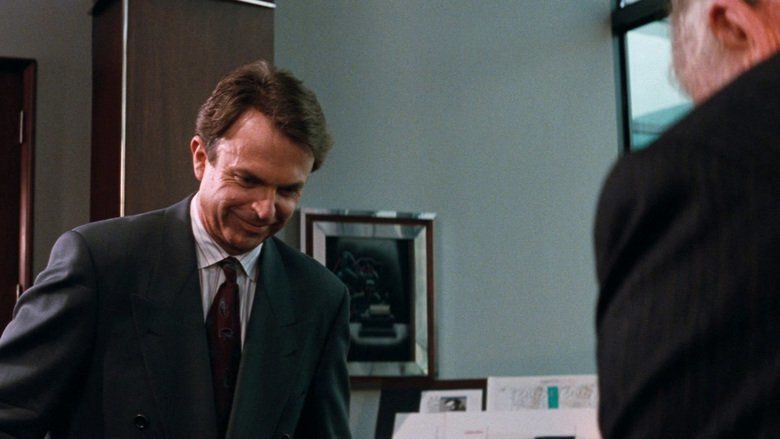 Exploring in the mouth of madness
Plot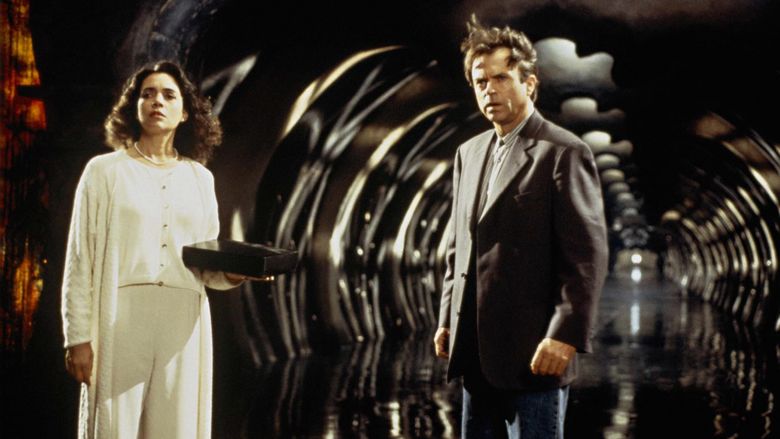 In the midst of an unspecified disaster, Dr. Wrenn (David Warner) visits John Trent (Sam Neill), a patient in a psychiatric hospital, and Trent recounts his story: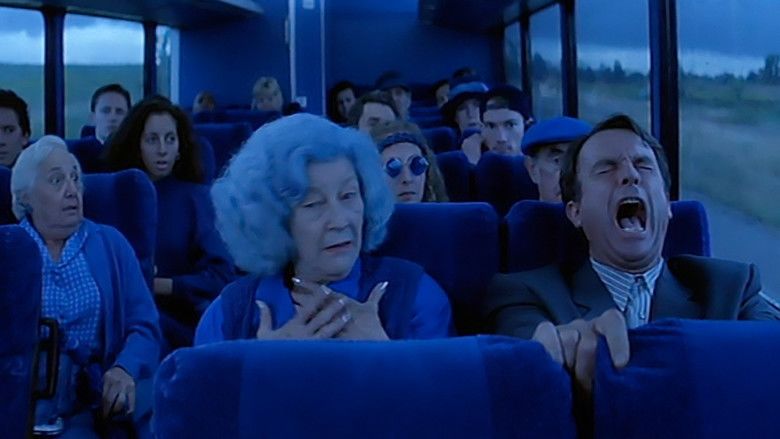 Trent, an insurance investigator, has lunch with a colleague who preps him on his next assignment: investigating a claim by New York-based Arcane Publishing. During their conversation, Trent is attacked by a man wielding an axe who, after asking him if he "reads Sutter Cane", is shot dead by a police officer before he can harm Trent. The man was Cane's agent, who went insane and killed his family after reading one of Cane's books.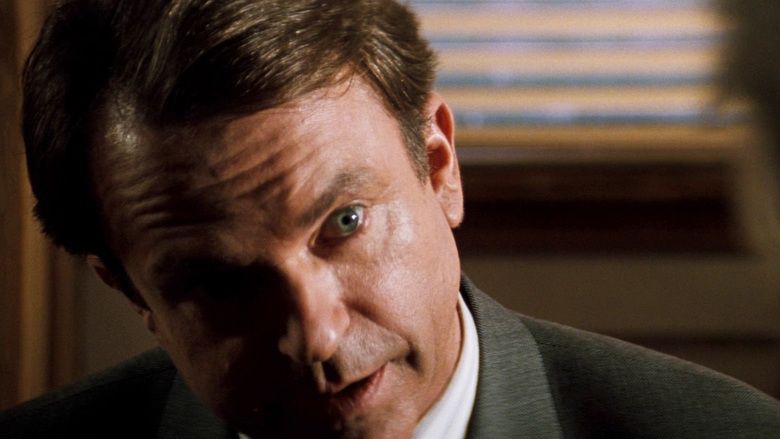 Trent meets with Arcane Publishing director Jackson Harglow (Charlton Heston), who tasks him with investigating the disappearance of popular horror novelist Sutter Cane (Jürgen Prochnow), and recovering the manuscript for Cane's final novel. He assigns Cane's editor, Linda Styles (Julie Carmen), to accompany him. Linda explains that Cane's stories have been known to cause disorientation, memory loss and paranoia in "less stable readers". Trent is skeptical, convinced that the disappearance is a publicity stunt. Trent notices red lines on Cane's book's covers which, when aligned properly, form the outline of New Hampshire and mark a location alluded to be Hobb's End, the fictional setting for many of Cane's works.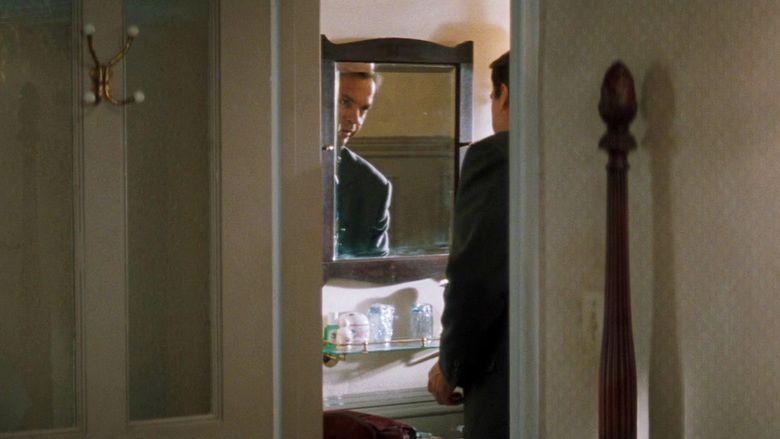 They set out to find the town. Linda experiences bizarre phenomena during the late-night drive, and they inexplicably arrive at Hobb's End in daylight. Trent and Linda search the small town, encountering people and landmarks described as fictional in Cane's novels. Trent believes it all to be staged, but Linda disagrees. She admits to Trent that Arcane Publishing's claim was a stunt to promote Cane's book, but the time distortion and exact replica of Hobb's End were not part of the plan.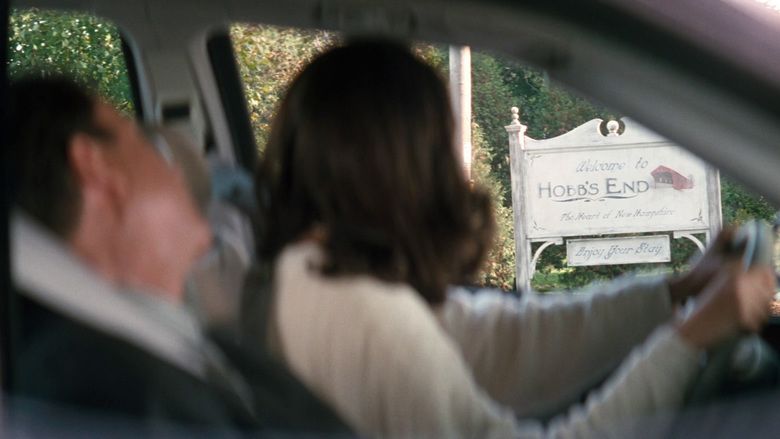 Linda enters a church to confront Cane, who exposes her to his final novel, In The Mouth of Madness, which drives her insane; she begins embracing and kissing Cane passionately. A man (Wilhelm von Homburg) approaches Trent in a bar and warns him to leave, then commits suicide. Outside the bar, a mob of monstrous-looking townspeople descend upon him. Trent drives away from Hobb's End, but is repeatedly teleported back to the center of town. After crashing his car, Trent awakens inside the church with Linda, where Cane explains that the public's belief in his stories freed an ancient race of monstrous beings which will reclaim the Earth. Cane reveals that Trent is merely one of his characters, who must follow Cane's plot and return the manuscript of In The Mouth of Madness to Arcane Publishing, furthering the end of humanity.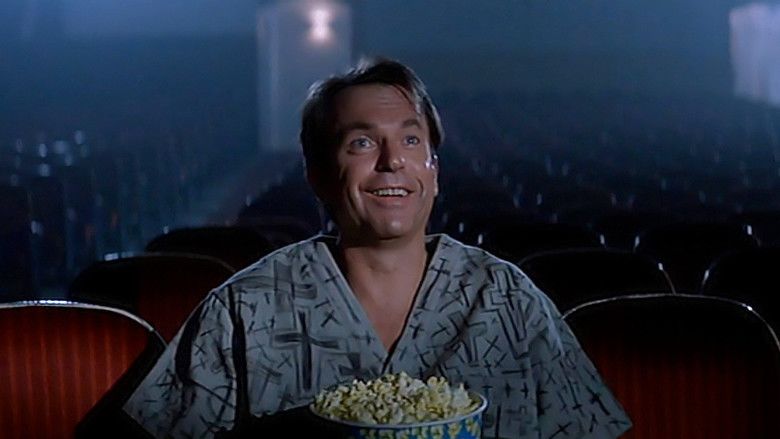 After giving Trent the manuscript, Cane tears his face open, creating a portal to the dimension of Cane's monstrous masters. Trent sees a long tunnel that Cane said would take him back to his world, and urges Linda to come with him. She tells him she can't, because she has already read the entire book. Trent races down the hall, with Cane's monsters close on his heels. He trips and falls, then suddenly finds himself lying on a country road, apparently back in reality. During his return to New York, Trent destroys the manuscript. Back at Arcane Publishing, Trent relates his experience to Harglow. Harglow claims ignorance of Linda; Trent was sent alone to find Cane, and the manuscript was delivered months earlier. In The Mouth of Madness has been on sale for weeks, with a film adaptation in post production. Trent is arrested after he murders a reader of the newly released novel, who has altered eyes and a nosebleed; Trent asks if he is enjoying the book, and when the dazed reader nods, Trent tells him he should not be surprised before swinging the axe.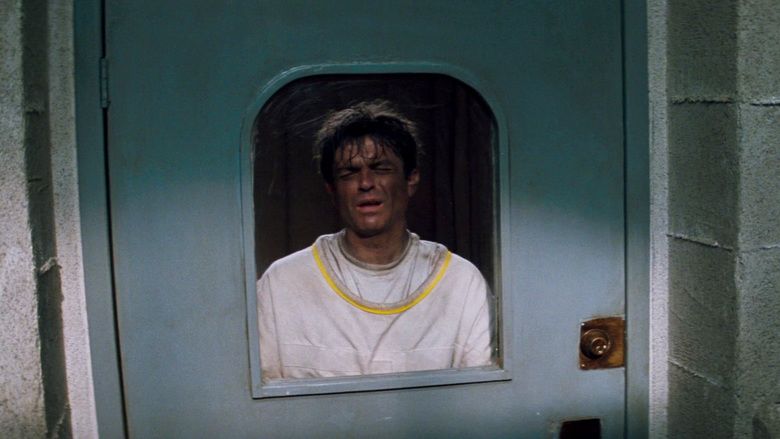 After Trent finishes telling his story, Dr. Wrenn judges it a meaningless hallucination. Trent wakes the following day to find the asylum abandoned. He departs as a radio announces that the world has been overrun with monstrous creatures, and that outbreaks of suicide and mass murder are commonplace. Trent goes to see the In the Mouth of Madness film and discovers that he is the main character. As he watches his previous actions play out on screen, including a scene where he insisted to Linda "This is reality!", Trent begins laughing hysterically before breaking down crying; finally realizing he was a character in the book all along.
Cast
Sam Neill as John Trent
Julie Carmen as Linda Styles
Jürgen Prochnow as Sutter Cane
David Warner as Dr. Wrenn
John Glover as Saperstein
Bernie Casey as Robinson
Kali Rocha as Agency Assistant
Peter Jason as Mr. Paul
Charlton Heston as Jackson Harglow
Frances Bay as Mrs. Pickman
Wilhelm von Homburg as Simon
Hayden Christensen as Paper Boy
Sean Roberge as Desk Clerk
Kieran Sells as Kid
Kevin Zegers as Kid
Katie Zegers as Kid
Production
Michael De Luca wrote the script in the late 1980s and one of the first directors he offered it to was John Carpenter, who initially passed on the project. New Line Cinema later announced production in 1989 with director Tony Randel attached to direct. Later Mary Lambert was also attached to direct. A few years later, Carpenter signed on as director in December 1992 and filming took place from August to October 1993.
The exterior of the Black Church seen in Hobb's End is actually the Cathedral of the Transfiguration. It is a Slovak Byzantine Rite Roman Catholic former cathedral located in Markham, Ontario.
Influences
The film pays tribute to the work of seminal horror writer H. P. Lovecraft, with many references to his stories and themes. Its title is a play on Lovecraft's novella, At the Mountains of Madness, and insanity plays as great a role in the film, as it does in Lovecraft's fiction. The opening scene depicts Trent's confinement to an asylum, with the bulk of the story told in flashback, a common technique of Lovecraft's. Reference is made to Lovecraftian settings and details (such as a character that shares the name of Lovecraft's Pickman family). Sutter Cane's novels have similar titles to H.P. Lovecraft stories : The Whisperer of the Dark (The Whisperer in Darkness), The Thing in the Basement (The Thing on the Doorstep), Haunter out of Time (The Haunter of the Dark/The Shadow Out of Time), etc.
The film can also be seen as a reference to Stephen King, who, like Lovecraft, writes horror fiction set in New England hamlets. King is mentioned towards the beginning of the movie; it is suggested that Cane's work is more frightening than King's and that he outsells King.
Release and reception
In the Mouth of Madness was released in December 1994 in Italy, and on February 3, 1995 in the U.S. In the U.S., it grossed $3,441,807 in its first weekend, and $8,946,600 total during its run. It was a financial disappointment, but it did earn enough to cover the film's budget.
The film received mixed critical reaction, with 18 positive reviews out of 35 tallied by Rotten Tomatoes for a score of 51%. It was ranked the 10th best film of 1995 by Cahiers du cinéma.
Book
In their book Lurker in the Lobby: A Guide to the Cinema of H. P. Lovecraft, Andrew Migliore and John Strysik write: "No film reviewed in this book is so strongly divisive as In the Mouth of Madness. This is a film people either love or hate – there seems to be no in-between. The film's weakness is the generic rock soundtrack composed and performed by director John Carpenter, and the disjointed script that apparently left the actors as confused as the plot. The film's strength is its Lovecraftian themes and the concept that the writer, Sutter Cane, is changing reality through his writings."
DVD release
A Blu-ray Disc of the film by New Line Cinema was released on October 15, 2013.
In 2016 the film was released on DVD by Warner Home Video.
References
In the Mouth of Madness Wikipedia
(Text) CC BY-SA
In the Mouth of Madness IMDb
In the Mouth of Madness Rotten Tomatoes
In the Mouth of Madness Roger Ebert
In the Mouth of Madness themoviedb.org