Nationality

American




Name

Yasmine Bleeth




Occupation

Actress




Role

Actress





Years active

1980–2003




Height

1.65 m




Known for

Baywatch


Spouse

Paul Cerrito (m. 2002)









Full Name

Yasmine Amanda Bleeth




Born

June 14, 1968 (age 55) (

1968-06-14

) New York City, New York, U.S.


Parents

Philip Bleeth, Carina Bleeth




Siblings

Miles Bleeth, Tristan Bleeth




Movies and TV shows

Baywatch, BASEketball, Baywatch: Hawaiian Wedding, Nash Bridges, A Face to Die For


Similar People

Nicole Eggert, Carmen Electra, Erika Eleniak, Alexandra Paul, Pamela Anderson
Yasmine bleeth an american former actress
Yasmine Amanda Bleeth (born June 14, 1968) is an American former actress. Her television roles include Caroline Holden in the long-running series Baywatch, and LeeAnn Demerest on the soap opera One Life to Live.
Contents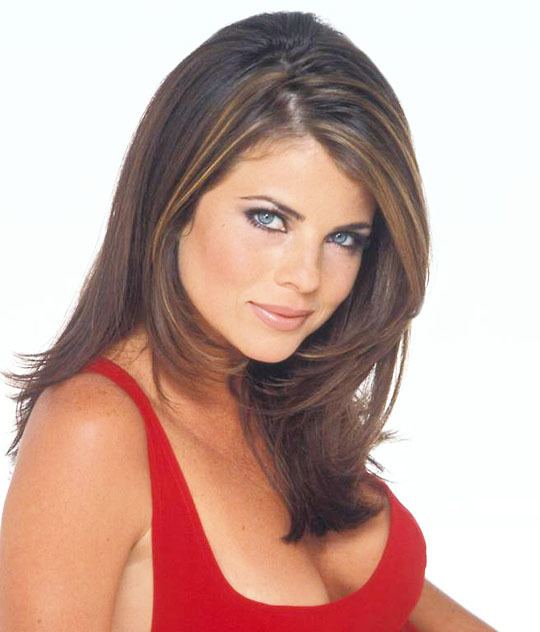 Yasmine bleeth get trapped in the series of baywatch
Early life and career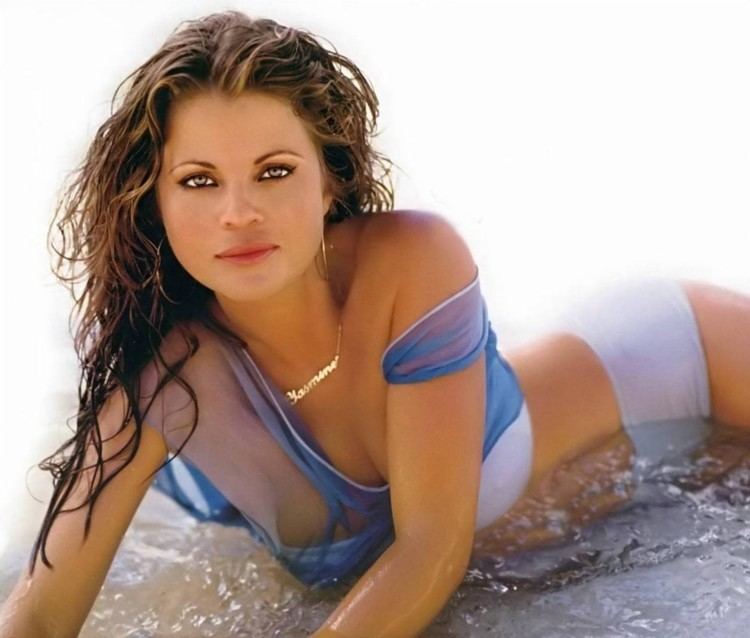 Bleeth was born in New York City, the daughter of Carina, a model, and Philip Bleeth, a business proprietor. Her father Philip is of Russian-Jewish and German-Jewish descent, and her late mother Carina was of Algerian descent. Phil Bleeth was associated with a group of Friends that included Arlo Guthrie and Alice Brock (of "Alice's Restaurant" fame) around the time of Yasmine's birth. Yasmine's earliest known acting role was in a Johnson & Johnson's No More Tears baby shampoo television commercial at age 10 months in 1969. At the age of six, she appeared on Candid Camera. Later that year she appeared in a Max Factor cosmetic advertising campaign with model Cristina Ferrare. Her work in this campaign caught the eye of fashion photographer Francesco Scavullo, who subsequently included her and her mother in his book entitled Scavullo Women.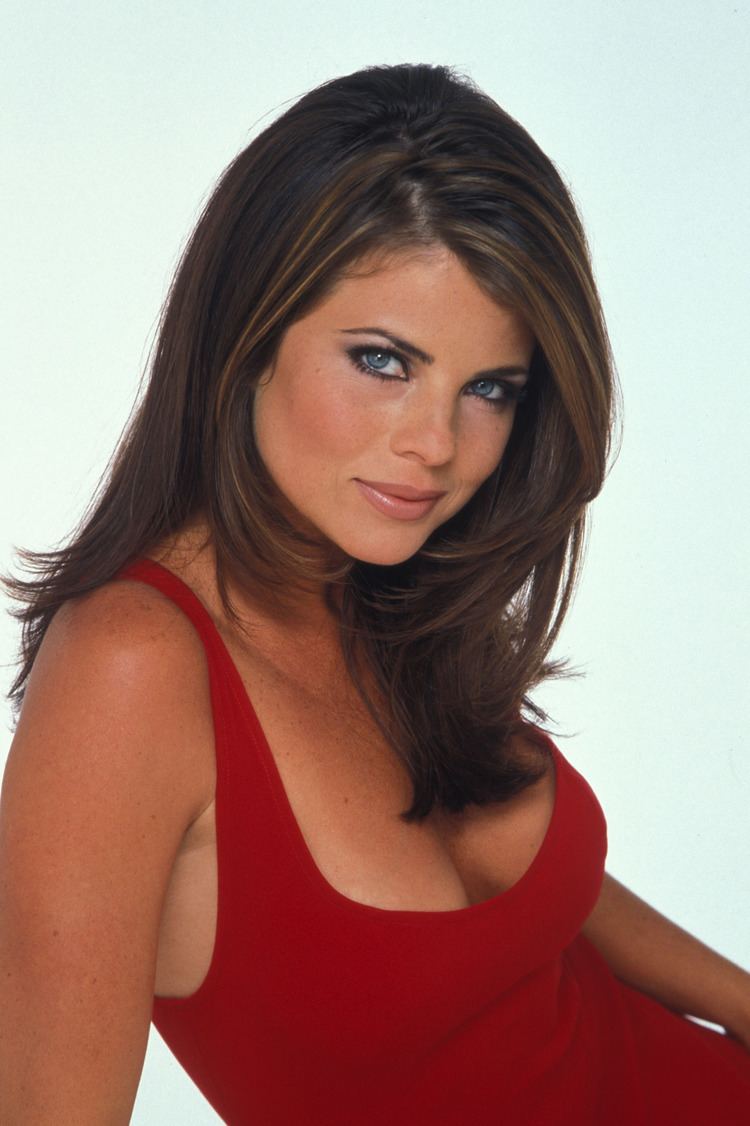 Total Film magazine quoted Bleeth stating: "When I was a girl I used to have to force boys to kiss me. My toughest friend had to hold them down." She has also stated that she was popular with the boys, and that female classmates had beat her up as a result.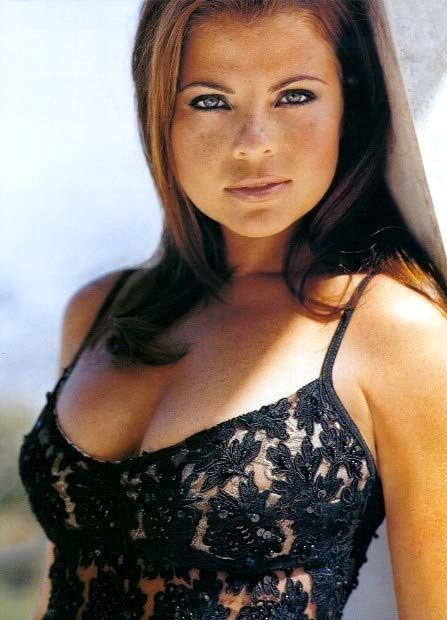 Bleeth starred in her first movie in 1980 at the age of 12. She was cast opposite Buddy Hackett in the feature film Hey Babe! By the time she graduated from high school, she had already been working on the soap opera Ryan's Hope since the age of 16. In 1991, she created the role of LeeAnn Demerest on the soap opera One Life to Live.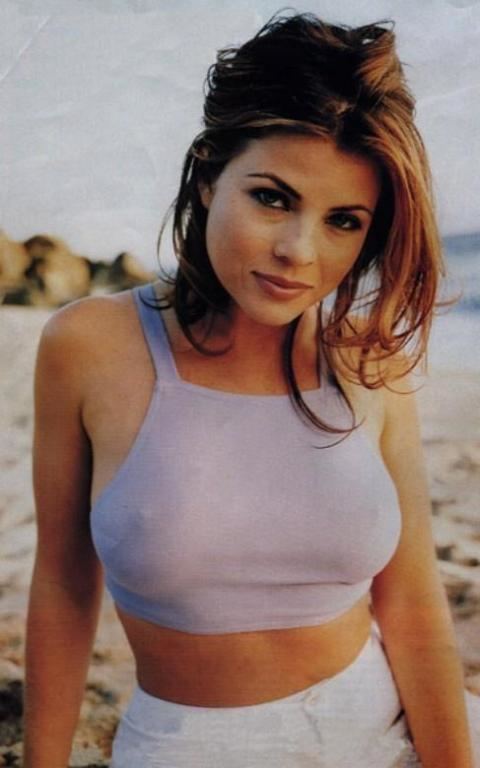 When Bleeth was 20, her mother, Carina Bleeth, died from inflammatory breast cancer at the age of 47. Bleeth said that she never accepted the fact that her mother was dying until she took her last breath.
Career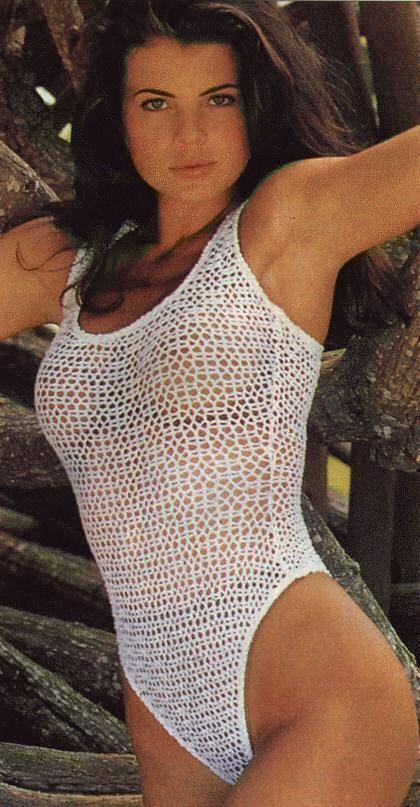 Bleeth's role on Baywatch brought her widespread attention. People named her one of magazine's 50 Most Beautiful People in 1995. She was one of FHM's 100 Sexiest Women in the World every year from 1996–2001, and FHM's U.S. 100 Sexiest Women every year from 2000–03. As a result of her role in Baywatch, Bleeth was offered other roles in television and film. She has been a featured actress in five series and has guest-starred in other shows. During her television career, she continued to work as a model, frequently appearing in swimwear or lingerie. She once had her own line of swimwear called Yaz Wear. She has body measurements of 36-24-35 (Breast-Waist-Hip).
Bleeth accepted a starring role in the short-lived series Titans in 2000. Aaron Spelling was so eager to cast Bleeth in the role of a vixen on Titans that his company convinced CBS to grant her an early release from her Nash Bridges contract. In an interview with Dennis Hensley, she said she delighted in her over-the-top depiction of a crazed beauty queen in the 1997 TV movie Crowned and Dangerous. She said, "I keep my crown from that film on my desk in a little Lucite box. My little brother tried it on once, and I screamed at him, 'Take it off! Take it off!' I get a little nasty about my crown."
Personal life
She met her future husband, strip club owner Paul Cerrito, at the Promises clinic during her first stay there. Bleeth would later comment, "They say you shouldn't get into any relationship in the first year of sobriety — especially with someone in the program, but Paul and I fell in love immediately." They were married in Santa Barbara, California on August 25, 2002, and now live in Los Angeles and Scottsdale, Arizona.
Charity work
Bleeth was the 1998 spokesperson for the Lee National Denim Day fundraising campaign, which raises millions of dollars for breast cancer research and education. In 1998 it occurred on October 9, and was called the 'Wear Jeans to Work' campaign. Through Bleeth's help, $5 million was raised on that one day to help the Susan G. Komen Breast Cancer Foundation. Her primary message to women was to pay attention to their bodies; her mother was initially misdiagnosed by a doctor who thought that she was going through early menopause.
Bleeth donated the proceeds of her $10,000 win on Celebrity Jeopardy! to breast cancer research. Bleeth has been a spokesperson for the Susan G. Komen Breast Cancer Foundation who, along with corporate sponsor Ford, put together the nationally run Race for the Cure.
Cocaine addiction and arrest
In December 2000, Bleeth voluntarily entered the Malibu-based Promises Rehabilitation Clinic to overcome a cocaine dependence. On September 12, 2001, Bleeth was arrested in Romulus, Michigan, after her car pulled off the highway and wound up on a median on Interstate 94 as she and her future husband, Paul Cerrito, were heading to Detroit Metropolitan Airport. No other cars were involved. Police found four syringes with an injectable form of cocaine in them and a small plastic bag with cocaine residue on it. The next day police conducted a search of her hotel room, and they found more cocaine and drug paraphernalia. In November 2001, through a plea bargain, Bleeth pleaded guilty to possessing less than 25 grams of cocaine and to driving while impaired. She was sentenced in January 2002 to two years of probation and 100 hours of community service. Bleeth's lawyer, Jerry Sabbota, stated that the actress was satisfied with the plea bargain, noting that her record will be cleared of any felonies after she fulfills the terms of her probation. "When all is said and done she'll have a traffic ticket on her record. She wasn't treated any better than anyone else, and she wasn't treated any worse," Sabbota said. Her attorney stated that Bleeth was receiving therapy from the founder of the Promises Rehabilitation Clinic. Bleeth completely fulfilled the terms of her probation as of January 2004, and her record was cleared as previously determined by the plea bargain. In an issue of Glamour from April 2003, Bleeth wrote a three-page article entitled "Back From my Drugs Hell" about her rocky path to recovery, her cocaine addiction, and her struggle to remain sober. Bleeth wrote that her cocaine habit was so severe that she collapsed at a photo shoot for Glamour, and she went without sleep for five days at a time. She wrote that "consciously trying to stay off drugs is now part of my life and always will be."
Video Games
Maximum Surge (cancelled) – Jo
Theatre
Welcome to My Life (October 1991). Starring role; a series of three one-act plays written by Charlie Loventhal (Second Stage Theater, New York, New York, USA)
Music videos
Bleeth appeared in The Rembrandts' video This House is Not a Home, a follow-up song to their theme song for Friends.
Awards and nominations
Golden Raspberry Award
1999: Nominated, "Worst Actress" – BASEketball
Soap Opera Digest Awards
1986: Nominated, "Outstanding Youth Actor/Actress on a Daytime or Prime Time Serial" – Ryan's Hope
1993: Nominated, "Hottest Female Star" – One Life to Live
Filmography
Actress
-
Beautiful Evil (announced)
as
Baroness
-
Air Force Z (post-production)
as
Dr. Cindy Burke
-
Kill with Me (completed)
as
Monica
2003
Baywatch: Hawaiian Wedding (TV Movie)
as
Caroline
2002
V.I.P. (TV Series)
as
Kristen Grayson
- Miss Con-Jeannie-Ality (2002) - Kristen Grayson
2000
Titans (TV Series)
as
Heather Lane Williams
- Someone Wicked This Way Comes (2001) - Heather Lane Williams
- She Stoops to Conquer (2001) - Heather Lane Williams
- Payback's a Bitch (2000) - Heather Lane Williams
- Angels with Dirty Minds (2000) - Heather Lane Williams
- Secrets & Thighs (2000) - Heather Lane Williams
- Desperately Seeking Heather (2000) - Heather Lane Williams
- Torn Between Two Mothers (2000) - Heather Lane Williams
- Bad Will Hunting (2000) - Heather Lane Williams
- Frisky Business (2000) - Heather Lane Williams
- Stormy Heather (2000) - Heather Lane Williams
- Guess Who's Chumming for Dinner? (2000) - Heather Lane Williams
- Dysfunction Junction (2000) - Heather Lane Williams
- Pilot (2000) - Heather Lane Williams
- Original Pilot - Heather Lane Williams
2000
Goodbye, Casanova
as
Lavinia
2000
Hidden War (TV Movie)
as
Alexia Forman
1998
Nash Bridges (TV Series)
as
Caitlin Cross
- Jackpot: Part 2 (2000) - Caitlin Cross
- Jackpot: Part 1 (2000) - Caitlin Cross
- Missing Key (2000) - Caitlin Cross
- Hard Cell (2000) - Caitlin Cross
- Heist (2000) - Caitlin Cross
- Line of Sight (2000) - Caitlin Cross
- Cop Out (2000) - Caitlin Cross
- Hit and Run (2000) - Caitlin Cross
- El Diablo (2000) - Caitlin Cross
- Liar's Poker (2000) - Caitlin Cross
- Skin Trade (2000) - Caitlin Cross
- Rip Off (1999) - Caitlin Cross
- Kill Switch (1999) - Caitlin Cross
- Crosstalk (1999) - Caitlin Cross
- Get Bananas (1999) - Caitlin Cross
- Split Decision (1999) - Caitlin Cross
- Curveball (1999) - Caitlin Cross
- High Society (1999) - Caitlin Cross
- Girl Trouble (1999) - Caitlin Cross
- Smash and Grab (1999) - Caitlin Cross
- Trade Off (1999) - Caitlin Cross
- Truth & Consequences (1999) - Caitlin Cross
- Goodbye Kiss (1999) - Caitlin Cross
- Frisco Blues (1999) - Caitlin Cross
- Crash and Burn (1999) - Caitlin Cross
- Vendetta (1999) - Caitlin Cross
- Power Play (1999) - Caitlin Cross
- Angel of Mercy (1999) - Caitlin Cross
- Boomtown (1999) - Caitlin Cross (credit only)
- Hide and Seek (1999) - Caitlin Cross
- Pump Action (1999) - Caitlin Cross
- Resurrection (1999) - Caitlin Cross
- Superstition (1999) - Caitlin Cross
- Gimme Shelter (1999) - Caitlin Cross
- Shoot the Moon (1999) - Caitlin Cross
- Mystery Dance (1998) - Caitlin Cross
- Hardball (1998) - Caitlin Cross
- Firestorm (1998) - Caitlin Cross
- Warplay (1998) - Caitlin Cross
- Swingers (1998) - Caitlin Cross
- Apocalypse Nash (1998) - Caitlin Cross
1999
Road Rage (TV Movie)
as
Ellen Carson
1999
Undercover Angel
as
Holly Anderson
1999
It Came from the Sky (TV Movie)
as
Pepper Upper
1999
Ultimate Deception (TV Movie)
as
Terry Cuff
1998
BASEketball
as
Jenna Reed
1998
Heaven or Vegas
as
Rachel
1998
Veronica's Closet (TV Series)
as
Katrina
- Veronica's a Drag (1998) - Katrina
1998
The Lake (TV Movie)
as
Jackie Ivers
1993
Baywatch (TV Series)
as
Caroline Holden
- Hijacked (1997) - Caroline Holden (uncredited)
- Missing (1997) - Caroline Holden (uncredited)
- Out of the Blue (1997) - Caroline Holden (uncredited)
- Lifeguard Confidential (1997) - Caroline Holden
- Nevermore (1997) - Caroline Holden (credit only)
- Golden Girls (1997) - Caroline Holden (credit only)
- Baywatch at Sea World (1997) - Caroline Holden (credit only)
- Trial by Fire (1997) - Caroline Holden
- Hot Water (1997) - Caroline Holden
- Rendezvous (1997) - Caroline Holden
- Matters of the Heart (1997) - Caroline Holden (credit only)
- Life Guardian (1997) - Caroline Holden
- Talk Show (1997) - Caroline Holden
- Chance of a Lifetime (1997) - Caroline Holden
- Bachelor of the Month (1997) - Caroline Holden
- Heal the Bay (1997) - Caroline Holden
- Search & Rescue (1997) - Caroline Holden
- Buried (1996) - Caroline Holden
- Let the Games Begin (1996) - Caroline Holden (credit only)
- Guess Who's Coming to Dinner (1996) - Caroline Holden (credit only)
- Beachblast (1996) - Caroline Holden
- Scorcher (1996) - Caroline Holden
- Windswept (1996) - Caroline Holden
- Liquid Assets (1996) - Caroline Holden (credit only)
- The Contest (1996) - Caroline Holden
- Shark Fever (1996) - Caroline Holden
- Go for the Gold (1996) - Caroline Holden (credit only)
- Last Wave (1996) - Caroline Holden
- Forbidden Paradise: Part 2 (1996) - Caroline Holden
- Forbidden Paradise: Part 1 (1996) - Caroline Holden
- Lost and Found (1996) - Caroline Holden
- Sail Away (1996) - Caroline Holden
- Freefall (1996) - Caroline Holden (credit only)
- Bash at the Beach (1996) - Caroline Holden
- Baywatch Angels (1996) - Caroline Holden
- Desperate Encounter (1996) - Caroline Holden (credit only)
- Beauty and the Beast (1996) - Caroline Holden
- The Incident (1996) - Caroline Holden
- Sweet Dreams (1995) - Caroline Holden
- Home Is Where the Heat Is (1995) - Caroline Holden (credit only)
- Hit and Run (1995) - Caroline Holden
- Face of Fear (1995) - Caroline Holden
- Leap of Faith (1995) - Caroline Holden
- To Everything There Is a Season (1995) - Caroline Holden
- Surf's Up (1995) - Caroline Holden
- Hot Stuff (1995) - Caroline Holden
- Trapped Beneath the Sea: Part 2 (1995) - Caroline Holden
- Trapped Beneath the Sea: Part 1 (1995) - Caroline Holden
- Wet 'n' Wild (1995) - Caroline Holden (credit only)
- Promised Land (1995) - Caroline Holden
- Deep Trouble (1995) - Caroline Holden (credit only)
- Fire with Fire (1995) - Caroline Holden
- The Runaways (1995) - Caroline Holden
- Father's Day (1995) - Caroline Holden
- A Little Help (1995) - Caroline Holden
- Seize the Day (1995) - Caroline Holden
- Homecoming (1995) - Caroline Holden
- Rubber Ducky (1995) - Caroline Holden
- Silent Night, Baywatch Night: Part 2 (1994) - Caroline Holden
- Silent Night, Baywatch Night: Part 1 (1994) - Caroline Holden (credit only)
- I Spike (1994) - Caroline Holden (credit only)
- Red Wind (1994) - Caroline Holden
- K-Gas the Groove Yard of Solid Gold (1994) - Caroline Holden (credit only)
- Someone to Baywatch Over You (1994) - Caroline Holden (credit only)
- Short Sighted (1994) - Caroline Holden
- Air Buchannon (1994) - Caroline Holden (credit only)
- Baja Run (1994) - Caroline Holden
- Aftershock (1994) - Caroline Holden
- Livin' on the Fault Line: Part 2 (1994) - Caroline Holden
- Livin' on the Fault Line: Part 1 (1994) - Caroline Holden
- Tentacles: Part 2 (1993) - Caroline Holden
1997
Crowned and Dangerous (TV Movie)
as
Danielle Stevens
1997
The Naked Truth (TV Series)
as
Natalie
- The Dating Game (1997) - Natalie
1996
Maximum Surge (Video Game)
as
Jo
1996
Talk to Me (TV Movie)
as
Diane Shepherd
1996
Zig and Zag's Dirty Deeds (TV Series)
as
Yasmine Bleeth
- Still Desperately Seeking Swimming Trunks (1996) - Yasmine Bleeth
1996
A Face to Die For (TV Movie)
as
Emily Gilmore
1996
Baywatch Nights (TV Series)
as
Caroline Holden
- The Curator (1996) - Caroline Holden
1995
Baywatch: Forbidden Paradise (Video)
as
Caroline Holden
1995
Boy Meets World (TV Series)
as
Yasmine Bleeth
- The Thrilla' in Phila' (1995) - Yasmine Bleeth
1994
The Force (Video)
as
Coral Wilson
1993
Herman's Head (TV Series)
as
Linda
- An Actor Prepares (1993) - Linda
1991
One Life to Live (TV Series)
as
LeeAnn Demerest
1985
Ryan's Hope (TV Series)
as
Ryan Fenelli Hyde / Ryan Fenelli
Self
-
Baywatch: The Documentary (Documentary) (completed)
as
Self
2006
Howard Stern on Demand (TV Series)
as
Self - Guest
- John at ESPY Awards (2006) - Self - Guest
2005
The Reichen Show (TV Series)
as
Self
- Episode dated 15 December 2005 (2005) - Self
2003
Revealed with Jules Asner (TV Series)
as
Self - Guest
- Yasmine Bleeth (2003) - Self - Guest
2001
E! True Hollywood Story (TV Series documentary)
as
Self
- Baywatch (2001) - Self
1995
The Tonight Show with Jay Leno (TV Series)
as
Self - Guest
- Episode #8.266 (2000) - Self - Guest
- Episode #7.166 (1999) - Self - Guest
- Episode #7.18 (1999) - Self - Guest
- Episode #6.204 (1998) - Self - Guest
- Episode #6.79 (1998) - Self - Guest
- Episode #6.17 (1998) - Self - Guest
- Episode #5.96 (1997) - Self - Guest
- Episode #3.355 (1995) - Self - Guest
2000
Celebrity Dish (TV Series)
as
Self
1998
Late Show with David Letterman (TV Series)
as
Self
- Episode dated 17 November 1999 (1999) - Self
- Episode dated 25 January 1999 (1999) - Self
- Episode dated 29 July 1998 (1998) - Self
1997
The Daily Show (TV Series)
as
Self - Guest
- Yasmine Bleeth (1999) - Self - Guest
- Yasmine Bleeth (1999) - Self - Guest
- Yasmine Bleeth (1998) - Self - Guest
- Yasmine Bleeth (1997) - Self - Guest
1999
The Late Late Show with Craig Kilborn (TV Series)
as
Self - Guest
- Episode dated 7 July 1999 (1999) - Self - Guest
1999
The Howard Stern Radio Show (TV Series)
as
Self - Guest
- Episode dated 20 February 1999 (1999) - Self - Guest
1994
Howard Stern (TV Series)
as
Self - Guest
- Episode dated 3 February 1999 (1999) - Self - Guest
- Episode dated 16 June 1995 (1995) - Self - Guest
- Episode dated 21 September 1994 (1994) - Self - Guest
1996
The Rosie O'Donnell Show (TV Series)
as
Self - Guest
- Episode dated 26 January 1999 (1999) - Self - Guest
- Episode dated 16 September 1997 (1997) - Self - Guest
- Episode #1.48 (1996) - Self - Guest
1994
Late Night with Conan O'Brien (TV Series)
as
Self - Guest
- Yasmine Bleeth/Kevin Sorbo/Duncan Sheik (1998) - Self - Guest
- Kevin Nealon/Yasmine Bleeth/Jud Hale (1997) - Self - Guest
- Nia Peeples/Yasmine Bleeth/Marc Maron (1997) - Self - Guest
- Yasmine Bleeth/David Arquette/Béla Fleck and the Flecktones (1996) - Self - Guest
- Yasmine Bleeth/Edward Burns/Shania Twain (1996) - Self - Guest
- Yasmine Bleeth/Owen Wilson/Joey Slotnick (1996) - Self - Guest
- Larry King/Yasmine Bleeth/Wilco (1995) - Self - Guest
- Yasmine Bleeth/Larry Miller/Tito Puente (1994) - Self - Guest
- Martin Sheen/Yasmine Bleeth/Dave Edmunds (1994) - Self - Guest
1998
The View (TV Series)
as
Self - Guest
- Episode #2.27 (1998) - Self - Guest
1998
Comedy Central Canned Ham (TV Series)
as
Self
- BASEketball (1998) - Self
1997
ESPY Awards (TV Special)
as
Self - Presenter
1997
Margarita Bowl (TV Special)
as
Self
1996
Saturday Night Special (TV Series)
as
Self - Guest
- Episode #1.5 (1996) - Self - Guest
1995
The World of James Bond (TV Movie documentary)
as
Self
1994
Live & Kicking (TV Series)
as
Self
- Episode #2.4 (1994) - Self
1992
Vicki! (TV Series)
as
Self - Guest
- Episode #1.43 (1992) - Self - Guest
1989
Live with Kelly and Mark (TV Series)
as
Self - Guest
- Episode dated 13 January 1989 (1989) - Self - Guest
Archive Footage
2023
Pamela: A Love Story (Documentary)
as
Self
2019
Milk (Documentary)
as
Self
2005
Candid Camera: 5 Decades of Smiles (Video)
as
Self
2004
Daytime's Greatest Weddings (Video documentary)
as
LeeAnne Buchanan
2003
Maximum Surge (TV Movie)
as
Jo
2002
Playboy: The Ultimate Pamela Anderson (Video documentary)
as
Self
1995
Playboy: The Best of Pamela Anderson (Video documentary)
as
Self
References
Yasmine Bleeth Wikipedia
(Text) CC BY-SA