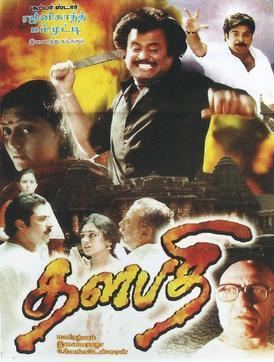 A 14-year old forlorn Kalyani delivers a boy in seclusion fearing societal backlash and incapacity. She abandons, heavy-heartened, placing him inside a moving goods train, which, a slum finds. They procure him as their child-naming Surya. Surya gets raised honest but intolerable against injustice especially to the poor, amidst worry behind the real reason regarding why his biological mother had impetuously abandoned him. A yellow shawl was the only identity he had of his mother which she had placed him in when casting apart.
Devaraj, a powerful, kind yet feared by most in the society, also fights injustice by enforcing violence. Ramana, an auxiliary of Devaraj's whose abusive demeanour made Surya pounce him, succumbs, accidentally. While Surya is apprehended, an exasperated Devaraj soon perceives Ramana's felony, realises Surya was genuine and bails him. This makes Surya and Devaraj get to understand each-other as both share similar ideologies. Devaraj declares Surya his "Thalapathi", a best friend.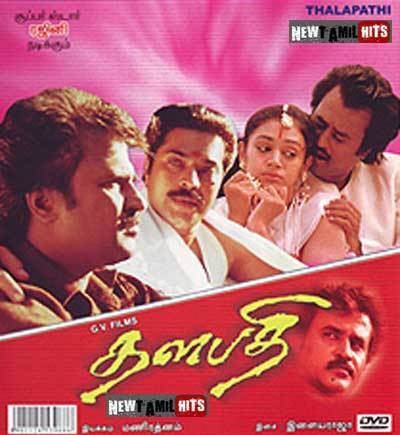 Arjun, the new district collector, wants to end all means of violence by law. Arjun is the second son of Kalyani, now a doctor. After the abandonment of her first offspring, she wed (Jaishankar) who accepted her, despite knowing her past. Never did Kalyani let Arjun know, but constantly is grubbed by thoughts of her long-lost first child (Surya). Surya gets wooed by a Brahmin girl, Subbalakshmi, haven smitten by his transparent nature restraining crimes. Surya's appraisal to Devaraj leads the people in the locality, to pay utmost respect to both as they continue objecting societal in-congruencies other dons like Kalivardhan incite through moles in governance. Devaraj leads Surya to help curb those unlawful discrepancies. Subbalakshmi initially despises Surya's necessitate of violence, persuades him against it, but Surya says instils as she cesses. Devaraj's efforts to get the alliance between Subbalakshmi and Surya fail as Subbalakshmi's father, an Orthodox priest, was uninterested in giving her married to Surya as he considered him an orphan. Her marriage subsequently gets arranged with Arjun.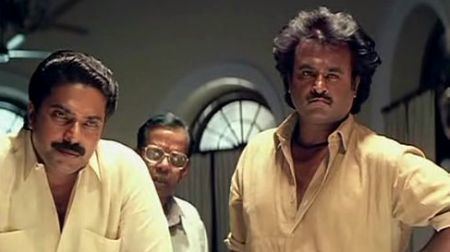 Arjun targets Devaraj and Surya as they bestow violence despite fight against organised illegitimate crime. Arjun's pacts to chain them but all his efforts vain. Meanwhile, Padma, Ramana's wife, widowed by Surya makes him feels guilty for the sufferings he brought her-forth. Devaraj, understanding the pain stakes a widow as a single mother bear, shelters them. Padma, however, confesses Devaraj a quagmire that men surround her with dishonorable intentions concoct frivolous reasons to make untoward advances. Devaraj considering Padma's daughter and Surya's future from lost love, requests them to accept each other. Surya, guilt ridden, marries Padma, wins her child's and eventually her affection.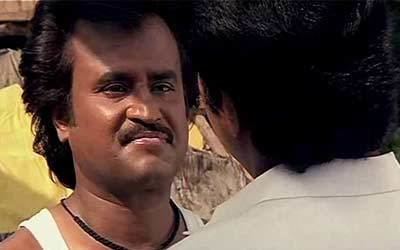 Later, at a medical camp, Kalyani meets Padma and her daughter along with the same shawl in which she wrapped her child she repelled. Jaishankar, too, imbibes that Surya was none but Kalyani's long lost son during a suspect pointing. Jaishankar secretly meets Surya and tells his past. Surya gets promised to not have his mother known of him as it would pain knowing that her son has grown to be a vigil.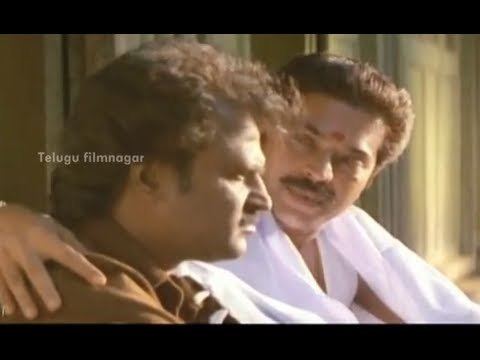 Regretful Kalyani, though eventually finds Surya and meets him. After an emotional poignance, Surya vows that he will not harm Arjun for her. The long standing feud between Devaraj (by virtue of association) and Kalivardhan, who is Deva's main rival, in due course of time, makes Surya force out about his family truths when Devaraj doubts Surya's intentions after knowing his secret meet with his stepfather and mother. Deva gets pleased that Despite knowing Arjun was his own blood, Surya still preferred sticking with him, supporting him during unforeseen situations thereby, valuing his friendship more than family. Devaraj, in glee, decides to surrender. They both go meet Arjun, who has also been made aware of who Surya is by his mother. Suddenly, Kalivardhan's men retaliate where Devaraj gets killed. Angered, Surya avenges Devaraj by killing Kalivardhan and surrenders to the police. End, Arjun is transferred and relocates to another city with Subbalakshmi, while Kalyani prefers staying with Surya.
Rajinikanth was a friend of Mani Ratnam's brother G. Venkateswaran, and they were talking about a film together. Ratnam had met him twice because he had expressed interest in working with him, although Ratnam did not have anything for him then. He needed a film that would have scope for Rajinikanth's stardom but yet remain Ratnam's film. He wanted something right for both himself and Rajinikanth. He wanted something that Rajinikanth could not say no to and something that Ratnam really wanted to do. And then the concept came up, of the story of Karna from the Indian epic Mahabharata, who Ratnam considers "one of the best characters in the Mahabharata". Ratnam wanted to present a realistic Rajinikanth, which he saw in Mullum Malarum minus all his style elements. Rajinikanth recalled that he had tough time while shooting for the film as "[Mani Ratnam] was from a different school of film making and asked me to feel emotions even when taking part in a fight scene". Thalapathi remains the only collaboration between Mani Ratnam and Rajinikanth.
Mammooty's character Deva was the equivalent of Duryodhana, while Rajinikanth played Surya, the equivalent of Karna. Shobana played the equivalent of Draupadi, while Arvind Swamy and Srividya played characters based on Arjuna and Kunti respectively. Jayaram was initially considered for the role of Arjun, but rejected the offer due to scheduling conflicts. It was Mammootty who suggested Jayaram to Ratnam. Kreshna was chosen to play the younger version of Surya, although the character was later scrapped because it affected the film's length. Cinematography was handled by Santosh Sivan, the film being his first with Ratnam. Ratnam chose to shoot the beginning sequence in black and white instead of colour, because according to him, "Black and white gives the sense of this being a prologue without us having to define it as a prologue." He has also refused to state who was the father of the protagonist, citing that the film "consciously avoids the who and the how of the underage girl's first love. It was the child, the son of Surya, who formed the story". Aravind Swamy made his acting debut with this film. Malayalam actor Manoj K. Jayan was cast after Ratnam was impressed with his performance in the Malayalam film Perumthachan, thus making his acting debut in Tamil cinema.
The songs "Rakkamma" and "Sundari" were filmed at Rayagopura, Melukote and Chennakesava Temple, Somanathapura in Karnataka respectively.
The music score for the film was composed by Ilaiyaraaja, in his last collaboration with Mani Ratnam. According to Sivan, Ilaiyaraaja finished composing the entire soundtrack in "half a day".
Lahari Music acquired the audio rights by paying ₹7.2 million. The soundtrack features seven songs. The song "Rakkamma Kaiya Thattu", performed by S. P. Balasubramanyam and Swarnalatha, was amongst the songs listed in a BBC World Top Ten music poll. It was also featured in the 2012 Bollywood film Agent Vinod, and Lahari took "legal action" against the producer of the film Saif Ali Khan, because he used the song without permission. The recording for the song "Sundari" had taken place in Mumbai with R. D. Burman's orchestra. When Raja gave them the notes they were so taken in by composition that all the musicians put their hands together in awe. In July 2011, D. Karthikeyan of The Hindu singled out the film's re-recording and ranked it alongside the music director's other films such as Mullum Malarum, Uthiripookkal (1979), Moodu Pani (1981) Moondram Pirai (1982) and Nayakan (1987).
Original version (Tamil)
All lyrics written by Vaali; all music composed by Ilaiyaraaja.
Track listing (Hindi)
All lyrics written by P. K. Mishra; all music composed by Ilaiyaraaja.
Track listing (Telugu)
All music composed by Ilaiyaraaja.
Track listing (Malayalam)
All lyrics written by Vaali; all music composed by Ilaiyaraaja.
Thalapathi topped the Chennai box office on its opening weekend with ₹13 lakh distributor share.
On 8 November 1991, The Hindu said, "Moving his pieces with the acumen of an international grandmaster, the director sets a hot pace". The same day. The Indian Express said, "One reason why Thalapathi, despite its visual grandeur is not as riveting as it should have been is that it does not have a strong antagonist." Film historian Randor Guy called it a "superbly crafted movie", saying "Even though Rajinikanth is the main protagonist, the movie is entirely the film-maker's." Critic Nandini Ramnath wrote for the website Upperstall, "Thalapathi underlines Ratnam's skill in reinventing genre cinema to extract new pleasures out of old stories. The movie is tightly plotted, and doesn't feel overlong despite its running length (137 minutes), the presence of several songs, a romantic sub-plot as well as a handful of action sequences to keep Rajini fans happy."
39th Filmfare Awards South
1991 – Best Director – Tamil – Mani Ratnam
1991 – Best Music Director – Tamil – Ilaiyaraaja
C. S. Amudhan said Thalapathiwas "really ahead of its time" and called it "intellectual entertaining cinema". Karthik Subbaraj said that he watched the film during his childhood. Several references to the film are made in Subbaraj's 2015 blockbuster gangster film Jigarthanda. Rajinikanth's daughter, director Soundarya recalled, "I remember Thalapathy most vividly as that was the first time I went for a first-day-first-show ever". Atlee who directed Raja Rani (2013) cites Thalapathi was the main inspiration for him to consider cinema as a career. Soundarya has stated that Rajinikanth's hairstyle in her directorial venture Kochadaiiyaan (2014) was inspired by his appearance in Thalapathi. Baradwaj Rangan compared Kadal (2013) to Thalapathi as they both feature a character "who yearns for a lost mother and who is coerced into a life of crime".
In November 2011, Bollywood producer Bharat Shah acquired the rights to remake Thalapathi in Hindi.