Birth name

Gnanathesikan




Years active

1976–present




Also known as

Ilaiyaraaja, Raaja




Role

Film composer






Name

Gnanathesikan Gnanathesikan




Born

2 June 1943 (age 80) Pannaipuram, Theni, Madras Presidency (

1943-06-02

)


Genres

Film score, world music


Occupation(s)

Film score composer, lyricist, music director, songwriter, singer, conductor, instrumentalist and Film producer




Instruments

Vocals, (playback singing), guitar, keyboard, harmonium, piano


Children

Yuvan Shankar Raja, Karthik Raja, Bhavatharini


Albums

How to Name It?, Neethaane En Ponvasantham




Movies

Pudhu Pudhu Arthangal, Bloodstone, Puthu Paatu, Koyil Kaalai





Similar

M S Viswanathan, Pudhu Pudhu Arthangal, S Janaki




Profiles




Facebook

YouTube
Ilaiyaraaja a slice from history
Ilaiyaraaja (born Gnanathesikan) is an Indian film composer who works predominantly in the South Indian cinema since the late 1970s. Regarded as one of the finest music composers in India, Ilaiyaraaja is also an instrumentalist, conductor, singer, and songwriter. He has composed more than 5000 songs and provided film scores for more than 1000 films, particularly being acclaimed for his background scoring.
Contents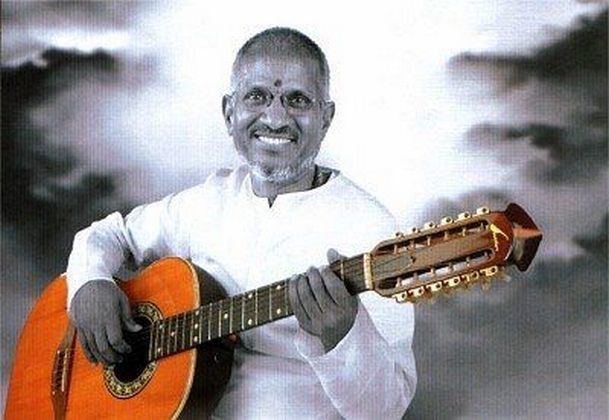 He integrated folk—in Tamil—and introduced western musical sensibilities into the South Indian musical mainstream. Ilaiyaraja is also known for creating music by fusing symphonic orchestration with traditional Indian instrumentation, often performed by Budapest Symphony Orchestra. In 1993 he organised a full symphony performed by the Royal Philharmonic Orchestra in London and thus became the first Indian to compose a full symphony, with Ravi Shankar being the only other Indian to do so. He is also the first Asian to compose a full symphony performed by the Royal Philharmonic Orchestra. He has won four Indian National Film Awards (the highest film honor in India); three for Best Music Direction and one for Best Background Score. In 2010 he has received Padma Bhushan, awarded by the Government of India.
In the 2000s, he composed a variety of non-film music, including religious and devotional songs, an oratorio, and world music. He is usually referred to by the title Isaignani (English: Musical Genius), or as The Maestro. Ilaiyaraja is a gold medalist in classical guitar from Trinity College of Music, London. In 2003, according to an international poll conducted by BBC, people from 155 countries voted his composition Rakkamma Kaiya Thattu from the 1991 film Thalapathi as fourth in the world's top 10 most popular songs of all Time. He was also nominated in the Best Indian album Music Awards category at US based Just Plain Folks Music Organization, which is the largest grassroots music organization in the world, and stood third for his "Music Journey: Live in Italy". In 2012 he received the Sangeet Natak Akademi Award for his creative and experimental works in music field. In 2014 he has been chosen for his outstanding contribution to the Indian film music and was awarded the SIES Sri Chandrasekarendra Saraswati National Eminence award. In 2015, he was also honoured with the Centenary Award for lifetime achievement at the 46th International Film Festival of India (IFFI) at Panaji, Goa. On December 31, 2015, he was nominated by the Kerala Government for Nishagandi Puraskaram, the top award conferred by the Kerala Government's Tourism Ministry, for his artistic excellence and contributions to the Indian film industry.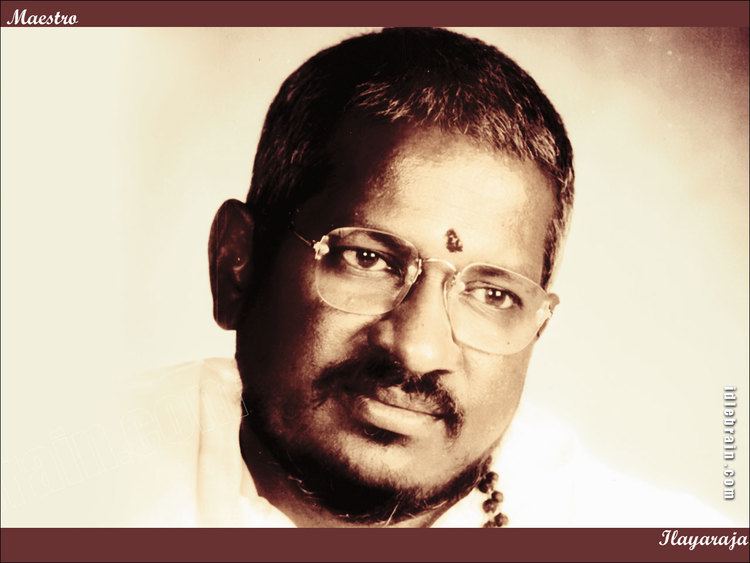 Popular world cinema portal Taste of Cinema placed Ilaiyaraja at the 9th position in its list of 25 greatest film composers in the cinema history. In a poll conducted by CNN-IBN celebrating 100 years of Indian cinema in 2013, Ilaiyaraaja was voted as the greatest music composer of India with a maximum of 49%.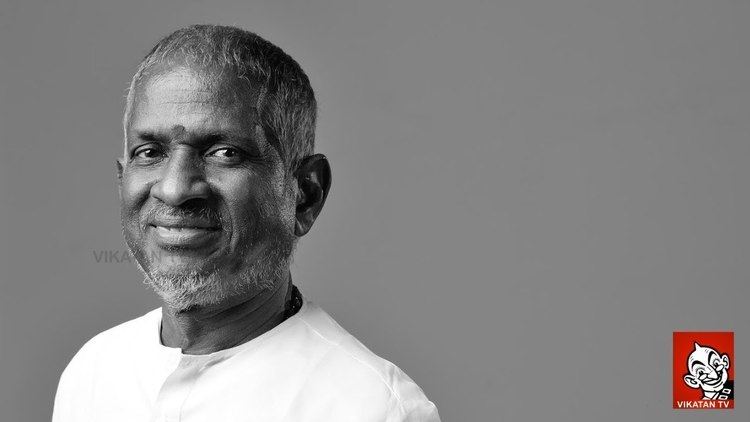 Maestro Ilaiyaraaja composing music for a scene in 'Love & Love Only'
Early life and family
Ilaiyaraaja was born as Gnanathesikan in 1943 in a normal middle-class family in Pannaipuram, Theni district, Tamil Nadu, India. When he joined the school his father changed his name as "Rajaiya" but his village people used to call him as "Raasayya". Ilaiyaraaja joined Dhanraj Master as a student to learn musical instruments and the master renamed and called him as just "Raaja". In his first movie Annakili, Tamil film producer Panchu Arunachalam added "Ilaiya" (Ilaiya means younger in Tamil language) as prefix in his name Raaja and he named as "Ilaiyaraaja" because in the 1970s there was one more music director A. M. Rajah who was a popular one.
Ilaiyaraaja was married to Jeeva and the couple have three children—Karthik Raja, Yuvan Shankar Raja and Bhavatharini—all film composers and singers. His wife Jeeva died on 31 October 2011. Ilaiyaraaja has a brother Gangai Amaran, who is also a music director and lyricist in Tamil film industry.
Early exposure to music
Ilaiyaraaja grew up in a rural area, exposed to a range of Tamil folk music. At the age of 14, he joined a travelling musical troupe headed by his elder brother, Pavalar Varadarajan, and spent the next decade performing throughout South India. While working with the troupe, he penned his first composition, a musical adaptation of an elegy written by the Tamil poet laureate Kannadasan for Jawaharlal Nehru, India's first prime minister. In 1968, Ilaiyaraaja began a music course with Professor Dhanraj in Madras (now Chennai), which included an overview of Western classical music, compositional training in techniques such as counterpoint, and study in instrumental performance. Ilaiyaraaja specialized in classical guitar and had taken a course in it at the Trinity College of Music, London.
Session musician and film orchestrator
In the 1970s in Chennai, Ilaiyaraaja played guitar in a band-for-hire, and worked as a session guitarist, keyboardist, and organist for film music composers and directors such as Salil Chowdhury from West Bengal. After being hired as the musical assistant to Kannada film composer G. K. Venkatesh, he worked on 200 film projects, mostly in Kannada cinema. As G. K. Venkatesh's assistant, Ilaiyaraaja would orchestrate the melodic outlines developed by Venkatesh. During this period, Ilaiyaraaja also began writing his own scores. To hear his compositions, he would persuade Venkatesh's session musicians to play excerpts from his scores during their break times.
Film composer
In 1975, film producer Panchu Arunachalam commissioned him to compose the songs and film score for a Tamil-language film called Annakkili ('The Parrot'). For the soundtrack, Ilaiyaraaja applied the techniques of modern popular film music orchestration to Tamil folk poetry and folk song melodies, which created a fusion of Western and Tamil idioms. Ilaiyaraaja's use of Tamil music in his film scores injected new influence into the Indian film score milieu. By the mid-1980s Ilaiyaraaja was gaining increasing stature as a film composer and music director in the South Indian film industry. He has worked with Indian poets and lyricists such as Kannadasan, Vaali, Vairamuthu, O. N. V. Kurup, Sreekumaran Thampi, Veturi Sundararama Murthy, Aacharya Aatreya, Sirivennela Sitaramasastri, Chi. Udaya Shankar and Gulzar and is well known for his association with film makers such as Bharathiraja, S. P. Muthuraman, J. Mahendran, Balu Mahendra, K. Balachander, Mani Ratnam, Sathyan Anthikkad, Priyadarshan, Fazil, Vamsy, K. Vishwanath, Singeetam Srinivasa Rao and R. Balki.
Impact and musical style
Ilaiyaraaja was one of the earliest Indian film composers to use Western classical music harmonies and string arrangements in Indian film music. This allowed him to craft a rich tapestry of sounds for films, and his themes and background score gained notice and appreciation among Indian film audiences. The range of expressive possibilities in Indian film music was broadened by Ilaiyaraaja's methodical approach to arranging, recording technique, and his drawing of ideas from a diversity of musical styles.
According to musicologist P. Greene, Ilaiyaraaja's "deep understanding of so many different styles of music allowed him to create syncretic pieces of music combining very different musical idioms in unified, coherent musical statements". Ilaiyaraaja has composed Indian film songs that amalgamated elements of genres such as Afro-tribal, bossa nova, dance music (e.g., disco), doo-wop, flamenco, acoustic guitar-propelled Western folk, funk, Indian classical, Indian folk/traditional, jazz, march, pathos, pop, psychedelia and rock and roll.
By virtue of this variety and his interfusion of Western, Indian folk and Carnatic elements, Ilaiyaraaja's compositions appeal to the Indian rural dweller for its rhythmic folk qualities, the Indian classical music enthusiast for the employment of Carnatic Ragas, and the urbanite for its modern, Western-music sound. Ilaiyaraaja's sense of visualization for composing music is always to match up with the storyline of the running movie and possibly by doing so, he creates the best experience for the audience to feel the emotions flavored through his musical score. He mastered this art of blending music to the narration, which very few others managed to adapt themselves over a longer time.
Although Ilaiyaraaja uses a range of complex compositional techniques, he often sketches out the basic melodic ideas for films in a very spontaneous fashion.
Musical characteristics
Ilaiyaraaja's music is characterised by the use of an orchestration technique that is a synthesis of Western and Indian instruments and musical modes. He uses electronic music technology that integrates synthesizers, electric guitars and keyboards, drum machines, rhythm boxes and MIDI with large orchestras that feature traditional instruments such as the veena, venu, nadaswaram, dholak, mridangam and tabla as well as Western lead instruments such as saxophones and flutes.
The basslines in his songs tend to be melodically dynamic, rising and falling in a dramatic fashion. Polyrhythms are also apparent, particularly in songs with Indian folk or Carnatic influences. The melodic structure of his songs demand considerable vocal virtuosity, and have found expressive platform amongst some of India's respected vocalists and playback singers, such as Rajkumar, T. M. Soundararajan, K. J. Yesudas, S. P. Balasubrahmanyam, S. Janaki, P. Susheela, Asha Bhosle, Lata Mangeshkar, Jayachandran, S. P. Sailaja, Jency, Swarnalatha, K. S. Chithra, Minmini, Sujatha, Malaysia Vasudevan, Kavita Krishnamurthy, Hariharan, Udit Narayan, Sadhana Sargam and Shreya Ghoshal. Ilaiyaraaja has sung over 400 of his own compositions for films, and is recognisable by his stark, deep voice. He has penned the lyrics for some of his songs in Tamil.
Non-cinematic output
Ilaiyaraaja's first two non-film albums were explorations in the fusion of Indian and Western classical music. The first, How to Name It? (1986), is dedicated to the Carnatic master Tyagaraja and to J. S. Bach. It features a fusion of the Carnatic form and ragas with Bach partitas, fugues and Baroque musical textures. The second, Nothing But Wind (1988), was performed by flutist Hariprasad Chaurasia and a 50-piece orchestra and takes the conceptual approach suggested in the title — that music is a natural phenomenon akin to various forms of air currents (e.g., the wind, breeze, tempest etc.).
He has composed a set of Carnatic kritis that was recorded by electric mandolinist U. Srinivas for the album Ilayaraaja's Classicals on the Mandolin (1994). Ilaiyaraaja has also composed albums of religious/devotional songs. His Guru Ramana Geetam (2004) is a cycle of prayer songs inspired by the Hindu mystic Ramana Maharshi, and his Thiruvasakam: A crossover (2005) is an oratorio of ancient Tamil poems transcribed partially in English by American lyricist Stephen Schwartz and performed by the Budapest Symphony Orchestra. Ilaiyaraaja's most recent release is a world music-oriented album called The Music Messiah (2006).
Notable works
Ilaiyaraaja's composition "Rakkama Kaiya Thattu", sung by SPB, Swarnalatha in the movie Thalapathi (1991), was among the songs listed in a BBC World Top Ten music poll. The soundtrack of My Dear Kuttichathan, the first stereoscopic 3D film made in India is composed by him. He composed the music for Nayagan (1987), an Indian film ranked by TIME Magazine as one of the all-time 100 best movies, a number of India's official entries to the Oscars, such as Swathi Muthyam (1986),Nayagan (1987),Thevar Magan (1992), Anjali (1991),Guru (1997) and Hey Ram (2000), and for Indian art films such as Adoor Gopalakrishnan's FIPRESCI Prize-winning Nizhalkuthu ('The Shadow Kill') (2002). Ilaiyaraaja has composed music for events such as the 1996 Miss World beauty pageant that was held in Bangalore, India, and for a documentary called India 24 Hours (1996).
The Black Eyed Peas sampled the Ilaiyaraaja composition "Unakkum Ennakum" from Sri Raghavendra (1985), for the song "The Elephunk Theme" on Elephunk (2003). The alternative artist M.I.A. sampled "Kaatukuyilu" from the film Thalapathi (1991) for her song "Bamboo Banga" on the album Kala (2007). As well, Gonjasufi sampled "Yeh Hawa Yeh Fiza" from the movie Sadma.
Live performances
Ilaiyaraaja rarely performs his music live. His last major live performance, the first in 25 years, was a four-hour concert held at the Jawaharlal Nehru Indoor Stadium in Chennai, India on 16 October 2005. He performed in 2004 in Italy at the Teatro Comunale di Modena, an event-concert presented for the 14th edition of Angelica, Festival Internazionale Di Musica, co-produced with the L'Altro Suono Festival.
A television retrospective titled Ithu Ilaiyaraja ('This is Ilaiyaraja') was produced, chronicling his career. He last performed live at the audio release function of Dhoni film and before that he performed a programme that was conducted and telecasted by Jaya TV titled Enrendrum Raja ('Everlasting Raja') on 28 December 2011 at Jahawarlal Nehru Indoor Stadium, Chennai. On 23 September 2012, he performed live in Bangalore at National High School Grounds. On February 16, 2013, Ilayaraja made his first appearance in North America performing at the Rogers Centre in Toronto, Canada. The Toronto concert was promoted by Trinity Events for Vijay TV in India and produced by Sandy Audio Visual SAV Productions with PA+. Following his show at Toronto Ilaiyaraaja also performed at the Prudential Center Newark, New Jersey on February 23, 2013 and at the HP Pavilion at San Jose on March 1, 2013. After his Northern America tour he made a live performance at The O2 Arena in London on August 24, 2013, along with Kamal Haasan and his sons Yuvan Shankar Raja and Karthik Raja.
Songs
Indha Maan
Hey Konji Pesu
Antha Nilava Than
Ambum Kombum Komban Kattum
Thenpaandi Cheemayile
Sorgame Endralum
Saathu Nada
Saayndhu Saayndhu
Ammana Summa Illada
Kalyaana Maalai 1
Yennodu Vaa Vaa
Nila Adhu Vaanathumele
Aalolam paadi
Aa Dinagalu
Eduthu Naan Vidava
Maraththa Vechchavan
Mudhal Murai
Gundello Godari
Marikkoodinullil
Machaan Machaan
Ariyadha Vayasu
Oru Santhana Kaattu
Vaanaviley
Arithaaratha Poosikolla Aasai
Poovayi Virinju
Siru Ponmani
Thendral Vanthu Theendumbothu
Valli Valli Enna
Thaamarakkili Paadunnu
Surmayee Ankhiyon Mein
Alalu Kalalu
Kaatu Vazhi

References
Ilaiyaraaja Wikipedia
(Text) CC BY-SA