5.6

/

10

Alchetron

5.6

Rate This




Director

Karan Johar


Release date

October 19, 2012 (India)




Country

India






Genre

Comedy, Romance




Duration




Language

Hindi Urdu





Release date

19 October 2012 (2012-10-19)




Writer

Renzil DSilva (screenplay), Karan Johar


Music director

Shekhar Ravjiani, Vishal Dadlani, Vishal-Shekhar, Nazia Hassan


Songs

Ratta Maar




Cast

Sidharth Malhotra (Abhi), Varun Dhawan (Rohan Nanda), Alia Bhatt (Shanaya Singhania), Rishi Kapoor (Dean Yogendra Vasisht),

Sanjay Dutt

,

Shahrukh Khan




Tagline

Student Of The Year, read, Movie, Preview




Similar

Jolly LLB 2, Dhoom 3, Bajrangi Bhaijaan
Student of the year official trailer sidharth malhotra alia bhatt varun dhawan
Student of the Year is a 2012 Indian romantic comedy-drama film directed by Karan Johar and produced by Hiroo Yash Johar under the banner of Dharma Productions and in collaboration with Shah Rukh Khan's Red Chillies Entertainment. The movie features newcomers Sidharth Malhotra, Varun Dhawan and Alia Bhatt in the lead roles with Rishi Kapoor, Sana Saeed, Ronit Roy, Sahil Anand, Ram Kapoor and Farida Jalal in supporting roles. The movie also features Boman Irani, Kajol, Farah Khan and Vaibhavi Merchant in guest appearances. This is Karan Johar's first-and-only directorial venture without Shah Rukh Khan.
Contents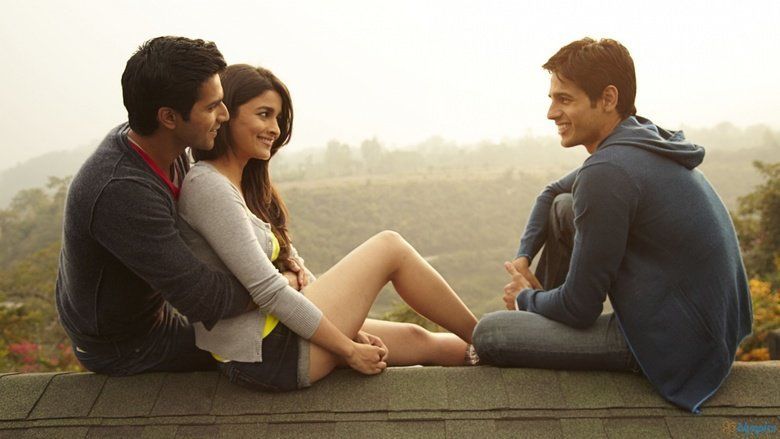 Student of the Year was released on 19 October 2012 in over 1400 locations across India. The movie is one of the highest grossing Bollywood films of 2012.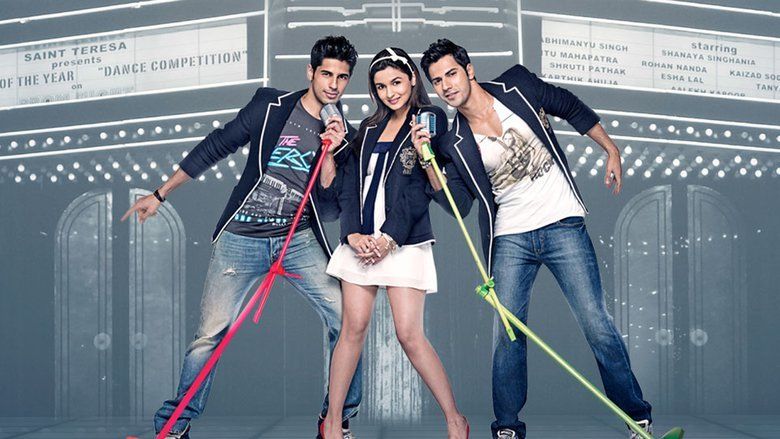 The wedding student of the year sidharth malhotra alia bhatt varun dhawan
Plot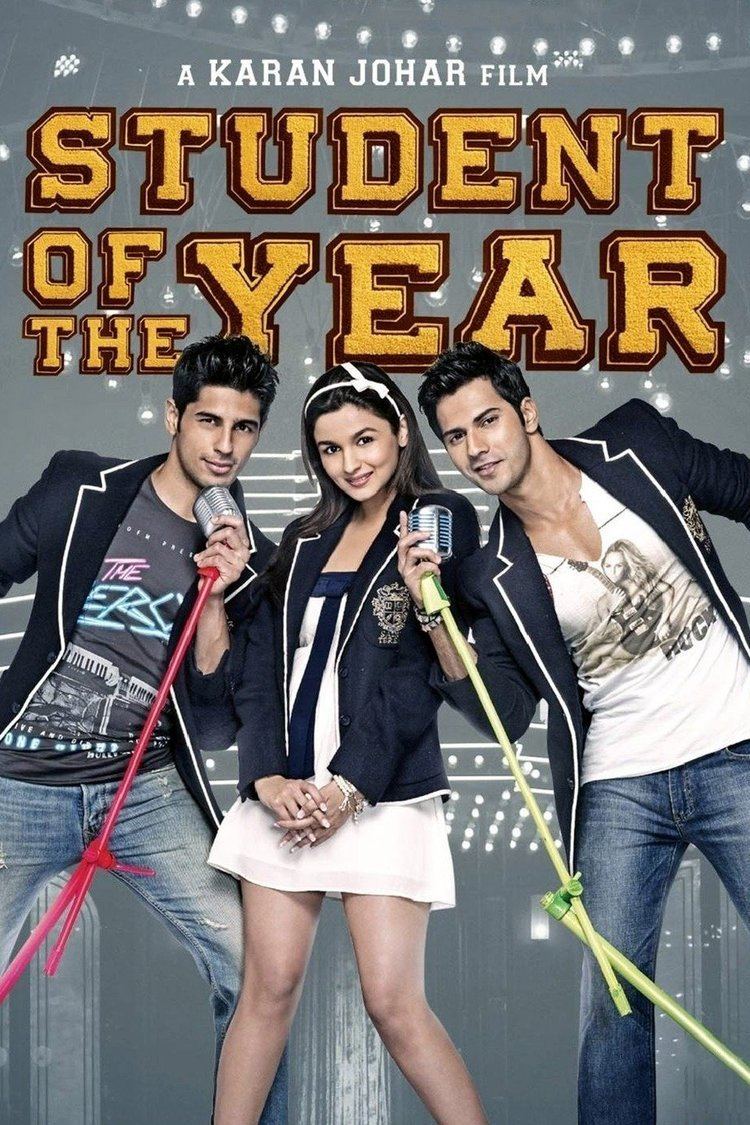 Former principal Dean Yogendra Vashisht (Rishi Kapoor) has aged and fallen ill. He desires to see the students from his last batch, who were part of the "Student of the Year" competition. Some former students arrive to the hospital to meet the Dean and talk about their regrets from ten years ago in college. They hold themselves responsible for the lively Dean having falling ill. The film then goes into a flashback set ten years back at the college.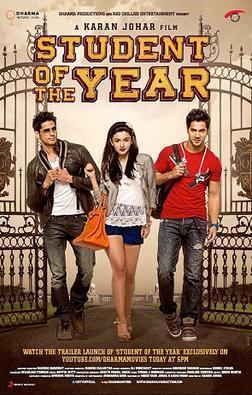 The richest and most popular guy in the college, Rohan Nanda (Varun Dhawan), is the son of a huge business tycoon Ashok Nanda (Ram Kapoor). His father wants him to be a businessman like him and disagrees with his passion for music. Shanaya Singhania (Alia Bhatt), a fashion addict and the most popular girl in the campus is Rohan's girlfriend. She is unsatisfied with her family, as her mother constantly divorces and marries rich men. Shanaya gets upset with Rohan's regular flirting with Tanya (Sana Saeed), another student. Abhimanyu Singh (Sidharth Malhotra) arrives at the college and becomes the classy new heartthrob. Abhi becomes the most popular guy in the college. He plays the role of the perfect student and a perfect man. He is an orphan from a middle-class family, and lives with his aunt, uncle and grandmother. His dream is to become a big business tycoon like Rohan's father. Rohan and Abhimanyu argue at first but soon become best friends. Rohan introduces Shanaya to Abhimanyu, warning Abhimanyu not to get involved with her romantically.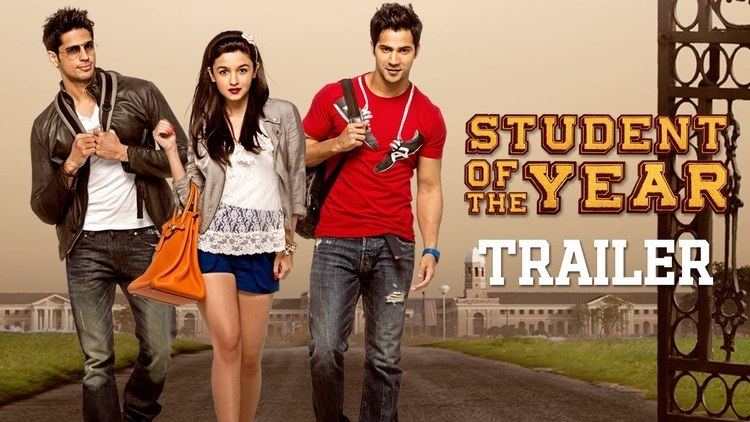 Abhimanyu is invited to Rohan's elder brother's destination wedding in Thailand, which Shanaya and other rich family friends are attending as well. In Thailand, Shanaya sees Tanya and Rohan flirting again and gets even more upset when Rohan is rude to her and sides with Tanya. Abhimanyu tells her that they can teach Rohan to respect his girlfriend. At a party, Shanaya openly flirts with Abhimanyu, attempting to make Rohan jealous. The plan works but Rohan discovers she did this to get him back on track.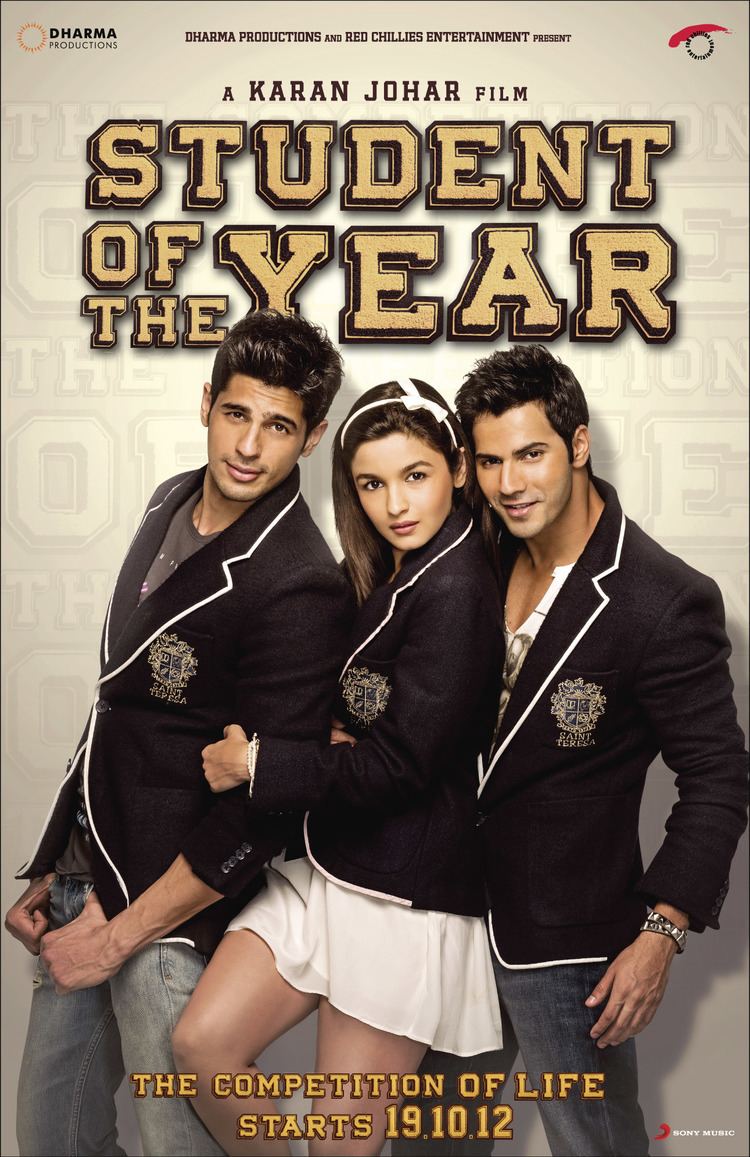 On the wedding day, Rohan apologises to her and is easily forgiven while Abhimanyu realises that he is in love with Shanaya. They head back to India, where the "Student Of The Year" competition, which determines the best student with good logical thinking and is a good sportsperson, commences. The first round is the treasure hunt. Abhimanyu and Shanaya's team wins in the though Rohan's team also qualifies. Abhimanyu's grandmother falls sick and eventually dies. Shanaya stands by him during this difficult time. Upset, Abhimanyu sends Shanaya away, but now she is also attracted to him, stays back and they happen to kiss. Rohan sees this and is heartbroken, becoming enemies and fighting with Abhimanyu.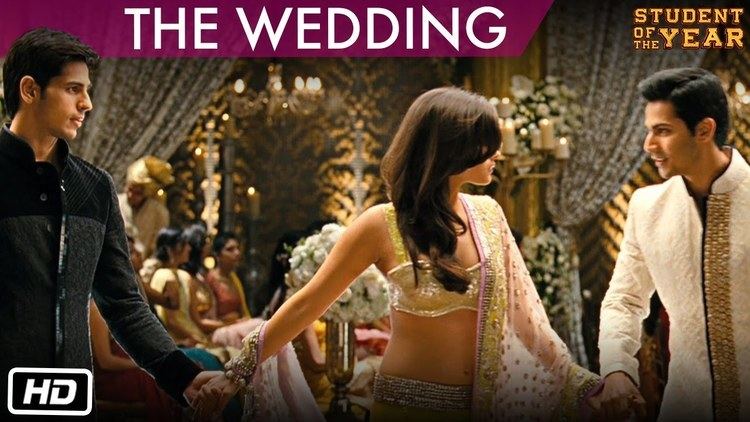 In the second round, the Prom, a confused Shanaya picks Rohan's friend Jeet as her partner as she can't choose between Abhimanyu and Rohan. Rohan goes with Tanya and Abhimanyu with Shanaya's ex best friend Shruti (they had had a big fight). Shanaya is disqualified for leaving the dance before it ends. The last round of the competition is a triathlon. Abhimanyu is winning but sees how Rohan's father doesn't want Rohan to win. He intentionally slows down and lets Rohan win.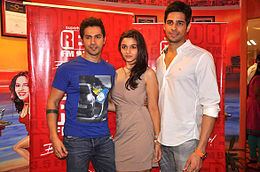 In the present, Rohan is a pop star but single. Abhimanyu and Shanaya are now married and Abhimanyu in the present day is now a successful business tycoon. They all see each other after coming to meet their principal, Abhimanyu and Rohan have a fight and let out everything they were holding back for ten years. They then unite after Rohan discovers the truth about the triathlon. They realise how important friendship is.
Cast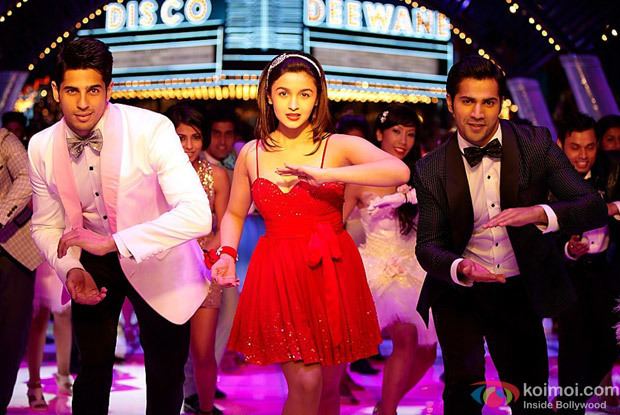 Sidharth Malhotra as Abhimanyu Singh
Varun Dhawan as Rohan Nanda
Alia Bhatt as Shanaya Abhimanyu Singh (née Singhania)
Sana Saeed as Tanya Israni
Rishi Kapoor as Dean Yogendra Vashishth
Sahil Anand as Jeet Khurana
Manasi Rachh as Shruti Pathak
Kayoze Irani as Kaizad "Sudo" Sodabottleopenerwala
Manjot Singh as Dimpy
Ronit Roy as Coach Shah
Ram Kapoor as Ashok Nanda
Gautami Kapoor as Gayatri Nanda
Farida Jalal as Abhimanyu's grandmother
Akshay Anand as Abhimanyu's uncle
Manini Mishra as Geeta Singh (Abhimanyu's aunt)
Prachi Shah as Coach Shah's wife
Nandini Sen as Shanaya's mother
Boman Irani as Harikishan Sanan
Sushma Seth in a cameo appearance as Yogendra's mother
Farah Khan in a guest appearance as a judge in "The Disco Song"
Nitesh Kalbande in a guest appearance as a judge in "The Disco Song"
Kajol in a guest appearance in "The Disco Song"
Development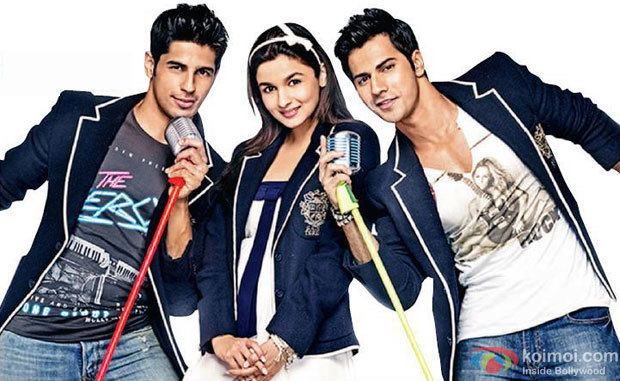 On 5 January 2011, Karan Johar uploaded the first look poster of the new film on the micro-blogging website Twitter. Student of the Year marks the debuts of Alia Bhatt, the daughter of filmmaker Mahesh Bhatt, Varun Dhawan, the son of director David Dhawan, Sidharth Malhotra, Boman Irani's son Kayoze Irani and Kuch Kuch Hota Hai fame Sana Saeed (role of "Anjali" as the daughter of Shah Rukh Khan and Rani Mukerji).
Malhotra and Dhawan had previously worked as assistant directors under Johar during the making of the 2010 film My Name Is Khan. Rishi Kapoor played a gay dean.
The first official trailer was released on 2 August 2012. Karan Johar later tweeted saying that the film will be released on 19 October 2012.
Filming
On 16 August 2011, director Karan Johar took the Mahurat shot and Mumbai socialite Parmeshwar Godrej rolled the cameras. Some parts of the movie were shot in Kashmir and Dehradun (Forest Research Institute, Dehradun). The external view of the school was taken from Kasiga School Dehradun, whose name was changed to St. Teresa. The hospital scenes were filmed outside The Lalit Grand Palace, Srinagar. The film was also shot in Thailand. Rob Miller of ReelSports, who had worked with Shahrukh Khan on Chak De! India, was hired to direct the sports action in Student of the Year.
Marketing
The film targeted viewers with contest-based marketing. Stressing 'competition' which would make up for a significant part of the movie, contests such as the 'Nano Student of the Year', 'The Buddy of the Year' and 'FedEx International Student of the Year' were launched targeting students across the country.
Tata Motors, on-ground promotion partner for the movie, launched the 'Nano Student of the Year' contest for all college students in India. In the first round students were judged on four parameters; namely, academics, culture, sports and social life. The top eight finalists would compete for the 'Nano Student of the Year' title. The contest was held across India in mid-September 2012.
The production house partnered with FedEx Express announcing a special 'FedEx Student Offer' and launch of 'FedEx International Student of the Year' campaign. It was aimed at individuals in India applying for higher education abroad. Student of the Year was promoted across non-fiction properties such as Kaun Banega Crorepati on Sony Entertainment Television and Jhalak Dikhhla Jaa and Bigg Boss on Colors. Radio stations such as Red FM, Radio City, Big FM were used for the promotion of the film and its music.
Pre-release business
The satellite rights of Student of the Year were sold with Yeh Jawaani Hai Deewani for ₹500 million (US$7.8 million) together to Sony Entertainment Television. The music rights were sold to Sony Music for a sum of ₹70 million (US$1.1 million).
Post-release box office
Critics were apprehensive of the success of the film as several hyped movies have flopped over the years. Also, the movie had a very high price tag and newcomers starred in the movie. However, the film took a thunderous start at the box office, becoming the biggest non-starcast opener ever in Bollywood. The movie surpassed trade expectations and caused profit to both makers and distributors in the first week itself. It remained the highest grossing non-starcast film in Bollywood until its record was broken by Aashiqui 2.
India
Student of the Year had a good opening at multiplexes while little lower at single screens due to limited release where it had collected ₹74.8 million (US$1.2 million) on its opening day. The film showed good growth on its second day and collected ₹85.0 million (US$1.3 million) nett. Student of the Year collected a good figure of around ₹253 million (US$3.9 million) at the end of its first weekend. It did very well and collected ₹431 million (US$6.7 million) nett in its first week. The film had a moderate second weekend where it earned around ₹80 million (US$1.2 million) nett. Student of the Year had a drop in its second and third week where it had collected ₹140 million (US$2.2 million) and ₹32.5 million (US$510,000) respectively to make a total of ₹633 million (US$9.9 million) in three weeks.
As per the latest updates, Student of the Year stands at an all India collection of ₹700 million (US$11 million) after four weeks run at the box office.
Overseas
Student of the Year collected about million, which Box Office India thought was a poor showing for having been released on 300 screens . It collected around million in ten days. The film fell in the second week in most markets. Student of the Year closed at around million in overseas markets.
Critical reception
Taran Adarsh of Bollywood Hungama gave 4/5 stars, saying that "Student of the Year is a love story that traverses the trodden path. But KJo is an artisan with intellect and taste and he ensures that the script is spruced up and modernized with such elan that it doesn't offend the spectator's wisdom or intelligence. The accomplished director takes on familiar material and gives it an entirely new twirl. This is escapist cinema at its best! On the whole, Student of the Year is amongst Karan Johar's most accomplished works. The youth brigade would love it and those who have already passed that age would want to revisit those days. This one's entertainment, entertainment and entertainment at its best. Clearly, KJo has a winner on hands, yet again!" Komal Nahta also gave it 4/5 calling it a "supremely entertaining" movie. Raedita Tandon of Filmfare gave it a 4/5 stars stating "All in all, Karan's SOTY world is surreal and spectacular yet it has moments that will bring you back to reality and warm the cockles of your heart. This is escapism at its best." Joginder Tuteja of Indiaglitz gave the movie 4/5 stars and commented,"With a fun outing like Student of the Year, Karan Johar has proven once again that he can fluctuate between making a relatively serious film like 'My Name Is Khan' and come back to candy floss youth entertainer in the mode of 'Kuch Kuch Hota Hai'. With an eye on some lavish entertainment translating on screen and bringing new talent to the industry, 'Student of the Year' is a winner." Madhureeta Mukherjee of The Times of India gave the film 3.5/5 stars, stating that "Student of the Year takes you back to your books and sinks you in true-blue Bollywood syllabus, following the 'formula' – Two boys, one girl, one glorious trophy and lots of testosterone. It is larger-than-life, colourful, lavish, beautifully shot and directed. With medleys, dance, drama and everything good-looking (from cast to couches, dorms to discos)." Indicine gave it 3.5/5 stars, commenting "Overall, there isn't a dull moment in Student of the Year. It has something in it for everyone – romance, action, entertainment, good performances and catchy music. Go for it." Social Movie rating site MOZVO gave it a score of 3.7/5 putting it in the recommended category.
Rajeev Masand of IBNLive gave it 3/5 stars and wrote, "Nitpickings aside, this is a breezy, enjoyable film by a director who knows his craft." He remarked, "If fun is what you're seeking, you won't be disappointed." Giving the film 3/5 stars, Anupama Chopra of Hindustan Times wrote, "Karan Johar's forte is excess. He creates fantastical worlds brimming with beautiful people and expensive things and yet anchors them in high emotion. His films work as both designer porn and soap opera." She also praised the performance of the cast. Sukanya Verma of Rediff gave 3/5 stars, commenting that "Student of the Year is no Kuch Kuch Hota Hai but Karan Johar makes it look good." Rubina A Khan of The First Post gave the film 3/5 stars, stating that "Student of the Year is not KJo's finest work. Sure, it's got all the elements of finesse and expansive production values that his films are known for, but he has also been very pivotal in directing and producing films with engaging stories in the past." Nabanita of Oneindia gave it 3/5 commenting "Student of the Year is a youthful and interesting movie that deserves a thumps up. Three cheers for this." India Today also gave the film a rating of 3/5. Sify awarded it 3/5 stars saying, "So there you have it – a fun, frothy film that won't insult your intelligence and sensibility. Worth a watch!"
Roshni Devi of Koimoi gave it 2.5/5 stars, praising the performances. Kanika Sikka of DNA India gave 2.5/5 stars, concluding that "Student of the Year is not something you would want to miss if the surreal setting with bubble gum romance is your calling. The performances make this film a great watch." Saibal Chatterjee of NDTV gave the film 2.5/5 stars, commenting that "Student of the Year definitely isn't the film of the year. But if you like your entertainment to be served up with glitzy but pulpy garnishing, pirouette your way to the nearest screen by all means." Ananya Bhattacharya of Zee News gave the film 2/5 stars, saying that "Student of the Year is worth a watch only for the debutantes. They have really pulled off a tough task of playing praiseworthy roles in a film which suffers from the lack-of-a-story syndrome."
Home media
A two-disc DVD set was released on 24 December 2012 which contains making of the film, song, and deleted scenes. Bollywood Hungama gave the DVD 4/5 stars.
Soundtrack
The soundtrack is composed by Vishal-Shekhar with the lyrics penned by Anvita Dutt Guptan.
Critical reception of soundtrack
Joginder Tuteja of Bollywood Hungama gave the album 4/5 stars, saying that "Student of the Year is a winner all the way with Vishal Shekhar (yet again) justifying their stance of doing a few films but lending quality sound to it. They create the kind of score which totally compliments the mood of the campus setting without straying even once." IANS of CNN-IBN gave the album 4/5 stars, concluding that "The soundtrack of Student of the Year is a good mix with very minor flaws that can surely be ignored to enjoy the music that perfectly describes the mood of the movie." Satyajit of Yahoo! gave the album 3.5/5 stars, stating that "Student of the Year is complete youthful musical entertainment, an album that brings all the positive elements of a typical Karan Johar entertainer. Vishal Shekhar delivers a potential winner this time."
The romantic track "Ishq Wala Love" became the biggest hit of the album concluded by "Radha" and "Disco Song". On 26 September 2012, The Times of India reported that the soundtrack was "appealing to people of all tastes and there's something for everyone in it".
Awards and nominations
Student of the Year won several awards, particularly for its direction, performances of the lead actors, and music.
References
Student of the Year Wikipedia
(Text) CC BY-SA
Student of the Year IMDb
Student of the Year themoviedb.org