8.7

/

10

Alchetron

8.4

Rate This





Genre

Drama




Writer

Vijayendra Prasad




Language

Hindi/Urdu






Director

Kabir Khan




Duration




Country

India







Release date

17 July 2015 (2015-07-17)







Similar

Dangal (film), Tiger Zinda Hai, Tubelight (2017 Hindi film), Ek Tha Tiger, Kick (2014 film)
Bajrangi bhaijaan movie 2015 salman khan kareena kapoor nawaz full movie promotions
Bajrangi Bhaijaan (English translation: Brother Bajrangi) is a 2015 Indian adventure comedy drama film directed by Kabir Khan. Written by K. V. Vijayendra Prasad, the film was produced by Salman Khan and Rockline Venkatesh. It stars Salman Khan and Harshaali Malhotra, with Nawazuddin Siddiqui and Kareena Kapoor Khan in supporting roles. Khan stars as Bajrangi, an ardent devotee of Hindu deity Hanuman, who embarks on taking a mute six-year-old Pakistani girl (Malhotra), separated in India from her parents, back to her hometown in Pakistan.
Contents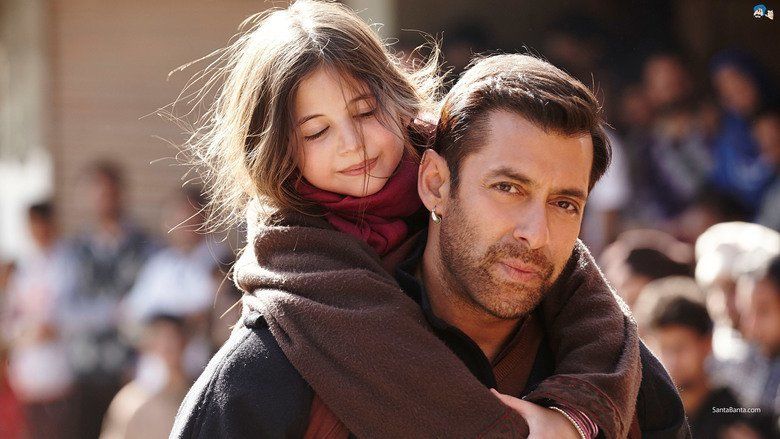 Made on a budget of ₹90 crore, the principal photography commenced in November 2014. The cinematography was done by Aseem Mishra and was edited by Rameshwar S. Bhagat. The soundtrack was composed by Pritam, who collaborated with Julius Packiam to score the background music.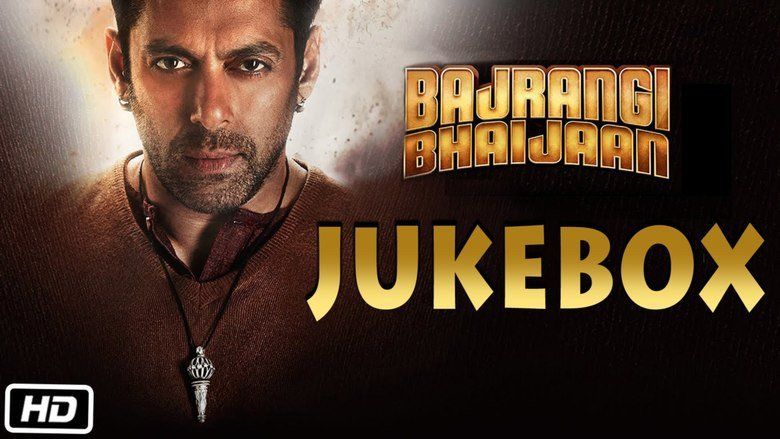 In October 2015, the film was broadcast on Star Gold and became the most watched Bollywood movie in the history of television. It had 15.5 TRP in its world television premier, beating the previous record held by the film 3 Idiots. The film was nominated for Best Film and Best Actor in the 61st Filmfare Awards, as well as other categories, and bagged the Filmfare Award for Best Story. The film has garnered the National Film Award for Best Popular Film Providing Wholesome Entertainment at the 63rd National Film Awards.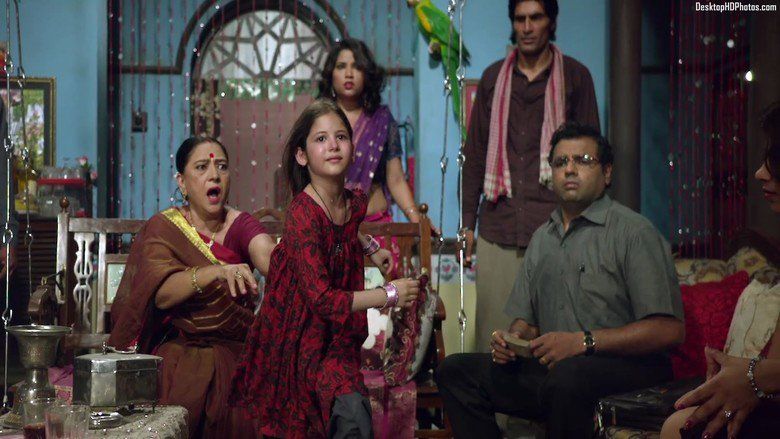 tu jo mila video song k k salman khan nawazuddin harshaali bajrangi bhaijaan
Plot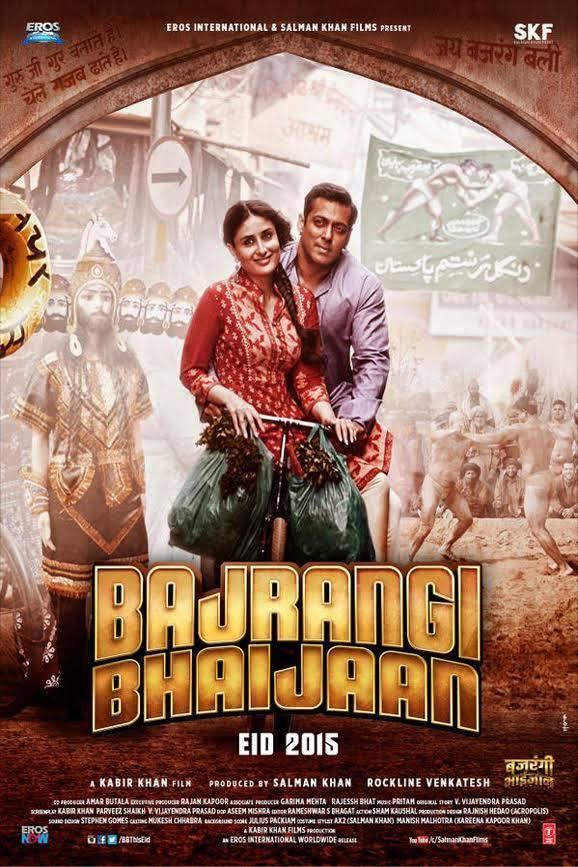 In Sultanpur, a picturesque village in Pakistan Occupied Kashmir, villagers gather to watch a televised cricket match between India and Pakistan. Among them is a pregnant woman (Meher Vij) who, after giving birth, names her daughter Shahida after Shahid Afridi, the player who wins the game for Pakistan. One afternoon, Shahida (Harshaali Malhotra), now six years old, falls off a cliff as she plays, and is saved by an overhanging tree, but was not able to call for help as she was mute. Since Shahida's father, a former Pakistani army man, is unlikely to be granted an Indian visa, her concerned mother takes her to the shrine of Sufi saint Nizamuddin Auliya in Delhi, hoping it will restore Shahida's speech.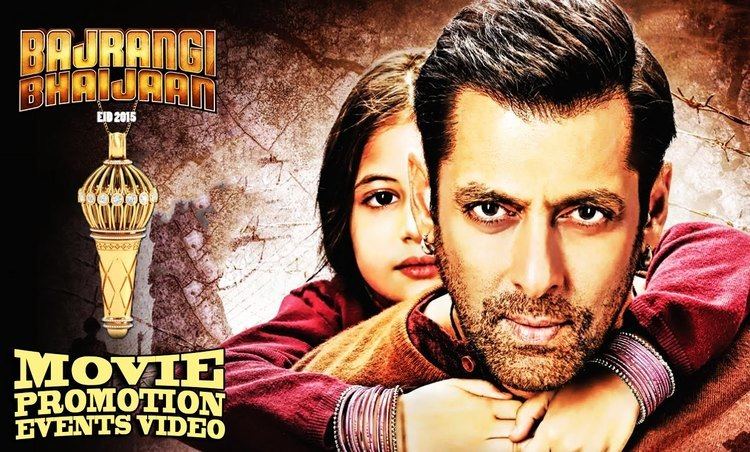 Returning from Delhi, the train stops for repairs just short of the Wagah crossing and Shahida gets off to save a lamb. The train drives off before Shahida can re-board it. Shahida boards a freight train, and winds up in Kurukshetra, Haryana. There, she meets Pawan Kumar Chaturvedi alias Bajrangi (Salman Khan), a devout Hindu Brahmin and an ardent devotee of Lord Hanuman. He names her "Munni" and tries in vain to find where she lives.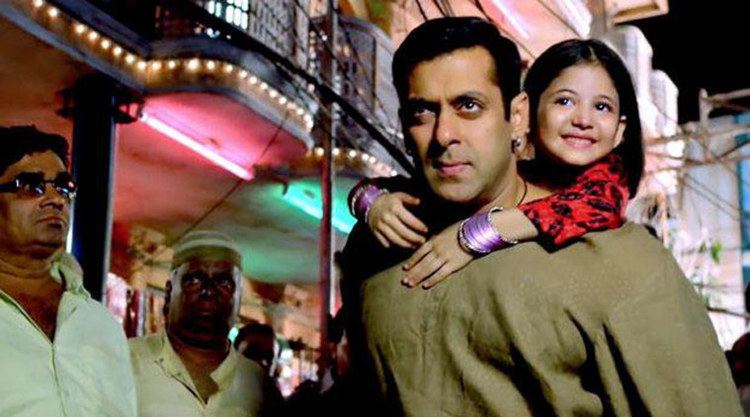 In sequences of flashbacks, it is revealed that Pawan has been a disappointment to his father, after failing his school exams ten times. When he finally graduates on his eleventh try, his father dies of shock. Pawan, looking for a job, he follows the advice of his father and goes to the house of his father's friend and wrestling coach, Dayanand Pandey (Sharat Saxena), in Delhi. Having spent time together with his daughter Rasika (Kareena Kapoor Khan), they fall in love with each other and Dayanand promises Rasika's hand in marriage on the condition that Pawan get a job and a separate house for himself.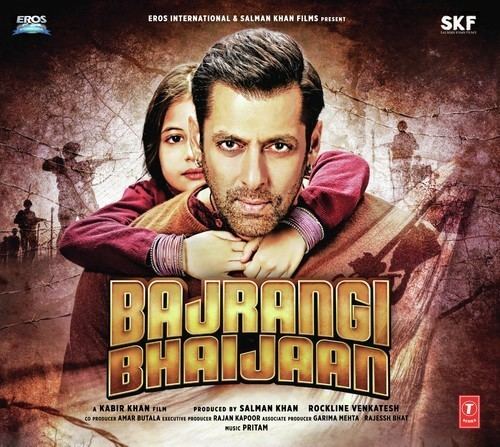 In the present, Pawan brings Munni to meet Dayanand, who lets Munni stay, believing that with her fair complexion, Munni must be a Brahmin as well. Munni gets accustomed to being part of the household. It is eventually revealed that Munni is a Pakistani Muslim as she performs Salah at a mosque, and cheers for Shahid Afridi and kisses the Pakistani national flag during a televised India-Pakistan cricket match. An enraged Dayanand orders Pawan to make arrangements to have her sent to Pakistan through the Pakistani High Commission, where his pleading fails; the High Commission is then closed for a month due to protests. He is betrayed by a local travel agent who claims to be able to take Munni to Pakistan without a passport but actually takes her to a brothel, causing him to destroy the brothel and beat up several of its occupants. Pawan then vows to take Munni to her parents in Pakistan, in person and without a passport and visa.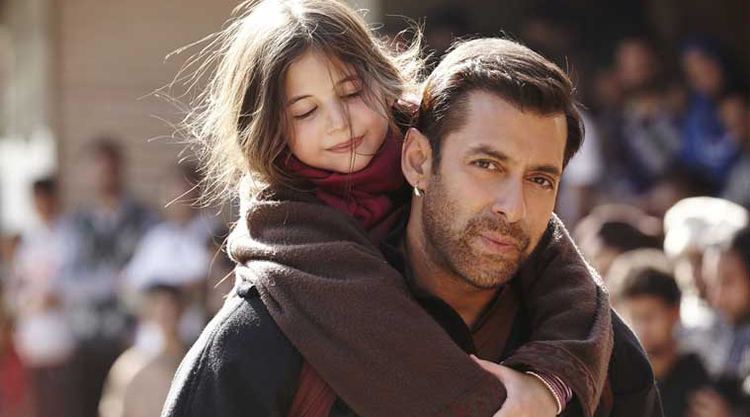 Pawan and Munni are able to enter Pakistan. Shortly after their arrival, Pawan is arrested under suspicions of being an Indian spy. He escapes with Munni and meets Chand Nawab (Nawazuddin Siddiqui), a journalist who works for a Pakistani television channel. Nawab has closely been following the developments. Moved by the story, Nawab joins Pawan to help him find Munni's parents. They are joined by an Islamic religious scholar, Maulana Asad (Om Puri), who helps them avoid capture by police. He directs the group to Pakistan Occupied Kashmir after Munni recognizes an area similar to her hometown in a photo from a calendar.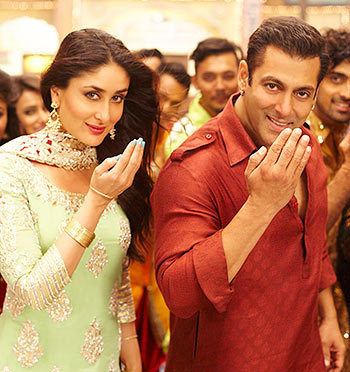 Nawab documents their journey on video, but his television station channel head Shamsher Ali (Harssh A. Singh) refuses to air it. Disappointed, he uploads the video to YouTube. While reviewing the footage, Munni recognizes her mother walking by in the background. With a bus driver's assistance, the trio identify Sultanpur as Munni's hometown. They board a bus to Sultanpur, and are stopped by police who are looking for "the Indian spy". Devising a plan to divert their attention, Pawan gets off the bus and runs toward the jungle in full view. He gets tracked down, beaten, and shot in the arm. Meanwhile, Nawab and Munni reach Sultanpur, where Munni is finally reunited with her mother.
The videos uploaded by Nawab go viral throughout India and Pakistan. A compassionate senior officer, Hamid Khan (Rajesh Sharma), realizes that Pawan is innocent, and has him released, defying the order to keep him in jail, which he felt would be petty on the part of Pakistan. Responding to a call by Nawab, thousands of Pakistanis and Indians congregate at Narowal Check Post, where Pawan is to return to India. As Pawan crosses the border, Shahida, who is also in the crowd, runs toward the fence and cries out for him with her now regained speech. Pawan and Shahida run towards each other and embrace.
Cast
Salman Khan as Pawan Kumar Chaturvedi alias Bajrangi Bhaijaan, a good-for-nothing but a pure hearted devotee of Lord Hanuman, who tries to get Munni back to her home in Pakistan
Harshaali Malhotra as Shahida alias Munni, a mute girl from Pakistan lost in India, with no way to get back home but is helped by Bajrangi after being insulted for being a Pakistani
Kareena Kapoor as Rasika, Bajrangi's love interest and Dayanand's daughter, who motivates Bajrangi to take care of Munni
Nawazuddin Siddiqui as Chand Nawab, a Pakistani reporter, who often fails to get news for channel he works for, and initially thinks of Bajrangi as a spy, but supports him when he finds out the truth
Meher Vij as Rasia, Shahida's Mother, who takes her daughter to the Hazrat Nizamuddin Auliya Dargah in New Delhi hoping that she would gain her voice but ends up losing her in India, with authorities not allowing her to get back with her
Kushaal Pawar as Kamil Yusuf, Chand Nawab's cameraman, who is captured by the police to find whereabouts of Bajrangi, Chand Nawab & Shahida as they suspect that Bajrangi is a spy
Mir Sarwar as Rauf, Shahida's Father
Kamlesh Gill in a special appearance in the train to Delhi
Om Puri in a special appearance as Maulana Asad, a religious scholar
Sharat Saxena as Dayanand, Rasika's father
Alka Kaushal as Rasika's mother
Adnan Sami in a guest appearance in the song "Bhardo Jholi Meri"
Rajesh Sharma as senior Pakistani Police Officer Hamid Khan
Krunal Pandit as Vardhan, the travel agent in Delhi
Mursaleen Qureshi as border agent Boo Ali
Manoj Bakshi as Police Inspector Amir Qureshi
Harssh A. Singh as Channel Head Shamsher Ali
Production
The principal photography began on 3 November 2014 in New Delhi, with Salman Khan and Kareena Kapoor Khan participating. The second filming schedule took place at the ND Studios, Karjat. The third schedule of the film was held in Mandawa, Rajasthan. On 7 January 2015, Khan was seen on the top of castle of Mandawa playing cricket with a young boy. On 10 January 2015, Khan shot with school students in Rajasthan's Jhunjhunu district. Shooting of the film was completed on 20 May. Some scenes of the film were shot at Khan's Panvel farm house. Shooting also took place in the Kashmir Valley in places like Sonmarg and Zoji La. The film's climax was shot at Sonmarg near the Thajiwas glacier (at 10,000 ft above sea level) with around 7,000 people. Nawazuddin Siddiqui's character Chand Nawab was inspired by a real character Chaand Nawab, who was with Karachi-based Indus News in 2008. The films' writer K. V. Vijayendra Prasad stated in an interview that the movie was inspired by Fazil's 1987 Tamil movie Poovizhi Vasalile.(remake of 1986 Malayalam movie Poovinu Puthiya Poonthennal)
Soundtrack
The soundtrack of the album is composed by Pritam with lyrics written by Mayur Puri, Amitabh Bhattacharya, Neelesh Misra, Shabbir Ahmed and Kausar Munir. The soundtrack album consists of eleven tracks.
The Song named "Tu Jo Mila" sung by KK, recorded in Sydney(Australia) became a superhit song, made this duo KK and Pritam to come back in music together as before. The movie includes the qawwali "Bhardo Jholi Meri Ya Muhammad" sung by the Sabri Brothers. The qawwali was revamped with the voice of Adnan Sami Khan. EMI Pakistan and Amjad Sabri qawwal, heir to the Sabri brothers, have called for legal action against the producers of the film and the qawwali in separate instances.
Release
Bajrangi Bhaijaan was released on 17 July 2015, one day before Eid, on 4,100 and 800 screens in India and overseas respectively. The film was also released in 50 countries outside India, on more than 700 screens. Bajrangi Bhaijaan premiered at the 20th Busan International Film Festival (BIFF) on 6 October 2015.
Box office
Bajrangi Bhaijaan grossed ₹333 crore (US$52 million) worldwide in its first week, beating the previous record of ₹332 crore (US$52 million) worldwide by PK. The film went on to net ₹3.15 billion (US$49 million) and ₹4.26 billion (US$66 million) gross in India and grossed ₹1.792 billion (US$28 million) overseas for a worldwide gross of ₹6.03 billion (US$94 million) in 31 days and currently is the second highest-grossing Bollywood film of all time in domestic markets and Second highest-grossing Bollywood film of all time in international markets. Bajrangi Bhaijaan became the quickest film to collect ₹1 billion (US$16 million) and ₹2 billion (US$31 million) net domestically beating PK and Dhoom 3. The distributor share of the film has crossed ₹150 crore (US$23 million) crore which is a record in India being the second film to do so after PK. In August 2015, Eros International said in a statement to the Bombay Stock Exchange that Bajrangi Bhaijaan has become fastest Bollywood film to gross ₹500 crore (US$78 million) worldwide, while it crossed the ₹300 crore (US$47 million) at the domestic box office.
The film is the highest nett grosser ever in Delhi / UP, CP Berar, CI, Bihar, Assam and Orissa, East Punjab, Rajasthan and West Bengal beating the lifetime collections of PK and Dhoom 3. The footfalls of the film crossed 3.52 crores after five weeks which makes it the most watched film since Gadar: Ek Prem Katha in 2001 and beating PK, 3 Idiots, Dhoom 3 and Kabhi Khushi Kabhi Gham. Bajrangi Bhaijaan grossed ₹626 crore (US$98 million) worldwide at the end of its 7th week run. The Indian gross for the film was ₹424 crore (US$66 million) while overseas gross was US$29 million (₹193.39 crore).
India
Bajrangi Bhaijaan opened to an overwhelming response at the domestic box office and went on to break the first week record of PK and Happy New Year. The film grossed around ₹270 million (US$4.2 million) in India on the first day of release, and further showed incredible growth on its second and third day to net ₹350 million (US$5.5 million) setting new records in several circuits, and ₹385 million (US$6.0 million) on first Sunday to take its first weekend total to ₹1,005 million (US$16 million), which is an all-time first weekend record, becoming the quickest film to collect ₹1 billion (US$16 million) net domestically. The film grossed ₹255 million (US$4.0 million) on its first Monday which is highest ever non-holiday Monday and ₹21.25 crore (US$3.3 million) its first Tuesday and ₹20 crore (US$3.1 million) on its first Wednesday and on Thursday ₹16 crore (US$2.5 million) to take its first week nett total to ₹183.52 crore (US$29 million) nett to make highest first week total for an Indian film in domestic markets beating previous record holder PK.
The film net. grossed ₹13.50 crore (US$2.1 million) on its second Friday. The film showed further growth and nett. grossed ₹20.05 crore (US$3.1 million) on second Saturday and ₹24.05 crore (US$3.8 million) on second Sunday to make ₹57.50 crore (US$9.0 million), which is the highest 2nd weekend ever for an Indian film and to take its India total to ₹240.72 crore (US$38 million) in ten days and made highest 2nd weekend ever for an Indian film. Bajrangi Bhaijaan grossed around ₹10 crore (US$1.6 million) on second Monday to take its 11 days nett. Bajrangi Bhaijaan grossed around ₹9.3 crore (US$1.5 million) on second Tuesday, ₹9.1 crore (US$1.4 million) on second Wednesday ₹9.3 crore (US$1.5 million) on second Thursday.Bajrangi Bhaijaan grossed ₹87 crore (US$14 million) nett which is the second highest 2nd week collection of all time to take its two-week domestic nett. gross to ₹270.50 crore (US$42 million).
Bajrangi Bhaijaan nett. grossed ₹4 crore (US$620,000) on its third Friday. Bajrangi Bhaijaan showed growth and nett. grossed ₹6.08 crore (US$950,000) on its third Saturday. Bajrangi Bhaijaan further showed growth and nett. grossed ₹9.08 crore (US$1.4 million) on its third Sunday to take its third weekend to ₹20 crore (US$3.1 million) which is the second highest 3rd weekend of all time. the film netted around ₹20 crore (US$3.1 million) in its third weekend, reaching ₹292 crore (US$46 million) nett in seventeen days in India to become second highest-grossing Bollywood film of all time in domestic markets beating Dhoom 3. The film went on to gross ₹1.53 billion (US$24 million) overseas for a worldwide gross of ₹540 crore (US$84 million) in just 17 days. Bajrangi Bhaijaan set a new all time lifetime record in India by becoming the highest grosser ever in Bihar as it went to the ₹7.50 crore (US$1.2 million) nett mark after its third weekend. Bajrangi Bhaijaan nett. grossed ₹3.50 crore (US$550,000) on its third Monday, ₹2.50 crore (US$390,000) on second Tuesday and ₹2.43 crore (US$380,000) on second Wednesday to take its 19 days total to ₹300.6 crore (US$47 million) in India and become only the 2nd Indian film to do so. Bajrangi Bhaijaan recorded the third highest third week ever as it grossed ₹2.50 crore (US$390,000) on third Thursday to make its week total to ₹30 crore (US$4.7 million) .
Bajrangi Bhaijaan grossed ₹7.25 crore (US$1.1 million) in its fourth weekend. The film grossed ₹10.65 crore (US$1.7 million) in its fourth week,₹3.78 crore (US$590,000) in its fifth week,₹1.49 crore (US$230,000) in its sixth week,₹0.65 crore (US$100,000) in its seventh week,₹0.195 crore (US$30,000) in its eighth week. The film collected ₹0.11 crore (US$17,000) in its ninth week becoming it the second film to collect more than 10 lakhs nett in ninth week after Vicky Donor of this decade.
The film now entered its tenth week and becoming the only fourth film of this decade to do so. The other films are Vicky Donor and Band Baaja Baaraat which are made up of low budgets. It is a rare record for a film at this scenario where every week multiple movies are releasing.
Overseas
Bajrangi Bhaijaan grossed around $8.1 million in the first weekend in overseas markets, which is the second highest opening weekend for a Hindi film. The film has grossed around $2.45 million in its first weekend in US-Canada. Bajrangi Bhaijaan grossed ₨4.5 crore (US$430,000) in Pakistan in first 3 days of its release, and subsequently ₨6 crore (US$570,000) in the first week. The ten-day overseas gross of Bajrangi Bhaijaan is US$17 million plus. At the end of two weeks, Bajrangi Bhaijaan grossed US$20 million in overseas. Bajrangi Bhaijaan grossed around $23.5 million in overseas in 17 days. Bajrangi Bhaijaan has set an all-time record in the Gulf with collections of₹47.9 crore (US$7.5 million) till date to become the highest-grossing film in the territory beating films like Happy New Year and Dhoom 3. The film is also the biggest Salman Khan film in The Gulf, beating previous best of Kick were around $4.1 million. The film has done excellent across all Overseas market according to Box Office India. In the United Kingdom film cross ₹15.96 crore (US$2.5 million) thus far and ₹44.7 crore (US$7.0 million) has come from the United States. Bajrangi Bhaijaan grossed $28.64 million in overseas at the end of its theatrical run.
The film tops all 4 major markets by beating the lifetime collection of PK. The film grossed £2,650,000 at United Kingdom,$9,450,000 at gulf and Au $1,701,000 at Australia. The film grossed $8,180,000 after its sixth weekend in US/Canada.
Accolades
Winner
References
Bajrangi Bhaijaan Wikipedia
(Text) CC BY-SA
Bajrangi Bhaijaan themoviedb.org
Bajrangi Bhaijaan IMDb