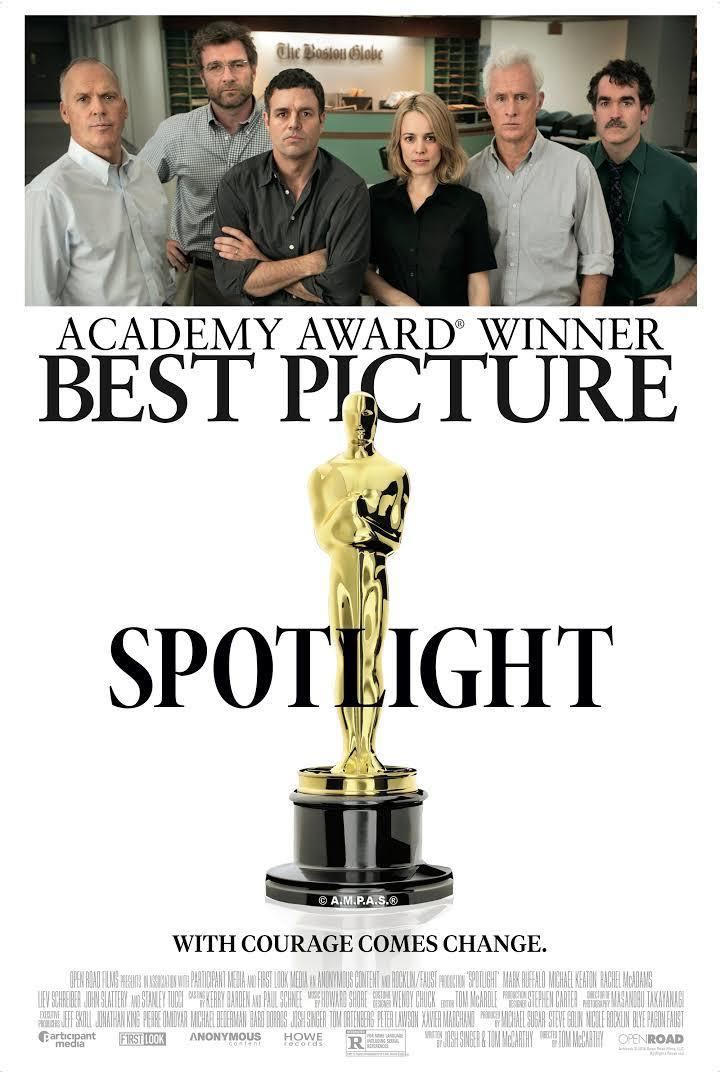 In 1976, at a Boston Police station, two policemen discuss the arrest of Catholic priest Fr. John Geoghan for child molestation and the presence of a high ranking cleric talking to the mother of the children. The Assistant District Attorney then enters the precinct and tells the cops not to let the press get wind of what happened. The arrest is hushed up, and the priest is released.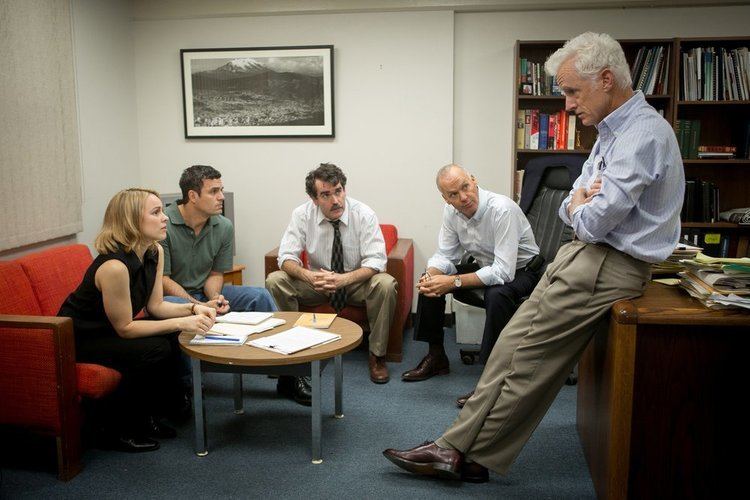 In 2001, The Boston Globe hires a new editor, Marty Baron. Baron meets Walter "Robby" Robinson, the editor of the newspaper's "Spotlight" team, a small group of journalists writing investigative articles that take months to research and publish. After Baron reads a Globe column about a lawyer, Mitchell Garabedian, who says that Cardinal Bernard Law (the Archbishop of Boston) knew that John Geoghan was sexually abusing children and did nothing to stop him, he urges the Spotlight team to investigate. Journalist Michael Rezendes contacts Garabedian, who initially declines to be interviewed. Though he is told not to, Rezendes reveals that he is on the Spotlight team, persuading Garabedian to talk.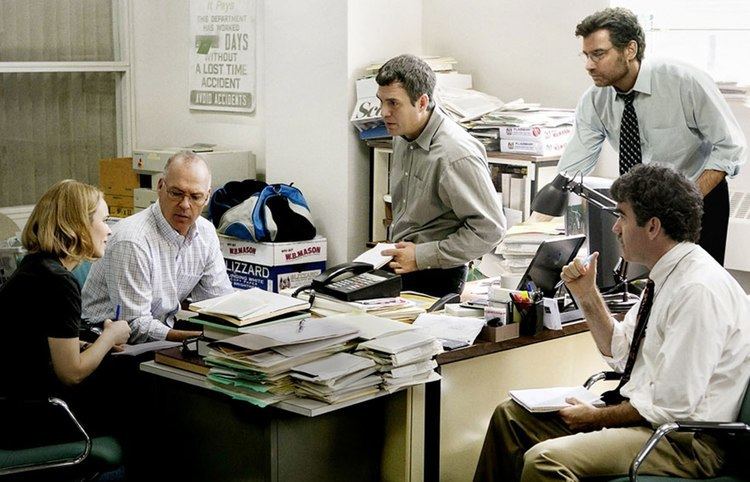 Initially believing that they are following the story of one priest who was moved around several times, the Spotlight team begin to uncover a pattern of sexual abuse of children by Catholic priests in Massachusetts, and an ongoing cover-up by the Boston Archdiocese. Through Phil Saviano, who heads the victims' rights group Survivors Network of those Abused by Priests (SNAP), they widen their search to 13 priests. They learn through Richard Sipe, a former priest who worked at trying to rehabilitate pedophile priests, that statistically, there should be approximately 90 abusive priests in Boston (six percent of priests). Through their research, they develop a list of 87 names, and begin to find their victims to back up their suspicions.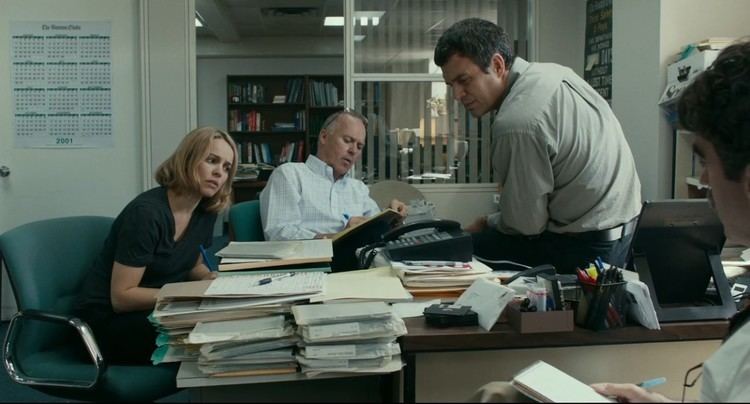 When the September 11 attacks occur, the team is forced to de-prioritize the story. They regain momentum when Rezendes learns from Garabedian that there are publicly available documents that confirm Cardinal Law was made aware of the problem and ignored it. Although Rezendes argues vociferously to run the story immediately before more victims suffer and rival newspapers publish, Robinson remains steadfast to research further so that the systemic problem can be more fully exposed. After The Boston Globe wins a case to have even more legal documents unsealed that provide the evidence of that larger picture, the Spotlight team finally begins to write the story, and plan to publish their findings in early 2002.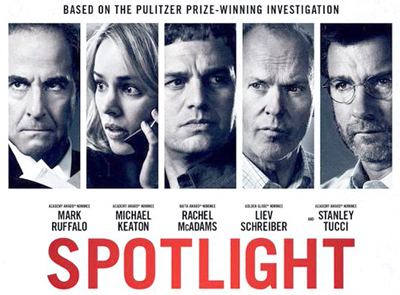 As they are about to go to print, Robinson confesses to the team that he was sent a list of 20 pedophile priests by lawyer Eric MacLeish in 1993, which he never followed up on. But Baron still commends him and his team's efforts to expose the crimes now. The story goes to print with a web link to the documents that expose Cardinal Law's inaction, and a phone number for victims of pedophile priests. The following morning, the Spotlight team is inundated with phone calls from victims coming forward to tell their stories.
Lastly, a list of places in the United States and around the world where major scandals involving abuse by priests took place is presented, and a statement is made that Cardinal Law resigned, and was eventually promoted to the Basilica di Santa Maria Maggiore in Rome, one of the biggest churches in the world.
Mark Ruffalo as Michael Rezendes
Michael Keaton as Walter "Robby" Robinson
Rachel McAdams as Sacha Pfeiffer
Liev Schreiber as Marty Baron
John Slattery as Ben Bradlee, Jr.
Brian d'Arcy James as Matt Carroll
Stanley Tucci as Mitchell Garabedian, an attorney representing victims of sexual abuse
Gene Amoroso as Stephen Kurkjian, Boston Globe general investigative reporter
Jamey Sheridan as Jim Sullivan, an attorney representing the Church
Billy Crudup as Eric MacLeish, an attorney representing victims of sexual abuse
Maureen Keiller as Eileen McNamara, Boston Globe columnist
Richard Jenkins as Richard Sipe, psychotherapist (telephone voice, uncredited)
Paul Guilfoyle as Peter Conley
Len Cariou as Cardinal Bernard Law
Neal Huff as Phil Saviano of SNAP
Michael Cyril Creighton as Joe Crowley
Laurie Heineman as Judge Constance Sweeney
Tim Progosh as Principal Bill Kemeza
Jimmy LeBlanc as Patrick McSorley
The film was written by Tom McCarthy and co-writer Josh Singer. When McCarthy was asked how he and his co-author tackled the research and writing process, he stated:
As I said, I passed [turned down the film] the first time! That's probably some indication of how intimidating it was. But I think, as always, with any big assignment, once you get over that initial shock and awe of how much material there was to cover, you start digging into the material and become really fascinated by and engaged with it, and we did. And yeah, it was a lot of work, but it was exciting work. It was really interesting work, parsing through details of not just the investigation, but its findings, and trying to determine what was most helpful in telling our story. I think having two brains on it was somewhat helpful too, because we could talk through it a lot. So it wasn't just sitting alone in a room and jotting notes. We were dialoguing a lot about it. That particular collaboration did feel investigative and on some level, seemed to parallel some of the collaboration of the reporters in that investigation. So, I think there was something about our collaboration that made that initial process more palatable on some level.
McCarthy and Singer completed the script in June 2013. It was listed on the 2013 Black List of unproduced screenplays. Singer told Creative Screenwriting that one of his goals for the film was to highlight the power of journalism, which he feels has been waning. He explained, "This story isn't about exposing the Catholic Church. We were not on some mission to rattle people's faith. In fact, Tom came from a Catholic family. The motive was to tell the story accurately while showing the power of the newsroom – something that's largely disappeared today. This story is important. Journalism is important, and there is a deeper message in the story."
Principal photography began on September 24, 2014, in Boston, Massachusetts, and continued in October in Hamilton, Ontario. Filming took place at Fenway Park, The Boston Globe offices in Dorchester, Boston, the Boston Public Library, and McMaster University in Hamilton, Ontario. The film's editor Tom McArdle said of the post-production process, "We edited for eight months. We just wanted to keep refining the film. We cut out five scenes plus some segments of other scenes. Often we would just cut out a line or two to make a scene a little tighter."
The film "premiered to sustained applause" at the Venice Film Festival and the audience "erupted in laughter" when the film reported that following the events in the film Cardinal Bernard Law was reassigned to a senior position of honor in Rome. It had a limited release on November 6, 2015, with its U.S. release scheduled for three weeks later on November 25.
Spotlight was released by Universal Studios Home Entertainment on DVD and Blu-ray in the United States on February 23, 2016.
Spotlight grossed $45.1 million in the United States and Canada and $47.2 million in other countries for a worldwide total of $92.2 million, against a production budget of $20 million. The Hollywood Reporter calculated the net profit for the film to be above $10 million.
In the opening weekend of its limited release, the film grossed $295,009 from five theaters ($59,002 average), one of the highest per-screen averages of any release of 2015. The film grossed $4.4 million in the first weekend during its wide release, finishing 8th at the box office.
Spotlight has received critical acclaim. The review aggregator website Rotten Tomatoes gave the film an approval rating of 96% based on 308 reviews, with an average rating of 8.8/10. The site's critical consensus reads, "Spotlight gracefully handles the lurid details of its fact-based story while resisting the temptation to lionize its heroes, resulting in a drama that honors the audience as well as its real-life subjects." On Metacritic, the film has a score of 93 out of 100, based on 45 critics, indicating "universal acclaim."
Variety's Justin Chang called the film "a superbly controlled and engrossingly detailed account of the Boston Globe's Pulitzer Prize-winning investigation into the widespread pedophilia scandals and subsequent cover-ups within the Catholic Church."
At the 2015 Toronto International Film Festival, Spotlight finished third in the audience balloting for the People's Choice Award.
Prior to the film's release, Cardinal Sean O'Malley of the Archdiocese of Boston issued a statement in the archdiocese's official newspaper, stating that the "media's investigative reporting on the abuse crisis instigated a call for the Church to take responsibility for its failings and to reform itself—to deal with what was shameful and hidden." O'Malley had not seen the movie at that time but planned to do so according to a church spokesman.
On November 9, 2015, a review published by the Catholic News Service called the film a "generally accurate chronicle" of the Boston scandal, but objected to some of the portrayals and the film's view of the Church. On the Catholic News Service, auxiliary bishop of Los Angeles Robert Barron said that it is "not a bad movie", as it shows that the wider community shares the responsibility for sexual abuse committed by priests, but that the film is wrong to insinuate that the Church has not reformed.
Vatican Radio, official radio service of the Holy See, called it "honest" and "compelling" and said it helped the U.S. Catholic Church "to accept fully the sin, to admit it publicly, and to pay all the consequences." Luca Pellegrini on the Vatican Radio website wrote that the Globe reporters "made themselves examples of their most pure vocation, that of finding the facts, verifying sources, and making themselves—for the good of the community and of a city—paladins of the need for justice." In February 2016, a Vatican City commission on clerical sex abuse attended a private screening of the film. Following the film's Best Picture win at the Oscars, Vatican newspaper L'Osservatore Romano ran a column assuring that the movie is "not an anti-Catholic film", and Vatican Radio revealed that clerics in Rome have been recommending the film to each other.
A January 8, 2016 article in The New York Times cited author David F. Pierre Jr., who said that Spotlight "is a misrepresentation of how the Church dealt with sexual abuse cases", asserting that the movie's biggest flaw was its failure to portray psychologists who had assured Church officials that abusive priests could be safely returned to ministry after undergoing therapy treatments. Open Road Films rebutted the detractor, saying he was "perpetuating a myth in order to distract from real stories of abuse."
The film was attacked by Jack Dunn (played by Gary Galone in the film), a member of the board at Boston College High School, and its public relations head, for portraying him as indifferent to the scandal. After viewing the film, Dunn says he was immediately aware of the issues involved and worked to respond. Two of the Globe reporters depicted in the film, Walter Robinson and Sacha Pfeiffer, issued a statement in response to Dunn, firmly standing by their recollections of the day, saying Dunn did "his best to frame a story in the most favorable way possible for the institution he is representing. That's what Jack did that day." They said Dunn mounted a "spirited public relations defense of Boston College High School during our first sit-down interview at the school in early 2002," the lone scene in which Dunn is depicted in the film.
On March 15, 2016, Open Road Films released a statement on how Dunn was portrayed in the film: "As is the case with most movies based on historical events, Spotlight contains fictionalized dialogue that was attributed to Mr. Dunn for dramatic effect. We acknowledge that Mr. Dunn was not part of the Archdiocesan cover-up. It is clear from his efforts on behalf of the victims at BC High that he and the filmmakers share a deep, mutual concern for victims of abuse."
Following this Dunn also released a statement: "I feel vindicated by the public statement and relieved to have the record set straight on an issue that has caused me and my family tremendous pain. While it will never erase the horrific experience of being falsely portrayed in an Academy Award-winning film, this public statement enables me to move forward with my reputation and integrity intact."
Spotlight has been critically acclaimed, and has been included in many critics' Top Ten Films of 2015 lists. The film has received over 100 industry and critics awards and nominations. The American Film Institute selected Spotlight as one of the Top Ten Films of the year. The film garnered three Golden Globe Award nominations for Best Motion Picture – Drama, Best Director for McCarthy, and Best Screenplay for McCarthy and Josh Singer. It was nominated for five Independent Spirit Awards, including Best Feature, Best Director, Best Screenplay for Singer, Best Editing for Tom McArdle and Honorary Robert Altman Award for the cast. Rachel McAdams and the ensemble cast received Outstanding Performance by a Female Actor in a Supporting Role and Outstanding Performance by a Cast in a Motion Picture nominations, with the ensemble cast winning the latter.
The New York Film Critics Circle awarded Michael Keaton the Best Actor award, while it won the Best Picture, Best Director, Best Screenplay and Best Ensemble cast at the New York Film Critics Online Awards. Spotlight won the Best Film and Best Screenplay from the Los Angeles Film Critics Association. It received eight nominations from the Broadcast Film Critics Association, including Best Film, Best Director, Best Supporting Actor, Best Supporting Actress, Best Screenplay and Best Score. It won the Best Cast in a Motion Picture at Satellite Awards and was nominated for six other awards including Best Film, Best Director, Best Supporting Actor, Best Supporting Actress and Best Original Screenplay.
At the Academy Awards, the film received six nominations, including Best Picture, Best Director, Best Supporting Actor for Ruffalo, Best Supporting Actress for McAdams, Best Original Screenplay, and Best Film Editing, winning Best Picture and Best Original Screenplay. It is the first Best Picture winner to win fewer than three Academy Awards since The Greatest Show on Earth in 1953. At the time of its win, the film had made $39.2 million at the North American box office, which made it the second lowest domestically grossing film (adjusted for ticket-price inflation) to win Best Picture within the past four decades (after The Hurt Locker with $17 million).
Spotlight was listed on over 120 critics' and publications' top ten lists.
It was also voted the 88th greatest film since 2000 in an international critics' poll conducted by BBC.