Law was the Archbishop of Boston from 1984 until his resignation on December 13, 2002, in response to the Roman Catholic Church sex abuse scandal after church documents showed he had extensive knowledge of sexual abuse committed by dozens of Catholic priests within his archdiocese. One priest alone was alleged to have raped or molested 130 children over decades, while Law and other local officials moved him among churches rather than going to the authorities.
Two years after resigning from his position in Boston, which the Church called "an important step in the healing process", Pope John Paul II appointed Law as Archpriest of the Basilica di Santa Maria Maggiore in Rome in 2004. He resigned from this position upon reaching the age of 80 in November 2011.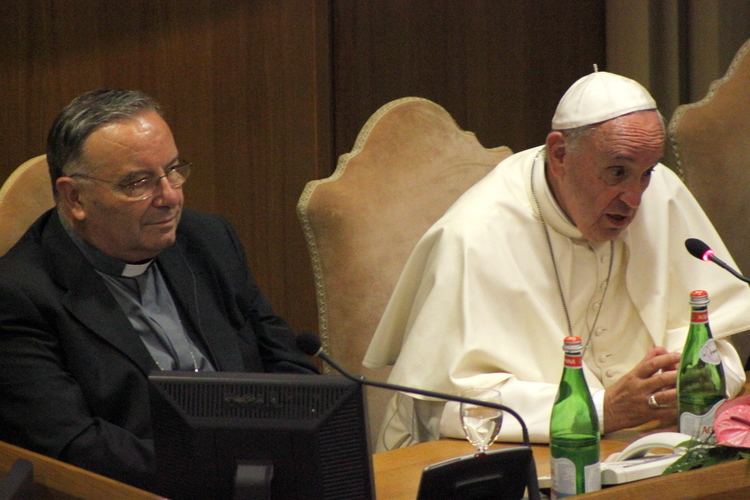 Law was born in the Mexican city of Torreón, Coahuila, on November 4, 1931. He attended schools in New York, Florida, Georgia, and Barranquilla, Colombia, before graduating from Charlotte Amalie High School in St. Thomas, Virgin Islands. While in high school he was employed by the Virgin Islands Daily News.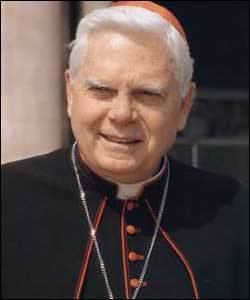 He graduated from Harvard College in Cambridge, Massachusetts, with a major in medieval history, before studying philosophy at Saint Joseph Seminary College in St. Benedict, Louisiana, from 1953 to 1955, and theology at the Pontifical College Josephinum in Worthington, Ohio, from 1955 to 1961.
On May 21, 1961, Law was ordained a priest for the Diocese of Natchez-Jackson in Mississippi. He served two years as an assistant pastor of St. Paul's Catholic Church in Vicksburg, where he was the editor of the Mississippi Register, the diocesan newspaper. He also held several other diocesan posts from 1963 to 1968, including director of the family life bureau and spiritual director of the minor seminary.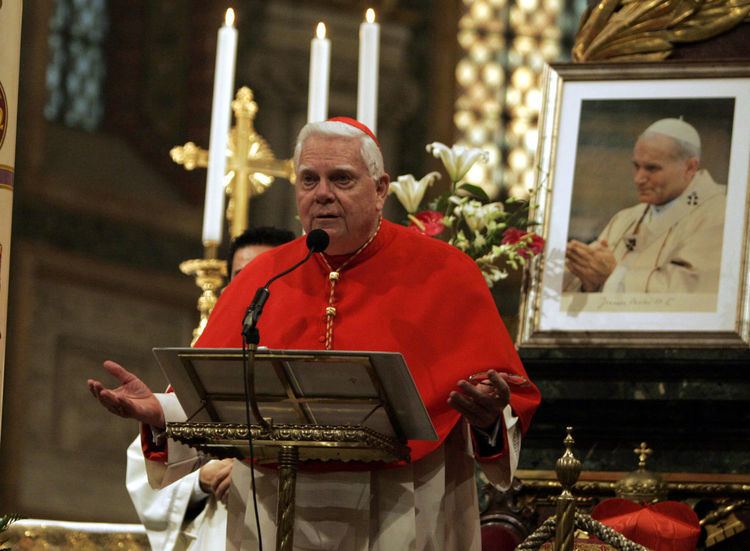 Law was a civil rights activist. He was a member of the Mississippi Leadership Conference and Mississippi Human Relations Council. For his civil rights activities and his strong positions on civil rights in the Mississippi Register, of which he was editor, he received death threats. The newspaper lost many subscribers for whom his civil rights stance was repugnant.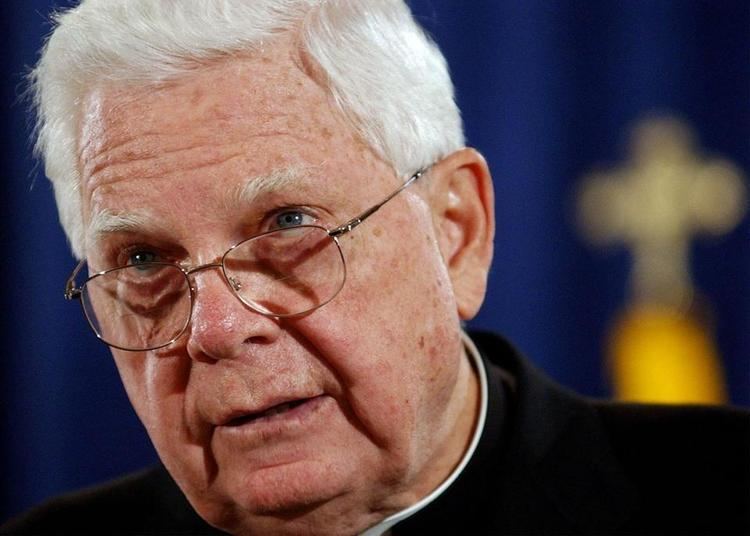 Charles Evers, activist and brother of murdered civil rights activist Medgar Evers, praised Law and said he acted "not for the Negro, but for justice and what is right."
Law's civil rights activity led him to develop ties with Protestant church leaders and he received national attention for his work for ecumenism and in 1968 he was tapped for his first national post, as executive director of the U.S. Bishops' Committee for Ecumenical and Interreligious Affairs.
Pope Paul VI named Law bishop of the Diocese of Springfield-Cape Girardeau in Missouri on October 22, 1973, and he was consecrated on December 5 of that year. Law's predecessor in Springfield-Cape Girardeau was William Wakefield Baum, another future cardinal.
In 1975, he made the news when he arranged for the resettlement in his diocese of one hundred and sixty-six Vietnamese refugees who had arrived in the United States, and who were members of a Vietnamese religious congregation, the Congregation of the Mother Co-Redemptrix.
In continuing his ecumenical work, Law formed the Missouri Christian Leadership Conference. He was made a member of the Vatican's Secretariat for Promoting Christian Unity and served from 1976 to 1981 as a consultor to its Commission for Religious Relations with the Jews. In the late 1970s, Law would also chair the U.S. bishops' Committee on Ecumenical and Interreligious Affairs.
In 1981, Law was named the Vatican delegate to develop and oversee a program instituted by the Congregation for the Doctrine of the Faith in which U.S. Episcopal priests would be accepted into the Catholic priesthood. In the program's first year sixty-four Episcopal priests applied for acceptance. This brought married priests with their families into U.S. Roman Catholic dioceses for the first time.
On January 11, 1984, Law was appointed Archbishop of Boston, by Pope John Paul II. He was installed as Archbishop on March 23, 1984.
On May 25, 1985, he was elevated in consistory as a member of the College of Cardinals, where he was also appointed the Cardinal-Priest of the church of Santa Susanna.
His speech at the 1985 Synod of Bishops marking the 20th anniversary of the end of the Second Vatican Council led to development of the Catechism of the Catholic Church. Law oversaw the first draft of the English translation.
In the mid-1980s, Law chaired the bishops' Committee on Pastoral Research and Practices at the time it distributed a major study report on Freemasonry. The bishops' report concluded that "the principles and basic rituals of Masonry embody a naturalistic religion, active participation in which is incompatible with Christian faith and practice.
Law became the first high-level Catholic Church official to be accused of actively participating in the cover-up of child molestation by predatory priests.
In January 2001 he was named a defendant in several high-profile cases involving pedophile priests, including one involving priest John Geoghan. The editor of the Boston Phoenix weekly, Susan Ryan-Vollmar, assigned reporter Kristen Lombardi to investigate. She wrote an article about the cases under the title "Cardinal sin". Mark Keane, a victim of Geoghan, believed that Law had direct knowledge that Geoghan, who worked in the Archdiocese of Boston from 1962 to 1993, was repeatedly molesting children. Keane said that the archbishop not only allowed the priest to continue working, but repeatedly moved him from parish to parish where he had daily contact with many defenseless children (one of whom was Keane). Even though abuse by Geoghan has been reported repeatedly in the media since 1996, new editor of the daily Boston Globe newspaper, Martin Baron, set the Spotlight investigatory team to work on the case in September 2001. Lombardi acknowledged that the Globe may have had the story before she did, but was delayed somewhat pending the release of sealed records.
Following the Boston Globe's public exposure of the cover up by Cardinal Law (and his predecessor Humberto Cardinal Medeiros) of scores of pedophile priests in the Boston Archdiocese, Law had little option but to submit his resignation as Archbishop of Boston to the Vatican, which Pope John Paul II accepted on December 13, 2002. Law wrote in a personal declaration The particular circumstances of this time suggest a quiet departure. Please keep me in your prayers. and moved to Rome. In July 2003, Sean O'Malley, O.F.M. Cap. was named the new Archbishop of Boston. The Boston Globe said in an editorial the day after Law's resignation was accepted that "Law had become the central figure in a scandal of criminal abuse, denial, payoff, and coverup that resonates around the world." A letter urging Law's resignation had been signed by 58 priests, mostly diocesan priests who had sworn obedience to Law as their direct superior; the editorial said that this letter was "surely one of the precipitating events in his departure". The Globe's exposé of the scandal was the subject of an Oscar-winning film ('best picture'), Spotlight, released in the US in November 2015, in which Law was portrayed by Len Cariou.
In a statement, Cardinal Law said, "It is my fervent prayer that this action [his resignation] may help the Archdiocese of Boston to experience the healing, reconciliation and unity which are so desperately needed. To all those who have suffered from my shortcomings and mistakes I both apologize and from them beg forgiveness." While no longer Archbishop of Boston, Law remains a bishop and cardinal of the Catholic Church; as a cardinal, he participated in the 2005 papal conclave. He was over the age of 80 and therefore ineligible to vote in the 2013 papal conclave.
In December 2002, Law moved from Boston. When the state attorney general issued his report entitled Child Sexual Abuse in the Archdiocese of Boston (July 23, 2003), he severely criticized Law, mentioning that "the Archdiocese has shown an institutional reluctance to adequately address the problem and, in fact, made choices that allowed the abuse to continue," but did not allege that Law had tried to evade investigation. And he did state that Cardinal Law had not broken any laws, because the law requiring abuse to be reported was not expanded to include priests until 2002.
In May 2004, John Paul II appointed Law to a post in Rome, as Archpriest of the Basilica di Santa Maria Maggiore, an honorary position with ceremonial duties.
Law was a member of the Congregations for the Oriental Churches, the Clergy, Divine Worship and Discipline of the Sacraments, Evangelisation of Peoples, Institutes of Consecrated Life and Societies of Apostolic Life, Catholic Education, Bishops as well as the Pontifical Council for the Family. He held membership in all these congregations and of the council before resigning from the governance of the Archdiocese of Boston, and at that time was also a member of the Pontifical Council for Culture.
Law reached age 80 on November 4, 2011, and lost the right to participate in any papal conclave, and, on the same day, he ceased to hold his various Curial memberships. He remained as archpriest of the Basilica di Santa Maria Maggiore until November 21, 2011, when Archbishop Santos Abril y Castelló was appointed as the new archpriest.
In Rome, Law was considered an active and important conservative voice within many of the Vatican offices in which he served. Robert Mickens, a longtime Vatican journalist, reported that Law believed he had been "badly done by", and other cardinals saw him as a victim rather than a guilty party. He was a member of six of the nine or ten Vatican congregations and was even more influential as, being based in Rome, he could attend all the meetings, unlike cardinals based in other countries.
It was "commonly believed that [Law would] live out his retirement in Rome" (when he reached 80 years of age). After his retirement in 2011, Law continued to live in Vatican City, and attended all the annual 4 July Independence Day parties held by the US embassy to the Holy See.
In May 2012 MSNBC reported that Law was "the person in Rome most forcefully supporting" the Vatican response to Baltimore Archbishop William E. Lori's petition to investigate and crack down on the Leadership Conference of Women Religious, a large group of American nuns seeking a greater role in the Church.
As of March 2013, Law was living at the Basilica di Santa Maria Maggiore. As of 2015, he was living in Palazzo della Cancelleria.