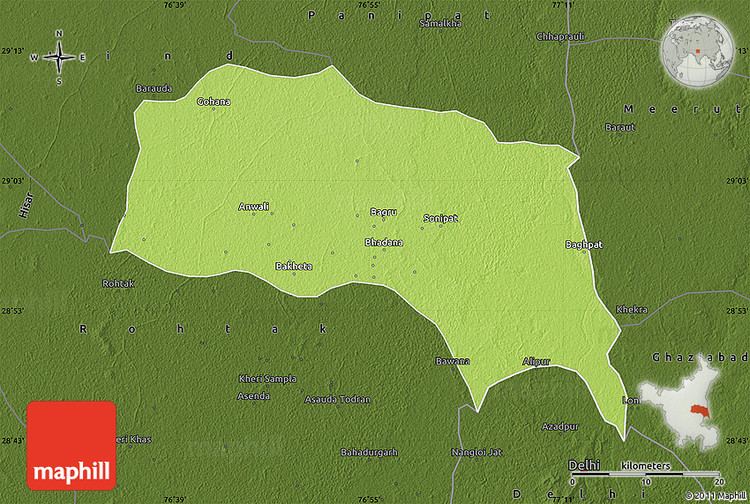 According to legend, Sonipat was earlier known as Sonprastha, which later on became 'Svarnaprastha' (स्वर्णप्रस्थ, lit. golden city). Later, the name Svarnaprastha changed into Svarnpath, and then to its current form, Sonipat/Sonepat.
Reference to the city comes in the epic Mahabharata, Sonipat was founded as Swarnaprastha by the five Pandava brothers. It was one of the five prasthas or towns demanded by Yudhishthira as the price of peace from Duryodhana and in lieu of the kingdom of Hastinapur. The other four villages were Panprastha (Panipat), Baghprastha (Baghpat), Tilprastha (Tilpat) and Indraprastha. Another legend ascribed it to Raja Soni, the thirteenth descendent of Arjuna, one of the Pandava brothers. Khanda, Sonipat village is very ancient village in Sonipat.
Though both are without supporting evidence but it had been noted much earlier by the grammarian Pāṇini in his celebrated sutra-style treatise on Sanskrit grammar Ashtadhyayi. The town was therefore already in existence before 600 B.C.
Sonipat is located at 28.98°N 77.02°E / 28.98; 77.02. It has an average elevation of 224.15 meters above sea level (735.4 feet). Sonipat borders Delhi, the national capital, to the south, Panipat district to the north, Uttar Pradesh state to the east and Rohtak district to the west. The total area of Sonipat district is 2,260 km2.The location is going to be very good in future as two expressways: The Easter Peripheral expressway & The Western paeripheral expressway are going to meet on the outskirts of the city.
Topographically, Sonipat district is divided into three regions, the Khadar, Upland Plain and Sandy Region. Sonipat city lies on the upland plains, which are covered with old alluvium, which, if properly irrigated, is highly productive. Broadly speaking, the district is a continuous part of the Haryana-Punjab Plain, but the area is not level in some parts. Sonipat District has fine loamy soil with a rich color. However, some areas have sandy soil. Khanda, Sonipat village is Famous for Brick Factories there are 100 Bhattas ( Kiln ) in this village.
The tomb of Khwaja Khizr houses the remains of the saint and son of Darya Khan who lived during the rule of Ibrahim Lodhi. The structure was built between 1522 and 1525 AD. The tomb stands on an elevated platform and is one of the few monuments where red sandstone along with 'kankar' blocks have been used. The ceiling is decorative and made of multicolor floral designs. The cenotaph chamber is surrounded by a dome-shaped structure which rests on a small drum of octagonal shape. Now its under the protection of Archaeological Survey of India and surrounded by 4 acres of gardens.
There are several Mughal buildings on the outskirts of the city, including the Mosque of Abdullah Nasir-ud-din, who was a descendant from Mushid of Iran.
The main water system in the district is the Yamuna River and the irrigation canals flowing out of it. The river flows besides the rural belt in the eastern side of district. It also acts as a natural boundary between the states of Haryana and Uttar Pradesh.
Sonipat is famous for its monsoon time sweet dish ghevar which has its roots of origin here. Also its Dhabas (local restaurants) at Murthal on Grand Trunk Road, Pyarelal ke Pede and Lala Matu Ram ki Jaleba from Gohana are very much popular.
Industrial development in the city started in the 1950s with Atlas Cycle. Since then, many small and big industries have been established here. Sonipat has four industrial areas (Sonipat, Kundli, Rai, Bari) which contain numerous small- and medium-scale industries. Atlas, E.C.E. or the Birla Factory, OSRAM India (formerly part of E.C.E., but in October 1998 it was acquired by OSRAM) were few large scale industries name which were in city (now they have been re-located to Rai/Kundli/bari industrial areas).
Despite recent industrial development, Haryana is primarily an agricultural state. The main crops are wheat, rice, sugarcane, cotton, oilseeds, pulses, barley, maize, millet, etc. Presently, rice and sugarcane cultivation is undertaken in the Khadar area and oilseeds, horticultural plants, vegetables and flowers, is cultivated in the upland plains of district. The main sources of irrigation are tube wells and canals. There are two main types of crops: Rabi and Kharif. The major Kharif crops of Haryana are rice, jowar, bajra, maize, cotton, jute, sugarcane, sesame and groundnuts. For these crops the ground is prepared in April and May and the seeds are sown at the commencement of rains in June. The crops are ready for harvesting by the beginning of November. The major Rabi crops are wheat, tobacco, pulses, linseed, rapeseed and mustard. The ground is prepared by the end of October or the beginning of November and the crops are harvested by March. Dairy farming forms an essential part of the rural economy. Animal husbandry has been taken up as an integral component of diversified agriculture.
The climate of Sonipat is composite, dry with a hot summer and a cold winter. The weather becomes milder during the monsoon period (July to September). The post-monsoon months of October and November constitute a transition period prior to the onset of winter.
The winter starts in December when day and night temperatures fall rapidly. January is the coldest month when the mean daily minimum temperature is 6 to 7 °C. During cold waves, the minimum temperature may go down to the freezing point of water, and frosts can occur. During the summer months of May and June, the maximum temperature sometimes reaches 47 °C. The temperature drops considerably with the advancement of the monsoon in June. However, the night temperature during this period continues to be high.
The annual rainfall varies considerably from year to year. However, the maximum rainfall is experienced during the monsoon season, which reaches its peak in the month of July. In fact, the monsoon period accounts for 75% of the annual rainfall in the district. On average there are 24 days in a year with rainfall of at least 2.5 mm. Humidity is low during the greater part of the year. The district experiences high humidity only during the monsoon period. The period of minimum humidity (less than 20%) is between April and May. During the monsoon, the sky is heavily clouded, and winds are strong. Winds are generally light during the post-monsoon and winter months.
The Rajiv Gandhi Education City, Sonipat (RGEC) at Kundli is an ambitious project by Government of Haryana to develop a hub of higher education institutes. Indian Institute of Technology Delhi has already taken possession of 50 acres of land offered for the extension of its Delhi campus. Many Universities have started their projects to establish their campus.
Deenbandhu Chhotu Ram University Of Science and Technology is spread over 274 acres (1.11 km2) of land in a rural area along the Sonepat-Murthal road. Earlier, it was known as Chhotu Ram State College of Engineering.
Ashoka University is a fully Residential interdisciplinary and multidisciplinary Research University with a focus on liberal arts in Haryana, India. The University is recognized by University Grants Commission (UGC), Government of India and Government of Haryana.
O.P. Jindal Global University is a non-profit global university established by the Haryana Private Universities (Second Amendment) Act, 2009. JGU was established in memory of Mr. O.P. Jindal, as a philanthropic initiative of Mr. Naveen Jindal, the Founding Chancellor. JGU is situated on an 80-acre residential campus.
Bhagat Phool Singh Mahila Vishwavidyalaya, the first university for women in northern India, is situated at Khanpur Kalan, Sonepat. The university has a 185 acres (0.75 km2) existing campus and there is a proposal to acquire another 450 acres (1.8 km2) of land.
NIFTEM is the brainchild of the Ministry of Food Processing Industries(MoFPI). MoFPI in its vision-document 2015, envisaged creation of an apex institution in food research and education equipped with global capabilities.
The 55-acre campus at Sonepat, Haryana is located in the Rajiv Gandhi Education City.It houses the Faculty of Engineering & Technology, and Faculty of Management. they have Faculty of Law, Faculty of Library & Information science, Faculty of Finance & Commerce, Faculty of Humanities and Ph.D courses are also available.SRM University campus is planning to have Teaching Hospital and Medical College from 2016.
The Sonipat Hindu Educational & Charitable Society has been active since 1914 and has established 17 institutions offering programmes at secondary, senior secondary, graduate and post graduate levels in the fields of Science, Arts, Commerce, Pharmacy, Education, Architecture, Engineering and Technology. Hindu Boys College, Hindu Girls College, Hindu College of Education, Hindu College of Pharmacy, Hindu Institute of Management, Hindu Institute of Technology, Hindu School of Architecture and the Hindu College of Engineering are the colleges established by the society.
Shri Sanatan Dharam Sabha, Gita bhawan (Regd.) Sonipat is another charitable trust which is very active in the field of education in the city. It runs the Gita Vidya Mandir College of Pharmacy and Gita Vidya Mandir Girls College.
There are many colleges in the fields of Arts, Commerce, Hospitality, Pharmacy, Education, Architecture, Engineering, Technology and Management, including Bhagwan Mahaveer Institute of Engineering & Technology, Delhi Institute of Technology & Management, Bhagwan Parshuram College of Engineering, Bharat Institute of Technology Sonipat, Bharat Institute of Polytechnic Sonipat(BIPS), Bharat Institute of Nursing Sonipat(BINS), Bharat Group of Institutions, CRA College, Delhi Institute of Technology & Management, Gateway College of Architecture & Design, Gateway Institute of Engineering and Technology, Gateway Institute of Hospitality and Tourism Management, Govt. Polytechnic, Royal Institute of Management and Technology, Shri Balwant Institute of Technology, South Point Institute of Engineering, South Point School of Architecture, South Point College of Architecture, south point college of law, Tek Chand Mann College of Engineering, P.M. College Of Engineering and Tika Ram P.G. Girls College.
The Sports Authority of India has established the Northern Regional Center (the SAI, Ch. Devi Lal Regional Center) at Sonipat to provide world-class facilities for athletes (especially wrestlers).
In July 1973 the government established the Motilal Nehru School of Sports, Rai, Sonipat to provide education facilities with extra emphasis on sports. It trains athletes in hockey, basketball, lawn tennis, horse riding, gymnastics, swimming, rifle shooting, volleyball, boxing, cricket and football.
Lakhmi Chand (Poet)
Jat Mehar Singh (Poet)
Amit Kumar (wrestler)
Ramesh Gulia (wrestler)
Seema Antil (discus thrower)
Yogeshwar Dutt (wrestler)
Sushil Kumar (wrestler)
Vinod Kumar Dahiya (wrestler)
Pardeep Narwal (Kabbadi)