Nationality

American




Name

Sean Hannity


Known for

Political commentary




Role

Radio host





Religion

Roman Catholicism




Height

1.82 m




Website

Hannity.com


Spouse

Jill Rhodes (m. 1993)






Full Name

Sean Patrick Hannity




Born

December 30, 1961 (age 59) (

1961-12-30

) New York City, New York


Residence

Centre Island, New York, U.S.




Occupation

Radio host/television host, political commentator, author




Employer

Citadel Broadcasting, Fox News Channel


Children

Patrick Hannity, Merri Kelly Hannity




Parents

Lillian F. Hannity, Hugh J. Hanity






Similar

Laura Ingraham, Ainsley Earhardt, Rush Limbaugh




Profiles




Twitter

Facebook
Donald trump on the sean hannity radio show 10 26 2015
Sean Patrick Hannity (born December 30, 1961) is an American talk show host, author, and conservative political commentator. Hannity is the host of The Sean Hannity Show, a nationally syndicated talk radio show. He also hosts a cable news show, Hannity, on Fox News Channel.
Contents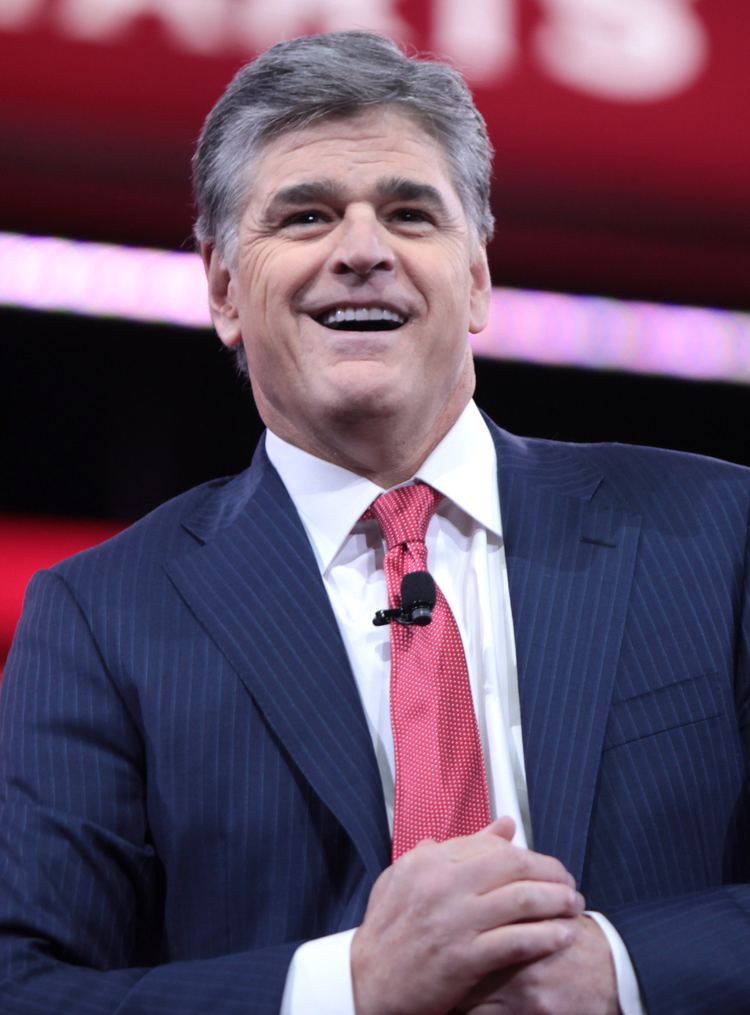 Hannity was born and grew up in New York City. He worked as a general contractor, and volunteer talk show host at UC Santa Barbara in 1989. After graduation, he joined WVNN in Athens, Alabama, and shortly afterward,WGST in Atlanta In 1996, he was hired by Fox and was accompanied by Alan Colmes when he received his show Hannity & Colmes. Leaving WGST, he worked at WABC in New York until 2013, where he was on air full-time. Since 2014, he has worked at WOR. After Colmes announced his departure in January 2008, he merged his Hannity & Colmes show into Hannity.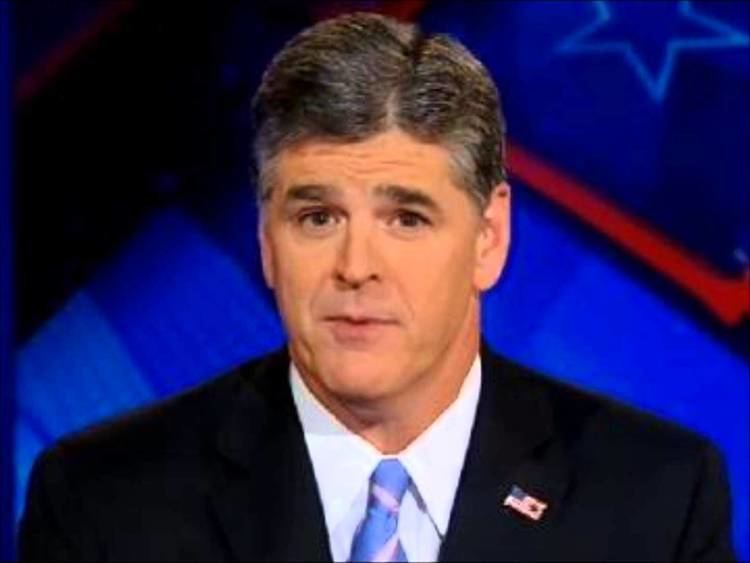 Throughout his career, he has been involved with several controversies. He was criticized for promoting birtherism, false claims regarding voter fraud in the 2016 presidential election, and other conspiracy theories. Conservatives and pundits also criticized him for being overly supportive of Republican presidential candidate Donald Trump. Hannity has promoted the idea of a "deep state", which he describes as a "Shadow Government" – a network of government officials that is working to hinder the Trump administration.
Hannity has received several awards and honors, including a Marconi Award in 2003 and 2007. He received an honorary degree from Jerry Falwell, the chancellor of Liberty University in 2005, and a Freedom of Speech Award by Talkers Magazine in 2003. Hannity has written three books. His Let Freedom Ring: Winning the War of Liberty over Liberalism, Deliver Us from Evil: Defeating Terrorism, Despotism, and Liberalism, and Conservative Victory: Defeating Obama's Radical Agenda have all been New York Times Bestsellers.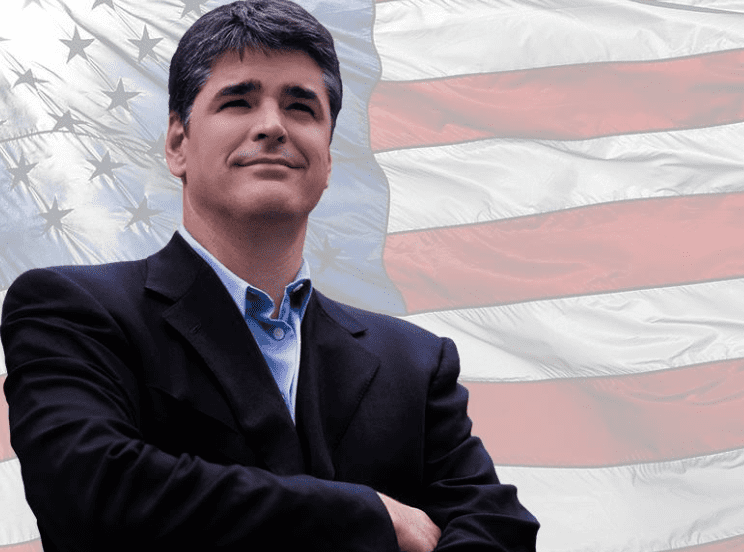 Who is Sean Hannity? Fox News Anchor & Conservative Radio Show Host | NowThis
Early life
Sean Patrick Hannity was born in New York City, New York, the son of Lillian (Flynn) and Hugh Hannity. All of his grandparents immigrated to the United States from Ireland. He has two sisters. He grew up in Franklin Square, New York, and attended Sacred Heart Seminary in Hempstead, New York, during his middle school years and St. Pius X Preparatory Seminary high school in Uniondale, New York. Hannity dropped out of New York University and Adelphi University. Hannity attended New England Institute of Technology at Warwick, Rhode Island.
Career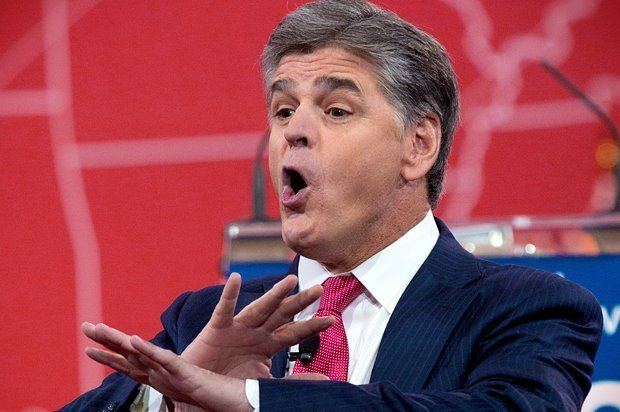 Hannity hosted his first talk radio show in 1989 at the volunteer college station at UC Santa Barbara, KCSB-FM, while working as a general contractor. The show aired for 40 hours of air time; Regarding his first show, he said, "I wasn't good at it. I was terrible." Hannity's weekly show on KCSB was canceled after less than a year. This was after two shows featuring the book The AIDS Coverup: The Real and Alarming Facts about AIDS by Gene Antonio; among other remarks made during the broadcast, Hannity told a lesbian caller, "I feel sorry for your child." The station later reversed its decision to dismiss Hannity due in part to a campaign conducted by the Santa Barbara chapter of the American Civil Liberties Union. Hannity decided against returning to KCSB.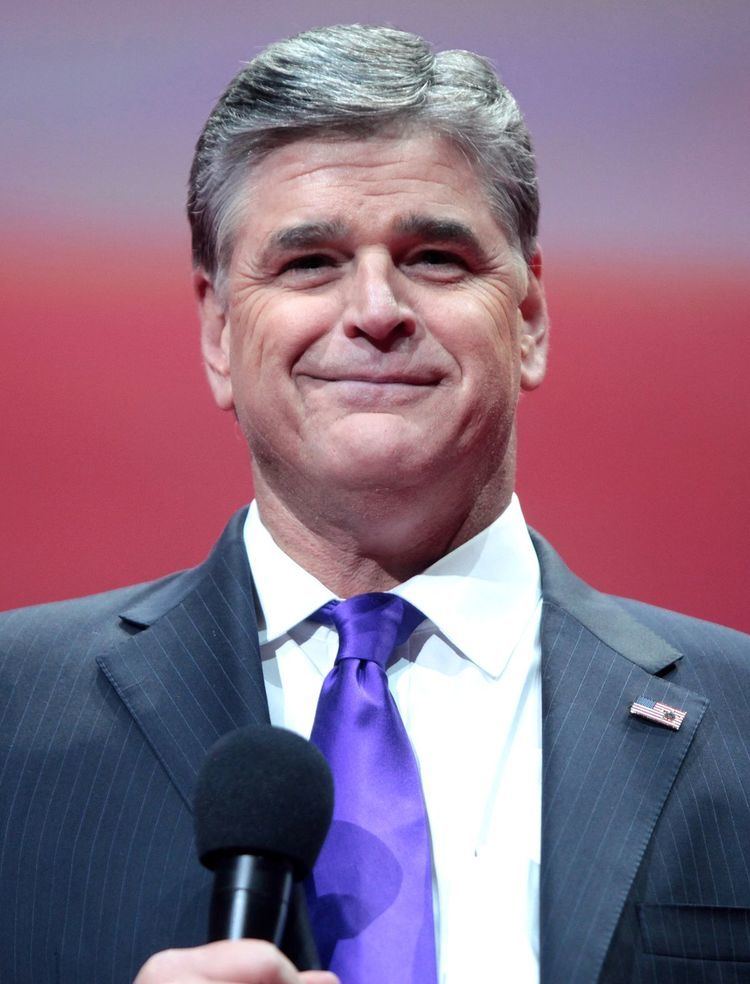 After leaving KCSB, Hannity placed an ad in radio publications presenting himself as "the most talked about college radio host in America." Radio station WVNN in Athens, Alabama (part of the Huntsville market), then hired him to be the afternoon talk show host. From Huntsville, he moved to WGST in Atlanta in 1992, filling the slot vacated by Neal Boortz, who had moved to competing station WSB. In September 1996, Fox News co-founder Roger Ailes hired the then relatively unknown Hannity to host a television program under the working title Hannity and LTBD ("liberal to be determined"). Alan Colmes was then hired to co-host and the show debuted as Hannity & Colmes.
Later that year, Hannity left WGST for New York, where WABC had him substitute for their afternoon drive time host during Christmas week. In January 1997, WABC put Hannity on the air full-time, giving him the late night time slot. WABC then moved Hannity to the same drive time slot he had filled temporarily a little more than a year earlier. Hannity was on WABC's afternoon time slot from January 1998 until the end of 2013. Since January 2014, Hannity has hosted the 3–6 pm time slot on WOR in New York City.
In their book Common Ground, conservative Cal Thomas and liberal Bob Beckel describe Hannity as a leader of the pack among broadcasting political polarizers, which following James Q. Wilson they define as those who have "an intense commitment to a candidate, a culture, or an ideology that sets people in one group definitively apart from people in another, rival group."
Television
Hannity was a co-host of Hannity & Colmes, an American political "point-counterpoint"-style television program on the Fox News Channel featuring Hannity and Alan Colmes as co-hosts. Hannity presented the conservative point of view with Colmes providing the liberal viewpoint.
Hannity had on-air clashes with show guests such as Fr. Thomas J. Euteneuer of Human Life International, who challenged Hannity on his public dissent from the Catholic Church on the issue of contraception. Hannity stated that if the Catholic Church were to excommunicate him over the issue, he would join Jerry Falwell's Thomas Road Baptist Church.
In January 2007, Hannity began a new Sunday night television show on Fox News, Hannity's America.
In November 2008, Colmes announced his departure from Hannity & Colmes. After the show's final broadcast on January 9, 2009, Hannity took over the time slot with his own new show, Hannity, which has a format similar to Hannity's America.
Radio
Hannity's radio program is a conservative political talk show that features Hannity's opinions and ideology related to current issues and politicians. The Sean Hannity Show began national syndication on September 10, 2001, on over 500 stations nationwide. In 2004, Hannity signed a $25 million five-year contract extension with ABC Radio (now Citadel Media) to continue the show until 2009. The program was made available via Armed Forces Radio Network in 2006. In June 2007, ABC Radio was sold to Citadel Communications and in the summer of 2008, Hannity was signed for a $100 million five-year contract. As of October 2013, the program is heard by over 13.25 million listeners a week. Hannity is currently ranked No. 2 in Talker Magazine's Top 100 Talk Host in America and was listed as No. 72 on Forbes' "Celebrity 100" list in 2013.
In January 2007, Clear Channel Communications signed a groupwide three-year extension with Hannity on over 80 stations. The largest stations in the group deal included KTRH Houston, KFYI Phoenix, WPGB Pittsburgh, WKRC Cincinnati, WOOD Grand Rapids, WFLA Tampa, WOAI San Antonio, WLAC Nashville, and WREC Memphis.
The opening theme music for the Sean Hannity Show was formerly "Independence Day" by Martina McBride followed by "Eye of the Tiger" by Survivor. The writer of McBride's song, Gretchen Peters, has stated publicly in interview that the song is about domestic abuse, not political values; though she cannot stop Hannity from using the song, she disagrees with its use and uses the royalties he pays to donate to her own causes. As of May 2014, the theme song was changed to the line "This is how we roll" from the song of the same name by Florida Georgia Line.
Hannity signed a long-term contract to remain with Premiere Networks in September 2013.
At the beginning of 2014, Hannity signed contracts to air on several Salem Communications stations including WDTK Detroit, WIND Chicago, WWRC Washington, D.C., and KSKY Dallas.
Books
Hannity is the author of three books. The first two, Let Freedom Ring: Winning the War of Liberty over Liberalism and Deliver Us from Evil: Defeating Terrorism, Despotism, and Liberalism, were published through ReganBooks. Both of these books reached the nonfiction New York Times bestseller list, the second of which stayed there for five weeks. Hannity has stated that he is too busy to write many books, and dictated a lot of his own two books into a tape recorder while driving in to do his radio show.
Hannity wrote his third book, Conservative Victory: Defeating Obama's Radical Agenda, which was released by HarperCollins in March 2010. The book became Hannity's third New York Times Bestseller.
Freedom Concerts
Since 2003, Hannity has hosted country music-themed "Freedom Concerts" to raise money for charity. According to WHIO, more than $9 million has been raised by the concerts and by WHIO listeners.
Birtherism
Though he said that he believed that President Barack Obama was born in the United States, Hannity brought up the issue of whether Obama was born in the United States and repeatedly called on Obama to release his birth certificate. Hannity also defended and promoted those who questioned Obama's citizenship of the United States, such as Donald Trump. After Obama in 2008 produced what the state of Hawaii certified as a legitimate birth certificate, Hannity kept calling on Obama to release his birth certificate, asking, if there was a birth certificate, why did not the White House "just produce it and we move on?" In October 2016, Hannity offered to purchase a one-way ticket to Kenya for Obama, harking back to the controversy.
Candidacy of Donald Trump
Hannity has been criticized by some conservatives, especially supporters of Ted Cruz's 2016 presidential campaign, as being overly favorable to the candidacy of Donald Trump and granting Trump more airtime than other presidential candidates during the 2016 primaries. During interviews, Hannity "frequently cites areas where he agrees with Trump, or where he thinks Trump was right about something, then asks him to expand on it", and "often ignores or defends Trump from criticism," according to a CNN report. Tensions between Cruz and Hannity appeared to reach a boiling point during a contentious April 2016 radio interview, during which Cruz implied Hannity was a "hard-core Donald Trump supporter" and Hannity responded by accusing Cruz of "throw[ing] this in my face" every time he asked a "legitimate question". Jim Rutenberg reported in August 2016 that Hannity is "not only Mr. Trump's biggest media booster; he also veers into the role of adviser," citing sources who said Hannity spent months offering suggestions to Trump and his campaign on strategy and messaging. Hannity responded to the report by saying, "I'm not hiding the fact that I want Donald Trump to be the next president of the United States. ... I never claimed to be a journalist." Hannity has feuded with several conservatives who oppose Trump, including National Review's Jonah Goldberg, Wall Street Journal foreign affairs columnist Bret Stephens, and National Review editor Rich Lowry.
Conspiracy theories about Hillary Clinton
During the 2016 presidential election, Hannity periodically promoted conspiracy theories regarding Hillary Clinton and the Democratic Party. Hannity promoted conspiracy theories that Clinton had serious medical problems and that the media was covering them up. He misrepresented photos of Clinton to give the impression that she had secret medical problems. He also shared a photo from the fringe news site Gateway Pundit and falsely claimed that it showed her Secret Service agent holding a diazepam pen intended to treat seizures, when he in fact was holding a small flashlight. Furthermore, he booked medical pundits on his show to discuss these baseless theories; these pundits, despite never having personally examined Clinton, made alarmist statements about her state of health. At one point, Hannity promoted a conspiracy theory that Clinton was drunk at a rally; at another point, he suggested that Clinton was drunk and that her campaign needed to "sober her up".
In October 2016, Hannity claimed that WikiLeaks has revealed that "everything that conspiracy theorists have said over the years" about Hillary Clinton is true.
Murder of Seth Rich conspiracy theories
In May 2017, Hannity became a prominent promoter of the conspiracy theory that Hillary Clinton and the Democratic Party had a DNC staffer killed. Shortly afterward, he faced backlash from both left- and right-wing sources and lost several advertisers, including Crowne Plaza Hotels, Cars.com, Leesa Mattress, USAA, Peloton and Casper Sleep deciding to pull their marketing from his program on Fox News. However, USAA decided to return to the show shortly after following a negative outcry against its decision to pull out. Conservative magazine National Review compared the story to a flat earth video, called it a "disgrace" that Hannity and other conspiracy theorists were hyping the story, and called for them to stop.
False claims about election fraud
Hannity came under criticism during the 2016 presidential election for false claims about election rigging during interviews. Hannity responded to this by citing Mitt Romney's failure in 2012 to obtain any votes in 59 of 1,687 Philadelphia voting districts as proof of election rigging. However, Factcheck.org and PolitiFact found that it was not unusual at all for this to occur, as those districts are heavily African-American. Philadelphia elections inspector Ryan Godfrey also refuted Hannity's claim.
Russian interference
Hannity has expressed skepticism of the U.S. intelligence community's view that Russia hacked the DNC e-mails during the 2016 election.
WikiLeaks
Hannity's views on WikiLeaks have changed over time. Before Wikileaks began to release e-mails damaging to the Hillary Clinton campaign and the Democratic Party, Hannity was a vocal opponent of the organization. In 2010, Sean Hannity said that Assange waged a "war" on the United States, and that Wikileaks put American lives in "jeopardy" and "danger" around the world. He also criticized the Obama administration for failing to apprehend Assange. In 2016, Hannity praised Assange for showing "how corrupt, dishonest and phony our government is". He told Assange in a September 2016 interview, "I do hope you get free one day. I wish you the best." In May 2017, Hannity made an offer to Assange to guest host his Fox News TV show.
In February 2017, Hannity retweeted a WikiLeaks tweet linking to an article by Gateway Pundit, claiming that John McCain was a "globalist war criminal". McCain's spokeswoman called Hannity out on it, asking him to correct the record. Hannity later deleted the tweet.
Deep State
Hannity promoted the idea that there is a "deep state" – a network of individuals within government that is working to hinder the Trump administration. He has described the "deep state" as a "Shadow Government" and "Deep state swamp of Obama holdovers and DC lifers". However, the idea's possibility has been disputed. In March 2017, he called for a "purge" of Obama-era bureaucrats and appointees in government. In an op-ed for the Wall Street Journal, conservative columnist Bret Stephens disputed Sean Hannity's deep state allegations, saying they were an example of the "paranoid style in politics". Later that month, Hannity said that NBC News was part of the "deep state". In May 2017, he reiterated that deep state/intelligence operatives were trying to destroy the Trump presidency.
Personal life
Hannity has been married to Jill Rhodes since 1993. They have two children and reside on Long Island, New York.
In 2015, Forbes estimated that Hannity's annual income was $29 million.
While discussing gun control during a Fox News interview with Piers Morgan on October 6, 2014, Hannity said that he has carried a weapon "more than half my adult life".
Awards and honors
Hannity received a Marconi Award in 2003 and 2007 as the Network Syndicated Personality of the Year from the National Association of Broadcasters.
In 2009, Talkers Magazine listed Hannity as #2 on their list of the 100 most important radio talk show hosts in America. The same magazine gave Hannity their Freedom of Speech Award in 2003.
In 2005, Jerry Falwell, chancellor of Liberty University, awarded Hannity an honorary degree.
Radio and Records magazine has honored Hannity with the National Talk Show Host of the Year Award for three consecutive years.
In 2017 he was presented the William F. Buckley Award For Media Excellence. Hannity's selection was ridiculed by some, including Bret Stephens from The New York Times.
References
Sean Hannity Wikipedia
(Text) CC BY-SA